What's At Risk: An 18-Month View of a Post-COVID World
What's At Risk: An 18-Month View of a Post-COVID World
As the world continues to grapple with the effects of COVID-19, no part of society seems to be left unscathed. Fears are surmounting around the economy's health, and dramatic changes in life as we know it are also underway.
In today's graphic, we use data from a World Economic Forum survey of 347 risk analysts on how they rank the likelihood of major risks we face in the aftermath of the pandemic.
What are the most likely risks for the world over the next year and a half?
The Most Likely Risks
In the report, a "risk" is defined as an uncertain event or condition with the potential for significant negative impacts on various countries and industries. The 31 risks have been grouped into five major categories:
Economic: 10 risks
Societal: 9 risks
Geopolitical: 6 risks
Technological: 4 risks
Environmental: 2 risks
Among these, risk analysts rank economic factors high on their list, but the far-reaching impacts of the remaining factors are not to be overlooked either. Let's dive deeper into each category.
Economic Shifts
The survey reveals that economic fallout poses the most likely threat in the near future, dominating four of the top five risks overall. With job losses felt the world over, a prolonged recession has 68.6% of experts feeling worried.
| Rank | Economic Risk | % |
| --- | --- | --- |
| #1 | Prolonged recession of the global economy | 68.6% |
| #2 | Surge in bankruptcies (big firms and SMEs) and a wave of industry consolidation | 56.8% |
| #3 | Failure of industries or sectors in certain countries to properly recover | 55.9% |
| #4 | High levels of structural unemployment (especially youth) | 49.3% |
| #6 | Weakening of fiscal positions in major economies | 45.8% |
| #7 | Protracted disruption of global supply chains | 42.1% |
| #8 | Economic collapse of an emerging market or developing economy | 38.0% |
| #16 | Sharp increase in inflation globally | 20.2% |
| #20 | Massive capital outflows and slowdown in foreign direct investment | 17.9% |
| #21 | Sharp underfunding of retirement due to pension fund devaluation | 17.6% |
The pandemic has accelerated structural change in the global economic system, but this does not come without consequences. As central banks offer trillions of dollars worth in response packages and policies, this may inadvertently burden countries with even more debt.
Another concern is that COVID-19 is now hitting developing economies hard, critically stalling the progress they've been making on the world stage. For this reason, 38% of the survey respondents anticipate this may cause these markets to collapse.
Social Anxieties
High on everyone's mind is also the possibility of another COVID-19 outbreak, despite global efforts to flatten the curve of infections.
| Rank | Societal Risk | % |
| --- | --- | --- |
| #10 | Another global outbreak of COVID-19 or different infectious disease | 30.8% |
| #13 | Governmental retention of emergency powers and/or erosion of civil liberties | 23.3% |
| #14 | Exacerbation of mental health issues | 21.9% |
| #15 | Fresh surge in inequality and social divisions | 21.3% |
| #18 | Anger with political leaders and distrust of government | 18.4% |
| #23 | Weakened capacity or collapse of national social security systems | 16.4% |
| #24 | Healthcare becomes prohibitively expensive or ineffective | 14.7% |
| #26 | Failure of education and training systems to adapt to a protracted crisis | 12.1% |
| #30 | Spike in anti-business sentiment | 3.2% |
With many countries moving to reopen, a few more intertwined risks come into play. 21.3% of analysts believe social inequality will be worsened, while 16.4% predict that national social safety nets could be under pressure.
Geopolitical Troubles
Further restrictions on trade and travel movements are an alarm bell for 48.7% of risk analysts—these relationships were already fraught to begin with.
| Rank | Geopolitical Risk | % |
| --- | --- | --- |
| #5 | Tighter restrictions on the cross-border movement of people and goods | 48.7% |
| #12 | Exploitation of COVID-19 crisis for geopolitical advantage | 24.2% |
| #17 | Humanitarian crises exacerbated by reduction in foreign aid | 19.6% |
| #22 | Nationalization of strategic industries in certain countries | 17.0% |
| #27 | Failure to support and invest in multilateral organizations for global crisis response | 7.8% |
| #31 | Exacerbation of long-standing military conflicts | 2.3% |
In fact, global trade could drop sharply by 13-32% while foreign direct investment (FDI) is projected to decline by an additional 30-40% in 2020.
The drop in foreign aid could also put even more stress on existing humanitarian issues, such as food insecurity in conflict-ridden parts of the world.
Technology Overload
Technology has enabled a significant number of people to cope with the impact and spread of COVID-19. An increased dependence on digital tools has enabled wide-scale remote working for business—but for many more without this option, this accelerated adoption has hindered rather than helped.
| Rank | Technological Risk | % |
| --- | --- | --- |
| #9 | Cyberattacks and data fraud due to sustained shift in working patterns | 37.8% |
| #11 | Additional unemployment from accelerated workforce automation | 24.8% |
| #25 | Abrupt adoption and regulation of technologies (e.g. e-voting, telemedicine, surveillance) | 13.8% |
| #28 | Breakdown of IT infrastructure and networks | 6.9% |
Over a third of the surveyed risk analysts see the emergence of cyberattacks due to remote working as a rising concern. Another near 25% see the threat of rapid automation as a drawback, especially for those in occupations that do not allow for remote work.
Environmental Setbacks
Last but certainly not least, COVID-19 is also potentially halting progress on climate action. While there were initial drops in pollution and emissions due to lockdown, some estimate there could be a severe bounce-back effect on the environment as economies reboot.
| Rank | Environmental Risk | % |
| --- | --- | --- |
| #19 | Higher risk of failing to invest enough in climate resilience and adaptation | 18.2% |
| #29 | Sharp erosion of global decarbonization efforts | 4.6% |
As a result of the more immediate concerns, sustainability may take a back seat. But with environmental issues considered the biggest global risk this year, these delayed investments and missed climate targets could put the Earth further behind on action.
Which Risks Are of the Greatest Concern?
The risk analysts were also asked which of these risks they considered to be of the greatest concern for the world. The responses to this metric varied, with societal and geopolitical factors taking on more importance.
In particular, concerns around another disease outbreak weighed highly at 40.1%, and tighter cross-border movement came in at 34%.
On the bright side, many experts are also looking to this recovery trajectory as an opportunity for a "great reset" of our global systems.
This is a virus that doesn't respect borders: it crosses borders. And as long as it is in full strength in any part of the world, it's affecting everybody else. So it requires global cooperation to deal with it.
——Gita Gopinath, IMF Chief Economist

Visualized: A Global Risk Assessment of 2021 And Beyond
Which risks are top of mind in 2021? We visualize the World Economic Forum's risk assessment for top global risks by impact and livelihood.
Visualized: A Global Risk Assessment of 2021 And Beyond
Risk is all around us. After the events of 2020, it's not surprising that the level and variety of risks we face have become more pronounced than ever.
Every year, the World Economic Forum analyzes the top risks in the world in its Global Risks Report. Risks were identified based on 800+ responses of surveyed leaders across various levels of expertise, organizations, and regional distribution.
Which risks are top of mind in 2021?
The World's Top Risks by Likelihood and Impact
According to WEF's risk assessment methodology, all the global risks in 2021 fall into the following broad categories:
🔵 Economic
🟢 Environmental
🟠 Geopolitical
🔴 Societal
🟣 Technological
It goes without saying that infectious diseases have now become one of the top societal risks on both metrics of likelihood and impact.
That said, environmental risks continue to dominate the leaderboard, accounting for five of the top 10 risks by impact, especially when it comes to climate action failure.
Several countries are off-track in meeting emissions goals set by the Paris Climate Agreement in 2015, while the pandemic has also delayed progress in the shift towards a carbon-neutral economy. Meanwhile, biodiversity loss is occurring at unprecedented rates.
| Rank | Top Risks by Likelihood | Top Risks by Impact |
| --- | --- | --- |
| #1 | 🟢Extreme weather | 🔴Infectious diseases |
| #2 | 🟢Climate action failure | 🟢Climate action failure |
| #3 | 🟢Human environmental damage | 🟠Weapons of mass destruction |
| #4 | 🔴Infectious diseases | 🟢Biodiversity loss |
| #5 | 🟢Biodiversity loss | 🟢Natural resource crises |
| #6 | 🟣Digital power concentration | 🟢Human environmental damage |
| #7 | 🟣Digital inequality | 🔴Livelihood crises |
| #8 | 🟠Interstate relations fracture | 🟢Extreme weather |
| #9 | 🟣Cybersecurity failure | 🔵Debt crises |
| #10 | 🔴Livelihood crises | 🟣IT Infrastructure breakdown |
As for other risks, the prospect of weapons of mass destruction ranks in third place for potential impact. In the global arms race, a single misstep would trigger severe consequences on civil and political stability.
New Risks in 2021
While many of the risks included in the Global Risks Report 2021 are familiar to those who have read the editions of years past, there are a flurry of new entries to the list this year.
Here are some of the most interesting ones in the risk assessment, sorted by category:
Societal Risks
COVID-19 has resulted in a myriad of knock-on societal risks, from youth disillusionment and mental health deterioration to livelihood crises. The first two risks in particular go hand-in-hand, as "pandemials" (youth aged 15-24) are staring down a turbulent future. This generation is more likely to report high distress from disrupted educational and economic prospects.
At the same time, as countries prepare for widespread immunization against COVID-19, another related societal risk is the backlash against science. The WEF identifies vaccines and immunization as subjects susceptible to disinformation and denial of scientific evidence.
Economic Risks
As monetary stimulus was kicked into high gear to prop up markets and support many closed businesses and quarantined families, the economic outlook seems more fragile than ever. Debt-to-GDP ratios continue to rise across advanced economies—if GDP growth stagnates for too long, a potential debt crisis could see many businesses and major nations default on their debt.
With greater stress accumulating on a range of major industries such as travel and hospitality, the economy risks a build-up of "zombie" firms that drag down overall productivity. Despite this, market valuations and asset prices continue to rise, with equity markets rewarding investors betting on a swift recovery so far.
Technological Risks
Last but not least, COVID-19 has raised the alert on various technological risks. Despite the accelerated shift towards remote work and digitalization of entire industries, the reality is that digital inequality leaves those with lower digital literacy behind—worsening existing inequalities.
Big Tech is also bloating even further, growing its digital power concentration. The market share some companies hold in their respective sectors, such as Amazon in online retail, threatens to erode the agency of other players.
Assessing the Top 10 Risks On the Horizon
Back in mid-2020, the WEF attempted to quantify the biggest risks over an 18-month period, with a prolonged economic recession emerging on top.
In this report's risk assessment, global risks are further classified by how soon their resulting threats are expected to occur. Weapons of mass destruction remain the top risk, though on a much longer scale of up to 10 years in the future.
| Rank | Risk | % | Time Horizon |
| --- | --- | --- | --- |
| #1 | 🟠Weapons of mass destruction | 62.7 | Long-term (5-10 years) |
| #2 | 🔴Infectious diseases | 58 | Short-term risks (0-2 years) |
| #3 | 🔴Livelihood crises | 55.1 | Short-term risks (0-2 years) |
| #4 | 🔵Asset bubble burst | 53.3 | Medium-term risks (3-5 years) |
| #5 | 🟣 IT infrastructure breakdown | 53.3 | Medium-term risks (3-5 years) |
| #6 | 🔵Price instability | 52.9 | Medium-term risks (3-5 years) |
| #7 | 🟢Extreme weather events | 52.7 | Short-term risks (0-2 years) |
| #8 | 🔵Commodity shocks | 52.7 | Medium-term risks (3-5 years) |
| #9 | 🔵Debt crises | 52.3 | Medium-term risks (3-5 years) |
| #10 | 🟠State collapse | 51.8 | Long-term (5-10 years) |
Through this perspective, COVID-19 (and its variants) remains high in the next two years as the world scrambles to return to normal.
It's also clear that more economic risks are taking center stage, from an asset bubble burst to price instability that could have a profound effect over the next five years.

The World's Top Car Manufacturers by Market Capitalization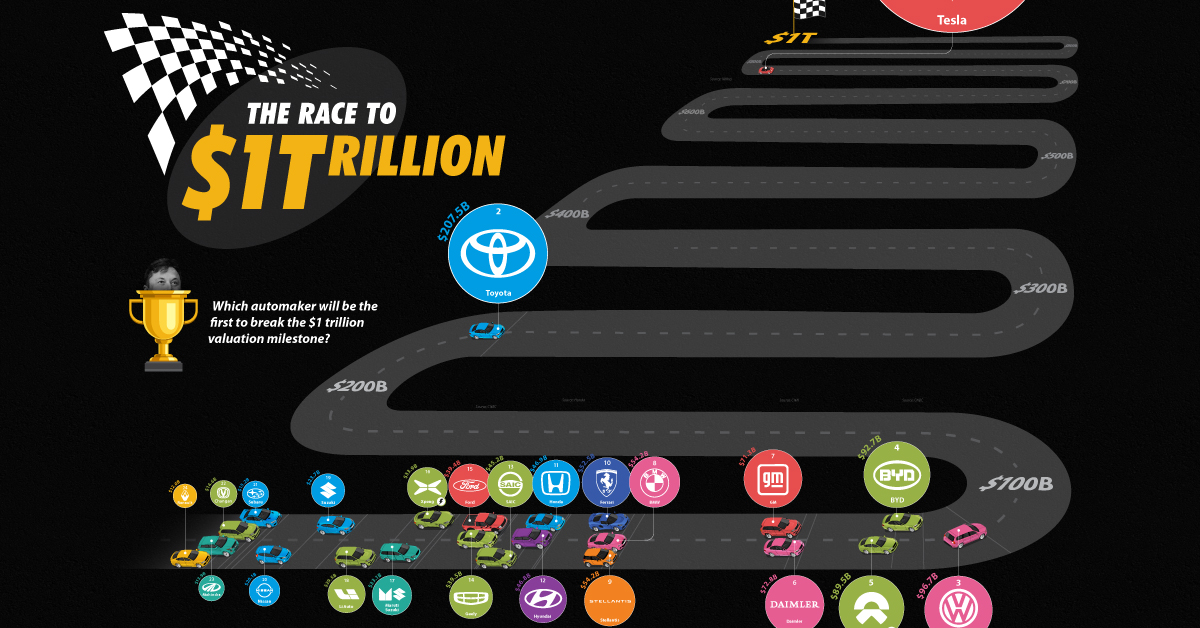 The World's Top Car Manufacturers by Market Cap
View the high-resolution of the infographic by clicking here.
Ever since Apple and other Big Tech companies hit a market capitalization of $1 trillion, many sectors are revving to follow suit—including the automotive industry.
But among those car brands racing to reach this total valuation, some are closer to the finish line than others. This visualization uses data from Yahoo Finance to rank the world's top car manufacturers by market capitalization.
What could this spell for the future of the automotive industry?
A special hat-tip to Brandon Knoblauch for compiling the original, regularly-updated spreadsheet.
The World's Top Car Manufacturers
It's clear one company is pulling far ahead of the pack. In the competition to clinch this coveted title, Tesla is the undoubted favorite so far.
The electric vehicle (EV) and clean energy company first became the world's most valuable car manufacturer in June 2020, and shows no signs of slowing its trajectory.
| Rank | Company | Market Cap (US$B) | Country |
| --- | --- | --- | --- |
| #1 | Tesla | $795.8 | 🇺🇸 U.S. |
| #2 | Toyota | $207.5 | 🇯🇵 Japan |
| #3 | Volkswagen | $96.7 | 🇩🇪 Germany |
| #4 | BYD | $92.7 | 🇨🇳 China |
| #5 | NIO | $89.5 | 🇨🇳 China |
| #6 | Daimler | $72.8 | 🇩🇪 Germany |
| #7 | General Motors | $71.3 | 🇺🇸 U.S. |
| #8 | BMW | $54.2 | 🇩🇪 Germany |
| #9 | Stellantis | $54.2 | 🇳🇱 Netherlands |
| #10 | Ferrari | $52.5 | 🇮🇹 Italy |
| #11 | Honda | $46.9 | 🇯🇵 Japan |
| #12 | Hyundai | $46.8 | 🇰🇷 South Korea |
| #13 | SAIC | $45.2 | 🇨🇳 China |
| #14 | Geely | $39.5 | 🇨🇳 China |
| #15 | Ford | $39.4 | 🇺🇸 U.S. |
| #16 | Xpeng | $33.9 | 🇨🇳 China |
| #17 | Maruti Suzuki | $33.1 | 🇮🇳 India |
| #18 | Li Auto | $29.5 | 🇨🇳 China |
| #19 | Suzuki | $23.7 | 🇯🇵 Japan |
| #20 | Nissan | $20.1 | 🇯🇵 Japan |
| #21 | Subaru | $15.2 | 🇯🇵 Japan |
| #22 | Changan | $14.6 | 🇨🇳 China |
| #23 | Mahindra | $13.9 | 🇮🇳 India |
| #24 | Renault | $12.0 | 🇫🇷 France |
All data as of January 15, 2021 (9:30AM PST)
Tesla's competitive advantage comes as a result of its dedicated emphasis on research and development (R&D). In fact, many of its rivals have admitted that Tesla's electronics far surpass their own—a teardown revealed that its batteries and AI chips are roughly six years ahead of other industry giants such as Toyota and Volkswagen.
The Green Revolution is Underway
The sheer growth of Tesla may spell the inevitability of a green revolution in the industry. Already, many major brands have followed in the company's tracks, announcing their own ambitious plans to add more EVs to their vehicle line-ups.
Here's how a selection of car manufacturers are embracing the electric future:
Toyota: Ranked #2
The second-most valuable car manufacturer in the world, Toyota is steadily ramping up its EV output. In 2020, it produced 10,000 EVs and plans to increase this to 30,000 in 2021.
Through this gradual increase, the company hopes to hit an expected target of 500,000 EVs by 2025. Toyota also aims to debut 10 new models internationally to achieve this goal.
Volkswagen: Ranked #3
By 2025, Volkswagen plans to invest $86 billion into digital and EV technologies. Considering the car manufacturer generates the most gross revenue per second of all automakers, it's no wonder Volkswagen is looking to the future in order to keep such numbers up.
The company is also well-positioned to ride the wave of a potential consumer shift towards EVs in Europe. In response to the region's strict emissions targets, Volkswagen upped its planned sales proportions for European hybrid and EV sales from 40% to 60% by 2030.
BYD and Nio: Ranked #4-5
China jumped on the electric bandwagon early. Eager to make its mark as a global leader in the emerging technology of lithium ion batteries (an essential component of any EV), the Chinese government handed out billions of dollars in subsidies—fueling the growths of domestic car manufacturers BYD and Nio alike.
BYD gained the interest and attention of its billionaire backer Warren Buffett, while Nio is China's response to Tesla and an attempt to capture the EV market locally.
General Motors: Ranked #7
Also with a 2025 target year in mind, General Motors is investing $27 billion into electric and fully autonomous vehicles. That's just the tip of the iceberg, too—the company also hopes to launch 30 new fully electric vehicles by the same year.
One particular factor is giving GM confidence: its new EV battery creations. They will be able to extend the range of its new EVs to 400 miles (644km) on a single charge, at a rate that rivals Tesla's Model S.
Stellantis: Ranked #9
In a long-anticipated move, Fiat Chrysler and Peugeot S.A. finalized their merger into Stellantis N.V. on January 16, 2021.
With the combined forces and funds of a $52 billion deal, the new Dutch-based car manufacturer hopes to rival bigger brands and race even more quickly towards the electric shift.
Honda: Ranked #11
Speaking of fast-paced races, Honda has decided to bow out of future Formula One (F1) World Championships. As these competitions were usually a way for the company to show off its engineering prowess, the move was a surprising one.
However, there's a noble reason behind this decision. Honda is choosing instead to focus on its commitment to become carbon neutral by 2050. To do so, it'll be shifting its financial resources away from F1 and towards R&D into fuel cell vehicle (FCV) and battery EV (BEV) technologies.
Ford: Ranked #15
Ford knows exactly what its fans want. In that regard, its electrification plans begin with its most popular commercial cars, such as the Mustang Mach-E SUV. This is Ford's major strategy for attracting new EV buyers, part of a larger $11.5 billion investment agenda into EVs through 2022.
While the car's specs compare to Tesla's Model Y, its engineers also drew from the iPhone and Netflix to incorporate an infotainment system and driver profiles to create a truly tech-first specimen.
Speeding into the Horizon
As more and more companies enter the racetrack, EV innovation across the entire industry may power the move to lower overall costs, extend the total range of vehicles, and put any other concerns by potential buyers to rest.
While Tesla is currently in the best position to become the first car manufacturer to reach the $1 trillion milestone, how long will it be for the others to catch up?