How People and Companies Feel About Working Remotely
According to the U.S. Census Bureau, nearly one-third of the U.S. workforce, and half of all "information workers", are able to work from home. Though the number of people working partially or fully remote has been on the rise for years now, the COVID-19 pandemic may have pressed the fast-forward button on this trend.
With millions of people taking part in this work-from-home experiment, it's worth asking the question – how do people and companies actually feel about working from home?
The Flex Life
It's no secret that people value freedom of choice. A whopping 98% of people would like to have the option to work remotely for the rest of their careers.
Aside from working in sweatpants, what are the things people like about working from home?
A flexible schedule, the ability to work from any location, and no more commuting were the top reported benefits.
Of course, not everything is positive about working from home. Here are some of the challenges people face as they work remotely.
The top issue faced by remote workers was "unplugging" from work. Without the clear-cut change of location and defined office hours, many people had a tougher time clearly dividing their personal and professional time.
As well, the lack of person-to-person communication can be a challenge for some people. In fact, one-third of people were concerned that the full extent of their professional efforts wouldn't be appreciated because of a lack of in-office contact.
For the majority of people, having tough conversations via phone or teleconferencing software was actually viewed as a positive development.
Barriers to Implementing a Remote Work Policy
Despite the popularity of remote and flexible working, not every company has embraced the concept. Here are some of the reasons why.
While there can be technical or security-related reasons behind remote work resistance, a major barrier is simple resistance to change. Over 50% of companies that didn't have a flexible or remote workplace policy cited "longstanding company policy" as the reason. In other words, that is just the way things have always worked.
Here are the reservations managers have with remote work:
Managers are worried that productivity and focus will be diminished if people are working in more informal locations, such as home or a cafe. Also, if people aren't working in the same physical location, managers feel that team cohesiveness and company culture could suffer.
On the flip side, the cost savings associated with remote work may win over many companies. Research has found that typical employer can save about $11,000 per year for every person who works remotely half of the time. As well, switching to virtual meets in some instances can also be a significant cost savings.
Flexibility: The Ultimate Perk?
Location flexibility isn't just a way to keep current employees happy. Companies that don't embrace flexible working may find themselves at a disadvantage when recruiting new talent. Nearly two-thirds of candidates say that having a choice of work location is a key consideration in choosing an employer.
Lockdown measures have highlighted the value of workplace flexibility – particularly for people with kids. A total of 86% of parents now want to work flexibly, compared to 46% pre-coronavirus.
As the economy slowly begins to reopen, it remains to be seen whether or not COVID-19 accelerated inevitable trends in workplace culture. If so, taking Zoom calls in sweatpants may become the new normal for millions of workers.
10 Travel Destinations for Post-Pandemic Life
Excited to get back to travelling the world? This infographic highlights the 10 most popular tourist destinations.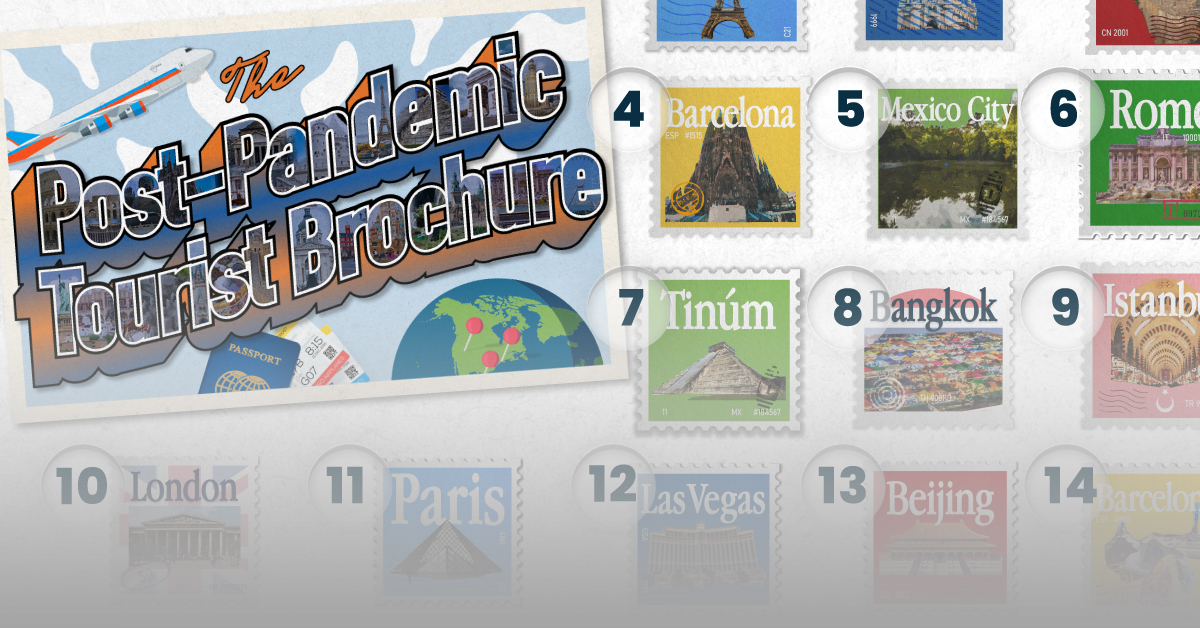 10 Travel Destinations for Post-Pandemic Life
On March 11, 2020, the World Health Organization formally classified the COVID-19 outbreak as a pandemic. The resulting travel bans decimated the tourism industry, and international air travel initially fell by as much as 98%.
Almost two years later, travel is finally back on the table, though there are many restrictions to consider. Regardless, a survey conducted in September 2021 found that, as things revert to normalcy, 82% of Americans are looking forward to international travel more than anything else.
To give inspiration for your next vacation (whenever that may be), this infographic lists the 10 most visited countries in 2019, as well as three of their top attractions according to Google Maps.
Bon Voyage
Here were the 10 most popular travel destinations in 2019, measured by their number of international arrivals.
| Country | Number of international arrivals in 2019 (millions) |
| --- | --- |
| 🇫🇷 France* | 90.0 |
| 🇪🇸 Spain | 83.5 |
| 🇺🇸 U.S. | 79.3 |
| 🇨🇳 China | 65.7 |
| 🇮🇹 Italy | 64.5 |
| 🇹🇷 Turkey | 51.2 |
| 🇲🇽 Mexico | 45.0 |
| 🇹🇭 Thailand | 39.8 |
| 🇩🇪 Germany | 39.6 |
| 🇬🇧 United Kingdom | 39.4 |
*Estimate | Source: World Bank
France was the most popular travel destination by a significant margin, and it's easy to see why. The country is home to many of the world's most renowned sights, including the Arc de Triomphe and Louvre Museum.
The Arc de Triomphe was built in the early 1800s, and honors those who died in the French Revolutionary and Napoleonic Wars. In 1944, Allied soldiers marched through the monument after Paris was liberated from the Nazis.
The Louvre Museum, on the other hand, is often recognized by its giant glass pyramid. The museum houses over 480,000 works of art, including Leonardo da Vinci's Mona Lisa.
Art isn't the only thing that France has to offer. The country has a reputation for culinary excellence, and is home to 632 Michelin-starred restaurants, the most out of any country. Japan comes in at second, with 413.
While You're There…
After seeing the sights in Paris, you may want to consider a visit to Spain. The country is the southern neighbor of France and is known for its beautiful villages and beaches.
One of its most impressive sights is the Sagrada Familia, a massive 440,000 square feet church which began construction in 1882, and is still being worked on today (139 years in the making). The video below shows the structure's striking evolution.
At a height of 172 meters, the Sagrada Familia is approximately 52 stories tall.
Another popular spot is Ibiza, an island off the coast of Spain that is famous for its robust nightlife scene. The island is frequently mentioned in pop culture—Netflix released an adventure/romance movie titled Ibiza in 2018, and the remix of Mike Posner's song I Took a Pill in Ibiza has over 1.4 billion views on YouTube.
Beaches Galore
If you're looking for something outside of Europe, consider Mexico or Thailand, which are the 7th and 8th most popular travel destinations. Both offer hot weather and an abundance of white sand beaches.
If you need even more convincing, check out these links:
Expect Turbulence
Under normal circumstances, hundreds of billions of dollars are spent each year by international tourists. According to the World Travel & Tourism Council (WTCC), this spending accounted for an impressive 10.4% of global GDP in 2019.
Travel restrictions introduced in 2020 dealt a serious blow to the industry, reducing its share of global GDP to 5.5%, and wiping out an estimated 62 million jobs. While the WTCC believes these jobs could return by 2022, the emerging Omicron variant has already prompted many countries to tighten restrictions once again.
To avoid headaches in the future, make sure you fully understand the rules and restrictions of where you're heading.
Which Values Children Should Be Encouraged to Learn, By Country
Which qualities do people think are most important for children to learn? The answer differs from country to country.

Creator Program
Many of the values we prioritize as adults were instilled in us during our childhood days.
They're called our formative years for a reason—from when we're born up until we're about eight years old, our brains are easily molded and remain highly sensitive to external influences and environments. But depending on where you grew up, you may have been exposed to different values during your childhood compared to someone from another place.
These visualizations by Anders Sundell illustrate the most important values people think children should learn at home, across more than 80 different countries.
Methodology
Sundell used data from the World Values Survey, an international survey that interviews hundreds of thousands of participants from across the globe. Respondents were asked to pick up to five qualities they believe are the most desirable for children to have:
Good manners
Independence
Hard work
Feeling of responsibility
Imagination
Tolerance and respect for other people
Thrift, saving money
Determination and perseverance
Religious faith
Unselfishness
Obedience
Sundell took the survey data and calculated the proportion of people in each country that selected each quality. From there, he took the top qualities and created three separate plot graphs to show the contrast between them.
Let's look at the importance that countries placed on different values, including (1) independence and obedience, (2) unselfishness and religious faith, and (3) hard work and imagination.
1. Independence vs Obedience
Nordic countries value independence greatly, and find obedience to be a less important quality to instill in children.
View the full-size infographic
Other available data also supports that adults in Nordic countries value independence. According to Eurostat, the most common age to leave home in Sweden is between 17 and 18—nearly a decade sooner than the average age across the EU (26 years old).
Denmark's average age to leave home is also below the European average, at 21 years old.
On the other end of the spectrum, countries like Iraq and Egypt believe obedience is much more important for children to learn.
2. Unselfishness vs Religious Faith
Bangladesh, Egypt, and Jordan all place a strong emphasis on faith, and fall on the far right of this graph.
View the full-size infographic
Islam is a strong influence in all three of these countries. In Bangladesh and Jordan, it's the official state religion. And while Egypt is a secular country, a majority of citizens identify as Muslim—about 90% of the population.
Interestingly, places like the U.S. and Hong Kong fall right in the between, placing relatively equal importance on religion and unselfishness.
3. Hard Work vs Imagination
Left-leaning Nordic countries like Sweden, Norway, Denmark, and Finland think imagination is more important for children to learn than hard work.
View the full-size infographic
Interestingly, Japan also scored high for imagination, seeing it was a more important value to teach children than hard work. This is despite the fact that the country has an international reputation for being a hardworking country, where even taking an extended vacation can be frowned upon. Then again, Japan has a reputation for producing wildly creative works of art that are popular internationally (anime, for instance).
As expected, countries and cultures contain multitudes, and can often seem paradoxical and complex to those who try to codify them.
What qualities do you think are most important, and what countries surprised you with their placements?