Visualizing the Biggest Risks to the Global Economy in 2020
Top Risks in 2020: Dominated by Environmental Factors
Environmental concerns are a frequent talking point drawn upon by politicians and scientists alike, and for good reason. Irrespective of economic or social status, climate change has the potential to affect us all.
While public urgency surrounding climate action has been growing, it can be difficult to comprehend the potential extent of economic disruption that environmental risks pose.
Front and Center
Today's chart uses data from the World Economic Forum's annual Global Risks Report, which surveyed 800 leaders from business, government, and non-profits to showcase the most prominent economic risks the world faces.
According to the data in the report, here are the top five risks to the global economy, in terms of their likelihood and potential impact:
Top Global Risks (by "Likelihood")
Top Global Risks (by "Impact")
#1
Extreme weather
#1
Climate action failure
#2
Climate action failure
#2
Weapons of mass destruction
#3
Natural disasters
#3
Biodiversity loss
#4
Biodiversity loss
#4
Extreme weather
#5
Humanmade environmental disasters
#5
Water crises
With more emphasis being placed on environmental risks, how much do we need to worry?
According to the World Economic Forum, more than we can imagine. The report asserts that, among many other things, natural disasters are becoming more intense and more frequent.
While it can be difficult to extrapolate precisely how environmental risks could cascade into trouble for the global economy and financial system, here are some interesting examples of how they are already affecting institutional investors and the insurance industry.
The Stranded Assets Dilemma
If the world is to stick to its 2°C global warming threshold, as outlined in the Paris Agreement, a significant amount of oil, gas, and coal reserves would need to be left untouched. These assets would become "stranded", forfeiting roughly $1-4 trillion from the world economy.
Growing awareness of this risk has led to a change in sentiment. Many institutional investors have become wary of their portfolio exposures, and in some cases, have begun divesting from the sector entirely.
The financial case for fossil fuel divestment is strong. Fossil fuel companies once led the economy and world stock markets. They now lag.
– Institute for Energy Economics and Financial Analysis
The last couple of years have been a game-changer for the industry's future prospects. For example, 2018 was a milestone year in fossil fuel divestment:
Nearly 1,000 institutional investors representing $6.24 trillion in assets have pledged to divest from fossil fuels, up from just $52 billion four years ago;
Ireland became the first country to commit to fossil fuel divestment. At the time of announcement, its sovereign development fund had $10.4 billion in assets;
New York City became the largest (but not the first) city to commit to fossil fuel divestment. Its pension funds, totaling $189 billion at the time of announcement, aim to divest over a 5-year period.
A Tough Road Ahead
In a recent survey, actuaries ranked climate change as their top risk for 2019, ahead of damages from cyberattacks, financial instability, and terrorism—drawing strong parallels with the results of this year's Global Risk Report.
These growing concerns are well-founded. 2017 was the costliest year on record for natural disasters, with $344 billion in global economic losses. This daunting figure translated to a record year for insured losses, totalling $140 billion.
Although insured losses over 2019 have fallen back in line with the average over the past 10 years, Munich RE believes that long-term environmental effects are already being felt:
Recent studies have shown that over the long term, the environmental conditions for bushfires in Australia have become more favorable;
Despite a decrease in U.S. wildfire losses compared to previous years, there is a rising long-term trend for forest area burned in the U.S.;
An increase in hailstorms, as a result of climate change, has been shown to contribute to growing losses across the globe.
The Ball Is In Our Court
It's clear that the environmental issues we face are beginning to have a larger real impact. Despite growing awareness and preliminary actions such as fossil fuel divestment, the Global Risk Report stresses that there is much more work to be done to mitigate risks.
How companies and governments choose to respond over the next decade will be a focal point of many discussions to come.
Visualizing China's Dominance in Clean Energy Metals
Despite being the world's biggest carbon emitter, China is also a key producer of most of the critical minerals for the green revolution.
Visualizing China's Dominance in Clean Energy Metals
This was originally posted on Elements. Sign up to the free mailing list to get beautiful visualizations on natural resource megatrends in your email every week.
Renewable sources of energy are expected to replace fossil fuels over the coming decades, and this large-scale transition will have a downstream effect on the demand of raw materials. More green energy means more wind turbines, solar panels, and batteries needed, and more clean energy metals necessary to build these technologies.
This visualization, based on data from the International Energy Agency (IEA), illustrates where the extraction and processing of key metals for the green revolution take place.
It shows that despite being the world's biggest carbon polluter, China is also the largest producer of most of the world's critical minerals for the green revolution.
Where Clean Energy Metals are Produced
China produces 60% of all rare earth elements used as components in high technology devices, including smartphones and computers.
The country also has a 13% share of the lithium production market, which is still dominated by Australia (52%) and Chile (22%). The highly reactive element is key to producing rechargeable batteries for mobile phones, laptops, and electric vehicles.
| China's Share | Extraction | Processing |
| --- | --- | --- |
| Copper | 8% | 40% |
| Nickel | 5% | 35% |
| Cobalt | 1.5% | 65% |
| Rare Earths | 60% | 87% |
| Lithium | 13% | 58% |
But even more than extraction, China is the dominant economy when it comes to processing operations. The country's share of refining is around 35% for nickel, 58% for lithium, 65% for cobalt, and 87% for rare earth elements.
Despite being the largest economy in the world, the U.S. does not appear among the largest producers of any of the metals listed. To shorten the gap, the Biden administration recently launched an executive order to review the American strategy for critical and strategic materials.
It's also worth noting that Russia also does not appear among the top producers when it comes to clean energy metals, despite being one of the world's leading producers of minerals like copper, iron, and palladium.
Low Regulation in the Clean Metal Supply Chain
While China leads all countries in terms of cobalt processing, the metal itself is primarily extracted in the Democratic Republic of Congo (DRC). Still, Chinese interests own 15 of the 17 industrial cobalt operations in the DRC, according to a data analysis by The New York Times and Benchmark Mineral Intelligence.
Unfortunately, the DRC's cobalt production has been criticized due to reports of corruption and lack of regulation.
Part of the Congolese cobalt comes from artisanal mines with low regulation. Of the 255,000 Congolese artisanal miners, an estimated 40,000 are children, some as young as six years old.
The Rise of Clean Energy Metals
The necessary shift from fossil fuels to renewable energy opens up interesting questions about how geopolitics, and these supply chains, will be affected.
In the race to secure raw materials needed for the green revolution, new world powers could emerge as demand for clean energy metals grows.
For now, China has the lead.
Ranked: Nuclear Power Production, by Country
Nuclear power accounted for 10% of global electricity generated in 2020. Here's a look at the largest nuclear power producers.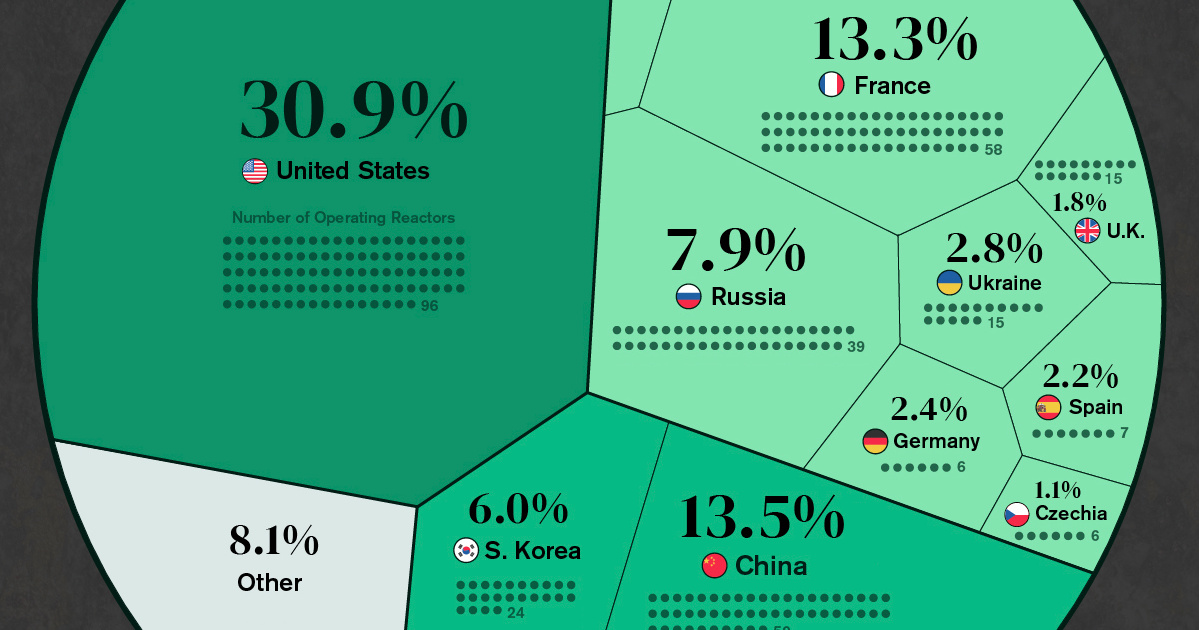 Nuclear Power Production by Country
This was originally posted on Elements. Sign up to the free mailing list to get beautiful visualizations on natural resource megatrends in your email every week.
Nearly 450 reactors around the world supply various nations with nuclear power, combining for about 10% of the world's electricity, or about 4% of the global energy mix.
But while some countries are turning to nuclear as a clean energy source, nuclear energy generation overall has seen a slowdown since its peak in the 1990s.
The above infographic breaks down nuclear electricity generation by country in 2020 using data from the Power Reactor Information System (PRIS).
Ranked: The Top 15 Countries for Nuclear Power
Just 15 countries account for more than 91% of global nuclear power production. Here's how much energy these countries produced in 2020:
Rank
Country
Number of Operating Reactors
Nuclear Electricity Supplied
[GWh]
% share
#1
U.S. 🇺🇸
96
789,919
30.9%
#2
China 🇨🇳
50
344,748
13.5%
#3
France 🇫🇷
58
338,671
13.3%
#4
Russia 🇷🇺
39
201,821
7.9%
#5
South Korea 🇰🇷
24
152,583
6.0%
#6
Canada 🇨🇦
19
92,166
3.6%
#7
Ukraine 🇺🇦
15
71,550
2.8%
#8
Germany 🇩🇪
6
60,918
2.4%
#9
Spain 🇪🇸
7
55,825
2.2%
#10
Sweden 🇸🇪
7
47,362
1.9%
#11
U.K. 🇬🇧
15
45,668
1.8%
#12
Japan 🇯🇵
33
43,099
1.7%
#13
India 🇮🇳
22
40,374
1.6%
#14
Belgium 🇧🇪
7
32,793
1.3%
#15
Czechia 🇨🇿
6
28,372
1.1%
Rest of the World 🌎
44
207,340
8.1%
Total
448
2,553,208
100.0%
In the U.S., nuclear power produces over 50% of the country's clean electricity. Additionally, 88 of the country's 96 operating reactors in 2020 received approvals for a 20-year life extension.
China, the world's second-largest nuclear power producer, is investing further in nuclear energy in a bid to achieve its climate goals. The plan, which includes building 150 new reactors by 2035, could cost as much as $440 billion.
On the other hand, European opinions on nuclear energy are mixed. Germany is the eighth-largest on the list but plans to shutter its last operating reactor in 2022 as part of its nuclear phase-out. France, meanwhile, plans to expand its nuclear capacity.
Which Countries Rely Most on Nuclear Energy?
Although total electricity generation is useful for a high-level global comparison, it's important to remember that there are some smaller countries not featured above where nuclear is still an important part of the electricity mix.
Here's a breakdown based on the share of nuclear energy in a country's electricity mix:
| Rank | Country | Nuclear Share of Electricity Mix |
| --- | --- | --- |
| #1 | France 🇫🇷 | 70.6% |
| #2 | Slovakia 🇸🇰 | 53.1% |
| #3 | Ukraine 🇺🇦 | 51.2% |
| #4 | Hungary 🇭🇺 | 48.0% |
| #5 | Bulgaria 🇧🇬 | 40.8% |
| #6 | Belgium 🇧🇪 | 39.1% |
| #7 | Slovenia 🇸🇮 | 37.8% |
| #8 | Czechia 🇨🇿 | 37.3% |
| #9 | Armenia 🇦🇲 | 34.5% |
| #10 | Finland 🇫🇮 | 33.9% |
| #11 | Switzerland 🇨🇭 | 32.9% |
| #12 | Sweden 🇸🇪 | 29.8% |
| #13 | South Korea 🇰🇷 | 29.6% |
| #14 | Spain 🇪🇸 | 22.2% |
| #15 | Russia 🇷🇺 | 20.6% |
| #16 | Romania 🇷🇴 | 19.9% |
| #17 | United States 🇺🇸 | 19.7% |
| #18 | Canada 🇨🇦 | 14.6% |
| #19 | United Kingdom 🇬🇧 | 14.5% |
| #20 | Germany 🇩🇪 | 11.3% |
European countries dominate the leaderboard with 14 of the top 15 spots, including France, where nuclear power is the country's largest source of electricity.
It's interesting to note that only a few of these countries are top producers of nuclear in absolute terms. For example, in Slovakia, nuclear makes up 53.6% of the electricity mix—however, the country's four reactors make up less than 1% of total global operating capacity.
On the flipside, the U.S. ranks 17th by share of nuclear power in its mix, despite producing 31% of global nuclear electricity in 2020. This discrepancy is largely due to size and population. European countries are much smaller and produce less electricity overall than larger countries like the U.S. and China.
The Future of Nuclear Power
The nuclear power landscape is constantly changing.
There were over 50 additional nuclear reactors under construction in 2020, and hundreds more are planned primarily in Asia.
As countries turn away from fossil fuels and embrace carbon-free energy sources, nuclear energy might see a resurgence in the global energy mix despite the phase-outs planned in several countries around the globe.