Mapping the Global Flow of Foreign Aid
Mapping the Global Flow of Foreign Aid
Billions of dollars routinely flow between countries for a number of reasons that go beyond simply helping people in less wealthy nations.
Extending foreign aid can be a tool to help strengthen relationships with allies, to help bolster a military presence in a key area, or even to project a positive image at home and abroad. Of course, aid also helps less wealthy nations do all kinds of things, from constructing new infrastructure to recovering from humanitarian crises or natural disasters.
Today's infographic, from Wristband Resources, is a comprehensive look at the flow of foreign aid funds around the world in 2017.
The visualization raises a number of questions. For example:
Why does Japan send so much foreign aid to places like India and Vietnam?
Why does Turkey—one of the top 20 economies in the world—receive so much foreign aid?
And why did Ethiopia receive over $1 billion in aid from the United States?
Below we'll answer key questions about foreign aid, while examining some of the more interesting relationships in detail.
What Constitutes Foreign Aid?
In simple terms, foreign aid is the voluntary transfer of resources from one country to another country—typically capital. Here are the six types of foreign aid:
1. Bilateral Aid: Direct government-to-government assistance
2. Multilateral Aid: When multiple governments pool resources in cooperation with organizations like the World Bank, the IMF, and the UN
3. Tied Aid: The receiving country accepts aid with the expectation that it is spent in the lending country
4. Voluntary Aid: A charitable donation, particularly when countries are facing a humanitarian crisis
5. Project Aid: When aid is used to finance a specific project
6. Military Aid: Similar to tied aid, but specific to weapons and military supplies
Note: The graphic above measures official development assistance (ODA), as defined by the OECD. ODA excludes military aid and the "promotion of donors' security interests" as well as transactions that have primarily commercial objectives.
Which Countries Give the Most Foreign Aid?
Every country's budget is different, and priorities can change as the economic and political cycles progress. As of 2018, here are the countries that contributed the most foreign aid as a portion of their Gross National Income (GNI).
In a 1970 resolution, the UN challenged countries to spend 0.7% of their GNI on foreign aid. Today, only four countries—Sweden, Luxembourg, Norway, and Denmark—surpassed the United Nations' official development assistance target.
Using this measure, all top 10 countries are located in Europe. That said, in absolute terms, countries like Japan and the United States are still major contributors of aid around the world.
Below are a few real world examples of foreign aid flow, and more context around why money is flowing between the countries.
Japan → India
India is the top recipient of foreign aid, with the majority of funds coming from Japan. The country received close to $2.4 billion from Japan in 2017.
In recent years, the growth of Japan-India relations is viewed as a counter to China's expanding economic and political influence across the Asian continent. As China's national banks continue to fund megaprojects around the world, Japan is helping to fill a similar role in India.
One major project currently under construction is the Mumbai–Ahmedabad High Speed Rail Corridor. To move the $22 billion project forward, Japan offered India a 50-year loan at a 0.1% interest rate, covering 80% of the project cost.
European Union → Turkey
European institutions contributed nearly $2.6 billion to Turkey in 2017. On the surface this may seem confusing, as Turkey is more developed than most nations receiving foreign aid—however, much of this funding stems from the migration crisis. In 2016, the EU struck a deal with Turkey to reroute any migrant arriving in Europe via the Aegean Sea back to Turkey. In exchange, the EU agreed to fast-track Turkey's EU membership bid.
Turkey has been bearing the brunt of caring for refugees, and the EU has contributed significant funds to the effort. For example, funding for the Emergency Social Safety Net (ESSN) program in Turkey has reached $1.2 billion.
In 2019, EU-Turkey relations took a chilly turn as European Parliament voted to suspend Turkey's EU membership bid, expressing concern over creeping authoritarianism and human rights violations.
United States → Ethiopia
In 2017, Ethiopia was under a state of emergency as the African country faced a third straight year of drought, and security forces and anti-government protesters clashed in the streets. Though the U.S. does provide plenty of military and security-oriented aid, this is an example of humanitarian aid in the face of a crisis.
The United States was also the top source by far for aid flowing into other countries in the region, including Kenya, Tanzania, and South Sudan.
This is How Much NATO Countries Spend on Defense
How much does each country in the military alliance contribute to NATO defense spending? We break it down with this map.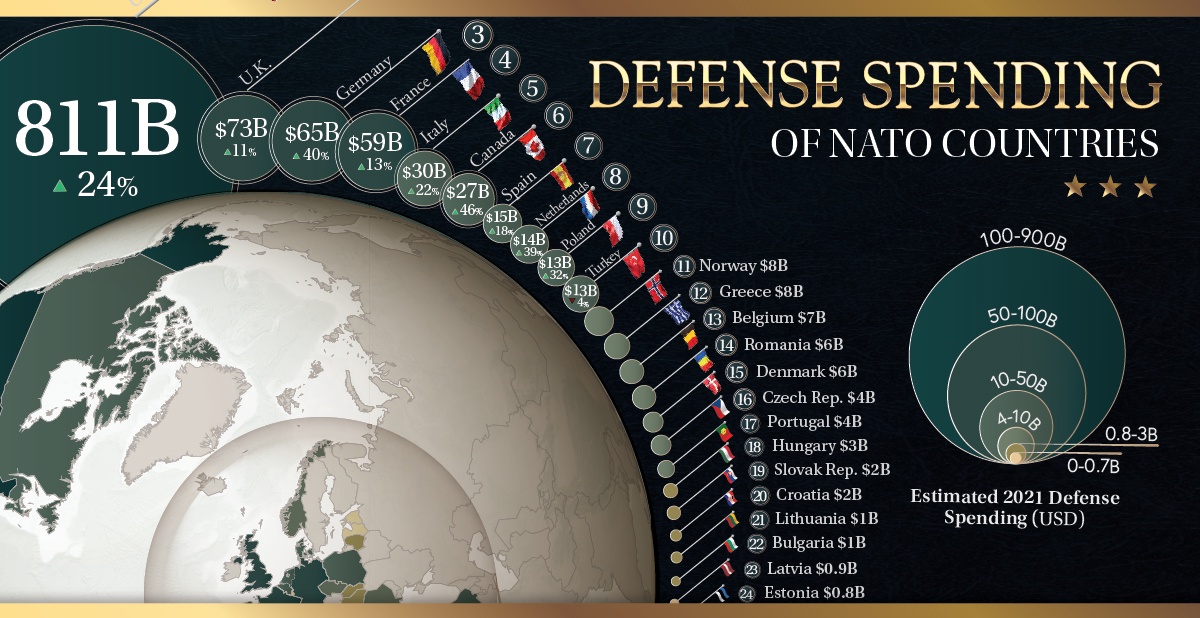 This Is How Much NATO Countries Spend on Defense
The North Atlantic Treaty Organization (NATO) exists for the sole purpose of facilitating a political and military alliance between almost 30 countries. All are obligated to one another in times of war, but some countries have much stronger militaries and defense systems than others.
Using data from NATO, this map reveals what each NATO member country spends on its own national defense.
Note: Numbers are 2021 projections.
Biggest NATO Defense Spenders
The U.S. spends more on defense than any other NATO country.
According to the 2021 estimates, U.S. defense spending will be close to $811 billion this year. On the other hand, the defense spending of all other NATO countries combined is projected to be $363 billion, meaning the U.S. will outspend all other countries by a whopping $448 billion.
| Rank | Country | Millions (USD) 2021p | Change (2014-2021) |
| --- | --- | --- | --- |
| #1 | 🇺🇸 United States | $811,140 | 24.0% |
| #2 | 🇬🇧 United Kingdom | $72,765 | 10.8% |
| #3 | 🇩🇪 Germany | $64,785 | 40.3% |
| #4 | 🇫🇷 France | $58,729 | 12.9% |
| #5 | 🇮🇹 Italy | $29,763 | 21.5% |
| #6 | 🇨🇦 Canada | $26,523 | 46.0% |
| #7 | 🇪🇸 Spain | $14,875 | 17.7% |
| #8 | 🇳🇱 Netherlands | $14,378 | 38.9% |
| #9 | 🇵🇱 Poland | $13,369 | 32.3% |
| #10 | 🇹🇷 Turkey | $13,057 | -3.8% |
| #11 | 🇳🇴 Norway | $8,292 | 7.4% |
| #12 | 🇬🇷 Greece | $8,014 | 53.1% |
| #13 | 🇧🇪 Belgium | $6,503 | 25.1% |
| #14 | 🇷🇴 Romania | $5,785 | 114.9% |
| #15 | 🇩🇰 Denmark | $5,522 | 36.1% |
| #16 | 🇨🇿 Czech Republic | $4,013 | 103.2% |
| #17 | 🇵🇹 Portugal | $3,975 | 32.2% |
| #18 | 🇭🇺 Hungary | $2,907 | 140.3% |
| #19 | 🇸🇰 Slovakia | $2,043 | 104.6% |
| #20 | 🇭🇷 Croatia | $1,846 | 73.6% |
| #21 | 🇱🇹 Lithuania | $1,278 | 198.8% |
| #22 | 🇧🇬 Bulgaria | $1,253 | 67.7% |
| #23 | 🇱🇻 Latvia | $851 | 189.9% |
| #24 | 🇪🇪 Estonia | $787 | 53.2% |
| #25 | 🇸🇮 Slovenia | $760 | 56.0% |
| #26 | 🇱🇺 Luxembourg | $474 | 87.4% |
| #27 | 🇦🇱 Albania | $239 | 33.8% |
| #28 | 🇲🇰 North Macedonia | $219 | 76.6% |
| #29 | 🇲🇪 Montenegro | $97 | 40.0% |
NATO is based on building up forces and equipment for the goal of joint security and defense. And, despite the pandemic, many members did increase their spending in 2020.
However, not all countries contribute equally. The agreed-upon target for European NATO members, for example, is to spend 2% of GDP on defense by 2024, but many countries are not on track to meet this goal.
Who Pays for NATO Itself?
One of the key pillars of NATO is collective defense: a commitment to the idea that an act of violence against one or more of its member states is an act of aggression towards all.
Collective defense, cooperative security, and crisis management are at the heart of NATO's purpose and operations.
Apart from defense spending, running a transcontinental political alliance costs around $3 billion annually. So which countries foot the bill for these expenses?
Country
Cost Share Arrangements
(2021-2024)
🇺🇸 United States
16.36%
🇩🇪 Germany
16.36%
🇬🇧 United Kingdom
11.29%
🇫🇷 France
10.50%
🇮🇹 Italy
8.79%
🇨🇦 Canada
6.88%
🇪🇸 Spain
6.00%
🇹🇷 Turkey
4.73%
🇳🇱 Netherlands
3.45%
🇵🇱 Poland
2.99%
🇧🇪 Belgium
2.11%
🇳🇴 Norway
1.78%
🇩🇰 Denmark
1.31%
🇷🇴 Romania
1.23%
🇬🇷 Greece
1.06%
🇨🇿 Czech Republic
1.06%
🇵🇹 Portugal
1.05%
🇭🇺 Hungary
0.76%
🇸🇰 Slovakia
0.52%
🇧🇬 Bulgaria
0.37%
🇭🇷 Croatia
0.30%
🇱🇹 Lithuania
0.26%
🇸🇮 Slovenia
0.23%
🇱🇺 Luxembourg
0.17%
🇱🇻 Latvia
0.16%
🇪🇪 Estonia
0.12%
🇦🇱 Albania
0.09%
🇮🇸 Iceland
0.06%
🇲🇪 Montenegro
0.03%
Total
100.00%
Members have pre-arranged mechanisms to divide NATO alliance expenses evenly.
Getting into specifics, the members are paying for:
Civilian staff wages and overhead costs of running NATO headquarters.
Running strategic commands, joint operations, early warning and radar systems, training, etc.
Defense communications systems, harbors, airfields, and fuel supplies.
The Future of NATO
While outright nation-on-nation conflict is becoming more rare, threats to the collective security of NATO allies have not disappeared.
While countries may have differing opinions over the exact amount each should contribute, rising expenditures are a sign that NATO is still a priority for the near future.
Map Explainer: Key Facts About Afghanistan
This map explainer looks at Afghanistan from a structural point of view, delving into geography and population patterns.
Map Explainer: Key Facts About Afghanistan
The country of Afghanistan has a long and complicated history of domination by foreign powers and conflict between factions within the country.
While Afghanistan is well covered in headlines and news stories, the lion's share of this coverage is directly related to conflict. As a result, Afghanistan is viewed by many in Western countries as a war-torn desert, with conflict, ideology, and geopolitical power obscuring more practical information about the country and its people.
In the Afghanistan map graphic above, we step back and examine Afghanistan from a structural point of view. How does its unique landscape influence population patterns? How does this geography influence the economy and relationships with neighboring nations? Let's dive in.
Mountain High, Valley Low
Afghanistan's rugged landscape is defined by towering snow-capped mountains, fertile valleys, and expansive deserts.
First, the country has a wide variety of climate extremes. There is more than 100ºC (180ºF) separating the record high and low temperatures.
The extremes don't stop at temperature though. Afghanistan has the sixth-highest elevation span in the world, with 7,234m (23,734 ft) between its highest and lowest point. Afghanistan is one of 44 landlocked nations in the world, which helps explain why its lowest point is so much higher than sea level.
For those living in North America, the country's terrain has been compared to Colorado, with Kabul sharing similarities with Denver.
Where Do People Live in Afghanistan?
Settlement patterns in Afghanistan are similar to other countries in the region; people cluster where there is access to fresh water.
As the cartogram below demonstrates, a large portion of the country's population is located around Kabul, and the region adjacent to the Kabul River.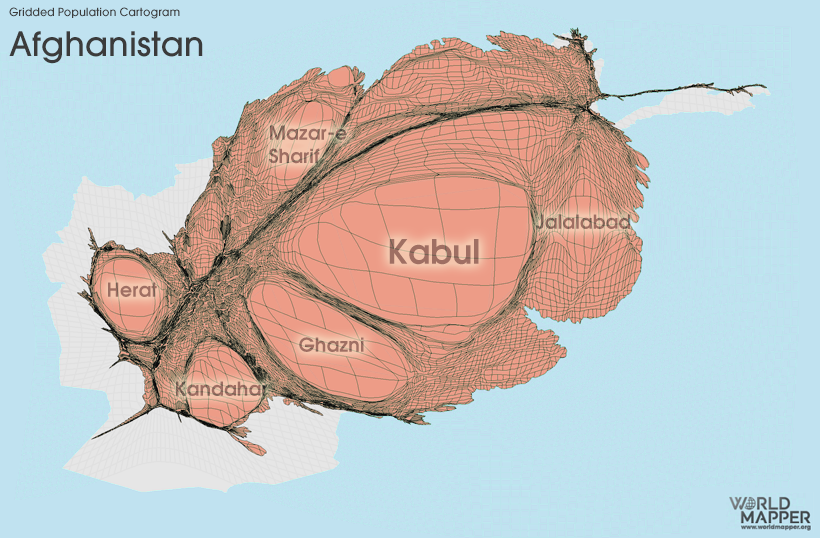 The southwestern province of Nimruz is the most sparsely populated area in the country. The Wakhan Corridor—which connects Afghanistan to China—is also very sparsely populated, with about 14,000 total residents.
Key Facts About Afghanistan's Demographics
Afghanistan has a very youthful population. The country's median age of 19 years is one of the youngest in the world, and is low compared to its neighbors Pakistan (24) and Iran (30).
Islam is the official state religion of Afghanistan. 99.7% of the Afghan population are Muslim, one of the highest proportions of the 49 Muslim-majority countries.
So far in 2021, the OCHA estimates that 550,000 people in Afghanistan are "internally displaced" due to conflict, and this number may rise still as new data tracks the final days of the Taliban's takeover of the country. The majority of those displaced persons are children.
Paving the Way
The Ring Road connecting Afghanistan's major cities began in the 1960s but was soon cut short by war. After the U.S. took control in 2001, new road construction began in earnest.
Between 2002 and 2016, USAID and the Department of Defense (DoD) spent approximately $2.8 billion building and maintaining Afghanistan's road infrastructure. This number doesn't include additional investment from other sources that poured in to improve the country's road network.
The result is a more comprehensive road network, but one that is difficult to maintain. A 2016 report found collapsed bridges and sections of road around the country that were washed out.
Resources and Relationships
Afghanistan is a critical source of fresh water for the arid region. Several major regional rivers flow from the country's mountainous eastern provinces into neighboring countries, so any new irrigation schemes and dam infrastructure will come with a geopolitical price tag as well.
Already in the recent past, tensions have increased with Iran and Pakistan over the flow of water crossing the border.
Outside countries are also very interested in Afghanistan's rich mineral resources. Decades of near-continuous conflict have made mining a tough proposition in the country, but with growing demand for resources such as lithium and rare earths, that may soon change.
Afghanistan is estimated to have over $1 trillion of untapped mineral reserves, and outside interests are taking notice.
China said it was ready for "friendly and cooperative relations" with the new Taliban regime, and it's possible that investment from China's Belt and Road Initiative (BRI) may step in to fill the vacuum left by departing Western powers.