How Chinese Financing is Fueling Megaprojects Around the World
View the full-size version of this infographic.
How Chinese Financing is Fueling the World's Megaprojects
On a mountaintop a few miles north of the bustling streets of Harare, Zimbabwe, a curving, modern complex is beginning to take shape. This building, once completed, will be the home of the African country's parliament, and the centerpiece of a new section of the capital city.
Aside from the striking design, there's another unique twist to this development — the entire $140 million project is a gift from Beijing. At first glance, gifting a country a new parliament building may seem extravagant, but the project is a tiny portion of China's $270 billion in "diplomacy spending" since 2000.
AidData, a research lab at the W&M Global Research Institute, has compiled a massive database of Chinese-backed projects spanning from 2000–2017. In aggregate, it creates a comprehensive look at China's efforts to grow its influence in countries around the world, particularly in Africa and South Asia.
Beijing has ramped up the volume and sophistication of its public diplomacy overtures, […] but infrastructure as a part of its financial diplomacy dwarfs Beijing's other public diplomacy tools.
– Samantha Custer, Director of Policy Analysis, AidData
Below, we'll look at three diplomacy spending hotspots around the world, and learn about key Chinese-funded megaprojects, from power plants to railway systems.
1. Pakistan
In 2015, Chinese President Xi Jingping visited Islamabad to inaugurate the China-Pakistan Economic Corridor (CPEC), kicking off a $46 billion investment that has transformed Pakistan's transportation system and power grid. CPEC is designed to cement the strategic relationship between the two countries, and is a portion of China's massive One Belt, One Road (OBOR) initiative.
One of the largest projects financed by China was the Karachi Nuclear Power K2/K3 project. This massive power generation project is primarily bankrolled by China's state-owned Exim Bank which has kicked in over $6.6 billion over three phases of payments.
Billions of dollars in Chinese capital has also funded everything from highway construction to renewable energy projects across Pakistan. Pakistan's youth unemployment rate sits as high as 40%, so jobs created by new infrastructure investments are a welcome prospect. In 2014, Pakistan had the highest public approval rating of China in the world, with nearly 80% respondents holding a favorable view of China.
2. Ethiopia
Ethiopia has seen a number of changes within its borders thanks to Chinese financing. This is particularly evident in its capital, Addis Ababa, where a slew of transportation projects — from new ring roads to Sub-Saharan Africa's first metro system — transformed the city.
One of the most striking symbols of Chinese influence in Addis Ababa is the futuristic African Union (AU) headquarters. The $200 million complex was gifted to the city by Beijing in 2012.
Though Ethiopia is a clear example of Chinese investment transforming a country's infrastructure, a number of other African nations have experienced a similar influx of money from Beijing. This financing pipeline has increased dramatically in recent years.
3. Sri Lanka
In the wake of political turmoil, Sri Lanka is increasingly looking to China for loans. From 2000 to 2017, over $12 billion in loans and grants have poured into the deeply-indebted country.
Perhaps the most contentious symbol of the relationship between the two countries is a port on the south coast of the island nation, at a strategic point along one of the world's busiest shipping lanes. The Hambantota Port project — which was completed in 2011 — followed a now familiar path. Eschewing an open bidding process, Beijing's government financed the project and hired a state-owned firm to construct the port, primarily using Chinese workers.
By 2017, Sri Lanka's government was burdened by debt the previous administration had taken on. After months of negotiations, the port was handed over with the land around it leased to China for 99 years. This handover was a strategic victory for China, which now has a shipping foothold within close proximity of its regional rival, India.
John Adams said infamously that a way to subjugate a country is through either the sword or debt. China has chosen the latter.
– Brahma Chellaney
Playing the Long Game
Africa's economic rise will likely be a major contributor to global growth in coming years. Already, six of the 10 fastest growing economies in the world are located in Africa. China is also the top trading partner on the continent, with the United States sitting in third place.
OBOR spending has also earned China plenty of influence in the rest of Asia as well. If the ambitious megaproject continues along its current trajectory, China will be the central player in a more prosperous, interconnected Asia.
Mapped: The World's Top Countries for Military Spending
Global military spending is now at a 32-year high. We show countries' military spending by dollars and as a portion of GDP.
Mapped: The World's Top Countries for Military Spending
By practically any measure, the world today is more peaceful and less war-torn on a global scale, relative to the past.
For instance, declarations of war between nations and soldier casualties have both dropped drastically since the 20th century. Yet, military spending has not followed this trend.
The Top 10 Military Spenders
According to SIPRI, global military spend reached almost $2 trillion in 2020. The top 10 countries represent roughly 75% of this figure, and have increased their spending by $51 billion since the year prior.
Here's how the worlds top 10 military spenders compare to each other:
| Rank | Country | Military Spend 2020 ($B) | % Change | Military Spend 2019 ($B) |
| --- | --- | --- | --- | --- |
| #1 | 🇺🇸 United States | $778.0 | +6.2% | $732.0 |
| #2 | 🇨🇳 China | $252.0 | -3.4% | $261.0 |
| #3 | 🇮🇳 India | $72.9 | +2.5% | $71.1 |
| #4 | 🇷🇺 Russia | $61.7 | -5.2% | $65.1 |
| #5 | 🇬🇧 United Kingdom | $59.2 | +21.5% | $48.7 |
| #6 | 🇸🇦 Saudi Arabia | $57.5 | -7.1% | $61.9 |
| #7 | 🇩🇪 Germany | $52.8 | +7.1% | $61.9 |
| #8 | 🇫🇷 France | $52.7 | +5.1% | $50.1 |
| #9 | 🇯🇵 Japan | $49.1 | +3.1% | $47.6 |
| #10 | 🇰🇷 South Korea | $45.7 | +4.1% | $43.9 |
| | Total | $1,481.6 | +3.5% | $1,430.7 |
The U.S. isn't labeled as a global superpower for nothing. The country is by far the largest military spender, and its $778 billion budget trumps the remainder of the list's collective $703.6 billion. On its own, the U.S. represents just under 40% of global military spending.
This year, Saudi Arabia has lost out on a top five seat to the UK, after a 7.1% decline in spending compared to a 21.5% increase for the UK.
Military Spend as a Percentage of GDP
Military expenditures as a percentage of GDP can be used to compare military spending relative to the size of a country's economy.
Click here to view a high-resolution version of this image.
When looking at things this way, many of the top spenders above do not appear. This may be an indication of their economic prowess or a demonstration that the money might be used for other vital areas such as education, healthcare, or infrastructure.
| Rank | Country | Region | Spend as a % of GDP (2020) |
| --- | --- | --- | --- |
| #1 | 🇴🇲 Oman | Middle East | 11.0% |
| #2 | 🇸🇦 Saudi Arabia | Middle East | 8.4% |
| #3 | 🇩🇿 Algeria | North Africa | 6.7% |
| #4 | 🇰🇼 Kuwait | Middle East | 6.5% |
| #5 | 🇮🇱 Israel | Middle East | 5.6% |
| #6 | 🇷🇺 Russia | Europe/Asia | 4.3% |
| #7 | 🇲🇦 Morocco | North Africa | 4.3% |
| #8 | 🇮🇶 Iraq | Middle East | 4.1% |
| #9 | 🇺🇦 Ukraine | Europe | 4.1% |
| #10 | 🇵🇰 Pakistan | South Asia | 4.0% |
It's pretty rare for countries to reach double digits for military spending as a percentage of GDP. In this case, Oman is an outlier, as the Middle Eastern country's spending relative to GDP grew from 8.8% last year, to 11% in 2020.
Many of the countries with the highest military spending to GDP are located in the Middle East—a reflection of the escalating conflicts that have persisted in the region for well over two decades.
It's worth noting that some data for the Middle Eastern region are estimates, due to the aforementioned regional instability.
More Spending to Come?
Global military spending figures are at a 32-year high, despite the pandemic's effect on shrinking economic output.
Although a major war hasn't occurred in some time, it's not to say the geopolitical mood hasn't been tense.
The last 12 months or so have witnessed some nail-biting moments including:
Border disputes between China and India
Heightening tensions between China and Taiwan
Russia's military presence in eastern Ukraine
The hacking of SolarWinds, a Texas-based company, by Russia
The ongoing Yemen crisis
An Israel-Iran feud
Will 2021 extend the trend of peace, or will rising military spending mean even higher tensions?
Which Generation Has the Most Influence Over U.S. Politics?
Visual Capitalist's inaugural Generational Power Index (GPI) examines the political power held by each generation and their influence on society.
Measuring Influence in U.S. Politics, by Generation
Generations are a widely recognized and discussed concept, and it's assumed people all understand what they refer to. But the true extent of each generation's clout has remained undetermined—until now.
In our inaugural Generational Power Index (GPI) 2021, we examine the power and influence each generation currently holds on American society, and its potential to evolve in the future.
Political power by generation was one of three key categories we used to quantify the current landscape. Before we dive into the results, here's how the Political Power category was calculated.
Measuring Generational Power
To begin with, here's how we categorized each generation:
| Generation | Age range (years) | Birth year range |
| --- | --- | --- |
| The Silent Generation | 76 and over | 1928-1945 |
| Baby Boomers | 57-75 | 1946-1964 |
| Gen X | 41-56 | 1965-1980 |
| Millennials | 25-40 | 1981-1996 |
| Gen Z | 9-24 | 1997-2012 |
| Gen Alpha | 8 and below | 2013-present |
Using these age groups as a framework, we then calculated the Political Power category using these distinct equally-weighted variables:
With this methodology in mind, here's how the Political Power category shakes out, using insights from the GPI.
Share of Political Power by Generation
Baby Boomers dominated with over 47% of the total political power by generation. This cohort has particular strength in the judicial system and in Congress.
| Generation | Political Power Share |
| --- | --- |
| Baby Boomers | 47.4% |
| Gen X | 29.0% |
| Millennials | 10.0% |
| Silent | 12.1% |
| Gen Z | 1.6% |
Baby Boomers, along with the Silent Generation also control 80% of political spending. Meanwhile, Gen X accounts for nearly half (46%) of local government positions.
Both voters and politicians play key roles in shaping American society. Thus, two variables worth looking closer at are the evolving electoral base and the composition of Congress.
The Changing Face of the U.S. Voter
Younger generations have very different perceptions on everything from cannabis to climate change. This is starting to be reflected in legislation.
2016 was a watershed moment for politicians vying for the vote—it was the last election in which Baby Boomers made up over a third of U.S. voters. Collectively, Boomers' voting power will decline from here on out.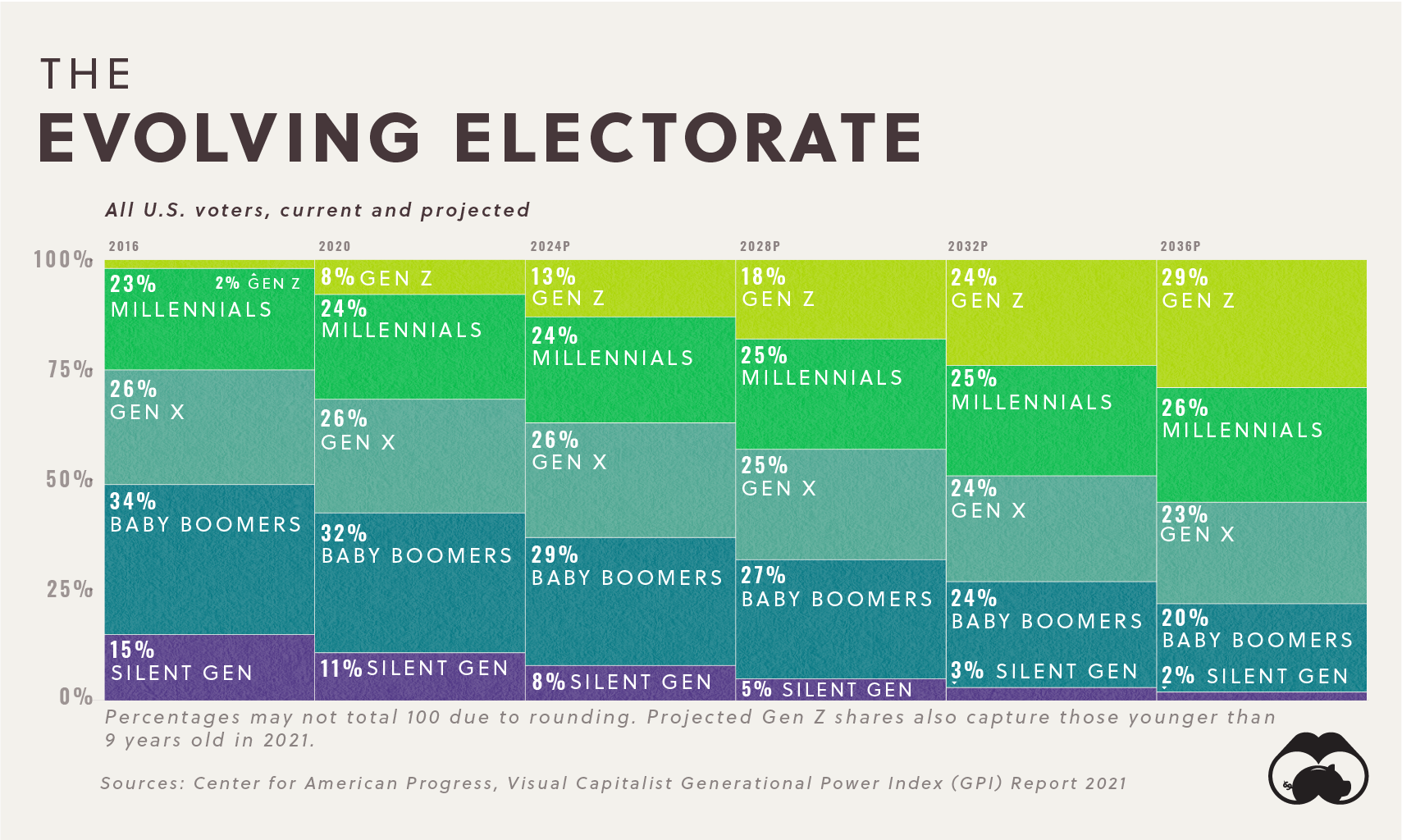 Within the next two decades, the combined voting power of Millennials and Gen Z will skyrocket from 32% in 2020 up to 55% by 2036.
Meanwhile, a decade from now, the oldest members of Gen Alpha (those born in 2013 and later) will enter the playing field and become eligible to vote in 2031.
The View from the Top
Having examined generational power in the electorate, we now turn our attention to the people on the other side of the democratic equation—the politicians.
In most cases, it takes many decades of experience and reputation building to reach the highest offices in the land. That's why the median age of Congress (61.2) is much higher than the median age of the U.S. population at large (38.1).
At this point in time, Baby Boomers are in the sweet spot, and it shows in the numbers. Boomers represent 298 of 532 Congressional seats (56% of all seats), and Gen X's growing contingent of members represents 31%.
On one end of the spectrum, the Silent Generation still occupies 7% of seats, which roughly reflects the group's share of the U.S. population. California's Democratic Senator Dianne Feinstein and Republican Don Young are both 87 years old, the latter having represented Alaska for 25 terms.
On the other end of the spectrum, Millennials currently claim 32 seats, just 6% of the total. As of 2021, this entire cohort now meets the minimum age requirement (25) to serve in the House of Representatives. The youngest member of Congress is Republican Madison Cawthorn, a representative for North Carolina at just 25 years old. Meanwhile, Senator Jon Ossoff is the youngest Senator in the country, serving Georgia at 36 years old.
This difference in political power by generation is stark considering that both Boomers and Millennials both make up similar proportions of the U.S. population at large. In that sense, Millennials are greatly underrepresented in Congress compared to Boomers.
Gen Z Waiting Patiently in the Wings
Gen Z's current age range is a natural reason why they don't yet have a foothold in government. But by 2022, the oldest members of Gen Z will turn 25, meeting the minimum age requirement to get elected into the House of Representatives.
With the oldest members of this generation soon turning 25, how long will it be before a representative from Gen Z occupies a seat in the Capitol Building?
Download the Generational Power Report (.pdf)