Visualizing the History of Pandemics
The History of Pandemics
Pan·dem·ic /panˈdemik/ (of a disease) prevalent over a whole country or the world.
As humans have spread across the world, so have infectious diseases. Even in this modern era, outbreaks are nearly constant, though not every outbreak reaches pandemic level as COVID-19 has.
Today's visualization outlines some of history's most deadly pandemics, from the Antonine Plague to the current COVID-19 event.
A Timeline of Historical Pandemics
Disease and illnesses have plagued humanity since the earliest days, our mortal flaw. However, it was not until the marked shift to agrarian communities that the scale and spread of these diseases increased dramatically.
Widespread trade created new opportunities for human and animal interactions that sped up such epidemics. Malaria, tuberculosis, leprosy, influenza, smallpox, and others first appeared during these early years.
The more civilized humans became – with larger cities, more exotic trade routes, and increased contact with different populations of people, animals, and ecosystems – the more likely pandemics would occur.
Here are some of the major pandemics that have occurred over time:
| Name | Time period | Type / Pre-human host | Death toll |
| --- | --- | --- | --- |
| Antonine Plague | 165-180 | Believed to be either smallpox or measles | 5M |
| Japanese smallpox epidemic | 735-737 | Variola major virus | 1M |
| Plague of Justinian | 541-542 | Yersinia pestis bacteria / Rats, fleas | 30-50M |
| Black Death | 1347-1351 | Yersinia pestis bacteria / Rats, fleas | 200M |
| New World Smallpox Outbreak | 1520 – onwards | Variola major virus | 56M |
| Great Plague of London | 1665 | Yersinia pestis bacteria / Rats, fleas | 100,000 |
| Italian plague | 1629-1631 | Yersinia pestis bacteria / Rats, fleas | 1M |
| Cholera Pandemics 1-6 | 1817-1923 | V. cholerae bacteria | 1M+ |
| Third Plague | 1885 | Yersinia pestis bacteria / Rats, fleas | 12M (China and India) |
| Yellow Fever | Late 1800s | Virus / Mosquitoes | 100,000-150,000 (U.S.) |
| Russian Flu | 1889-1890 | Believed to be H2N2 (avian origin) | 1M |
| Spanish Flu | 1918-1919 | H1N1 virus / Pigs | 40-50M |
| Asian Flu | 1957-1958 | H2N2 virus | 1.1M |
| Hong Kong Flu | 1968-1970 | H3N2 virus | 1M |
| HIV/AIDS | 1981-present | Virus / Chimpanzees | 25-35M |
| Swine Flu | 2009-2010 | H1N1 virus / Pigs | 200,000 |
| SARS | 2002-2003 | Coronavirus / Bats, Civets | 770 |
| Ebola | 2014-2016 | Ebolavirus / Wild animals | 11,000 |
| MERS | 2015-Present | Coronavirus / Bats, camels | 850 |
| COVID-19 | 2019-Present | Coronavirus – Unknown (possibly pangolins) | 2.7M (Johns Hopkins University estimate as of March 16, 2021) |
Note: Many of the death toll numbers listed above are best estimates based on available research. Some, such as the Plague of Justinian and Swine Flu, are subject to debate based on new evidence.
Despite the persistence of disease and pandemics throughout history, there's one consistent trend over time – a gradual reduction in the death rate. Healthcare improvements and understanding the factors that incubate pandemics have been powerful tools in mitigating their impact.
June 30, 2021 Update: Due to popular request, we've also visualized how the death tolls of each pandemic stack up as a share of total estimated global populations at the time.
Wrath of the Gods
In many ancient societies, people believed that spirits and gods inflicted disease and destruction upon those that deserved their wrath. This unscientific perception often led to disastrous responses that resulted in the deaths of thousands, if not millions.
In the case of Justinian's plague, the Byzantine historian Procopius of Caesarea traced the origins of the plague (the Yersinia pestis bacteria) to China and northeast India, via land and sea trade routes to Egypt where it entered the Byzantine Empire through Mediterranean ports.
Despite his apparent knowledge of the role geography and trade played in this spread, Procopius laid blame for the outbreak on the Emperor Justinian, declaring him to be either a devil, or invoking God's punishment for his evil ways. Some historians found that this event could have dashed Emperor Justinian's efforts to reunite the Western and Eastern remnants of the Roman Empire, and marked the beginning of the Dark Ages.
Luckily, humanity's understanding of the causes of disease has improved, and this is resulting in a drastic improvement in the response to modern pandemics, albeit slow and incomplete.
Importing Disease
The practice of quarantine began during the 14th century, in an effort to protect coastal cities from plague epidemics. Cautious port authorities required ships arriving in Venice from infected ports to sit at anchor for 40 days before landing — the origin of the word quarantine from the Italian "quaranta giorni", or 40 days.
One of the first instances of relying on geography and statistical analysis was in mid-19th century London, during a cholera outbreak. In 1854, Dr. John Snow came to the conclusion that cholera was spreading via tainted water and decided to display neighborhood mortality data directly on a map. This method revealed a cluster of cases around a specific pump from which people were drawing their water from.
While the interactions created through trade and urban life play a pivotal role, it is also the virulent nature of particular diseases that indicate the trajectory of a pandemic.
Tracking Infectiousness
Scientists use a basic measure to track the infectiousness of a disease called the reproduction number — also known as R0 or "R naught." This number tells us how many susceptible people, on average, each sick person will in turn infect.
Measles tops the list, being the most contagious with a R0 range of 12-18. This means a single person can infect, on average, 12 to 18 people in an unvaccinated population.
While measles may be the most virulent, vaccination efforts and herd immunity can curb its spread. The more people are immune to a disease, the less likely it is to proliferate, making vaccinations critical to prevent the resurgence of known and treatable diseases.
It's hard to calculate and forecast the true impact of COVID-19, as the outbreak is still ongoing and researchers are still learning about this new form of coronavirus.
Urbanization and the Spread of Disease
We arrive at where we began, with rising global connections and interactions as a driving force behind pandemics. From small hunting and gathering tribes to the metropolis, humanity's reliance on one another has also sparked opportunities for disease to spread.
Urbanization in the developing world is bringing more and more rural residents into denser neighborhoods, while population increases are putting greater pressure on the environment. At the same time, passenger air traffic nearly doubled in the past decade. These macro trends are having a profound impact on the spread of infectious disease.
As organizations and governments around the world ask for citizens to practice social distancing to help reduce the rate of infection, the digital world is allowing people to maintain connections and commerce like never before.
Editor's Note: The COVID-19 pandemic is in its early stages and it is obviously impossible to predict its future impact. This post and infographic are meant to provide historical context, and we will continue to update it as time goes on to maintain its accuracy.
Update (March 15, 2020): We've adjusted the death toll for COVID-19, and will continue to update on a regular basis.
Charted: The Gen Z Unemployment Rate, Compared to Older Generations
COVID-19 has impacted everyone, but one generation is taking it harder than the others. This graphic reveals the Gen Z unemployment rate.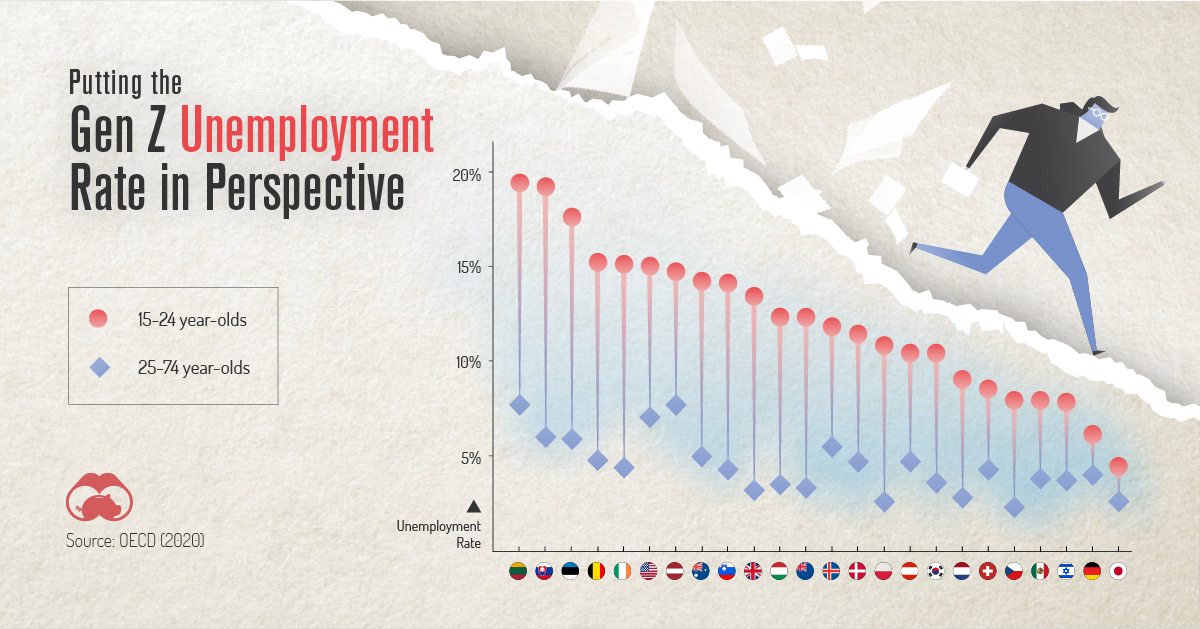 Putting the Gen Z Unemployment Rate in Perspective
There are more than 2 billion people in the Generation Z age range globally. These individuals, born between 1997 and 2009, represent about 30% of the total global population—and it's predicted that by 2025, Gen Z will make up about 27% of the workforce.
Due to the global pandemic, unemployment has been on the rise across the board—but Gen Z has been hit the hardest. This chart, using data from the OECD, displays the difference between the unemployment rate for Gen Zers and the rate for older generations.
Note: The OECD defines the 'unemployed' as people of legal working age who don't have work, are available to work, and have taken steps to find a job. The final figure is the number of unemployed people as a share of the total labor force.
The Generation Gap: Gen Z Unemployment
Compared to their older working-age counterparts, Baby Boomers, Gen X, and Millennials (Gen Y)—the most recent 2020 data shows that Gen Z has an unemployment rate of nearly 2x more in almost every OECD country.
| Country | Unemployment Rate (Gen Z) | Unemployment Rate (Millennial, Gen X, Boomer) |
| --- | --- | --- |
| 🇦🇺 Australia | 14.3% | 5.0% |
| 🇦🇹 Austria | 10.5% | 4.7% |
| 🇧🇪 Belgium | 15.3% | 4.8% |
| 🇨🇦 Canada | 20.0% | 7.9% |
| 🇨🇱 Chile | 24.8% | 9.6% |
| 🇨🇴 Colombia | 27.5% | 13.9% |
| 🇨🇿 Czech Republic | 8.0% | 2.3% |
| 🇩🇰 Denmark | 11.5% | 4.7% |
| 🇪🇪 Estonia | 17.7% | 5.9% |
| 🇫🇮 Finland | 21.0% | 6.0% |
| 🇫🇷 France | 20.1% | 6.8% |
| 🇩🇪 Germany | 6.2% | 4.0% |
| 🇭🇺 Hungary | 12.4% | 3.5% |
| 🇮🇸 Iceland | 11.9% | 5.5% |
| 🇮🇪 Ireland | 15.2% | 4.4% |
| 🇮🇱 Israel | 7.9% | 3.7% |
| 🇮🇹 Italy | 29.1% | - |
| 🇯🇵 Japan | 4.5% | 2.6% |
| 🇰🇷 South Korea | 10.5% | 3.6% |
| 🇱🇻 Latvia | 14.8% | 7.7% |
| 🇱🇹 Lithuania | 19.5% | 7.7% |
| 🇱🇺 Luxembourg | 22.4% | 5.6% |
| 🇲🇽 Mexico | 8.0% | 3.8% |
| 🇳🇱 Netherlands | 9.1% | 2.8% |
| 🇳🇿 New Zealand | 12.4% | 3.3% |
| 🇵🇱 Poland | 10.9% | 2.6% |
| 🇵🇹 Portugal | 22.9% | 5.9% |
| 🇸🇰 Slovakia | 19.3% | 6.0% |
| 🇸🇮 Slovenia | 14.2% | 4.3% |
| 🇪🇸 Spain | 38.3% | 14.0% |
| 🇸🇪 Sweden | 23.8% | 6.4% |
| 🇨🇭 Switzerland | 8.6% | 4.3% |
| 🇬🇧 United Kingdom | 13.5% | 3.2% |
| 🇺🇸 United States | 15.1% | 7.1% |
Note: For the purposes of this article, we are only considering the Gen Zers of legal working age—those born 1997-2006. The rest—Baby Boomers, Gen X, and Millennials—are those born between 1946–1996.
The timing for the youngest working generation could not be worse. Gen Z is just beginning to graduate college and high school, and are beginning to search for work and careers.
Gen Z is also an age group that is overrepresented in service industries like restaurants and travel–industries that were equally hard hit by the pandemic. In the U.S., for example, around 25% of young people work in the hospitality and leisure sectors. Between February and May 2020 alone, employment in these sectors decreased by 41%.
Countries like Spain are facing some of the biggest headwinds among OECD countries. The country already has a high unemployment rate for those aged 25-74, at 14%. But the unemployment rate for Gen Z is more than double that, at over 38%.
Implications For the Future
While it may be true throughout history that this age group is often less employed than older cohorts, the share of labor held by those aged 15-24 dropped significantly in 2020.
Note: This chart represents the data from G7 countries.
In terms of their future employment prospects, some economists are anticipating what they call 'scarring'. Due to longer periods of unemployment, Gen Z will miss out on formative years gaining experience and training. This may impact them later in life, as their ability to climb the career ladder will be affected.
Starting out slower can also hit earnings. One study found that long periods of youth unemployment can reduce lifetime income by 2%. Finally, it is also postulated that with the current economic situation, Gen Zers may accept lower paying jobs setting them on a track of comparatively lower earnings over their lifetime.
Overall, there are many future implications associated with the current unemployment rate for Gen Zers. Often getting your foot in the door after college or high school is one of the hardest steps in starting a career. Once you're in, you gain knowledge, skills, and the oh-so-coveted experience needed to get ahead.
The Kids are Alright?
One positive for Gen Z is that they have been found to be more risk averse and financially conscious than other generations, and were so even prior to COVID-19. Many of them were children during the 2008 Recession and became very cautious as a result.
They are also the first digital generation— the first to grow up without any memory of a time before the internet. Additionally, they have been called the first global generation. This could mean that they pioneer location-independent careers, create innovative revenue streams, and find new ways to define work.
Explained: The 3 Major COVID-19 Variants
New variants of COVID-19 are spreading fast around the world. Here's a look at the 3 major ones and how they differ from one another.
Explained: The 3 Major COVID-19 Variants
As billions of people gear up for widespread vaccination against COVID-19, another issue has reared its head. Three major COVID-19 variants have emerged across the globe—and preliminary research suggests these variants may be cause for concern.
But what makes them different from the original strain?
The following visualizations answer some key questions, including when these variants were first discovered, how far they've spread worldwide, and most importantly, their potential impact on the population.
Some Context: What is a Variant?
Before diving in, it's important to understand why viruses mutate in the first place.
To infect someone, a virus takes over a host cell and uses it to replicate itself. But nature isn't perfect, and sometimes, mistakes are made during the replication process—those mistakes are called mutations.
A virus with one or more mutations is referred to as a variant. Most of the time, variants do not affect a virus's physical structure, and in those instances, they eventually disappear. However, there are certain cases when a mutation impacts part of a virus's genetic makeup that does change its behavior.
According to the U.S. Centers for Disease Control (CDC) a change in behavior can alter:
Rate of transmission
Deadliness
Ability to potentially infect someone with natural or vaccine-induced immunity
Preliminary research has detected some of these changes in the three major COVID-19 variants—B.1.1.7, B.1.351, and P.1.
The 3 Major COVID-19 Variants
The three major variants emerged at different times, and in different parts of the world. Here's an overview of each variant, when they were discovered, and how far they've spread so far.
B.1.1.7
The B.1.1.7 variant was detected in the UK in the fall of 2020. By December 2020, it had spread across the globe, with cases emerging across Europe, North America, and Asia.
Currently, the variant has been reported in roughly 94 countries.
Early research suggests it's 50% more transmissible than other variants, and potentially 35% more deadly than the standard virus. Luckily, studies suggest that some of the existing vaccines work well against it.
B.1.351
In October 2020, the second major variant was discovered—B.1.351. It was first identified in South Africa, but by end of the year, it had spread to the UK, Switzerland, Australia, and Japan.
There are approximately 48 countries with reported cases, and research suggests several of the existing COVID-19 vaccines may not be as effective against this variant.
P.1
The P.1 variant was the last to arrive on the scene.
It was first discovered in January 2021, when Japan reported four cases of the variant, which was found in travelers who had arrived from Brazil.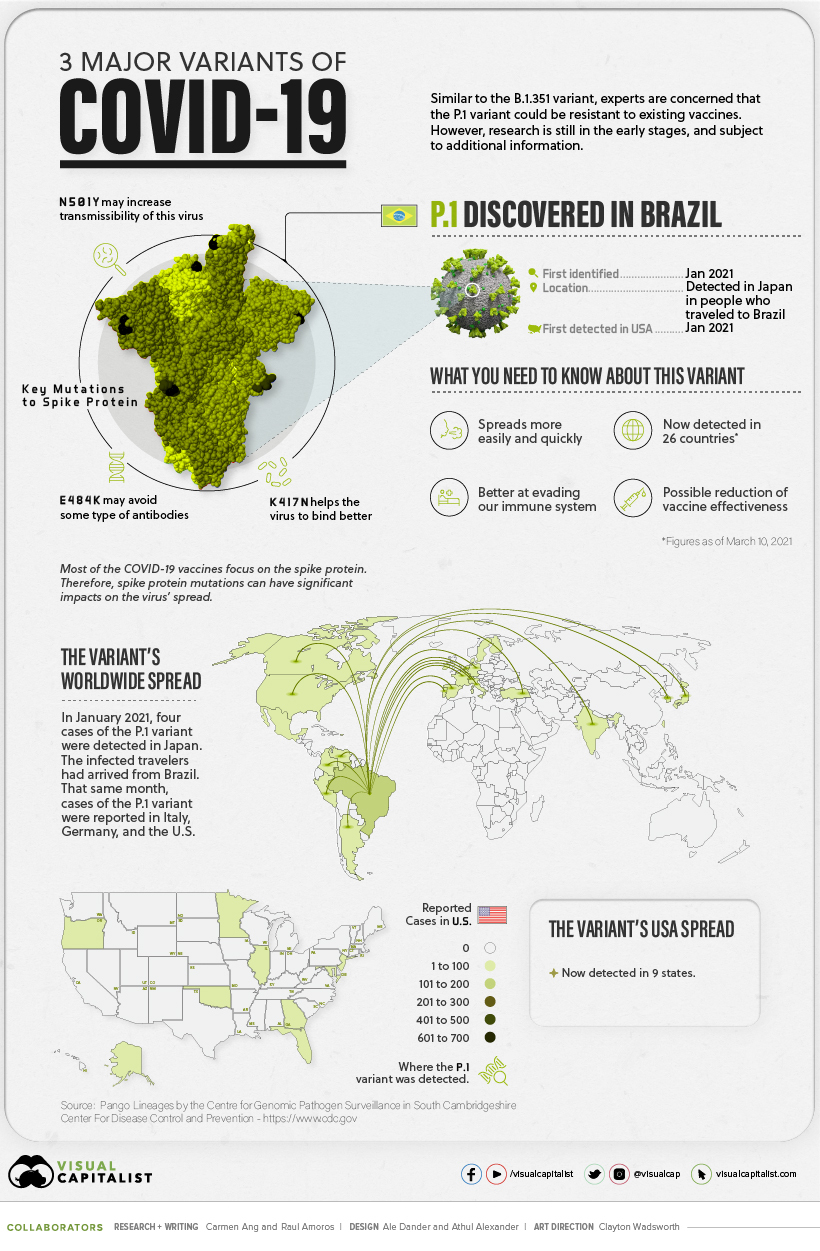 Approximately 25 countries have reported cases of the P.1 variant, and early research suggests this variant is not only more contagious, but could also have the ability to infect people with natural immunity who had already recovered from the original strain.
Still Early Days
While there have been preliminary studies showing a dip in vaccine effectiveness, some experts emphasize that it's too early to tell for certain. More data is needed to gain a deeper and more accurate understanding.
In the meantime, experts are emphasizing the importance of following our current public health strategies, which include physical distancing, vaccination, washing your hands, and using masks.