Where Are the Oldest Companies in Existence?
View the full-size version of this infographic.

Where Are the Oldest Companies in Existence?
View the high resolution version of this infographic by clicking here.
In just a few decades, it's possible that some of today's most recognized companies may no longer be household names.
Corporate longevity, or the average lifespan of a company, has been shrinking dramatically.
In the 1960s, a typical S&P 500 company was projected to last for more than 60 years. However, with the rapidly transforming business landscape today, it's down to just 18 years.
The Companies With the Strongest Staying Power
Even with companies skewing younger, there are always exceptions to the rule.
Luckily, many companies around the world have stood the test of time, and today's detailed map from Business Financing highlights the oldest company in existence in each country.
For centuries, here are the world's oldest corporations which have made their mark:

| Year | Company Name | Country | Industry |
| --- | --- | --- | --- |
| 578 | Kongō Gumi Co., Ltd. | Japan | Construction |
| 803 | St.  Peter Stifts Kulinarium | Austria | Service Industry (Restaurant) |
| 862 | Staffelter Hof | Germany | Distillers, Vintners, & Breweries (Winery) |
| 864 | Monnaie de Paris | France | Manufacturing & Production (Mint) |
| 886 | The Royal Mint | England | Manufacturing & Production (Mint) |
| 900 | Sean's Bar | Ireland | Service Industry (Pub) |
| 1040 | Pontificia Fonderia Marinelli | Italy | Manufacturing & Production (Bell foundry) |
| 1074 | Affligem Brewery | Belgium | Distillers, Vintners, & Breweries |
| 1135 | Munke Mølle | Denmark | Manufacturing & Production (Flour Mill) |
| 1153 | Ma Yu Ching's Bucket Chicken House | China | Service Industry (Restaurant) |
Whether they were born out of necessity to support a rapidly growing population—requiring new infrastructure and more money circulation—or simply to satisfy peoples' thirst for alcohol or hunger for fried chicken, these companies continue to play a lasting role.
The Oldest Company in Every Country, by Region
Let's dive into the regional maps, which paint a different picture for each continent.
In the following maps, countries are color-coded based on the major industry that the oldest company falls under:
Primary: Natural resources
Secondary: Manufacturing and processing
Tertiary: Services and distribution
Quaternary: Knowledge and information
Notes on Methodology:
This research considers both state-run and independent businesses in their definitions. For countries where data was hard to pin down, they have been grayed out.
As well, since many countries have a relatively new inception, present-day names and borders have been used. The map does not factor in older companies that are no longer in operation, or if it was unclear whether they were still open.
Click here to explore the full research methodology.
North America
Mexico's La Casa de Moneda de México (founded 1534) is the oldest company across North America, and the first mint of America. Owned by the Spanish conquistador Hernán Cortés, it was where the famous 'pieces of eight', or Spanish dollars were created.
In the U.S., the Shirley Plantation in Virginia is an ongoing reminder of the history of slavery. First founded in 1613, business actually began in 1638—and as many as 90 slaves were under indentured labor on the estate growing tobacco.
Further north, Canada's Hudson's Bay (founded 1670) was at the helm of the fur trade between European settlers and First Nations tribes—the two parties agreed on beaver pelts as a common, valuable trade standard.
South America
Three of the five oldest companies in South America are mints—specifically in Brazil, Colombia, and Peru.
The oldest of these mints, Casa Nacional de Moneda in Peru, was built on order from Spain and established in 1565. After the great influx of newly-mined silver from America to Europe, the Spanish crown outlined to King Felipe II that building a mint would give the colony economic benefits and more control.
Europe
In total, 15 of Europe's oldest companies are related to the food and beverage industries, from distilleries, vintners (winemaking), and breweries alongside restaurants and pubs. Austria's St. Peter Stifts Kulinarium (founded in 803) is Europe's oldest restaurant, located inside the St. Peter's Abbey monastery.
Although Germany is famously known for its beer culture, its oldest company is in fact the Staffelter Hof Winery (founded in 862). Today, Germany is still a top wine country, with the industry generating up to $17 billion in revenue per year.
Asia
Asia has six oldest companies in the banking and finance category, as well as another six in the aviation and transport sector. The continent is also home to two of the world's oldest companies, located in Japan and China.
The Japanese temple and shrine construction company, Kongō Gumi Co., Ltd. (founded in 578) has weathered a few storms over the millennia, from nuclear bombs to financial crises. In 2006, it was bought by the construction conglomerate, Takamatsu Construction Group Co., and continues to operate today.
In neighboring China, Ma Yu Ching's Bucket Chicken House has endured dynasties of change as well. The company's simple premise has come a long way, and it was named a cultural heritage in the country's Henan Province.
Africa
Africa's oldest companies are another vestige of the colonial legacy, with 11 transport companies—airlines, ports and shipping, and railways—and 9 postal services.
In fact, Cape Verde's Correios de Cabo Verde (postal service, founded in 1849) and the DRC's Société nationale des Chemins de fer du Congo (national railway company, founded in 1889) still go by their Portuguese and French names respectively.
Banking is another one of the oldest industries, with 17 companies across Africa. Zimbabwe's Standard Chartered branch has been around since 1892, a subsidiary of its London-based parent company.
Oceania
Australia officially became a country on January 1st, 1901—but its oldest company, the Australia Post (founded in 1809) precedes this by almost a century.
Interestingly, just one more old company could be located for this region, which is the Bank of New Zealand—one of the country's Big Four banks.
All in all, these oldest companies paint a historical picture of the major industries which have shaped entire regions.
Did you recognize any on the list?

The New Rules of Leadership: 5 Forces Shaping Expectations of CEOs
This infographic delves into five major forces reshaping our world and the new rules of leadership that CEOs should follow as a result.
It's common knowledge that CEOs assume a long list of roles and responsibilities.
But in today's world, more and more people rely on them to go beyond their day-to-day responsibilities and advocate for broader social change. In fact, a number of external forces are changing how leaders are now expected to behave.
How can leaders juggle these evolving expectations while successfully leading their companies into the future?
The New Rules of Leadership
This infographic from bestselling author Vince Molinaro explores five drivers reshaping our world that leaders must pay attention to in order to bring about real change.
How is the World Being Reshaped?
Leaders need to constantly stay one step ahead of the transformative forces that impact businesses on a broader scale.
Below we outline five key drivers that are changing what it means to be a leader in today's world:
1. Transformative Technologies
Over the last number of decades, several technologies have emerged that could either accelerate the disruption of companies, or provide them with new opportunities for growth. According to KPMG, 72% of CEOs believe the next three years will be more critical for their industry than the previous 50 years.
For example, artificial intelligence (AI), can now provide companies with insights into what motivates their employees and how they can help them succeed. IBM's AI predictive attrition program can even predict when employees are about to quit—saving them roughly $300 million in retention costs.
Leaders must accept that the future will be mediated by technology, and how they respond could determine whether or not their organization survives entirely.
2. Geopolitical Instability
Geopolitical risks—such as trade disputes or civil unrest—can have a catastrophic impact on a business's bottom line, no matter its industry. Although 52% of CEOs believe the geopolitical landscape is having a significant impact on their companies, only a small portion say they have taken active steps to address these risks.
By being more sensitive to the world around them, leaders can anticipate and potentially mitigate these risks. Extensive research into geopolitical trends and leveraging the appropriate experts could support a geopolitical risk strategy, and alleviate some of the potential repercussions.
3. Revolutionizing the Working Environment
As the future of work looms, leaders are being presented with the opportunity to reimagine the inner workings of their company. But right now, they are fighting against a wide spectrum of predictions around what they should expect, with estimations surrounding the automation risk of jobs ranging from 5% to 61% as a prime example.
While physical, repetitive, or basic cognitive tasks carry a higher risk of automation, the critical work that remains will require human interaction, creativity, and judgment.
Leaders should avoid getting caught up in the hype regarding the future of work, and simply focus on helping their employees navigate the next decade.
By creating an inspiring work environment and investing in retraining and reskilling, leaders can nurture employee well-being and create a sense of connectedness and resilience in the workplace.
4. Delivering Diversity
Diversity and inclusion can serve as a path to engaging employees, and leaders are being asked to step up and deliver like never before. A staggering 77% of people feel that CEOs are responsible for leading change on important social issues like racial inequality.
But while delivering diversity, equity, and inclusion seems to be growing in importance, many companies are struggling to understand the weight of this issue.
An example of this is Noah's Ark Paradox, which describes the belief that hiring "two of every kind" creates a diverse work environment. In reality, this creates a false sense of inclusion because the voices of these people may never actually be heard.
Modern day leaders must create a place of belonging where everyone—regardless of gender, race, sexual orientation, ability, or age—is listened to.
5. Repurposing Corporations
The drivers listed above ladder up to the fact that society is looking to businesses to help solve important issues, and leaders are the ones being held accountable.
With 84% of people expecting CEOs to inform conversations and policy debates on one or more pressing issues, from job automation to the impact of globalization, CEOs have the potential to transform their organization by galvanizing employees on the topics that matter to them.
For a long time, the purpose of corporations was purely to create value for shareholders. Now, leaders are obligated to follow a set of five commitments:
Deliver value to customers
Invest in employees
Deal fairly and ethically with suppliers
Support communities
Generate long-term value for shareholders
Ultimately, these five commitments build currency for trust, which is critical for sustained growth and building a productive and satisfied workforce.
Lead the Future
If leaders understand the context they operate in, they can identify opportunities that could fuel their organization's growth, or alternatively, help them pivot in the face of impending threats.
But organizations must invest in the development of their leaders so that they can see the bigger picture—and many are failing to do so.
By recognizing the new rules of leadership, CEOs and managers can successfully lead their organizations, and the world, into a new and uncertain future.

29 Psychological Tricks To Make You Buy More
This graphic looks at 29 different psychological tricks that marketers use to try and influence consumer behavior.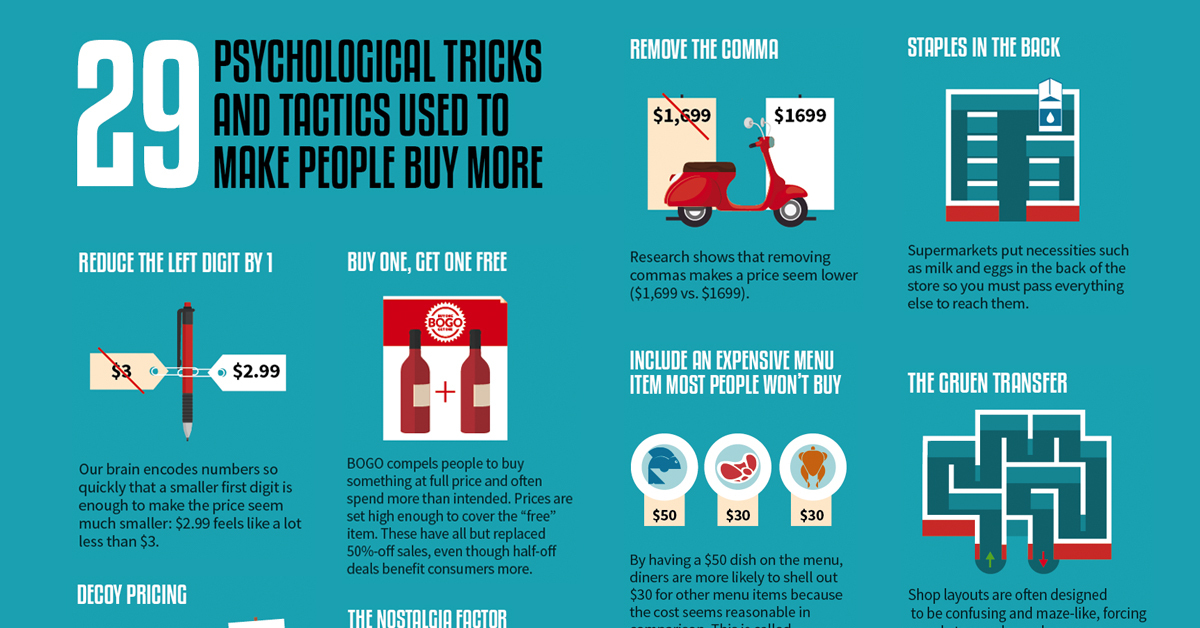 29 Psychological Tricks To Make You Buy More
Ever suffered from buyer's remorse? You're not alone.
According to a recent survey, only 5% of people have never felt guilty about buying something. That means the majority of us, at some point in our lives, have regretted a purchase.
But consumers aren't necessarily only to blame for impulse buys. After all, we're constantly bombarded with advertisements and marketing tactics specifically tailored to try and get us to spend more money.
Today's graphic by TitleMax explains 29 different psychological tactics that marketers try to get consumers to buy more.
Tricks are for Marketers
While this list isn't exhaustive, it provides some key examples of the ways that marketers are attempting to influence your subconscious mind.
We noticed some high-level trends among the 29 tactics, which we compiled into four overarching sections:
Visual Pricing Tricks
These tricks aim to intentionally minimize the appearance of the price, so it's more palatable to consumers. For instance, a store will price something at $9.99 instead of $10.00, or label a product as "buy-one-get-one" rather than 50% off.
Intentional Language Tricks
It's not what you say, but how you say it. Making products seem costly to manufacture, offering exclusivity, and using words associated with small amounts fall under this category. These tricks use semantics to position a product in an appealing way.
Brick-and-Mortar Tricks
A store's layout is less arbitrary than you may realize. Having a bright and colorful entrance, playing calm and slow music, and putting the essential items at the back of the store are a few tactics that fall into this section. These tricks use displays and product placement to influence consumer behavior.
Urgency Tricks
A false sense of urgency and phase-out discounts are included in this category. If a consumer believes they might miss out on a deal, they're more likely to buy.
The Theories in Practice
While most retailers are guilty of using at least a few of these tactics, several big companies are notorious for their use of psychological tricks to boost sales.
For instance, Ikea is well known for its confusing, maze-like layout. This is no accident, as an Ikea store's architecture is designed specifically to maximize product exposure—it's mastered what's called the Gruen effect, a term named after architect Victor Gruen, whose elaborate displays were proven to convert browsers into buyers.
Another example is Walmart's rollback pricing, which uses visual contrast to make the sale price more appealing. It's clearly served the company well—in 2019, Walmart made $524 billion in revenue, making it the world's largest retailer.
Costco uses a few tactics on the list, but one it's notorious for is putting fresh produce in the back of the store. That means customers need to pass through the electronics, clothing, and household goods sections before they can get to the necessities.
While the above tactics are in a gray area, other tricks are flat out dishonest. Makeup brand Sunday Riley was caught writing fake Sephora reviews to boost sales. Employees were encouraged to write outstanding reviews for the company, and the CEO even provided instructions on how to avoid getting caught.
The Influencer Era
As consumers become aware of certain marketing tactics, retailers are forced to switch up their game in order to remain effective.
A relatively recent phenomenon is influencer marketing, which is when brands partner with vloggers or influencers to endorse a product. And these partnerships tend to work—a recent survey revealed that 40% of people have purchased something based on an influencer's recommendation.
But how long will influencer marketing—or any of these tactics—stay effective? Some of the more subtle pricing tactics might stay relevant for longer, but it's unlikely that all of these tricks will stand the test of time.