All of the World's Borders by Age
To view the full resolution version of this massive map, click here.
Defined borders are a relatively new concept in many parts of the world. In fact, until the latter half of the 20th century, most of the world was still wide open territory with loosely or completely undefined borders.
On the European continent, however, jurisdiction over territory has been a fact of life for thousands of years. In some cases, they've left a paper trail. In other cases, there are more concrete remnants. For example, over 3,000 miles (5,000 km) of simple frontier fortifications – known as limes – marked the edges of the Roman Empire at its greatest extent in the 2nd century.
Over time, as territorial jurisdiction changed hands through war, marriage, and other arrangements, the map has been redrawn countless times. The video below demonstrates just how dramatically many of Europe's dividing lines have shifted (even as recently as the 1990s).
Even today, borders are far from set in stone. Belgium and the Netherlands recently swapped land in order to simplify an overly complex piece of their border along a river. Also, India and Bangladesh worked together to solve a notoriously complicated situation involving enclaves within enclaves.
The Difficulty in Date Stamping Dividing Lines
Creating a map that shows the age of all the world's borders seems like an impossible feat, but Reddit user, PisseGuri82, was up to the challenge. PisseGuri82, acknowledging the extreme complexity of the undertaking, outlined some caveats to consider:
– The map looks at the date a border was officially set to its current form (excluding minute changes).
– The dates are derived from publicly available border treaties and documents.
– Exact dates are difficult to pin down as ratification, surveying, and physical marking can take place over a number of years.
These issues aside, the final product is a fascinating look at how we've divided the world up into nations. Here are some highlights from the map:
Static Spain
In contrast to the patchwork of territories left in the wake of the Holy Roman Empire, the southwest part of Europe has remained remarkably static. The border dividing Spain and Andorra, weaving its way through the rocky Pyrenees mountain range, has remained unchanged since 1278, when a feudal charter solidified Andorra's geography. The Portugal–Spain border has been in place since 1297.
War and Pieces
Many of the oldest borders in the world were established by treaties following a war. One particularly noteworthy example is the border between Iraq and Turkey, which was established by the Treaty of Zuhab (1639) following the sack of Baghdad by the Ottoman Empire.
The Legacy of the "Scramble for Africa"
It's remarkable to note that a full third of the world's borders are less than 100 years old. This is especially apparent in Africa, where many existing borders still resemble those haphazardly set by colonial powers around the turn of the 20th century. The average border on the continent is only 111 years old.
We have been giving away mountains and rivers and lakes to each other, only hindered by the small impediment that we never knew exactly where the mountains and rivers and lakes were.
-Lord Salisbury, British PM in 1890
In 1964, independent African states chose to maintain colonial borders, primarily to prevent widespread conflict over territory. Though colonial divisions were maintained in theory, only about one third of Africa's 51,000 miles (83,000 km) of land borders are demarcated – an issue that continues to cause headaches today. For example, South Sudan has numerous border conflicts with neighbors; a situation that is complicated by the presence of natural resources.
A recent study pointed out that the likelihood of conflict in Africa is approximately 40% higher in areas where "partitioned ethnicities reside, as compared to homelands of ethnicities that have not been separated by national borders".
Ice Slices
There are seven sovereign states with pie-slice-shaped territorial claims in Antarctica. It's worth noting that the claims have been recognized only between the countries making claims. There is currently a treaty in place that preserves freedom of scientific investigation and bans military activity on the continent.
Saudi Arabia's Lines in the Sand
Saudi Arabia's oldest border section – shared with Kuwait – is a remnant of the Uqair Convention circa 1922, but most of its international borders were established in the latter part of the 20th century. The Yemen–Saudi border was only officially demarcated in the year 2000, and a 1,100 miles (1,800 km) border fence soon followed.
Where will lines Shift next?
Where there is a war and upheaval, border changes often follow. Syria's descent into chaos and the annexation of Crimea are two situations which could result in new international borders. Breakaway states – an independent Catalan state, for example – are always a possibility as well.
For now, the most likely changes to borders will continue be minor adjustments to fix lawless gaps between nations. These corrections are rarely easy to negotiate, but irregularities, like the one that led to founding of Liberland, can cause even bigger headaches for governments and local officials.
Animated Map: Visualizing Earth's Seasons
This map visualizes Earth's seasons, showing how our planet's Arctic sea ice and vegetation changes throughout the year.

Creator Program
Animated Map: Visualizing Earth's Seasons
Why does Earth have seasons?
Many people think the seasons are dictated by Earth's proximity to the Sun, but this isn't the case. It's the Earth's tilt, not its closeness to the Sun, that influences our seasons.
This animated map by Eleanor Lutz visualizes Earth's seasons, showing how the temperature changes impact ice levels in the Arctic as well as vegetation more broadly. It also highlights the cloud cover and sunlight each hemisphere receives throughout the year, with each frame in the animation representing a month of time.
Why is Earth Tilted?
Unlike some of the planets that sit completely upright and rotate perpendicularly, Earth rotates on a 23.5-degree axis.
But why? A commonly accepted theory among the scientific community is the giant impact hypothesis. According to this theory, a celestial object called Theia collided with Earth many years ago, when the planet was still forming. This collision not only knocked Earth into its tilted position—some believe that the dust and debris from this impact ended up forming our moon.
Ever since, our planet has been rotating with a slight tilt (which itself is not fixed, as it "wobbles" in cycles), giving us our varying seasons throughout the year.
How Earth's Tilt Influences our Seasons
As our planet orbits the Sun, it's always leaning in the same direction. Because of its tilt, the different hemispheres receive varying amounts of sunlight at different times of the year.
In December, Earth is technically closer to the Sun than it is in June or July. However, because the Northern Hemisphere is tilted away from the Sun during December, that part of the planet experiences winter during that time.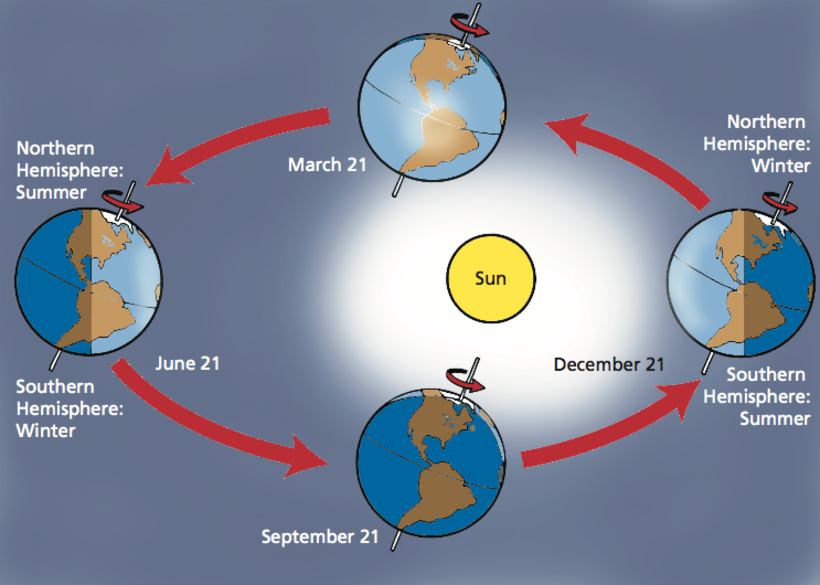 The graphic above by the Smithsonian Science Education Center (SSEC) visualizes Earth's orbit throughout the year, showing when each hemisphere receives the most direct sunlight (and thus, experiences summer).
The Climate Change Impact
While our seasons have always varied, it's worth noting that climate change has impacted our seasons, and changed how much Arctic ice we lose each summer.
In the past, millions of miles of ice remained frozen throughout the summer months. In the 1980s, there were 3.8 million square miles of ice in July—that's roughly the same size as Australia.
Over the years, Arctic ice cover has steadily declined. In July 2020, the ice cover was only 2.8 million square miles—a million less than the amount four decades ago.
Some scientists are predicting that we could lose our summer sea ice entirely by 2035, which would have a devastating impact on the Artic's wildlife and the indigenous people who live there.
10 Travel Destinations for Post-Pandemic Life
Excited to get back to travelling the world? This infographic highlights the 10 most popular tourist destinations.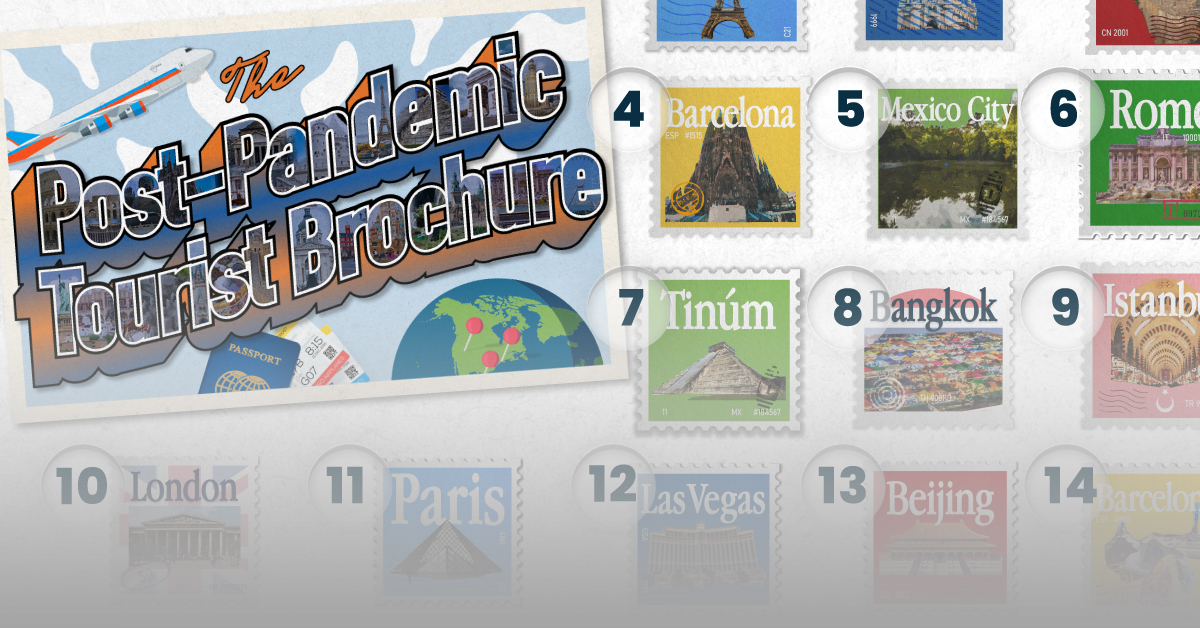 10 Travel Destinations for Post-Pandemic Life
On March 11, 2020, the World Health Organization formally classified the COVID-19 outbreak as a pandemic. The resulting travel bans decimated the tourism industry, and international air travel initially fell by as much as 98%.
Almost two years later, travel is finally back on the table, though there are many restrictions to consider. Regardless, a survey conducted in September 2021 found that, as things revert to normalcy, 82% of Americans are looking forward to international travel more than anything else.
To give inspiration for your next vacation (whenever that may be), this infographic lists the 10 most visited countries in 2019, as well as three of their top attractions according to Google Maps.
Bon Voyage
Here were the 10 most popular travel destinations in 2019, measured by their number of international arrivals.
| Country | Number of international arrivals in 2019 (millions) |
| --- | --- |
| 🇫🇷 France* | 90.0 |
| 🇪🇸 Spain | 83.5 |
| 🇺🇸 U.S. | 79.3 |
| 🇨🇳 China | 65.7 |
| 🇮🇹 Italy | 64.5 |
| 🇹🇷 Turkey | 51.2 |
| 🇲🇽 Mexico | 45.0 |
| 🇹🇭 Thailand | 39.8 |
| 🇩🇪 Germany | 39.6 |
| 🇬🇧 United Kingdom | 39.4 |
*Estimate | Source: World Bank
France was the most popular travel destination by a significant margin, and it's easy to see why. The country is home to many of the world's most renowned sights, including the Arc de Triomphe and Louvre Museum.
The Arc de Triomphe was built in the early 1800s, and honors those who died in the French Revolutionary and Napoleonic Wars. In 1944, Allied soldiers marched through the monument after Paris was liberated from the Nazis.
The Louvre Museum, on the other hand, is often recognized by its giant glass pyramid. The museum houses over 480,000 works of art, including Leonardo da Vinci's Mona Lisa.
Art isn't the only thing that France has to offer. The country has a reputation for culinary excellence, and is home to 632 Michelin-starred restaurants, the most out of any country. Japan comes in at second, with 413.
While You're There…
After seeing the sights in Paris, you may want to consider a visit to Spain. The country is the southern neighbor of France and is known for its beautiful villages and beaches.
One of its most impressive sights is the Sagrada Familia, a massive 440,000 square feet church which began construction in 1882, and is still being worked on today (139 years in the making). The video below shows the structure's striking evolution.
At a height of 172 meters, the Sagrada Familia is approximately 52 stories tall.
Another popular spot is Ibiza, an island off the coast of Spain that is famous for its robust nightlife scene. The island is frequently mentioned in pop culture—Netflix released an adventure/romance movie titled Ibiza in 2018, and the remix of Mike Posner's song I Took a Pill in Ibiza has over 1.4 billion views on YouTube.
Beaches Galore
If you're looking for something outside of Europe, consider Mexico or Thailand, which are the 7th and 8th most popular travel destinations. Both offer hot weather and an abundance of white sand beaches.
If you need even more convincing, check out these links:
Expect Turbulence
Under normal circumstances, hundreds of billions of dollars are spent each year by international tourists. According to the World Travel & Tourism Council (WTCC), this spending accounted for an impressive 10.4% of global GDP in 2019.
Travel restrictions introduced in 2020 dealt a serious blow to the industry, reducing its share of global GDP to 5.5%, and wiping out an estimated 62 million jobs. While the WTCC believes these jobs could return by 2022, the emerging Omicron variant has already prompted many countries to tighten restrictions once again.
To avoid headaches in the future, make sure you fully understand the rules and restrictions of where you're heading.