The Impact of International Students on the U.S. Economy
The Economic Impact of America's International Students
For decades, the U.S. has been the top destination for students looking to study abroad.
It's easy to see why. Not only does the country provide access to world-class economic hubs like Silicon Valley, but the U.S. is also home to 14 of the top 20 universities in the world, many of which are famed for their research and alumni networks.
Yet, there is cause for concern.
International enrollments in the U.S. have slowed, while other countries are attracting a larger share of the global talent pool. To help us understand what's at stake if enrollments continue to decline, today's infographic shows the impact of international students on the U.S. economy.
Driving American Innovation and Growth
International students and scholars are a vital economic asset, and America's ability to attract them puts the country in an enviable position.
First, there are the direct economic benefits which result from tuition fees and living expenses. Throughout the 2018/2019 school year, these benefits totaled $41 billion, a comparable value to many other American exports:
| Export | Value (2018) |
| --- | --- |
| Automobiles | $158B |
| Commercial Aircraft | $131B |
| Pharmaceuticals | $51B |
| Education Exports | $41B |
| Telecommunications Equipment | $36B |
| Soybeans | $17B |
Source: NAFSA, Evans, WorldCity
Even after graduation, however, international students and scholars continue to make significant contributions to the U.S. economy.
For example, attracting the world's brightest minds helps to grow the knowledge economy in the United States, and 40% of American Nobel Prizes won in chemistry, medicine, and physics since 2000 have been awarded to immigrants. Furthermore, students who return home often do so with a network of connections and an appreciation for American culture, thus promoting U.S. international leadership.
Finally, these individuals can also go on to become successful entrepreneurs and business leaders in the U.S. economy. The list is long, but here are two noteworthy examples:
Elon Musk, known for founding Paypal, Tesla, and SpaceX, was born in South Africa. He received two Bachelor's degrees from the University of Pennsylvania before founding his first business.
Satya Nadella, CEO of Microsoft, was an international student from India. He received an M.S. from the University of Wisconsin and an MBA from the University of Chicago before helping Microsoft develop its cloud computing capabilities.
Cause for Concern
In recent years, however, the number of new international students enrolling at U.S. institutions has been on the decline:
| School Year | New International Student Enrollments in the U.S. | Percent Change  |
| --- | --- | --- |
| 2013/14 | 270,128 | -- |
| 2014/15 | 293,766 | 8.8% |
| 2015/16 | 300,743 | 2.4% |
| 2016/17 | 290,836 | -3.3% |
| 2017/18 | 271,738 | -6.6% |
| 2018/19 | 269,383 | -0.9% |
Source: Institute of International Education
With so many opportunities and success stories, why have international enrollments slowed? A survey of 509 higher education institutions in the U.S. revealed the top reasons for declining international enrollments:
Cited Reason for Decline in Enrollment
% of Institutions
(Fall 2016)
% of Institutions
(Fall 2017)
% of Institutions
(Fall 2018)
Visa Application Process (delays/denials)
34%
68%
83%
Social and Political Environment
15%
57%
60%
Enroll in Another Country's Institutions
19%
54%
59%
Cost of Tuition
51%
55%
57%
Feeling Unwelcome
-
49%
50%
Securing a Job
- 
41%
44%
Physical Safety
12%
33%
44%
Source: NAFSA
Critically, the two most common reasons for declining enrollment—visa applications and the social and political environment—suggest that the quality of an American education is not the issue. Rather, it would appear that students are being discouraged from coming to the United States.
When we discourage or turn away international students, we lose much more than the students themselves… We lose their inventions and innovation, their collaborative input and their contributions to our communities.
– Dr. Martha E. Pollack, President, Cornell University
At the same time, other countries are taking proactive measures to attract global talent.
Australia
Australia allows its international students to work for up to 18 months after graduation. This limit can increase to 4 years for graduates of high-demand occupations. In 2018, the country saw a 15% increase in international enrollments.
Canada
Canada, a country distinguished for its multiculturalism, is quickly becoming an attractive destination for international students. The country offers expedited visa processing for qualified individuals, as well as a 3-year work visa for graduates. In 2017, international enrollments in Canada grew by an impressive 20%.
Potential Consequences
The world's brightest minds are an important asset for continued innovation and growth, and today, there is a mass of countries welcoming them with open arms.
While the U.S. is still the preferred destination for international students and scholars, the country's leadership in this space is at risk. In fact, since 2001, the share of international students in America has fallen from 28% to 21%.
Will the U.S be able to maintain global competitiveness if the number of new international students enrolling continues to fall? Can the country work to cultivate a more welcoming and barrier-free route to higher education?
These are potent questions that will need to be answered, especially with a sizable economic impact on the line.
Visualizing Population Density Patterns in Six Countries
These maps show the population density of several countries, using 3D spikes to denote where more people live.

Creator Program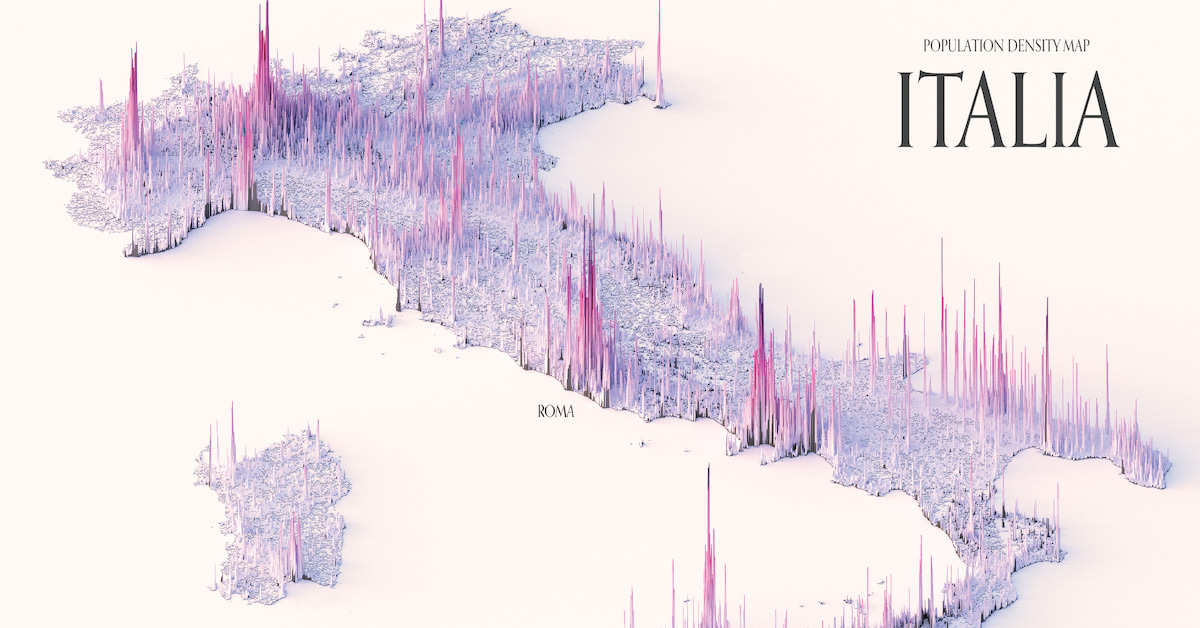 As of 2022, Earth has 8 billion humans. By 2050, the population is projected to grow to 10 billion.
In the last 100 years, the global population more than quadrupled. But none of this growth has been evenly spread out, including within countries.
This series of 3D maps from Terence Teo, an associate professor at Seton Hall University, renders the population density of six countries using open-source data from Kontur Population. He used popular programming language R and a path-tracing package, Rayshader, to create the maps.
France and Germany: Population Density Spikes and Troughs
Let's take a look at how the population spreads out in different countries around the world. Click the images to explore higher-resolution versions.
France is the world's 7th largest economy and second-most-populous country in the EU with 65 million people. But a staggering one-fifth of the French population lives in Paris and its surrounding metro—the most populous urban area in Europe.
Many residents in the Paris metropolitan area are employed in the service sector, which makes up one-third of France's $2.78 trillion gross domestic product.
Unlike France, Germany has many dense cities and regions, with Berlin, Munich, Stuttgart, and Cologne all having over a million residents. Berlin is the most populated at 3.5 million residents in the city proper, and 6 million in the wider urban area.
That said, the relatively recent reunification of West and East Germany in 1991 meant that post-WWII growth was mostly concentrated in West Germany (and West Berlin).
Italy and Chile: Coast to Coast
In Italy, another phenomenon affects population density and urban development—a sprawling coastline.
Despite having a large population of 59 million and large metropolitan areas throughout, Italy's population spikes are closer to the water.
The port cities of Genoa, Napoli, and Palermo all have large spikes relative to the rest of the country, as does the capital, Rome. Despite its city center located 15 miles inland from the sea, it extends to the shore through the district of Ostia, where the ancient port of Rome existed.
Meanwhile in Chile, stuck between the Andes to the east and the Pacific Ocean to the west, population spikes corroborate with its many port towns and cities.
However, the country is more concentrated than Italy, with 40% of its residents congregating around the capital of Santiago.
Turkey and Canada: Marred by Mountains and Climes
Though Chile has difficulties with terrain, it is relatively consistent. Other countries have to attempt to settle many different climes—regions defined by their climates.
Mountains to the south and east, a large, semi-arid plateau, and even a small desert leave few centers of urban growth in Türkiye.
Predictably, further west, as the elevation comes down to the Aegean and Mediterranean Seas, population spikes begin to heighten. The largest of course is the economic and cultural hub of Istanbul, though the capital Ankara is also prominent with more than 5 million residents.
In Canada, the Rocky Mountains to the west and freezing cold temperatures in the center and north account for the large country's relative emptiness.
Though population spikes in Western Canada are growing rapidly, highly populous urban centers are noticeably concentrated along the St. Lawrence River, with the Greater Toronto Area accounting for more than one-sixth of the country's 39 million people.
Increasing Urbanization
According to the World Bank, more than half of the world's population currently lives in cities, and that trend is only growing.
By 2050, 7 out of 10 people are projected to live in cities. This congregation makes cities a beehive of productivity and innovation—with more than 80% of the world's GDP being generated at these population centers.
It's in this context that mapping and studying urban development becomes all the more important, particularly as policymakers try their hand at sustainable urban planning.
As Teo puts it:
"By showing where people are (and are not), they show us where political and economic power is concentrated, and perhaps where and who our governments represent."