Ranked: Which Economies Are the Most Competitive?
Ranked: Which Economies Are the Most Competitive?
What makes a country successful from an economic perspective? Many think of this in terms of GDP per capita—but in a rapidly changing world, our definitions of progress have evolved to encompass much more.
This animated Chart of the Week visualizes 10 years of global competitiveness, according to the World Economic Forum, and tracks how rankings have changed in this time.
How Do You Measure Competition?
The WEF's annual Global Competitiveness Report defines the concept of 'competitiveness' as an economy's productivity—and the institutions, policies, and factors which shape this.
This year's edition unpacks the national competitiveness of 141 countries, using the newly-introduced Global Competitiveness Index (GCI) 4.0 which looks at four key metrics:
Enabling Environment
Includes: Institutions, Infrastructure, ICT Adoption*, Macroeconomic Activity
*Refers to information and communications technology
Human Capital
Includes: Health, Skills
Markets
Includes: Product Market, Labor Market, Financial System, Market Size
Innovation Ecosystem
Includes: Business Dynamics, Innovation Capability

Each country's overall competitiveness score is an average of these 12 main pillars of productivity. With that out of the way, let's dive into the countries which emerge triumphant.

The Most Competitive: Movers and Shakers

The world's top countries excel in many fields—but there can only be one #1. In 2019, Singapore wins the coveted "most competitive economy" title, with a 84.8 score on the GCI.

The nation's developed infrastructure, health, labor market, and financial system have all propelled it forward—swapping with the U.S. (83.7) for the top spot. However, more can be done, as the report notes Singapore still lacks press freedom and demonstrates a low commitment to sustainability.

How have the current scores of the most competitive economies improved or fallen behind, compared to 2018?

| Rank | Economy | 2019 Score | 2018 Score | 2018-2019 Change |
| --- | --- | --- | --- | --- |
| #1 | 🇸🇬 Singapore | 84.8 | 83.5 | +1.3 |
| #2 | 🇺🇸 United States | 83.7 | 85.6 | -2 |
| #3 | 🇭🇰 Hong Kong | 83.1 | 82.3 | +0.9 |
| #4 | 🇳🇱 Netherlands | 82.4 | 82.4 | 0 |
| #5 | 🇨🇭 Switzerland | 82.3 | 82.6 | -0.3 |
| #6 | 🇯🇵 Japan | 82.3 | 82.5 | -0.2 |
| #7 | 🇩🇪 Germany | 81.8 | 82.8 | -1 |
| #8 | 🇸🇪 Sweden | 81.2 | 81.7 | -0.4 |
| #9 | 🇬🇧 United Kingdom | 81.2 | 82 | -0.8 |
| #10 | 🇩🇰 Denmark | 81.2 | 80.6 | +0.6 |

Finland (80.2) and Canada (79.6) are notable exits from this top 10 list over the years. Meanwhile, Denmark (81.2) disappeared from the rankings for five years, but managed to climb back up in 2018.

Regional Competitiveness: Highs and Lows

Another perspective on the most competitive economies is to look at how countries fare within regions, and how these regions compete among each other.

Middle East and North Africa (MENA) has the widest gap in competitiveness scores—Israel (76.7) scores over double that of poorest-performing Yemen (35.5). Interestingly, the MENA region showed the most progress, growing its median score by 2.77% between 2018-2019.

The narrowest gap is actually in South Asia, with just a single-digit difference between India (61.4) and Nepal (51.6). However, the region also grew the slowest, with only 0.08% increase in median score over a year.

Region
Best Performer
2019 Score
Worst Performer
2019 Score
Regional
Gap
Europe and North America
🇺🇸 United States
83.7
🇧🇦 Bosnia & Herzegovina
54.7
29
Latin America and the Caribbean
🇨🇱 Chile
70.5
🇭🇹 Haiti
36.3
34.2
East Asia and Pacific
🇸🇬 Singapore
84.8
🇱🇦 Laos
50.1
34.7
South Asia
🇮🇳 India
61.4
🇳🇵 Nepal
51.6
9.8
Eurasia
🇷🇺 Russia
66.7
🇹🇯 Tajikistan
52.4
14.3
Middle East and North Africa
🇮🇱 Israel
76.7
🇾🇪 Yemen
35.5
41.2
Sub-Saharan Africa
🇲🇺 Mauritius
64.3
🇹🇩 Chad
35.1
29.2

Across all regions, the WEF found that East Asia's 73.9 median score was the highest. Europe and North America were not far behind with a 70.9 median score. This is consistent with the fact that the most competitive economies have all come from these regions in the past decade.

As all these countries race towards the frontier—an ideal state where productivity growth is not constrained—the report notes that competitiveness "does not imply a zero-sum game". Instead, any and all countries are capable of improving their productivity according to the GCI measures.
Cocoa: A Bittersweet Supply Chain
The cocoa supply chain is a bittersweet one. While chocolate is a beloved sweet treat globally, many cocoa farmers are living a bitter reality.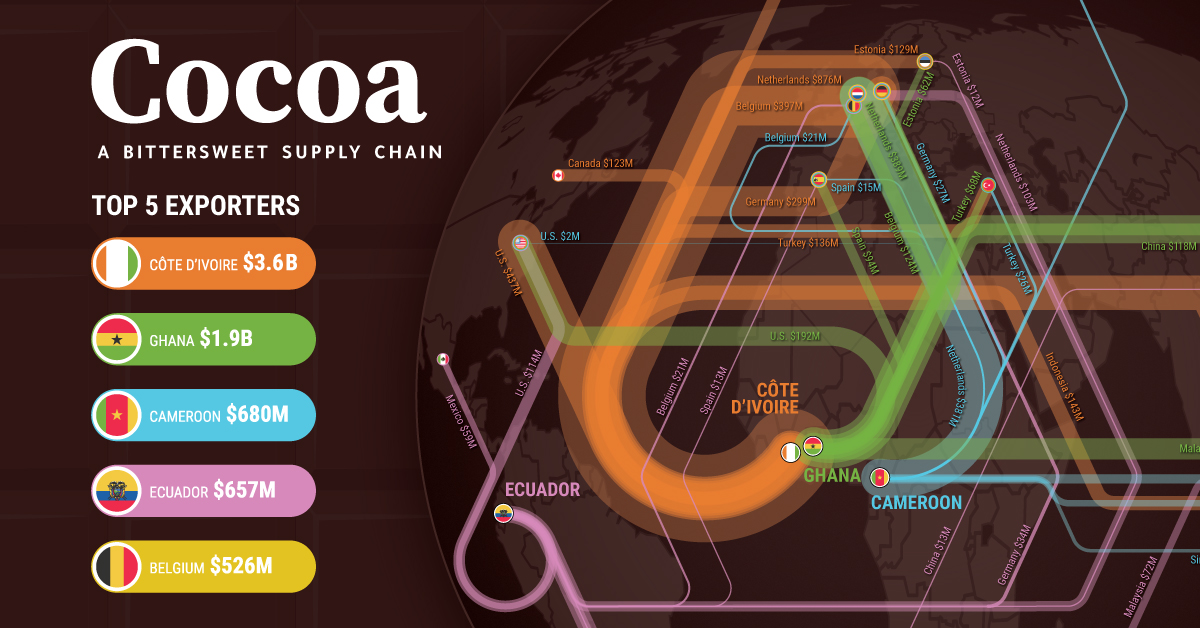 Cocoa: A Bittersweet Supply Chain
From bean to bar, the cocoa supply chain is a bittersweet one. While the end product is something most of us enjoy, this also comes with a human cost.
Based on how much cocoa comes from West Africa, it's likely that most of the chocolates we eat have a little bit of Cote d'Ivoire and Ghana in them. The $130B chocolate industry relies on cocoa farming for supply of chocolate's key ingredient. Yet, many cocoa farmers make less than $1/day.
The above graphic maps the major trade flows of cocoa and allows us to dive deeper into its global supply chain.
From Bean to Bar: Stages in the Cocoa Supply Chain
Cocoa beans go through a number of stages before being used in chocolate products.
Harvesting, Fermenting, and Drying
First, farmers harvest cocoa beans from pods on cacao plants. Next, they are fermented in heaps and covered with banana leaves. Farmers then dry and package the cocoa beans for domestic transportation.
Domestic Transportation, Cleaning, and Exporting
Domestic transporters carry packaged cocoa beans to either cleaning warehouses or processing factories. Cocoa beans are cleaned and prepared for exports to the chocolate production hubs of the world.
Processing and Chocolate Production
Processing companies winnow, roast, and grind cocoa beans and then convert them into cocoa liquor, cocoa butter, or cocoa cakes—which are mixed with other ingredients like sugar and milk to produce chocolate products.
Cocoa farming and trade are at the roots of the chocolate industry, and the consistent supply of cocoa plays a critical role in providing us with reasonably-priced chocolate.
So where exactly does all this cocoa come from?
The Key Nations in Cocoa's Global Supply Chain
Growing cocoa has specific temperature, water, and humidity requirements. As a result, the equatorial regions of Africa, Central and South America, and Asia are optimal for cocoa farming.
These regions host the biggest cocoa exporters by value.
| Rank (2019) | Exporting Country | Value (US$, millions) |
| --- | --- | --- |
| 1 | Côte d'Ivoire 🇨🇮 | $3,575 |
| 2 | Ghana 🇬🇭 | $1,851 |
| 3 | Cameroon 🇨🇲 | $680 |
| 4 | Ecuador 🇪🇨 | $657 |
| 5 | Belgium 🇧🇪 | $526 |
Côte d'Ivoire and Ghana are responsible for 70% of global cocoa production, and cocoa exports play a huge role in their economies. Although the majority of exporters come from equatorial regions, Belgium stands out in fifth place.
On the other hand, most of the top importers are in Europe—the Netherlands and Germany being the top two.
| Rank (2019) | Importing Country | Value (US$, millions) |
| --- | --- | --- |
| 1 | Netherlands 🇳🇱 | $2,283 |
| 2 | Germany 🇩🇪 | $1,182 |
| 3 | U.S. 🇺🇸 | $931 |
| 4 | Malaysia 🇲🇾 | $826 |
| 5 | Belgium 🇧🇪 | $719 |
In third place, the U.S. primarily sources its cocoa from Côte d'Ivoire, Ghana, and Ecuador. Mars, Hershey, Cargill, and Blommer—some of the world's biggest chocolate manufacturers and processors—are headquartered in the U.S.
Finally, it comes as no surprise that the biggest importers of cocoa beans are among the biggest chocolate exporters.
Rank (2019)
Country
Value of Chocolate Exports
(US$, millions)
1
Germany 🇩🇪
$4,924
2
Belgium 🇧🇪
$3,143
3
Italy 🇮🇹
$2,100
4
Netherlands 🇳🇱
$1,992
5
Poland 🇵🇱
$1,834
Not only is the Netherlands the biggest importer of beans, but it's also the biggest processor—grinding 600,000 tons annually—and the fourth largest exporter of chocolate products.
Belgium is another key nation in the supply chain, importing cocoa beans from producing countries and exporting them across Europe. It's also home to the world's largest chocolate factory, supporting its annual chocolate exports worth $3.1 billion.
Breaking Down the Cocoa Supply Chain: Who Gets What
Without farmers, both the cocoa and chocolate industries are likely to suffer from shortages, with domino effects on higher overall costs. Yet, they have little ability to influence prices at present.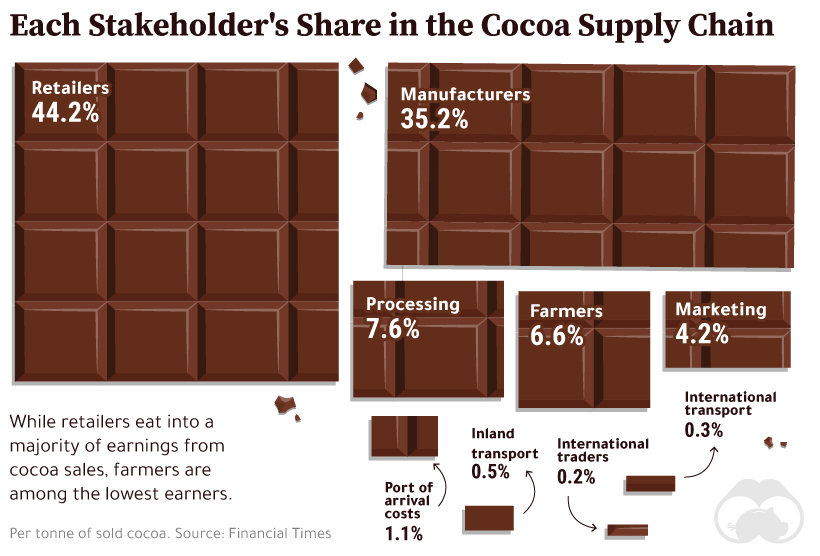 Farmers are among the lowest earners from a tonne of sold cocoa—accounting for just 6.6% of the value of the final sale.
Low incomes also translate into numerous other issues associated with cocoa farming.
The Bitter Side of Cocoa Farming
The World Bank has established the threshold for extreme poverty at $1.90/day. Cocoa farmers in Ghana make $1/day, while those in Côte d'Ivoire make around $0.78/day—both significantly below the extreme poverty line.
Farmers are often unable to bear the costs of cocoa farming as a result of low incomes. In turn, they employ children, who miss out on education, are exposed to hazardous working conditions, and get paid little or no wages.
| Country | Cocoa Farmers Making $1/day or less | Children in Cocoa Agriculture |
| --- | --- | --- |
| Côte d'Ivoire 🇨🇮 | 600,000 | 891,500 |
| Ghana 🇬🇭 | 800,000 | 708,400 |
To make matters worse, cocoa farming is primarily responsible for deforestation and illegal farming in Côte d'Ivoire and Ghana—adding environmental issues to the mix.
These interconnected problems call for action, so what is being done to fight them?
Combating Cocoa's Concerns
Mars, Nestlé, and Hershey—some of the world's biggest chocolate manufacturers—have made several pledges to eradicate child labor in cocoa farming over the last two decades, but haven't reached their targets.
In addition, organizations such as UTZ Certified, Rainforest Alliance, and Fairtrade are working to increase traceability in the supply chain by selling 'certified cocoa', sourced from farms that prohibit child labor.
More recently, Côte d'Ivoire and Ghana announced a fixed premium of US$400/tonne on cocoa futures, aiming to improve farmer livelihoods by creating a union for cocoa, also known colloquially as the "COPEC" for the industry.
While these initiatives have had some positive impacts, more still needs to be done to successfully eradicate large-scale child labor and poverty of those involved in cocoa's bittersweet supply chain.

Volatile Returns: Commodity Investing Through Miners and Explorers
The companies that mine or explore for metals offer additional leverage to commodity prices, creating opportunities for astute investors.
Volatile Returns: Commodity Investing Through Miners
Investors consider gold and silver as safe haven investments. But the companies that produce gold and silver often offer volatile returns, creating opportunities for astute investors.
Volatility is a double-edged sword, particularly when it comes to commodity investing. During the good times, it can create skyrocketing returns. But during bad times, it can turn ugly.
Today's infographic comes to us from Prospector Portal, and shows how investing in precious metals equities can outperform or underperform the broader metals market.
Capitalizing on Volatility: Timing Matters
Just like most investments, timing matters with commodities.
Due to the complex production processes of commodities, unexpected demand shocks are met with slower supply responses. This, along with other factors, creates commodity supercycles—extended periods of upswings and downswings in prices.
Investors must time their investments to take advantage of this volatility, and there are multiple ways to do so.
Three Ways to Invest in Commodities
There are three primary routes investors can take when it comes to investing in commodities.
Investment Method
Benefits
Limitations
Direct physical investment

Purest form of exposure


Intrinsic value of a commodity and physical possession

High transaction costs (buying, shipping, transport)


Costs of physical storage limit the quantity and returns

Commodity futures

Commodity investment without the need for storage


Diversification benefits and inflation hedge

Complex and frequent transactions


Risk of contango—when futures contracts are more expensive than the underlying commodity

Commodity-related equities

Exposure to prices without storage or transaction limitations


Opportunity to benefit from commodity prices and company performance

Returns depend on the company's valuation


Companies may mitigate risk by producing multiple commodities—reducing leverage to prices
Among these, commodity-related equities offer by far the most leverage to changes in prices. Let's dive into how investors can use this leverage to their advantage with volatile metal prices.
The Fundamentals of Investing in Mining Equities
When it comes to commodity investing, targeting miners and mineral exploration companies presents fundamental benefits and drawbacks.
As metal prices rise, the performance of mining companies improves in several ways—while in deteriorating conditions, they do the opposite:

| Category | Rising Commodity Prices | Falling Commodity Prices |
| --- | --- | --- |
| Outlook | - Improved outlook | - Deteriorated outlook |
| Stock Price Movement | - Equity growth | - Equity decline |
| Dividend Payouts | - Increased dividends | - Decreased dividends |
| Financial Performance | - Increased earnings | - Decreased earnings |
With the right timing, these ups and downs can create explosive opportunities.
Mining companies, especially explorers, use these price swings to their advantage and often produce market-beating returns during an upswing.
But how?
The Proof: How Mining Equities React to Metal Prices
Not only do price increases translate into higher profits for mining companies, but they can also change the outlook and value of exploration companies. As a result, investing in exploration companies can be a great way to gain exposure to changing prices.
That said, these types of companies can generate greater equity returns over a shorter period of time when prices are high, but they can also turn dramatically negative when prices are low.
Below, we compare how producers and exploration companies with a NI-43-101 compliant resource perform during bull and bear markets for precious metals.
All figures are in U.S. dollars unless otherwise stated.
Mining Company
Company Stage
Primary Metal
Produced
Market Cap.
Oct 31, 2019
Market Cap.
July 29, 2020

Bull Market Performance
(Nov. 1, 2019-July 29, 2020)
Bear Market Performance
(Jan 02 – Dec 31, 2018)
Banyan Gold
Exploration/
Development
Gold
$6M
$40M
500%
-44%
Renforth Resources
Exploration
Gold
$8M
$10M
11%
-10%
Auryn Resources
Exploration
Gold, Copper
$181M
$330M
60%
-39%
Wesdome Gold Mines Ltd.
Production
Gold
$1,104M
$1,885M
68%
110%
Monarch Gold
Exploration/
Development
Gold
$57M
$148M
139%
-23%
Red Pine Exploration
Exploration
Gold
$13M
$22M
29%
-55%
Revival Gold Inc.
Exploration/
Development
Gold
$27M
$74M
113%
5%
Erdene Resource Development
Exploration/
Development
Gold
$36M
$111M
222%
-56%
Endeavor Mining Corp.
Production
Gold
$2,622M
$5,874M
54%
-13%
Yamana Gold Inc
Production
Gold
$4,572M
$8,279M
87%
-22%
During the bear market period, the price of gold declined by 2.66%, and despite engaging in exploration activity, most companies saw a slump in their share prices.
In particular, exploration companies, or juniors, took a heavier hit, with returns averaging -31.66%. But even during a bear market, a discovery can make all the difference—as was the case for producer Wesdome Gold Mines, generating a 109.95% return over 2018.
Average returns for gold producers including Wesdome: 24.83%
Average returns for gold producers excluding Wesdome: -17.65%
During the bull market period for gold, gold mining companies outperformed the price of gold, with juniors offering the highest equity returns averaging 153.43%. Gold producers outperformed the commodity market, the value of their equities increased 69.61%—less than half of that of exploration companies.
Silver: Bears vs Bulls
Similar to gold mining companies, performances of silver producers and explorers reflected the volatility in silver prices:
Company
Company Stage
Primary Metal
Produced
Market Cap.
Oct 31, 2019

Market Cap.
July 29, 2020
Bull Market Performance (Nov. 1, 2019-July 29, 2020)
Bear Market Performance (Jan 02 – Dec 31, 2018)
Silvercrest Metals
Exploration
Silver
$694M
$1,449M
78%
117%
Pan American Silver
Production
Silver
$2,973M
$10,550M
125%
1%
Golden Minerals
Exploration
Silver
$30M
$80M
80%
-42%
Americas Gold and Silver
Production
Silver
$335M
$482M
10%
-56%
Dolly Varden Silver Corp.
Exploration
Silver
$28M
$74M
152%
-32%
Endeavour Silver
Production
Silver, Gold
$458M
$837M
72%
-10%
During the bear market period for silver, its price decreased by 9.8%. Explorers and producers both saw a dip in their share prices, with the equity of silver producers decreasing by 21.63%.
However, the discovery of a high-quality silver deposit again made the difference for SilverCrest Metals, which generated a 116.85% return over the year.
Average returns for silver exploration companies including SilverCrest: 8.32%
Average returns for silver exploration companies excluding SilverCrest: -27.86%
On the other hand, during the bull market period, the price of silver increased by 34.33%. Silver exploration companies surpassed the performance of the price of silver.
Average returns for silver producers: 69.04%
Average returns for silver exploration companies: 95.36%
The potential to generate massive returns and losses is evident in both cases for gold and silver.
The Investment Potential of Exploration
Mining equities tend to outperform underlying commodity prices during bull markets, while underperforming during bear markets.
For mining exploration companies, these effects are even more pronounced—exploration companies are high-risk but can offer high-reward when it comes to commodity investing.
To reap the rewards of volatile returns, you have to know the risks and catch the market at the right time.