Visualizing the World's Biggest Pharmaceutical Companies
Who are the World's Biggest Pharmaceutical Companies?
Some of the world's biggest pharmaceutical companies have played a central role in the COVID-19 pandemic.
However, it's likely no surprise that the pandemic has also been great for many healthcare businesses. In fact, in 2020 alone, the world's 50 largest pharmaceutical companies still combined for a whopping $851 billion in revenues.
In this graphic, using data from Companies Market Cap, we list the largest pharmaceutical companies in the world by market capitalization. It's worth noting this list also includes healthcare companies that work closely with pharmaceuticals, including biotech, pharmaceutical retailers, clinical laboratories, etc.
Editor's Note: A previous version of this graphic was missing some key companies such as GSK and AbbVie. They were unfortunately not included in the original source and we are now working to make sure there were no other smaller omissions. Thanks to all that sent in corrections.
The Pharmaceutical Leaders
To start, here are the top five biggest pharmaceutical companies in the world at the moment by market capitalization:
1. Johnson & Johnson
The pharmaceutical and consumer goods giant is worth $428.7 billion in market cap. They developed the third vaccine authorized for use in the U.S. and were named among the TIME100 Most Influential Companies List in 2021.
2. Roche
The Swiss pharmaceutical giant is at the forefront of oncology, immunology, infectious diseases, ophthalmology, and neuroscience. In 2019, Roche's pharma segment sales rose by a healthy 16% to $53 billion.
3. Pfizer
Despite being the leading COVID-19 vaccine manufacturer in North America, Pfizer slid in the rankings to third place. The company has recently gained momentum, especially in the past quarter, with Q2'2021 revenues of $19.0 billion, reflecting a 86% operational growth from 2020.
4. Eli Lilly
Eli Lilly has taken a significant step towards establishing itself as a pharmaceutical industry leader. Having a market cap value of $125 billion in 2019, Eli Lilly has jumped to a current value of $214.9 billion, a significant growth of 72%.
5. Novartis
The second-biggest pharmaceutical company out of Switzerland, Novartis has been the face of the pharma industry for about 25 years. The primary manufacturer for the most recognizable drugs on the market pulled in a revenue of over $48 billion in 2020, a 3% increase compared to 2019.
Here's how all the biggest pharmaceutical companies in the world stack up against each other:
Company Rank
Company Name
Market Cap Value
Country
1
Johnson & Johnson
JNJ
$428.66 B
🇺🇸 USA
2
Roche
RHHBY
$320.41 B
🇨🇭 Switzerland
3
Pfizer
PFE
$219.39 B
🇺🇸 USA
4
Eli Lilly
LLY
$208.99 B
🇺🇸 USA
5
Novartis
NVS
$207.70 B
🇨🇭 Switzerland
6
AbbVie
ABBV
$202.60 B
🇺🇸 USA
7
Merck
MRK
$191.67 B
🇺🇸 USA
8
Novo Nordisk
NVO
$187.83 B
🇩🇰 Denmark
9
Astrazeneca
AZN
$152.28 B
🇬🇧 UK
10
Bristol-Myers Squibb
BMY
$145.80 B
🇺🇸 USA
11
Amgen
AMGN
$136.50 B
🇺🇸 USA
12
Sanofi
SNY
$130.37 B
🇫🇷 France
13
CVS Health
CVS
$110.49 B
🇺🇸 USA
14
GlaxoSmithKline
GSK
$104.30 B
🇬🇧 UK
15
CSL
CSL.AX
$103.10 B
🇦🇺 Australia
16
Gilead Sciences
GILD
$83.62 B
🇺🇸 USA
17
Moderna
MRNA
$83.25 B
🇺🇸 USA
18
Merck KGaA
MRK.DE
$80.61 B
🇩🇪 Germany
19
Bayer
BAYZF
$59.43 B
🇩🇪 Germany
20
Jiangsu Hengrui Medicine
600276.SS
$58.51 B
🇨🇳 China
21
Regeneron Pharmaceuticals
REGN
$55.83 B
🇺🇸 USA
22
Biogen
BIIB
$55.00 B
🇺🇸 USA
23
BioNTech
BNTX
$54.23 B
🇩🇪 Germany
24
Takeda Pharmaceutical
TAK
$52.67 B
🇯🇵 Japan
25
Lonza
LONN.SW
$52.16 B
🇨🇭 Switzerland
26
Walgreens Boots Alliance
WBA
$45.05 B
🇺🇸 USA
27
Celltrion
068270.KS
$33.80 B
🇰🇷 S. Korea
28
Astellas Pharma
ALPMF
$33.42 B
🇯🇵 Japan
29
BeiGene
BGNE
$31.65 B
🇨🇳 China
30
Eisai
4523.T
$31.20 B
🇯🇵 Japan
31
West Pharma
WST
$26.59 B
🇺🇸 USA
32
Hansoh Pharma
3692.HK
$26.00 B
🇨🇳 China
33
LabCorp
LH
$25.97 B
🇺🇸 USA
34
Otsuka Holdings
4578.T
$23.15 B
🇯🇵 Japan
35
Horizon Therapeutics
HZNP
$21.13 B
🇮🇪 Ireland
36
Alnylam Pharmaceuticals
ALNY
$20.42 B
🇺🇸 USA
37
kyowa Kirin
4151.T
$18.85 B
🇯🇵 Japan
38
Catalent
CTLT
$18.74 B
🇺🇸 USA
39
Sino Biopharmaceutical
1177.HK
$18.48 B
🇭🇰 Hong Kong
40
Bio-Techne
TECH
$17.25 B
🇺🇸 USA
41
PPD
PPD
$16.26 B
🇺🇸 USA
42
Argenx
ARGX
$16.03 B
🇳🇱 Netherlands
43
Shionogi
4507.T
$15.29 B
🇯🇵 Japan
44
Dr. Reddy's
RDY
$11.88 B
🇮🇳 India
45
Teva Pharmaceutical Industries
TEVA
$11.21 B
🇮🇱 Israel
46
Ono Pharmaceutical
4528.T
$11.12 B
🇯🇵 Japan
47
ICON plc
ICLR
$11.09 B
🇮🇪 Ireland
48
Bausch Health
BHC
$10.47 B
🇨🇦 Canada
49
CRISPR Therapeutics
CRSP
$10.42 B
🇨🇭 Switzerland
50
Curevac
CVAC
$10.33 B
🇩🇪 Germany
51
Hualan Biological Engineering
002007.SZ
$10.31 B
🇨🇳 China
52
Vifor Pharma
VIFN.SW
$9.49 B
🇨🇭 Switzerland
53
Neurocrine Biosciences
NBIX
$9.45 B
🇺🇸 USA
54
Sinopharm
1099.HK
$9.42 B
🇨🇳 China
55
BridgeBio Pharma
BBIO
$8.89 B
🇺🇸 USA
56
Cadila Healthcare
CADILAHC.NS
$8.59 B
🇮🇳 India
57
Sumitomo Dainippon Pharma
4506.T
$8.16 B
🇯🇵 Japan
58
Tilray
TLRY
$7.89 B
🇨🇦 Canada
59
Ascendis Pharma
ASND
$7.51 B
🇩🇰 Denmark
60
Evotec
EVT.F
$7.19 B
🇩🇪 Germany
61
Lupin Limited
LUPIN.NS
$7.04 B
🇮🇳 India
62
Gland Pharma
GLAND.NS
$7.01 B
🇮🇳 India
63
Exelixis
EXEL
$6.95 B
🇺🇸 USA
64
GW Pharmaceuticals
GWPH
$6.81 B
🇬🇧 UK
65
KOBAYASHI Pharmaceutical
4967.T
$6.78 B
🇯🇵 Japan
66
Torrent Pharmaceuticals
TORNTPHARM.NS
$6.61 B
🇮🇳 India
67
Biocon
BIOCON.NS
$6.43 B
🇮🇳 India
68
PeptiDream
4587.T
$6.32 B
🇯🇵 Japan
69
Sarepta Therapeutics
SRPT
$6.25 B
🇺🇸 USA
70
Perrigo
PRGO
$6.21 B
🇮🇪 Ireland
71
Orion Corporation
ORNAV.HE
$6.11 B
🇫🇮 Finland
72
Lundbeck
LDB.F
$6.04 B
🇩🇰 Denmark
73
AbCellera
ABCL
$5.87 B
🇨🇦 Canada
74
Adaptive Biotechnologies
ADPT
$5.69 B
🇺🇸 USA
75
Intellia Therapeutics
NTLA
$5.62 B
🇺🇸 USA
76
Santen Pharmaceutical
4536.T
$5.49 B
🇯🇵 Japan
77
Nippon Shinyaku
4516.T
$5.46 B
🇯🇵 Japan
78
Beam Therapeutics
BEAM
$5.43 B
🇺🇸 USA
79
Reata Pharmaceuticals
RETA
$5.15 B
🇺🇸 USA
80
Swedish Orphan Biovitrum
SOBI.ST
$5.13 B
🇸🇪 Sweden
81
BB Biotech
BION.SW
$5.08 B
🇨🇭 Switzerland
82
Alkem Laboratories
ALKEM.NS
$5.00 B
🇮🇳 India
83
Abbott India
ABBOTINDIA.NS
$4.69 B
🇮🇳 India
84
Laurus Labs
LAURUSLABS.NS
$4.44 B
🇮🇳 India
85
Taisho Pharmaceutical
4581.T
$4.39 B
🇯🇵 Japan
86
Hanmi Pharmaceutical
008930.KS
$4.22 B
🇰🇷 S. Korea
87
Alkermes
ALKS
$3.87 B
🇮🇪 Ireland
88
Karuna Therapeutics
KRTX
$3.71 B
🇺🇸 USA
89
Shinpoong Pharm
019170.KS
$3.65 B
🇰🇷 S. Korea
90
NantKwest
NK
$3.55 B
🇺🇸 USA
91
Ipca Laboratories
IPCALAB.NS
$3.41 B
🇮🇳 India
92
Nektar Therapeutics
NKTR
$3.02 B
🇺🇸 USA
93
BioCryst Pharmaceuticals
BCRX
$3.01 B
🇺🇸 USA
94
Vericel
VCEL
$2.96 B
🇺🇸 USA
95
Dicerna Pharmaceuticals
DRNA
$2.84 B
🇺🇸 USA
96
Rocket Pharmaceuticals
RCKT
$2.74 B
🇺🇸 USA
97
Axsome Therapeutics
AXSM
$2.65 B
🇺🇸 USA
98
Natco Pharma
NATCOPHARM.NS
$2.63 B
🇮🇳 India
99
Alembic Pharmaceuticals
APLLTD.NS
$2.59 B
🇮🇳 India
100
Editas Medicine
EDIT
$2.54 B
🇺🇸 USA
World's Largest Pharmaceutical Exporters and Importers
According to the World Trade Organization (WTO), these countries exported the most number of pharmaceuticals in the year 2019:
| Rank | Country | Export Value (US$B) |
| --- | --- | --- |
| 1 | 🇩🇪 Germany | $91.4 |
| 2 | 🇨🇭 Switzerland | $84.8 |
| 3 | 🇺🇸 U.S. | $55.7 |
| 4 | 🇧🇪 Belgium | $55.7 |
| 5 | 🇮🇪 Ireland | $55.4 |
In contrast, here are the biggest importers over the same period.
| Rank | Country | Import Value (US$B) |
| --- | --- | --- |
| 1 | 🇺🇸 U.S. | $132.4 |
| 2 | 🇩🇪 Germany | $59.4 |
| 3 | 🇧🇪 Belgium | $47.3 |
| 4 | 🇨🇳 China | $35.7 |
| 5 | 🇳🇱 Netherlands | $33.5 |
This position is hardly surprising for the U.S., where six of the world's top 10 pharmaceutical companies are headquartered. The country also captures 45% of the global market.
The Future of Pharmaceutical Companies
If the response to the COVID-19 pandemic has taught us anything, it is that in building a patient-centered future, the pharmaceutical industry plays a key role. It has to constantly find new ways to customize medicines while researching and developing new tools and drugs.
By embracing disruptive technologies like 3D printed drugs, artificial intelligence guided therapies, and preventive medicine while working with regulatory agencies, the pharmaceutical companies will benefit from having a digital revolution.
Furthermore, emerging markets will have a more significant say in the global pharmaceutical market in the coming years. Even though 'big pharma' will keep raking in the massive profits they do every year, their reliance on countries like Brazil and India for research and drug production will significantly impact the years to come.
Support the Future of Data Storytelling
Sorry to interrupt your reading, but we have a favor to ask. At Visual Capitalist we believe in a world where data can be understood by everyone. That's why we want to build the VC App - the first app of its kind combining verifiable and transparent data with beautiful, memorable visuals. All available for free.
As a small, independent media company we don't have the expertise in-house or the funds to build an app like this. So we're asking our community to help us raise funds on Kickstarter.
If you believe in data-driven storytelling, join the movement and back us on Kickstarter!
Thank you.
Explainer: What to Know About Monkeypox
What is monkeypox, and what risk does it pose to the public? This infographic breaks down the symptoms, transmission, and more.
Explainer: What to Know About Monkeypox
The COVID-19 pandemic is still fresh in the minds of the people around the world, so it comes as no surprise that recent outbreaks of another virus are grabbing headlines.
Monkeypox outbreaks have now been reported in multiple countries, and it has scientists paying close attention. For everyone else, numerous questions come to the surface:
How serious is this virus?
How contagious is it?
Could monkeypox develop into a new pandemic?
Below, we answer these questions and more.
What is Monkeypox?
Monkeypox is a virus in the Orthopoxvirus genus which also includes the variola virus (which causes smallpox) and the cowpox virus. The primary symptoms include fever, swollen lymph nodes, and a distinctive bumpy rash.
There are two major strains of the virus that pose very different risks:
Congo Basin strain: 1 in 10 people infected with this strain have died
West African strain: Approximately 1 in 100 people infected with this strain died
At the moment, health authorities in the UK have indicated they're seeing the milder strain in patients there.
Where did Monkeypox Originate From?
The virus was originally discovered in the Democratic Republic of Congo in monkeys kept for research purposes (hence the name). Eventually, the virus made the jump to humans more than a decade after its discovery in 1958.
It is widely assumed that vaccination against another similar virus, smallpox, helped keep monkeypox outbreaks from occurring in human populations. Ironically, the successful eradication of smallpox, and eventual winding down of that vaccine program, has opened the door to a new viral threat. There is now a growing population of people who no longer have immunity against the virus.
Now that travel restrictions are lifting in many parts of the world, viruses are now able to hop between nations again. As of the publishing of this article, a handful of cases have now been reported in the U.S., Canada, the UK, and a number of European countries.
On the upside, contact tracing has helped authorities piece together the transmission of the virus. While cases are rare in Europe and North America, it is considered endemic in parts of West Africa. For example, the World Health Organization reports that Nigeria has experienced over 550 reported monkeypox cases from 2017 to today. The current UK outbreak originated from an individual who returned from a trip to Nigeria.
Could Monkeypox become a new pandemic?
Monkeypox, which primarily spreads through animal-to-human interaction, is not known to spread easily between humans. Most individuals infected with monkeypox pass the virus to between zero and one person, so outbreaks typically fizzle out. For this reason, the fact that outbreaks are occurring in several countries simultaneously is concerning for health authorities and organizations that monitor viral transmission. Experts are entertaining the possibility that the virus' rate of transmission has increased.
Images of people covered in monkeypox lesions are shocking, and people are understandably concerned by this virus, but the good news is that members of the general public have little to fear at this stage.
I think the risk to the general public at this point, from the information we have, is very, very low.
–Tom Inglesby, Director, Johns Hopkins Center for Health Security
» For up-to-date information on monkeypox cases, check out Global.Health's tracking spreadsheet
Visualizing How COVID-19 Antiviral Pills and Vaccines Work at the Cellular Level
Despite tackling the same disease, vaccines and antiviral pills work differently to combat COVID-19. We visualize how they work in the body.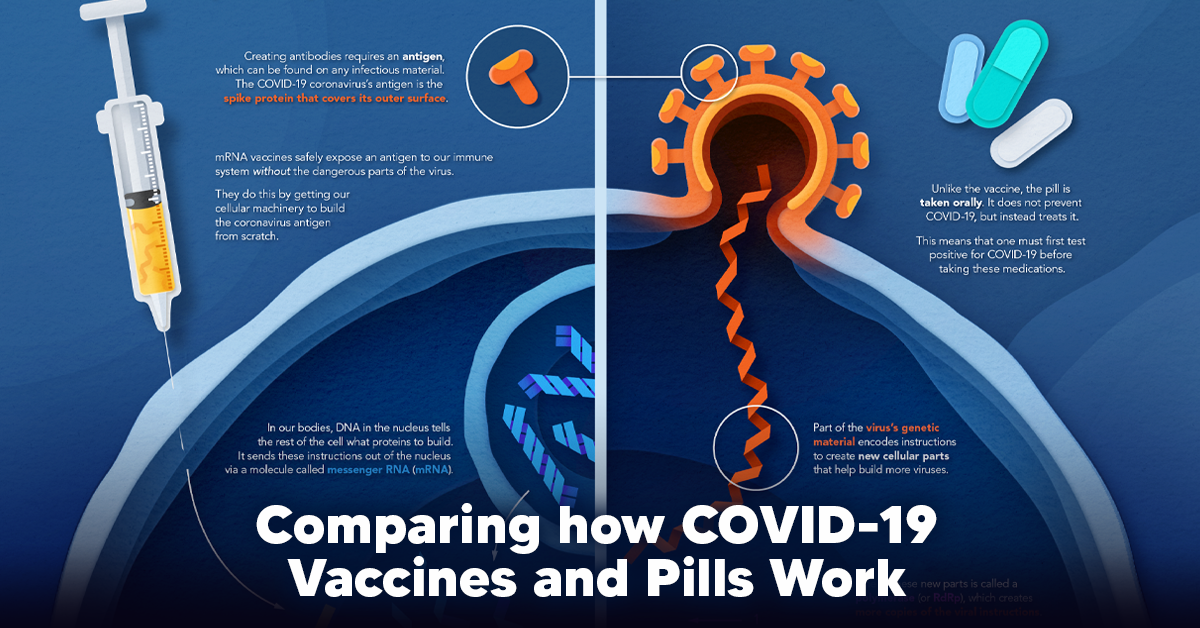 Current Strategies to Tackle COVID-19
Since the pandemic started in 2020, a number of therapies have been developed to combat COVID-19.
The leading options for preventing infection include social distancing, mask-wearing, and vaccination. They are still recommended during the upsurge of the coronavirus's latest mutation, the Omicron variant.
But in December 2021, The United States Food and Drug Administration (USDA) granted Emergency Use Authorization to two experimental pills for the treatment of new COVID-19 cases.
These medications, one made by Pfizer and the other by Merck & Co., hope to contribute to the fight against the coronavirus and its variants. Alongside vaccinations, they may help to curb extreme cases of COVID-19 by reducing the need for hospitalization.
Despite tackling the same disease, vaccines and pills work differently:

| Vaccines | Pills |
| --- | --- |
| Taken by injection | Taken by mouth |
| Used for prevention | Used for treatment only |
| Create an enhanced immune system by stimulating antibody production | Disrupt the assembly of new viral particles |
How a Vaccine Helps Prevent COVID-19
The main purpose of a vaccine is to prewarn the body of a potential COVID-19 infection by creating antibodies that target and destroy the coronavirus.
In order to do this, the immune system needs an antigen.
It's difficult to do this risk-free since all antigens exist directly on a virus. Luckily, vaccines safely expose antigens to our immune systems without the dangerous parts of the virus.
In the case of COVID-19, the coronavirus's antigen is the spike protein that covers its outer surface. Vaccines inject antigen-building instructions* and use our own cellular machinery to build the coronavirus antigen from scratch.
When exposed to the spike protein, the immune system begins to assemble antigen-specific antibodies. These antibodies wait for the opportunity to attack the real spike protein when a coronavirus enters the body. Since antibodies decrease over time, booster immunizations help to maintain a strong line of defense.
*While different vaccine technologies exist, they all do a similar thing: introduce an antigen and build a stronger immune system.
How COVID Antiviral Pills Work
Antiviral pills, unlike vaccines, are not a preventative strategy. Instead, they treat an infected individual experiencing symptoms from the virus.
Two drugs are now entering the market. Merck & Co.'s Lagevrio®, composed of one molecule, and Pfizer's Paxlovid®, composed of two.
These medications disrupt specific processes in the viral assembly line to choke the virus's ability to replicate.
The Mechanism of Molnupiravir
RNA-dependent RNA Polymerase (RdRp) is a cellular component that works similar to a photocopying machine for the virus's genetic instructions. An infected host cell is forced to produce RdRp, which starts generating more copies of the virus's RNA.
Molnupiravir, developed by Merck & Co., is a polymerase inhibitor. It inserts itself into the viral instructions that RdRp is copying, jumbling the contents. The RdRp then produces junk.
The Mechanism of Nirmatrelvir + Ritonavir
A replicating virus makes proteins necessary for its survival in a large, clumped mass called a polyprotein. A cellular component called a protease cuts a virus's polyprotein into smaller, workable pieces.
Pfizer's antiviral medication is a protease inhibitor made of two pills:
The first pill, nirmatrelvir, stops protease from cutting viral products into smaller pieces.
The second pill, ritonavir, protects nirmatrelvir from destruction by the body and allows it to keep working.
With a faulty polymerase or a large, unusable polyprotein, antiviral medications make it difficult for the coronavirus to replicate. If treated early enough, they can lessen the virus's impact on the body.
The Future of COVID Antiviral Pills and Medications
Antiviral medications seem to have a bright future ahead of them.
COVID-19 antivirals are based on early research done on coronaviruses from the 2002-04 SARS-CoV and the 2012 MERS-CoV outbreaks. Current breakthroughs in this technology may pave the way for better pharmaceuticals in the future.
One half of Pfizer's medication, ritonavir, currently treats many other viruses including HIV/AIDS.
Gilead Science is currently developing oral derivatives of remdesivir, another polymerase inhibitor currently only offered to inpatients in the United States.
More coronavirus antivirals are currently in the pipeline, offering a glimpse of control on the looming presence of COVID-19.
Author's Note: The medical information in this article is an information resource only, and is not to be used or relied on for any diagnostic or treatment purposes. Please talk to your doctor before undergoing any treatment for COVID-19. If you become sick and believe you may have symptoms of COVID-19, please follow the CDC guidelines.