Explained: The 3 Major COVID-19 Variants
Explained: The 3 Major COVID-19 Variants
As billions of people gear up for widespread vaccination against COVID-19, another issue has reared its head. Three major COVID-19 variants have emerged across the globe—and preliminary research suggests these variants may be cause for concern.
But what makes them different from the original strain?
The following visualizations answer some key questions, including when these variants were first discovered, how far they've spread worldwide, and most importantly, their potential impact on the population.
Some Context: What is a Variant?
Before diving in, it's important to understand why viruses mutate in the first place.
To infect someone, a virus takes over a host cell and uses it to replicate itself. But nature isn't perfect, and sometimes, mistakes are made during the replication process—those mistakes are called mutations.
A virus with one or more mutations is referred to as a variant. Most of the time, variants do not affect a virus's physical structure, and in those instances, they eventually disappear. However, there are certain cases when a mutation impacts part of a virus's genetic makeup that does change its behavior.
According to the U.S. Centers for Disease Control (CDC) a change in behavior can alter:
Rate of transmission
Deadliness
Ability to potentially infect someone with natural or vaccine-induced immunity
Preliminary research has detected some of these changes in the three major COVID-19 variants—B.1.1.7, B.1.351, and P.1.
The 3 Major COVID-19 Variants
The three major variants emerged at different times, and in different parts of the world. Here's an overview of each variant, when they were discovered, and how far they've spread so far.
B.1.1.7
The B.1.1.7 variant was detected in the UK in the fall of 2020. By December 2020, it had spread across the globe, with cases emerging across Europe, North America, and Asia.
Currently, the variant has been reported in roughly 94 countries.
Early research suggests it's 50% more transmissible than other variants, and potentially 35% more deadly than the standard virus. Luckily, studies suggest that some of the existing vaccines work well against it.
B.1.351
In October 2020, the second major variant was discovered—B.1.351. It was first identified in South Africa, but by end of the year, it had spread to the UK, Switzerland, Australia, and Japan.
There are approximately 48 countries with reported cases, and research suggests several of the existing COVID-19 vaccines may not be as effective against this variant.
P.1
The P.1 variant was the last to arrive on the scene.
It was first discovered in January 2021, when Japan reported four cases of the variant, which was found in travelers who had arrived from Brazil.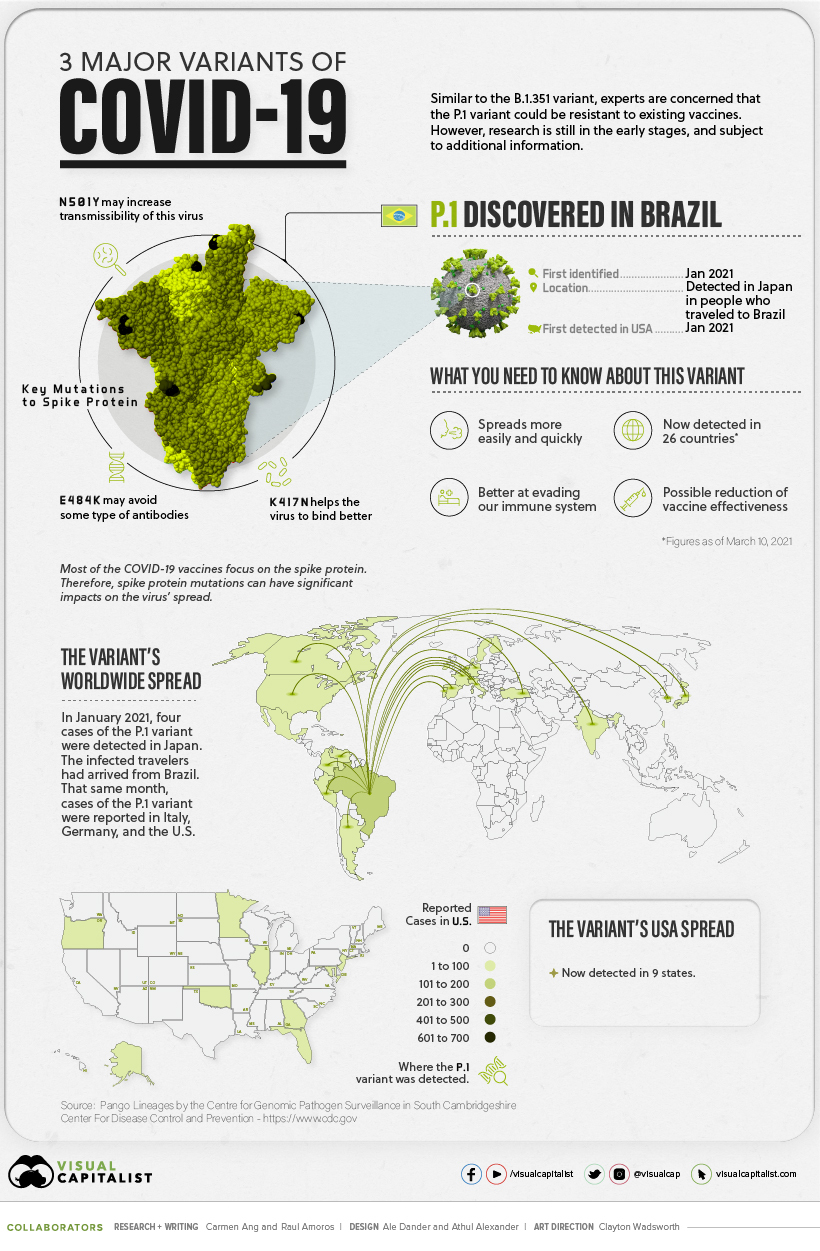 Approximately 25 countries have reported cases of the P.1 variant, and early research suggests this variant is not only more contagious, but could also have the ability to infect people with natural immunity who had already recovered from the original strain.
Still Early Days
While there have been preliminary studies showing a dip in vaccine effectiveness, some experts emphasize that it's too early to tell for certain. More data is needed to gain a deeper and more accurate understanding.
In the meantime, experts are emphasizing the importance of following our current public health strategies, which include physical distancing, vaccination, washing your hands, and using masks.
Visualizing the Relationship Between Cancer and Lifespan
New research links mutation rates and lifespan. We visualize the data supporting this new framework for understanding cancer.
A Newfound Link Between Cancer and Aging?
A new study in 2022 reveals a thought-provoking relationship between how long animals live and how quickly their genetic codes mutate.
Cancer is a product of time and mutations, and so researchers investigated its onset and impact within 16 unique mammals. A new perspective on DNA mutation broadens our understanding of aging and cancer development—and how we might be able to control it.
Mutations, Aging, and Cancer: A Primer
Cancer is the uncontrolled growth of cells. It is not a pathogen that infects the body, but a normal body process gone wrong.
Cells divide and multiply in our bodies all the time. Sometimes, during DNA replication, tiny mistakes (called mutations) appear randomly within the genetic code. Our bodies have mechanisms to correct these errors, and for much of our youth we remain strong and healthy as a result of these corrective measures.
However, these protections weaken as we age. Developing cancer becomes more likely as mutations slip past our defenses and continue to multiply. The longer we live, the more mutations we carry, and the likelihood of them manifesting into cancer increases.
A Biological Conundrum
Since mutations can occur randomly, biologists expect larger lifeforms (those with more cells) to have greater chances of developing cancer than smaller lifeforms.
Strangely, no association exists.
It is one of biology's biggest mysteries as to why massive creatures like whales or elephants rarely seem to experience cancer. This is called Peto's Paradox. Even stranger: some smaller creatures, like the naked mole rat, are completely resistant to cancer.
This phenomenon motivates researchers to look into the genetics of naked mole rats and whales. And while we've discovered that special genetic bonuses (like extra tumor-suppressing genes) benefit these creatures, a pattern for cancer rates across all other species is still poorly understood.
Cancer May Be Closely Associated with Lifespan
Researchers at the Wellcome Sanger Institute report the first study to look at how mutation rates compare with animal lifespans.
Mutation rates are simply the speed at which species beget mutations. Mammals with shorter lifespans have average mutation rates that are very fast. A mouse undergoes nearly 800 mutations in each of its four short years on Earth. Mammals with longer lifespans have average mutation rates that are much slower. In humans (average lifespan of roughly 84 years), it comes to fewer than 50 mutations per year.
The study also compares the number of mutations at time of death with other traits, like body mass and lifespan. For example, a giraffe has roughly 40,000 times more cells than a mouse. Or a human lives 90 times longer than a mouse. What surprised researchers was that the number of mutations at time of death differed only by a factor of three.
Such small differentiation suggests there may be a total number of mutations a species can collect before it dies. Since the mammals reached this number at different speeds, finding ways to control the rate of mutations may help stall cancer development, set back aging, and prolong life.
The Future of Cancer Research
The findings in this study ignite new questions for understanding cancer.
Confirming that mutation rate and lifespan are strongly correlated needs comparison to lifeforms beyond mammals, like fishes, birds, and even plants.
It will also be necessary to understand what factors control mutation rates. The answer to this likely lies within the complexities of DNA. Geneticists and oncologists are continuing to investigate genetic curiosities like tumor-suppressing genes and how they might impact mutation rates.
Aging is likely to be a confluence of many issues, like epigenetic changes or telomere shortening, but if mutations are involved then there may be hopes of slowing genetic damage—or even reversing it.
While just a first step, linking mutation rates to lifespan is a reframing of our understanding of cancer development, and it may open doors to new strategies and therapies for treating cancer or taming the number of health-related concerns that come with aging.
Explainer: What to Know About Monkeypox
What is monkeypox, and what risk does it pose to the public? This infographic breaks down the symptoms, transmission, and more.
Explainer: What to Know About Monkeypox
The COVID-19 pandemic is still fresh in the minds of the people around the world, so it comes as no surprise that recent outbreaks of another virus are grabbing headlines.
Monkeypox outbreaks have now been reported in multiple countries, and it has scientists paying close attention. For everyone else, numerous questions come to the surface:
How serious is this virus?
How contagious is it?
Could monkeypox develop into a new pandemic?
Below, we answer these questions and more.
What is Monkeypox?
Monkeypox is a virus in the Orthopoxvirus genus which also includes the variola virus (which causes smallpox) and the cowpox virus. The primary symptoms include fever, swollen lymph nodes, and a distinctive bumpy rash.
There are two major strains of the virus that pose very different risks:
Congo Basin strain: 1 in 10 people infected with this strain have died
West African strain: Approximately 1 in 100 people infected with this strain died
At the moment, health authorities in the UK have indicated they're seeing the milder strain in patients there.
Where did Monkeypox Originate From?
The virus was originally discovered in the Democratic Republic of Congo in monkeys kept for research purposes (hence the name). Eventually, the virus made the jump to humans more than a decade after its discovery in 1958.
It is widely assumed that vaccination against another similar virus, smallpox, helped keep monkeypox outbreaks from occurring in human populations. Ironically, the successful eradication of smallpox, and eventual winding down of that vaccine program, has opened the door to a new viral threat. There is now a growing population of people who no longer have immunity against the virus.
Now that travel restrictions are lifting in many parts of the world, viruses are now able to hop between nations again. As of the publishing of this article, a handful of cases have now been reported in the U.S., Canada, the UK, and a number of European countries.
On the upside, contact tracing has helped authorities piece together the transmission of the virus. While cases are rare in Europe and North America, it is considered endemic in parts of West Africa. For example, the World Health Organization reports that Nigeria has experienced over 550 reported monkeypox cases from 2017 to today. The current UK outbreak originated from an individual who returned from a trip to Nigeria.
Could Monkeypox become a new pandemic?
Monkeypox, which primarily spreads through animal-to-human interaction, is not known to spread easily between humans. Most individuals infected with monkeypox pass the virus to between zero and one person, so outbreaks typically fizzle out. For this reason, the fact that outbreaks are occurring in several countries simultaneously is concerning for health authorities and organizations that monitor viral transmission. Experts are entertaining the possibility that the virus' rate of transmission has increased.
Images of people covered in monkeypox lesions are shocking, and people are understandably concerned by this virus, but the good news is that members of the general public have little to fear at this stage.
I think the risk to the general public at this point, from the information we have, is very, very low.
–Tom Inglesby, Director, Johns Hopkins Center for Health Security
» For up-to-date information on monkeypox cases, check out Global.Health's tracking spreadsheet