Why Investors Should Rethink Traditional Income Strategies
Why Investors Should Rethink Traditional Income Strategies
Humans are creatures of habit. We all have daily routines, whether it's walking the same lunchtime route, watching a familiar TV show, or cooking the same meal over and over again. Once we develop a pattern, it can take a drastic change to convince us to rethink our approach.
One such shake-up to ingrained investment habits is the changing landscape of income investing.
In today's infographic from New York Life Investments, we explain why traditional long-term bonds may not be as effective as they were in the past, and which additional income strategies investors can consider.
The Status Quo
For years, investors have relied on traditional longer-term bonds as the centerpiece in an income portfolio. These debt instruments usually pay out interest to investors on a predetermined schedule, providing a steady income stream investment. Historically, they have also been subject to less volatility than equities.
The typical bond portfolio is diversified, much like the Bloomberg Barclay's U.S. Aggregate Index. Here's how the sectors are broken down in the index:
| Sector | Market Value |
| --- | --- |
| Treasury | 39.5% |
| Government-Related | 5.8% |
| Corporate | 25.0% |
| Securitized | 29.7% |
Unfortunately, this income strategy has been less effective in recent years. Over the last decade, core bond duration has increased by 1.5 years while yields have decreased by almost 2%. Essentially, interest rate volatility has increased—but investors are less compensated for the risk.
In light of low rates and higher expected market volatility, it's critical that investors explore other income solutions. Luckily, there are many lesser-known asset classes for investors to consider.
Additional Income Strategies: An Investor's Choice
When investors decide how to re-allocate, they can keep these objectives in mind:
Preservation of principal (risk level)
Pursuit of capital (growth potential)
Perseverance in markets (long-term objectives)
Which additional income strategies can they explore?
Taxable Municipal Bonds
Issued by state and local governments, the yield of taxable munis has historically been higher than that of other sectors. Taxable munis also have a strong credit rating—over 76% of U.S. municipal bonds outstanding are A+ rated or better.
Insured Municipal Bonds
Investors can get additional downside protection with insured municipal bonds, which are guaranteed to pay interest and principal back by private insurers. They have historically performed similar to munis while capturing less of the "downside", often providing an attractive risk-adjusted return for income investors.
Short-duration, High-yield Bonds
Bonds with a shorter duration and higher yield can be a lower volatility approach to achieving the same income investing goals.
Yield and Risk in Bonds (July 1, 2014 – June 30, 2019):

| Bond Type | Yield | Standard Deviation (annualized) | Yield per Unit of Risk |
| --- | --- | --- | --- |
| U.S. Aggregate Bonds | 2.49 | 2.94 | 0.85 |
| High Yield Bonds | 6.05 | 5.60 | 1.08 |
| Low-duration, High-yield bonds | 5.00 | 3.90 | 1.28 |
Short duration funds have lower interest rate risk, and can offer attractive yield per unit of risk.
Yield-Centric Equities
Equities can also play a role in an income focused portfolio. Investors should look for established companies that are achieving:
Growth in free cash flow
Stable or growing dividends
Share buybacks or debt reduction
Over the last 40+ years, the annual compound return of stocks with growing dividends have outperformed dividend cutters on the S&P 500 by more than 4%.
Preparing for Your Future
Maximizing the benefit from new income opportunities can take time. For this reason, it's important to consider potential portfolio changes now, so that these strategies can play out in the lead up to retirement years.
It may be tempting to stick with the status quo—both in daily routines and investment strategies—but those who proactively adjust their approach will be able to maximize their potential.
A Visual Guide to Stock Splits
If companies want their stock price to rise, why would they want to split it, effectively lowering the price? This infographic explains why.
A Visual Guide to Stock Splits
Imagine a shop window containing large pieces of cheese.
If the value of that cheese rises over time, the price may move beyond what the majority of people are willing to pay. This presents a problem as the store wants to continue selling cheese, and people still want to eat it.
The obvious solution is to divide the cheese into smaller pieces. That way, more people can once again afford to buy portions of it, and those who want more can simply buy more of the smaller pieces.
The total volume of the cheese is still worth the same amount, it's only the portion size that changed. As the infographic above by StocksToTrade demonstrates, the same concept applies to stock splits.
Like wheels of cheese, stocks can be split a number of different ways. Some of the more common splits are 2-for-1, 3-for-1, and 3-for-2. Less common splits can take place as well, such as when Apple increased its outstanding shares by a 7-to-1 ratio in 2014.
Why Companies Do Stock Splits
Of course, stocks aren't cheese.
The real world of the financial markets, driven by macro trends and animal spirits, is more complex than items in a shop window.
If companies want their stock price to continue rising, why would they want to split it, effectively lowering the price? Here are a some specific reasons why:
1. Liquidity
As our cheese example illustrated, stocks can sometimes see price appreciation to the point where they are no longer accessible to a wide range of investors. Splitting the stock (i.e. making an individual share cheaper) is an effective way of increasing the total number of investors who can purchase shares.
2. Sending a Message
In many cases, announcing a stock split is a harbinger of prosperity for a company. Nasdaq found that companies that split their stock outperformed the market. This is likely due to investor excitement and the fact that companies often split their stock as they approach periods of growth.
3. Reducing Capital Costs
Stocks with prices that are too high have spreads that are wider than similar stocks. When spreads—the difference between the bid and offer—are too large, they eats into investor returns.
4. Meeting Index Criteria
There are specific instances when a company may want to adjust its share price to meet certain index requirements.
One example is the Dow Jones Industrial Average (DJIA), the well-known 30-stock benchmark. The Dow is considered a price-weighted index, which means that the higher a company's stock price, the more weight and influence it has within the index. Shortly after Apple conducted its 7-to-1 stock split in 2014, dropping the share price from about $650 to $90, the company was added to the DJIA.
On the flip side, a company might decide to pursue a reverse stock split. This takes the existing amount of shares held by investors and replaces them with fewer shares at a higher price. Aside from the general stigma associated with a lower share price, companies need to keep the price above a certain threshold or face the possibility of being delisted from an exchange.
Stock Splits Happen, but are not Inevitable
Alphabet will become the most recent high profile company to split their stock in early 2022. The company's 20-for-1 stock split aims to make the share price more accessible to retail investors dropping the price from approximately $2,750 to $140 per share.
Conversely, Berkshire Hathaway has famously never split its stock. As a result, a single share of BRK.A is worth over $470,000. Berkshire Hathaway's legendary founder, Warren Buffett, reasons that splitting the stock would run counter to his buy-and-hold investment philosophy.
Visualizing The World's Largest Sovereign Wealth Funds
To date, only two countries have sovereign wealth funds worth over $1 trillion. Learn more about them in this infographic.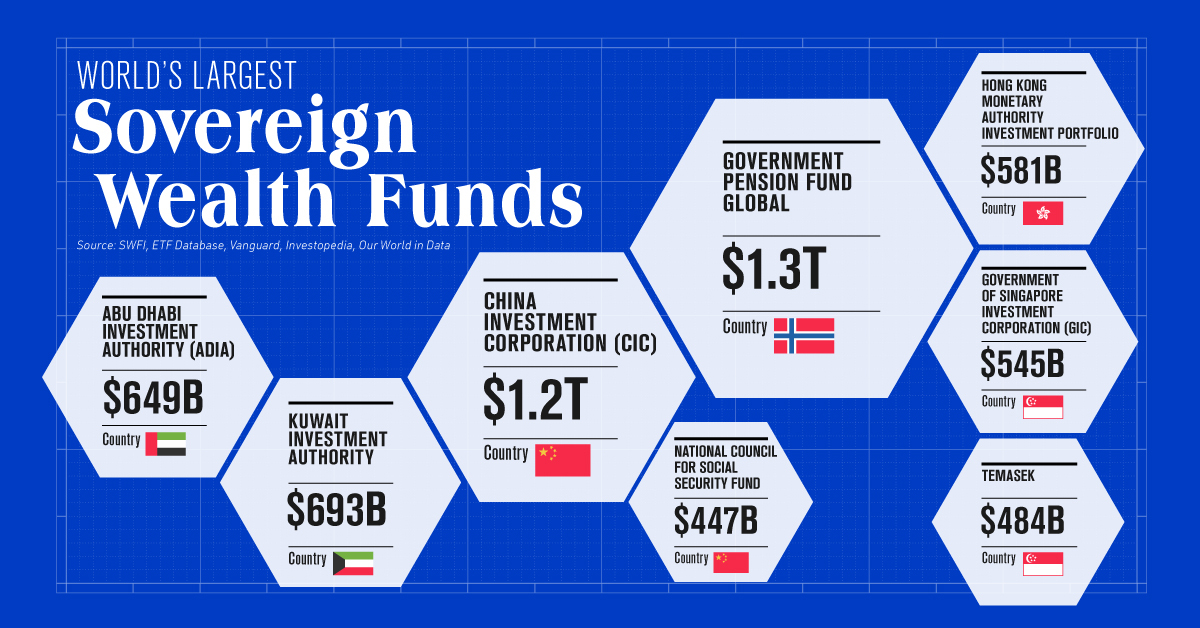 Visualized: The World's Largest Sovereign Wealth Funds
Did you know that some of the world's largest investment funds are owned by national governments?
Known as sovereign wealth funds (SWF), these vehicles are often established with seed money that is generated by government-owned industries. If managed responsibly and given a long enough timeframe, an SWF can accumulate an enormous amount of assets.
In this infographic, we've detailed the world's 10 largest SWFs, along with the largest mutual fund and ETF for context.
The Big Picture
Data collected from SWFI in October 2021 ranks Norway's Government Pension Fund Global (also known as the Norwegian Oil Fund) as the world's largest SWF.
The world's 10 largest sovereign wealth funds (with fund size benchmarks) are listed below:
Country
Fund Name
Fund Type
Assets Under Management (AUM) 
🇳🇴 Norway 
Government Pension Fund Global
SWF
$1.3 trillion
🇺🇸

U.S.

Vanguard Total Stock Market Index Fund

Mutual fund

$1.3 trillion

🇨🇳 China
China Investment Corporation
SWF
$1.2 trillion
🇰🇼 Kuwait 
Kuwait Investment Authority
SWF
$693 billion
🇦🇪 United Arab Emirates
Abu Dhabi Investment Authority
SWF
$649 billion
🇭🇰 Hong Kong SAR
Hong Kong Monetary Authority Investment Portfolio
SWF
$581 billion
🇸🇬 Singapore
Government of Singapore Investment Corporation
SWF
$545 billion
🇸🇬 Singapore
Temasek
SWF
$484 billion
🇨🇳 China
National Council for Social Security Fund
SWF
$447 billion
🇸🇦 Saudi Arabia
Public Investment Fund of Saudi Arabia
SWF
$430 billion
🇺🇸

U.S.

State Street SPDR S&P 500 ETF Trust

ETF

$391 billion

🇦🇪 United Arab Emirates
Investment Corporation of Dubai
SWF
$302 billion 
SWF AUM gathered on 10/08/2021. VTSAX and SPY AUM as of 09/30/2021.
So far, just two SWFs have surpassed the $1 trillion milestone. To put this in perspective, consider that the world's largest mutual fund, the Vanguard Total Stock Market Index Fund (VTSAX), is a similar size, investing in U.S. large-, mid-, and small-cap equities.
The Trillion Dollar Club
The world's two largest sovereign wealth funds have a combined $2.5 trillion in assets. Here's a closer look at their underlying portfolios.
1. Government Pension Fund Global – $1.3 Trillion (Norway)
Norway's SWF was established after the country discovered oil in the North Sea. The fund invests the revenue coming from this sector to safeguard the future of the national economy. Here's a breakdown of its investments.
| Asset Class | % of Total Assets | Country Diversification | Number of Securities |
| --- | --- | --- | --- |
| Public Equities | 72.8% | 69 countries | 9,123 companies |
| Fixed income | 24.7% | 45 countries | 1,245 bonds |
| Real estate | 2.5% | 14 countries | 867 properties |
As of 12/31/2020
Real estate may be a small part of the portfolio, but it's an important component for diversification (real estate is less correlated to the stock market) and generating income. Here are some U.S. office towers that the fund has an ownership stake in.
As of 12/31/2020
Overall, the fund has investments in 462 properties in the U.S. for a total value of $14.9 billion.
2. China Investment Corporation (CIC) – $1.2 Trillion (China)
The CIC is the largest of several Chinese SWFs, and was established to diversify the country's foreign exchange holdings.
Compared to the Norwegian fund, the CIC invests in a greater variety of alternatives. This includes real estate, of course, but also private equity, private credit, and hedge funds.
| Asset Class | % of Total Assets |
| --- | --- |
| Public equities | 38% |
| Fixed income | 17% |
| Alternative assets | 43% |
| Cash | 2% |
As of 12/31/2020
A primary focus of the CIC has been to increase its exposure to American infrastructure and manufacturing. By the end of 2020, 57% of the fund was invested in the United States.
"According to our estimate, the United States needs at least $8 trillion in infrastructure investments. There's not sufficient capital from the U.S. government or private sector. It has to rely on foreign investments."
– Ding Xuedong, Chairman, China Investment Corporation
This has drawn suspicion from U.S. regulators given the geopolitical tensions between the two countries. For further reading on the topic, consider this 2017 paper by the United States-China Economic and Security Review Commission.
Preparing for a Future Without Oil
Many of the countries associated with these SWFs are known for their robust fossil fuel industries. This includes Middle Eastern nations like Kuwait, Saudi Arabia, and the United Arab Emirates.
Oil has been an incredible source of wealth for these countries, but it's unlikely to last forever. Some analysts believe that we could even see peak oil demand before 2030—though this doesn't mean that oil will stop being an important resource.
Regardless, oil-producing countries are looking to hedge their reliance on fossil fuels. Their SWFs play an important role by taking oil revenue and investing it to generate returns and/or bolster other sectors of the economy.
An example of this is Saudi Arabia's Public Investment Fund (PIF), which supports the country's Vision 2030 framework by investing in clean energy and other promising sectors.