The 6 Biggest Mistakes Ordinary Investors Make
The 6 Biggest Mistakes Ordinary Investors Make
In many areas of life, we are often our own worst enemies. The realm of personal finance is no different.
What's the biggest threat to achieving financial independence?
Unfortunately, it's your own brain.
You can invest in all the right things, minimize fees and taxes, and even diversify your holdings. But if you fail to master your own psychology, it's still possible to fall victim to financial self-sabotage.
The Brain's Design
Today's infographic is from Tony Robbins, and it uses data and talking points from his #1 Best Selling book Unshakeable: Your Financial Freedom Playbook, which is now available on paperback.
The graphic is based on a chapter in the book that reveals the key psychological limitations of the human brain. It turns out that these fallible survival instincts have been hardwired into our brains over millions of years, and they become very troublesome when we try to make rational financial decisions.
To overcome these instincts, investors need to adopt simple systems, rules, and procedures that can ensure the decisions around money we make are in our best long-term interest.
What I've found again and again is that 80% of success is psychology and 20% is mechanics.
– Tony Robbins
Six Psychological Pitfalls to Avoid
Remember these six pitfalls – and how to counteract them – and you'll be able to avoid the biggest mistakes often made by investors.
Mistake #1:
Seeking confirmation of your own beliefs
Your brain is wired to seek and believe information that validates your existing beliefs. Our minds love "proof" of how smart and right we are.
Even worse, this is magnified by the online echo chambers of the modern world.
News media (MSNBC, Fox News, etc.) tend to favor one point of view
Google and Facebook filter our search results
Unsubstantiated rumors can run unchecked, as long as they reinforce existing points of view
This can be exceptionally detrimental in investing.
Convincing yourself that a particular stock or strategy is correct, without taking into account contradicting evidence, can be the nail in the coffin of financial freedom.
The Solution: Welcome opinions that contradict your own
The best investors know they are vulnerable to confirmation bias, and actively ask questions and seek qualified opinions that disagree with their own.
Ray Dalio, for example, seeks the smartest detractor of his idea, and then tries to find out their full reasoning behind their contrary opinion.
The power of thoughtful disagreement is a great thing.
– Ray Dalio
Mistake #2:
Conflating recent events with ongoing trends
One of the most common – and dangerous – investing mistakes is to believe that the current trend of the day will continue.
In psychology speak, this is known as recency bias, or putting more weight on recent events when evaluating the odds of something happening in the future
For example, an investor might think that because a stock has performed well recently, that it will also do well in the future. Therefore, she buys more – effectively buying at a high point in the stock.
The Solution: Re-balance
Our memories are short, so what can we do?
The best way to avoid this impulsive and faulty decision making is to commit to portfolio allocations (i.e. 60% stocks, 40% bonds) in advance, and then re-balancing on a regular basis.
This effectively ensures you are buying low, and selling high. When stocks to well, you sell some of them to buy other assets in the underweighted part of your portfolio, and vice versa.
Mistake #3:
Overconfidence
Very successful and driven people often assume they will be just as good at investing as they are at other aspects of their life. However, this overconfidence is a common cognitive bias: we constantly overestimate our abilities, our knowledge, and our future prospects.
The Solution: Get Real, and Get Honest
By admitting you have no special advantage, you give yourself an enormous advantage – and you'll beat the overconfident investors that delude themselves in believing they can outperform.
If you can't predict the future, the most important thing is to admit it. If it's true that you can't make forecasts and yet you try anyway, then that's really suicide.
– Howard Marks
Mistake #4:
Swinging for the Fences
It's tempting to go for the big wins in your quest to build financial wealth. But swinging for the fences also means more strikeouts – many which can be difficult to recover from.
The Solution: Think Long Term
The best way to win the game of investing is to achieve sustainable long-term returns that compound over time. Don't get distracted by the short-term noise on Wall Street, and re-orient your approach to build wealth over the long term.
The stock market is a device for transferring money from the impatient to the patient.
– Warren Buffett
Mistake #5:
Staying Home
This psychological bias is known as "home bias", and it is the tendency for people to invest disproportionately in markets that are familiar to them. For example, investing in:
Your employer's stock
Your own industry
Your own country's stock market
Only one asset class
Home bias can leave you overweighted in "what you know", which can wreak havoc on your portfolio in some circumstances.
The Solution: Diversify
Diversify broadly, in different asset classes and in different countries. From 2000 to 2009, the S&P 500 only returned 1.4% per year, but foreign markets picked up the slack:
International stocks: 3.9% per year
Emerging markets: 16.2% per year
A well-diversified portfolio would have done well, no matter what.
Mistake #6:
Negativity Bias
Our brains are wired to bombard us with memories of negative experiences.
In fact, one part of our brain – the amygdala – is a biological alarm system that floods the body with fear signals when we are losing money.
The problem with this? When markets plunge, fear takes over and it's easy to act irrationally. Some people panic, selling their entire portfolios to go into cash.
The Solution: Prepare
The best way to avoid negativity bias is to:
Keep record of why you invested in certain securities in the first place
Maintain the right asset allocation that will help you through volatility
Partner with the right financial advisor to offer advice
Focus on the long term, and avoid short-term market distractions
By failing to prepare, you are preparing to fail.
– Benjamin Franklin
Conclusion
These simple rules and procedures will make it easier for you to invest for the long term.
They'll help you:
Trade less
Lower investment fees and transaction costs
Be more open to views that differ from your own
Reduce risk by diversifying globally
Control the fears that could otherwise derail you
Will you be perfect? No.
But will you do better? You bet!
And the difference this makes over a lifetime can be substantial.
Visualizing The World's Largest Sovereign Wealth Funds
To date, only two countries have sovereign wealth funds worth over $1 trillion. Learn more about them in this infographic.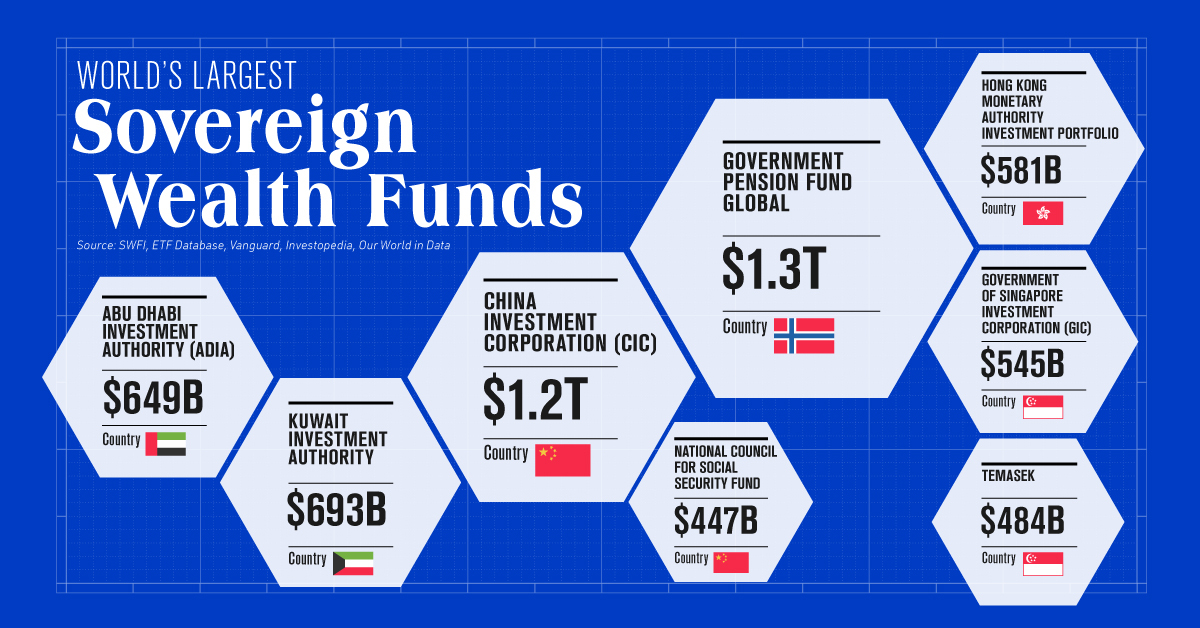 Visualized: The World's Largest Sovereign Wealth Funds
Did you know that some of the world's largest investment funds are owned by national governments?
Known as sovereign wealth funds (SWF), these vehicles are often established with seed money that is generated by government-owned industries. If managed responsibly and given a long enough timeframe, an SWF can accumulate an enormous amount of assets.
In this infographic, we've detailed the world's 10 largest SWFs, along with the largest mutual fund and ETF for context.
The Big Picture
Data collected from SWFI in October 2021 ranks Norway's Government Pension Fund Global (also known as the Norwegian Oil Fund) as the world's largest SWF.
The world's 10 largest sovereign wealth funds (with fund size benchmarks) are listed below:
Country
Fund Name
Fund Type
Assets Under Management (AUM) 
🇳🇴 Norway 
Government Pension Fund Global
SWF
$1.3 trillion
🇺🇸

U.S.

Vanguard Total Stock Market Index Fund

Mutual fund

$1.3 trillion

🇨🇳 China
China Investment Corporation
SWF
$1.2 trillion
🇰🇼 Kuwait 
Kuwait Investment Authority
SWF
$693 billion
🇦🇪 United Arab Emirates
Abu Dhabi Investment Authority
SWF
$649 billion
🇭🇰 Hong Kong SAR
Hong Kong Monetary Authority Investment Portfolio
SWF
$581 billion
🇸🇬 Singapore
Government of Singapore Investment Corporation
SWF
$545 billion
🇸🇬 Singapore
Temasek
SWF
$484 billion
🇨🇳 China
National Council for Social Security Fund
SWF
$447 billion
🇸🇦 Saudi Arabia
Public Investment Fund of Saudi Arabia
SWF
$430 billion
🇺🇸

U.S.

State Street SPDR S&P 500 ETF Trust

ETF

$391 billion

🇦🇪 United Arab Emirates
Investment Corporation of Dubai
SWF
$302 billion 
SWF AUM gathered on 10/08/2021. VTSAX and SPY AUM as of 09/30/2021.
So far, just two SWFs have surpassed the $1 trillion milestone. To put this in perspective, consider that the world's largest mutual fund, the Vanguard Total Stock Market Index Fund (VTSAX), is a similar size, investing in U.S. large-, mid-, and small-cap equities.
The Trillion Dollar Club
The world's two largest sovereign wealth funds have a combined $2.5 trillion in assets. Here's a closer look at their underlying portfolios.
1. Government Pension Fund Global – $1.3 Trillion (Norway)
Norway's SWF was established after the country discovered oil in the North Sea. The fund invests the revenue coming from this sector to safeguard the future of the national economy. Here's a breakdown of its investments.
| Asset Class | % of Total Assets | Country Diversification | Number of Securities |
| --- | --- | --- | --- |
| Public Equities | 72.8% | 69 countries | 9,123 companies |
| Fixed income | 24.7% | 45 countries | 1,245 bonds |
| Real estate | 2.5% | 14 countries | 867 properties |
As of 12/31/2020
Real estate may be a small part of the portfolio, but it's an important component for diversification (real estate is less correlated to the stock market) and generating income. Here are some U.S. office towers that the fund has an ownership stake in.
As of 12/31/2020
Overall, the fund has investments in 462 properties in the U.S. for a total value of $14.9 billion.
2. China Investment Corporation (CIC) – $1.2 Trillion (China)
The CIC is the largest of several Chinese SWFs, and was established to diversify the country's foreign exchange holdings.
Compared to the Norwegian fund, the CIC invests in a greater variety of alternatives. This includes real estate, of course, but also private equity, private credit, and hedge funds.
| Asset Class | % of Total Assets |
| --- | --- |
| Public equities | 38% |
| Fixed income | 17% |
| Alternative assets | 43% |
| Cash | 2% |
As of 12/31/2020
A primary focus of the CIC has been to increase its exposure to American infrastructure and manufacturing. By the end of 2020, 57% of the fund was invested in the United States.
"According to our estimate, the United States needs at least $8 trillion in infrastructure investments. There's not sufficient capital from the U.S. government or private sector. It has to rely on foreign investments."
– Ding Xuedong, Chairman, China Investment Corporation
This has drawn suspicion from U.S. regulators given the geopolitical tensions between the two countries. For further reading on the topic, consider this 2017 paper by the United States-China Economic and Security Review Commission.
Preparing for a Future Without Oil
Many of the countries associated with these SWFs are known for their robust fossil fuel industries. This includes Middle Eastern nations like Kuwait, Saudi Arabia, and the United Arab Emirates.
Oil has been an incredible source of wealth for these countries, but it's unlikely to last forever. Some analysts believe that we could even see peak oil demand before 2030—though this doesn't mean that oil will stop being an important resource.
Regardless, oil-producing countries are looking to hedge their reliance on fossil fuels. Their SWFs play an important role by taking oil revenue and investing it to generate returns and/or bolster other sectors of the economy.
An example of this is Saudi Arabia's Public Investment Fund (PIF), which supports the country's Vision 2030 framework by investing in clean energy and other promising sectors.
Fact Check: The Truth Behind Five ESG Myths
ESG investing continues to break fund inflow records. In this infographic, we unpack five common ESG myths.
Fact Check: The Truth Behind 5 ESG Myths
In 2021, investors continue to embrace environmental, social, and governance (ESG) investments at record levels.
In the first quarter of 2021, global ESG fund inflows outpaced the last four consecutive quarters, reaching $2 trillion. But while ESG gains rapid momentum, the CFA Institute shows that 33% of professional investors surveyed feel they have insufficient knowledge for considering ESG issues.
To help investors understand this growing trend, this infographic from MSCI helps provide a fact check on five common ESG myths.
1. "ESG Comes at the Expense of Investment Performance"
Fact Check: Not necessarily
Worldwide, ESG-focused companies have not only seen higher returns, but stronger earnings growth and dividends.
| Returns by ESG Ratings | Earnings Growth* | Active Return** | Dividends and Buybacks |
| --- | --- | --- | --- |
| Top tier | 2.89% | 1.31% | 0.28% |
| Middle tier | 1.35% | 0.12% | -0.02% |
| Bottom tier | -9.22% | -1.25% | -0.05% |
Source: MSCI ESG Research LLC (Dec, 2020)
*Contribution of earnings growth and dividends/buybacks to active return
**Active return is the additional gain or loss compared to it respective benchmark
In fact, a separate study from the CFA Institute shows that 35% of investment professionals invest in ESG to improve their financial returns.
2. "Investors Talk About ESG But Don't Invest In It"
Fact Check: False
Global ESG assets under management (AUM) in ETFs have grown from $6 billion in 2015 to $150 billion in 2020. In just five years, ESG AUM have accelerated 25 times.
Today, money managers are focusing on the following top five issues:
| Top ESG Issues | Assets Affected | Growth in Assets Affected (2018-2020) |
| --- | --- | --- |
| Climate change / carbon emissions | $4.18T | 39% |
| Anti-corruption | $2.44T | 10% |
| Board issues | $2.39T | 66% |
| Sustainable natural resources / agriculture | $2.38T | 81% |
| Executive pay | $2.22T | 122% |
Source: US SIF Foundation (Nov, 2020)
Meanwhile, over 1,500 shareholder resolutions focused on ESG-related matters were filed between 2018-2020. Not only are investors turning to ESG assets, but they are placing higher demands on corporate responsibility.
3. "ESG Investment Strategies Eliminate Entire Sectors"
Fact Check: Not necessarily
First, not all ESG investment approaches are exclusionary.
For instance, in North America roughly 51% of ESG ETFs used an ESG integration approach as of Dec. 31, 2020. In an ESG integration approach, ESG risks and opportunities are analyzed with the goal to support long-term returns.
By comparison, values and screens approaches, which accounted for over 22% of ESG ETFs in North America may screen out specific business activities, such as alcohol or tobacco, or sectors such as oil & gas.

| Percentage of ESG Type | Integration | Values & Screens | Thematic | Impact |
| --- | --- | --- | --- | --- |
| North America | 50.9% | 22.5% | 20.7% | 5.9% |
| Asia | 57.8% | 34.6% | 3.8% | 3.8% |
| Europe | 30.8% | 60.6% | 8.6% | 0.0% |
| Australia | 28.6% | 71.4% | 0.0% | 0.0% |
Source: Refinitiv/Lipper and MSCI ESG Research LLC as of Dec 31, 2020 (MSCI Feb, 2021)
Second, companies are assessed on a sector-specific basis where ESG leaders and laggards are identified within each sector in comparison to peers. In other words, ESG doesn't mean eliminating exposure to entire sectors. Instead, investors can choose from a range of companies based on their ESG ratings quality.
4. "ESG Investing Is Only For Millennials"
Fact Check: False
Although ESG is popular among millennials, ESG investing is being driven by the entire investor population. In 2019, one study finds that 85% of the general population expressed interest in ESG investing.
| Interest in Sustainable Investing | General Population | Millennials |
| --- | --- | --- |
| 2019 | 85% | 95% |
| 2015 | 71% | 84% |
Source: US SIF Foundation (Nov, 2020)
Sustainable investing goes far beyond millennials—ESG disclosures are quickly becoming requirements for key industry participants, such as institutional investors and listed companies.
5. "ESG Investing is Here to Stay"
Fact Check: True
Climbing 28% in 2020 alone, over 3,000 signatories have committed to the UN Principles of Responsible Investment. As of the first quarter of 2021, 313 global organizations and 33 asset owners have been newly added.
| Growth of UN PRI | Number of Signatories* | AUM Represented |
| --- | --- | --- |
| 2020 | 3,038 | $103.4T |
| 2019 | 2,370 | $86.3T |
Source: UN PRI
*As of Mar, 2020
Central to ESG's growth is the availability of ESG investments. ESG investing has become more widely accessible—which wasn't always the case. Over the last decade, the global number of ESG ETFs has grown from 46 to 497.
Why the Facts Matter
As ESG investments continue to play an even greater role in investor portfolios, it's important to focus on data rather than prevailing ESG myths that are not backed by fact.
Given the recent momentum in investment returns and ESG adoption, data-driven evidence empowers investors to build more sustainable portfolios that better align with their investment objectives.