What Your 401(k) Provider Doesn't Want You to Know
What Your 401(k) Provider Doesn't Want You to Know
Born in 1984, the 401(k) plan gave regular Americans a way to make tax-deductible contributions to a retirement account directly from their paychecks.
Today, it's the single most important investment vehicle for most people in the country:
90 million Americans participate in 401(k)s
$6 trillion in assets are invested in 401(k)s
51% of employers match a portion of employee 401(k) contributions
The only problem? With trillions of dollars at stake, financial firms have scrambled to get their hands in as many 401(k) cookie jars as possible.
And today, the vast majority of plans are characterized by huge commissions, expensively managed funds, and layer upon layer of additional – and often hidden – charges.
Flying Below the Radar
Today's infographic is from Tony Robbins, and it uses data and talking points from his #1 Best Selling book Unshakeable: Your Financial Freedom Playbook, which is now available on paperback.
It reveals that although 401(k) plans can be used as crucial vehicles for tax-free retirement saving, 92% of investors admit that they do not have any clue about the fees associated with their plan.
Further, 71% of people enrolled in 401(k)s incorrectly think that there are no fees at all.
The Retirement Savings Drain
Many people are unaware of the types of fees that get loaded onto 401(k) plans – and here are just some of them that get passed to the investor:
Investment expenses
Communication expenses
Bookkeeping expenses
Administrative expenses
Trustee expenses
Legal expenses
Transactional expenses
Stewardship expenses
How much does this all end up costing?
According to a thinktank report from Robert Hiltonsmith, the additional 401(k) fees can cut down the size of your retirement nest egg by an average of 30% for an average worker earning $30,000 per year (and saving 5%), this ends up being $154,794 over his or her lifetime.
For someone making $90,000 per year, it works out to a whopping $277,000 in 401(k) fees.
Paying to Play
Hidden fees are bad, but this next practice is potentially even worse.
It turns out that most big-name 401(k) providers accept payments from the mutual funds they offer on their plans, as a part of revenue sharing agreements. In other words, many of the funds you get to choose from are not there based on merit – instead, they were the ones that coughed up the money to be there.
Not surprisingly, these tend to be actively managed, expensive funds – some of which even charge a "front-end load" fee of 3% to even buy into.
Why are there so few options to choose from?
93% of 401(k) plans carry under $5 million in total plan assets
These are the small and medium-sized companies that make up most of the economy
However, they also have the lowest buying power to demand better options for their employees
As a result, most providers offer limited options to their smaller, less lucrative accounts – and the low fee options that are offered are sometimes marked up big time.
For example, one major insurance company offers an S&P 500 index fund for 1.68% annually when the actual cost is 0.05%. That's a 3,260% markup!
Small Fees Make a Big Difference
How much do these seemingly tiny percentages really hurt savers? More than you think.
Take two people saving for retirement generating the same return – one is charged 1% in fees, and one is charged 2%.
The 1% difference in fees may not sound like much, but through the power of compound interest, it works out to 10 years of extra retirement money!
What to Do About It?
The problems here are systemic, and not any one company is to be blamed. If you want to take action, here's what you can do:
Examine: Take a look at your plan's fee disclosures and the expense ratios of mutual funds you're invested in. If expense ratios are above 1%, you are likely paying too much.
Compare: Look at available fund options and switch to lower fee options if they offer similar levels of performance.
Lobby: If your 401(k) is getting battered by fees, tell your employer. Employers not only have a fiduciary duty to benchmark their 401(k)s, but also to seek the best option for employees.
The journey towards financial freedom is tough enough as it is – and while a 401(k) is a wonderful tool to help you get there, it needs to be used correctly!

The World's Top Car Manufacturers by Market Capitalization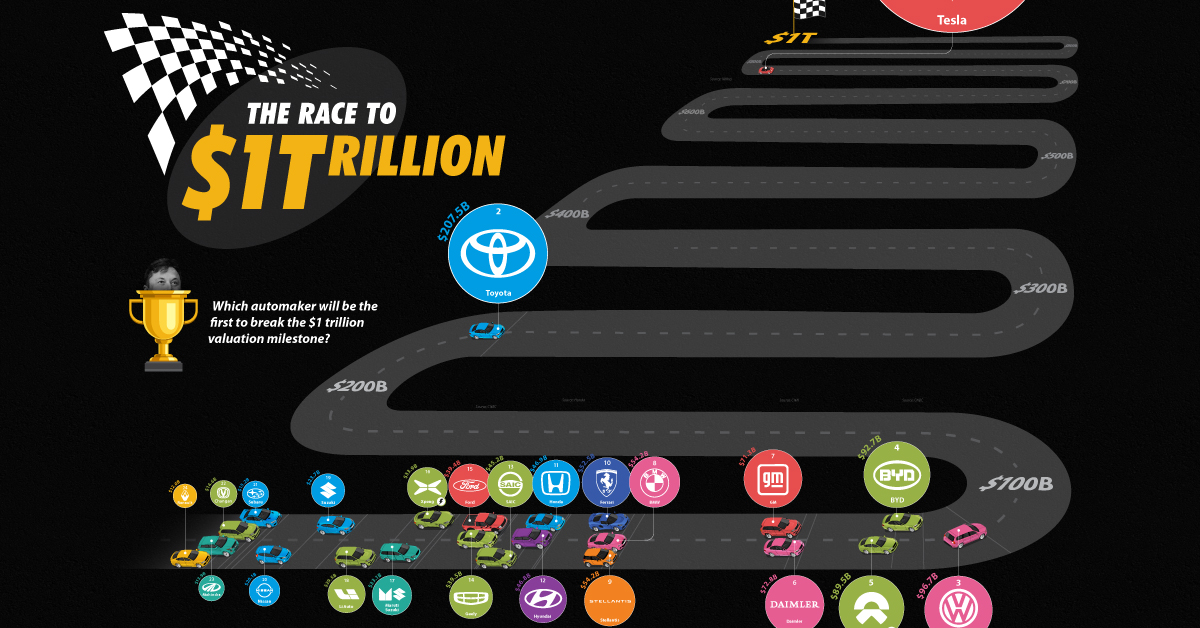 The World's Top Car Manufacturers by Market Cap
View the high-resolution of the infographic by clicking here.
Ever since Apple and other Big Tech companies hit a market capitalization of $1 trillion, many sectors are revving to follow suit—including the automotive industry.
But among those car brands racing to reach this total valuation, some are closer to the finish line than others. This visualization uses data from Yahoo Finance to rank the world's top car manufacturers by market capitalization.
What could this spell for the future of the automotive industry?
A special hat-tip to Brandon Knoblauch for compiling the original, regularly-updated spreadsheet.
The World's Top Car Manufacturers
It's clear one company is pulling far ahead of the pack. In the competition to clinch this coveted title, Tesla is the undoubted favorite so far.
The electric vehicle (EV) and clean energy company first became the world's most valuable car manufacturer in June 2020, and shows no signs of slowing its trajectory.
| Rank | Company | Market Cap (US$B) | Country |
| --- | --- | --- | --- |
| #1 | Tesla | $795.8 | 🇺🇸 U.S. |
| #2 | Toyota | $207.5 | 🇯🇵 Japan |
| #3 | Volkswagen | $96.7 | 🇩🇪 Germany |
| #4 | BYD | $92.7 | 🇨🇳 China |
| #5 | NIO | $89.5 | 🇨🇳 China |
| #6 | Daimler | $72.8 | 🇩🇪 Germany |
| #7 | General Motors | $71.3 | 🇺🇸 U.S. |
| #8 | BMW | $54.2 | 🇩🇪 Germany |
| #9 | Stellantis | $54.2 | 🇳🇱 Netherlands |
| #10 | Ferrari | $52.5 | 🇮🇹 Italy |
| #11 | Honda | $46.9 | 🇯🇵 Japan |
| #12 | Hyundai | $46.8 | 🇰🇷 South Korea |
| #13 | SAIC | $45.2 | 🇨🇳 China |
| #14 | Geely | $39.5 | 🇨🇳 China |
| #15 | Ford | $39.4 | 🇺🇸 U.S. |
| #16 | Xpeng | $33.9 | 🇨🇳 China |
| #17 | Maruti Suzuki | $33.1 | 🇮🇳 India |
| #18 | Li Auto | $29.5 | 🇨🇳 China |
| #19 | Suzuki | $23.7 | 🇯🇵 Japan |
| #20 | Nissan | $20.1 | 🇯🇵 Japan |
| #21 | Subaru | $15.2 | 🇯🇵 Japan |
| #22 | Changan | $14.6 | 🇨🇳 China |
| #23 | Mahindra | $13.9 | 🇮🇳 India |
| #24 | Renault | $12.0 | 🇫🇷 France |
All data as of January 15, 2021 (9:30AM PST)
Tesla's competitive advantage comes as a result of its dedicated emphasis on research and development (R&D). In fact, many of its rivals have admitted that Tesla's electronics far surpass their own—a teardown revealed that its batteries and AI chips are roughly six years ahead of other industry giants such as Toyota and Volkswagen.
The Green Revolution is Underway
The sheer growth of Tesla may spell the inevitability of a green revolution in the industry. Already, many major brands have followed in the company's tracks, announcing their own ambitious plans to add more EVs to their vehicle line-ups.
Here's how a selection of car manufacturers are embracing the electric future:
Toyota: Ranked #2
The second-most valuable car manufacturer in the world, Toyota is steadily ramping up its EV output. In 2020, it produced 10,000 EVs and plans to increase this to 30,000 in 2021.
Through this gradual increase, the company hopes to hit an expected target of 500,000 EVs by 2025. Toyota also aims to debut 10 new models internationally to achieve this goal.
Volkswagen: Ranked #3
By 2025, Volkswagen plans to invest $86 billion into digital and EV technologies. Considering the car manufacturer generates the most gross revenue per second of all automakers, it's no wonder Volkswagen is looking to the future in order to keep such numbers up.
The company is also well-positioned to ride the wave of a potential consumer shift towards EVs in Europe. In response to the region's strict emissions targets, Volkswagen upped its planned sales proportions for European hybrid and EV sales from 40% to 60% by 2030.
BYD and Nio: Ranked #4-5
China jumped on the electric bandwagon early. Eager to make its mark as a global leader in the emerging technology of lithium ion batteries (an essential component of any EV), the Chinese government handed out billions of dollars in subsidies—fueling the growths of domestic car manufacturers BYD and Nio alike.
BYD gained the interest and attention of its billionaire backer Warren Buffett, while Nio is China's response to Tesla and an attempt to capture the EV market locally.
General Motors: Ranked #7
Also with a 2025 target year in mind, General Motors is investing $27 billion into electric and fully autonomous vehicles. That's just the tip of the iceberg, too—the company also hopes to launch 30 new fully electric vehicles by the same year.
One particular factor is giving GM confidence: its new EV battery creations. They will be able to extend the range of its new EVs to 400 miles (644km) on a single charge, at a rate that rivals Tesla's Model S.
Stellantis: Ranked #9
In a long-anticipated move, Fiat Chrysler and Peugeot S.A. finalized their merger into Stellantis N.V. on January 16, 2021.
With the combined forces and funds of a $52 billion deal, the new Dutch-based car manufacturer hopes to rival bigger brands and race even more quickly towards the electric shift.
Honda: Ranked #11
Speaking of fast-paced races, Honda has decided to bow out of future Formula One (F1) World Championships. As these competitions were usually a way for the company to show off its engineering prowess, the move was a surprising one.
However, there's a noble reason behind this decision. Honda is choosing instead to focus on its commitment to become carbon neutral by 2050. To do so, it'll be shifting its financial resources away from F1 and towards R&D into fuel cell vehicle (FCV) and battery EV (BEV) technologies.
Ford: Ranked #15
Ford knows exactly what its fans want. In that regard, its electrification plans begin with its most popular commercial cars, such as the Mustang Mach-E SUV. This is Ford's major strategy for attracting new EV buyers, part of a larger $11.5 billion investment agenda into EVs through 2022.
While the car's specs compare to Tesla's Model Y, its engineers also drew from the iPhone and Netflix to incorporate an infotainment system and driver profiles to create a truly tech-first specimen.
Speeding into the Horizon
As more and more companies enter the racetrack, EV innovation across the entire industry may power the move to lower overall costs, extend the total range of vehicles, and put any other concerns by potential buyers to rest.
While Tesla is currently in the best position to become the first car manufacturer to reach the $1 trillion milestone, how long will it be for the others to catch up?

The Periodic Table of Commodity Returns (2021 Edition)
Which commodity had the best returns in 2020? From gold to oil, we show how commodity price performance stacks up over the last decade.
The Periodic Table of Commodity Returns (2011-2020)
Being a commodity investor can feel like riding a roller coaster.
Take silver. Typically known for sharp, idiosyncratic price movements, it faced double-digit declines in the first half of the decade, falling over 35% in just 2013 alone. By contrast, it jumped over 47% in 2020. Similarly, oil, corn, and others witnessed either steep declines or rapid gains.
The above graphic from U.S. Global Investors traces 10 years of commodity price performance, highlighting 14 different commodities and their annual ranking over the years.
Commodity Price Performance, From Best to Worst
Which commodities were the top performers in 2020?
The aforementioned silver tripled its returns year-over-year, climbing 47.9% in 2020. In July, the metal actually experienced its strongest month since 1979.
| Rank | Commodity | Return (2020) | Return (2019) | Return (2018) |
| --- | --- | --- | --- | --- |
| 1 | Silver | 47.9% | 15.2% | -8.5% |
| 2 | Copper | 26.0% | 3.4% | -17.5% |
| 3 | Palladium | 25.9% | 54.2% | 18.6% |
| 4 | Gold | 25.1% | 18.3% | -1.6% |
| 5 | Corn | 24.8% | 3.4% | 6.9% |
| 6 | Zinc | 19.7% | -9.5% | -24.5% |
| 7 | Nickel | 18.7% | 31.6% | -16.5% |
| 8 | Gas | 16.0% | -25.5% | -0.4% |
| 9 | Wheat | 14.6% | 11.0% | 17.9% |
| 10 | Platinum | 10.9% | 21.5% | -14.5% |
| 11 | Aluminum | 10.8% | -4.4% | -17.4% |
| 12 | Lead | 3.3% | -4.7% | -19.2% |
| 13 | Coal | -1.3% | -18.0% | -22.2% |
| 14 | Oil | -20.5% | 34.5% | -24.8% |
Along with silver, at least seven other commodities had stronger returns than the S&P 500 in 2020, which closed off the year with 16.3% gains. This included copper (26.0%), palladium (25.9%), gold (25.1%) and corn (24.8%).
Interestingly, copper prices moved in an unconventional pattern compared to gold in 2020. Often, investors rush to gold in uncertain economic climates, while sectors such as construction and manufacturing—which both rely heavily on copper—tend to decline. Instead, both copper and gold saw their prices rise in conjunction.
Nowadays, copper is also a vital material in electric vehicles (EVs), with recent demand for EVs also influencing the price of copper.
Silver Linings
As investors flocked to safety, silver's price reached heights not seen since 2010.
The massive scale of monetary and fiscal stimulus led to inflationary fears, also boosting the price of silver. How does this compare to its returns over the last decade?
In 2013, silver crashed over 35% as confidence grew in global markets. By contrast, in 2016, the Brexit referendum stirred uncertainty in global markets. Investors allocated money in silver, and prices shifted upwards.
As Gold as the Hills
Like silver, market uncertainty has historically boosted the price of gold.
What else contributed to gold's rise?
U.S. debt continues to climb, pushing down confidence in the U.S. dollar
A weaker U.S. dollar makes gold cheaper for other countries to buy
Low interest rates kept the returns of other safe haven assets low, making gold more attractive by comparison
Here's how the price of gold has changed in recent years.
Gold faced its steepest recent declines in 2013, when the Federal Reserve bank discussed tapering down its quantitative easing program in light of economic recovery.
Hitting the Brakes On Oil
Oil suffered the worst commodity price performance in 2020, with -20.5% returns.
For the first time in history, oil prices went negative as demand plummeted. To limit its oversupply, oil producers shrunk investment, closed wells, and turned off valves. Unfortunately, many companies still faced bankruptcies. By November, 45 oil producers had proceeded with bankruptcy filings year-to-date.
This stood in stark contrast to 2019, when prices soared 34.5%.
As is custom for oil, prices see-sawed over the decade. In 2016 and 2019, it witnessed gains of over 30%. However, like 2020, in 2014 it saw huge losses due to an oversupply of global petroleum.
In 2020, total production cuts hit 7.2 million barrels a day in December, equal to 7% of global demand, in response to COVID-19.