How to Find a Financial Advisor You Can Trust
How to Find a Financial Advisor You Can Trust
More and more people are using financial advisors to help them navigate the complex journey to financial freedom.
But although more Americans are seeking advice on matters of personal finance, they are also less sure that the advice they are getting is trustworthy.
Unfortunately, a growing amount of Americans see advisors as serving their companies' best interests rather than their own best interests. According to a survey by The National Association of Retirement Plan Participants (NARPP), 60% of Americans now feel this way compared to just 25% of respondents in 2010.
Who Can Be Trusted?
Today's infographic is from Tony Robbins, and it covers key points from his #1 Best Selling book Unshakeable: Your Financial Freedom Playbook, which is now available on paperback.
The book dissects the investment advisor landscape to show the value of a relationship with an advisor, the legal distinctions between different advisor types, and how advisors are incentivized.
Ultimately, it helps give you the ammo you need to find an investment advisor that will provide you with better service than the rest.
The Value of the Right Advisor
The right financial advisor can help you make better decisions, address your cognitive biases, and use their expertise to save you massive amounts of money.
A recent Vanguard study helps quantify the value a good advisor can bring:
Lowering expense ratios: 0.45%
Rebalancing portfolio: 0.35%
Asset allocation: 0.75%
Withdrawing the right investments in retirement: 0.70%
Behavioral coaching: 1.50%
Total: 3.75% of added value!
That's more than 3x what a sophisticated advisor might charge, and doesn't include the benefits of reducing taxes or other areas.
Advisors vs. Brokers
There are roughly 310,000 people in the U.S. who call themselves financial advisors – but they actually fall under two different legal frameworks.
About 90% of this group are brokers, while 10% are registered investment advisors. Confusingly, there is also a significant portion who are dual-registered as both brokers and registered advisors, as well.
What's the difference?
The two have different legal obligations, as well as differing ways of receiving compensation from clients:
Investment Advisor (RIA)
RIAs are registered with the SEC and with the state they are working in
Like doctors or lawyers, investment advisors have a fiduciary duty and legal obligation to their clients
In other words, they must serve your best interest at all times
They also must disclose any conflicts of interest
They don't accept commission from third-parties for their products
How they get paid: They charge a % based on assets managed, or a flat fee for financial advice
Brokers
Brokers are usually employed by banks, brokerage houses, or insurance companies
The products they recommend have to pass a suitability standard, based on your personal circumstances
However, they do not have to necessarily recommend the best product for you
How they get paid: They get commissions for selling certain products to you. They may also charge based on assets under management, as well.
Picking the Right Advisor
Remember, the right advisor can add 3.75% of added value to a portfolio, and that's before taxes and other areas! With the stakes so high, how can Americans pick the right advisor for them?
Here are the 7 questions Tony Robbins would ask a potential advisor to work with:
1. Are you a Registered Investment Advisor?
If the answer is yes, he or she is required by law to be a fiduciary.
2. Are you (or your firm) affiliated with a Broker-Dealer?
If yes, he or she can act as a broker and receive commissions for guiding you into specific investments.
3. Does your firm offer proprietary mutual funds or separately managed accounts?
These products will likely compensate them with additional revenues, at your expense.
4. Do you or your firm receive any third-party compensation for recommending particular investments?
This is the ultimate question you want answered. You want products to be recommended because they are right for you, not because they give the best kickbacks.
5. What's your philosophy when it comes to investing?
This will help you understand whether your advisor believes he/she can beat the market.
6. What financial planning services do you offer beyond investment strategy and portfolio management?
Financial planning is much bigger than just investing – it also involves planning for your child's education, handling vested stock options, estate planning, and tax advice. You want someone that can help you in all stages of your life.
7. Where will my money be held?
Having your money held by a trusted third-party custodian will mean your money is in a secure environment.
Like most financial endeavors, picking an advisor is an area lined with potential pitfalls.
But choosing the right investment advisor can be a difference maker – it can even possibly even set you up with many years of extra retirement savings.
Mapped: The World's Biggest Private Tax Havens
What countries or territories do the ultra-wealthy use as tax havens?
The World's Biggest Private Tax Havens
When the world's ultra-wealthy look for tax havens to shield income and wealth from their domestic governments, where do they turn?
If you're putting money in offshore bank accounts in order to save on taxes, there are two main criteria you're looking for: secrecy and accessibility. Based on pop culture and media reports, you might imagine a secretive bank in Switzerland or a tiny island nation in the Caribbean.
And though there is some truth to that logic, the reality is that the world's biggest tax havens are spread all over the world. Some of them are small nations as expected, but others are major economic powers that might be surprising.
Here are the world's top 20 tax havens, as ranked by the 2020 Financial Secrecy Index (FSI) by the English NGO Tax Justice Network.
Which Countries are the Biggest Tax Havens?
The FSI ranks countries and territories from all over the world on two criteria: secrecy and scale.
Secrecy Score: How well the jurisdiction's banking system can hide money. This includes analysis of ownership registration, legal entity transparency, tax and financial regulations, and cooperation with international standards.
Global Scale Weight: What is the jurisdiction's share of the world's total cross-border financial services? This metric is based primarily on the IMF's Balance of Payments statistics.
By weighing a country's ability to hide money by its relative share of offshore financial services, we see the tax havens with the biggest impact on the global economy.
| Rank | Jurisdiction | Region |
| --- | --- | --- |
| 1 | 🇰🇾 Cayman Islands | Caribbean |
| 2 | 🇺🇸 United States | North America |
| 3 | 🇨🇭 Switzerland | Europe |
| 4 | 🇭🇰 Hong Kong | East Asia |
| 5 | 🇸🇬 Singapore | Southeast Asia |
| 6 | 🇱🇺 Luxembourg | Europe |
| 7 | 🇯🇵 Japan | East Asia |
| 8 | 🇳🇱 Netherlands | Europe |
| 9 | 🇻🇬 British Virgin Islands | Caribbean |
| 10 | 🇦🇪 United Arab Emirates | Middle East |
| 11 | 🇬🇬 Guernsey | Europe |
| 12 | 🇬🇧 United Kingdom | Europe |
| 13 | 🇹🇼 Taiwan | East Asia |
| 14 | 🇩🇪 Germany | Europe |
| 15 | 🇵🇦 Panama | Caribbean |
| 16 | 🇯🇪 Jersey | Europe |
| 17 | 🇹🇭 Thailand | Southeast Asia |
| 18 | 🇲🇹 Malta | Europe |
| 19 | 🇨🇦 Canada | North America |
| 20 | 🇶🇦 Qatar | Middle East |
At a glance, the top 20 tax havens are spread out across regions. Just under half of the list is located in Europe, but the rest are spread out across the Americas and Asia.
And the jurisdictions are opposites in many ways. They include financial powerhouses like the U.S., Japan, and the UK as well as smaller nations and territories like the Cayman Islands, Hong Kong, and Luxembourg.
But one surprising thing many of them have in common is a link to England. In addition to the UK, four of the top 20 tax havens—Cayman Islands, British Virgin Islands, Guernsey, and Jersey—are British Overseas Territories or Crown Dependencies.
Also worth noting is the importance of scale in the rankings. The highest ranking jurisdictions by secrecy score were actually the Maldives, Angola and Algeria, but they represent less than 0.1% of total offshore financial services.
Best Place To Hide Private Vs. Corporate Tax
Some of the listed tax havens might be confusing to nationals of those countries, but that's where relativity is important. The U.S. and Canada might not be tax havens for American or Canadian nationals, but the ultra-wealthy from East Asia and the Middle East are reported to utilize them due to holes in foreign tax laws. Likewise, the UAE has reportedly become a tax haven for Africa's ultra-wealthy.
In addition, many of the countries used as tax havens for individual wealth are also utilized by corporations.
The Tax Justice Network's 2021 assessment of corporate tax havens listed the British Virgin Islands, Cayman Islands, and Bermuda as the top three tax corporate tax havens.
While individuals might create shell companies in tax havens to hide their wealth, corporations are usually directly incorporated in the tax haven in order to defer taxes.
But the tax haven landscape might soon shift. The G7 struck a deal in June 2021 to start taxing multinational corporations based on the revenue generated in each country (instead of where the company is based), as well as setting a global minimum tax of 15%. In total, a group of 130 countries have agreed to the deal, including India, China, the UK, and the Cayman Islands.
As the campaign to bring back deferred taxes ramps up, the question becomes one of response. Will the ultra-wealthy individuals and corporations start to work in tandem with the new rules, or discover new workarounds and tax havens?
Charting The Growing Generational Wealth Gap
How large is the wealth gap between Millennials, Gen X, and Baby Boomers? We visualize the growing wealth disparity by generation and age.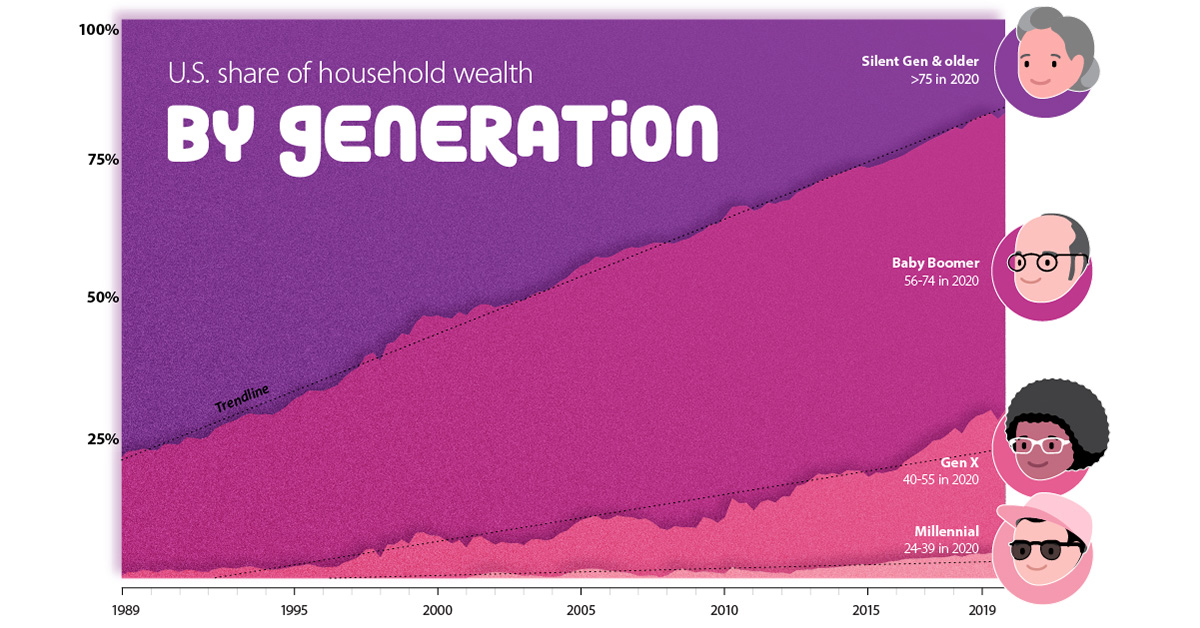 The Growing Generational Wealth Gap
As young generations usher into adulthood, they inevitably begin to accumulate and inherit wealth, a trend that has broadly remained consistent.
But what has changed recently is the rate of accumulation.
In the U.S., household wealth has traditionally seen a relatively even distribution across different age groups. However, over the last 30 years, the U.S. Federal Reserve shows that older generations have been amassing wealth at a far greater rate than their younger cohorts.
As the visual above shows, the older have been getting richer, and the younger have been starting further back than ever before.
By Generation: Baby Boomers Benefit & Millennials Lag
To examine the proportion of wealth each generation holds, it's important to clearly define each age group. Though personal definitions might differ, the U.S. Federal Reserve uses a clear metric:
| Generation | Birth Years | Age (2020) |
| --- | --- | --- |
| Silent Generation & Earlier | 1945 and earlier | 75+ |
| Baby Boomers | 1946–1964 | 56–74 |
| Generation X | 1965–1980 | 40–55 |
| Millennials | 1981–1996 | 24–39 |
Relative to younger generations growing up, the Silent Generation and Greatest Generation before them have seen a decreasing share of household wealth over the last 30 years.
However, the numerical levels have been relatively stable. For these combined generations, total wealth has gone from $16 trillion in 1989 to $19 trillion in 2019, with a peak of $27 trillion in 2007. Considering this cohort has understandably shrunk over time—from an estimated 47 million to 23 million in 2019—their individual shares of wealth have actually increased.
Immediately following are the Baby Boomers, who held more than half of U.S. household wealth towards the end of 2020. At $59 trillion, the generation holds more than ten times the amount held by a comparative number of Millennials.
| Generation | Wealth (2019) | Population (2019) | Wealth/Person |
| --- | --- | --- | --- |
| Silent Generation & Older | $18.8 Trillion | 23.0 Million | $817,391 |
| Baby Boomers | $59.4 Trillion | 71.2 Million | $834,270 |
| Generation X | $28.6 Trillion | 65.0 Million | $440,000 |
| Millennials | $5.0 Trillion | 72.6 Million | $68,871 |
With $29 trillion held in 2019, Generation X has also been gaining in wealth over the last 30 years. It's good enough for five times the wealth of Millennials, though at just $440k/person, they've fallen far behind Baby Boomers in rate of growth.
Finally, trying to catch up to their older cohorts are Millennials, who held the least amount of household wealth ($5 trillion) for the greatest population (73 million) in 2019, an average of just under $69k/person.
For a direct comparison, it took Generation X nine years to climb from their start of 0.4% of household wealth in 1989 to above 5%, while Millennials still haven't crossed that threshold. But it's not all doom and gloom for Millennials. Their rate of growth is starting to rise, with the generation's level of wealth climbing from $3 trillion in 2016 to $5 trillion in 2019.
By Age: A Growing Share for 55+
Though the generational picture is stark, the difference in U.S. household wealth by age makes the picture of shifting wealth even clearer.
Until 2001, the shares of household wealth held by different age groups were relatively stable. People aged 40-54 and 55-69 held around 35% each of household wealth, retirees aged 70+ hovered around 20%, and younger people aged under 40 held around 10%.
Since that time, however, the shift in wealth to older generations is clear. The 70+ age group has seen their share of wealth increase to 26%, while the share held by ages 55-69 has grown from 35% to almost half.
But not all ages are seeing an increasing slice of wealth. The 40-54 age group saw its share drop sharply from 36% to 22% between 2001 and 2016 before starting to recover towards the end of the decade, while the youngest cohort now hover around just 5%.
Breaking down that wealth by components is even more eye-opening. The 39 and under age group holds 37.9% of their assets in real estate, the largest share amongst any age group (and concentrated in the hands of fewer people) while older age groups have their wealth spread out across real estate, equities, and pensions.
| Assets Held by Age (Percent of Total, 2020) | 70+ | 55–69 | 40–54 | ≤39 |
| --- | --- | --- | --- | --- |
| Real estate | 21.6% | 20.5% | 27.6% | 37.9% |
| Consumer durables | 3.8% | 3.6% | 5.2% | 9.4% |
| Corporate equities and mutual fund shares | 24.6% | 23.1% | 18.6% | 8.1% |
| Pension entitlements | 16.3% | 25.0% | 21.9% | 21.0% |
| Private businesses | 7.9% | 9.7% | 12.1% | 8.1% |
| Other assets | 25.8% | 18.1% | 14.7% | 15.5% |
But the difference is as much in assets as it is in opportunity. In 1989, Baby Boomers and Generation X under 40 accounted for 13% of household wealth, compared to just 5.9% for Millennials and Generation Z under 40 in 2020.
Will the Tide Turn for Generation Z?
As new and accumulated wealth has been built up in older generations, it's a matter of time before the pendulum starts to swing the other way.
The Millennials age group are expected to inherit $68 trillion by 2030 from Baby Boomer parents. Of course, that payout isn't going to be even across the board, with wealthier families retaining the bulk of wealth and the majority of Millennials laden with debt.
And with Generation Z (born 1997-2012) starting to come of age, the uneven playing field is making it hard to begin accumulating wealth in the first place.
Since it is in the best interest of societies to have wealthy generations that can drive economic growth, potential solutions are being examined all over the political sphere. They include different taxation schemes, changing estate laws, and potentially cancelling student debt.
Whatever ends up happening, it's important to track how the distribution of wealth changes over the coming decade, and begin accumulating your personal wealth as best as you can.