How to Find a Financial Advisor You Can Trust
How to Find a Financial Advisor You Can Trust
More and more people are using financial advisors to help them navigate the complex journey to financial freedom.
But although more Americans are seeking advice on matters of personal finance, they are also less sure that the advice they are getting is trustworthy.
Unfortunately, a growing amount of Americans see advisors as serving their companies' best interests rather than their own best interests. According to a survey by The National Association of Retirement Plan Participants (NARPP), 60% of Americans now feel this way compared to just 25% of respondents in 2010.
Who Can Be Trusted?
Today's infographic is from Tony Robbins, and it covers key points from his #1 Best Selling book Unshakeable: Your Financial Freedom Playbook, which is now available on paperback.
The book dissects the investment advisor landscape to show the value of a relationship with an advisor, the legal distinctions between different advisor types, and how advisors are incentivized.
Ultimately, it helps give you the ammo you need to find an investment advisor that will provide you with better service than the rest.
The Value of the Right Advisor
The right financial advisor can help you make better decisions, address your cognitive biases, and use their expertise to save you massive amounts of money.
A recent Vanguard study helps quantify the value a good advisor can bring:
Lowering expense ratios: 0.45%
Rebalancing portfolio: 0.35%
Asset allocation: 0.75%
Withdrawing the right investments in retirement: 0.70%
Behavioral coaching: 1.50%
Total: 3.75% of added value!
That's more than 3x what a sophisticated advisor might charge, and doesn't include the benefits of reducing taxes or other areas.
Advisors vs. Brokers
There are roughly 310,000 people in the U.S. who call themselves financial advisors – but they actually fall under two different legal frameworks.
About 90% of this group are brokers, while 10% are registered investment advisors. Confusingly, there is also a significant portion who are dual-registered as both brokers and registered advisors, as well.
What's the difference?
The two have different legal obligations, as well as differing ways of receiving compensation from clients:
Investment Advisor (RIA)
RIAs are registered with the SEC and with the state they are working in
Like doctors or lawyers, investment advisors have a fiduciary duty and legal obligation to their clients
In other words, they must serve your best interest at all times
They also must disclose any conflicts of interest
They don't accept commission from third-parties for their products
How they get paid: They charge a % based on assets managed, or a flat fee for financial advice
Brokers
Brokers are usually employed by banks, brokerage houses, or insurance companies
The products they recommend have to pass a suitability standard, based on your personal circumstances
However, they do not have to necessarily recommend the best product for you
How they get paid: They get commissions for selling certain products to you. They may also charge based on assets under management, as well.
Picking the Right Advisor
Remember, the right advisor can add 3.75% of added value to a portfolio, and that's before taxes and other areas! With the stakes so high, how can Americans pick the right advisor for them?
Here are the 7 questions Tony Robbins would ask a potential advisor to work with:
1. Are you a Registered Investment Advisor?
If the answer is yes, he or she is required by law to be a fiduciary.
2. Are you (or your firm) affiliated with a Broker-Dealer?
If yes, he or she can act as a broker and receive commissions for guiding you into specific investments.
3. Does your firm offer proprietary mutual funds or separately managed accounts?
These products will likely compensate them with additional revenues, at your expense.
4. Do you or your firm receive any third-party compensation for recommending particular investments?
This is the ultimate question you want answered. You want products to be recommended because they are right for you, not because they give the best kickbacks.
5. What's your philosophy when it comes to investing?
This will help you understand whether your advisor believes he/she can beat the market.
6. What financial planning services do you offer beyond investment strategy and portfolio management?
Financial planning is much bigger than just investing – it also involves planning for your child's education, handling vested stock options, estate planning, and tax advice. You want someone that can help you in all stages of your life.
7. Where will my money be held?
Having your money held by a trusted third-party custodian will mean your money is in a secure environment.
Like most financial endeavors, picking an advisor is an area lined with potential pitfalls.
But choosing the right investment advisor can be a difference maker – it can even possibly even set you up with many years of extra retirement savings.
Ranked: The Best U.S. States for Retirement
Getting ready for retirement? See which states score the highest in terms of affordability, quality of life, and health care.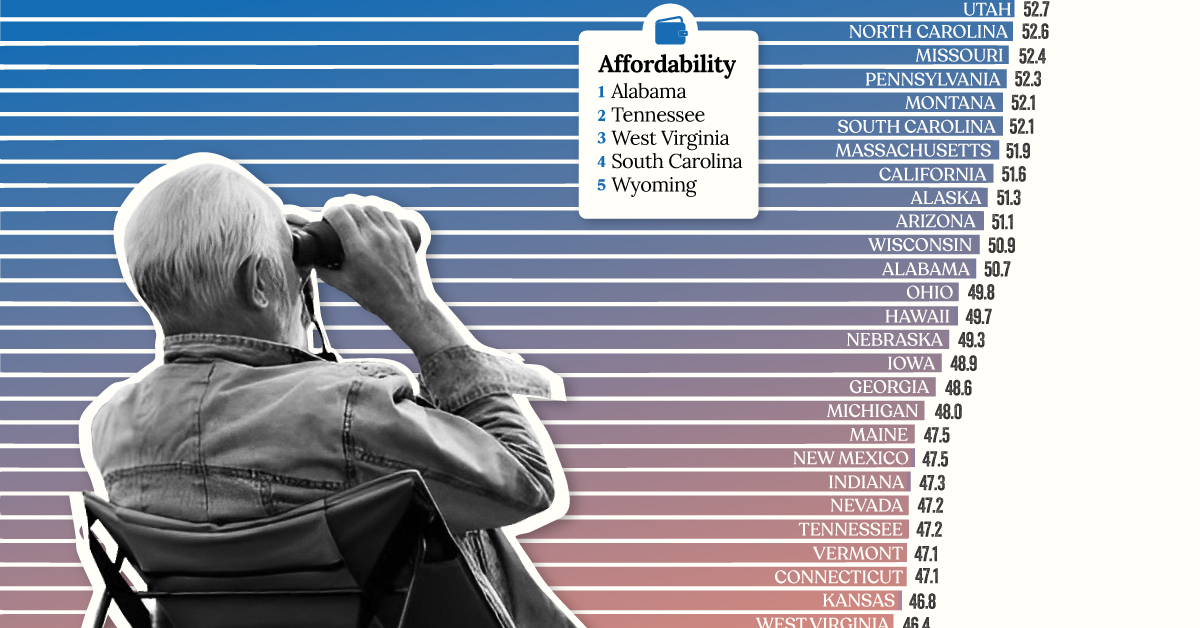 Ranked: The Best U.S. States for Retirement
What is the most important aspect of retirement planning?
If you said finances, you're probably right. But have you ever thought about where the best place is to retire? Being strategic about location can make a big impact on your quality of life, and perhaps help your savings go just a bit further.
To help break it down, we've visualized data from personal finance platform, WalletHub, which ranked the best U.S. states for retirement as of 2023.
Data and Methodology
WalletHub ranked each state using 47 metrics across three dimensions.
Affordability (7 metrics worth 40 points)
Quality of Life (22 metrics worth 30 points)
Health Care (18 metrics worth 30 points)
Here are some examples of what each dimension measures:
Affordability: Cost of living and taxation
Quality of Life: Quality of elder-abuse protections and crime rates
Health Care: Number of health professionals per capita and life expectancy
Visit the source for the full list of metrics.
The final scores (visualized as the bars in the infographic above) represent each state's weighted average across all metrics. See below for more comprehensive results.
Rank
State
Score
Affordability
(rank)
Quality of Life
(rank)
Health Care
(rank)
1
Virginia
57.6
16
11
11
2T
Florida
57.4
9
4
28
2T
Colorado
57.4
14
27
5
4
Wyoming
55.6
5
9
38
5
Delaware
55.5
6
33
18
6
New Hampshire
55.0
31
5
7
7
South Dakota
53.6
25
30
9
8
Minnesota
53.5
40
2
1
9
Idaho
53.2
15
17
31
10
North Dakota
53.0
22
25
20
11
Utah
52.7
20
24
26
12
North Carolina
52.6
12
23
35
13
Missouri
52.4
17
28
32
14
Pennsylvania
52.3
36
3
12
15T
Montana
52.1
24
15
29
15T
South Carolina
52.1
4
38
39
17
Massachusetts
51.9
47
1
2
18
California
51.6
32
19
10
19
Alaska
51.3
26
36
8
20
Arizona
51.1
18
35
25
21
Wisconsin
50.9
34
14
17
22
Alabama
50.7
1
44
50
23
Ohio
49.8
27
8
37
24
Hawaii
49.7
38
29
4
25
Nebraska
49.3
37
16
15
26
Iowa
48.9
35
12
24
27
Georgia
48.6
7
40
42
28
Michigan
48.0
29
18
36
29T
Maine
47.5
43
6
13
29T
New Mexico
47.5
21
46
30
31
Indiana
47.3
23
31
40
32T
Nevada
47.2
11
42
41
32T
Tennessee
47.2
2
48
45
34T
Vermont
47.1
48
7
6
34T
Connecticut
47.1
44
26
3
36
Kansas
46.8
30
32
33
37
West Virginia
46.4
3
43
49
38
Oregon
46.1
41
21
21
39
Texas
45.9
28
37
34
40
Rhode Island
45.0
39
39
14
41
Arkansas
44.7
8
49
44
42
Maryland
44.6
46
20
19
43
Washington
44.5
45
13
23
44
Illinois
44.3
42
22
27
45
Louisiana
43.9
13
45
47
46
New York
43.7
50
10
16
47
Oklahoma
43.6
19
47
43
48
Mississippi
40.8
10
50
48
49
New Jersey
40.2
49
34
22
50
Kentucky
38.8
33
41
46
According to this methodology, Virginia is currently the best state for retirement. Although the Southeastern state does not excel in any one dimension, it scores consistently well across all three to create a very balanced retirement profile.
This gives it a slight advantage over second place Florida, which excels in quality of life and affordability, but falls further behind in terms of health care. Third-placed Colorado is a mirror of Florida, offering excellent health care but a lower quality of life in comparison.
How to Interpret These Results
It's important to remember that this ranking is purely based on data and the methodology above, and may not be tailored to your individual preferences.
For example, if you believe that health services will be very important during retirement, you may rank Minnesota (#1 in terms of health care) much higher than eighth place.
You may notice that prioritizing one dimension will often come at a trade-off in others. Looking at Minnesota once more, we can see that the state is also one of America's most expensive.
Looking to retire outside of the U.S.? Check out this graphic on the top 25 countries to retire in.