How to Find a Financial Advisor You Can Trust
How to Find a Financial Advisor You Can Trust
More and more people are using financial advisors to help them navigate the complex journey to financial freedom.
But although more Americans are seeking advice on matters of personal finance, they are also less sure that the advice they are getting is trustworthy.
Unfortunately, a growing amount of Americans see advisors as serving their companies' best interests rather than their own best interests. According to a survey by The National Association of Retirement Plan Participants (NARPP), 60% of Americans now feel this way compared to just 25% of respondents in 2010.
Who Can Be Trusted?
Today's infographic is from Tony Robbins, and it covers key points from his #1 Best Selling book Unshakeable: Your Financial Freedom Playbook, which is now available on paperback.
The book dissects the investment advisor landscape to show the value of a relationship with an advisor, the legal distinctions between different advisor types, and how advisors are incentivized.
Ultimately, it helps give you the ammo you need to find an investment advisor that will provide you with better service than the rest.
The Value of the Right Advisor
The right financial advisor can help you make better decisions, address your cognitive biases, and use their expertise to save you massive amounts of money.
A recent Vanguard study helps quantify the value a good advisor can bring:
Lowering expense ratios: 0.45%
Rebalancing portfolio: 0.35%
Asset allocation: 0.75%
Withdrawing the right investments in retirement: 0.70%
Behavioral coaching: 1.50%
Total: 3.75% of added value!
That's more than 3x what a sophisticated advisor might charge, and doesn't include the benefits of reducing taxes or other areas.
Advisors vs. Brokers
There are roughly 310,000 people in the U.S. who call themselves financial advisors – but they actually fall under two different legal frameworks.
About 90% of this group are brokers, while 10% are registered investment advisors. Confusingly, there is also a significant portion who are dual-registered as both brokers and registered advisors, as well.
What's the difference?
The two have different legal obligations, as well as differing ways of receiving compensation from clients:
Investment Advisor (RIA)
RIAs are registered with the SEC and with the state they are working in
Like doctors or lawyers, investment advisors have a fiduciary duty and legal obligation to their clients
In other words, they must serve your best interest at all times
They also must disclose any conflicts of interest
They don't accept commission from third-parties for their products
How they get paid: They charge a % based on assets managed, or a flat fee for financial advice
Brokers
Brokers are usually employed by banks, brokerage houses, or insurance companies
The products they recommend have to pass a suitability standard, based on your personal circumstances
However, they do not have to necessarily recommend the best product for you
How they get paid: They get commissions for selling certain products to you. They may also charge based on assets under management, as well.
Picking the Right Advisor
Remember, the right advisor can add 3.75% of added value to a portfolio, and that's before taxes and other areas! With the stakes so high, how can Americans pick the right advisor for them?
Here are the 7 questions Tony Robbins would ask a potential advisor to work with:
1. Are you a Registered Investment Advisor?
If the answer is yes, he or she is required by law to be a fiduciary.
2. Are you (or your firm) affiliated with a Broker-Dealer?
If yes, he or she can act as a broker and receive commissions for guiding you into specific investments.
3. Does your firm offer proprietary mutual funds or separately managed accounts?
These products will likely compensate them with additional revenues, at your expense.
4. Do you or your firm receive any third-party compensation for recommending particular investments?
This is the ultimate question you want answered. You want products to be recommended because they are right for you, not because they give the best kickbacks.
5. What's your philosophy when it comes to investing?
This will help you understand whether your advisor believes he/she can beat the market.
6. What financial planning services do you offer beyond investment strategy and portfolio management?
Financial planning is much bigger than just investing – it also involves planning for your child's education, handling vested stock options, estate planning, and tax advice. You want someone that can help you in all stages of your life.
7. Where will my money be held?
Having your money held by a trusted third-party custodian will mean your money is in a secure environment.
Like most financial endeavors, picking an advisor is an area lined with potential pitfalls.
But choosing the right investment advisor can be a difference maker – it can even possibly even set you up with many years of extra retirement savings.
Is $1 Million Enough for Retirement in America?
The average American needs their retirement savings to last them over a decade. In which cities is $1 million enough to retire comfortably?
Is $1 Million Enough for Retirement in America?
The average American needs their retirement savings to last them 14 to 17 years. With this in mind, is $1 million in savings enough for the average retiree?
Ultimately, it depends on where you live, since the average cost of living varies across the country. This graphic, using data compiled by GOBankingRates.com shows how many years $1 million in retirement savings lasts in the top 50 most populated U.S. cities.
Editor's note: As one user rightly pointed out, this analysis doesn't take into account interest earned on the $1 million. With that in consideration, the above calculations could be seen as very conservative figures.
How Long $1 Million Would Last in 50 Cities
To compile this data, GOBankingRates calculated the average expenditures of people aged 65 or older in each city, using data from the Bureau of Labor Statistics and cost-of-living indices from Sperling's Best Places.
That figure was then reduced to account for average Social Security income. Then, GOBankingRates divided the one million by each city's final figure to calculate how many years $1 million would last in each place.
Perhaps unsurprisingly, San Francisco, California came in as the most expensive city on the list. $1 million in retirement savings lasts approximately eight years in San Francisco, which is about half the time that the typical American needs their retirement funds to last.
City
How long $1 would last (years)
Cost-of-living Index
Annual expenditures
(after using annual Social Security)
Memphis, TN
45.3
76
$22,043
El Paso, TX
40.3
81.4
$24,789
Wichita, KS
39.7
82.1
$25,145
Tulsa, OK
38.8
83.2
$25,705
Indianapolis, IN
38.6
83.5
$25,857
Milwaukee, WI
37.6
84.9
$26,569
Oklahoma City, OK
37.3
85.4
$26,824
Columbus, OH
37.2
85.5
$26,875
Kansas City, MO
36.7
86.2
$27,231
Detroit, MI
35.8
87.6
$27,943
Baltimore, MD
35.3
88.2
$28,248
Louisville, KY
35.3
88.4
$28,349
San Antonio, TX
34.4
89.7
$29,011
Omaha, NE
34.3
89.8
$29,062
Albuquerque, NM
33.6
91.1
$29,723
Tucson, AZ
33.3
91.6
$29,977
Jacksonville, FL
32.3
93.5
$30,943
New Orleans, LA
30.8
96.3
$32,367
Houston, TX
30.8
96.5
$32,469
Charlotte, NC
29.6
98.9
$33,690
Forth Worth, TX
29.3
99.8
$34,148
Arlington, TX
28.8
100.6
$34,554
Philadelphia, PA
28.6
101.2
$34,860
Nashville, TN
28.5
101.4
$34,961
Dallas, TX
28.4
101.6
$35,063
Raleigh, NC
28.2
102.3
$35,419
Fresno, CA
28.1
102.6
$35,572
Phoenix, AZ
27.6
103.7
$36,131
Mesa, AZ
27.4
104.2
$36,385
Colorado Springs, CO
27.3
104.5
$36,538
Virginia Beach, VA
26.9
105.6
$37,097
Minneapolis, MN
26.6
106.5
$37,555
Chicago, IL
26.4
106.9
$37,759
Atlanta, GA
26.3
107.5
$38,064
Las Vegas, NV
24.8
111.6
$40,149
Sacramento, CA
22.9
118.2
$43,506
Austin, TX
22.7
119.3
$44,065
Miami, FL
21.7
123.1
$45,998
Denver, CO
20.4
128.7
$48,846
Portland, OR
20.0
130.8
$49,914
Washington, D.C.
16.4
152.1
$60,747
San Diego, CA
15.4
160.1
$64,816
Long Beach, CA
15.3
160.4
$64,969
Boston, MA
15.1
162.4
$65,986
Seattle. WA
14.0
172.3
$71,021
Los Angeles, CA
13.9
173.3
$71,530
Oakland, CA
13.8
174.4
$72,089
New York, NY
12.7
187.2
$78,599
San Jose, CA
10.8
214.5
$92,484
San Francisco, CA
8.3
269.3
$120,355
A big factor in San Francisco's high cost of living is its housing costs. According to Sperlings Best Places, housing in San Francisco is almost 6x more expensive than the national average and 3.6x more expensive than in the overall state of California.
Four of the top five most expensive cities on the list are in California, with New York City being the only outlier. NYC is the third most expensive city on the ranking, with $1 million expected to last a retiree about 12.7 years.
On the other end of the spectrum, $1 million in retirement would last 45.3 years in Memphis, Tennessee. That's about 37 years longer than it would last in San Francisco. In Memphis, housing costs are about 2.7x lower than the national average, with other expenses like groceries, health, and utilities well below the national average as well.
Retirement, Who?
Regardless of where you live, it's helpful to start planning for retirement sooner rather than later. But according to a recent survey, only 41% of women and 58% of men are actively saving for retirement.
However, for some, COVID-19 has been the financial wake-up call they needed to start planning for the future. In fact, in the same survey, 70% of respondents claimed the pandemic has "caused them to pay more attention to their long-term finances."
This is good news, considering that people are living longer than they used to, meaning their funds need to last longer in general (or people need to retire later in life). Although, as the data in this graphic suggests, where you live will greatly influence how much you actually need.
How Does Your Personality Type Affect Your Income?
Can your Myers–Briggs personality type impact how much you make? See for yourself with this breakdown of average income for all 16 personality types.
How Does Your Personality Type Affect Your Income?
You've just finished giving a presentation at work, and an outspoken coworker challenges your ideas. Do you:
a) Engage in a friendly debate about the merits of each argument, or
b) Avoid a conflict by agreeing or changing the subject?
The way you approach this type of situation may influence how much money you earn.
Today's infographic comes to us from Truity, and it outlines the potential relationship between personality type and income.
Through the Myers-Briggs Lens
The Myers-Briggs personality test serves as a robust framework for analyzing the connection between personality and income, in a way that is easily understood and familiar to many people.
The theory outlines four personality dimensions that are described using opposing traits.
Extraversion vs. Introversion: Extroverts gain energy by interacting with others, while introverts draw energy from spending time alone.
Sensing vs. Intuition: Sensors prefer concrete and factual information, while intuitive types use their imagination or wider patterns to interpret information.
Thinking vs. Feeling: Thinkers make rational decisions based on logic, while feelers make empathetic decisions considering the needs of others.
Judging vs. Perceiving: Judging types organize their life in a structured manner, while perceiving types are more flexible and spontaneous.
For example, someone who aligns with extraversion, sensing, thinking, and judging would be described as an ESTJ type.
The researchers surveyed over 72,000 people to measure these four personality preferences, as well as 23 unique facets of personality, income levels, and career-related data.
Traits With the Highest Earning Potential
Based on the above four dimensions, extroverts, sensors, thinkers, and judgers tend to be the most financially successful. Diving into specific personality characteristics, certain traits are more closely correlated with higher income.

| Personality Type | Average Income Advantage (Annual) | Trait(s) Most Correlated With Income Advantage |
| --- | --- | --- |
| Extroverts | $9,347 | Expressive, Energetic, Prominent |
| Sensors | $1,910 | Conceptual |
| Thinkers | $8,411 | Challenging, Objective, Rational |
| Judgers | $6,903 | Ambitious |
For instance, extroverts are much more likely to have higher incomes if they are quick to share thoughts, have high energy, and like being in the public eye. Thinkers also score high on income potential, especially if they enjoy debates, make rational decisions, and moderate their emotions.
The Top Earners
Which personality types earn the highest incomes of all? Extroverted thinking types dominate the ranks again.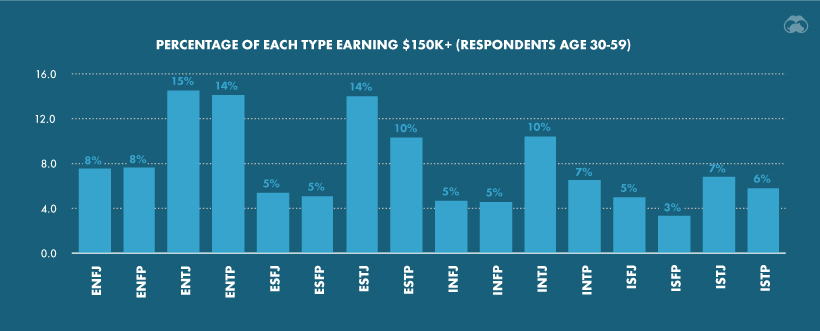 [>
Source: Truity
The one exception is INTJs, with 10% earning an annual salary of $150K or more in their peak earning years.
Personality and the Gender Pay Gap
With all these factors in mind, the researchers analyzed whether personality differences would affect the gender pay gap.
When the average salaries were separated for men and women, the results were clear: men of almost all personality types earn more than the average income for the sample overall, while all but two personality types of women earned less than the average.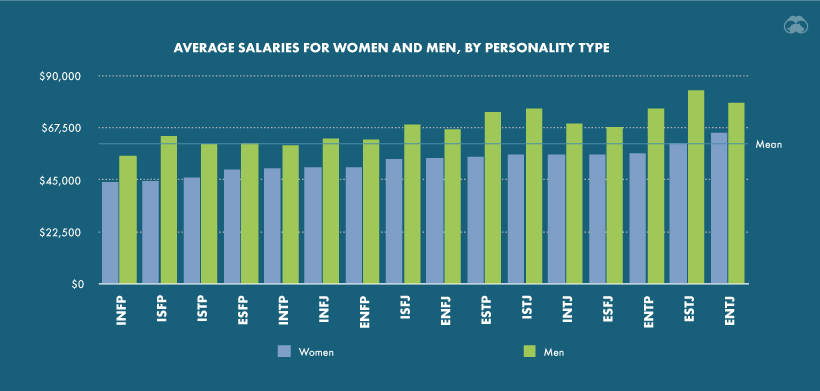 Source: Truity
In fact, women with high-earning personality types still earn less than men who do not possess those traits. For example, extroverted women earn about $55,000 annually, while introverted men earn an average of over $64,000.
Maximizing Your Potential
Are the introverted personalities of the world doomed to lower salaries? Not necessarily—while personality does play a role, many other factors contribute to income levels:
Level of education
Years of experience
Local job market
Type of industry
The particular career
Not only that, anyone can work on the two specific personality traits most aligned with higher incomes: set ambitious goals, and face conflict head-on to ensure your voice is heard.