Our Top Infographics of 2016
Pop the champagne, because 2016 is soon to be history.
And with that, we are proud to wrap up the year with 16 of the best infographics, charts, and data visualizations that we posted over the course of 2016. Just like in last year's edition, some of the posts below were handpicked by our staff, while others received notably high amounts of shares, views, and comments from our audience.
If you're new to Visual Capitalist, this countdown is one of the best ways to get acquainted with what we do. It rounds up our most powerful and intuitive visuals that help to simplify complex concepts in business, technology, and investing. If you like what you see below, don't forget to subscribe to our mailing list or connect with us on Facebook, Twitter, or LinkedIn to get our free content daily.
Important Notes:
Below, we count down our top infographics of 2016. But first, a few quick notes:
Images below are previews for a much larger infographic with an accompanying article
To view any post in full, click the image or link in the text. All links open in a new tab.
Enjoy the roundup, and wishing you the best in 2017!
– The Visual Capitalist Team
16. The Largest Companies by Market Cap

Is software really eating the world, as Marc Andreessen says? This chart, which shows the largest public companies by market capitalization over the last 15 years, is probably our best proof of technology's profound impact on the capital markets.
15. Explaining the Surging Demand for Lithium-Ion Batteries

This year, we covered the buzz around the construction of the massive Tesla Gigafactory in depth.
However, for a broader look at electric cars and how emerging battery technologies will impact the world, our five-part Battery Series is a particularly good primer.
14. The Dominance of Google and Facebook in One Chart

Most digital publishers are fighting for an increasingly smaller slice of the pie. The one stat that proves it? Nearly $0.60 of every $1 spent on digital advertising goes to Google and Facebook.
13. Visualizing the Size of the U.S. National Debt

The U.S. national debt is so massive, that it is difficult to truly comprehend its size. We created this infographic as a part of our popular Money Project, with the aim of putting the debt in context.
12. U.S. Healthcare is a Global Outlier (and Not in a Good Way)

Americans spent more than $3 trillion, or 17.5% of GDP, on healthcare in 2015. Are they getting any bang for their buck?
This chart, which was shared over 34,000 times by our audience on social media, says it is unlikely.
11. Interactive Map: The Flow of International Trade

Explore fascinating data on world trade with this interactive 3D globe. It uniquely groups imports and exports by color, while allowing you to isolate specific countries to see their trade relationships.
10. The 27 Fintech Unicorns, and Where They Were Born

In 2016, the fintech sector took off. This infographic documents the rise of the 27 largest privately-held fintech companies, their valuations, money raised so far, and geographic locations.
9. The Oil Market is Bigger Than All Metal Markets Combined

Ever wonder why the oil industry has so much influence? This was one of our most popular charts of the year – it shows that all metal markets combined don't even come close to touching the oil market!
8. Currency and the Collapse of the Roman Empire

This infographic on the collapse of the Roman Empire for The Money Project was one of our most illustrative infographics of the year. It explains the role that currency devaluation had in the eventual demise of one of the most famous empires in history.
7. Vancouver Real Estate Mania

This infographic tells the story of how Vancouver lost its affordability… and its mind.
6. The Slow Death of Traditional Media

Digital media will be the largest advertising channel globally by 2019 – even bigger than television. This chart covers the death of traditional media.
For another interesting post on this topic, also check out our chart covering the trials and tribulations of The New York Times in their attempt to double-down on digital.
5. Step By Step: How Elon Musk Built His Empire

At just 45 years of age, Elon Musk has built multiple billion-dollar companies including Tesla Motors, PayPal, SpaceX, and SolarCity. This infographic tells the incredible story of his life, and how he built an impressive and world-changing empire at such a young age.
4. How Much Money Have Humans Created?

Have you ever wondered how much money actually exists out there? This insightful motion graphic for The Money Project looks to compare the world's money and markets to help answer this question.
It's a video that every investor should watch, because it gives such great context about the world's money and markets.
3. These 5 Big Companies Control the World's Beer

With the completed merger between ABInBev and SABMiller, a new $107 billion megabrewer was created. This now means that there are only five big brewers that control the majority of beer brands around the world, including brands like Budweiser, Coors, Miller, Molson, Corona, Stella Artois, Heineken, Carlsberg, and many more.
2. Are American Consumers Taking On Too Much Debt?

This giant infographic uses the latest data from Equifax to answer a pressing question: are U.S. consumers taking on too much debt?
It dives into the history of consumer debt to create context, but then goes right into the numbers on mortgage debt, student debt, auto loans, credit cards, and more. This is a great primer for anyone looking to understand the world of consumer credit.
1. The Real Story Behind Donald Trump's Wealth

Five months before the election, we created a motion graphic video for The Money Project that detailed the story on how Donald Trump accumulated his wealth.
We found that most media outlets did not do a great job of telling the whole story around his career, and that they omitted many key facts. We decided to do a fun and data-driven video that looked at the successes and failures of Trump, as well as some context around his family history.
The video has received millions of views so far, and we will even be posting a follow-up video in a couple of weeks time before Trump's inauguration.
A Special Thanks
Our style of great visual content can't be created for free, and we owe a great deal of our success to our sponsors.
One important sponsor is Texas Precious Metals, a bullion company that helped us create The Money Project. About 25% of our top infographics of 2016 above were done with their support.
If you're into gold or silver, check them out. Otherwise, if you want to learn more about buying gold or silver bullion, they have a fantastic and free Beginner's Guide that is worth downloading.
Visual Capitalist's Top 20 Visualizations of 2020
In a complex world, the combined forces of data and visual communication take on new importance. See our top 20 visualizations for 2020.
What can be said about 2020 that hasn't already been said? Simply put, it was a wild ride. Not only did these past few months provide a multitude of topics for us to dig into, our growing team produced far more original work than ever before.
This is now the seventh edition of our yearly round-up. One noteworthy change is in the name. It's no longer the "Top Infographics", which reflects a broader shift to different styles of visual communication. We live in a complex, volatile, multi-screen world, and our visualizations are becoming more nimble to keep up this fast pace.
Below is a selection of our most noteworthy work. Some pieces have been selected because of their wide reach, while others broke new ground in design and data-driven reporting. For the top picks, members of our team will provide some commentary on the concept and context.
Let's dive in to our list of the top visualizations of 2020.

Editor's note: Click on any preview below to see the full-sized version of a visualization.
---
Visual Capitalist's Top 20 Visualizations of 2020
#20
The Soaring Value of Intangible Assets in the S&P 500
The ascent of tech firms since the 1990s has brought about a massive change in the asset mix of publicly-traded companies, with the share of intangibles currently at unprecedented levels. This infographic charts the growth of intangible assets in the S&P 500 over time, providing a glimpse at how prevalent technology has become in our lives.
#19
Tech's Bizarre Beginnings & Lucrative Pivots
Imagine Samsung trading dehydrated fish and Nokia selling rubber boots. It's bizarre, but that's exactly how some tech giants started their journey. In this infographic, we show the unusual beginnings of recognizable tech brands and the pivots that helped earn their success.
#18
Charting the $1.7B Transfer of Military Equipment to Police Departments
From office supplies and thermal underwear to mine-resistant vehicles and helicopters, a plethora of outdated military equipment has been transferred to police forces through the 1033 program. This visualization tracks the flow of $1.7B worth of military equipment to law enforcement over the past decade at the state and department levels.
#17
Visualizing the Footprint of Highways in American Cities
Highways not only enabled a new era of connectivity, but also utterly changed the course of development in American cities. These animations show how highways reshaped the downtown cores of six American cities and provide background on the interstate highway system.
#16
How Many People Die Each Day?
COVID-19's daily death toll numbers have taken center stage in the media, with recent December numbers in the neighborhood of 10,000 to 15,000 deaths per day globally. But without any frame of reference, these numbers can be hard to put into perspective.
Which diseases are the most deadly, and how many lives do they take per day? This infographic visualizes average daily deaths by cause and country, showing how many lives are claimed by various diseases and instances on a daily basis.
#15
Visualizing the Countries Most Reliant on Tourism
Looking at which countries were most reliant on tourism was especially important in a year where travel changed dramatically. This chart breaks down the countries with travel and tourism sectors that make up more than 15% of national employment.
#14
Prediction Consensus: What the Experts See Coming in 2020
There was no lack of predictions from pundits and prognosticators as we approached the beginning of a new decade. As 2019 drew to a close, we compiled hundreds of predictions to get a broader sense of what the experts saw coming in the year ahead. (Spoiler alert: Nobody had global pandemic on their bingo card.)
#13
How COVID-19 Has Impacted Media Consumption, by Generation
COVID-19 changed a lot of things about daily life, but how did it impact the way we consume media? This graphic looks at the trends in media usage by generation and the type of media being consumed. Overall, Gen Z, Millennials, Gen X, and Boomers all increased their time looking at media in 2020.
#12
Mind-Bending Medicine: An Overview of Psychedelic Substances
With the growing awareness around mental health, the use of psychedelic substances for treating mental health disorders is becoming less speculative and more mainstream. This infographic is an eye-opening overview of seven of the most common psychedelic substances and examines the mind-bending ways in which they could transform mental health.
#11
Making Billions: The Richest People in the World
This graphic from September reveals the world's richest people across multiple categories. Peruse this graphic to see some familiar faces like Mark Zuckerberg, some of China's richest people, like Jack Ma, and, of course, the world's richest man, Jeff Bezos.
#10
The Race to Save Lives: Comparing Vaccine Development Timelines
This in-depth visualization showed us the historical rate of development for the world's vaccines. Understanding how the development process works was more important this year than usual as many people had questions about COVID-19 vaccines in the pipeline.
#9
Zooming In: Visualizing the Relative Size of Particles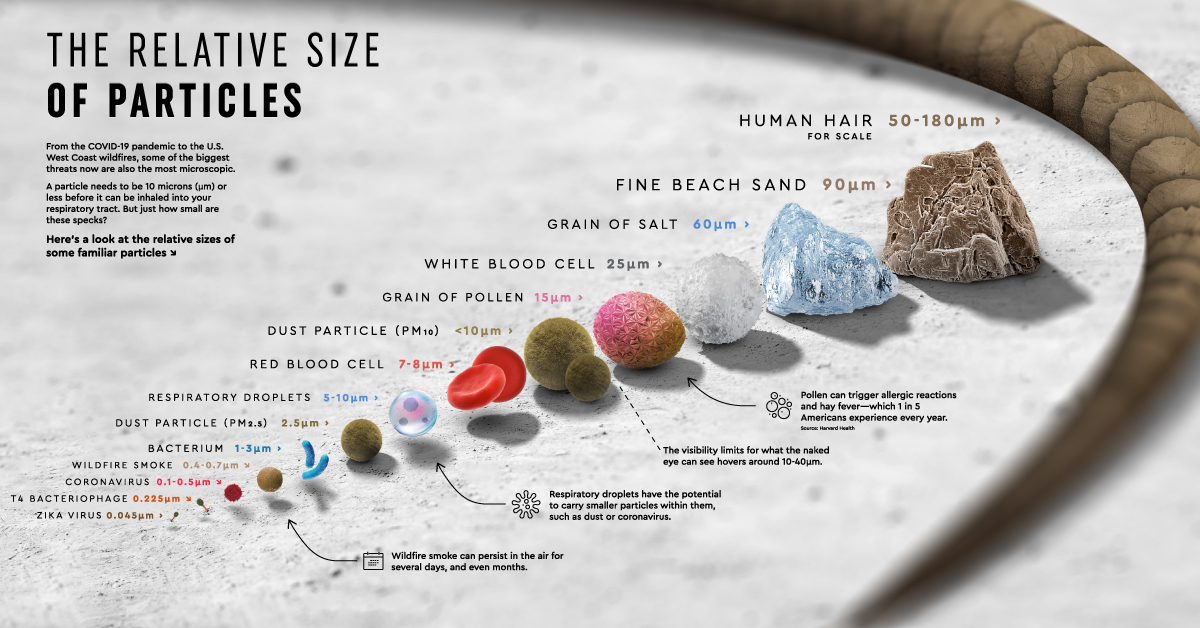 The coronavirus has made us well aware of the impact microscopic things can have on our lives. From virus particles and wildfire smoke to a grain of salt and fine beach sand, this infographic zooms in to visualize the relative size of particles that are often smaller than the eye can see.
#8
Visualizing the Length of the Fine Print, for 14 Popular Apps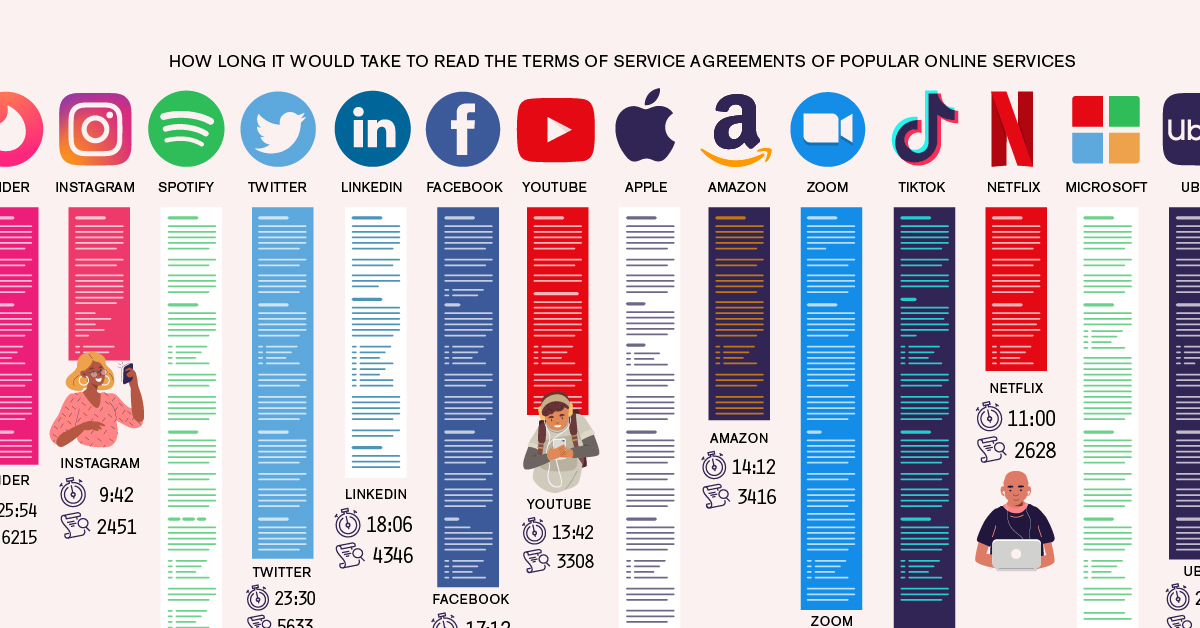 In a year with more people relying on technology than ever, how many of us truly know what we sign up for?
This infographic–which was inspired by an art exhibition by Dima Yarovinsky–revealed just how lengthy and arduous terms of service agreements are for some of the most popular apps, and how long it would take to read them.
#7
U.S. Dollar Performance After U.S. Elections
A turbulent election year for the U.S. meant many were examining the potential of the election on markets—both before and after November. Our recent look at U.S. dollar performance after U.S. elections took a closer look at the influence elections really have on the market.
#6
Visualizing the Expanse of the ETF Universe
Since the establishment of the first U.S. exchange-traded fund (ETF) in 1993, ETFs have gained traction as a convenient way of investing in multiple stocks. In terms of assets under management, the ETF universe is almost five times what it was just a decade ago.
In this visualization, we show the expanse of the $5.75 trillion ETF universe that covers almost every investing niche.
#5
The Economics of Coffee in One Chart
Words by Omri Wallach
If you've purchased even one cup of coffee this year from a nearby café, you've participated in the $200+ billion global coffee supply chain. Yet few of us understand the amazing journey coffee makes from beans to cup, nor the costs associated with them (and who profits).
This infographic breaks down the costs incurred by retail coffee production for one 16 oz (475ml) cup of brewed coffee. From growing and processing beans to a massive export and roasting market, it reveals the underlying costs that factor into every cup of coffee you consume.
#4
The Math Behind Social Distancing
Words by Nick Routley
Along with zoom and flatten the curve, the term social distancing entered our collective lexicon. While the benefits of avoiding extraneous human contact during a pandemic can be easily understood at the individual level, the downstream effects are harder to understand.
Our goal with this graphic—which was published just two weeks after the pandemic was declared—was to provide an impactful example of how a reduction in social exposure would theoretically contain the spread of infection. And time was of the essence. Previous research had shown that the sooner distancing measures were put in place, the more effective they were at curbing local outbreaks.
#3
The Front Line: Visualizing the Occupations with the Highest COVID-19 Risk
Words by Nick Routley
After the shock of the pandemic wore off, people began to ask more practical questions about how it would impact their day-to-day life. One of those questions was: will my job put me at risk for contracting coronavirus?
We looked to answer that complicated question by digging into the U.S. Department of Labor's massive O*Net database, which has classified nearly every type of occupation based on a number of attributes. We selected specific attributes and gave each job a score, making it easy for people to evaluate occupational risk in their own life.
There were a number of ways the information could be charted, but in the end we decided to plot risk against annual income.
#2
50 Years of Gaming History, by Revenue Stream
Words by Omri Wallach
The COVID-19 pandemic hit many sectors hard, but gaming was not one of them. The market continued growing its ever-rising tsunami of revenue, new consoles were launched, and tech giants entered the playing field to try their hands at capturing the cloud streaming market.
But how did 2020's estimated $165 billion gaming market come to be? This historical timeline examines the rise of gaming revenue from the arcade boom to the console and PC invasion, culminating in the rapid rise of mobile gaming. Considering revenues have been adjusted for inflation, it clearly demonstrates the upwards momentum of media's biggest earning sector.
#1
Visualizing the History of Pandemics
Words by Nicholas LePan
In 2020, the COVID-19 virus swept the world and forced nations to shutter their economies to protect their citizens. However unique this virus is to our current time, the world has faced pandemics before, so Visual Capitalist looked to the past.
The History of Pandemics infographic compared the death toll from the COVID-19 virus to other historic pandemics all the way back to Roman times. However, as time revealed the growing impact of the COVID-19, this infographic was updated to tally the growing death toll.
We are still in the midst of this pandemic and the final impact is still uncertain. But undoubtedly, COVD-19 defined 2020 and will continue to do so in 2021 and beyond.
---
Thanks for visiting our top visualizations of 2020 round-up. From our entire team at Visual Capitalist, we wish you a prosperous and safe 2021!
Previous Years:
See previous round-ups of top visualizations here: 2019, 2018, 2017, 2016, 2015
The Year in Review: 2020 in 20 Visualizations
These 20 charts, maps, and visualizations help capture what happened in a tumultuous year around the globe.
Can you remember a year more life-changing than 2020?
Over a million lives were lost in the pandemic, oil prices turned negative, and protests swept the streets. At the same time, 10 years of technology advancements seemed to happen in mere months—and now vaccinations are rolling out at a record speed.
Below, we round up some of the year's biggest news events with charts and visualizations.
---
The Year in Review: 2020 in 20 Visualizations
Graphic #1 ⟩⟩ January 2020
Australian Bushfires
For some in the Southern Hemisphere who ushered in the new year first, it started on fire.
Reuters assessed the scale of the damage caused by bushfires across Australia. In fact, total burned areas reached 18.6 million hectares (186,000km²) by March, bigger than the total land mass of entire countries like Cuba.
Here's the damage done in the state of New South Wales alone, compared to previous years:
While bushfires are common in Australia, this year, dry conditions fueled the flames. The fires raged for nearly 80 days, displacing or killing nearly 3 billion animals—a devastating biodiversity loss for the country.
Graphic #2 ⟩⟩ January 2020
Rising Iran–U.S. Tensions
In early January, a U.S. air strike incinerated the car of General Qassim Suleimani, a security mastermind and one of Iran's most powerful military strategists. U.S. officials claimed that Iran was planning an "imminent" attack.
In retaliation, Iran fired two rockets at U.S. military bases located in Iraq. No one was killed. As tensions escalated, the U.S. House of Representatives passed a bill to try and restrict President Trump's use of military power against Iran without approval.
Later, in mid-January, Iran's Revolutionary Guard admitted that it mistakenly shot down a Ukrainian passenger jet, responsible for the death of 176 people.
Graphic #3 ⟩⟩ March 2020
The Spread of the "Novel Coronavirus"
You've heard of Patient Zero, but what about Patient 31?
Before February, cases of the still unnamed virus were largely contained within China, with the rest of the world cautiously observing the country's containment efforts. Slowly, but surely, the virus began to spread beyond China's borders.
South Korea's 31st confirmed COVID-19 case—which was behind the rapid spread of the virus to potentially up to 1,160 contacts in the country—served as a warning to the rest of the world of how fast the virus could spread.

» See the full graphic by Reuters
Reuters' unique graphic explainer uncovers how just one typical day of multiple "normal" interactions had significant super-spreader effects.
Graphic #4 ⟩⟩ March 2020
The Coronavirus Crash
The S&P 500 erased over a third of its value in under a month—the fastest 30% decline ever recorded on the benchmark index.
As a result, the global tourism industry suffered dramatic losses, with countless cruise ships docked and passenger flights traveling at half-capacity.
This graphic shows the BEACH stocks—booking, entertainment & live events, airlines, cruises & casinos, hotels & resorts—that were most impacted by worldwide travel bans.
While some of these stocks have since recovered, the ongoing impact of COVID-19 is still most widely being felt among companies in these types of industries.
Graphic #5 & 6 ⟩⟩ March 2020
Lockdown Life Begins
From toilet paper hoarding to limits on gatherings, the pandemic's immediate effects on our surrounding environment became clear as early as March. As daily life came to a standstill, commuter activity in major cities plummeted throughout the month.
One unintended positive consequence of these shutdowns? Air pollution, such as nitrogen dioxide (NO₂) emissions also steeply dropped alongside these restrictions on movement.
Possibly the most well-known diagram of the pandemic is the one that introduced the world to the phrase "flatten the curve", showing why it was important to prevent and delay the spread of the virus so that large portions of the population aren't sick at the same time.
Graphic #7 ⟩⟩ April 2020
Historic U.S. Job Losses
After the World Health Organization declared COVID-19 a global pandemic on March 11, unemployment figures soon hit historic proportions.
Within a month, 22 million in the U.S. had filed jobless claims.
To put this in perspective, U.S. unemployment levels in 2020 were roughly 10 times higher than previous peak unemployment levels in absolute terms. Or, to look at it another way, this is equivalent to the entire population of Chile or Taiwan.
Graphic #8 ⟩⟩ April 2020
Stimulus Announced in the U.S.
On March 27, the $2 trillion CARES Act came into law after facing minimal resistance from the House and Senate. We broke down the historic relief package in the Sankey diagram below.
The relief package included $1,200 direct deposits to individuals, over $350 billion in relief for small businesses, and an excess of $100 billion for the U.S. health system.
Graphic #9 ⟩⟩ April 2020
Oil Prices Go Negative
In another historic event, oil prices went negative for the first time in history. Futures contracts for WTI oil fell to a stunning -$37.63 on April 20th, with producers actually paying traders to take oil off their hands.
Oil has since recovered from this shock, cruising back to more typical price levels.
Graphic #10 ⟩⟩ May 2020
Black Lives Matter Protests
"I can't breathe." These few words sparked the ongoing flames of a significant movement this summer: Black Lives Matter (BLM).
After the killing of George Floyd on May 25, by police, the Armed Conflict Location & Event Data Project (ACLED) recorded over 7,750 BLM-linked demonstrations over a three month span.
The nationwide pattern of civil unrest is well-documented, but there's been no time like the present to demand change. Though images of burning cars and police clashes dominated the headlines, in the end, 93% of the protests were peaceful.
There's also been a ripple effect, with thousands of similar rallies reported in countries around the world.
Graphic #11 & 12 ⟩⟩ May 2020
The World Works from Home
The dramatic shift to staying at home has resulted in a much higher reliance on technology for many people. Nowhere were these trends exemplified more than the rise of video conferencing software Zoom—the platform was used for work, education, and socializing alike.
As monthly users swelled, those who typically take to the skies also declined in a steep fashion. In this graphic from May, we noted that Zoom's market capitalization had skyrocketed to eclipse the top seven airlines by revenue, combined.
As remote work became the new normal for significant shares of the workforce, unique benefits of this adjusted lifestyle arose, but it didn't come without its challenges.
Perhaps the most significant lasting change from the COVID-19 pandemic might be the adoption of flexible work, even by firms that resisted the trend in the past.
If many employees continue to work remotely, even part of the time, then that will have a big impact on everything from the commercial office market to the bottom line of SaaS companies that help facilitate remote collaboration among teams.
Graphic #13 ⟩⟩ July 2020
Tesla becomes World's Most Valuable Automaker
2020 was a hallmark year for Tesla. In June, it became the most valuable automaker in the world—surpassing the likes of Toyota, Volkswagen, and Honda.
Tesla's market valuation climbed over 375% since June 2019. While these soaring figures are one factor behind its rise, others include record Model 3 sales, which prompted market euphoria.
But Tesla's story is far from over.
The company is now worth more than the largest nine automakers combined, and is set to enter the S&P 500 officially on December 21, 2020. Tesla will be the most valuable company to ever enter the index, ranking as the eighth-largest overall.
Graphic #14 ⟩⟩ July 2020
Big Tech's Dominance
In many ways, COVID-19 only accentuated differences in market share, earnings, and wealth.
For one, Big Tech's market cap share of the S&P 500 soared. In the seven years preceding July, the market cap of the six stocks—Facebook, Apple, Amazon, Netflix, Alphabet, and Microsoft—grew over 500%. By contrast, the S&P 500 rose just 110%.
At the same time, Big Tech's concentration reached record levels, with the five largest companies accounting for over 20% of the index's total value.
Graphic #15 ⟩⟩ August 2020
Beirut Explosion
While the world grappled with numerous biological and natural disasters, human-error led to a deadly explosion that rocked Beirut's port. The blast was broadcast around the world in real time as people filmed the fire on their devices.
Using satellite data, NASA and NYT mapped the extent of the damage, which claimed 135 lives and affected 305,000 more.

» See the full interactive explainer by NYT
This explosion was the biggest accident of its kind in modern history, triggered by the exposure of combustible ammonium nitrate—a key ingredient in fertilizers—to an open flame due to poor storage. Beyond the human toll, the financial cost of this explosion is estimated at above $15 billion.
Graphic #16 ⟩⟩ August 2020
Shortest Bear Market in History Ends
In a stunning reversal, the bear market of 2020 ended on August 18 when the S&P 500 exceeded previous February highs. As trillions of dollars in stimulus response got injected into global economies, markets recovered in record time.
Just two weeks before the shortest bear market in history ended, we published a graphic comparing previous stock crashes—from 1987's Black Monday to the Nixon Shock of 1973—exposing the duration and intensity of market downturns since 1929.
Graphic #17 ⟩⟩ August 2020
U.S. Wildfire Season
Reddish-orange skies might seem otherworldly, but this fall, they were a common sight across the West Coast of North America, where air quality reached the "hazardous" category for long stretches of time.
2020 was the most active year on record for wildfires yet, with California and Oregon being particularly hard-hit. While some wildfires are caused by natural occurrences like lightning strikes, an overwhelming majority (85-90%) happen because of human causes such as discarded cigarettes and campfire debris.
This is an unprecedented event. We now have the largest wildfire in [California's] history, as well as the third largest and the fourth largest and five of the Top 10.
– Noah Diffenbaugh, professor and senior fellow at Stanford University
Graphic #18 ⟩⟩ November 2020
The 2020 U.S. Presidential Election
In 2020, U.S. election spending hit over $13 billion, more than twice the amount spent on the entire 2016 election.
Of this total, congressional spending topped $7 billion, with Democrats spending 64% more than Republican candidates for the House and Senate.
President Biden was the first candidate ever to raise $1 billion, while Trump raised $596 million.
Graphic #19 ⟩⟩ December 2020
COVID-19's Third Wave
Like history tells us, pandemics come in waves. The third wave of COVID-19 escalated in November, when cases began to surge.
On November 8, the seven-day average of new daily cases hit 100,000 in America. By the end of November, global cases soared to 60 million. Since then, cases have trended upward, leading local governments worldwide to enforce social distancing requirements for the winter holiday season.
The below graphic from Reddit helps show the latest surge in cases in the U.S.:
Graphic #20 ⟩⟩ December 2020
Global Vaccination Effort Kicks Off
In more recent news, Pfizer made waves when it announced it was rolling out a 95% effective COVID-19 vaccine. Then followed Moderna, at 94.5% in mid-November. As the global vaccination race intensifies, Bloomberg tracks the progress of nine vaccines and 80 publicly disclosed distribution deals representing 7.95 billion vaccination doses.
However, even with viable vaccines, challenges still exist. All around the world, perceptions of vaccine safety have dropped significantly, which may complicate an economic recovery.
On to the Next One
After the wild ride that was 2020, many people are wondering what 2021 will have in store.
In the first half of the year, vaccine distribution will surely take center stage. As well, economic recovery will be in focus as physical businesses resume more typical activity and regions slowly open up travel and tourism again.
Much like the financial crisis of 2008 was an inflection point for the economy, the COVID-19 pandemic has changed the course of human history. Chaos can breed opportunity, and even though unemployment spiked to record highs in the U.S., new business applications did as well.
Will things return to "normal"? As the many twists and turns of the past year have demonstrated, our complex, interconnected world is far from static. The next black swan is always just around the corner.