The Dominance of Google and Facebook in One Chart
The Dominance of Google and Facebook in One Chart
For digital ads, everyone else is begging for scraps.
The Chart of the Week is a weekly Visual Capitalist feature on Fridays.
Over the next couple years, digital advertising is expected to pass television to become the largest ad market in existence.
One would think that this simple fact should translate to a bright future for many publishers, but the reality seems to be quite different. That's because digital advertising is increasingly dominated by just two players, and everyone else is just begging for scraps.
The Ad Duopoly
Today, close to $0.60 of every dollar spent on digital advertising goes to Google and Facebook.
The crazy thing is that these are still early days, especially for Facebook, which grew its digital ad revenue by 59% last year. The social media company recently smashed Wall Street's expectations again, as it revealed that Facebook's mobile business alone was bigger than its entire business back in 2015 Q3.
This lopsided growth is quite the juxtaposition to the media stalwarts of the world.
Iconic brands such as The New York Times have struggled to make a full transition to digital, making only $200 million per year from the online ad side of their business. That makes the Times, along with other traditional media companies like News Corp, Time Inc, or Hearst, too "small" to even show up on our chart.
It's a Platform Kind of World
In the digital advertising landscape, it's all about the power of platforms. The majority of our chart is loaded with companies that have created (or bought) platforms full of user-generated content that people use every day. Facebook, YouTube (owned by Google), Twitter, Snapchat, LinkedIn, and Yelp all make the cut on our chart, because they have gained massive scale.
In a nutshell, this is why the best technology companies have overtaken names like Exxon Mobil or Walmart to be the largest by market capitalization in the world.
Charted: What are Retail Investors Interested in Buying in 2023?
What key themes and strategies are retail investors looking at for the rest of 2023? Preview: AI is a popular choice.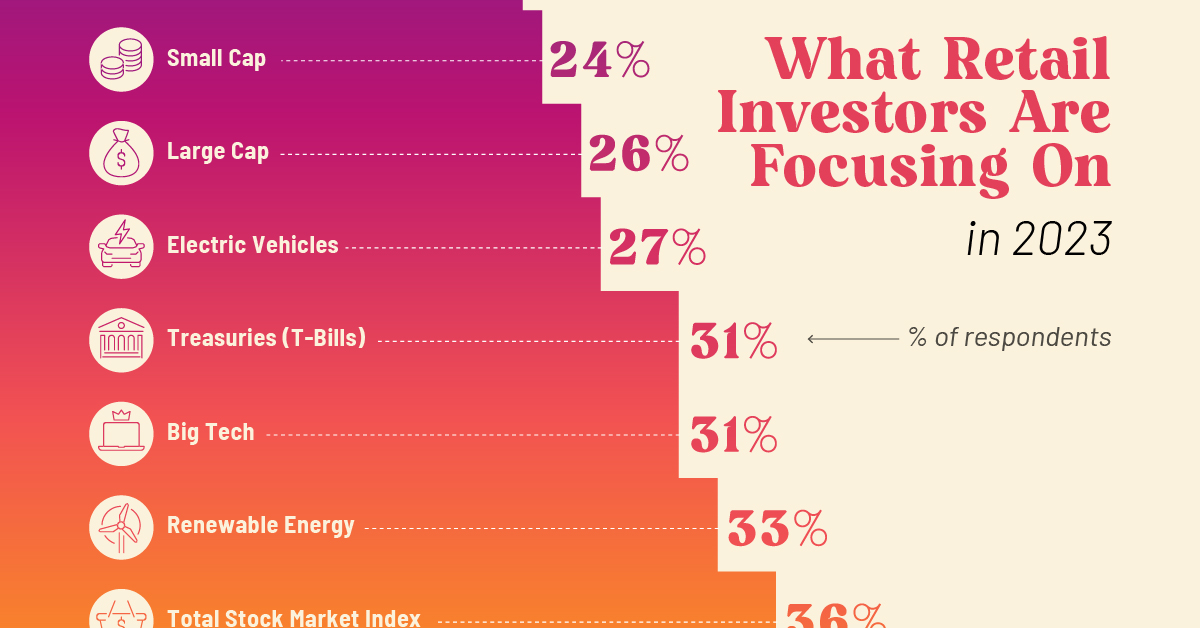 Charted: Retail Investors' Top Picks for 2023
U.S. retail investors, enticed by a brief pause in the interest rate cycle, came roaring back in the early summer. But what are their investment priorities for the second half of 2023?
We visualized the data from Public's 2023 Retail Investor Report, which surveyed 1,005 retail investors on their platform, asking "which investment strategy or themes are you interested in as part of your overall investment strategy?"
Survey respondents ticked all the options that applied to them, thus their response percentages do not sum to 100%.
Where Are Retail Investors Putting Their Money?
By far the most popular strategy for retail investors is dividend investing with 50% of the respondents selecting it as something they're interested in.
Dividends can help supplement incomes and come with tax benefits (especially for lower income investors or if the dividend is paid out into a tax-deferred account), and can be a popular choice during more inflationary times.
| Investment Strategy | Percent of Respondents |
| --- | --- |
| Dividend Investing | 50% |
| Artificial Intelligence | 36% |
| Total Stock Market Index | 36% |
| Renewable Energy | 33% |
| Big Tech | 31% |
| Treasuries (T-Bills) | 31% |
| Electric Vehicles | 27% |
| Large Cap | 26% |
| Small Cap | 24% |
| Emerging Markets | 23% |
| Real Estate | 23% |
| Gold & Precious Metals | 23% |
| Mid Cap | 19% |
| Inflation Protection | 13% |
| Commodities | 12% |
Meanwhile, the hype around AI hasn't faded, with 36% of the respondents saying they'd be interested in investing in the theme—including juggernaut chipmaker Nvidia. This is tied for second place with Total Stock Market Index investing.
Treasury Bills (30%) represent the safety anchoring of the portfolio but the ongoing climate crisis is also on investors' minds with Renewable Energy (33%) and EVs (27%) scoring fairly high on the interest list.
Commodities and Inflation-Protection stocks on the other hand have fallen out of favor.
Come on Barbie, Let's Go Party…
Another interesting takeaway pulled from the survey is how conversations about prevailing companies—or the buzz around them—are influencing trades. The platform found that public investors in Mattel increased 6.6 times after the success of the 'Barbie' movie.
Bud Light also saw a 1.5x increase in retail investors, despite receiving negative attention from their fans after the company did a beer promotion campaign with trans influencer Dylan Mulvaney.
Given the origin story of a large chunk of American retail investors revolves around GameStop and AMC, these insights aren't new, but they do reveal a persisting trend.