Interactive Map: The Flow of International Trade
Click on a country to see its share of trade alone, or spin/navigate the globe by using your mouse.

Interactive: Mapping the Flow of International Trade
The interactive visualization you see in this post was created by data visualization expert Max Galka from the Metrocosm blog. (Also check out his new project, Blueshift, which allows users to upload data and visualize it on maps with no coding required.)
Trade is an essential part of economic prosperity, but how much do you know about global trade?
Today's visualization helps to map international trade on a 3D globe, plotting the exchange of goods between countries. It enables the abstract concept of trade to become more tactile, and at the same time the visuals make it easier to absorb information.
Exploring the Map
The great thing about interactive maps is that they allow you to take control.
Here are a few things we found particularly interesting, as we scanned through the map:
When looking at the globe as a whole, trade is concentrated into obvious hubs. The United States, Europe, and China/Japan are the most evident ones, and they are all lit up with color.
There are also obvious have-nots. Take a look at most of the countries in Africa, or click on an individual country like North Korea to see a lack of international trade.
In fact, North Korea is completely vacuous, except for one lonely dot floating to China every so often. After taking a quick look at the data, it seems China takes in over 60% of North Korea's exports, which are mostly raw materials such as coal, iron ore, or pig iron.
Now click on South Korea, and the situation is completely different. By the way, South Korea exports $583 billion of goods per year, while the hermit nation does just $3.1 billion per year.
This map also shows how dependent some countries are on others for trade. Look at Canada, a country that sends close to 75% of its exports to the United States. Mexico has a similar situation, where it does most of its business with the U.S. as well.
This is a stark contrast to Cuba, which doesn't trade enough with any one partner to have it visualized on this scale at all. Cuba has exports of only $1.7 billion, and its largest trading partner is China, which only takes in $311 million of goods per year.
Want to see more on international trade? Check out this set of maps that shows China's rising dominance in trade, or the flow of oil around the world.
5 Big Picture Trends Being Accelerated by the Pandemic
In some cases, COVID-19 has sped up societal and economic trends that were already in motion. Here we examine five examples.
As every email introduction has reminded us in 2020, we're living in "unprecedented times".
No doubt, even after a viable vaccine is released to the general public and things begin to return to some semblance of normalcy, there will be long lasting effects on society and the economy. It's been said that COVID-19 has hit fast forward on a number of trends, from e-commerce to workplace culture.
Today, we'll highlight five of these accelerating trends.
The following article uses charts and data from our new book Signals (hardcover, ebook) which covers the 27 macro trends transforming the global economy and markets. In some cases, where appropriate, we've added in the most recent projections and data.
#1: Screen Life Takes Hold
Smartphones have drastically altered many parts our lives – including how we spend time. In the decade from 2008 to 2018, screen time on mobile devices increased 12x.
Fast forward to today, and screen time is up across the board, with some of the most dramatic increases seen among kids and teenagers. 44% of people under the age of 18 now report four hours or more of screen time per day – up from 21% prior to the pandemic.
Gaming is another digital segment that has benefited from the pandemic. Video game revenue spiked in the springtime, and sales have remained strong going further into 2020. Companies are hoping that casual gamers won over during lockdown will continue playing once the pandemic has come to an end.
Acceleration signal: International bandwidth and internet traffic was already increasing steadily, but COVID-19 stay-at-home activity has blown away previous numbers.
Even as more workplaces and schools begin to operate normally again, it's doubtful that screen time will drop back down to pre-COVID levels.
#2: The Big Consumer Shake-Up
The consumer economy has been innovating on two fronts: making physical buying as "frictionless" as possible, and making e-commerce as nimble as possible. COVID-19 broke old habits and sped up that evolution.
Innovations in real world shopping appear to be moving in the direction of cashierless checkouts, but in order for that model to work, people first need to embrace contactless payment methods such as mobile wallets and cards with tap payment.
So far, the pandemic has been an accelerant in moving people away from cash and pin-and-swipe credit cards in lagging markets. Once people get used to the convenience of contactless payments, it's likely they'll continue using those methods.
Of course, no conversation about e-commerce is complete without talking about Amazon. The company has seen consistent growth in subscription revenue in recent years, and the company's actions have a wide-reaching effect on the rest of the industry.
Much like the gaming industry, e-commerce companies like Amazon are hoping that people who dabbled with online ordering during the pandemic months, will convert into lifelong customers.
Acceleration signal: E-commerce penetration projections have shifted upward.
In hindsight, 2020 could be an inflection point where e-commerce gained a much bigger slice of the overall retail pie.
#3: Peak Globalization
Globalization went on a tear starting from the mid-1980s until it hit a plateau during the financial crisis. Since that point, global trade as a percentage of GDP has flat-lined in the face of trade wars, and now COVID-19.
Trade was obviously impacted by the pandemic, and it's too early to say what the long-term effects will be. One thing that is clear is that the information component of globalization is becoming an even more important piece of the world's economic puzzle.
Even before COVID-19 took hold, the global services trade was growing 60% faster than the goods trade, and was valued at approximately $13.4 trillion in 2019.
Acceleration signal: The dip in merchandise trade looks eerily similar to the one that took place in 2008.
#4: The Wealth Chasm
On the high end of the wealth spectrum, billionaires are worth more than ever.
Meanwhile, in the broader economy, inequality has grown over the last few decades. Those in the top 50% wealth bracket have seen increasing gains, while the bottom 50% have seen stagnation.
This issue is sure to be compounded by economic turmoil brought on by COVID-19. Younger generations face the dual challenges of being more likely to be negatively impacted by the pandemic, while also being the least likely to have savings to cover an interruption in income.
In fact, nearly half of people in the 18–24 year old age group have nothing saved at all.
The longer the economy is affected by COVID-19 measures, the more of a wedge will be driven between people who have continued working and those who are employed in impacted industries (e.g. tourism, events).
Acceleration signal: Growth in the net worth of billionaires has been largely unaffected by COVID-19.
#5: The Flexible Workplace
As of 2019, over half of companies that didn't have a flexible or remote workplace policy cited "longstanding company policy" as the reason. In other words, that is just the way things have always worked.
Of course, the pandemic has forced many companies to rethink these policies.
This grand experiment in remote work and distributed teams will have an impact on office life as we know it, potentially reshaping the entire "office economy". The impact is already being felt, with global commercial property investment volume falling by 48% in Q3 2020.
Acceleration signal: Thousands of people are moving out of pricy urban areas, presumably because they are able to work remotely from a cheaper location.
If you like this post, find hundreds of charts
like this in our new book "Signals":
Bitcoin is Near All-Time Highs and the Mainstream Doesn't Care…Yet
As bitcoin charges towards all-time highs, search interest is relatively low. How much attention has bitcoin's recent rally gotten?
Bitcoin Near All-Time Highs vs. Search Interest
Just about every financial asset saw a huge drop in March, but few have had the spectacular recovery that bitcoin has had since then.
Up more than 300% from the March lows, bitcoin is within $1,000 of its all-time high ($19,891) established three years ago. While 2017's run-up saw a huge surge in Google searches, interest this time around is less than a quarter of what it was back then.
This graphic overlays bitcoin's price changes against Google search interest for "bitcoin" between 2017-Nov 2020, showing the muted relative search interest for its recent rally. Despite Google search interest being low, it is turning upwards, potentially hinting at a rise to cap off 2020.
Nobody's Searching? Maybe Bitcoin is Already Mainstream
Bitcoin's mainstream attention in 2017 was exceptional, and was likely the first time many people had even heard about the digital asset.
After doing all of their Google research back then, it's possible that the general population is now well aware of the cryptocurrency and doesn't need to search up the basics again. Add to this that bitcoin is now easily purchasable through popular services like Robinhood and Paypal, and you have fewer people who need Google to figure out the intricacies of bitcoin wallets and transactions.
While people might not be searching for information on bitcoin, the media has certainly picked up on its movement over the past year. Mainstream coverage regarding the cryptocurrency is currently at a relative all-time high for the past 12 months.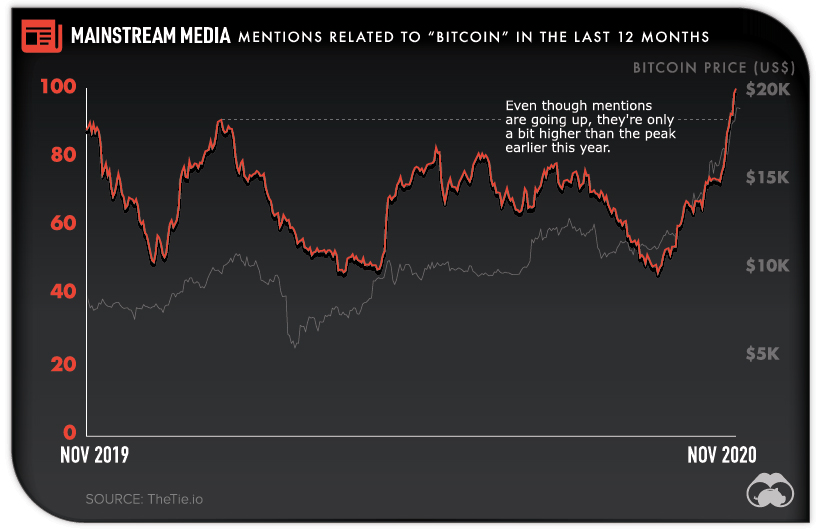 Even if current mainstream coverage isn't far from previous peaks, it's still likely that people are seeing an increase in bitcoin content in their news feeds following the recent surge.
This rally is also attracting increased talk on social media sites like Twitter. That said, while there has been a rise in the volume of bitcoin-related tweets in November 2020, numbers are still quite low compared to the amount of tweets in 2017.
Daily tweet volume reached above 60,000 recently, but is still far from the +100,000 daily tweets that were being sent at the top of 2017's bull run.
Where in the World is Google Search Interest for Bitcoin?
Even if worldwide search interest isn't as high as it was in 2017, there is one country where bitcoin is being googled more now: Nigeria.
Since 2015, the Nigerian Naira has lost more than 50% of its value against the U.S. dollar. This, coupled with the country's high share of unbanked citizens means that alternative currencies and payment methods have steadily risen in popularity and utility.
FinTech startups like Chipper Cash are providing Nigeria and other African nations with no-fee P2P payment services, along with the ability to trade bitcoin. The service is also beta testing the buying and selling of fractional shares of popular U.S. stocks.
Started up in 2018, Chipper Cash's monthly payment values are now over $100 million, and the company has attracted investment from top VC funds like Bezos Expeditions as they provide a valuable service in an emerging market.
If Bitcoin is Mainstream, Where Does It Go From Here?
While bitcoin is proving itself to be a useful medium of exchange around the world, it's still primarily a speculative asset. As 2020 saw massive increases in money supply across the board, bitcoin reacted best compared to other speculative assets, with its ascent to $19,000 almost completely uninterrupted since the $10,000 price area.
Time will tell if 2017 is set to repeat itself, or if bitcoin is getting ready to set new all-time highs going into 2021.