Infographic: Vancouver Real Estate Mania
Vancouver Real Estate Mania
On January 29th, 2016, Vancouver went crazy.
The story of a humble 86-year-old home in Vancouver's Point Grey neighbourhood was widely circulated by national media outlets and became a lightning rod for local frustration with skyrocketing property values.
The "knockdown", with its rotting walls and $2.4 million asking price, perfectly underscored how crazy the region's overheated housing market had gotten.
A month later, the house was sold for $80,000 above its asking price, rekindling public outrage.
How did Vancouver reach this point?
This infographic's purpose is to connect the dots between Vancouver's history of speculation, demographic waves, public policy, and external pressures that have all had a hand in shaping today's hot real estate market in the city.
Let's start at the very beginning…
Chapter One: Birth of a Boomtown
In a surprise move in the late 19th century, the Canadian Pacific Railway announced that the tiny town of Granville would become the terminus of the future Trans-Canada Railway. Granville, with just 400 people, is now the nucleus of Vancouver – and the well-connected men who had conveniently purchased property in the area made a fortune as prices rocketed up.
By the close of 1888, the local newspaper was packed with property speculation ads, and Vancouver real estate companies outnumbered restaurants by a margin of over 250%.
These bets on real estate weren't in vain. Vancouver actually outpaced all major West Coast cities in growth between 1900 and 1910. While Seattle and San Francisco grew at 194% and 22% respectively, Vancouver's population soared by a clip of 271% over the same period.
Chapter Two: Expo 86
Hosting the 1986 World Exposition was a pivotal moment in Vancouver's history. The legacy of Expo is far-reaching, including: rapid transit, new neighbourhoods, a connected seawall, increased investment, and a new stadium (BC Place).
The 70 hectare (173 acre) Expo site was carved out of industrial land and the former Canadian Pacific Railway yard. Once the fair ended, the provincial government looked to sell off the entire block of land for redevelopment.
In 1988, after recognizing the potential of the site, Hong Kong businessman Li Ka-Shing formed Concord Pacific and purchased the site for $320 million.
Chapter Three: Hong Kong Loves Vancouver Real Estate
In the 1990s, there was much trepidation in Hong Kong over the looming handover of the colony to China. Many people were looking to move themselves and their money to a more stable market. Concord Pacific, and Li Ka-Shing's name, sparked enormous interest in the Vancouver real estate market.
Other Hong Kong businessmen also got in the development game in Vancouver. Cheng Yu-tung's company built International Village and Sun Hung Kai Properties is now well-known for being the driving force behind Coal Harbour.
Immigration from Hong Kong, coupled with an influx of Canadians from other provinces, led to drastic home price increases during the early '90s. The fabric of the city was changing, and existing residents were vocal about it. The "Monster House" debate raged in the local media throughout the decade.
Chapter Four: The Welcome Mat
During the same year as Expo 86, the Canadian Federal government and the Quebec government wanted to use immigration to bolster their economies. They created programs such as the Immigrant Investor Program (IIP) and the Quebec Immigrant Investor Program (QIIP) to attract wealthy foreigners.
Between the two programs, there were over 110,000 approvals to come to Canada between 2002 and 2014. (Note: From 2007 to 2012, the United States only accepted 19,433 wealthy immigrants through its EB-5 program)
The Quebec Loophole
A recent study tracked the addresses of 5,120 Quebec immigrant investors who arrived from 2000 to 2008. An astonishing 94% of the newly-arrived investors eventually had an address in British Columbia and most were living in the Vancouver area.
The Quebec government now has a quota of 1,330 applications per year from China. Assuming those applicants migrate to Vancouver at similar rates as in previous years, the flow of multi-millionaire immigrants will continue for some time.
Chapter Five: Vancouver's Housing Feeding Frenzy
Fast forward to 2016. Vancouver is seeing record-breaking prices, and the momentum for single-family homes is showing no signs of slowing down.
In April 2016, the average detached home in Greater Vancouver sold for $1.82 million, which is a 30% increase year over year. That was not a typo – the price of a detached home in Vancouver is now nearly twice that of Greater Toronto ($968k), and multiples higher than Calgary ($540k) or Montreal ($343k).
Record high prices aren't dampening sales though. In 2016, sales have been brisk with nearly 17,000 houses sold in the first four months of the year. Many of these have sold for significant sums above their asking prices.
Chapter Six: Business is Booming
In response to skyrocketing detached home prices, Vancouverites are increasingly living in condos. Residential development construction is practically propping up British Columbia's economy.
BC had the highest GDP growth in the country in 2015, and it's expected to put up strong numbers in 2016 as well. Between April 2015 and April 2016, BC accounted for 110,000 of Canada's 144,000 net new jobs with construction leading the way.
Business is so good that the value of building permits broke a new city record in 2015 with over $3 billion. There were at least 10 major construction projects – each valued at more than $50 million – approved over the course of the year.
And Vancouver realtors? They're doing well.
With so much money to be made selling property and condos, the Vancouver real estate industry is thriving. The Real Estate Board of Greater Vancouver says licensed membership is at an all-time high.
Chapter Seven: Locals are Getting Fed Up
The dream of owning a home is getting further out of reach even for well-off Vancouverites. Surging home prices and stricter down-payment rules mean that it can take over two decades to save up a down payment for a home.
Vancouverites seeking relief from the super-heated single family home prices won't find it elsewhere in the market. The median condo price in Vancouver is up over 40% since 2014.
Renters are not immune to price increases either, as price-to-rent ratios are way out of whack in Metro Vancouver. According to real estate website Trulia, in nearby Seattle it takes 14.5 years of rent to equal the price of a house. In Vancouver, it takes 36.9 years.
Lastly, many residents worry that this red-hot demand is obliterating Vancouver's character. Land values are so high that viable housing is often demolished to make way for new buildings. As a result, thousands of homes are torn down each year.
Chapter Eight: Is This Growth Sustainable?
The experts are far from reaching a consensus on whether Vancouver's market can continue on as it is now.
On one hand, experts such as Stéfane Marion (Chief Economist, National Bank) say that growth in the working age population in Vancouver is 70% higher than the national average, and it can help sustain home price inflation. Meanwhile, Thomas Davidoff, an Associate Professor of Economics at UBC, points out that if Vancouver is a magnet for China, this housing run could continue for quite a while.
Davidoff may be onto something – there were 9,000 Chinese millionaires that emigrated from Mainland China in 2015, and there are 654,000 millionaires still in China today. The latter number is expected to double by 2025. It's also noteworthy that in a recent poll by Barclays that 47% of Chinese millionaires expressed a desire to move abroad in the "next five years".
The contrasting view, of course, is that Vancouver is in a bubble that is overdue for popping.
Marc Cohodes, a famous Wall Street short-seller we recently profiled in another recent chart we did on Canadian housing, argues that Vancouver is a casino in which residents feel pressured to play, otherwise they miss out. Meanwhile, David Madani, the Senior Canadian Economist at Capital Economics, says that severe overvaluation, high household debt, and overbuilding is going to make the housing correction end in a way that is deeper and more prolonged than initially feared.
The Bank of Canada has sounded the alarm on household debt recently, and "unsustainable debt" per household has soared in the country. Between 2008 and 2014, the amount of Canadian households with debt-to-income ratios greater than 250% jumped from 28% to 40% of all households.
Which province is home to the highest rate of households with "unsustainable debt"? BC, of course.
Vancouver's parabolic prices may eventually cool down, but in the near-term, Vancouver real estate mania is here to stay.
The Periodic Table of Commodity Returns (2012-2021)
Energy fuels led the way as commodity prices surged in 2021, with only precious metals providing negative returns.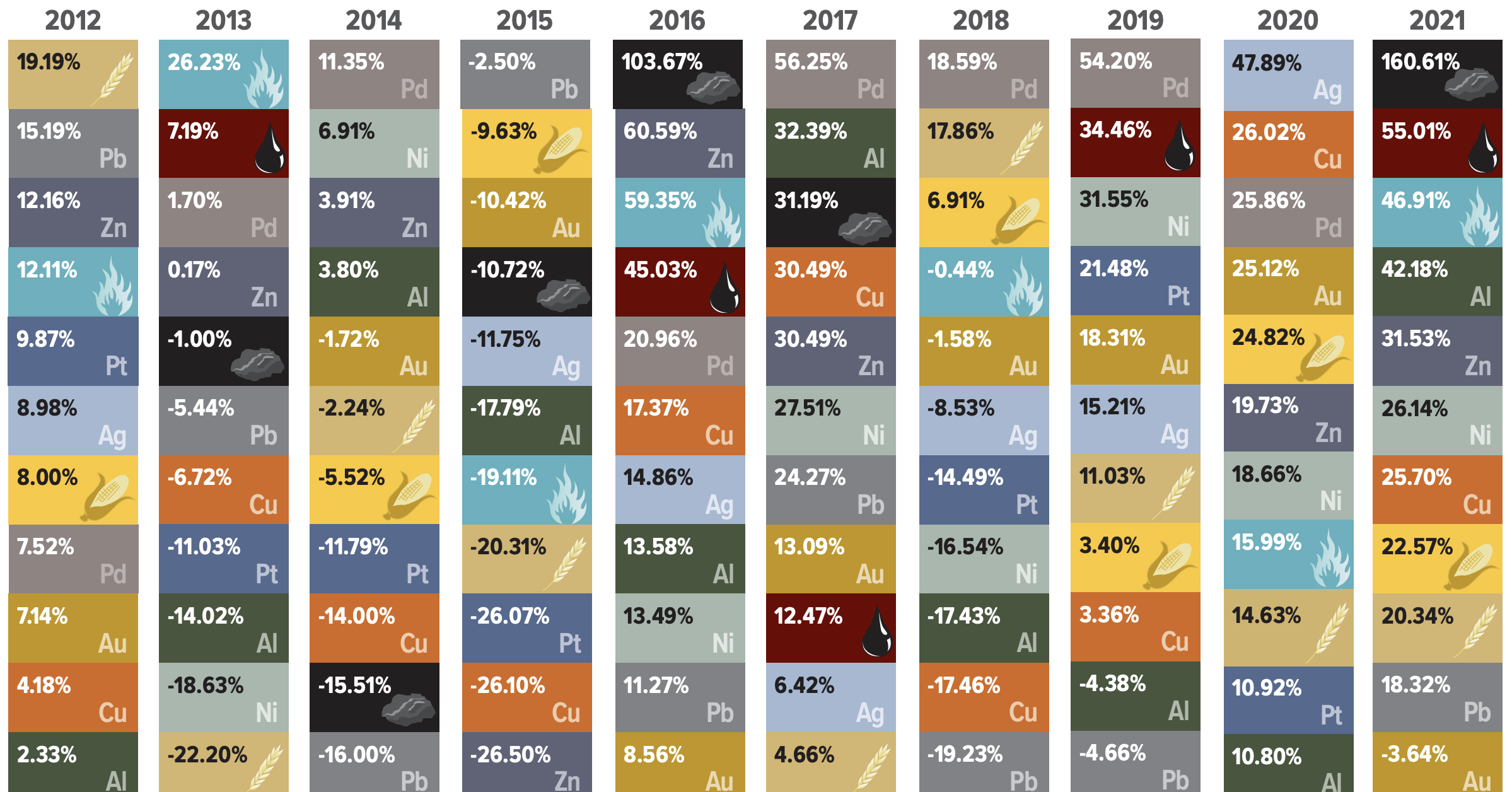 The Periodic Table of Commodity Returns (2022 Edition)
For investors, 2021 was a year in which nearly every asset class finished in the green, with commodities providing some of the best returns.
The S&P Goldman Sachs Commodity Index (GSCI) was the third best-performing asset class in 2021, returning 37.1% and beating out real estate and all major equity indices.
This graphic from U.S. Global Investors tracks individual commodity returns over the past decade, ranking them based on their individual performance each year.
Commodity Prices Surge in 2021
After a strong performance from commodities (metals especially) in the year prior, 2021 was all about energy commodities.
The top three performers for 2021 were energy fuels, with coal providing the single best annual return of any commodity over the past 10 years at 160.6%. According to U.S. Global Investors, coal was also the least volatile commodity of 2021, meaning investors had a smooth ride as the fossil fuel surged in price.
| Commodity | 2021 Returns |
| --- | --- |
| Coal | 160.61% |
| Crude Oil | 55.01% |
| Gas | 46.91% |
| Aluminum | 42.18% |
| Zinc | 31.53% |
| Nickel | 26.14% |
| Copper | 25.70% |
| Corn | 22.57% |
| Wheat | 20.34% |
| Lead | 18.32% |
| Gold | -3.64% |
| Platinum | -9.64% |
| Silver | -11.72% |
| Palladium | -22.21% |
Source: U.S. Global Investors
The only commodities in the red this year were precious metals, which failed to stay positive despite rising inflation across goods and asset prices. Gold and silver had returns of -3.6% and -11.7% respectively, with platinum returning -9.6% and palladium, the worst performing commodity of 2021, at -22.2%.
Aside from the precious metals, every other commodity managed double-digit positive returns, with four commodities (crude oil, coal, aluminum, and wheat) having their best single-year performances of the past decade.
Energy Commodities Outperform as the World Reopens
The partial resumption of travel and the reopening of businesses in 2021 were both powerful catalysts that fueled the price rise of energy commodities.
After crude oil's dip into negative prices in April 2020, black gold had a strong comeback in 2021 as it returned 55.01% while being the most volatile commodity of the year.
Natural gas prices also rose significantly (46.91%), with the UK and Europe's natural gas prices rising even more as supply constraints came up against the winter demand surge.
Despite being the second worst performer of 2020 with the clean energy transition on the horizon, coal was 2021's best commodity.
High electricity demand saw coal return in style, especially in China which accounts for one-third of global coal consumption.
Base Metals Beat out Precious Metals
2021 was a tale of two metals, as precious metals and base metals had opposing returns.
Copper, nickel, zinc, aluminum, and lead, all essential for the clean energy transition, kept up last year's positive returns as the EV batteries and renewable energy technologies caught investors' attention.
Demand for these energy metals looks set to continue in 2022, with Tesla having already signed a $1.5 billion deal for 75,000 tonnes of nickel with Talon Metals.
On the other end of the spectrum, precious metals simply sunk like a rock last year.
Investors turned to equities, real estate, and even cryptocurrencies to preserve and grow their investments, rather than the traditionally favorable gold (-3.64%) and silver (-11.72%). Platinum and palladium also lagged behind other commodities, only returning -9.64% and -22.21% respectively.
Grains Bring Steady Gains
In a year of over and underperformers, grains kept up their steady track record and notched their fifth year in a row of positive returns.
Both corn and wheat provided double-digit returns, with corn reaching eight-year highs and wheat reaching prices not seen in over nine years. Overall, these two grains followed 2021's trend of increasing food prices, as the UN Food and Agriculture Organization's food price index reached a 10-year high, rising by 17.8% over the course of the year.
As inflation across commodities, assets, and consumer goods surged in 2021, investors will now be keeping a sharp eye for a pullback in 2022. We'll have to wait and see whether or not the Fed's plans to increase rates and taper asset purchases will manage to provide price stability in commodities.
Apple's Colossal Market Cap as it Hits $3 Trillion
Apple's market cap recently hit $3 trillion. To put that scale into context, this visualization compares Apple to European indexes.

Creator Program
Apple's Colossal Market Cap in Context
In January of 2019, Apple's market capitalization stood at $700 billion.
While this was perceived as a colossal figure at the time, when we fast forward to today, that valuation seems a lot more modest. Since then, Apple has surged to touch a $3 trillion valuation on January 3rd, 2022.
To gauge just how monstrous of a figure this is, consider that Apple is no longer comparable to just companies, but to countries and even entire stock indexes. This animation from James Eagle ranks the growth in Apple's market cap alongside top indexes from the UK, France, and Germany.
Let's take a closer look.
Apple Takes On Europe
The three indexes Apple is compared to are heavyweights in their own right.
The FTSE 100 consists of giants like HSBC and vaccine producer AstraZeneca, while the CAC 40 Index is home to LVMH, which made Bernard Arnault the richest man in the world for a period of time last year.
Nonetheless, Apple's market cap exceeds that of the 100 companies in the FTSE, as well as the 40 in each of the CAC and DAX indexes.
| Stock/Index | Market Cap ($T) | Country of Origin |
| --- | --- | --- |
| Apple | $3.00T | 🇺🇸 |
| FTSE 100 | $2.90T | 🇬🇧 |
| CAC 40 Index | $2.76T | 🇫🇷 |
| DAX 40 (Dax 30) Index* | $2.50T | 🇩🇪 |
*Germany's flagship DAX Index expanded from 30 to 40 constituents in September 2021.
It's important to note, that while Apple's growth is stellar, European companies have simultaneously seen a decline in their share of the overall global stock market, which helps make these comparisons even more eye-catching.
For example, before 2005, publicly-traded European companies represented almost 30% of global stock market capitalization, but those figures have been cut in half to just 15% today.
Here are some other approaches to measure Apple's dominance.
Apple's Revenue Per Minute vs Other Tech Giants
Stepping away from market capitalization, another unique way to measure Apple's success is in how much sales they generate on a per minute basis. In doing so, we see that they generate a massive $848,090 per minute.
Here's how Apple revenue per minute compares to other Big Tech giants:

| Company | Revenue Per Minute |
| --- | --- |
| Amazon | $955,517 |
| Apple | $848,090 |
| Alphabet (Google) | $433,014 |
| Microsoft | $327,823 |
| Facebook | $213,628 |
| Tesla | $81,766 |
| Netflix | $50,566 |
Furthermore, Apple's profits aren't too shabby either: their $20.5 billion in net income last quarter equates to $156,000 in profits per minute.
How Apple Compares To Countries
Lastly, we can compare Apple's market cap to the GDP of countries.
| Country (excluding Apple) | Total Value ($T) |
| --- | --- |
| Apple | $3.0T |
| Italy | $2.0T |
| Brazil | $1.8T |
| Canada | $1.7T |
| Russia | $1.7T |
| South Korea | $1.6T |
| Australia | $1.4T |
| Spain | $1.4T |
| Mexico | $1.3T |
| Indonesia | $1.1T |
What might be most impressive here is that Apple's market cap eclipses the GDP of major developed economies, such as Canada and Australia. That means the company is more valuable than the entire economic production of these countries in a calendar year.
That's some serious scale.