Map Explainer: Key Facts About Afghanistan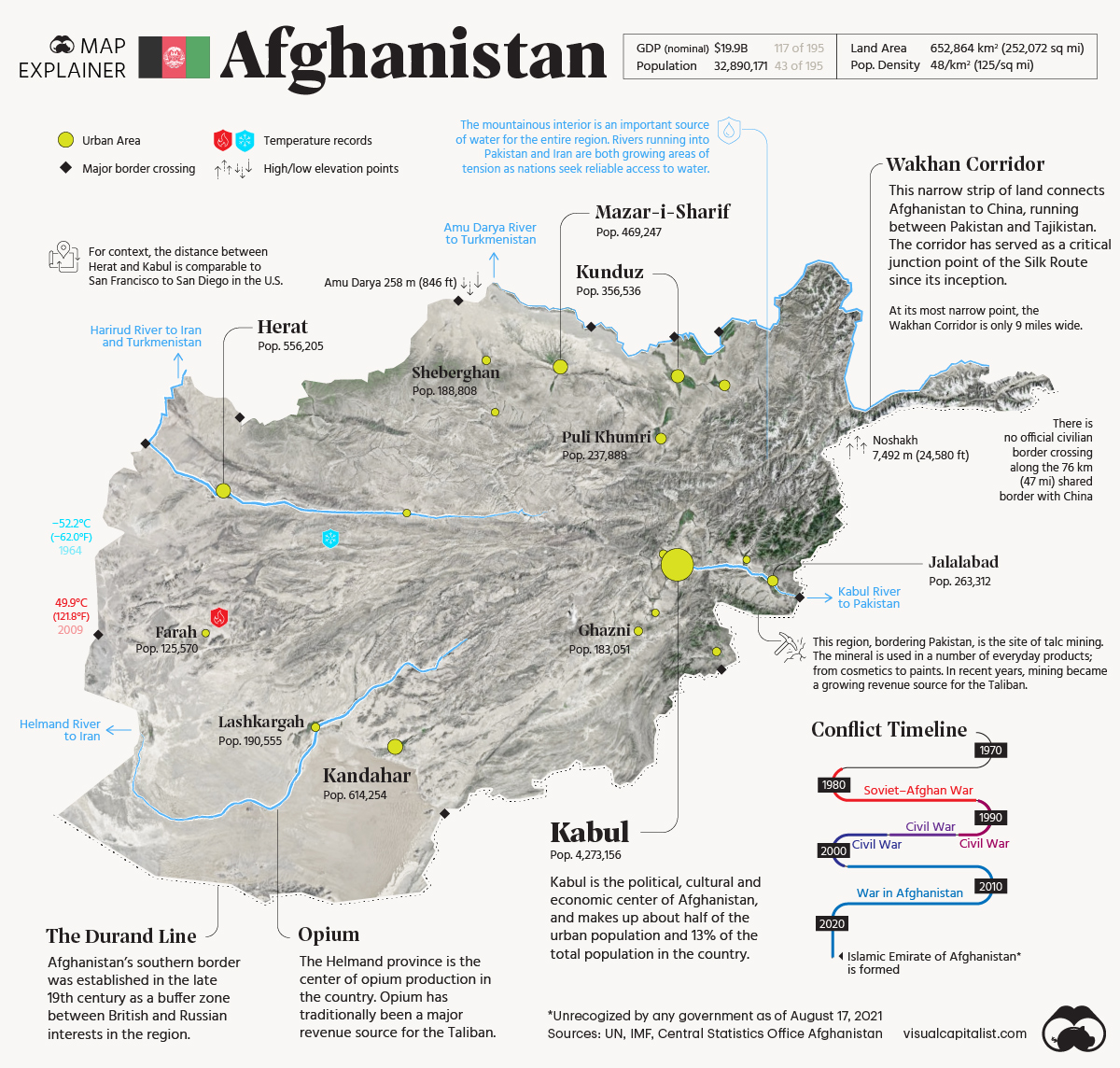 Map Explainer: Key Facts About Afghanistan
The country of Afghanistan has a long and complicated history of domination by foreign powers and conflict between factions within the country.
While Afghanistan is well covered in headlines and news stories, the lion's share of this coverage is directly related to conflict. As a result, Afghanistan is viewed by many in Western countries as a war-torn desert, with conflict, ideology, and geopolitical power obscuring more practical information about the country and its people.
In the Afghanistan map graphic above, we step back and examine Afghanistan from a structural point of view. How does its unique landscape influence population patterns? How does this geography influence the economy and relationships with neighboring nations? Let's dive in.
Mountain High, Valley Low
Afghanistan's rugged landscape is defined by towering snow-capped mountains, fertile valleys, and expansive deserts.
First, the country has a wide variety of climate extremes. There is more than 100ºC (180ºF) separating the record high and low temperatures.
The extremes don't stop at temperature though. Afghanistan has the sixth-highest elevation span in the world, with 7,234m (23,734 ft) between its highest and lowest point. Afghanistan is one of 44 landlocked nations in the world, which helps explain why its lowest point is so much higher than sea level.
For those living in North America, the country's terrain has been compared to Colorado, with Kabul sharing similarities with Denver.
Where Do People Live in Afghanistan?
Settlement patterns in Afghanistan are similar to other countries in the region; people cluster where there is access to fresh water.
As the cartogram below demonstrates, a large portion of the country's population is located around Kabul, and the region adjacent to the Kabul River.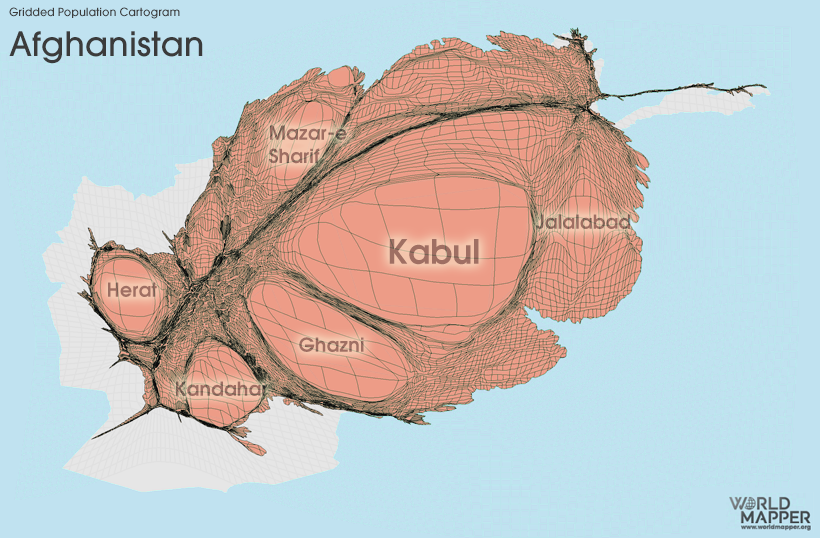 The southwestern province of Nimruz is the most sparsely populated area in the country. The Wakhan Corridor—which connects Afghanistan to China—is also very sparsely populated, with about 14,000 total residents.
Key Facts About Afghanistan's Demographics
Afghanistan has a very youthful population. The country's median age of 19 years is one of the youngest in the world, and is low compared to its neighbors Pakistan (24) and Iran (30).
Islam is the official state religion of Afghanistan. 99.7% of the Afghan population are Muslim, one of the highest proportions of the 49 Muslim-majority countries.
So far in 2021, the OCHA estimates that 550,000 people in Afghanistan are "internally displaced" due to conflict, and this number may rise still as new data tracks the final days of the Taliban's takeover of the country. The majority of those displaced persons are children.
Paving the Way
The Ring Road connecting Afghanistan's major cities began in the 1960s but was soon cut short by war. After the U.S. took control in 2001, new road construction began in earnest.
Between 2002 and 2016, USAID and the Department of Defense (DoD) spent approximately $2.8 billion building and maintaining Afghanistan's road infrastructure. This number doesn't include additional investment from other sources that poured in to improve the country's road network.
The result is a more comprehensive road network, but one that is difficult to maintain. A 2016 report found collapsed bridges and sections of road around the country that were washed out.
Resources and Relationships
Afghanistan is a critical source of fresh water for the arid region. Several major regional rivers flow from the country's mountainous eastern provinces into neighboring countries, so any new irrigation schemes and dam infrastructure will come with a geopolitical price tag as well.
Already in the recent past, tensions have increased with Iran and Pakistan over the flow of water crossing the border.
Outside countries are also very interested in Afghanistan's rich mineral resources. Decades of near-continuous conflict have made mining a tough proposition in the country, but with growing demand for resources such as lithium and rare earths, that may soon change.
Afghanistan is estimated to have over $1 trillion of untapped mineral reserves, and outside interests are taking notice.
China said it was ready for "friendly and cooperative relations" with the new Taliban regime, and it's possible that investment from China's Belt and Road Initiative (BRI) may step in to fill the vacuum left by departing Western powers.
Visualizing the BRICS Expansion in 4 Charts
We provide a data-driven overview of how the recent BRICS expansion will grow the group's influence and reach.
Visualizing the BRICS Expansion in 4 Charts
BRICS is an association of five major countries including Brazil, Russia, India, China, and South Africa. Distinguished by their emerging economies, the group has sought to improve diplomatic coordination, reform global financial institutions, and ultimately serve as a counterbalance to Western hegemony.
On Aug. 24, 2023, BRICS announced that it would formally accept six new members at the start of 2024: Saudi Arabia, Iran, Ethiopia, Egypt, Argentina, and the United Arab Emirates (UAE).
In this graphic, we provide a data-driven overview of how the BRICS expansion will grow the group's influence and reach.
Share of Global GDP
Because most of the new BRICS members are considered to be developing economies, their addition to the group will not have a major impact on its overall share of GDP.
The following table includes GDP projections for 2023, courtesy of the IMF.

Original BRICS
Member
Country
GDP (USD billions)
Share of Global (%)
Yes
🇧🇷 Brazil
$2,081
2.0%
Yes
🇷🇺 Russia
$2,063
2.0%
Yes
🇮🇳 India
$3,737
3.6%
Yes
🇨🇳 China
$19,374
18.4%
Yes
🇿🇦 South Africa
$399
0.4%
No
🇸🇦 Saudi Arabia
$1,062
1.0%
No
🇮🇷 Iran
$368
0.4%
No
🇪🇹 Ethiopia
$156
0.1%
No
🇪🇬 Egypt
$387
0.4%
No
🇦🇷 Argentina
$641
0.6%
No
🇦🇪 UAE
$499
0.5%
-
BRICS Total
$30,767
29.3%
-
Rest of World
$74,362
70.7%
The original six BRICS members are expected to have a combined GDP of $27.6 trillion in 2023, representing 26.3% of the global total. With the new members included, expected GDP climbs slightly to $30.8 trillion, enough for a 29.3% global share.
Share of Global Population
BRICS has always represented a major chunk of global population thanks to China and India, which are the only countries with over 1 billion people.
The two biggest populations being added to BRICS are Ethiopia (126.5 million) and Egypt (112.7 million). See the following table for population data from World Population Review, which is dated as of 2023.

Original BRICS
Member
Country
Population
Share of Global (%)
Yes
🇧🇷 Brazil
216,422,446
2.7%
Yes
🇷🇺 Russia
144,444,359
1.8%
Yes
🇮🇳 India
1,428,627,663
17.8%
Yes
🇨🇳 China
1,425,671,352
17.7%
Yes
🇿🇦 South Africa
60,414,495
0.8%
No
🇸🇦 Saudi Arabia
36,947,025
0.5%
No
🇮🇷 Iran
89,172,767
1.1%
No
🇪🇹 Ethiopia
126,527,060
1.6%
No
🇪🇬 Egypt
112,716,598
1.4%
No
🇦🇷 Argentina
45,773,884
0.6%
No
🇦🇪 UAE
9,516,871
0.1%
-
BRICS Total
3.7 billion
46.0%
-
Rest of World
4.3 billion
54.0%
It's possible that BRICS could eventually surpass 50% of global population, as many more countries have expressed their desire to join.
Share of Oil Production
Although the world is trying to move away from fossil fuels, the global oil market is still incredibly large—and BRICS is set to play a much bigger role in it. This is mostly due to the admission of Saudi Arabia, which alone accounts for 12.9% of global oil production.
Based on 2022 figures from the Energy Institute Statistical Review of World Energy, BRICS' share of oil production will grow from 20.4% to 43.1%.

Original BRICS
Member
Country
Thousand Barrels
per Day
Share of Global (%)
Yes
🇧🇷 Brazil
3,107
3.3%
Yes
🇷🇺 Russia
11,202
11.9%
Yes
🇮🇳 India
737
0.8%
Yes
🇨🇳 China
4,111
4.4%
Yes
🇿🇦 South Africa
0
0.0%
No
🇸🇦 Saudi Arabia
12,136
12.9%
No
🇮🇷 Iran
3,822
4.1%
No
🇪🇹 Ethiopia
0
0.0%
No
🇪🇬 Egypt
613
0.7%
No
🇦🇷 Argentina
706
0.8%
No
🇦🇪 UAE
4,020
4.3%
-
BRICS Total
40,454
43.1%
-
Rest of World
53,394
56.9%
It's worth noting that China has been pushing for oil trade to be denominated in yuan, and that Saudi Arabia's acceptance into BRICS could bolster this ambition, potentially shifting the dynamics of global oil trade.
Share of Global Exports
The last metric included in our graphic is global exports, which is based on 2022 data from the World Trade Organization. We can see that the BRICS expansion will grow the group's share of global exports (merchandise trade) to 25.1%, up from 20.2%.

Original BRICS
Member
Country
Exports (USD billions)
Share of Global (%)
Yes
🇧🇷 Brazil
334
1.3%
Yes
🇷🇺 Russia
532
2.1%
Yes
🇮🇳 India
453
1.8%
Yes
🇨🇳 China
3,594
14.4%
Yes
🇿🇦 South Africa
123
0.5%
No
🇸🇦 Saudi Arabia
410
1.6%
No
🇮🇷 Iran
73
0.3%
No
🇪🇹 Ethiopia
3.9
0.02%
No
🇪🇬 Egypt
49
0.2%
No
🇦🇷 Argentina
88
0.4%
No
🇦🇪 UAE
599
2.4%
-
BRICS Total
6,259
25.1%
-
Rest of World
18,646
74.9%
Unsurprisingly, China is the world's largest exporter. Major exporters that are not a part of BRICS include the U.S. (8.3%), Germany (6.6%), the Netherlands (3.9%), and Japan (3.0%).
Who Else Wants to Join?
According to Reuters, there are over 40 countries that have expressed interest in joining BRICS. A smaller group of 16 countries have actually applied for membership, though, and this list includes Algeria, Cuba, Indonesia, Palestine, and Vietnam.
As the group grows in size, differing opinions and priorities among its members could create tensions in the future. For example, India and China have had numerous border disputes in recent years, while Brazil's newly elected President has sought to "kickstart a new era of relations" with the U.S.
One thing that is certain, however, is that a new acronym for the group will be needed very soon.