Visualizing China's Dominance in Rare Earth Metals
China's Dominance in Rare Earth Metals
Did you know that a single iPhone contains eight different rare earth metals?
From smartphones and electric vehicles to x-rays and guided-missiles, several modern technologies wouldn't be what they are without rare earth metals. Also known as rare earth elements or simply "rare earths", this group of 17 elements is critical to a number of wide-ranging industries.
Although deposits of rare earth metals exist all over the world, the majority of both mining and refining occurs in China. The above graphic from CSIS China Power Project tracks China's exports of rare earth metals in 2019, providing a glimpse of the country's dominating presence in the global supply chain.
China's Top Rare Earth Export Destinations
Around 88% of China's 2019 rare earth exports went to just five countries, which are among the world's technological and economic powerhouses.
| Export Destination | Share of China's Rare Earth Exports | Top Rare Earth Import (tons) |
| --- | --- | --- |
| Japan | 36.0% | Cerium |
| United States | 33.4% | Lanthanum |
| Netherlands | 9.6% | Lanthanum |
| South Korea | 5.4% | Lanthanum |
| Italy | 3.5% | Cerium |
| Rest of the World | 12.1% | Cerium |
Japan and the U.S. are by far the largest importers, collectively accounting for more than two-thirds of China's rare earth metals exports.
Lanthanum, found in hybrid vehicles and smartphones, was China's largest rare earth export by volume, followed by cerium. In dollar terms, terbium was the most expensive—generating $57.9 million from just 115 metric tons of exports.
Why China's Dominance Matters
As the world transitions to a cleaner future, the demand for rare earth metals is expected to nearly double by 2030, and countries are in need of a reliable supply chain.
China's virtual monopoly in rare earth metals not only gives it a strategic upper hand over heavily dependent countries like the U.S.—which imports 80% of its rare earths from China—but also makes the supply chain anything but reliable.
"China will not rule out using rare earth exports as leverage to deal with the [Trade War] situation."
—Gao Fengping et al., 2019, in a report funded by the Chinese government via Horizon Advisory.
A case in point comes from 2010 when China reduced its rare earth export quotas by 37%, which in part resulted in skyrocketing rare earth prices worldwide.
The resulting supply chain disruption was significant enough to push the EU, the U.S., and Japan to jointly launch a dispute settlement case through the World Trade Organization, which was ruled against China in 2014.
On the brighter side, the increase in prices led to an influx of capital in the rare earth mining industry, financing more than 200 projects outside China. While this exploration boom was short-lived, it was successful in kick-starting production in other parts of the world.
Breaking China's Rare Earth Monopoly
China's dominance in rare earths is the result of years of evolving industrial policies since the 1980s, ranging from tax rebates to export restrictions. In order to reduce dependence on China, the U.S. and Japan have made it a priority to diversify their sources of rare earth metals.
For starters, the U.S. has added rare earth metals to its list of critical minerals, and President Donald Trump recently issued an executive order to encourage local production. On the other side of the world, Japan is making efforts to reduce China's share of its total rare earth imports to less than 50% by 2025.
Increasing rare earth mining outside of China has reduced China's global share of mining, down from 97.7% in 2010 to 62.9% in 2019. But mining is merely one piece of the puzzle.
Ultimately, the large majority of rare earth refining, 80%, resides in China. Therefore, even rare earths mined overseas are sent to China for final processing. New North American refining facilities are being set up to tackle this, but the challenge lies in managing the environmental impacts of processing rare earths.
Visualizing U.S. Consumption of Fuel and Materials per Capita
Wealthy countries consume large amounts of natural resources per capita, and the U.S. is no exception. See how much is used per person.
Visualizing U.S. Consumption of Fuel and Materials per Capita
This was originally posted on Elements. Sign up to the free mailing list to get beautiful visualizations on natural resource megatrends in your email every week.
Wealthy countries consume massive amounts of natural resources per capita, and the United States is no exception.
According to data from the National Mining Association, each American needs more than 39,000 pounds (17,700 kg) of minerals and fossil fuels annually to maintain their standard of living.
Materials We Need to Build
Every building around us and every sidewalk we walk on is made of sand, steel, and cement.
As a result, these materials lead consumption per capita in the United States. On average, each person in America drives the demand of over 10,000 lbs of stone and around 7,000 lbs of sand and gravel per year.
| Material/Fossil Fuel | Pounds Per Person |
| --- | --- |
| Stone | 10,643 |
| Natural Gas | 9,456 |
| Sand, Gravel | 7,088 |
| Petroleum Products | 6,527 |
| Coal | 3,290 |
| Cement | 724 |
| Other Nonmetals | 569 |
| Salt | 359 |
| Iron Ore | 239 |
| Phosphate Rock | 166 |
| Sulfur | 66 |
| Potash | 49 |
| Soda Ash | 36 |
| Bauxite (Aluminum) | 24 |
| Other Metals | 21 |
| Copper | 13 |
| Lead | 11 |
| Zinc | 6 |
| Manganese | 4 |
| Total | 39,291 |
The construction industry is a major contributor to the U.S. economy.
Crushed stone, sand, gravel, and other construction aggregates represent half of the industrial minerals produced in the country, resulting in $29 billion in revenue per year.
Also on the list are crucial hard metals such as copper, aluminum, iron ore, and of course many rarer metals used in smaller quantities each year. These rarer metals can make a big economic difference even when their uses are more concentrated and isolated—for example, palladium (primarily used in catalytic converters) costs $54 million per tonne.
Fuels Powering our Lives
Despite ongoing efforts to fight climate change and reduce carbon emissions, each person in the U.S. uses over 19,000 lbs of fossil fuels per year.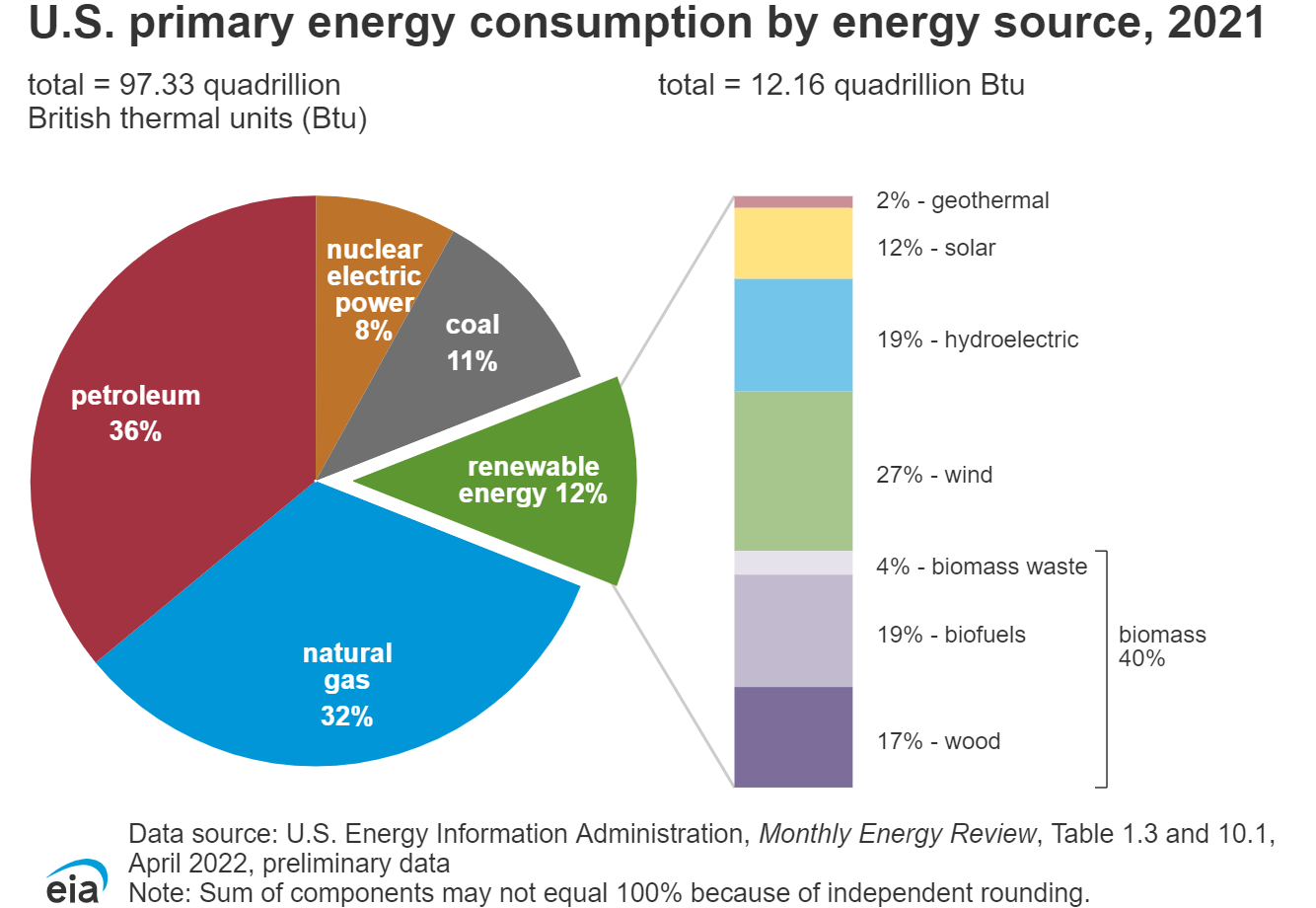 Gasoline is the most consumed petroleum product in the United States.
In 2021, finished motor gasoline consumption averaged about 369 million gallons per day, equal to about 44% of total U.S. petroleum use. Distillate fuel oil (20%), hydrocarbon gas liquids (17%), and jet fuel (7%) were the next most important uses.
Reliance on Other Countries
Over the past three decades, the United States has become reliant on foreign sources to meet domestic demand for minerals and fossil fuels. Today, the country is 100% import-reliant for 17 mineral commodities and at least 50% for 30 others.
In order to reduce the dependency on other countries, namely China, the Biden administration has been working to diversify supply chains in critical minerals. This includes strengthening alliances with other countries such as Australia, India, and Japan.
However, questions still remain about how soon these policies can make an impact, and the degree to which they can ultimately help localize and diversify supply chains.