Map Explainer: Key Facts About Afghanistan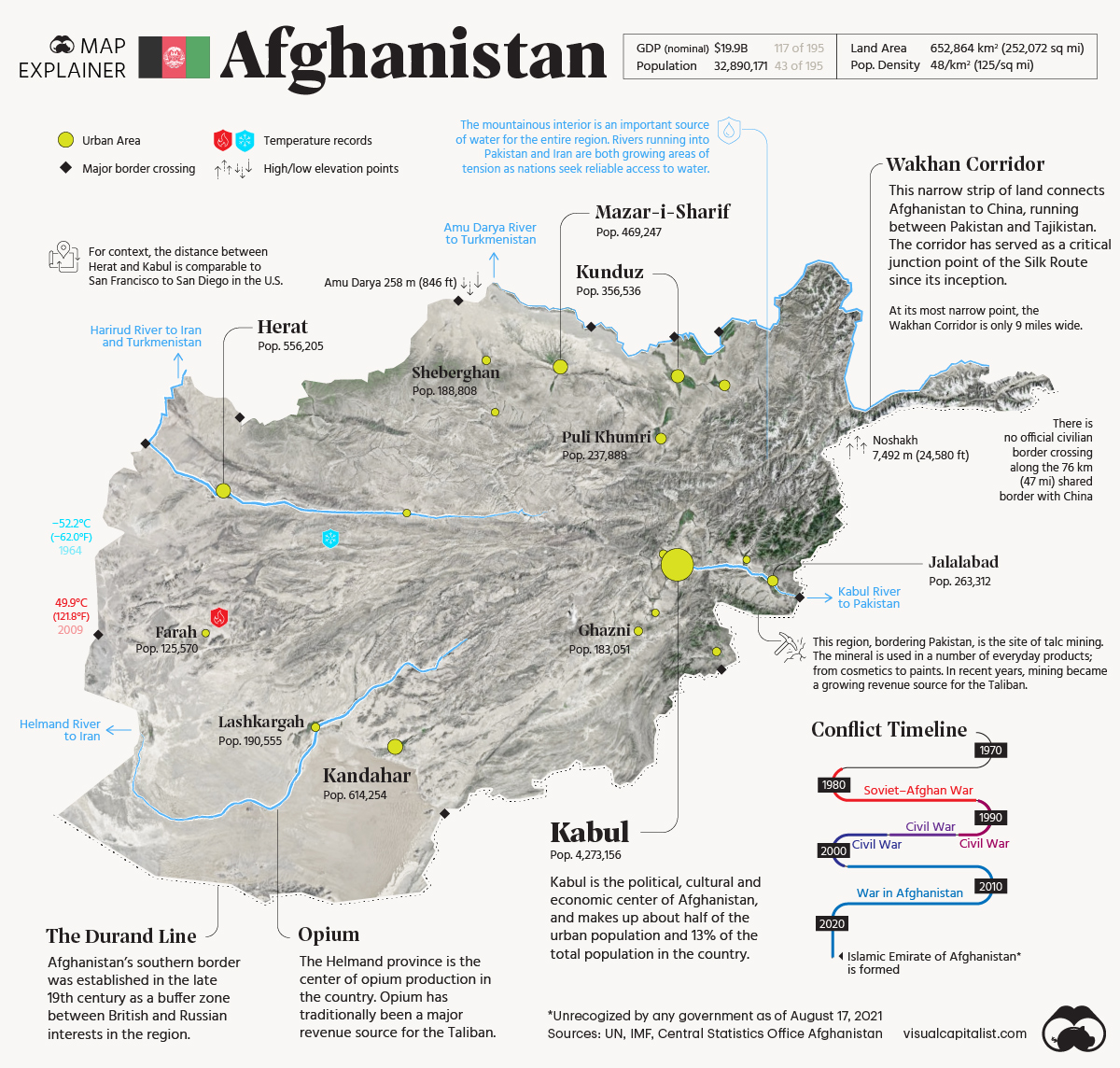 Map Explainer: Key Facts About Afghanistan
The country of Afghanistan has a long and complicated history of domination by foreign powers and conflict between factions within the country.
While Afghanistan is well covered in headlines and news stories, the lion's share of this coverage is directly related to conflict. As a result, Afghanistan is viewed by many in Western countries as a war-torn desert, with conflict, ideology, and geopolitical power obscuring more practical information about the country and its people.
In the Afghanistan map graphic above, we step back and examine Afghanistan from a structural point of view. How does its unique landscape influence population patterns? How does this geography influence the economy and relationships with neighboring nations? Let's dive in.
Mountain High, Valley Low
Afghanistan's rugged landscape is defined by towering snow-capped mountains, fertile valleys, and expansive deserts.
First, the country has a wide variety of climate extremes. There is more than 100ºC (180ºF) separating the record high and low temperatures.
The extremes don't stop at temperature though. Afghanistan has the sixth-highest elevation span in the world, with 7,234m (23,734 ft) between its highest and lowest point. Afghanistan is one of 44 landlocked nations in the world, which helps explain why its lowest point is so much higher than sea level.
For those living in North America, the country's terrain has been compared to Colorado, with Kabul sharing similarities with Denver.
Where Do People Live in Afghanistan?
Settlement patterns in Afghanistan are similar to other countries in the region; people cluster where there is access to fresh water.
As the cartogram below demonstrates, a large portion of the country's population is located around Kabul, and the region adjacent to the Kabul River.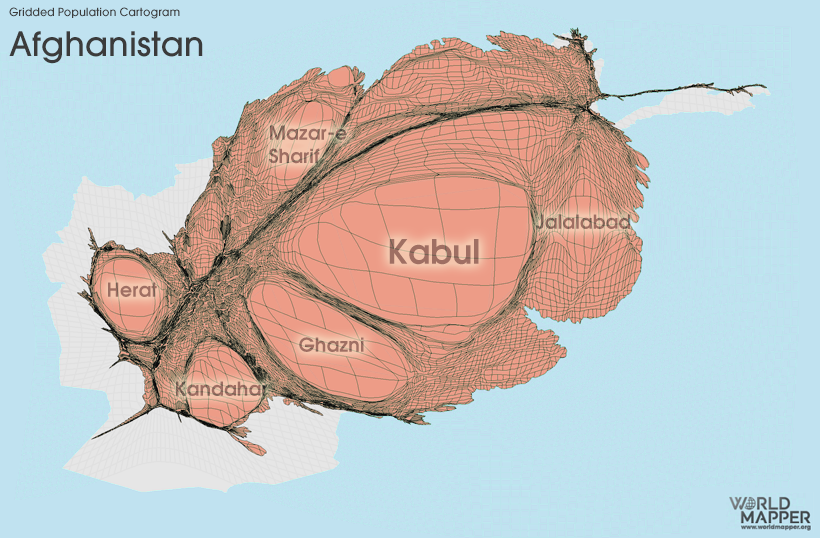 The southwestern province of Nimruz is the most sparsely populated area in the country. The Wakhan Corridor—which connects Afghanistan to China—is also very sparsely populated, with about 14,000 total residents.
Key Facts About Afghanistan's Demographics
Afghanistan has a very youthful population. The country's median age of 19 years is one of the youngest in the world, and is low compared to its neighbors Pakistan (24) and Iran (30).
Islam is the official state religion of Afghanistan. 99.7% of the Afghan population are Muslim, one of the highest proportions of the 49 Muslim-majority countries.
So far in 2021, the OCHA estimates that 550,000 people in Afghanistan are "internally displaced" due to conflict, and this number may rise still as new data tracks the final days of the Taliban's takeover of the country. The majority of those displaced persons are children.
Paving the Way
The Ring Road connecting Afghanistan's major cities began in the 1960s but was soon cut short by war. After the U.S. took control in 2001, new road construction began in earnest.
Between 2002 and 2016, USAID and the Department of Defense (DoD) spent approximately $2.8 billion building and maintaining Afghanistan's road infrastructure. This number doesn't include additional investment from other sources that poured in to improve the country's road network.
The result is a more comprehensive road network, but one that is difficult to maintain. A 2016 report found collapsed bridges and sections of road around the country that were washed out.
Resources and Relationships
Afghanistan is a critical source of fresh water for the arid region. Several major regional rivers flow from the country's mountainous eastern provinces into neighboring countries, so any new irrigation schemes and dam infrastructure will come with a geopolitical price tag as well.
Already in the recent past, tensions have increased with Iran and Pakistan over the flow of water crossing the border.
Outside countries are also very interested in Afghanistan's rich mineral resources. Decades of near-continuous conflict have made mining a tough proposition in the country, but with growing demand for resources such as lithium and rare earths, that may soon change.
Afghanistan is estimated to have over $1 trillion of untapped mineral reserves, and outside interests are taking notice.
China said it was ready for "friendly and cooperative relations" with the new Taliban regime, and it's possible that investment from China's Belt and Road Initiative (BRI) may step in to fill the vacuum left by departing Western powers.
Which Populations Feel Their Country is on the Wrong Track?
New polling data shows that, in many parts of the world, people feel that their countries are on a downward trajectory.
Which Populations Feel Their Country is on the Wrong Track?
Plato once used the allegory of a Ship of Fools to push for his vision of a wise philosopher-king as the ideal pilot for a ship of state.
Looking at the most recent numbers from Morning Consult Political Intelligence's Projections of Country Trajectories, you would be forgiven for thinking that a great many people believe that their ship of state is piloted by fools.
With the impact of the pandemic, rising inflation, and growing geopolitical instability, it's probably not surprising that most respondents feel their countries are on the wrong track; India and Switzerland were notable exceptions.
Below are some of the stand-out stories that we found digging through the data.
United States
Midterm elections have rarely been kind to the incumbent party in U.S. politics and the cost of living crisis, an unpopular president, and the aftermath of the global pandemic pointed towards an electoral bloodbath. This year's election was also expected to set a new spending record, with over $9 billion raised.
Even so, despite 72% of respondents thinking that the country is on the wrong track, the governing Democrats have defied expectations and posted a historic performance during the November 8, 2022, midterm elections. To put this into context, in a president's first term, there have been three previous instances (since 1922) of the incumbent's party gaining (or not losing) Senate seats and losing fewer than 10 seats in the House.
Also worth noting is the large spike in negative sentiment in January 2021, following the U.S. Capitol attack, followed by the convergence of negative and positive sentiments as the peaceful transition of power became more assured.
Brazil
Horace, in Odes 1.14, describes a ship of state that is flailing at sea that eventually rights itself, claiming towards the end of the poem that "it's my longing and no light love you carry."
Something like that may be happening in Brazil following the loss of the often turbulent, COVID-19-denying President Jair Bolsonaro to political rival Luiz Inácio Lula da Silva in an Oct. 20, 2022, election runoff.
However, with respondents evenly split on where the country is going and the presidential election results being so close (50.9% vs. 49.1%), Lula will have his hands full governing a divided country.
India
While sentiment was overwhelmingly negative in almost every country tracked in this survey, India stood out as an outlier. India has consistently maintained a positive sentiment of between 60% and 80%, which is something only Switzerland comes close to.
The only blip was a brief period during the spring of 2021. This coincided with a deadly second wave of COVID-19 infections in the country, on top of country-wide protests against the Narendra Modi government's deeply unpopular farm bill.
United Kingdom
The data here covers the three most recent UK Prime Ministers: Boris Johnson, Liz Truss, and now Rishi Sunak, the first South Asian to hold the post.
In January 2020, Johnson had just won a Tory majority and succeeded in "Getting Brexit Done." Political scandals and the government's pandemic response pushed the trendline down. It only recovered briefly in the spring of 2021, following Russia's invasion of the Donbas region of Ukraine, which Johnson was widely seen as handling well. A personal visit to Kyiv on April 9, 2022, helped cement this.
Then followed Prime Minister Liz Truss' disastrous mini-budget of Sept. 23, 2022, which saw the pound fall to the lowest-ever level against the dollar and the Bank of England intervene in the bond markets. The ascension of Rishi Sunak to No. 10 Downing Street has only just begun to turn around the low of 89% negative sentiment reported on Oct 23-25, 2022.
To quote the BBC comedy series, Yes, Minister, in another context, "the ship of state is the only ship that leaks from the top."
Visualized: The Biggest Donors of the 2022 U.S. Midterm Elections
A record-smashing $9 billion has been raised for the 2022 midterm elections. See who the top 10 donors are in this graphic.
Visualized: The Biggest Donors of the 2022 U.S. Midterm Elections
This year's midterm election is expected to set a new spending record, with over $9 billion being raised. This is significantly higher than the previous record of $7 billion, which was set in 2018.
According to a recent analysis by the Washington Post, $1 billion of these funds can be attributed to the top 50 donors. In typical Visual Capitalist style, we've illustrated this data to provide you with better insight.
Overview of the Data
The following table lists the top 10 individual donors of the 2022 midterm elections.
| Rank | Name | Affiliation | Total Donation (USD millions) |
| --- | --- | --- | --- |
| #1 | George Soros | Democrat | $129 |
| #2 | Elizabeth & Richard Uihlein | Republican | $70 |
| #3 | Kenneth Griffin | Republican | $66 |
| #4 | Jeffrey Yass | Republican | $48 |
| #5 | Sam Bankman-Fried | Democrat | $39 |
| #6 | Stephen Schwarzman | Republican | $33 |
| #7 | Timothy Mellon | Republican | $33 |
| #8 | Larry Ellison | Republican | $31 |
| #9 | Peter Thiel | Republican | $30 |
| #10 | Patrick & Shirley Ryan | Republican | $27 |
Sorting this top 10 donor list by party, we can see that $168 million was raised for the Democrats, and $338 million for the Republicans.
Continue reading below for some interesting background info on all 10 of these individuals. Net worth values were gathered from Forbes on November 1, 2022.
George Soros (Net worth: $7B)
George Soros is a Hungarian-born American billionaire, widely known for his philanthropical efforts and for "breaking" the Bank of England. He has had an illustrious career as a hedge fund manager, founding Soros Fund Management in 1970. Visit this page to see the top 100 holdings of Soros Fund Management's portfolio.
Soros has donated over $30 billion of his fortune to various causes and charities. He is the founder and chairman of two Super PACs (political action committees) named Democracy PAC and Democracy PAC II.
Unlike regular PACs, Super PACs face no limits in terms of fundraising or political spending.
Elizabeth & Richard Uihlein (Combined net worth: $7B)
Elizabeth & Richard Uihlein are the founders of Uline, one of North America's largest distributors of logistics supplies (boxes, tape, gloves, etc.). The company makes several billion in sales per year.
The couple have gained media attention for making substantial donations to the Republican party. According to Forbes, the Uihleins have donated a total of $194 million since the 1990s.
Kenneth Griffin (Net worth: $31B)
Kenneth Griffin is the founder and CEO of Citadel, a hedge fund based in the U.S. He also owns Citadel Securities, which is the largest market maker on the New York Stock Exchange (NYSE).
Market makers act as a middleman in financial markets by facilitating buy and sell orders for investors. Using equities (stocks) as an example, when a market maker receives an order from a buyer, it sells shares from its own inventory. This enables the stock market to run smoothly.
Griffin found himself in the spotlight during the GameStop short squeeze when his firm provided emergency funding to Melvin Capital Management.
Jeffrey Yass (Net worth: $30B)
Once a pro gambler, Jeffrey Yass is a cofounder of Susquehanna International Group (SIG), a successful trading firm based in Philadelphia. SIG specializes in quantitative research and trading, which involves the use of computer algorithms to identify opportunities.
Yass is frequently cited as the richest person in the state of Pennsylvania and has gained media attention for his large political contributions.
Sam Bankman-Fried (Net worth: $17B)
Sam Bankman-Fried is the founder and CEO of FTX, which is currently the world's third largest cryptocurrency exchange behind Binance and Coinbase. The company is based in the Bahamas and offers trading in more than 300 cryptocurrencies.
In May 2022, Bankman-Fried declared that he was willing to donate "north of $100 million" in the upcoming 2024 presidential election. He has since backtracked this comment.
At some point, when you've given your message to voters, there's just not a whole lot more you can do.
– Sam Bankman-Fried
Stephen Schwarzman (Net worth: $35B)
Stephen Schwarzman is the chairman and CEO of The Blackstone Group, a globally recognized private equity firm. Blackstone's portfolio of companies includes Ancestry.com, a well-known family history service, and Bumble, a popular online dating platform.
Shown below, Schwarzman's wealth has increased substantially since 2020.
The bulk of Schwarzman's political contributions have gone towards the Senate Leadership Fund, an independent Super PAC which aims to build a Republican Senate majority.
Timothy Mellon (Family net worth: $11B)
Timothy Mellon was the chairman and majority owner of Pan Am Systems, a privately held company with operations in transportation, manufacturing, and energy. In November 2020, CSX Corporation announced it had signed an agreement to purchase Pan Am. The sale was approved in April 2022.
Mellon made headlines in 2021 when it was revealed that he made a whopping $53 million donation to the Texas border wall fund. At the time of reporting, this represented 98% of total funding.
Larry Ellison (Net worth: $102B)
Larry Ellison is the chairman and cofounder of Oracle, one of the world's largest software companies. Oracle is listed on the NYSE and has a market cap of over $200 billion. Ellison was also a Tesla board member from December 2018 to August 2022.
The vast majority of his political contributions have gone towards the Opportunity Matters Fund, which supports candidates who promote the Opportunity Agenda. It calls for enhanced financial literacy, apprenticeships, and education options.
Peter Thiel (Net worth: $4B)
Peter Thiel is a successful entrepreneur and venture capitalist, perhaps best known for cofounding PayPal. He also cofounded Palantir Technologies, a data analytics company, and is a general partner of Founders Fund, a venture capital firm with investments in major names such as SpaceX.
Thiel is one of the Republican Party's largest donors, a position that sets him apart from many other Silicon Valley figures. In February 2022, it was reported that he would be stepping down as a Meta board member.
Patrick and Shirley Ryan (Patrick's net worth: $9B)
Patrick Ryan is the founder and retired CEO of AON Corporation, one of the world's largest insurance companies. In 2010, he founded another company known as Ryan Specialty Group, which provides services to insurance brokers.
Together with his wife Shirley, the Ryans have made large donations towards the Senate Leadership Fund and other Republican groups.