Map Explainer: Key Facts About Afghanistan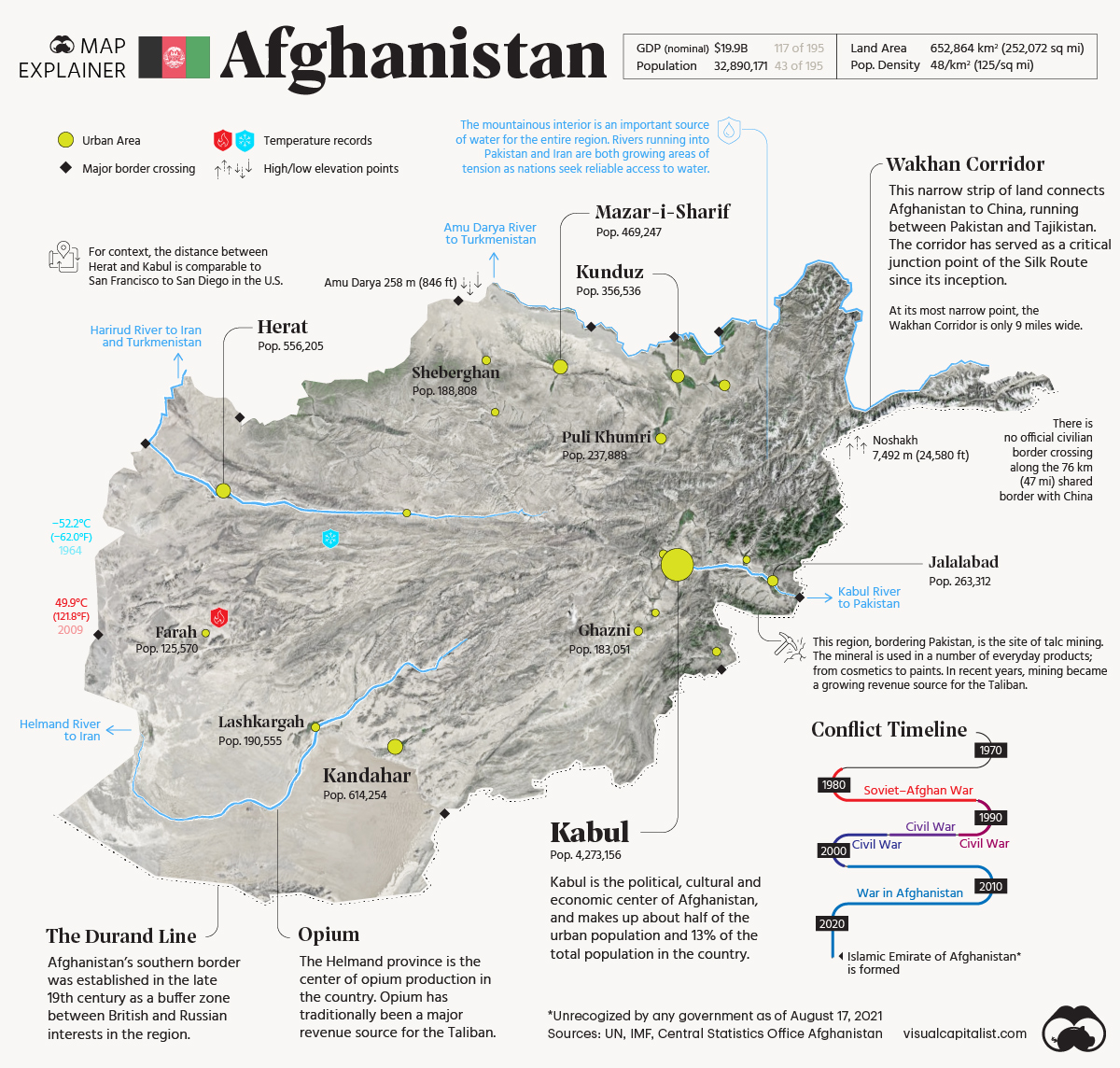 Map Explainer: Key Facts About Afghanistan
The country of Afghanistan has a long and complicated history of domination by foreign powers and conflict between factions within the country.
While Afghanistan is well covered in headlines and news stories, the lion's share of this coverage is directly related to conflict. As a result, Afghanistan is viewed by many in Western countries as a war-torn desert, with conflict, ideology, and geopolitical power obscuring more practical information about the country and its people.
In the Afghanistan map graphic above, we step back and examine Afghanistan from a structural point of view. How does its unique landscape influence population patterns? How does this geography influence the economy and relationships with neighboring nations? Let's dive in.
Mountain High, Valley Low
Afghanistan's rugged landscape is defined by towering snow-capped mountains, fertile valleys, and expansive deserts.
First, the country has a wide variety of climate extremes. There is more than 100ºC (180ºF) separating the record high and low temperatures.
The extremes don't stop at temperature though. Afghanistan has the sixth-highest elevation span in the world, with 7,234m (23,734 ft) between its highest and lowest point. Afghanistan is one of 44 landlocked nations in the world, which helps explain why its lowest point is so much higher than sea level.
For those living in North America, the country's terrain has been compared to Colorado, with Kabul sharing similarities with Denver.
Where Do People Live in Afghanistan?
Settlement patterns in Afghanistan are similar to other countries in the region; people cluster where there is access to fresh water.
As the cartogram below demonstrates, a large portion of the country's population is located around Kabul, and the region adjacent to the Kabul River.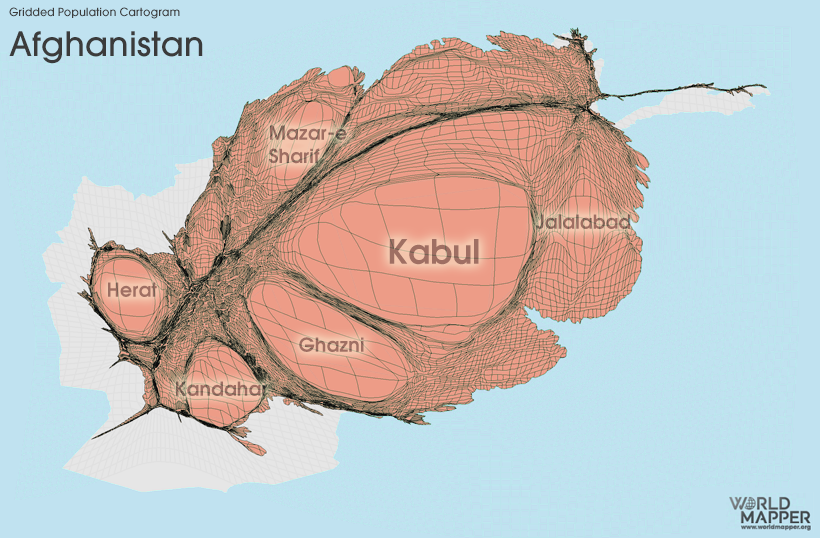 The southwestern province of Nimruz is the most sparsely populated area in the country. The Wakhan Corridor—which connects Afghanistan to China—is also very sparsely populated, with about 14,000 total residents.
Key Facts About Afghanistan's Demographics
Afghanistan has a very youthful population. The country's median age of 19 years is one of the youngest in the world, and is low compared to its neighbors Pakistan (24) and Iran (30).
Islam is the official state religion of Afghanistan. 99.7% of the Afghan population are Muslim, one of the highest proportions of the 49 Muslim-majority countries.
So far in 2021, the OCHA estimates that 550,000 people in Afghanistan are "internally displaced" due to conflict, and this number may rise still as new data tracks the final days of the Taliban's takeover of the country. The majority of those displaced persons are children.
Paving the Way
The Ring Road connecting Afghanistan's major cities began in the 1960s but was soon cut short by war. After the U.S. took control in 2001, new road construction began in earnest.
Between 2002 and 2016, USAID and the Department of Defense (DoD) spent approximately $2.8 billion building and maintaining Afghanistan's road infrastructure. This number doesn't include additional investment from other sources that poured in to improve the country's road network.
The result is a more comprehensive road network, but one that is difficult to maintain. A 2016 report found collapsed bridges and sections of road around the country that were washed out.
Resources and Relationships
Afghanistan is a critical source of fresh water for the arid region. Several major regional rivers flow from the country's mountainous eastern provinces into neighboring countries, so any new irrigation schemes and dam infrastructure will come with a geopolitical price tag as well.
Already in the recent past, tensions have increased with Iran and Pakistan over the flow of water crossing the border.
Outside countries are also very interested in Afghanistan's rich mineral resources. Decades of near-continuous conflict have made mining a tough proposition in the country, but with growing demand for resources such as lithium and rare earths, that may soon change.
Afghanistan is estimated to have over $1 trillion of untapped mineral reserves, and outside interests are taking notice.
China said it was ready for "friendly and cooperative relations" with the new Taliban regime, and it's possible that investment from China's Belt and Road Initiative (BRI) may step in to fill the vacuum left by departing Western powers.
Timeline: Cannabis Legislation in the U.S.
At the federal level, cannabis is illegal, but state laws differ. This graphic looks at the timelines of cannabis legislation in the U.S.
Timeline: Cannabis Legislation in the U.S.
At the federal level, cannabis is still considered an illegal substance. That said, individual states do have the right to determine their own laws around cannabis sales and usage.
This visual from New Frontier Data looks at the status of cannabis in every state and the timeline of when medical and/or recreational use became legal.
Cannabis Through the Years
In the U.S., the oldest legalese concerning cannabis dates back to the 1600s—the colony of Virginia required every farm to grow and produce hemp. Since then, cannabis use was fairly wide open until the 1930s when the Marihuana Tax Act was enforced, prohibiting marijuana federally but still technically allowing medical use.
Jumping ahead, the Controlled Substances Act was passed in 1970, classifying cannabis as Schedule I drug—the same category as heroin. This prohibited any use of the substance.
However, the 1970s also saw a counter movement, wherein many states made the move towards decriminalization. Decriminalization means that although possessing cannabis remained illegal, a person would not be subject to jail time or prosecution for possessing certain amounts.
By the 1990s, some of the first states passed laws to allow the medical usage of cannabis, and by 2012 two states in the U.S.—Washington and Colorado—legalized the recreational use of cannabis.
Cannabis Legislation Today and Beyond
The MORE Act (the Marijuana Opportunity Reinvestment and Expungement Act) was passed in the House early 2022, and if made law, it would decriminalize marijuana federally.
"This bill decriminalizes marijuana. Specifically, it removes marijuana from the list of scheduled substances under the Controlled Substances Act and eliminates criminal penalties for an individual who manufactures, distributes, or possesses marijuana."– U.S. Congress
Cannabis still remains illegal at the federal level, but at the state levels, cannabis is now fully legal (both for medicinal and recreational purposes) in a total of 22 states.
Over 246 million Americans have legal access to some form of marijuana products with high THC levels. Looking to the future, many new cannabis markets are expected to open up in the next few years:
The earliest states expected to open up next for recreational cannabis sales are Minnesota and Oklahoma. There is always a lag between legalization and actual sales, wherein local regulatory bodies and governments set standards. States like Kentucky, on the other hand, aren't likely to even legalize medicinal cannabis until 2028.
It's estimated that by 2030, there will be 69 million cannabis consumers in the country, up 33% from 2022.
Overall, the U.S. cannabis market is likely an important one to watch as legal sales hit $30 billion in 2022. By the end of the decade, that number is expected to be anywhere from $58 billion to as much as $72 billion.