Map Explainer: Key Facts About Afghanistan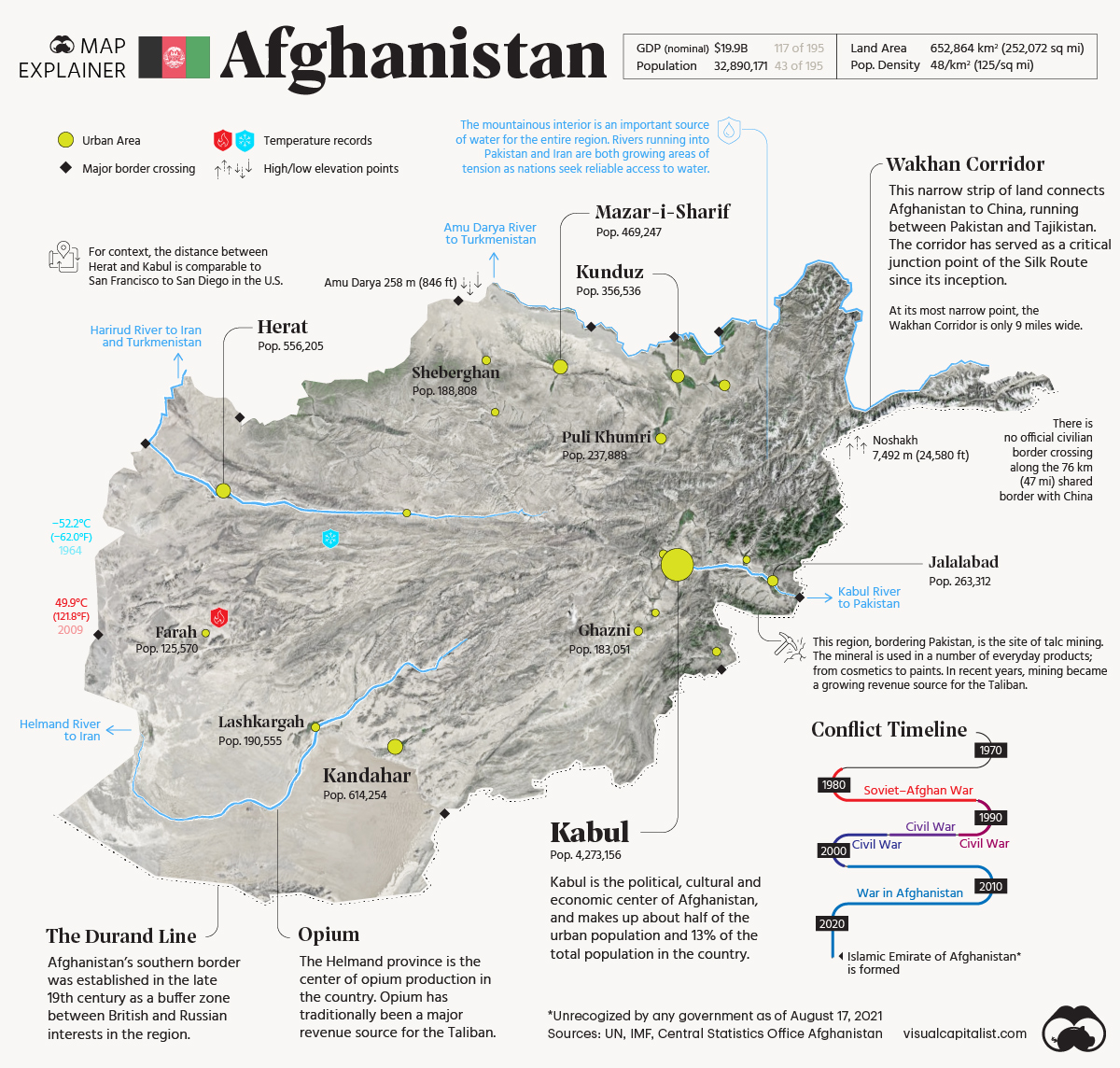 Map Explainer: Key Facts About Afghanistan
The country of Afghanistan has a long and complicated history of domination by foreign powers and conflict between factions within the country.
While Afghanistan is well covered in headlines and news stories, the lion's share of this coverage is directly related to conflict. As a result, Afghanistan is viewed by many in Western countries as a war-torn desert, with conflict, ideology, and geopolitical power obscuring more practical information about the country and its people.
In the Afghanistan map graphic above, we step back and examine Afghanistan from a structural point of view. How does its unique landscape influence population patterns? How does this geography influence the economy and relationships with neighboring nations? Let's dive in.
Mountain High, Valley Low
Afghanistan's rugged landscape is defined by towering snow-capped mountains, fertile valleys, and expansive deserts.
First, the country has a wide variety of climate extremes. There is more than 100ºC (180ºF) separating the record high and low temperatures.
The extremes don't stop at temperature though. Afghanistan has the sixth-highest elevation span in the world, with 7,234m (23,734 ft) between its highest and lowest point. Afghanistan is one of 44 landlocked nations in the world, which helps explain why its lowest point is so much higher than sea level.
For those living in North America, the country's terrain has been compared to Colorado, with Kabul sharing similarities with Denver.
Where Do People Live in Afghanistan?
Settlement patterns in Afghanistan are similar to other countries in the region; people cluster where there is access to fresh water.
As the cartogram below demonstrates, a large portion of the country's population is located around Kabul, and the region adjacent to the Kabul River.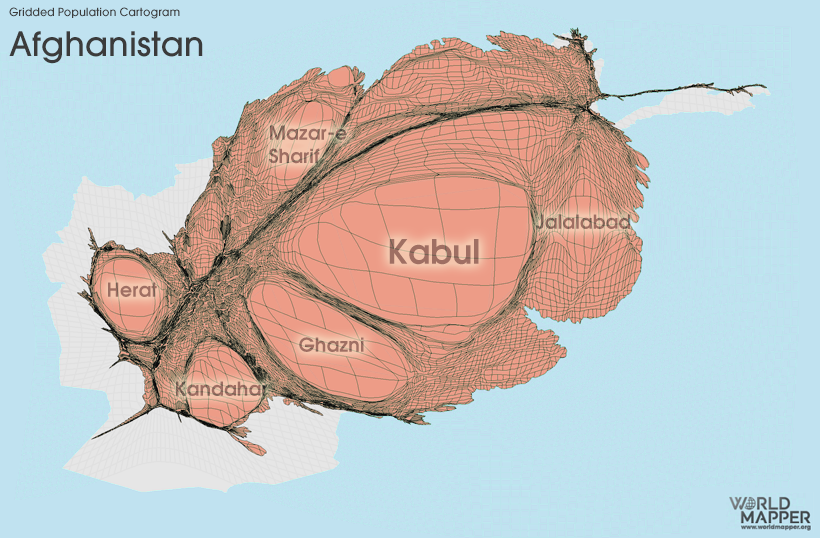 The southwestern province of Nimruz is the most sparsely populated area in the country. The Wakhan Corridor—which connects Afghanistan to China—is also very sparsely populated, with about 14,000 total residents.
Key Facts About Afghanistan's Demographics
Afghanistan has a very youthful population. The country's median age of 19 years is one of the youngest in the world, and is low compared to its neighbors Pakistan (24) and Iran (30).
Islam is the official state religion of Afghanistan. 99.7% of the Afghan population are Muslim, one of the highest proportions of the 49 Muslim-majority countries.
So far in 2021, the OCHA estimates that 550,000 people in Afghanistan are "internally displaced" due to conflict, and this number may rise still as new data tracks the final days of the Taliban's takeover of the country. The majority of those displaced persons are children.
Paving the Way
The Ring Road connecting Afghanistan's major cities began in the 1960s but was soon cut short by war. After the U.S. took control in 2001, new road construction began in earnest.
Between 2002 and 2016, USAID and the Department of Defense (DoD) spent approximately $2.8 billion building and maintaining Afghanistan's road infrastructure. This number doesn't include additional investment from other sources that poured in to improve the country's road network.
The result is a more comprehensive road network, but one that is difficult to maintain. A 2016 report found collapsed bridges and sections of road around the country that were washed out.
Resources and Relationships
Afghanistan is a critical source of fresh water for the arid region. Several major regional rivers flow from the country's mountainous eastern provinces into neighboring countries, so any new irrigation schemes and dam infrastructure will come with a geopolitical price tag as well.
Already in the recent past, tensions have increased with Iran and Pakistan over the flow of water crossing the border.
Outside countries are also very interested in Afghanistan's rich mineral resources. Decades of near-continuous conflict have made mining a tough proposition in the country, but with growing demand for resources such as lithium and rare earths, that may soon change.
Afghanistan is estimated to have over $1 trillion of untapped mineral reserves, and outside interests are taking notice.
China said it was ready for "friendly and cooperative relations" with the new Taliban regime, and it's possible that investment from China's Belt and Road Initiative (BRI) may step in to fill the vacuum left by departing Western powers.
Support the Future of Data Storytelling
Sorry to interrupt your reading, but we have a favor to ask. At Visual Capitalist we believe in a world where data can be understood by everyone. That's why we want to build the VC App - the first app of its kind combining verifiable and transparent data with beautiful, memorable visuals. All available for free.
As a small, independent media company we don't have the expertise in-house or the funds to build an app like this. So we're asking our community to help us raise funds on Kickstarter.
If you believe in data-driven storytelling, join the movement and back us on Kickstarter!
Thank you.
Mapped: Which Ports are Receiving the Most Russian Fossil Fuel Shipments?
Russia's energy exports have become a hot topic. See which ports received fossil shipments during the first 100 days of the Ukraine invasion
As the invasion of Ukraine wears on, European countries are scrambling to find alternatives to Russian fossil fuels.
In fact, an estimated 93% of Russian oil sales to the EU are due to be eliminated by the end of the year, and many countries have seen their imports of Russian gas plummet. Despite this, Russia earned €93 billion in revenue from fossil fuel exports in the first 100 days of the invasion.
While the bulk of fossil fuels travel through Europe via pipelines, there are still a number marine shipments moving between ports. The maps below, using data from MarineTraffic.com and Datalastic, compiled by the Centre for Research on Energy and Clean Air (CREA), are a look at Russia's fossil fuel shipments during the first 100 days of the invasion.
Russia's Crude Oil Shipments
Much of Russia's marine shipments of crude oil went to the Netherlands and Italy, but crude was also shipped as far away as India and South Korea.
India became a significant importer of Russian crude oil, buying 18% of the country's exports (up from just 1%). From a big picture perspective, India and China now account for about half of Russia's marine-based oil exports.
It's important to note that a broad mix of companies were involved in shipping this oil, with some of the companies tapering their trade activity with Russia over time. Even as shipments begin to shift away from Europe though, European tankers are still doing the majority of the shipping.
Russia's Liquefied Natural Gas Shipments
Unlike the gas that flows along the many pipeline routes traversing Europe, liquefied natural gas (LNG) is cooled down to a liquid form for ease and safety of transport by sea. Below, we can see that shipments went to a variety of destinations in Europe and Asia.
Fluxys terminals in France and Belgium stand out as the main destinations for Russian LNG deliveries.
Russia's Oil Product Shipments
For crude oil tankers and LNG tankers, the type of cargo is known. For this dataset, CREA assumed that oil products tankers and oil/chemical tankers were carrying oil products.
Huge ports in Rotterdam and Antwerp, which house major refineries, were the destination for many of these oil products. Some shipments also went to destinations around the Mediterranean as well.
All of the top ports in this category were located within the vicinity of Europe.
Russia's Coal Shipments
Finally, we look at marine-based coal shipments from Russia. For this category, CREA identified 25 "coal export terminals" within Russian ports. These are specific port locations that are associated with loading coal, so when a vessel takes on cargo at one of these locations, it is assumed that the shipment is a coal shipment.
The European Union has proposed a Russian coal ban that is expected to take effect in August. While this may seem like a slow reaction, it's one example of how the invasion of Ukraine is throwing large-scale, complex supply chains into disarray.
With such a heavy reliance on Russian fossil fuels, the EU will be have a busy year trying to secure substitute fuels – particularly if the conflict in Ukraine continues to drag on.
Explainer: What Drives Gasoline Prices?
Gasoline prices across the U.S. have reached record-highs. Why? This graphic helps explain what factors influence the cost of gasoline.
What Drives Gasoline Prices?
This was originally posted on Elements. Sign up to the free mailing list to get beautiful visualizations on natural resource megatrends in your email every week.
Across the United States, the cost of gas has been a hot topic of conversation lately, as prices reach record-breaking highs.
The national average now sits at $5.00 per gallon, and by the end of summer, this figure could grow to $6 per gallon, according to estimates by JPMorgan.
But before we can have an understanding of what's happening at the pump, it's important to first know what key factors influence gasoline prices.
This graphic, using data from the U.S. Energy Information Administration (EIA), outlines the main components that influence gasoline prices, providing each factor's proportional impact on price.
The Four Main Factors
According to the EIA, there are four main factors that influence the price of gas:
Crude oil prices (54%)
Refining costs (14%)
Taxes (16%)
Distribution, and marketing costs (16%)
More than half the cost of filling your tank is influenced by the price of crude oil. Meanwhile, the rest of the price at the pump is split fairly equally between refining costs, marketing and distribution, and taxes.
Let's look at each factor in more depth.
Crude Oil Prices
The most influential factor is the cost of crude oil, which is largely dictated by international supply and demand.
Despite being the world's largest oil producer, the U.S. remains a net importer of crude oil, with the majority coming from Canada, Mexico, and Saudi Arabia. Because of America's reliance on imports, U.S. gas prices are largely influenced by the global crude oil market.
A number of geopolitical factors can influence the crude oil market, but one of the biggest influences is the Organization of the Petroleum Exporting Countries (OPEC), led by Saudi Arabia.
Established in 1960, OPEC was created to combat U.S. dominance of the global oil market. OPEC sets production targets for its 13 member countries, and historically, oil prices have been linked to changes in OPEC production. Today, OPEC countries are responsible for about 60% of internationally traded petroleum.
Refining Costs
Oil needs to be refined into gasoline before it can be used by consumers, which is why refining costs are factored into the price of gas.
The U.S. has hundreds of refineries across the country. The country's largest refinery, owned by the Saudi Arabian company ​​Saudi Aramco, processes around 607,000 barrels of oil per day.
The exact cost of refining varies, depending on a number of factors such as the type of crude oil used, the processing technology available at the refinery, and the gasoline requirements in specific parts of the country.
In general, refining capacity in the U.S. has not been keeping up with oil demand. Several refineries shut down throughout the pandemic, but even before COVID-19, refining capacity in the U.S. was lagging behind demand. Incredibly, there haven't been any brand-new refining facilities built in the country since 1977.
Taxes
In the U.S., taxes also play a critical role in determining the price of gas.
Across America, the average gasoline tax is $0.57 per gallon, however, the exact amount fluctuates from state to state. Here's a look at the top five states with the highest gas taxes:
| Rank | State | Gas tax (per gallon) |
| --- | --- | --- |
| 1 | California | $0.87 |
| 2 | Illinois | $0.78 |
| 3 | Pennsylvania | $0.77 |
| 4 | Hawaii | $0.77 |
| 5 | New Jersey | $0.69 |
*Note: figures include both state and federal tax
States with high gas taxes usually spend the extra money on improvements to their infrastructure or local transportation. For instance, Illinois doubled its gas taxes in 2019 as part of a $45 billion infrastructure plan.
California, the state with the highest tax on gas, is expecting to see a rate increase this July, which will drive gas prices up by around three cents per gallon.
Distribution and Marketing Costs
Lastly, the costs of distribution and marketing have an impact on the price of gas.
Gasoline is typically shipped from refineries to local terminals via pipelines. From there, the gasoline is processed further to ensure it meets market requirements or local government standards.
Gas stations then distribute the final product to the consumer. The cost of running a gas station varies—some gas stations are owned and operated by brand-name refineries like Chevron, while others are smaller-scale operations owned by independent merchants.
The big-name brands run a lot of advertisements. According to Morning Consult, Chevron, BP PLC, Exxon Mobil Corp., and Royal Dutch Shell PLC aired TV advertisements in the U.S. more than 44,495 times between June 1, 2020, and Aug. 31, 2021.
How Does the Russia-Ukraine Conflict Impact U.S. Gas Prices?
If only a fraction of America's oil comes from Russia, why is the Russia-Ukraine conflict impacting prices in the U.S.?
Because oil is bought and sold on a global commodities market. So, when countries imposed sanctions on Russian oil, that put a squeeze on global supply, which ultimately drove up prices.
This supply shock could keep prices high for a while unless the U.S. falls into a recession, which is a growing possibility based on how recent data is trending.