Map Explainer: Key Facts About Afghanistan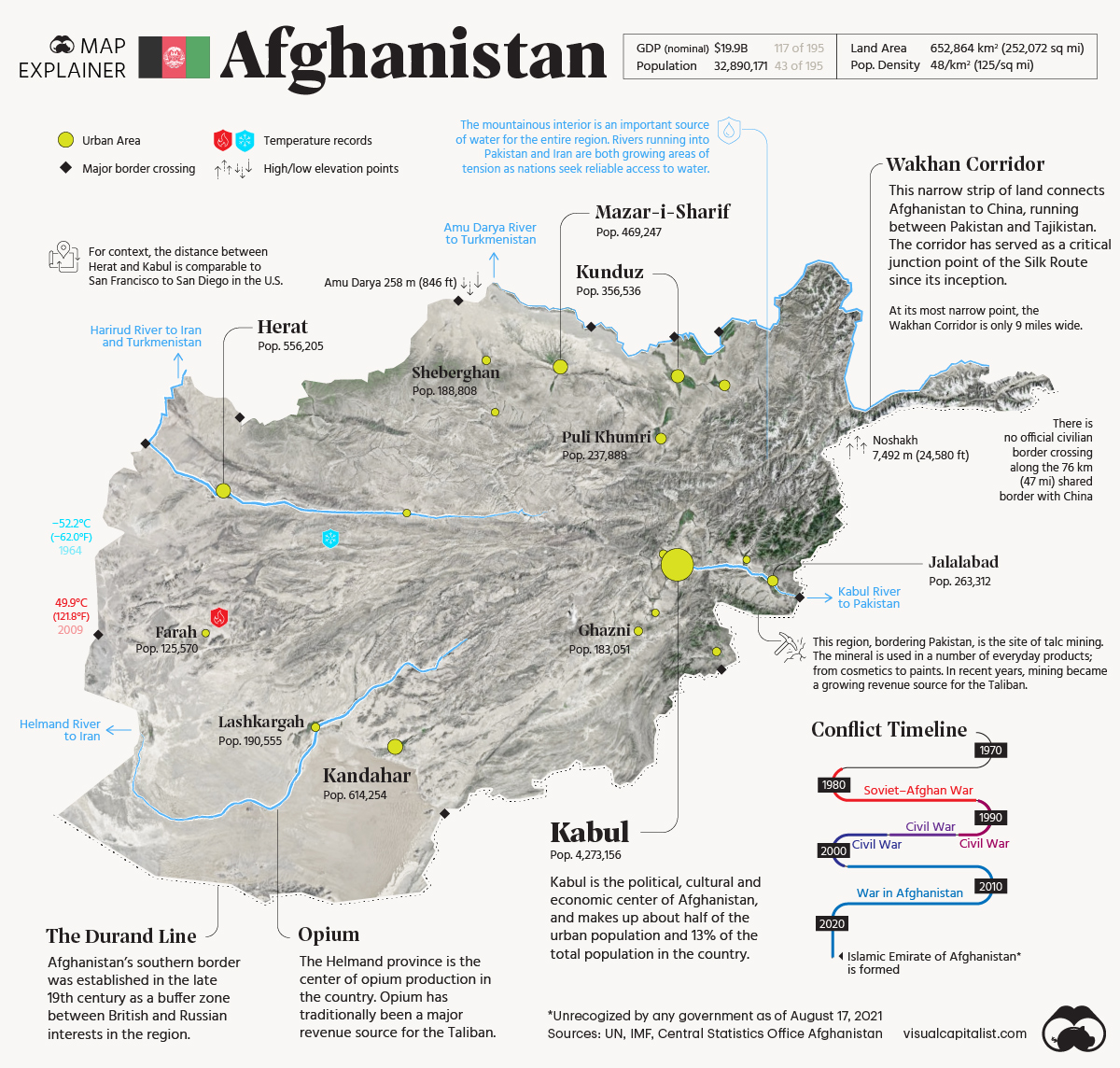 Map Explainer: Key Facts About Afghanistan
The country of Afghanistan has a long and complicated history of domination by foreign powers and conflict between factions within the country.
While Afghanistan is well covered in headlines and news stories, the lion's share of this coverage is directly related to conflict. As a result, Afghanistan is viewed by many in Western countries as a war-torn desert, with conflict, ideology, and geopolitical power obscuring more practical information about the country and its people.
In the Afghanistan map graphic above, we step back and examine Afghanistan from a structural point of view. How does its unique landscape influence population patterns? How does this geography influence the economy and relationships with neighboring nations? Let's dive in.
Mountain High, Valley Low
Afghanistan's rugged landscape is defined by towering snow-capped mountains, fertile valleys, and expansive deserts.
First, the country has a wide variety of climate extremes. There is more than 100ºC (180ºF) separating the record high and low temperatures.
The extremes don't stop at temperature though. Afghanistan has the sixth-highest elevation span in the world, with 7,234m (23,734 ft) between its highest and lowest point. Afghanistan is one of 44 landlocked nations in the world, which helps explain why its lowest point is so much higher than sea level.
For those living in North America, the country's terrain has been compared to Colorado, with Kabul sharing similarities with Denver.
Where Do People Live in Afghanistan?
Settlement patterns in Afghanistan are similar to other countries in the region; people cluster where there is access to fresh water.
As the cartogram below demonstrates, a large portion of the country's population is located around Kabul, and the region adjacent to the Kabul River.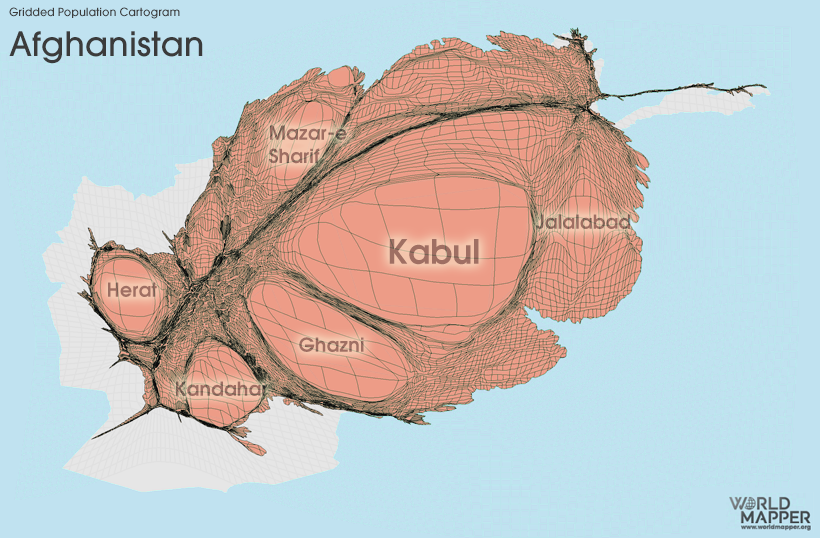 The southwestern province of Nimruz is the most sparsely populated area in the country. The Wakhan Corridor—which connects Afghanistan to China—is also very sparsely populated, with about 14,000 total residents.
Key Facts About Afghanistan's Demographics
Afghanistan has a very youthful population. The country's median age of 19 years is one of the youngest in the world, and is low compared to its neighbors Pakistan (24) and Iran (30).
Islam is the official state religion of Afghanistan. 99.7% of the Afghan population are Muslim, one of the highest proportions of the 49 Muslim-majority countries.
So far in 2021, the OCHA estimates that 550,000 people in Afghanistan are "internally displaced" due to conflict, and this number may rise still as new data tracks the final days of the Taliban's takeover of the country. The majority of those displaced persons are children.
Paving the Way
The Ring Road connecting Afghanistan's major cities began in the 1960s but was soon cut short by war. After the U.S. took control in 2001, new road construction began in earnest.
Between 2002 and 2016, USAID and the Department of Defense (DoD) spent approximately $2.8 billion building and maintaining Afghanistan's road infrastructure. This number doesn't include additional investment from other sources that poured in to improve the country's road network.
The result is a more comprehensive road network, but one that is difficult to maintain. A 2016 report found collapsed bridges and sections of road around the country that were washed out.
Resources and Relationships
Afghanistan is a critical source of fresh water for the arid region. Several major regional rivers flow from the country's mountainous eastern provinces into neighboring countries, so any new irrigation schemes and dam infrastructure will come with a geopolitical price tag as well.
Already in the recent past, tensions have increased with Iran and Pakistan over the flow of water crossing the border.
Outside countries are also very interested in Afghanistan's rich mineral resources. Decades of near-continuous conflict have made mining a tough proposition in the country, but with growing demand for resources such as lithium and rare earths, that may soon change.
Afghanistan is estimated to have over $1 trillion of untapped mineral reserves, and outside interests are taking notice.
China said it was ready for "friendly and cooperative relations" with the new Taliban regime, and it's possible that investment from China's Belt and Road Initiative (BRI) may step in to fill the vacuum left by departing Western powers.
Support the Future of Data Storytelling
Sorry to interrupt your reading, but we have a favor to ask. At Visual Capitalist we believe in a world where data can be understood by everyone. That's why we want to build the VC App - the first app of its kind combining verifiable and transparent data with beautiful, memorable visuals. All available for free.
As a small, independent media company we don't have the expertise in-house or the funds to build an app like this. So we're asking our community to help us raise funds on Kickstarter.
If you believe in data-driven storytelling, join the movement and back us on Kickstarter!
Thank you.
33 Problems With Media in One Chart
In this infographic, we catalog 33 problems with the social and mass media ecosystem.
33 Problems With Media in One Chart
One of the hallmarks of democratic society is a healthy, free-flowing media ecosystem.
In times past, that media ecosystem would include various mass media outlets, from newspapers to cable TV networks. Today, the internet and social media platforms have greatly expanded the scope and reach of communication within society.
Of course, journalism plays a key role within that ecosystem. High quality journalism and the unprecedented transparency of social media keeps power structures in check—and sometimes, these forces can drive genuine societal change. Reporters bring us news from the front lines of conflict, and uncover hard truths through investigative journalism.
That said, these positive impacts are sometimes overshadowed by harmful practices and negative externalities occurring in the media ecosystem.
The graphic above is an attempt to catalog problems within the media ecosystem as a basis for discussion. Many of the problems are easy to understand once they're identified. However, in some cases, there is an interplay between these issues that is worth digging into. Below are a few of those instances.
Editor's note: For a full list of sources, please go to the end of this article. If we missed a problem, let us know!
Explicit Bias vs. Implicit Bias
Broadly speaking, bias in media breaks down into two types: explicit and implicit.
Publishers with explicit biases will overtly dictate the types of stories that are covered in their publications and control the framing of those stories. They usually have a political or ideological leaning, and these outlets will use narrative fallacies or false balance in an effort to push their own agenda.
Unintentional filtering or skewing of information is referred to as implicit bias, and this can manifest in a few different ways. For example, a publication may turn a blind eye to a topic or issue because it would paint an advertiser in a bad light. These are called no fly zones, and given the financial struggles of the news industry, these no fly zones are becoming increasingly treacherous territory.
Misinformation vs. Disinformation
Both of these terms imply that information being shared is not factually sound. The key difference is that misinformation is unintentional, and disinformation is deliberately created to deceive people.
Fake news stories, and concepts like deepfakes, fall into the latter category. We broke down the entire spectrum of fake news and how to spot it, in a previous infographic.
Simplify, Simplify
Mass media and social feeds are the ultimate Darwinistic scenario for ideas.
Through social media, stories are shared widely by many participants, and the most compelling framing usually wins out. More often than not, it's the pithy, provocative posts that spread the furthest. This process strips context away from an idea, potentially warping its meaning.
Video clips shared on social platforms are a prime example of context stripping in action. An (often shocking) event occurs, and it generates a massive amount of discussion despite the complete lack of context.
This unintentionally encourages viewers to stereotype the persons in the video and bring our own preconceived ideas to the table to help fill in the gaps.
Members of the media are also looking for punchy story angles to capture attention and prove the point they're making in an article. This can lead to cherrypicking facts and ideas. Cherrypicking is especially problematic because the facts are often correct, so they make sense at face value, however, they lack important context.
Simplified models of the world make for compelling narratives, like good-vs-evil, but situations are often far more complex than what meets the eye.
The News Media Squeeze
It's no secret that journalism is facing lean times. Newsrooms are operating with much smaller teams and budgets, and one result is 'churnalism'. This term refers to the practice of publishing articles directly from wire services and public relations releases.
Churnalism not only replaces more rigorous forms of reporting—but also acts as an avenue for advertising and propaganda that is harder to distinguish from the news.
The increased sense of urgency to drive revenue is causing other problems as well. High-quality content is increasingly being hidden behind paywalls.
The end result is a two-tiered system, with subscribers receiving thoughtful, high-quality news, and everyone else accessing shallow or sensationalized content. That everyone else isn't just people with lower incomes, it also largely includes younger people. The average age of today's paid news subscriber is 50 years old, raising questions about the future of the subscription business model.
For outlets that rely on advertising, desperate times have called for desperate measures. User experience has taken a backseat to ad impressions, with ad clutter (e.g. auto-play videos, pop-ups, and prompts) interrupting content at every turn. Meanwhile, in the background, third-party trackers are still watching your every digital move, despite all the privacy opt-in prompts.
How Can We Fix the Problems with Media?
With great influence comes great responsibility. There is no easy fix to the issues that plague news and social media. But the first step is identifying these issues, and talking about them.
The more media literate we collectively become, the better equipped we will be to reform these broken systems, and push for accuracy and transparency in the communication channels that bind society together.
Sources and further reading:
Veils of Distortion: How the News Media Warps our Minds by John Zada
Hate Inc. by Matt Taibbi
The Truth Matters: A Citizen's Guide to Separating Facts from Lies and Stopping Fake News in its Tracks by Bruce Bartlett
Active Measures: The Secret History of Disinformation and Political Warfare by Thomas Rid
The Twittering Machine by Richard Seymour
After the Fact by Nathan Bomey
Ten Arguments for Deleting Your Social Media Accounts Right Now by Jaron Lanier
Zucked by Roger McNamee
Antisocial: Online Extremists, Techno-Utopians, and the Highjacking of the American Conversation by Andrew Marantz
Social media is broken by Sara Brown
The U.S. Media's Problems Are Much Bigger than Fake News and Filter Bubbles by Bharat N. Anand
What's Wrong With the News? by FAIR
Is the Media Doomed? by Politico
The Implied Truth Effect by Gordon Pennycook, Adam Bear, Evan T. Collins, David G. Rand
News Explainer: The Economic Crisis in Sri Lanka
Sri Lanka is currently in an economic crisis with over $50 billion in debt and consumer inflation at 39%. So how did they get here?
Explained: the Economic Crisis in Sri Lanka
Sri Lanka is currently in an economic and political crisis of mass proportions, recently culminating in a default on its debt payments. The country is also nearly at empty on their foreign currency reserves, decreasing the ability to purchase imports and driving up domestic prices for goods.
There are several reasons for this crisis and the economic turmoil has sparked mass protests and violence across the country. This visual breaks down some of the elements that led to Sri Lanka's current situation.
A Timeline of Events
The ongoing problems in Sri Lanka have bubbled up after years of economic mismanagement. Here's a brief timeline looking at just some of the recent factors.
2009
In 2009, a decades-long civil war in the country ended and the government's focus turned inward towards domestic production. However, a stress on local production and sales, instead of exports, increased the reliance on foreign goods.
2019
Unprompted cuts were introduced on income tax in 2019, leading to significant losses in government revenue, draining an already cash-strapped country.
2020
The COVID-19 pandemic hit the world causing border closures globally and stifling one of Sri Lanka's most lucrative industries. Prior to the pandemic, in 2018, tourism contributed nearly 5% of the country's GDP and generated over 388,000 jobs. In 2020, tourism's share of GDP had dropped to 0.8%, with over 40,000 jobs lost to that point.
2021
Recently, the Sri Lankan government introduced a ban on foreign-made chemical fertilizers. The ban was meant to counter the depletion of the country's foreign currency reserves.
However, with only local, organic fertilizers available to farmers, a massive crop failure occurred and Sri Lankans were subsequently forced to rely even more heavily on imports, further depleting reserves.
April 2022
In early April this year, massive protests calling for President Gotabaya Rajapaksa's resignation, sparked in Sri Lanka's capital city, Colombo.
May 2022
In May, pro-government supporters brutally attacked protesters. Subsequently, Prime Minister Mahinda Rajapaksa, brother of President Rajapaksa, stepped down and was replaced with former PM, Ranil Wickremesinghe.
June 2022
Recently, the government approved a four-day work week to allow citizens an extra day to grow food, as prices continue to shoot up. Food inflation increased over 57% in May.
Additionally, the increasing prices on grain caused by the war in Ukraine and rising fuel prices globally have played into an already dire situation in Sri Lanka.
The Key Information
"Our economy has completely collapsed."
Prime minister Ranil Wickremesinghe to Parliament last week.
One of the main causes of the economic crisis in Sri Lanka is the reliance on imports and the amount spent on them. Let's take a look at the numbers:
2021 total imports = $20.6 billion USD
2022 total imports (to March) = $5.7 billion USD
In contrast, the most recent reported foreign currency reserve levels in the country were at an abysmal $50 million, having plummeted an astounding 99%, from $7.6 billion in 2019.
Some of the top imports in 2021, according to the country's central bank were:
Refined petroleum = $2.8 billion
Textiles = $3.1 billion
Chemical products = $1.1 billion
Food & beverage = $1.7 billion
Of course, without the cash to purchase these goods from abroad, Sri Lankans face an increasingly drastic situation.
Additionally, the debt Sri Lanka has incurred is huge, further hampering their ability to boost their reserves. Recently, they defaulted on a $78 million loan from international creditors, and in total, they've borrowed $50.7 billion.
The largest source of their debt is by far due to market borrowings, followed closely by loans taken from the Asian Development Bank, China, and Japan, among others.
What it Means
Sri Lanka is home to more than 22 million people who are rapidly losing the ability to purchase everyday goods. Consumer inflation reached 39% at the end of May.
Due to power outages meant to save energy and fuel, schools are currently shuttered and children have nowhere to go during the day. Protesters calling for the president's resignation have been camped in the capital for months, facing tear gas from police and backlash from president Rajapaksa's supporters, but many have also responded violently to pushback.
India and China have agreed to send help to the country and the the International Monetary Fund recently arrived in the country to discuss a bailout. Additionally, the government has sent ministers to Russia to discuss a deal for discounted oil imports.
A Foreshadowing for Low Income Countries
Governments need foreign currency in order to purchase goods from abroad. Without the ability to purchase or borrow foreign currency, the Sri Lankan government cannot buy desperately needed imports, including food staples and fuel, causing domestic prices to rise.
Furthermore, defaults on loan payments discourage foreign direct investment and devalue the national currency, making future borrowing more difficult.
What's happening in Sri Lanka may be an ominous preview of what's to come in other low and middle-income countries, as the risk of debt distress continues to rise globally.
The Debt Service Suspension Initiative (DSSI) was implemented by G20 countries, suspending nearly $13 billion in debt from the start of the pandemic until late 2021.
Some DSSI and LIC countries facing a high risk of debt distress include Zambia, Ethiopia, and Tajikistan, to name a few.
Going forward, Sri Lanka's next steps in managing this situation will either serve as a useful example for other countries at risk or a warning worth heeding.
Note: The debt breakdown in the above visual represents total outstanding external debt owed to foreign creditors rather total debt.