The Global Inequality Gap, and How It's Changed Over 200 Years
How the Global Inequality Gap Has Changed In 200 Years
What makes a person healthy, wealthy, and wise? The UN's Human Development Index (HDI) measures this by one's life expectancy, average income, and years of education.
However, the value of each metric varies greatly depending on where you live. Today's data visualization from Max Roser at Our World in Data summarizes five basic dimensions of development across countries—and how our average standards of living have evolved since 1800.
Health: Mortality Rates and Life Expectancy
Child mortality rates and life expectancy at birth are telltale signs of a country's overall standard of living, as they indicate a population's ability to access healthcare services.
Iceland stood at the top of these ranks in 2017, with only a 0.21% mortality rate for children under five years old. On the other end of the spectrum, Somalia had the highest child mortality rate of 12.7%—over three times the current global average.
While there's a stark contrast between the best and worst performing countries, it's clear that even Somalia has made significant strides since 1800. At that time, the global average child mortality rate was a whopping 43%.
Lower child mortality is also tied to higher life expectancy. In 1800, the average life expectancy was that of today's millennial—only 29 years old:
Today, the global average has shot up to 72.2 years, with areas like Japan exceeding this benchmark by more than a decade.
Education: Mean and Expected Years of Schooling
Education levels are measured in two distinct ways:
Mean years: the average number of years a person aged 25+ receives in their lifetime
Expected years: the total years a 2-year old child is likely to spend in school
In the 1800s, the mean and expected years of education were both less than a year—only 78 days to be precise. Low attendance rates occurred because children were expected to work during harvests, or contracted long-term illnesses that kept them at home.
Since then, education levels have drastically improved:

| | Mean Years of Schooling | Expected Years of schooling  |
| --- | --- | --- |
| Highest | Germany 🇩🇪: 14.1 years | Australia 🇦🇺: 22.9 years |
| Lowest | Burkina Faso 🇧🇫: 1.5 years | South Sudan 🇸🇸: 4.9 years |
| Global Average | 8.4 years | 12.7 years |
Research shows that investing in education can greatly narrow the inequality gap. Just one additional year of school can:
Raise a person's income by up to 10%
Raise average annual GDP growth by 0.37%
Reduce the probability of motherhood by 7.3%
Reduce the likelihood of child marriage by >5 percentage points

Education has a strong correlation with individual wealth, which cascades into national wealth. Not surprisingly, average income has ballooned significantly in two centuries as well.

Wealth: Average GDP Per Capita

Global inequality levels are the most stark when it comes to GDP per capita. While the U.S. stands at $54,225 per person in 2017, resource-rich Qatar brings in more than double this amount—an immense $116,936 per person.

The global average GDP per capita is $15,469, but inequality heavily skews the bottom end of these values. In the Central African Republic, GDP per capita is only $661 today—similar to the average income two hundred years ago.

A Virtuous Cycle

These measures of development clearly feed into one another. Rising life expectancies are an indication of a society's growing access to healthcare options. Compounded with more years of education, especially for women, this has had a ripple effect on declining fertility rates, contributing to higher per capita incomes.

People largely agree on what goes into human well-being: life, health, sustenance, prosperity, peace, freedom, safety, knowledge, leisure, happiness… If they have improved over time, that, I submit, is progress.

As technology accelerates the pace of change across these indicators, will the global inequality gap narrow more, or expand even wider?
Visualized: The World Leaders In Positions of Power (1970-Today)
Who has led the world's 15 most powerful countries over the last 50 years? This visual looks at world leaders from 1970 to today.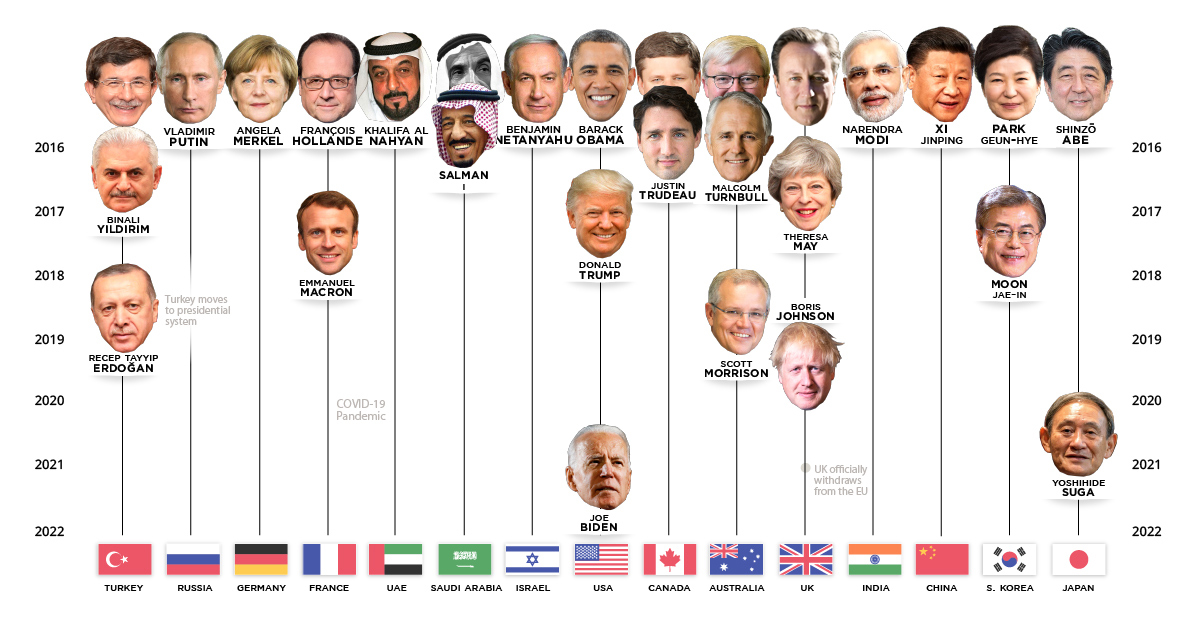 Visualized: The World Leaders In Positions of Power
Who were the world leaders when the Berlin Wall fell? How many women have been heads of state in prominent governments? And who are the newest additions to the list of world leaders?
This graphic reveals the leaders of the most influential global powers since 1970. Countries were selected based on the 2020 Most Powerful Countries ranking from the U.S. News & World Report.
Note: Switzerland has been omitted due to the swiftly changing nature of their national leadership.
The 1970s: Economic Revolutions
Our graphic starts in 1970, a year in which Leonid Brezhnev ruled the Soviet Union, while on the other side of the Iron Curtain, Willy Brandt was presiding over West Germany.
In the U.S., Richard Nixon implemented a series of economic shocks to stimulate the economy, but resigned in scandal due to the Watergate tapes in 1974. In the same time period, China was undergoing rapid industrialization and economic hardship under the final years of rule of communist revolutionary Mao Zedong, until his death in 1976.
In 1975, the King of Saudi Arabia, Faisal bin Abdulaziz Al Saud was assassinated by his nephew. The decade also marked the end of Park Chung-Hee's dictatorship in South Korea when he was assassinated in 1979.
To cap off the decade, Margaret Thatcher became the first female prime minister of the United Kingdom in 1979, transforming the British economy using a laissez-faire economic policy that would come to be known as Thatcherism.
The 1980s: Reaganomics and the Fall of the Wall
The 1980s saw Ronald Reagan elected in the U.S., beginning an era of deregulation and economic growth. Reagan would actually meet the Soviet Union's president, Mikhail Gorbachev in 1985 to discuss human rights and nuclear arms control amid the tensions of the Cold War.
The 1984 assassination of the Indian prime minister, Indira Gandhi was also a defining event of the decade. She was succeeded by her son, Rajiv Gandhi for only seven years before his own assassination in 1991.
The '80s were clearly turbulent times for world leaders, especially towards the end of the decade. In 1989, the Berlin Wall fell and Germany was reunified under chancellor Helmut Kohl. 1989 was also the year when the devastating events occurred at the Tiananmen Square protests in China, under president Deng Xiaoping. The event left a lasting mark on China's history and politics.
The 1990s: War 2.0 and the Promise of the EU
The beginning of a new decade marked the end of the Cold War and the fall of the Soviet Union, leading to Boris Yeltsin's position as the first president of the Russian Federation. A sense of peace, or at least the knowledge that a finger wasn't floating above a nuclear launch button at any given moment, brought a sense of global calm.
However, this does not mean the decade was without conflict. The Gulf War began in 1990, led by the U.S. military's Commander-in-Chief George H.W. Bush. In the mid-90s, prime minister Yitzhak Rabin of Israel was assassinated by Jewish extremists.
In spite of this, the '90s were a time of optimism for many. In 1993, the European project began. The European Union was founded with the support European leaders like the UK's prime minister John Major, France's president Francois Mitterrand, and chancellor Helmut Kohl of Germany.
The 2000s: Historic Firsts and Power Shifts
The dawn of a new century had people feeling both hopeful and scared. While Y2K didn't end the world, many transformative events did occur, such as the 9/11 attacks in New York and the subsequent war on terror led by U.S. president George W. Bush.
On the other hand, Angela Merkel made history becoming the first female chancellor of Germany in 2005. A few years later, Barack Obama also achieved a momentous 'first' as the first African-American president in the United States.
The 2000s to early 2010s also revealed rapidly changing power shifts in Japan. Shinzō Abe rose to power in 2006, and after five leadership changes in seven years, he eventually circled back, ending up as prime minister again by 2013—a position he held until late 2020.
| Country | Number of Leaders Since 1970 |
| --- | --- |
| 🇯🇵 Japan | 25 |
| 🇹🇷 Turkey | 18 |
| 🇮🇳 India | 12 |
| 🇦🇺 Australia | 12 |
| 🇬🇧 UK | 10 |
| 🇺🇸 USA | 10 |
| 🇰🇷 South Korea | 10 |
| 🇮🇱 Israel | 9 |
| 🇨🇦 Canada | 9 |
| 🇷🇺 Russia | 7 |
| 🇫🇷 France | 7 |
| 🇨🇳 China | 6 |
| 🇩🇪 Germany | 5 |
| 🇸🇦 Saudi Arabia | 5 |
| 🇦🇪 UAE | 2 |
The 2010s: World Leaders Face Uncertainty
The 2010s were more than eventful. The Hong Kong protests under Chinese president Xi Jinping, and the annexation of Crimea led by Vladimir Putin, uncovered the wavering dominance of democracy and international law.
UK Prime Minister David Cameron's move to introduce a Brexit referendum, resulted in just over half of the British population voting to leave the EU in 2016. This vote led to a rising feeling of protectionism and a shift away from globalization and multilateral cooperation.
Donald Trump's U.S. presidential election was a shocking political longshot in the same year. Trump's stint as president will likely have a longstanding impact on the course of American politics.
Two countries elected their first female leaders in this decade: president Park Geun-Hye in South Korea, and prime minister Julia Gillard in Australia. Here's a look at which global powers have been led by women in the last 50 years.
| Country | Female Leader |
| --- | --- |
| 🇦🇺 Australia | Julia Gillard |
| 🇨🇦 Canada | Kim Campbell |
| 🇩🇪 Germany | Angela Merkel |
| 🇮🇳 India | Indira Gandhi |
| 🇮🇱 Israel | Golda Meir |
| 🇰🇷 South Korea | Park Geun-Hye |
| 🇹🇷 Turkey | Tansu Ciller |
| 🇬🇧 UK | Margaret Thatcher |
| 🇬🇧 UK | Theresa May |
2020 to Today
No one can avoid talking about 2020 without talking about COVID-19. Many world leaders have been praised for their positive handling of the pandemic, such as Angela Merkel in Germany. Others on the other hand, like Boris Johnson, have received critiques for slow responses and mismanagement.
The year 2020 packed about as much punch on its own as an entire decade does, from geopolitical tensions to a nail-biting 2020 U.S. election. The world is on high alert as the now twice-impeached Trump prepares his transfer of power following the riot at the U.S. Capitol.
The newest addition to the ranks of world leaders, Joe Biden, has recently taken his place as the 46th president of the United States on January 20, 2021.
Editor's note: We'll continue to update this graphic on world leaders as time goes on. Unfortunately, we were unable to include world leaders from more countries, as we were limited by the graphic format and user experience.

U.S. Presidential Voting History from 1976-2020 (Animated Map)
With this map of U.S. presidential voting history by state, discover patterns that have emerged over the last twelve elections.
U.S. Presidential Voting History by State
After a tumultuous election, all states have now certified their 2020 presidential voting results. Which states changed party allegiance, and how do the results compare to previous years?
In this graphic, we use data from the U.S. National Archives and the MIT Election Data and Science Lab to show U.S. presidential voting history by state since 1976.
Note: this post has been updated on January 19, 2021 to reflect the latest data.
Each State's Winning Party
To calculate the winning ratio, we divided the votes for the state's winning party by the total number of state votes. Here's another look at the same data, visualized in a different way.
This graphic was inspired by this Reddit post.
As the voting history shows, some states—such as Alaska, Oklahoma, and Wyoming—have consistently supported the Republican Party. On the other hand, Hawaii, Minnesota, and the District of Columbia have been Democrat strongholds for many decades.
The District of Columbia (D.C.) is a federal district, and is not part of any U.S. State. Its population is urban and has a large percentage of Black and college-educated citizens, all of which are groups that tend to identify as Democrat.
Swing states typically see a close contest between Democrats and Republicans. For example, Florida's average margin of victory for presidential candidates has been just 2.7% since 1996. It's often seen as a key battleground, and for good reason: the state has 29 electoral college votes, meaning it has a high weighting in the final outcome.
Memorable Election Years
Within U.S. presidential voting history, some election results stand out more than others. In 1984, President Reagan was re-elected in a landslide victory, winning 49 out of 50 states. The remarkable win has been credited to the economic recovery during Reagan's first term, Reagan's charisma, and voters' opposition to the Democrat's planned tax increases.
In 1992, self-made Texas billionaire Ross Perot ran as a third-party candidate. He captured almost 19% of the popular vote, the highest percentage of any third-party presidential candidate in over 80 years. While he gained support from those looking for a change from traditional party politics, Bill Clinton ultimately went on to win the election.
Most recently, the 2020 election had a record voter turnout, with 66.3% of the eligible population casting a ballot. There was also a record number of mail-in ballots due to the COVID-19 pandemic. This led to widespread allegations of voter fraud, with President Trump and his allies filing 62 lawsuits seeking to overturn election results. In the end, 61 of the lawsuits were defeated and congress confirmed Joe Biden's victory.
Voting History of Swing States
Both Trump and Biden focused on battleground states in 2020, but where were they successful? Here are nine of the swing states, and their voting history over the last two elections.
| | 2020 Winning Ratio | 2020 Margin of Victory | 2016 Winning Ratio | 2016 Margin of Victory |
| --- | --- | --- | --- | --- |
| Arizona | 49.4% Democrat | 0.31% | 48.7% Republican | 3.60% |
| Florida | 51.2% Republican | 3.36% | 49.0% Republican | 1.20% |
| Georgia | 49.5% Democrat | 0.24% | 50.8% Republican | 5.20% |
| Iowa | 53.2% Republican | 8.20% | 51.2% Republican | 9.40% |
| Michigan | 50.6% Democrat | 2.78% | 47.5% Republican | 0.20% |
| North Carolina | 50.1% Republican | 1.35% | 49.8% Republican | 3.60% |
| Ohio | 53.3% Republican | 8.03% | 51.7% Republican | 8.10% |
| Pennsylvania | 50.0% Democrat | 1.16% | 48.9% Republican | 0.70% |
| Wisconsin | 49.5% Democrat | 0.63% | 47.2% Republican | 0.70% |
The Republican party won four of the swing states in 2020, including Florida. However, 2020 was the first year since 1964 that the candidate who won Florida did not go on to win the election.
Five of the states—Arizona, Georgia, Michigan, Pennsylvania, and Wisconsin—flipped allegiance to the Democrats. In Georgia, the margin of victory was as small as 0.24% or about 12,000 votes. Ultimately, winning over these states helped lead to a Biden victory.