Visualizing Over A Century of Global Fertility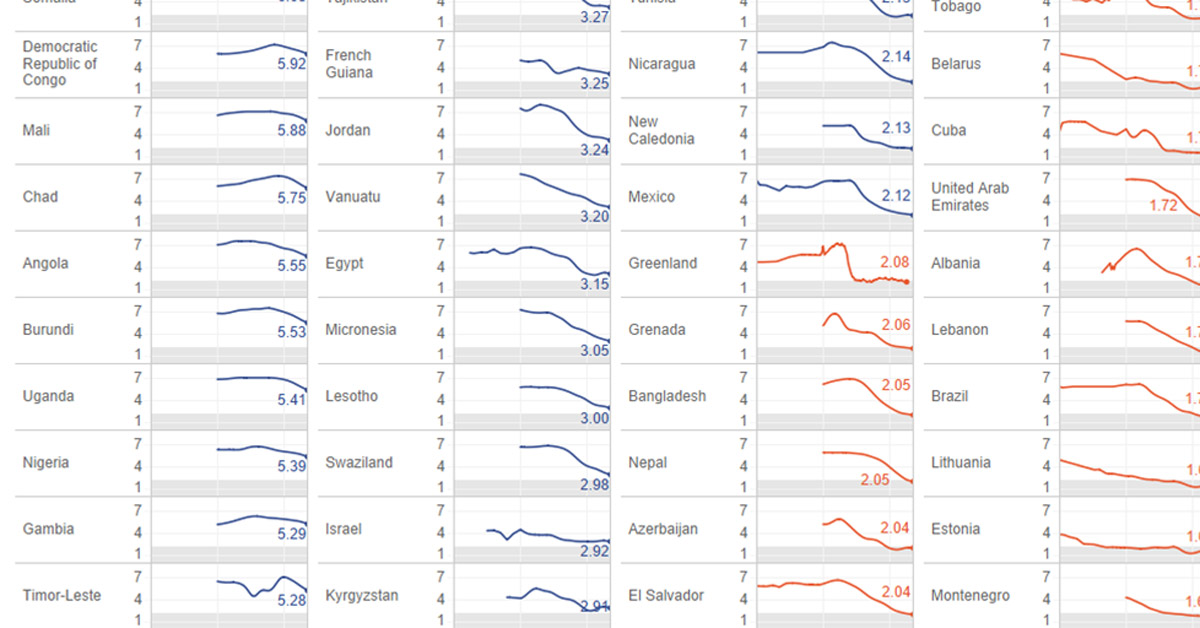 Visualizing Over A Century of World Fertility
In just 50 years, world fertility rates have been cut in half.
This sea change can be attributed to multiple factors, ranging from medical advances to greater gender equity. But generally speaking, as more women gain an education and enter the workforce, they're delaying motherhood and often having fewer children in the process.
Today's interactive data visualization was put together by Bo McCready, the Director of Analytics at KIPP Texas. Using numbers from Our World in Data, it depicts the changes in the world's fertility rate—the average number of children per woman—spanning from the beginning of the 20th century to present day.
A Demographic Decline
The global fertility rate fell from 5.25 children per woman in 1900, to 2.44 children per woman in 2018. The steepest drop in this shift happened in a single decade, from 1970 to 1980.
In the interactive graphic, you'll see graphs for 200 different countries and political entities showing their total fertility rate (FTR) over time. Here's a quick summary of the countries with the highest and lowest FTRs, as of 2017:
| Top 10 Countries | Fertility rate | Bottom 10 Countries | Fertility Rate |
| --- | --- | --- | --- |
| 🇳🇪 Niger | 7.13 | 🇹🇼 Taiwan | 1.22 |
| 🇸🇴 Somalia | 6.08 | 🇲🇩 Moldova | 1.23 |
| 🇨🇩 Democratic Republic of Congo | 5.92 | 🇵🇹 Portugal | 1.24 |
| 🇲🇱 Mali | 5.88 | 🇸🇬 Singapore | 1.26 |
| 🇹🇩 Chad | 5.75 | 🇵🇱 Poland | 1.29 |
| 🇦🇴 Angola | 5.55 | 🇬🇷 Greece | 1.3 |
| 🇧🇮 Burundi | 5.53 | 🇰🇷 South Korea | 1.33 |
| 🇺🇬 Uganda | 5.41 | 🇭🇰 Hong Kong | 1.34 |
| 🇳🇬 Nigeria | 5.39 | 🇨🇾 Cyprus | 1.34 |
| 🇬🇲 Gambia | 5.29 | 🇲🇴 Macao | 1.36 |
At a glance, the countries with the highest fertility are all located in Africa, while several Asian countries end up in the lowest fertility list.
The notable decade of decline in average global fertility can be partially traced back to the actions of the demographic giants China and India. In the 1970s, China's controversial "one child only" policy and India's state-led sterilization campaigns caused sharp declines in births for both countries. Though they hold over a quarter of the world's population today, the effects of these government decisions are still being felt.
Population Plateau, or Cliff?
The overall decline in fertility rates isn't expected to end anytime soon, and it's even expected to fall past 2.1 children per woman, which is known as the "replacement rate". Any fertility below this rate signals fewer new babies than parents, leading to an eventual population decline.
Experts predict that world fertility will further drop from 2.5 to 1.9 children per woman by 2100. This means that global population growth will slow down or possibly even go negative.
Africa will continue to be the only region with significant growth—consistent with the generous fertility rates of Nigeria, the DRC, and Angola. In fact, the continent is expected to house 13 of the world's largest megacities, as its population expands from 1.3 billion to 4.3 billion by 2100.
Visualizing Global Attitudes Towards the COVID-19 Vaccines
This graphic visualizes global attitudes to vaccines categorized into five segments including anti-vaxxers and COVID cautious.
Visualizing Global Attitudes Towards COVID-19 Vaccines
View the high-resolution of the infographic by clicking here.
To vaccinate, or not to vaccinate? That is the question.
In order to achieve herd immunity against COVID-19, some experts believe that between 70% to 80% of a population must be vaccinated.
But attitudes towards these vaccines are undoubtedly mixed. In fact, it's estimated that one-third of people globally have some major concerns.
Using survey data from eight different countries, Global Web Index created five archetypes to help illustrate how typical attitudes towards vaccines differ depending on a range of factors, such as age, income, lifestyle, and values.
| Segment | Breakdown | Age Skew | Gender Skew | Income | Vaccine Concerns |
| --- | --- | --- | --- | --- | --- |
| Vaccine Supporter | 66% | 18-34 | None | High income | Potential side-effects, availability, and logistics of vaccine distribution. |
| Vaccines Hesitant | 12% | 38-56 | Female | Low/Middle income | Potential side-effects specifically due to no long-term testing, cost of vaccine, and more transparency around science required. |
| Vaccine Obligated | 11% | 16-24 | Male | Low income | Potential side-effects, not sure COVID-19 vaccine is necessary to combat the virus. |
| Vaccine Skeptical | 11% | 45-64 | Female | Low income | Potential side-effects, don't believe vaccines can curtail the pandemic. |
| Anti-vaxxer | 1.4% (13% of the Vaccine Skeptical segment) | 16-24, 55-64 | Male | Low income | Potential side-effects, don't believe vaccines in general are safe. |
Countries surveyed: United States, Germany, United Kingdom, Brazil, China, India, Japan, and Italy.
Which segment are you most likely to fall under, according to these segments?
Vaccine Supporters
[People who say they will get the COVID-19 vaccine.]
Out of all participants surveyed, 66% of them support the idea of getting a COVID-19 vaccine. Within this group, there is a skew towards younger people (aged 18-34) who are likely working professionals earning a high income and living in a city.
Despite their optimism towards COVID-19 vaccines, however, one-third of vaccine supporters say they will wait to get one, due to lingering concerns regarding issues with vaccine distribution and any potential side-effects.
Interestingly, this procrastination mindset has been seen before during the H1N1 (swine flu) pandemic when both members of the general public and healthcare workers showed low levels of vaccine acceptance due to safety concerns.
Vaccine Hesitant
[People who are not sure if they will get the COVID-19 vaccine.]
The vaccine hesitant group, which is more common among cautious suburban parents, makes up 12% of the total study. They are more likely to be female, and feel anxious about the length of time spent testing vaccines and therefore require more transparency around the science.
With that being said, this group could be easily swayed, as they are more receptive to word-of-mouth and messaging boards to get advice from their peers over any other medium.
Vaccine Obligated
[People who will only get the vaccine if it's necessary for travel, school, work etc.]
The vaccine obligated group makes up 11% of the total, and has a skew towards males aged between 16 and 24 years old.
While this group is also concerned with potential side-effects, their responses suggesting that a vaccine may not be necessary to combat COVID-19 was above average compared to other segments in the study. They also index above average when it comes to viewing themselves as traditionalists.
Vaccine Skeptical
[People who won't get the COVID-19 vaccine.]
The vaccine skeptical group makes up another 11% of the total. However, this group is mostly female, who are aged between 45-64 and earn a lower-than-average income. They are less likely to have a college degree, and are more likely to live in a rural area.
Along with the worry of potential side-effects, this group is generally more pessimistic about containing COVID-19 at all. Therefore a small percentage do not believe a vaccine will help tackle the global health crisis.
With notably low trust levels, this group is one of the hardest to reach and potentially persuade. What makes them unique however, is their lack of faith in the scientific process.
Anti-Vaxxers
[People who will not get the vaccine, because they are against vaccines in general.]
It is important to note that those who choose not to get a COVID-19 vaccine should not be confused with anti-vaxxers.
Anti-vaxxers are a sub-segment of the vaccine skeptical group that makes up 1.4% of the total population. The difference is, anti-vaxxers do not believe in getting any vaccine due to safety concerns, not just not a vaccine for COVID-19.
According to the study, anti-vaxxers tend to fall into one of two age brackets, between 16-24 years or 55-64 years old, and are typically males with lower incomes.
Another Tool in the Arsenal Against COVID-19
The study demonstrates that broad segments of society—regardless of their demographic or views—are at least somewhat concerned about COVID-19 vaccines becoming widely available.
While scientists are not quite sure if the current vaccines on the market can stop infection or transmission of the virus, they are an important part of our global defenses against COVID-19, along with other safety restrictions like wearing masks and keeping a distance.

9 Things Investors Should Know About the Cannabis Industry in 2021
This graphic provides an overview of 9 key developments in the cannabis industry that investors should be aware of going into 2021.
9 Things Cannabis Investors Should Know in 2021
Unlike dozens of other industries across the globe, cannabis experienced significant growth as a result of the COVID-19 pandemic.
In fact, with consumption for both medical and recreational products on the rise, 2020 was a record-breaking year for the industry. After years of investor uncertainty, analysts are predicting a continued bull market in 2021, with several new and exciting developments on the horizon.
Here are nine things cannabis investors need to know.
1. Cannabis Stocks on the Rise
While asset prices took a dip during the initial stage of the COVID-19 outbreak in March, the cannabis sector recovered swiftly after reporting impressive numbers.
Even though cannabis investors have experienced some ups and downs in the last several years, 2021 looks more hopeful.
2. COVID-19 and Cannabis
Cannabis has become an attractive option for people spending more time at home, both as a means of entertainment, and to reduce stress and anxiety associated with the pandemic.
As a result, cannabis sales are soaring. In Canada, monthly sales reached an all-time high of $270 million (CAD) in October 2020, a dramatic increase from $180 million just six months earlier.
3. Cannabis Black Market No More?
For millions of U.S. citizens who live in states where the sale of cannabis is still restricted, the illicit market continues to be their only option.
But with loosening restrictions and legal cannabis becoming more widely available, legal sales are predicted to reach $50 billion by 2026 while illegal sales will plummet to less than $1 billion by the same year.
| Year | U.S. Legal Cannabis Sales | U.S. Illegal Cannabis Sales |
| --- | --- | --- |
| 2016 | $6 billion | $25 billion |
| 2026 | $50 billion | <$1 billion |
4. Political Change Driving Market Growth
Almost 70% of Americans now support the full legalization of cannabis—the highest figure ever recorded.
States where cannabis is legal are now paving the way for cannabis sales, with California expected to pull in over $6 billion by 2021 alone. If federal legalization comes to fruition over the next several years, the already booming U.S. market could see further growth.
5. All Eyes on the European Cannabis Market
The European cannabis market has been on investors' radar for several years, and with good reason—it is one of the largest cannabis markets in the world.
Driven primarily by medicinal products, the market will be valued at over $39 billion by 2024, with countries like Germany—Europe's largest economy—leading the way.
In late 2020, the market experienced its biggest breakthrough yet, with the European Union ruling that products containing CBD (one of the most active ingredients in cannabis) are no longer listed as narcotics.
6. Making History in Mexico
Mexico is another market that is piquing the interest of investors and cannabis companies the world over. That's because it could soon be the third country in the world to legalize recreational cannabis by court order.
With a total addressable market of $2 billion and the potential to support up to 75,000 jobs, these new regulations could change the dynamic of the global market for the better.
7. Most Popular Cannabis Products
Given the flurry of product innovation in the market, consumption of cannabis is quickly changing.
Relatively new products such as edibles and oils are gaining traction, while consumption of flower appears to be declining. This could be due in part to oral products being perceived as a healthier alternative to smoking.
8. CBD Products are Moving into the Mainstream
Although CBD was once considered a niche product that could only be found in dispensaries, growing awareness of the benefits and safety of these products are causing companies operating in the consumer packaged goods industry to take notice.
The cannabis compound is a new addition to a wide range of products such as skincare, makeup, and supplements that can now be purchased almost anywhere—from ecommerce sites to local grocery stores.
9. The New Cannabinoids on the Block
Beyond CBD, scientists have discovered over 100 rare, or minor cannabinoids such as CBG and CBN, that could have even more significant benefits than their major cannabinoid counterparts.
For example, preliminary research shows that CBG could inhibit cancer growth, help treat glaucoma, bladder dysfunction, and kill drug-resistant bacteria.
These discoveries are not only attracting huge attention from the cannabis industry, but from the pharmaceutical industry as well.
Milestones in the Making
With all of these exciting developments coming to the fore, it's safe to say 2021 could be one of the cannabis industry's most transformative years to date.