Chart: The Fake News Problem
Chart: The Fake News Problem
Peer opinion fills a void left by falling trust in mass media
The Chart of the Week is a weekly Visual Capitalist feature on Fridays.
There's been no shortage of blame passed around for the so-called "fake news" epidemic that has been front and center since the U.S. election.
Social media has been singled out as one key factor leading to the spread of misleading or false news. However, low barriers to entry for creating content, hyperpartisanism, confirmation bias, and the echo-chamber effect have also been identified as causes or symptoms in the proliferation of such stories.
It's certainly a complex problem to unravel, and many proposed solutions are just as alarming as the symptoms they try to treat. The decentralization and fragmentation of information is the core of what makes the internet great, and this democratization helps to decouple power away from the established institutions that may or may not have our interests at heart.
How do we regulate news for its authority and legitimacy without stifling alternate viewpoints, differing narratives, and independent sources of information?
Root Causes
In today's landscape, people are turning away from traditional media and gravitating towards digital content. In this new digital media paradigm, who is considered a trustworthy and convenient source of information?
As long as they could remain reputable, the mainstream outlets that garnered eyeballs throughout broadcasting history should have been the obvious benefactors of this transition. Groups like CNN and Fox News, or The New York Times and The Washington Post, could have remained unquestioned authorities on the issues.
However, it seems like this opportunity has been recently squandered to some extent. These outlets have been slow to adopt their business strategies to the digital landscape, and they remain in damage control mode as advertising revenues drop and profitability wanes. Publishers have been under immense pressure to generate views, and have taken shortcuts in content creation to do this. Hyperpartisan viewpoints that confirm existing biases (aka, the Huffington Post or Breitbart models) and sensational clickbait headlines have been one easy way to build traffic. Some publishers also have an itchy trigger finger, and it seems that getting a story out first has become more important than verifying its validity.
These above factors have, ironically, led to mass media as being a direct part of the "fake news" problem. The retracted stories on Russian propaganda by the Washington Post have been a lightning rod for scrutiny, and entire posts are dedicated to keeping misleading stories from established media at bay. Having a track record with zero blemishes is obviously a difficult target to hit, but the reality is that we are seeing misleading news from everywhere now: "fake news" outlets, mainstream outlets, and the White House itself.
Falling Trust in Media and Institutions
Even before "fake news" hit the mainstream, a poll by Gallup showed that Americans' trust in mass media was hitting an all-time low. In September 2016, only 32% of people said they have a great deal or fair amount of trust in the media, which is a decline of -8% from the previous year.
A report from Edelman from January 2017 is even more damning. Trust of the media declined -5% from 2016, which is faster than trust is declining in government (-1%), business (-1%), and NGOs (-2%).
As we mentioned earlier, the rise of fake news is complex and very difficult to untangle. However, the fact is that established news outlets aren't doing themselves any favors. If people feel like they can't trust the Washington Post or other such sources, then it should be no surprise that they are turning to the power of "word of mouth" from their peers more often – no matter how fallible this might be.
Mapped: Economic Freedom Around the World
The global average economic freedom score is at the highest its been in 27 years. Here we map the economic freedom score of nearly every country.
Mapped: Economic Freedom Around the World
How would you define a country's economic freedom?
The cornerstones of economic freedom by most measures are personal choice, voluntary exchange, independence to compete in markets, and security of the person and privately-owned property. Simply put, it is about the quality of political and economic institutions in countries.
Based on the Index of Economic Freedom by the Heritage Organization, we mapped the economic freedom of 178 countries worldwide.
Measures of Economic Freedom
The index uses five broad areas to score economic freedom for each country:
Size of Government: Greater government spending, taxation, and bigger government agencies tend to reduce individual choice and economic freedom.
Legal System and Property Rights: The ability to accumulate private property and wealth is a central motivating force for workers and investors in a market economy, and well-functioning legal frameworks protect the rights of all citizens.
Sound Money: Does earned money maintain its value, or is it lost to inflation? When inflation is high and volatile, individuals can't plan for the future and use economic freedom effectively.
Freedom to Trade Internationally: Freedom to exchange—in its broadest sense, buying, selling, making contracts, and so on—is considered essential to economic prosperity. Limited international trading options significantly reduce the potential for growth.
Regulation: When governments utilize tools and impose oppressive regulations that limit the right to exchange, economic freedom typically suffers.
World Economic Freedom by Region
In 2021, the global average economic freedom score is 61.6, the highest its been in 27 years.
But from Mauritius and smaller African nations being beacons of hope to East Asian and Oceanic countries epitomizing economic democracy, every region has a different story to tell.
Let's take a look at the economic freedom of each region in the world.
Americas
Even though the U.S. and Canada continue to be some of the most economically free countries globally, some markers are suffering.
The regional average unemployment rate has risen to 6.9%, and inflation (outside of Venezuela) has increased to 5.2%. The region's average level of public debt—already the highest globally—rose to 85.2% of its GDP during the past year.
Across many Latin American countries, widespread corruption and weak protection of property rights have aggravated regulatory inefficiency and monetary instability.
For example, Argentina's Peronist government has recently fixed the price of 1,432 products as a response to a 3.5% price rise in September, the equivalent to a 53% increase if annualized.
Europe
More than half of the world's 38 freest countries (with overall scores above 70) are in Europe. This is due to the region's relatively extensive and long-established free-market institutions, the robust rule of law, and exceptionally strong investment freedom.
However, Europe still struggles with a variety of policy barriers to vigorous economic expansion. This includes overly protective and costly labor regulations, which was one of the major reasons why the UK voted to leave the EU.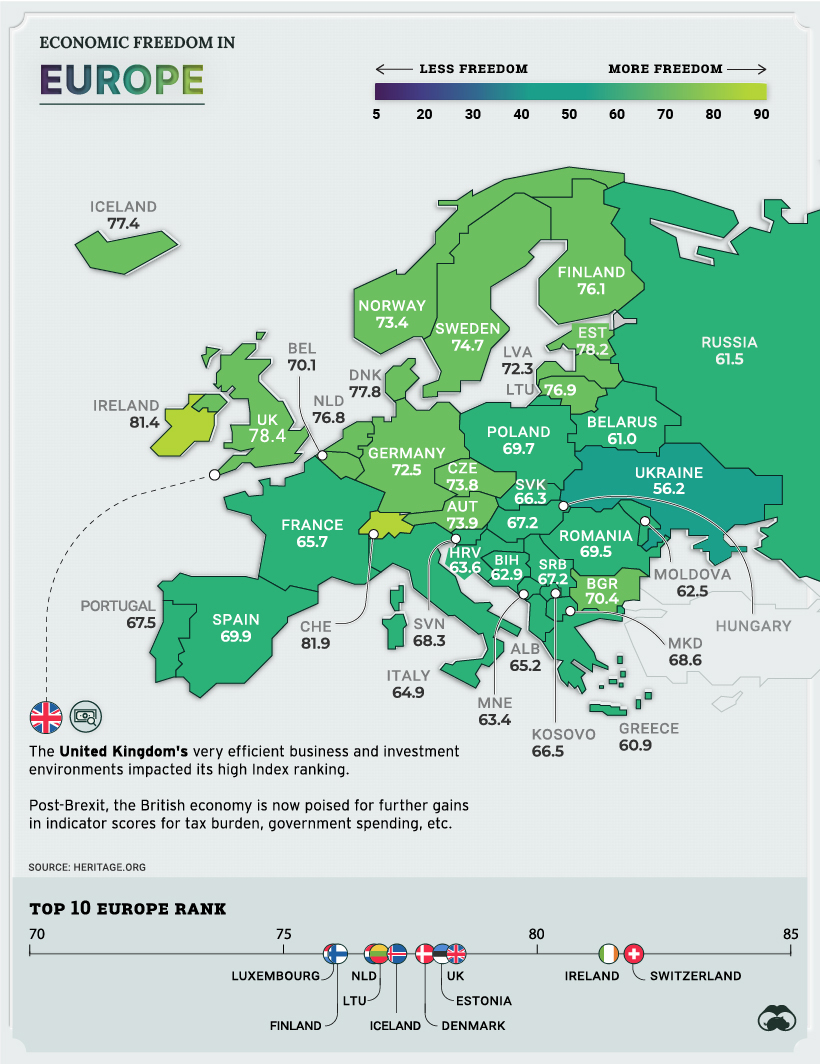 Brexit has since had a major impact on the region.
Even a year later, official UK figures showed a record fall in trade with the EU in January 2021, as the economy struggled with post-Brexit rules and the pandemic.
Africa
Dictatorships, corruption, and conflict have historically kept African nations as some of the most economically repressed in the world.
While larger and more prosperous African nations struggle to advance economic freedom, some smaller countries are becoming the beacon of hope for the continent.
Mauritius (rank 11), Seychelles (43) and Botswana (45) were the top African countries, offering the most robust policies and institutions supporting economic self-sufficiency.
From property rights to financial freedom, small African countries are racing ahead of the continent's largest in advancing economic autonomy as they look to build business opportunities for their citizens.
Middle East and Central Asia
When Israel, the UAE, and Bahrain signed the Abraham Accords last year, there was a sense of a new paradigm emerging in a region with a long history of strife.
A year into the signing of this resolution, the effects have been promising. There have been bilateral initiatives within the private sector and civil society leading to increasing economic and political stability in the region.
Central Asian countries once part of the Soviet Union have recently starting integrating more directly with the world economy, primarily through natural resource exports. In total, natural resources account for about 65% of exports in Kyrgyzstan, Tajikistan, and Uzbekistan, and more than 90% in Kazakhstan and Turkmenistan.
Despite this progress, these countries have a long way to go in terms of economic freedom. Uzbekistan (108), Turkmenistan (167) and Tajikistan (134) are still some of the lowest-ranked countries in the world.
East Asia and Oceania
Despite massive populations and strong economies, countries like China and India remain mostly unfree economies. The modest improvements in scores over the last few years have been through gains in property rights, judicial effectiveness, and business freedom indicators.
Nearby, Singapore's economy has been ranked the freest in the world for the second year in a row. Singapore remains the only country in the world that is considered economically free in every index category.
Finally, it's worth noting that Australia and New Zealand are regional leaders, and are two of only five nations that are currently in the "free" category of the index.
Animation: How the European Map Has Changed Over 2,400 Years
The history of Europe is breathtakingly complex, but this animation helps makes sense of 2,400 years of change on the European map.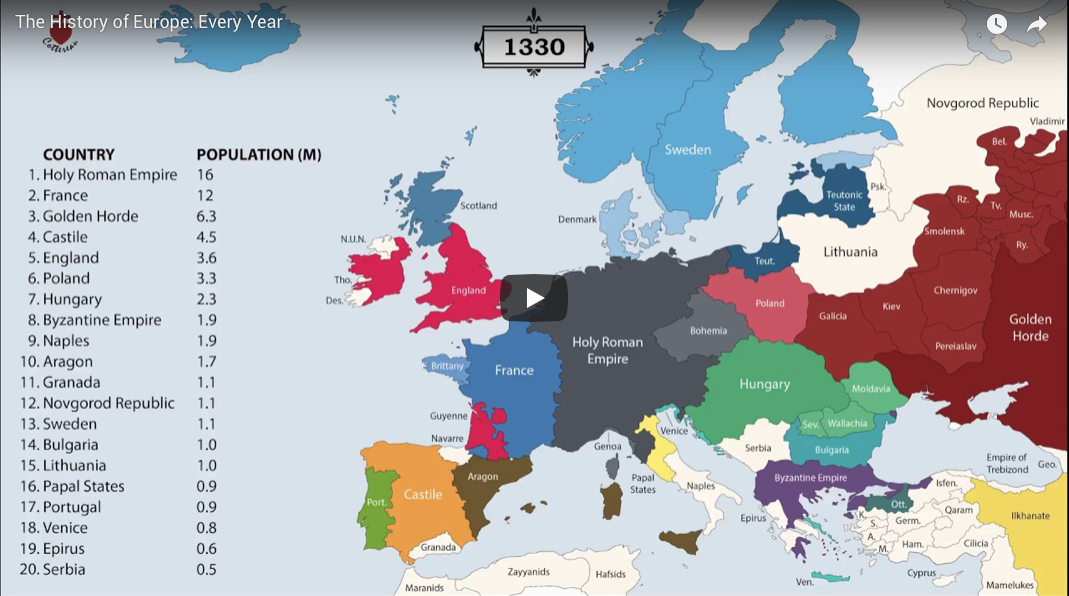 How the European Map Has Changed Over 2,400 Years
The history of Europe is breathtakingly complex. While there are rare exceptions like Andorra and Portugal, which have had remarkably static borders for hundreds of years, jurisdiction over portions of the continent's landmass have changed hands innumerable times.
Today's video comes to us from YouTube channel Cottereau, and it shows the evolution of European map borders starting from 400 BC. Empires rise and fall, invasions sweep across the continent, and modern countries slowly begin to take shape (with the added bonus of an extremely dramatic instrumental).
Below are nine highlights and catalysts that shifted the dividing lines of the European map:
146 BC – A Year of Conquest
146 BC was a year of conquest and expansion for the Roman Republic. The fall of Carthage left the Romans in control of territory in North Africa, and the ransack and destruction of the Greek city-state of Corinth also kickstarted an era of Roman influence in that region. These decisive victories paved the way for the Roman Empire's eventual domination of the Mediterranean.
117 AD – Peak Roman Empire
The peak of the Roman Empire is one of the more dramatic moments shown on this animated European map. At its height, under Trajan, the Roman Empire was a colossal 1.7 million square miles (quite a feat in an era without motorized vehicles and modern communication tools). This enormous empire remained mostly intact until 395, when it was irreparably split into Eastern and Western regions.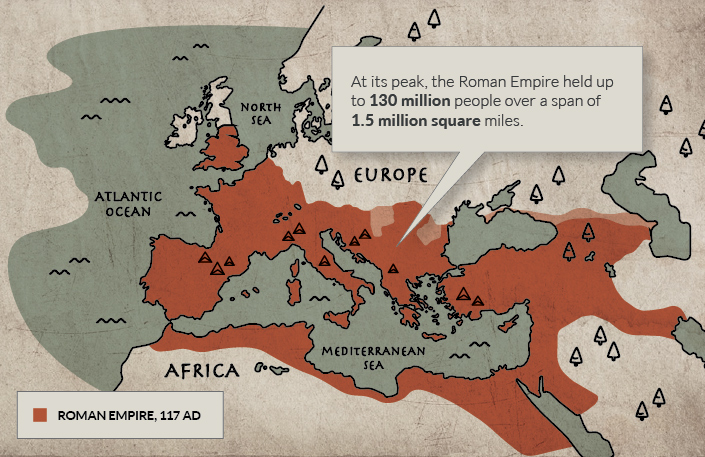 370 AD – The Arrival of the Huns
Spurred on by severe drought conditions in Central Asia, the Huns reached Europe and found a Roman Empire weakened by currency debasement, economic instability, overspending, and increasing incursions from rivals along its borders.
The Huns waged their first attack on the Eastern Roman Empire in 395, but it was not until half a century later—under the leadership of Attila the Hun—that hordes pushed deeper into Europe, sacking and razing cities along the way. The Romans would later get their revenge when they attacked the quarreling Goths and Huns, bouncing the latter out of Central Europe.
1241 – The Mongol Invasion of Europe
In the mid-13th century, the "Golden Horde" led by grandsons of Genghis Khan, roared into Russia and Eastern Europe sacking cities along the way. Facing invasion from formidable Mongol forces, central European princes temporarily placed their regional conflicts aside to defend their territory. Though the Mongols were slowly pushed eastward, they loomed large on the fringes of Europe until almost the 16th century.
1362 – Lithuania
Today, Lithuania is one of Europe's smallest countries, but at its peak in the middle ages, it was one of the largest states on the continent. A pivotal moment for Lithuania came after a decisive win at the Battle of Blue Waters. This victory stifled the expansion of the Golden Horde, and brought present-day Ukraine into its sphere of influence.
1648 – Kleinstaaterei
The end of the Holy Roman Empire highlights the extreme territorial fragmentation in Germany and neighboring regions, in an era referred to as Kleinstaaterei.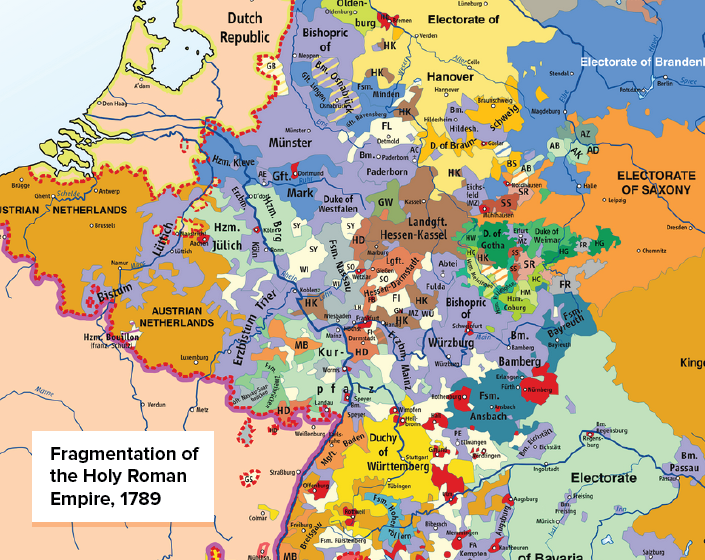 Even as coherent nation states formed around it, the Holy Roman Empire and its remnants wouldn't coalesce until Germany rose from the wreckage of the Franco-Prussian War in 1871. Unification helped position Germany as a major power, and by 1900 the country had the largest economy in Europe.
1919 – The Ottoman Empire
The Ottoman Empire—a fixture in Eastern Europe for hundreds of years—was in its waning years by the beginning of the 20th century. The empire had ceded territory in two costly wars with Italy and Balkan states, and by the time the dust cleared on WWI, the borders of the newly minted nation of Turkey began at the furthest edge of continental Europe.
1942 – Expanding and Contracting Germany
At the furthest extent of Axis territory in World War II, Germany and Italy controlled a vast portion of continental Europe. The map below shows occupied land and areas of influence at the height of Germany's territorial expansion.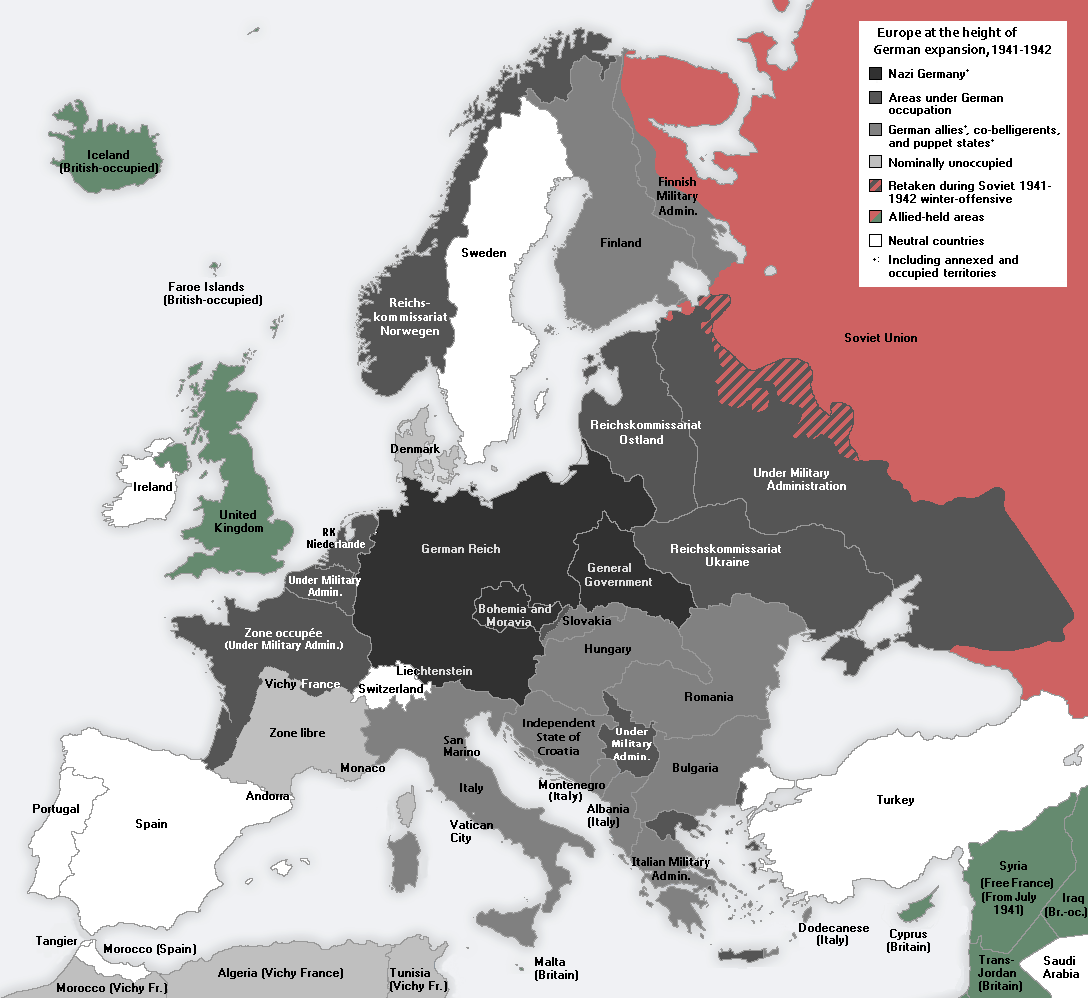 After the war, Germany again became fragmented into occupation zones—this time, overseen by the United States, France, Great Britain, and the Soviet Union. Germany would not be made whole again until 1990, when a weakening Soviet Union loosened its grip on East Germany.
1991 – Soviet Dissolution
In the decades following WWII, the political boundaries of the European map remained relatively stable—that is, until the dissolution of the Soviet Union in 1991. Almost overnight, the country's entire western border splintered into independent nations. When the dust settled, there were 15 breakaway republics, six of which were in Europe.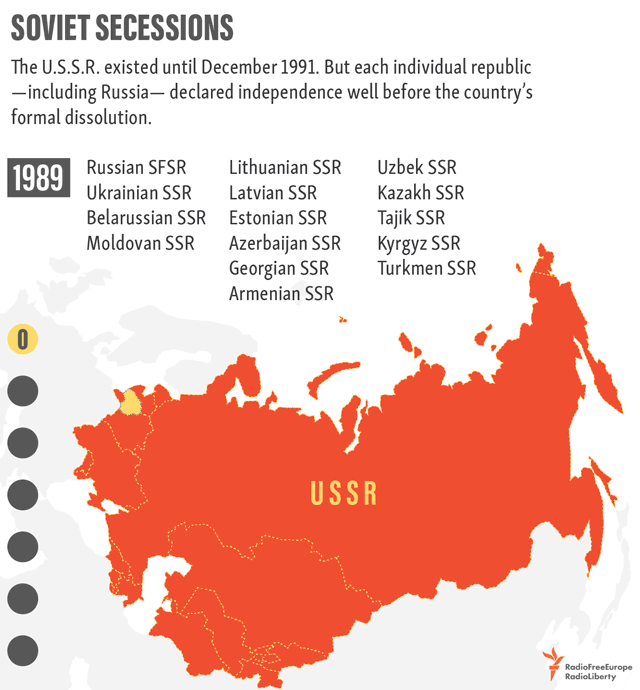 Bonus: If you liked the video above, be sure to watch this year-by-year account of who ruled territories across Europe.