Decoding U.S. Election Day in 9 Key Charts
After a tumultuous election cycle, the time has come at last for Americans to cast their ballots.
Media coverage has reached a fever pitch, and keeping up with the news cycle can be daunting for anyone. To keep the voting public and interested onlookers informed, we've compiled nine key charts that can help in answering key questions that people will have today:
Who'll win the U.S. presidential election?
How could swing states flip?
When will we know the election results?
What are the stakes?
What does the rest of the world think?
Let's start with the biggest—and most challenging—of these topics first.
Who'll Win the Election?
As the world learned in 2016, answering this question is not as simple as it looks—even when the poll results point to a clear victory.
Chart #1: Biden remains the odds-on favorite
In 2020's race, the poll results are once again stacked against President Trump. Here's a look at who's ahead in aggregated national polls:
Source: FiveThirtyEight
Although this election cycle has been a wild ride, that volatility isn't necessarily reflected in the polls. Over the past three months, Joe Biden's lead in the national polls has not dipped below three percentage points.
Chart #2: Viewing odds through a 2016 lens
That said, after the colossal miscalculation by the media and pollsters in 2016, many people are skeptical of the accuracy of polls. Luckily, there's a way to look at predictions through a more skeptical lens. As this table from FiveThirtyEight demonstrates, even if the results are as wrong as in 2016, Joe Biden is still predicted to win.
Chart #3: Betting markets also agree
Prediction markets are another way to try to gauge how the election could turn out. Traders on PredictIt are also leaning towards a Biden win on election day. President Trump's COVID-19 diagnosis in early October served as a pivot point in that market.
Chart #4: The Sultans of Swing
There are a few swing states which will be hotly contested, with the candidates focusing their final days of campaigning on these.
Pennsylvania has received the most visits from both Trump and Biden since their last debate on October 22nd, with Trump visiting the state seven times and Biden stopping by four times.
Swing states have had strong early voting turnouts. In fact, the number of early voters in many swing states is already set to surpass the total number of voters they saw in the 2016 election.
While Arizona and Georgia have voted red for the past five elections, early predictions point to these states possibly turning blue in 2020.
When Will We Know the Election Results?
While the result of the presidential election is typically known on the night of the election itself, this year could see delays due to the tight race and the amount of mail-in ballots.
No matter what, state election disputes need to be settled before December 8th, the "safe-harbor deadline". After this date, states run the risk of having Congress refuse to accept their electoral votes, with Congress also resolving any left over disputes.
Each state's electors then meet on December 14th in order to elect the president and vice-president. Depending on how that goes, this interactive election timeline by The Guardian looks at a few nightmare scenarios that the U.S. could get caught in.
Chart #5: Visualizing mail-in ballots so far
Mail-in ballots can slow down the election result due to late ballot deadlines and the pre-processing required for them to be counted. Expect to see a correlation between states with high mail-in ballot numbers and how long it takes them to call their result.
Ballot deadlines depend on the state, with some states accepting ballots up until November 23rd as long as they were postmarked by election day.
While some states can start pre-processing ballots before election day, others can't start until election day itself. Some counties (including some in swing state Pennsylvania) won't be starting mail-in ballot counting until November 4th due to limited resources.
Why Are the Stakes So High?
Voters from both parties are heavily invested in who wins this election—a trend that's been on the rise for years, coinciding with increasing amounts of political polarization.
Chart #6: Voter apathy, no more
According to a recent survey by Pew Research Center, 83% of voters say it "really matters" who becomes the next president. In 2000, only 50% felt so strongly about the outcome of the election.
To be fair, this year is also unique given a global pandemic—and this has certainly weighed heavily on many voters, creating more urgency than normal.
In fact, according to a survey conducted by Gallup in April 2020, 45% of Americans think Coronavirus/disease is the most important issue the country is currently facing.
Chart #7: Voters See COVID as a Top Concern
Research has shown a correlation so far between COVID-related deaths and reduced support for the incumbent. According to this graph from the New York Times, Trump's approval rating tends to be lower in counties with higher death rates.
Chart #8: The price of democracy
The exceptionally high stakes could be a reason why this election is expected to be the most expensive to date. Spending is projected to reach over $13 billion, almost double the amount spent in 2016.
Source: Center for Responsive Politics
Chart #9: What the rest of the world thinks
Americans aren't the only ones invested in the U.S. presidential election this year. The whole world is watching, and according to Ipsos, the majority is rooting for Biden.
But of course, the world doesn't get to cast a vote today, making this final chart a moot point.
The real decision makers will be in the American electorate—and the forthcoming result will be on people's minds for days, months, or maybe even years to come.
Which Generation Has the Most Influence Over U.S. Politics?
Visual Capitalist's inaugural Generational Power Index (GPI) examines the political power held by each generation and their influence on society.
Measuring Influence in U.S. Politics, by Generation
Generations are a widely recognized and discussed concept, and it's assumed people all understand what they refer to. But the true extent of each generation's clout has remained undetermined—until now.
In our inaugural Generational Power Index (GPI) 2021, we examine the power and influence each generation currently holds on American society, and its potential to evolve in the future.
Political power by generation was one of three key categories we used to quantify the current landscape. Before we dive into the results, here's how the Political Power category was calculated.
Measuring Generational Power
To begin with, here's how we categorized each generation:
| Generation | Age range (years) | Birth year range |
| --- | --- | --- |
| The Silent Generation | 76 and over | 1928-1945 |
| Baby Boomers | 57-75 | 1946-1964 |
| Gen X | 41-56 | 1965-1980 |
| Millennials | 25-40 | 1981-1996 |
| Gen Z | 9-24 | 1997-2012 |
| Gen Alpha | 8 and below | 2013-present |
Using these age groups as a framework, we then calculated the Political Power category using these distinct equally-weighted variables:
With this methodology in mind, here's how the Political Power category shakes out, using insights from the GPI.
Share of Political Power by Generation
Baby Boomers dominated with over 47% of the total political power by generation. This cohort has particular strength in the judicial system and in Congress.
| Generation | Political Power Share |
| --- | --- |
| Baby Boomers | 47.4% |
| Gen X | 29.0% |
| Millennials | 10.0% |
| Silent | 12.1% |
| Gen Z | 1.6% |
Baby Boomers, along with the Silent Generation also control 80% of political spending. Meanwhile, Gen X accounts for nearly half (46%) of local government positions.
Both voters and politicians play key roles in shaping American society. Thus, two variables worth looking closer at are the evolving electoral base and the composition of Congress.
The Changing Face of the U.S. Voter
Younger generations have very different perceptions on everything from cannabis to climate change. This is starting to be reflected in legislation.
2016 was a watershed moment for politicians vying for the vote—it was the last election in which Baby Boomers made up over a third of U.S. voters. Collectively, Boomers' voting power will decline from here on out.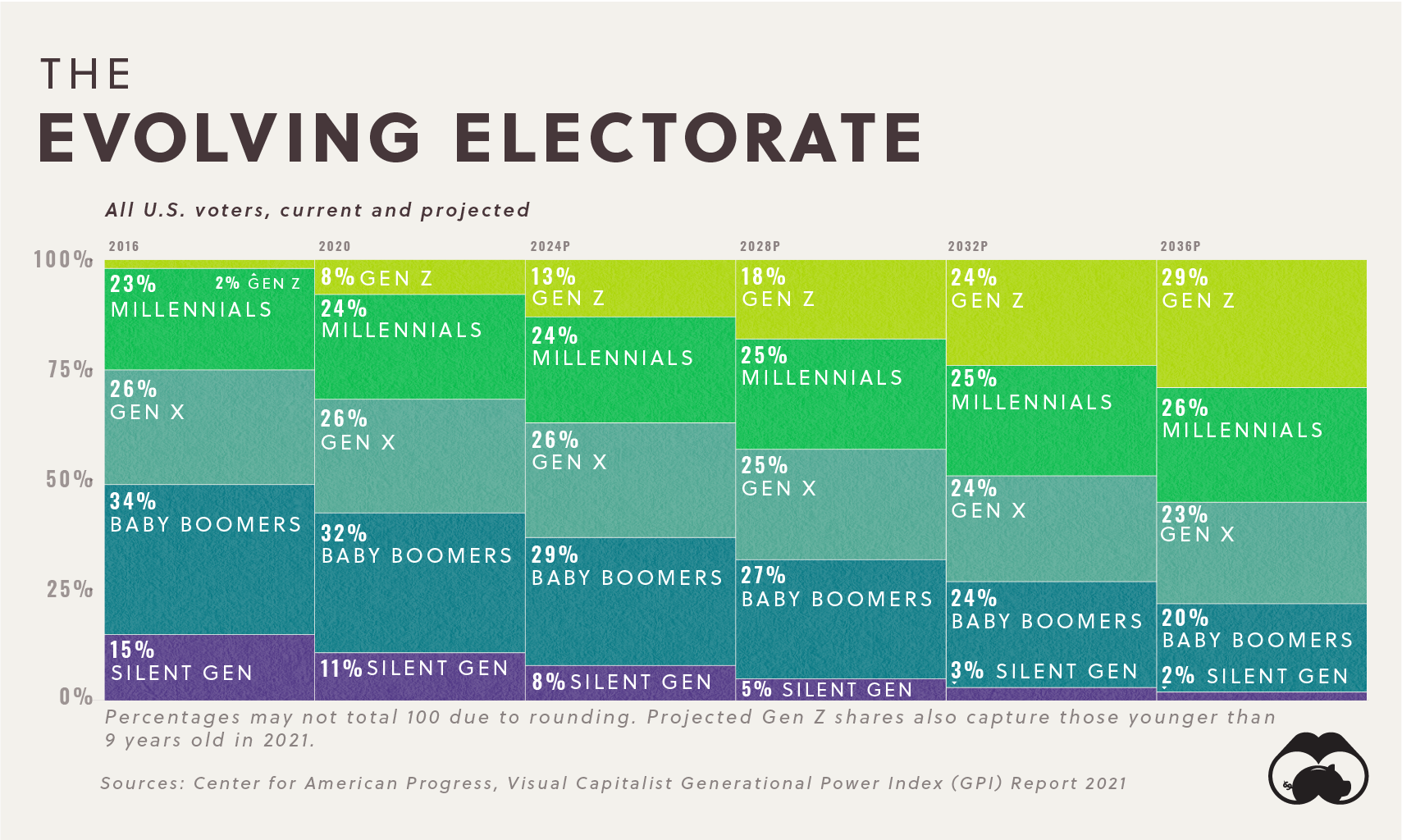 Within the next two decades, the combined voting power of Millennials and Gen Z will skyrocket from 32% in 2020 up to 55% by 2036.
Meanwhile, a decade from now, the oldest members of Gen Alpha (those born in 2013 and later) will enter the playing field and become eligible to vote in 2031.
The View from the Top
Having examined generational power in the electorate, we now turn our attention to the people on the other side of the democratic equation—the politicians.
In most cases, it takes many decades of experience and reputation building to reach the highest offices in the land. That's why the median age of Congress (61.2) is much higher than the median age of the U.S. population at large (38.1).
At this point in time, Baby Boomers are in the sweet spot, and it shows in the numbers. Boomers represent 298 of 532 Congressional seats (56% of all seats), and Gen X's growing contingent of members represents 31%.
On one end of the spectrum, the Silent Generation still occupies 7% of seats, which roughly reflects the group's share of the U.S. population. California's Democratic Senator Dianne Feinstein and Republican Don Young are both 87 years old, the latter having represented Alaska for 25 terms.
On the other end of the spectrum, Millennials currently claim 32 seats, just 6% of the total. As of 2021, this entire cohort now meets the minimum age requirement (25) to serve in the House of Representatives. The youngest member of Congress is Republican Madison Cawthorn, a representative for North Carolina at just 25 years old. Meanwhile, Senator Jon Ossoff is the youngest Senator in the country, serving Georgia at 36 years old.
This difference in political power by generation is stark considering that both Boomers and Millennials both make up similar proportions of the U.S. population at large. In that sense, Millennials are greatly underrepresented in Congress compared to Boomers.
Gen Z Waiting Patiently in the Wings
Gen Z's current age range is a natural reason why they don't yet have a foothold in government. But by 2022, the oldest members of Gen Z will turn 25, meeting the minimum age requirement to get elected into the House of Representatives.
With the oldest members of this generation soon turning 25, how long will it be before a representative from Gen Z occupies a seat in the Capitol Building?
Download the Generational Power Report (.pdf)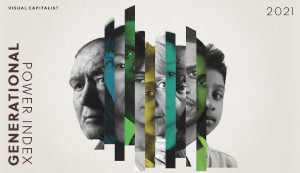 Visualizing Biden's $1.52 Trillion Budget Proposal for 2022
A breakdown of President Biden's budget proposal for 2022. Climate change initiatives, cybersecurity, and additional social programs are key areas of focus.
Visualizing Biden's Budget Proposal for 2022
On April 9th, President Joe Biden released his first budget proposal plan for the 2022 fiscal year.
The $1.52 trillion discretionary budget proposes boosts in funding that would help combat climate change, support disease control, and subsidize social programs.
This graphic outlines some key takeaways from Biden's budget proposal plan and highlights how funds could be allocated in the next fiscal year.
U.S. Federal Budget 101
Before diving into the proposal's key takeaways, it's worth taking a step back to cover the basics around the U.S. federal budget process, for those who aren't familiar.
Each year, the president of the U.S. is required to present a federal budget proposal to Congress. It's usually submitted each February, but this year's proposal has been delayed due to alleged issues with the previous administration during the handover of office.
Biden's publicized budget only includes discretionary spending for now—a full budget that includes mandatory spending is expected to be released in the next few months.
Key Takeaways From Biden's Budget Proposal
Overall, Biden's proposed budget would increase funds for a majority of cabinet departments. This is a drastic pivot from last year's proposal, which was focused on budget cuts.
Here's a look at some of the biggest departmental changes, and their proposed spending for 2022:
| Department | 2022 Proposed Spending (Billions) | % Change from 2021 |
| --- | --- | --- |
| Education | $29.8 | 41% |
| Commerce | $11.4 | 28% |
| Health and Human Services | $131.7 | 24% |
| Environmental Protection Agency | $11.2 | 21% |
| Interior | $17.4 | 16% |
| Agriculture | $27.8 | 16% |
| Housing and Urban Development | $68.7 | 15% |
| Transportation | $25.6 | 14% |
| Labor | $14.2 | 14% |
| State and International Aid | $63.5 | 12% |
| Treasury | $14.9 | 11% |
| Energy | $46.1 | 10% |
| Small Business Administration | $0.9 | 9% |
| Veteran Affairs | $113.1 | 8% |
| Justice | $17.4 | 5% |
| Defense | $715.0 | 2% |
One of the biggest boosts in spending is for education. The proposed $29.8 billion would be a 41% increase from 2021. The extra funds would support students in high-poverty schools, as well as children with disabilities.
Health and human services is also a top priority in Biden's budget, perhaps unsurprisingly given the global pandemic. But the boost in funds extends beyond disease control. Biden's budget allocates $1.6 billion towards mental health grants and $10.7 billion to help stop the opioid crisis.
There are increases across all major budget categories, but defense will see the smallest increase from 2021 spending, at 2%. It's worth noting that defense is also the biggest budget category by far, and with a total of $715 billion allocated, the budget lists deterring threats from China and Russia as a major goal.
Which Bills Will Make it Through?
It's important to reiterate that this plan is just a proposal. Each bill needs to get passed through Congress before it becomes official.
Considering the slim majority held by Democrats, it's unlikely that Biden's budget will make it through Congress without any changes. Over the next few months, it'll be interesting to see what makes it through the wringer.