Charts: America's Political Divide, 1994–2017
Original animation from Pew Research Center, Washington, D.C. (October 2017).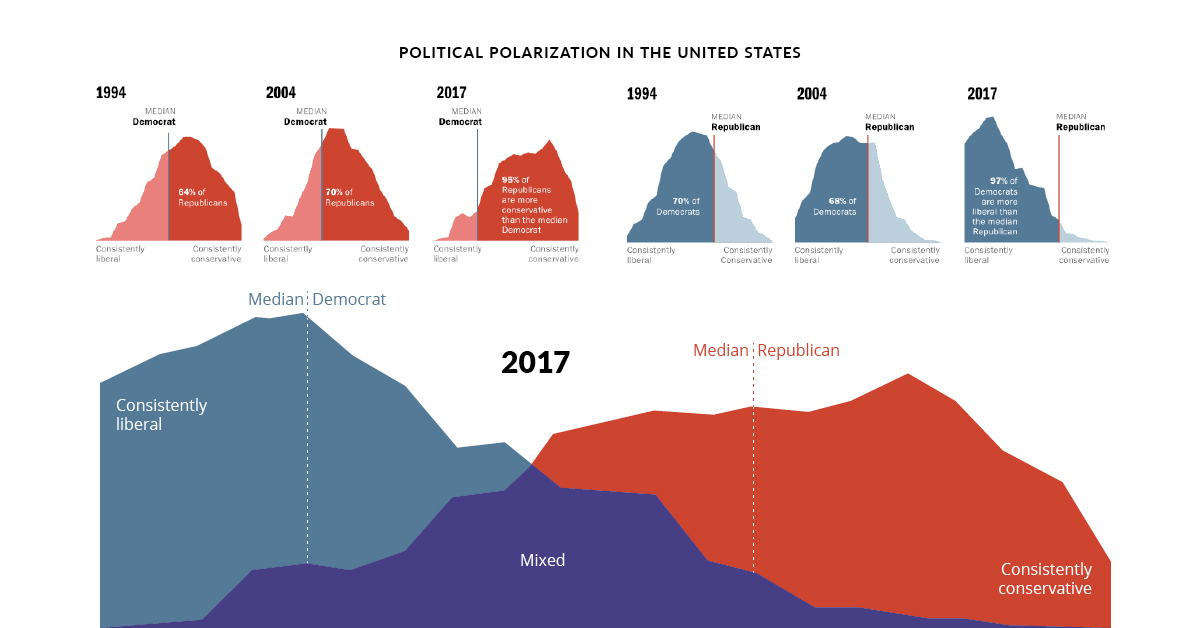 Charts: America's Political Divide, From 1994–2017
Politics can be a hot button topic in America. With rising tensions on both sides of the political spectrum, some claim that bipartisanship is dead. Recent research shows that may well be true.
Today's charts come from a report by the independent think tank Pew Research on the partisan divide between the two major U.S. political parties, Democrats and Republicans.
The data is based on surveys of over 5,000 adults to gauge public sentiment, tracking the dramatic shifts in political polarization in the U.S. from 1994 to 2017. The results are a fascinating deep dive into America's shifting political sentiment.
Over Two Decades of Differences
The animation above demonstrates how the political divide by party has grown significantly and consistently over 23 years. In 1994, the general public was more mixed in their allegiances, but a significant divergence started to occur from 2011 onward.
By 2017, the divide had significantly shifted towards the two extremes of the consistently liberal/conservative scale. Median Democrat and Republican sentiment also moved further apart, especially for politically engaged Americans.
How have Americans' feelings across major issues evolved over time?
NOTE: For brevity, any mention of Democrats and Republicans in the post below will also refer to survey respondents who "lean Democratic/ lean Republican".
Americans on the Economy
Original charts from Pew Research Center, Washington, D.C. (October 2017).
Several survey questions were designed to assess Americans' perceptions of the economy. Surprisingly, between 60–70% of Democrats and Republicans agree that U.S. involvement in the global economy is positive, because it provides the country with access to new markets.
However, they diverge when asked about the fairness of the economic system itself. 50% of Republicans think it is fair to most Americans, but 82% of Democrats think it unfairly favors powerful interests.
Finally, 73% of Democrats think corporations make 'too much' profit, while only 43% of Republicans think so. Since 1994, Democrats have become more convinced of this point, gaining 10 percentage points (p.p.), while Republican impressions have fluctuated marginally.
Americans on the Environment
Original charts from Pew Research Center, Washington, D.C. (October 2017).
When it comes to climate change, both Democrats and Republicans see that there is growing evidence for global warming, but they are not sold on the reasons why. 78% of Democrats see human activity as the cause, while only 24% of Republicans agree.
Americans also disagree on whether stricter sustainability laws are worth the cost—77% of Democrats think so, but only 36% of Republicans are on the same page. The position of Democrats on this issue has increased by 11 p.p. since 1994, but dropped by double (22 p.p.) for Republicans during this time.
Americans on the Government
Original charts from Pew Research Center, Washington, D.C. (October 2017).
Americans are highly concerned about the U.S. presence on the global stage. Over half (56%) of Democrats think the U.S. should be active in world affairs, while 54% of Republicans think such attention should be focused inward instead of overseas.
This filters into what they consider the best strategy for peace—83% of Democrats believe in democracy to achieve this, while only 33% of Republicans agree, preferring military strength instead. Democrats have cemented their position on diplomacy by 17 p.p. since 1994, growing the political divide.
Americans on Their Society
Original charts from Pew Research Center, Washington, D.C. (October 2017).
On several social issues, both parties have become more liberal in their opinions over the decades, especially on immigration and homosexuality. Democrats have seen the biggest advancement on their views of immigration, from 32% in favor in 1994, to 84% in 2017.
However, there's still a wide partisan divide between Democrats and Republicans on their ideas of government aid (51 p.p. gap), racial equality (45 p.p. gap), immigration (42 p.p. gap), and homosexuality (29 p.p. gap).
Americans on Each Other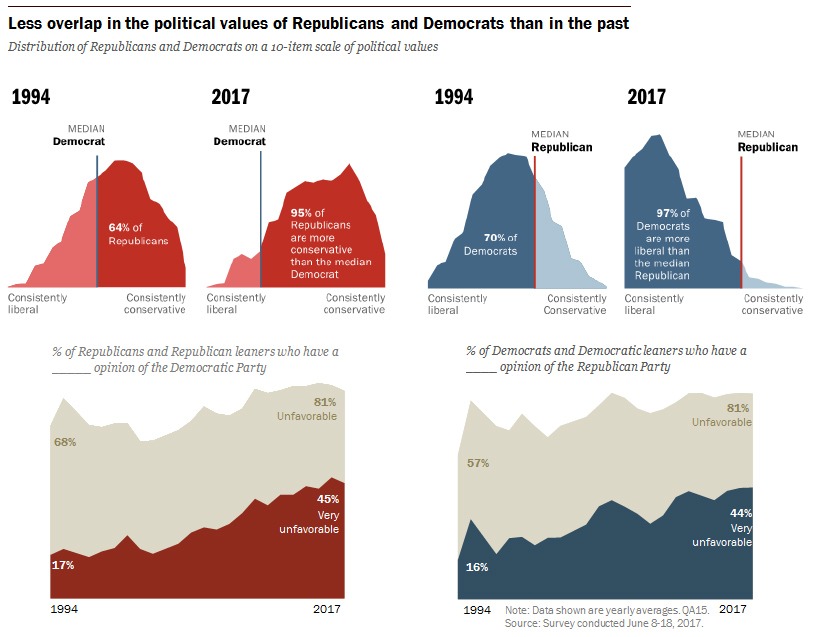 Original charts from Pew Research Center, Washington, D.C. (October 2017).
It's evident that not only does the American public hold less of a mix of liberal and conservative values, but the center of this political divide has also moved dramatically on both ends of the spectrum. In simple terms, it means that Americans are less willing to consider the other side of debates, preferring to stay entrenched in the group think of their political affiliation.
Not only this, but partisan animosity is on the rise—81% of Republicans and Democrats find those belonging to the other party equally unfavorable. In fact, both parties have seen a 28 p.p. increase in 'very unfavorable' views of people in the other party, compared to 1994.
Can the Rift be Repaired?
While the above data on group polarization ends in 2017, it's clear that the repercussions continue to have ripple effects into today and the future. These differences mean there is no consensus on the nation's key priorities.
In 2019, Republicans believe that terrorism, the economy, social security, immigration, and the military should be top of mind, while Democrats refer to healthcare, education, environment, Medicare, and the poor and needy as their leads.
With Trump's presidential term up for contest in 2020, the lack of common ground on pressing issues will continue to cause a stir among both Democratic and Republican bases. Is there anything Americans will be willing to cross the aisle for?

How To Spot Fake News
With misinformation all over the web, how do you discern fake news from real? Here are the characteristics of fake news and what to look for.
How To Spot Fake News
"Fake news" used to be a relatively uncommon problem, but over the last decade, and especially during the COVID-19 pandemic, increasing consumption of news and articles has caused misinformation to run wild.
Far from a new concept, misinformation and cherry-picked stories have been used throughout history as a form of propaganda or information warfare. However, the rise of social media as a hub for sharing articles has spread "fake news"—false or misleading information presented as legitimate news—all over the internet.
Fueled further by increasing polarization, as well as the use of the term by former U.S. President Donald Trump to also refer to negative coverage (whether legitimate or misinformed), it seems more difficult than ever to separate trustworthy from misleading sources.
With this in mind, we combined guidance from non-profit journalism project First Draft News and the International Federation of Library Associations and Institutions (IFLA) to create this guide for understanding "fake news" and how to spot it.
The Different Types of "Fake News"
In order to spot fake news, you have to know the many forms misinformation can take.
Not all fake news is created equal, or even with the intent to deceive. Some start as opinions or jokes that become misunderstood, twisted over time, and eventually turn into misinformation. Others begin with the sole purpose of deception.
Online Misinformation From Least Intentional to Most
Satire/Parody
Articles or videos created to mock or laugh at an issue. If created without being an obvious parody, these types of articles can still fool readers and be shared as "real."
False Connection
Stories with headlines, visuals, and captions that don't support the content. Sometimes the cause is an honest mistake or poor journalism, but other times the false connections are deliberate to draw more attention.
Misleading Content
Misleading use of information to frame an issue or individual, especially one not involved in the story. This can be caused by poor journalism or political influence, but is also caused by opinions being shared as news and the increasingly blurring line between the two.
False Context
Genuine content that is shared with false contextual information, such as an incorrect date or a misattributed quote. This type of misinformation can still appear on news sites with poor fact-checking or opinion-based reporting, but is clearly driven by an agenda with an attempt to influence.
Imposter Content
When genuine sources are impersonated in order to deceive the audience. Though this type of misinformation is used in parody, it is also used for profit and propaganda purposes, such as by sites disguised to look like news organizations or using fake credentials.
Manipulated Content
The deliberate manipulation of information, such as digitally altering an image or making up quotes. This type of misinformation is easily proven fake with some research, but can spread too far before it is fact-checked.
Fabricated Content
Newly created false content designed to deceive and do harm. These include deepfake videos and sites posing as legitimate news organizations.
Despite many types of misinformation appearing to be obvious at a glance, it's harder to discern when browsing online. In a 2019 global survey on social media by Ipsos, 44% of people admitted to being duped by fake news at least once, while others may have been duped unwittingly.
How To Tell If An Article is "Fake News"
With many types of misinformation to contend with, and trust in media organizations falling in the U.S. and around the world, it might seem like you're surrounded by "fake news," but there are a few things you can check to be sure.
The Source
Investigate the site to make sure it's legitimate, and check its mission and its contact info to understand if it's news, satire, or opinion.
The URL
Be wary of unusual top-level domain names, like ".com.co" that are designed to appear legitimate, such as ABCnews.com.co.
The Text
Does the article have spelling errors or dramatic punctuation? This can be an easy find for simple fabricated content, as most reputable sources have high proofreading and grammatical standards.
The Information
Read past click-baity headlines, note who is (or isn't) quoted, and verify the information on other sites. This is also a good way to separate opinion pieces from news.
The Author
Check the author's bio and do a quick search on them. Are they credible to write about their story? Are they real?
Supporting Sources
Click on the supporting links, and perform reverse searches on images. Do they actually support the story, or are they irrelevant (or worse, manipulated).
The Date
Sometimes older news stories are shared again and gain traction because of current events, but that doesn't mean they're relevant or accurate.
Your Bias
Especially with the rise of opinionated journalism and websites profiting from polarization, consider the intended audience for this story and if your own beliefs could affect your judgement.
The Experts
If a story feels flimsy, or doesn't seem to be properly cited, consider asking an expert in the field or consulting a fact-checking site.
More than anything, consider that outrageous misinformation has an easier time spreading on the internet than boring real news. An MIT study found that false stories on Twitter were 70% more likely to get retweeted than accurate news.
But armed with knowledge about what "fake news" looks like, and with increased pressure on news organizations, the tide can be turned back in the favor of accurate news.

Visualizing the UK and EU Trade Relationship
The UK and the EU have recently laid out new terms for their relationship. So how important is the UK's trade with the EU?
Visualizing the UK and EU Trade Relationship
With Brexit solidified and a new trade deal having been struck between the UK and the EU, it appears that a sense of normalcy has returned to the European continent.
The Trade and Cooperation Agreement (TCA) between the two entities came into effect on January 1st, 2021, corresponding with the UK officially leaving the EU Single Market and Customs Union on the same day. The new deal will help the status quo of trade continue, but how important is trade between the EU and the UK?
This visualization, using data from the British House of Commons' Statistics on UK-EU Trade Briefing Paper, reveals the significance of trade between the UK and EU member states.
Who Does the UK Trade With in the EU?
The EU is the UK's biggest global trading partner, representing 47% of the country's total trade.
To break it down further, the EU is the buyer of 42.6% of the UK's total exports, while also being the source of 51.8% of their total imports. Here's a closer look at exports and imports by country.
| Country  | % of UK's Exports to the EU | % of UK Imports from the EU |
| --- | --- | --- |
| 🇩🇪 Germany | 18.9% | 20.9% |
| 🇳🇱 Netherlands | 14.2% | 13.8% |
| 🇫🇷 France | 13.7% | 12.1% |
| 🇮🇪 Ireland | 13.6% | 8.0% |
| 🇮🇹 Italy | 6.9% | 6.8% |
| 🇪🇸 Spain | 6.8% | 8.6% |
| 🇧🇪 Belgium | 6.1% | 7.7% |
| 🇸🇪 Sweden | 3.4% | 3.3% |
| 🇵🇱 Poland | 2.6% | 3.9% |
| 🇩🇰 Denmark | 2.2% | 2.2% |
| 🇱🇺 Luxembourg | 1.8% | 1.0% |
| 🇦🇹 Austria | 1.1% | 1.4% |
| 🇨🇿 Czech Repbulic | 1.1% | 1.8% |
| 🇫🇮 Finland  | 1.1% | 0.8% |
| 🇵🇹 Portugal | 1.1% | 1.5% |
| 🇬🇷 Greece | 0.9% | 1.0% |
| 🇷🇴 Romania | 0.9% | 1.1% |
| 🇭🇺 Hungary | 0.7% | 1.3% |
| 🇲🇹 Malta | 0.7% | 0.2% |
| 🇨🇾 Cyprus | 0.6% | 0.3% |
| 🇸🇰 Slovakia | 0.5% | 0.9% |
| 🇧🇬 Bulgaria | 0.3% | 0.4% |
| 🇱🇹 Lithuania | 0.3% | 0.4% |
| 🇱🇻 Latvia  | 0.2% | 0.3% |
| 🇸🇮 Slovenia | 0.2% | 0.1% |
| 🇭🇷 Croatia | 0.1% | 0.2% |
| 🇪🇪 Estonia | 0.1% | 0.1% |
| 🇪🇺 Total EU 28 | 100% | 100% |
The UK's biggest trading partners within the EU are Ireland, Germany, the Netherlands, and France. Germany comes in at number one, making up nearly 21% of the UK's imports and receiving almost 19% of the country's exports.
Here's a breakdown of the trade balances between the UK and the individual EU member states.
What's in the Bag?
In any trade relationship, it's also worth examining what types of products and services are switching hands.
Top Imports
The UK's top three goods imports from the EU (in terms of percentage of total imports) are:
Motor vehicles (18%)
Pharmaceuticals (7%)
Electric machinery and appliances (4%)
Without the new agreement, goods would face tariffs based on the World Trade Organization's standards. For example, motor vehicles, would have an average tariff of 10% imposed on them, without the provisions of the agreement.
The UK's top three service imports from the EU are:
Travel (33%)
Business services (27%)
Transportation (18%)
Looking at services, the main import from the EU is travel, followed closely by business services and transportation. Travel makes the top three, as many countries in the EU make attractive vacation spots for UK citizens.
Top Exports
The UK's top three goods exports to the EU (in terms of percentage of total exports to the EU) are:
Petroleum and petroleum products (12%)
Motor vehicles (10%)
Transport equipment (6%)
In terms of exports, petroleum is the UK's largest export to the EU, representing 68% of the country's total petroleum exports.
The UK's top three service exports to the EU are:
Business services (33%)
Financial services (21%)
Travel (14%)
The main service export is business services, such as accounting, legal, advertising, R&D, engineering, and so on. Travel to the UK is a significant revenue generator as London is one of the top tourist destinations in the world.
EU vs. Global Trade
The UK's relationship with other countries has remained steady. China is one of the country's most important export destinations, growing 7% per year from 2010-2019.
At the same time, the UK's exports to the United States have grown just over 4% per year over the same period, continuing to increase at a similar rate up to 2030.
While the UK currently has a £79 billion ($108 billion) trade deficit with the EU, they have a surplus of £49 billion ($67 billion) with non-EU countries. Additionally, the share of the UK's exports going to the EU has been consistently falling over the last number of years. Foreign direct investment flows between the two entities have also been drastically reduced.
However, the UK and EU trade relationship is still highly intertwined and significant. Not only are the two connected through intangible flows but physically as well via pipelines, transport highways, and cables. In a typical year, 210 million passengers and 230 million tonnes of cargo are transported between the two entities.
The TCA will help to regulate these flows and continue a sense of status quo, however, it's worth noting that if EU regulations are not met, tariffs could be imposed.
The Economist Intelligence Unit recently determined risk and resilience factors for different UK industries based on the agreement. The report found that the food & agriculture, automotive, and financial services industries are most at risk, due to interconnected supply chains and the risk of tariffs being imposed. The life sciences and tech industries stand to do the best.
The Trade and Cooperation Agreement
Overall, Brexit has had significant ramifications for all nations involved. Ireland, for example, is now geographically cut off from the EU, creating potential obstacles for both the movement of people and goods.
Now, after years of discussions, the UK and the EU have finally agreed to the terms for their new relationship, with a focus on sustainable trade, citizens' security, and governance for long-standing cooperation, in order to guarantee a level playing field. The TCA has helped ease the transition, and while they're no longer in a union, the UK and the EU have created a strong base for trade to continue normally.