The Game of Life: Visualizing China's Social Credit System
The Game of Life: Visualizing China's Social Credit System
In an attempt to imbue trust, China has announced a plan to implement a national ranking system for its citizens and companies. Currently in pilot mode, the new system will be rolled out in 2020, and go through numerous iterations before becoming official.
While the system may be a useful tool for China to manage its growing 1.4 billion population, it has triggered global concerns around the ethics of big data, and whether the system is a breach of fundamental human rights.
Today's infographic looks at how China's proposed social credit system could work, and what the implications might be.
The Government is Always Watching
Currently, the pilot system varies from place to place, whereas the new system is envisioned as a unified system. Although the pilot program may be more of an experiment than a precursor, it gives a good indication of what to expect.
In the pilot system, each citizen is assigned 1,000 points and is consistently monitored and rated on how they behave. Points are earned through good deeds, and lost for bad behavior. Users increase points by donating blood or money, praising the government on social media, and helping the poor. Rewards for such behavior can range from getting a promotion at work fast-tracked, to receiving priority status for children's school admissions.
In contrast, not visiting one's aging parents regularly, spreading rumors on the internet, and cheating in online games are considered antisocial behaviors. Punishments include public shaming, exclusion from booking flights or train tickets, and restricted access to public services.
Big Data Goes Right to the Source
The perpetual surveillance that comes with the new system is expected to draw on huge amounts of data from a variety of traditional and digital sources.
Police officers have used AI-powered smart glasses and drones to effectively monitor citizens. Footage from these devices showing antisocial behavior can be broadcast to the public to shame the offenders, and deter others from behaving similarly.
For more serious offenders, some cities in China force people to repay debts by switching the person's ringtone without their permission. The ringtone begins with the sound of a police siren, followed by a message such as:
"The person you are calling has been listed as a discredited person by the local court. Please urge this person to fulfill his or her legal obligations."
Two of the largest companies in China, Tencent and Alibaba, were enlisted by the People's Bank of China to play an important role in the credit system, raising the issue of third-party data security. WeChat—China's largest social media platform, owned by Tencent—tracked behavior and ranked users accordingly, while displaying their location in real-time.
Following data concerns, these tech companies—and six others—were not awarded any licenses by the government. However, social media giants are still involved in orchestrating the public shaming of citizens who misbehave.
The Digital Dang'an
The social credit system may not be an entirely new initiative in China. The dang'an (English: record) is a paper file containing an individual's school reports, information on physical characteristics, employment records, and photographs.
These dossiers, which were first used in the Maoist years, helped the government in maintaining control of its citizens. This gathering of citizen's data for China's social credit system may in fact be seen as a revival of the principle of dang'an in the digital era, with the system providing a powerful tool to monitor citizens whose data is more difficult to capture.
Is the System Working?
In 2018, people with a low score were prohibited from buying plane tickets almost 18 million times, while high-speed train ticket transactions were blocked 5.5 million times. A further 128 people were prohibited from leaving China, due to unpaid taxes.
The system could have major implications for foreign business practices—as preference could be given to companies already ranked in the system. Companies with higher scores will be rewarded with incentives which include lower tax rates and better credit conditions, with their behavior being judged in areas such as:
Paid taxes
Customs regulation
Environmental protection
Despite the complexities of gathering vast amounts of data, the system is certainly making an impact. While there are benefits to having a standardized scoring system, and encouraging positive behavior—will it be worth the social cost of gamifying human life?

Visualizing the Power Consumption of Bitcoin Mining
Bitcoin mining requires significant amounts of energy, but what does this consumption look like when compared to countries and companies?
Visualizing the Power Consumption of Bitcoin Mining
Cryptocurrencies have been some of the most talked-about assets in recent months, with bitcoin and ether prices reaching record highs. These gains were driven by a flurry of announcements, including increased adoption by businesses and institutions.
Lesser known, however, is just how much electricity is required to power the Bitcoin network. To put this into perspective, we've used data from the University of Cambridge's Bitcoin Electricity Consumption Index (CBECI) to compare Bitcoin's power consumption with a variety of countries and companies.
Why Does Bitcoin Mining Require So Much Power?
When people mine bitcoins, what they're really doing is updating the ledger of Bitcoin transactions, also known as the blockchain. This requires them to solve numerical puzzles which have a 64-digit hexadecimal solution known as a hash.
Miners may be rewarded with bitcoins, but only if they arrive at the solution before others. It is for this reason that Bitcoin mining facilities—warehouses filled with computers—have been popping up around the world.
These facilities enable miners to scale up their hashrate, also known as the number of hashes produced each second. A higher hashrate requires greater amounts of electricity, and in some cases can even overload local infrastructure.
Putting Bitcoin's Power Consumption Into Perspective
On March 18, 2021, the annual power consumption of the Bitcoin network was estimated to be 129 terawatt-hours (TWh). Here's how this number compares to a selection of countries, companies, and more.
| Name | Population  | Annual Electricity Consumption (TWh) |
| --- | --- | --- |
| China | 1,443M | 6,543 |
| United States | 330.2M | 3,989 |
| All of the world's data centers | - | 205 |
| State of New York | 19.3M | 161 |
| Bitcoin network  | - | 129  |
| Norway | 5.4M | 124 |
| Bangladesh | 165.7M | 70 |
| Google | - | 12 |
| Facebook | - | 5 |
| Walt Disney World Resort (Florida) | - | 1 |
Note: A terawatt hour (TWh) is a measure of electricity that represents 1 trillion watts sustained for one hour.
Source: Cambridge Centre for Alternative Finance, Science Mag, New York ISO, Forbes, Facebook, Reedy Creek Improvement District, Worldometer
If Bitcoin were a country, it would rank 29th out of a theoretical 196, narrowly exceeding Norway's consumption of 124 TWh. When compared to larger countries like the U.S. (3,989 TWh) and China (6,543 TWh), the cryptocurrency's energy consumption is relatively light.
For further comparison, the Bitcoin network consumes 1,708% more electricity than Google, but 39% less than all of the world's data centers—together, these represent over 2 trillion gigabytes of storage.
Where Does This Energy Come From?
In a 2020 report by the University of Cambridge, researchers found that 76% of cryptominers rely on some degree of renewable energy to power their operations. There's still room for improvement, though, as renewables account for just 39% of cryptomining's total energy consumption.
Here's how the share of cryptominers that use each energy type vary across four global regions.
Energy Source
Asia-Pacific
Europe
Latin America
and the Caribbean
North America
Hydroelectric
65%
60%
67%
61%
Natural gas
38%
33%
17%
44%
Coal
65%
2%
0%
28%
Wind
23%
7%
0%
22%
Oil
12%
7%
33%
22%
Nuclear
12%
7%
0%
22%
Solar
12%
13%
17%
17%
Geothermal
8%
0%
0%
6%
Source: University of Cambridge
Editor's note: Numbers in each column are not meant to add to 100%
Hydroelectric energy is the most common source globally, and it gets used by at least 60% of cryptominers across all four regions. Other types of clean energy such as wind and solar appear to be less popular.
Coal energy plays a significant role in the Asia-Pacific region, and was the only source to match hydroelectricity in terms of usage. This can be largely attributed to China, which is currently the world's largest consumer of coal.
Researchers from the University of Cambridge noted that they weren't surprised by these findings, as the Chinese government's strategy to ensure energy self-sufficiency has led to an oversupply of both hydroelectric and coal power plants.
Towards a Greener Crypto Future
As cryptocurrencies move further into the mainstream, it's likely that governments and other regulators will turn their attention to the industry's carbon footprint. This isn't necessarily a bad thing, however.
Mike Colyer, CEO of Foundry, a blockchain financing provider, believes that cryptomining can support the global transition to renewable energy. More specifically, he believes that clustering cryptomining facilities near renewable energy projects can mitigate a common issue: an oversupply of electricity.
"It allows for a faster payback on solar projects or wind projects… because they would [otherwise] produce too much energy for the grid in that area"
– Mike Colyer, CEO, Foundry
This type of thinking appears to be taking hold in China as well. In April 2020, Ya'an, a city located in China's Sichuan province, issued a public guidance encouraging blockchain firms to take advantage of its excess hydroelectricity.

Which Streaming Service Has the Most Subscriptions?
From Netflix and Disney+ to Spotify and Apple Music, we rank the streaming services with the most monthly paid subscriptions.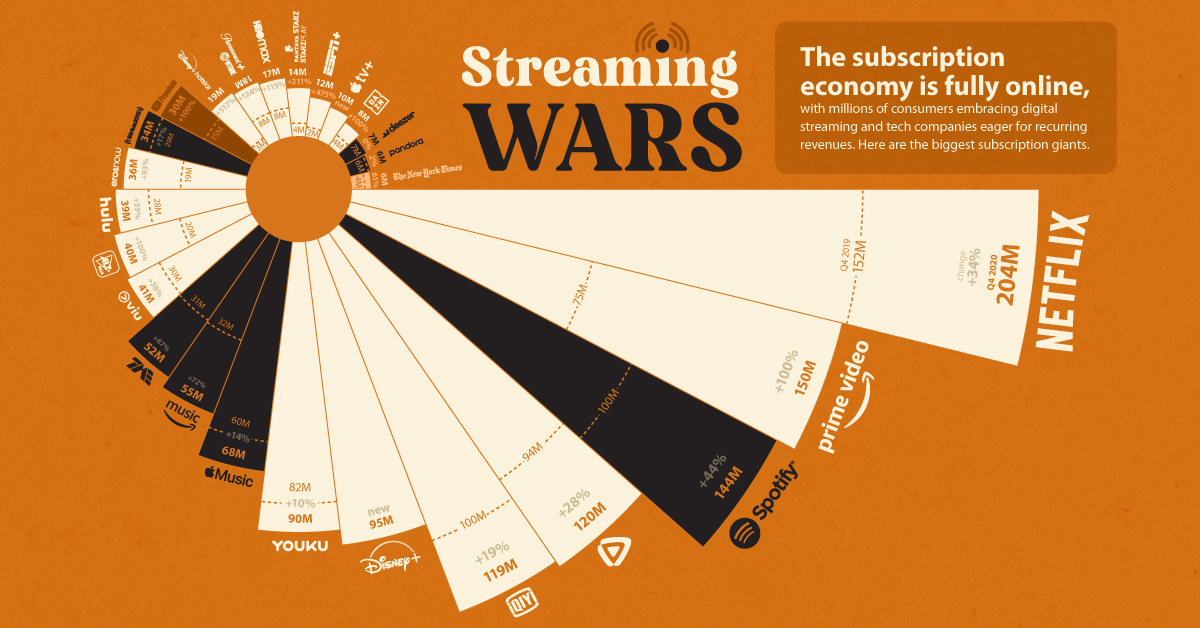 Which Streaming Service Has The Most Subscriptions?
Many companies have launched a streaming service over the past few years, trying to capitalize on the digital media shift and launching the so-called "streaming wars."
After Netflix grew from a small DVD-rental company to a household name, every media company from Disney to Apple saw recurring revenues ripe for the taking. Likewise, the audio industry has long-since accepted Spotify's rise to prominence, as streaming has become the de facto method of consumption for many.
But it was actually the unexpected COVID-19 pandemic that solidified the foothold of digital streaming, with subscription services seeing massive growth over the last year. Although it was expected that many new services would flounder along the way, media subscription services saw wide scale growth and adoption almost across the board.
We've taken the video, audio, and news subscription services with 5+ million subscribers to see who came out on top—and who has grown the most quickly—over the past year. Data comes from the FIPP media association as well as individual company reports.
Streaming Service Giants: Netflix and Amazon
The top of the streaming giant pantheon highlights two staples of business: the first-mover advantage and the power of conglomeration.
With 200+ million global subscribers, Netflix has capitalized on its position as the first and primary name in digital video streaming. Though its consumer base in the Americas has begun to plateau, the company's growth in reach (190+ countries) and content (70+ original movies slated for 2021) has put it more than 50 million subscribers ahead of its closest competition.
The story is the same in the audio market, where Spotify's 144 million subscriber base is more than double that of Apple Music, the next closest competitor with 68 million subscribers.
Meanwhile, Amazon's position as the second most popular video streaming service with 150 million subscribers might be surprising. However, Prime Video subscriptions are included with membership to Amazon Prime, which saw massive growth in usage during the pandemic.
| Service | Type | Subscribers (Q4 2020) |
| --- | --- | --- |
| Netflix | Video | 203.7M |
| Amazon Prime Video | Video | 150.0M |
| Spotify | Audio | 144.0M |
| Tencent Video | Video | 120.0M |
| iQIYI | Video | 119.0M |
| Disney+ | Video | 94.9M |
| Youku | Video | 90.0M |
| Apple Music | Audio | 68.0M |
| Amazon Prime Music | Audio | 55.0M |
| Tencent Music (Group) | Audio | 51.7M |
| Viu | Video | 41.4M |
| Alt Balaji | Video | 40M |
| Hulu | Video | 38.8M |
| Eros Now | Video | 36.2M |
| Sirius Xm | Audio | 34.4M |
| YouTube Premium | Video/Audio | 30M |
| Disney+ Hotstar | Video | 18.5M |
| Paramount+ | Video | 17.9M |
| HBO Max | Video | 17.2M |
| Starz/StarzPlay/Pantaya | Video | 13.7M |
| ESPN+ | Video | 11.5M |
| Apple TV+ | Video | 10M |
| DAZN | Video | 8M |
| Deezer | Audio | 7M |
| Pandora | Audio | 6.3M |
| New York Times | News | 6.1M |
Another standout is the number of large streaming services based in Asia. China-based Tencent Video (also known as WeTV) and Baidu's iQIYI streaming services both crossed 100 million paid subscribers, with Alibaba's Youku not far behind with 90 million.
Disney Leads in Streaming Growth
But perhaps most notable of all is Disney's rapid ascension to the upper echelons of streaming service giants.
Despite Disney+ launching in late 2019 with a somewhat lackluster content library (only one original series with one episode at launch), it has quickly rocketed both in terms of content and its subscriber base. With almost 95 million subscribers, it has amassed more subscribers in just over one year than Disney expected it could reach by 2024.
| Service | Type | Percentage Growth (2019) |
| --- | --- | --- |
| Disney+ | Video | New |
| Apple TV+ | Video | New |
| Disney+ Hotstar | Video | 516.7% |
| ESPN+ | Video | 475.0% |
| Starz/StarzPlay/Pantaya | Video | 211.4% |
| Paramount+ | Video | 123.8% |
| HBO Max | Video | 115.0% |
| Amazon Prime Video | Video | 100.0% |
| Alt Balaji | Video | 100.0% |
| YouTube Premium | Video/Audio | 100.0% |
| DAZN | Video | 100.0% |
| Eros Now | Video | 92.6% |
| Amazon Prime Music | Audio | 71.9% |
| Tencent Music (Group) | Audio | 66.8% |
| New York Times | News | 60.5% |
| Spotify | Audio | 44.0% |
| Hulu | Video | 38.6% |
| Viu | Video | 38.0% |
| Netflix | Video | 34.4% |
| Tencent Video | Video | 27.7% |
| iQiyi | Video | 19.0% |
| Sirius Xm | Audio | 17.4% |
| Apple Music | Audio | 13.3% |
| Youku | Video | 9.6% |
| Pandora | Audio | 1.6% |
| Deezer | Audio | 0% |
The Disney+ wave also spurred growth in partner streaming services like Hotstar and ESPN+, while other services with smaller subscriber bases saw large growth rates thanks to the COVID-19 pandemic.
The lingering question is how the landscape will look when the pandemic starts to wind down, and when all the new players are accounted for. NBCUniversal's Peacock, for example, has reached over 30 million subscribers as of January 2021, but the company hasn't yet disclosed how many are paid subscribers.
Likewise, competitors are investing in content libraries to try and make up ground on Netflix and Disney. HBO Max is slated to start launching internationally in June 2021, and ViacomCBS rebranded and expanded CBS All Access into Paramount+.
And international growth is vital. Three of the top six video streaming services by subscribers are based in China, while Indian services Hotstar, ALTBalaji, and Eros Now all saw surges in subscriber bases, with more room left to grow.