The People's Republic of China: 70 Years of Economic History
View a high-resolution version of this graphic here.
Chart: 70 Years of China's Economic Growth
View a high-resolution version of this graphic here.
From agrarian economy to global superpower in half a century—China's transformation has been an economic success story unlike any other.
Today, China is the world's second largest economy, making up 16% of $86 trillion global GDP in nominal terms. If you adjust numbers for purchasing power parity (PPP), the Chinese economy has already been the world's largest since 2014.
The upward trajectory over the last 70 years has been filled with watershed moments, strategic directives, and shocking tragedies — and all of this can be traced back to the founding of the People's Republic of China (PRC) on October 1st, 1949.
How the PRC Came to Be
The Chinese Civil War (1927–1949) between the Republic of China (ROC) and the Communist Party of China (CPC) caused a fractal split in the nation's leadership. The CPC emerged victorious, and mainland China was established as the PRC.
Communist leader Mao Zedong set out a few chief goals for the PRC: to overhaul land ownership, to reduce social inequality, and to restore the economy after decades of war. The first State Planning Commission and China's first 5-year plan were introduced to achieve these goals.
Today's timely chart looks back on seven decades of notable events and policies that helped shape the country China has become. The base data draws from a graphic by Bert Hofman, the World Bank's Country Director for China and other Asia-Pacific regions.
The Mao Era: 1949–1977
Mao Zedong's tenure as Chairman of the PRC triggered sweeping changes for the country.
1953–1957: First 5-Year Plan
The program's aim was to boost China's industrialization. Steel production grew four-fold in four years, from 1.3 million tonnes to 5.2 million tonnes. Agricultural output also rose, but it couldn't keep pace with industrial production.
1958–1962: Great Leap Forward
The campaign emphasized China's agrarian-to-industrial transformation, via a communal farming system. However, the plan failed—causing an economic breakdown and the deaths of tens of millions in the Great Chinese Famine.
1959–1962: Lushan Conference and 7,000 Cadres meeting
Top leaders in the Chinese Communist Party (CCP) met to create detailed policy frameworks for the PRC's future.
1966–1976: Great Proletarian Cultural Revolution
Mao Zedong attempted to regain power and support after the failures of the Great Leap Forward. However, this was another plan that backfired, causing millions more deaths by violence and again crippling the Chinese economy.
1971: Joined the United Nations
The PRC replaced the ROC (Taiwan) as a permanent member of the United Nations. This addition also made it one of only five members of the UN Security Council—including the UK, the U.S., France, and Russia.
1972: President Nixon's visit
After 25 years of radio silence, Richard Nixon was the first sitting U.S. President to step foot into the PRC. This helped re-establish diplomatic relations between the two nations.
1976–1977: Mao Zedong Death, and "Two Whatevers"
After Mao Zedong's passing, the interim government promised to "resolutely uphold whatever policy decisions Chairman Mao made, and unswervingly follow whatever instructions Chairman Mao gave."
1979: "One-Child Policy"
The government enacted an aggressive birth-planning program to control the size of the country's population, which it viewed as growing too fast.
A Wave of Socio-Economic Reforms: 1980-1999
From 1980 onward, China worked on opening up its markets to the outside world, and closing the inequality gap.
1980–1984: Special Economic Zones (SEZs) established
Several cities were designated SEZs, and provided with measures such as tax incentives to attract foreign investment. Today, the economies of cities like Shenzhen have grown to rival the GDPs of entire countries.
1981: National Household Responsibility System implemented
In the Mao era, quotas were set on how many goods farmers could produce, shifting the responsibility of profits to local managers instead. This rapidly increased the standard of living, and the quota system spread from agriculture into other sectors.
1989: Coastal Development Strategy
Post-Mao leadership saw the coastal region as the potential "catalyst" for the entire country's modernization.
1989–1991: Post-Tiananmen retrenchment
Early 1980s economic reforms had mixed results, and the growing anxiety eventually culminated in a series of protests. After tanks rolled into Tiananmen Square in 1989, the government "retrenched" itself by initially attempting to roll back economic reforms and liberalization. The country's annual growth plunged from 8.6% between 1979-1989 to 6.5% between 1989-1991.
1990–1991: Shanghai and Shenzhen stock exchanges open
Combined, the Shanghai (SSE) and Shenzhen (SZSE) stock exchanges are worth over $8.5 trillion in total market capitalization today.
1994: Shandong Huaneng lists on the NYSE
The power company was the first PRC enterprise to list on the NYSE. This added a new N-shares group to the existing Chinese capital market options of A-shares, B-shares, and H-shares.
1994–1996: National "8-7" Poverty Reduction Plan
China successfully lifted over 400 million poor people out of poverty between 1981 and 2002 through this endeavor.
1996: "Grasp the Large, Let Go of the Small"
Efforts were made to downsize the state sector. Policy makers were urged to maintain control over state-owned enterprises to "grasp the large". Meanwhile, the central government was encouraged to relinquish control over smaller SOEs, or "let go of the small".
1997: Urban Dibao (低保)
China's social safety net went through restructuring from 1993, and became a nationwide program after strong success in Shanghai.
1997-1999: Hong Kong and Macao handover, Asian Financial Crisis
China was largely unscathed by the regional financial crisis, thanks to the RMB (¥) currency's non-convertibility. Meanwhile, the PRC regained sovereignty of Hong Kong and Macau back from the UK and Portugal, respectively.
1999: Western Development Strategy
The "Open Up the West" program built out 6 provinces, 5 autonomous regions, and 1 municipality—each becoming integral to the Chinese economy.
Turn of the Century: 2000-present
China's entry to the World Trade Organization, and the Qualified Foreign Institutional Investor (QFII) program – which let foreign investors participate in the PRC's stock exchanges – contributed to the country's economic growth.
Source: CNBC
2006: Medium-term Plan for Scientific Development
The PRC State Council's 15-year plan outlines that 2.5% or more of national GDP should be devoted to research and development by 2020.
2008-2009: Global Financial Crisis
The PRC experienced only a mild economic slowdown during the crisis. The country's GDP growth in 2007 was a staggering 14.2%, but this dropped to 9.7% and 9.5% respectively in the two years following.
2013: Belt and Road Initiative
China's ambitious plans to develop road, rail, and sea routes across 152 countries is scheduled for completion by 2049—in time for the PRC's 100th anniversary. More than $900 billion is budgeted for these infrastructure projects.
2015: Made in China 2025
The PRC refuses to be the world's "factory" any longer. In response, it will invest nearly $300 billion to boost its manufacturing capabilities in high-tech fields like pharmaceuticals, aerospace, and robotics.
Despite the recent ongoing trade dispute with the U.S. and an increasingly aging population, the Chinese growth story seems destined to continue on.
China Paving the Way?
The 70th anniversary of the PRC offers a moment to reflect on the country's journey from humble beginnings to a powerhouse on the world stage.
Because of China's economic success, more and more countries see China as an example to emulate, a model of development that could mean moving from rags to riches within a generation.
Cocoa: A Bittersweet Supply Chain
The cocoa supply chain is a bittersweet one. While chocolate is a beloved sweet treat globally, many cocoa farmers are living a bitter reality.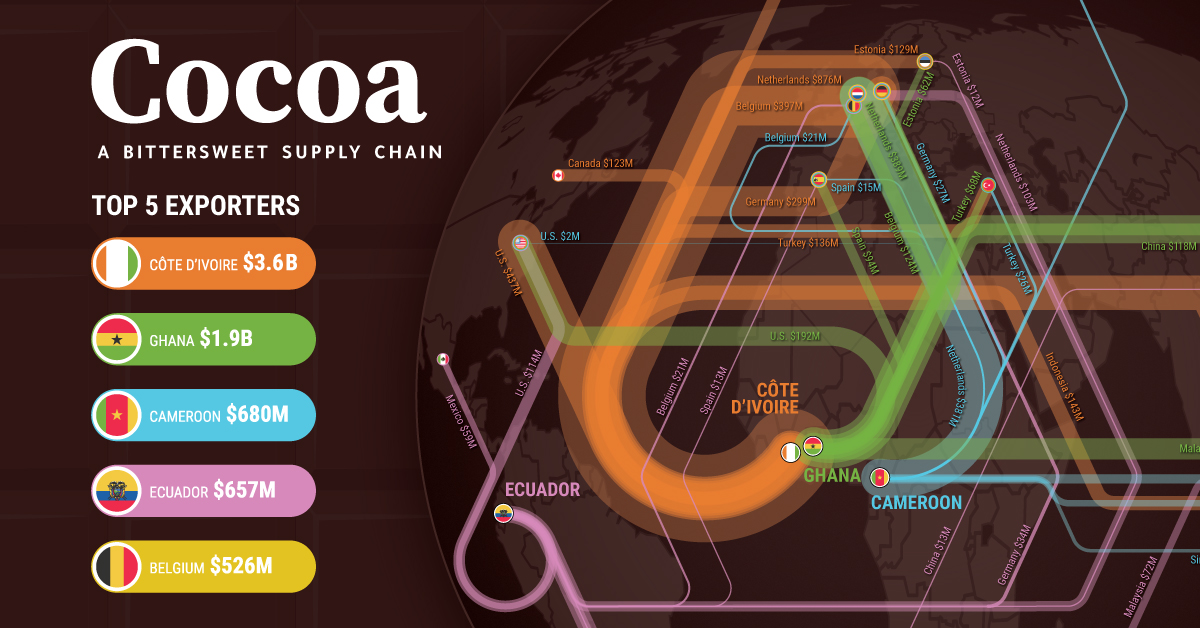 Cocoa: A Bittersweet Supply Chain
From bean to bar, the cocoa supply chain is a bittersweet one. While the end product is something most of us enjoy, this also comes with a human cost.
Based on how much cocoa comes from West Africa, it's likely that most of the chocolates we eat have a little bit of Cote d'Ivoire and Ghana in them. The $130B chocolate industry relies on cocoa farming for supply of chocolate's key ingredient. Yet, many cocoa farmers make less than $1/day.
The above graphic maps the major trade flows of cocoa and allows us to dive deeper into its global supply chain.
From Bean to Bar: Stages in the Cocoa Supply Chain
Cocoa beans go through a number of stages before being used in chocolate products.
Harvesting, Fermenting, and Drying
First, farmers harvest cocoa beans from pods on cacao plants. Next, they are fermented in heaps and covered with banana leaves. Farmers then dry and package the cocoa beans for domestic transportation.
Domestic Transportation, Cleaning, and Exporting
Domestic transporters carry packaged cocoa beans to either cleaning warehouses or processing factories. Cocoa beans are cleaned and prepared for exports to the chocolate production hubs of the world.
Processing and Chocolate Production
Processing companies winnow, roast, and grind cocoa beans and then convert them into cocoa liquor, cocoa butter, or cocoa cakes—which are mixed with other ingredients like sugar and milk to produce chocolate products.
Cocoa farming and trade are at the roots of the chocolate industry, and the consistent supply of cocoa plays a critical role in providing us with reasonably-priced chocolate.
So where exactly does all this cocoa come from?
The Key Nations in Cocoa's Global Supply Chain
Growing cocoa has specific temperature, water, and humidity requirements. As a result, the equatorial regions of Africa, Central and South America, and Asia are optimal for cocoa farming.
These regions host the biggest cocoa exporters by value.
| Rank (2019) | Exporting Country | Value (US$, millions) |
| --- | --- | --- |
| 1 | Côte d'Ivoire 🇨🇮 | $3,575 |
| 2 | Ghana 🇬🇭 | $1,851 |
| 3 | Cameroon 🇨🇲 | $680 |
| 4 | Ecuador 🇪🇨 | $657 |
| 5 | Belgium 🇧🇪 | $526 |
Côte d'Ivoire and Ghana are responsible for 70% of global cocoa production, and cocoa exports play a huge role in their economies. Although the majority of exporters come from equatorial regions, Belgium stands out in fifth place.
On the other hand, most of the top importers are in Europe—the Netherlands and Germany being the top two.
| Rank (2019) | Importing Country | Value (US$, millions) |
| --- | --- | --- |
| 1 | Netherlands 🇳🇱 | $2,283 |
| 2 | Germany 🇩🇪 | $1,182 |
| 3 | U.S. 🇺🇸 | $931 |
| 4 | Malaysia 🇲🇾 | $826 |
| 5 | Belgium 🇧🇪 | $719 |
In third place, the U.S. primarily sources its cocoa from Côte d'Ivoire, Ghana, and Ecuador. Mars, Hershey, Cargill, and Blommer—some of the world's biggest chocolate manufacturers and processors—are headquartered in the U.S.
Finally, it comes as no surprise that the biggest importers of cocoa beans are among the biggest chocolate exporters.
Rank (2019)
Country
Value of Chocolate Exports
(US$, millions)
1
Germany 🇩🇪
$4,924
2
Belgium 🇧🇪
$3,143
3
Italy 🇮🇹
$2,100
4
Netherlands 🇳🇱
$1,992
5
Poland 🇵🇱
$1,834
Not only is the Netherlands the biggest importer of beans, but it's also the biggest processor—grinding 600,000 tons annually—and the fourth largest exporter of chocolate products.
Belgium is another key nation in the supply chain, importing cocoa beans from producing countries and exporting them across Europe. It's also home to the world's largest chocolate factory, supporting its annual chocolate exports worth $3.1 billion.
Breaking Down the Cocoa Supply Chain: Who Gets What
Without farmers, both the cocoa and chocolate industries are likely to suffer from shortages, with domino effects on higher overall costs. Yet, they have little ability to influence prices at present.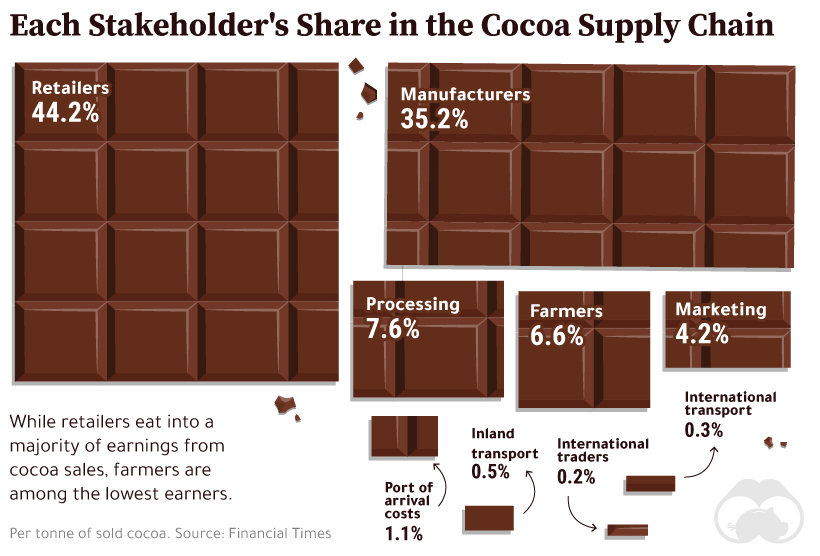 Farmers are among the lowest earners from a tonne of sold cocoa—accounting for just 6.6% of the value of the final sale.
Low incomes also translate into numerous other issues associated with cocoa farming.
The Bitter Side of Cocoa Farming
The World Bank has established the threshold for extreme poverty at $1.90/day. Cocoa farmers in Ghana make $1/day, while those in Côte d'Ivoire make around $0.78/day—both significantly below the extreme poverty line.
Farmers are often unable to bear the costs of cocoa farming as a result of low incomes. In turn, they employ children, who miss out on education, are exposed to hazardous working conditions, and get paid little or no wages.
| Country | Cocoa Farmers Making $1/day or less | Children in Cocoa Agriculture |
| --- | --- | --- |
| Côte d'Ivoire 🇨🇮 | 600,000 | 891,500 |
| Ghana 🇬🇭 | 800,000 | 708,400 |
To make matters worse, cocoa farming is primarily responsible for deforestation and illegal farming in Côte d'Ivoire and Ghana—adding environmental issues to the mix.
These interconnected problems call for action, so what is being done to fight them?
Combating Cocoa's Concerns
Mars, Nestlé, and Hershey—some of the world's biggest chocolate manufacturers—have made several pledges to eradicate child labor in cocoa farming over the last two decades, but haven't reached their targets.
In addition, organizations such as UTZ Certified, Rainforest Alliance, and Fairtrade are working to increase traceability in the supply chain by selling 'certified cocoa', sourced from farms that prohibit child labor.
More recently, Côte d'Ivoire and Ghana announced a fixed premium of US$400/tonne on cocoa futures, aiming to improve farmer livelihoods by creating a union for cocoa, also known colloquially as the "COPEC" for the industry.
While these initiatives have had some positive impacts, more still needs to be done to successfully eradicate large-scale child labor and poverty of those involved in cocoa's bittersweet supply chain.

Volatile Returns: Commodity Investing Through Miners and Explorers
The companies that mine or explore for metals offer additional leverage to commodity prices, creating opportunities for astute investors.
Volatile Returns: Commodity Investing Through Miners
Investors consider gold and silver as safe haven investments. But the companies that produce gold and silver often offer volatile returns, creating opportunities for astute investors.
Volatility is a double-edged sword, particularly when it comes to commodity investing. During the good times, it can create skyrocketing returns. But during bad times, it can turn ugly.
Today's infographic comes to us from Prospector Portal, and shows how investing in precious metals equities can outperform or underperform the broader metals market.
Capitalizing on Volatility: Timing Matters
Just like most investments, timing matters with commodities.
Due to the complex production processes of commodities, unexpected demand shocks are met with slower supply responses. This, along with other factors, creates commodity supercycles—extended periods of upswings and downswings in prices.
Investors must time their investments to take advantage of this volatility, and there are multiple ways to do so.
Three Ways to Invest in Commodities
There are three primary routes investors can take when it comes to investing in commodities.
Investment Method
Benefits
Limitations
Direct physical investment

Purest form of exposure


Intrinsic value of a commodity and physical possession

High transaction costs (buying, shipping, transport)


Costs of physical storage limit the quantity and returns

Commodity futures

Commodity investment without the need for storage


Diversification benefits and inflation hedge

Complex and frequent transactions


Risk of contango—when futures contracts are more expensive than the underlying commodity

Commodity-related equities

Exposure to prices without storage or transaction limitations


Opportunity to benefit from commodity prices and company performance

Returns depend on the company's valuation


Companies may mitigate risk by producing multiple commodities—reducing leverage to prices
Among these, commodity-related equities offer by far the most leverage to changes in prices. Let's dive into how investors can use this leverage to their advantage with volatile metal prices.
The Fundamentals of Investing in Mining Equities
When it comes to commodity investing, targeting miners and mineral exploration companies presents fundamental benefits and drawbacks.
As metal prices rise, the performance of mining companies improves in several ways—while in deteriorating conditions, they do the opposite:

| Category | Rising Commodity Prices | Falling Commodity Prices |
| --- | --- | --- |
| Outlook | - Improved outlook | - Deteriorated outlook |
| Stock Price Movement | - Equity growth | - Equity decline |
| Dividend Payouts | - Increased dividends | - Decreased dividends |
| Financial Performance | - Increased earnings | - Decreased earnings |
With the right timing, these ups and downs can create explosive opportunities.
Mining companies, especially explorers, use these price swings to their advantage and often produce market-beating returns during an upswing.
But how?
The Proof: How Mining Equities React to Metal Prices
Not only do price increases translate into higher profits for mining companies, but they can also change the outlook and value of exploration companies. As a result, investing in exploration companies can be a great way to gain exposure to changing prices.
That said, these types of companies can generate greater equity returns over a shorter period of time when prices are high, but they can also turn dramatically negative when prices are low.
Below, we compare how producers and exploration companies with a NI-43-101 compliant resource perform during bull and bear markets for precious metals.
All figures are in U.S. dollars unless otherwise stated.
Mining Company
Company Stage
Primary Metal
Produced
Market Cap.
Oct 31, 2019
Market Cap.
July 29, 2020

Bull Market Performance
(Nov. 1, 2019-July 29, 2020)
Bear Market Performance
(Jan 02 – Dec 31, 2018)
Banyan Gold
Exploration/
Development
Gold
$6M
$40M
500%
-44%
Renforth Resources
Exploration
Gold
$8M
$10M
11%
-10%
Auryn Resources
Exploration
Gold, Copper
$181M
$330M
60%
-39%
Wesdome Gold Mines Ltd.
Production
Gold
$1,104M
$1,885M
68%
110%
Monarch Gold
Exploration/
Development
Gold
$57M
$148M
139%
-23%
Red Pine Exploration
Exploration
Gold
$13M
$22M
29%
-55%
Revival Gold Inc.
Exploration/
Development
Gold
$27M
$74M
113%
5%
Erdene Resource Development
Exploration/
Development
Gold
$36M
$111M
222%
-56%
Endeavor Mining Corp.
Production
Gold
$2,622M
$5,874M
54%
-13%
Yamana Gold Inc
Production
Gold
$4,572M
$8,279M
87%
-22%
During the bear market period, the price of gold declined by 2.66%, and despite engaging in exploration activity, most companies saw a slump in their share prices.
In particular, exploration companies, or juniors, took a heavier hit, with returns averaging -31.66%. But even during a bear market, a discovery can make all the difference—as was the case for producer Wesdome Gold Mines, generating a 109.95% return over 2018.
Average returns for gold producers including Wesdome: 24.83%
Average returns for gold producers excluding Wesdome: -17.65%
During the bull market period for gold, gold mining companies outperformed the price of gold, with juniors offering the highest equity returns averaging 153.43%. Gold producers outperformed the commodity market, the value of their equities increased 69.61%—less than half of that of exploration companies.
Silver: Bears vs Bulls
Similar to gold mining companies, performances of silver producers and explorers reflected the volatility in silver prices:
Company
Company Stage
Primary Metal
Produced
Market Cap.
Oct 31, 2019

Market Cap.
July 29, 2020
Bull Market Performance (Nov. 1, 2019-July 29, 2020)
Bear Market Performance (Jan 02 – Dec 31, 2018)
Silvercrest Metals
Exploration
Silver
$694M
$1,449M
78%
117%
Pan American Silver
Production
Silver
$2,973M
$10,550M
125%
1%
Golden Minerals
Exploration
Silver
$30M
$80M
80%
-42%
Americas Gold and Silver
Production
Silver
$335M
$482M
10%
-56%
Dolly Varden Silver Corp.
Exploration
Silver
$28M
$74M
152%
-32%
Endeavour Silver
Production
Silver, Gold
$458M
$837M
72%
-10%
During the bear market period for silver, its price decreased by 9.8%. Explorers and producers both saw a dip in their share prices, with the equity of silver producers decreasing by 21.63%.
However, the discovery of a high-quality silver deposit again made the difference for SilverCrest Metals, which generated a 116.85% return over the year.
Average returns for silver exploration companies including SilverCrest: 8.32%
Average returns for silver exploration companies excluding SilverCrest: -27.86%
On the other hand, during the bull market period, the price of silver increased by 34.33%. Silver exploration companies surpassed the performance of the price of silver.
Average returns for silver producers: 69.04%
Average returns for silver exploration companies: 95.36%
The potential to generate massive returns and losses is evident in both cases for gold and silver.
The Investment Potential of Exploration
Mining equities tend to outperform underlying commodity prices during bull markets, while underperforming during bear markets.
For mining exploration companies, these effects are even more pronounced—exploration companies are high-risk but can offer high-reward when it comes to commodity investing.
To reap the rewards of volatile returns, you have to know the risks and catch the market at the right time.