The People's Republic of China: 70 Years of Economic History
View a high-resolution version of this graphic here.
Chart: 70 Years of China's Economic Growth
View a high-resolution version of this graphic here.
From agrarian economy to global superpower in half a century—China's transformation has been an economic success story unlike any other.
Today, China is the world's second largest economy, making up 16% of $86 trillion global GDP in nominal terms. If you adjust numbers for purchasing power parity (PPP), the Chinese economy has already been the world's largest since 2014.
The upward trajectory over the last 70 years has been filled with watershed moments, strategic directives, and shocking tragedies — and all of this can be traced back to the founding of the People's Republic of China (PRC) on October 1st, 1949.
How the PRC Came to Be
The Chinese Civil War (1927–1949) between the Republic of China (ROC) and the Communist Party of China (CPC) caused a fractal split in the nation's leadership. The CPC emerged victorious, and mainland China was established as the PRC.
Communist leader Mao Zedong set out a few chief goals for the PRC: to overhaul land ownership, to reduce social inequality, and to restore the economy after decades of war. The first State Planning Commission and China's first 5-year plan were introduced to achieve these goals.
Today's timely chart looks back on seven decades of notable events and policies that helped shape the country China has become. The base data draws from a graphic by Bert Hofman, the World Bank's Country Director for China and other Asia-Pacific regions.
The Mao Era: 1949–1977
Mao Zedong's tenure as Chairman of the PRC triggered sweeping changes for the country.
1953–1957: First 5-Year Plan
The program's aim was to boost China's industrialization. Steel production grew four-fold in four years, from 1.3 million tonnes to 5.2 million tonnes. Agricultural output also rose, but it couldn't keep pace with industrial production.
1958–1962: Great Leap Forward
The campaign emphasized China's agrarian-to-industrial transformation, via a communal farming system. However, the plan failed—causing an economic breakdown and the deaths of tens of millions in the Great Chinese Famine.
1959–1962: Lushan Conference and 7,000 Cadres meeting
Top leaders in the Chinese Communist Party (CCP) met to create detailed policy frameworks for the PRC's future.
1966–1976: Great Proletarian Cultural Revolution
Mao Zedong attempted to regain power and support after the failures of the Great Leap Forward. However, this was another plan that backfired, causing millions more deaths by violence and again crippling the Chinese economy.
1971: Joined the United Nations
The PRC replaced the ROC (Taiwan) as a permanent member of the United Nations. This addition also made it one of only five members of the UN Security Council—including the UK, the U.S., France, and Russia.
1972: President Nixon's visit
After 25 years of radio silence, Richard Nixon was the first sitting U.S. President to step foot into the PRC. This helped re-establish diplomatic relations between the two nations.
1976–1977: Mao Zedong Death, and "Two Whatevers"
After Mao Zedong's passing, the interim government promised to "resolutely uphold whatever policy decisions Chairman Mao made, and unswervingly follow whatever instructions Chairman Mao gave."
1979: "One-Child Policy"
The government enacted an aggressive birth-planning program to control the size of the country's population, which it viewed as growing too fast.
A Wave of Socio-Economic Reforms: 1980-1999
From 1980 onward, China worked on opening up its markets to the outside world, and closing the inequality gap.
1980–1984: Special Economic Zones (SEZs) established
Several cities were designated SEZs, and provided with measures such as tax incentives to attract foreign investment. Today, the economies of cities like Shenzhen have grown to rival the GDPs of entire countries.
1981: National Household Responsibility System implemented
In the Mao era, quotas were set on how many goods farmers could produce, shifting the responsibility of profits to local managers instead. This rapidly increased the standard of living, and the quota system spread from agriculture into other sectors.
1989: Coastal Development Strategy
Post-Mao leadership saw the coastal region as the potential "catalyst" for the entire country's modernization.
1989–1991: Post-Tiananmen retrenchment
Early 1980s economic reforms had mixed results, and the growing anxiety eventually culminated in a series of protests. After tanks rolled into Tiananmen Square in 1989, the government "retrenched" itself by initially attempting to roll back economic reforms and liberalization. The country's annual growth plunged from 8.6% between 1979-1989 to 6.5% between 1989-1991.
1990–1991: Shanghai and Shenzhen stock exchanges open
Combined, the Shanghai (SSE) and Shenzhen (SZSE) stock exchanges are worth over $8.5 trillion in total market capitalization today.
1994: Shandong Huaneng lists on the NYSE
The power company was the first PRC enterprise to list on the NYSE. This added a new N-shares group to the existing Chinese capital market options of A-shares, B-shares, and H-shares.
1994–1996: National "8-7" Poverty Reduction Plan
China successfully lifted over 400 million poor people out of poverty between 1981 and 2002 through this endeavor.
1996: "Grasp the Large, Let Go of the Small"
Efforts were made to downsize the state sector. Policy makers were urged to maintain control over state-owned enterprises to "grasp the large". Meanwhile, the central government was encouraged to relinquish control over smaller SOEs, or "let go of the small".
1997: Urban Dibao (低保)
China's social safety net went through restructuring from 1993, and became a nationwide program after strong success in Shanghai.
1997-1999: Hong Kong and Macao handover, Asian Financial Crisis
China was largely unscathed by the regional financial crisis, thanks to the RMB (¥) currency's non-convertibility. Meanwhile, the PRC regained sovereignty of Hong Kong and Macau back from the UK and Portugal, respectively.
1999: Western Development Strategy
The "Open Up the West" program built out 6 provinces, 5 autonomous regions, and 1 municipality—each becoming integral to the Chinese economy.
Turn of the Century: 2000-present
China's entry to the World Trade Organization, and the Qualified Foreign Institutional Investor (QFII) program – which let foreign investors participate in the PRC's stock exchanges – contributed to the country's economic growth.
Source: CNBC
2006: Medium-term Plan for Scientific Development
The PRC State Council's 15-year plan outlines that 2.5% or more of national GDP should be devoted to research and development by 2020.
2008-2009: Global Financial Crisis
The PRC experienced only a mild economic slowdown during the crisis. The country's GDP growth in 2007 was a staggering 14.2%, but this dropped to 9.7% and 9.5% respectively in the two years following.
2013: Belt and Road Initiative
China's ambitious plans to develop road, rail, and sea routes across 152 countries is scheduled for completion by 2049—in time for the PRC's 100th anniversary. More than $900 billion is budgeted for these infrastructure projects.
2015: Made in China 2025
The PRC refuses to be the world's "factory" any longer. In response, it will invest nearly $300 billion to boost its manufacturing capabilities in high-tech fields like pharmaceuticals, aerospace, and robotics.
Despite the recent ongoing trade dispute with the U.S. and an increasingly aging population, the Chinese growth story seems destined to continue on.
China Paving the Way?
The 70th anniversary of the PRC offers a moment to reflect on the country's journey from humble beginnings to a powerhouse on the world stage.
Because of China's economic success, more and more countries see China as an example to emulate, a model of development that could mean moving from rags to riches within a generation.
Which Asian Economies Have the Most Sustainable Trade Policies?
The Sustainable Trade Index ranks 19 Asian economies and the U.S. across three categories of trade sustainability.
Which Asian Economies Have the Most Sustainable Trade Policies?
To say that Asia has benefited from international trade is an understatement. By opening its economies to the rest of the world, the region has become a leading exporter in many of today's most important industries.
Trade has also improved Asia's quality of life, lifting over one billion people out of poverty since 1990. Without the proper controls, however, such rapid growth could have harmful effects on Asia's environment and society.
In this infographic from The Hinrich Foundation, we break down the results of their 2020 Sustainable Trade Index (STI). Since 2016, this index has ranked 19 Asian economies and the U.S. across three categories of trade sustainability: economic, social, and environmental.
What Exactly is Sustainable Trade?
International trade is an important source of economic growth, enabling domestic businesses to expand, reach new customers, and gain exposure to foreign markets.
At the same time, countries that focus too heavily on exports put themselves at greater long-term risk. For example, an aggressive expansion into manufacturing is likely to impair the quality of a country's air, while overdependence on a single product or sector can create an economy that is susceptible to demand shocks.
"The primary principle which underpins sustainable trade is balance. Trade cannot be pursued solely for economic gains, without considering environmental and social outcomes."
– Merle A. Hinrich
Thus, sustainable trade supports not only economic growth, but also environmental protection and strengthened social capital. It involves finding a balance between short-term incentives and long-term resilience.
Measuring Sustainable Trade
The Sustainable Trade Index (STI) is based on three underlying pillars of trade sustainability. Every economy in the STI receives a score between 0 and 100 for each pillar.
Pillar
Number of Indicators
Examples of Indicators
Economic pillar
21

Use of trade tariffs
Logistics performance
Growth in labor force

Social pillar
12

Level of economic inequality
Presence of child labor
Educational attainment

Environmental pillar
14

Level of air pollution
Reliance on natural resources
Environmental standards
The economic pillar measures a country's ability to to grow its economy through trade, while the social pillar measures a population's tolerance for trade expansion, given the costs and benefits of economic growth.
Last but not least, the environmental pillar measures a country's proficiency at managing climate-related risks. Individual pillar scores are then aggregated to arrive at an overall ranking, which also has a maximum possible score of 100.
The Sustainable Trade Index 2020: Overall Rankings
For the first time in the STI's history, Japan and South Korea have tied for first place. Both countries have placed in the top five previously, but 2020 marks the first time for either to take the top spot.
| Rank | Economy | Overall Score |
| --- | --- | --- |
| 1 (tied) | 🇯🇵 Japan | 75.1 |
| 1 (tied) | 🇰🇷 South Korea | 75.1 |
| 3 | 🇸🇬 Singapore | 70.2 |
| 4 | 🇭🇰 Hong Kong | 68.3 |
| 5 | 🇹🇼 Taiwan | 67.0 |
| 6 | 🇺🇸 U.S. | 66.2 |
| 7 | 🇨🇳 China | 56.5 |
| 8 | 🇵🇭 Philippines | 55.9 |
| | 🌏 Average | 55.1 |
| 9 | 🇹🇭 Thailand | 50.5 |
| 10 | 🇱🇰 Sri Lanka | 50.4 |
| 11 | 🇲🇾 Malaysia | 49.5 |
| 12 | 🇧🇩 Bangladesh | 49.4 |
| 13 | 🇧🇳 Brunei | 48.5 |
| 14 | 🇰🇭 Cambodia | 47.8 |
| 15 (tied) | 🇮🇳 India | 46.9 |
| 15 (tied) | 🇻🇳 Vietnam | 46.9 |
| 17 | 🇮🇩 Indonesia | 46.3 |
| 18 | 🇱🇦 Laos | 46.1 |
| 19 | 🇵🇰 Pakistan | 43.9 |
| 20 | 🇲🇲 Myanmar | 40.3 |
Advanced economies like Singapore, Hong Kong, and Taiwan were also strong performers, each scoring in the high 60s. At the other end of the spectrum, developing countries such as India and Vietnam were tightly packed within the 40 to 50 range.
To learn more, here's how each country performed in the three underlying pillars.
1. Economic Pillar Rankings
Hong Kong topped the economic pillar for the first time thanks to its low trade costs and well-developed financial sector. Financial services have increased their contribution to Hong Kong's GDP from 13% in 2004 to 20% in 2018.
The region's recently initiated national security law—which has resulted in greater political instability—may have a negative effect on future rankings.
| Rank | Economy | Economic Score |
| --- | --- | --- |
| 1 | 🇭🇰 Hong Kong | 69.6 |
| 2 | 🇸🇬 Singapore | 68.7 |
| 3 | 🇨🇳 China | 64.9 |
| 4 | 🇰🇷 South Korea | 63.3 |
| 5 (tied) | 🇲🇾 Malaysia | 61.2 |
| 5 (tied) | 🇺🇸 U.S. | 61.2 |
| 7 | 🇹🇼 Taiwan | 60.3 |
| 8 | 🇧🇳 Brunei | 59.3 |
| 9 (tied) | 🇯🇵 Japan | 58.6 |
| 9 (tied) | 🇵🇭 Philippines | 58.6 |
| | 🌏 Average | 56.9 |
| 11 | 🇧🇩 Bangladesh | 56.3 |
| 12 | 🇰🇭 Cambodia | 56 |
| 13 | 🇱🇰 Sri Lanka | 54.7 |
| 14 | 🇻🇳 Vietnam | 53.9 |
| 15 | 🇮🇩 Indonesia | 52.1 |
| 16 | 🇮🇳 India | 51.4 |
| 17 | 🇲🇲 Myanmar | 49.5 |
| 18 | 🇹🇭 Thailand | 47.4 |
| 19 | 🇵🇰 Pakistan | 46.9 |
| 20 | 🇱🇦 Laos | 44.0  |
China was also a strong performer, climbing to third for the first time. Asia's largest economy benefits from a well-diversified group of trading partners, meaning it doesn't rely too heavily on a single market.
The bottom five countries—India (16th), Myanmar (17th), Thailand (18th), Pakistan (19th) and Laos (20th)—suffered from issues such as payment risk, which is measured as the difficulty of getting money in and out of a country. This risk is especially damaging to trade because it discourages foreign direct investment.
2. Social Pillar Rankings
The social pillar features the highest average score, but also the largest gap from top to bottom. This gap has expanded over recent years, growing from 43.9 points in 2018 to 52.3 in 2020.
| Rank | Economy | Social Score |
| --- | --- | --- |
| 1 | 🇹🇼 Taiwan | 88 |
| 2 | 🇯🇵 Japan | 87.3 |
| 3 | 🇰🇷 South Korea | 86.9 |
| 4 | 🇺🇸 U.S. | 83.1 |
| 5 | 🇸🇬 Singapore | 63.1 |
| 6 | 🇵🇭 Philippines | 62.4 |
| 7 | 🇹🇭 Thailand | 60.9 |
| | 🌏 Average | 59.1 |
| 8 | 🇭🇰 Hong Kong | 57.8 |
| 9 | 🇧🇩 Bangladesh | 55.8 |
| 10 | 🇲🇾 Malaysia | 53.6 |
| 11 | 🇱🇦 Laos | 53.0 |
| 12 | 🇮🇳 India | 52.5 |
| 13 | 🇮🇩 Indonesia | 52.4 |
| 14 | 🇧🇳 Brunei | 51.6 |
| 15 | 🇻🇳 Vietnam | 50.4 |
| 16 | 🇨🇳 China | 50.2 |
| 17 | 🇰🇭 Cambodia | 46.2 |
| 18 | 🇱🇰 Sri Lanka | 46.1 |
| 19 | 🇵🇰 Pakistan | 45.6 |
| 20 | 🇲🇲 Myanmar | 35.7 |
Taiwan claimed the top spot for the second time, solidifying its reputation as Asia's leader in human capital development. It performed well in the educational attainment indicator, with 93.6% of its population receiving a tertiary education.
China, despite its success in other pillars, only managed 16th. This was partly due to the effects of its now defunct one-child policy, which has been responsible for creating gender imbalances and a shrinking population.
3. Environmental Pillar Rankings
The environmental pillar has the lowest average score of the three. Japan, Singapore, Hong Kong, and South Korea were the only countries to score above 75.
| Rank | Economy | Environmental Score |
| --- | --- | --- |
| 1 | 🇯🇵 Japan | 80.0 |
| 2 | 🇸🇬 Singapore | 78.7 |
| 3 | 🇭🇰 Hong Kong | 77.4 |
| 4 | 🇰🇷 South Korea | 75.2 |
| 5 | 🇨🇳 China | 54.5 |
| 6 | 🇺🇸 U.S. | 54.3 |
| 7 | 🇹🇼 Taiwan | 52.8 |
| 8 | 🇱🇰 Sri Lanka | 50.4 |
| | 🌏 Average | 49.1 |
| 9 | 🇵🇭 Philippines | 46.6 |
| 10 | 🇹🇭 Thailand | 43.2 |
| 11 | 🇰🇭 Cambodia | 41.2 |
| 12 | 🇱🇦 Laos | 41.1 |
| 13 | 🇵🇰 Pakistan | 39.3 |
| 14 | 🇮🇳 India | 36.7 |
| 15 | 🇻🇳 Vietnam | 36.3 |
| 16 | 🇧🇩 Bangladesh | 36.0 |
| 17 | 🇲🇲 Myanmar | 35.6 |
| 18 | 🇧🇳 Brunei | 34.6 |
| 19 | 🇮🇩 Indonesia | 34.3 |
| 20 | 🇲🇾 Malaysia | 33.8 |
The top four performed well in areas such as air quality and water pollution, and with the exception of Hong Kong, have all introduced carbon pricing schemes in the past decade. This doesn't mean these countries are without their flaws, however.
Land-constrained Singapore, for instance, ranked 16th in the deforestation indicator. The city-state is one of the densest population centers in the world, and has cut down forests to clear space for further settlement and urbanization.
Building Back Better From COVID-19
Despite the damage that COVID-19 has caused, there are some silver linings. This includes the environmental benefits experienced by China, where lockdowns reduced carbon emissions by 200 million tonnes in a single month. It's been estimated that after two months, China's reduced pollution levels saved the lives of 77,000 people.
These temporary improvements are an explicit reminder of the environmental and social costs associated with economic growth. In response, governments in Asia are taking steps to ensure the long-term sustainability of their nations. Japan and South Korea both announced their commitments to achieving carbon neutrality by 2050, while China set a similar goal for 2060.

Mapping the World's Key Maritime Choke Points
Ocean shipping is the primary mode of international trade. This map identifies maritime choke points that pose a risk to this complex logistic network.
Mapping the World's Key Maritime Choke Points
Maritime transport is an essential part of international trade—approximately 80% of global merchandise is shipped via sea.
Because of its importance, commercial shipping relies on strategic trade routes to move goods efficiently. These waterways are used by thousands of vessels a year—but it's not always smooth sailing. In fact, there are certain points along these routes that pose a risk to the whole system.
Here's a look at the world's most vulnerable maritime bottlenecks—also known as choke points—as identified by GIS.
What's a Choke Point?
Choke points are strategic, narrow passages that connect two larger areas to one another. When it comes to maritime trade, these are typically straits or canals that see high volumes of traffic because of their optimal location.
Despite their convenience, these vital points pose several risks:
Structural risks: As demonstrated in the recent Suez Canal blockage, ships can crash along the shore of a canal if the passage is too narrow, causing traffic jams that can last for days.
Geopolitical risks: Because of their high traffic, choke points are particularly vulnerable to blockades or deliberate disruptions during times of political unrest.
The type and degree of risk varies, depending on location. Here's a look at some of the biggest threats, at eight of the world's major choke points.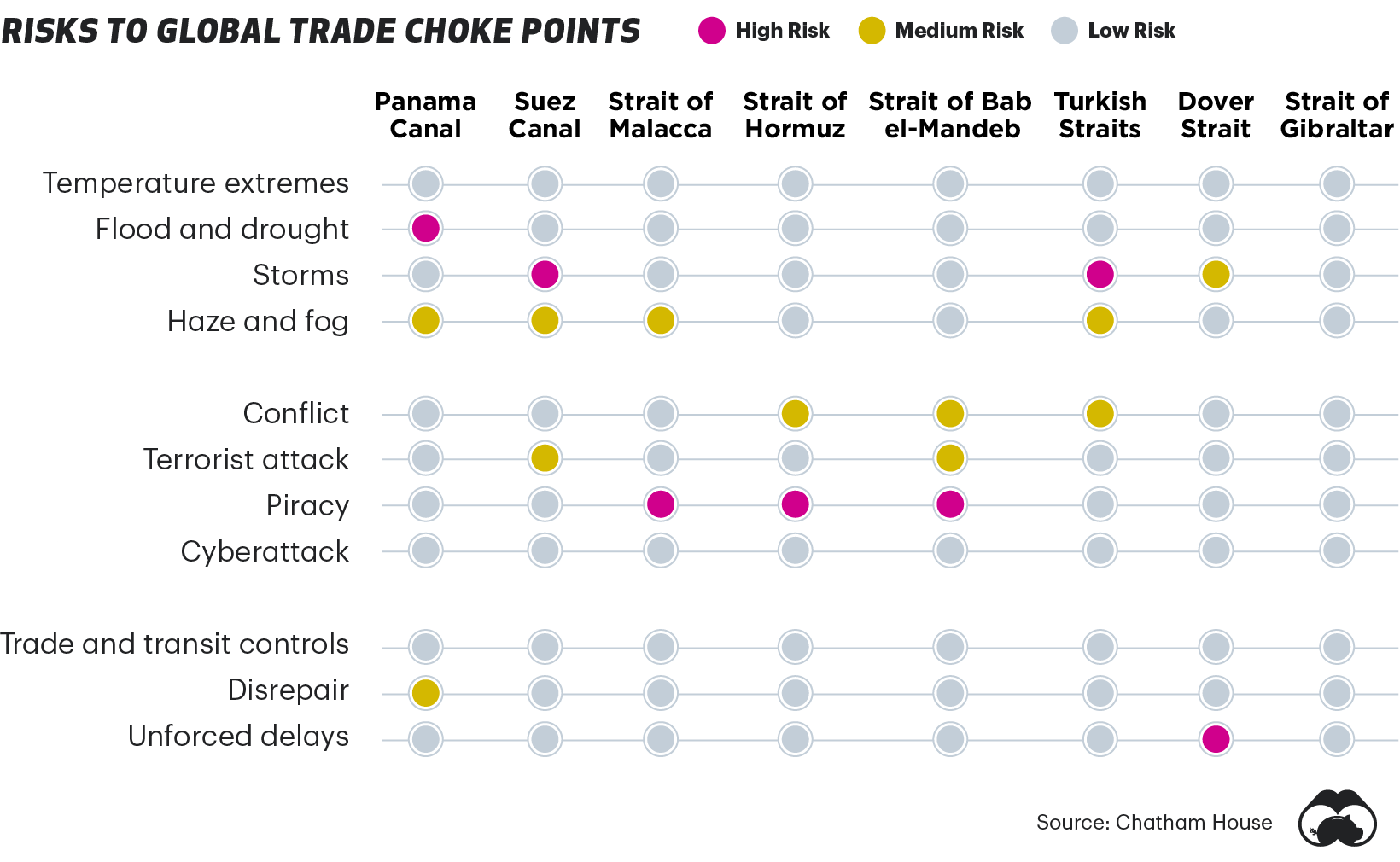 Because of their high risk, alternatives for some of these key routes have been proposed in the past—for instance, in 2013 Nicaraguan Congress approved a $40 billion dollar project proposal to build a canal that was meant to rival the Panama Canal.
As of today, it has yet to materialize.
A Closer Look: Key Maritime Choke Points
Despite their vulnerabilities, these choke points remain critical waterways that facilitate international trade. Below, we dive into a few of the key areas to provide some context on just how important they are to global trade.
The Panama Canal
The Panama Canal is a lock-type canal that provides a shortcut for ships traveling between the Pacific and Atlantic oceans. Ships sailing between the east and west coasts of the U.S. save over 8,000 nautical miles by using the canal—which roughly shortens their trip by 21 days.
In 2019, 252 million long tons of goods were transported through the Panama Canal, which generated over $2.6 billion in tolls.
The Suez Canal
The Suez Canal is an Egyptian waterway that connects Europe to Asia. Without this route, ships would need to sail around Africa, which would add approximately seven days to their trips. In 2019, nearly 19,000 vessels, and 1 billion tons of cargo, traveled through the Suez Canal.
In an effort to mitigate risk, the Egyptian government embarked on a major expansion project for the canal back in 2015. But, given the recent blockage caused by a Taiwanese container ship, it's clear that the waterway is still vulnerable to obstruction.
The Strait of Malacca
At its smallest point, the Strait of Malacca is approximately 1.5 nautical miles, making it one of the world's narrowest choke points. Despite its size, it's one of Asia's most critical waterways, since it provides a critical connection between China, India, and Southeast Asia. This choke point creates a risky situation for the 130,000 or so ships that visit the Port of Singapore each year.
The area is also known to have problems with piracy—in 2019, there were 30 piracy incidents, according to private information group ReCAAP ISC.
The Strait of Hormuz
Controlled by Iran, the Strait of Hormuz links the Persian Gulf to the Gulf of Oman, ultimately draining into the Arabian Sea. It's a primary vein for the world's oil supply, transporting approximately 21 million barrels per day.
Historically, it's also been a site of regional conflict. For instance, tankers and commercial ships were attacked in that area during the Iran-Iraq war in the 1980s.
The Bab el-Mandeb Strait
The Bab el-Mandeb Strait is another primary waterway for the world's oil and natural gas. Nestled between Africa and the Middle East, the critical route connects the Mediterranean Sea (via the Suez Canal) to the Indian Ocean.
Like the Strait of Malacca, it's well known as a high-risk area for pirate attacks. In May 2020, a UK chemical tanker was attacked off the coast of Yemen–the ninth pirate attack in the area that year.
Due to the strategic nature of the region, there is a strong military presence in nearby Djibouti, including China's first ever foreign military base.