Histomap: Visualizing the 4,000 Year History of Global Power
Imagine creating a timeline of your country's whole history stretching back to its inception.
It would be no small task, and simply weighing the relative importance of so many great people, technological achievements, and pivotal events would be a tiny miracle in itself.
While that seems like a challenge, imagine going a few steps further. Instead of a timeline for just one country, what about creating a graphical timeline showing the history of the entire world over a 4,000 year time period, all while having no access to computers or the internet?
An All-Encompassing Timeline?
Today's infographic, created all the way back in 1931 by a man named John B. Sparks, maps the ebb and flow of global power going all the way back to 2,000 B.C. on one coherent timeline.
View a high resolution version of this graphic

Histomap, published by Rand McNally in 1931, is an ambitious attempt at fitting a mountain of historical information onto a five-foot-long poster. The poster cost $1 at the time, which would equal approximately $18 when accounting for inflation.
Although the distribution of power is not quantitatively defined on the x-axis, it does provide a rare example of looking at historic civilizations in relative terms. While the Roman Empire takes up a lot of real estate during its Golden Age, for example, we still get a decent look at what was happening in other parts of the world during that period.
The visualization is also effective at showing the ascent and decline of various competing states, nations, and empires. Did Sparks see world history as a zero-sum exercise; a collection of nations battling one another for control over scarce territory and resources?
Timeline Caveats
Crowning a world leader at certain points in history is relatively easy, but divvying up influence or power to everyone across 4,000 years requires some creativity, and likely some guesswork, as well. Some would argue that the lack of hard data makes it impossible to draw these types of conclusions (though there have been other more quantitative approaches.)
Another obvious criticism is that the measures of influence are skewed in favor of Western powers. China's "seam", for example, is suspiciously thin throughout the length of the timeline. Certainly, the creator's biases and blind spots become more apparent in the information-abundant 21st century.
Lastly, Histomap refers to various cultural and racial groups using terms that may seem rather dated to today's viewers.
The Legacy of Histomap
John Spark's creation is an admirable attempt at making history more approachable and entertaining. Today, we have seemingly limitless access to information, but in the 1930s an all encompassing timeline of history would have been incredibly useful and groundbreaking. Indeed, the map's publisher characterized the piece as a useful tool for examining the correlation between different empires during points in history.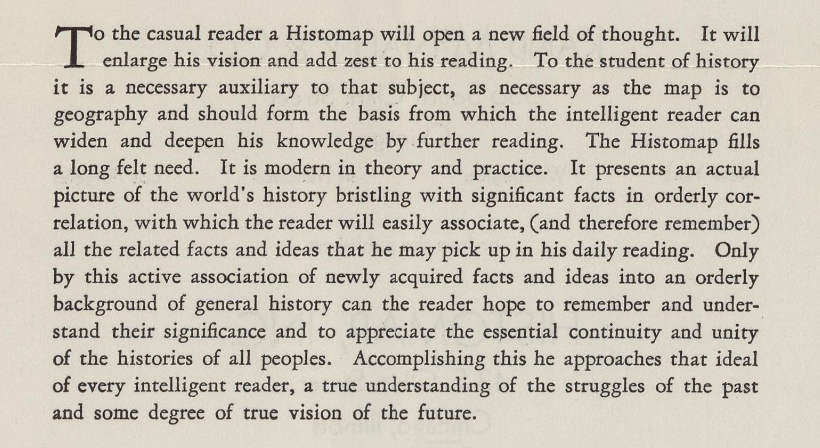 Critiques aside, work like this paved the way for the production of modern data visualizations and charts that help people better understand the world around them today.
Without a map who would attempt to study geography? –John B. Sparks
This post was first published in 2017. We have since updated it, adding in new content for 2021.
Visualizing the Odds of Dying from Various Accidents
This infographic shows you the odds of dying from a variety of accidents, including car crashes, bee stings, and more.
Infographic: The Odds of Dying from Various Accidents
Fatal accidents account for a significant number of deaths in the U.S. every year. For example, nearly 43,000 Americans died in traffic accidents in 2021.
Without the right context, however, it can be difficult to properly interpret these figures.
To help you understand your chances, we've compiled data from the National Safety Council, and visualized the lifetime odds of dying from various accidents.
Data and Methodology
The lifetime odds presented in this graphic were estimated by dividing the one-year odds of dying by the life expectancy of a person born in 2020 (77 years).
Additionally, these numbers are based on data from the U.S., and likely differ in other countries.
| Type of Accident | Lifetime odds of dying (1 in #) |
| --- | --- |
| Motor vehicle accident | 101 |
| Complications of medical and surgical care | 798 |
| Alcohol poisoning | 1,606 |
| Accidental building fire | 1,825 |
| Choking on food | 2,745 |
| Drowning in swimming pool | 5,782 |
| Sunstroke | 6,368 |
| Accidental firearm discharge | 7,998 |
| Drowning | 10,386 |
| Airplane accident | 11,756 |
| Bee or wasp sting | 57,825 |
| Dog attack | 69,016 |
| Lightning strike | 138,849 |
For comparison's sake, the odds of winning the Powerball jackpot are 1 in 292,000,000. In other words, you are 4000x more likely to die by a lightning strike over your lifetime than to win the Powerball lottery.
Continue reading below for further context on some of these accidents.
Motor Vehicle Accidents
Motor vehicle accidents are a leading cause of accidental deaths in the U.S., with a 1 in 101 chance of dying. This is quite a common way of dying, especially when compared to something like bee stings (1 in 57,825).
Unfortunately, a major cause of vehicle deaths is impaired driving. The CDC reports that 32 Americans are killed every day in crashes involving alcohol, which equates to one death every 45 minutes.
For further context, consider this: 30% of all traffic-related deaths in 2020 involved alcohol-impaired drivers.
Drowning
The odds of drowning in a swimming pool (1 in 5,782) are significantly higher than those of drowning in general (1 in 10,386). According to the CDC, there are 4,000 fatal drownings every year, which works out to 11 deaths per day.
Drowning also happens to be a leading cause of death for children. It is the leading cause for kids aged 1-4, and second highest cause for kids aged 5-14.
A rather surprising fact about drowning is that 80% of fatalities are male. This has been attributed to higher rates of alcohol use and risk-taking behaviors.
Accidental Firearm Discharge
Lastly, let's look at accidental firearm deaths, which have lifetime odds of 1 in 7,998. That's higher than the odds of drowning (general), as well as dying in an airplane accident.
This shouldn't come as a major surprise, since the U.S. has the highest rates of gun ownership in the world. More importantly, these odds highlight the importance of properly securing one's firearms, as well as learning safe handling practices.
As a percentage of total gun-related deaths (45,222 in 2020), accidental shootings represent a tiny 1%. The two leading causes are suicide (54%) and homicide (43%).
Interested in learning more about death? Revisit one of our most popular posts of all time: Visualizing the History of Pandemics.