Histomap: Visualizing the 4,000 Year History of Global Power
Imagine creating a timeline of your country's whole history stretching back to its inception.
It would be no small task, and simply weighing the relative importance of so many great people, technological achievements, and pivotal events would be a tiny miracle in itself.
While that seems like a challenge, imagine going a few steps further. Instead of a timeline for just one country, what about creating a graphical timeline showing the history of the entire world over a 4,000 year time period, all while having no access to computers or the internet?
An All-Encompassing Timeline?
Today's infographic, created all the way back in 1931 by a man named John B. Sparks, maps the ebb and flow of global power going all the way back to 2,000 B.C. on one coherent timeline.
View a high resolution version of this graphic

Histomap, published by Rand McNally in 1931, is an ambitious attempt at fitting a mountain of historical information onto a five-foot-long poster. The poster cost $1 at the time, which would equal approximately $18 when accounting for inflation.
Although the distribution of power is not quantitatively defined on the x-axis, it does provide a rare example of looking at historic civilizations in relative terms. While the Roman Empire takes up a lot of real estate during its Golden Age, for example, we still get a decent look at what was happening in other parts of the world during that period.
The visualization is also effective at showing the ascent and decline of various competing states, nations, and empires. Did Sparks see world history as a zero-sum exercise; a collection of nations battling one another for control over scarce territory and resources?
Timeline Caveats
Crowning a world leader at certain points in history is relatively easy, but divvying up influence or power to everyone across 4,000 years requires some creativity, and likely some guesswork, as well. Some would argue that the lack of hard data makes it impossible to draw these types of conclusions (though there have been other more quantitative approaches.)
Another obvious criticism is that the measures of influence are skewed in favor of Western powers. China's "seam", for example, is suspiciously thin throughout the length of the timeline. Certainly, the creator's biases and blind spots become more apparent in the information-abundant 21st century.
Lastly, Histomap refers to various cultural and racial groups using terms that may seem rather dated to today's viewers.
The Legacy of Histomap
John Spark's creation is an admirable attempt at making history more approachable and entertaining. Today, we have seemingly limitless access to information, but in the 1930s an all encompassing timeline of history would have been incredibly useful and groundbreaking. Indeed, the map's publisher characterized the piece as a useful tool for examining the correlation between different empires during points in history.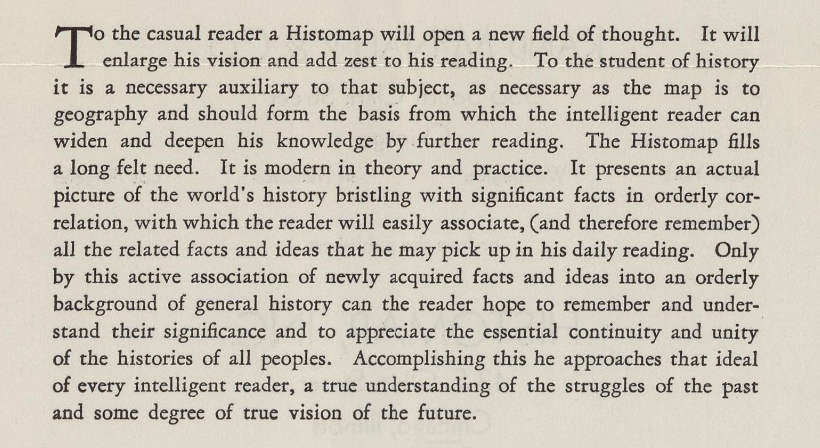 Critiques aside, work like this paved the way for the production of modern data visualizations and charts that help people better understand the world around them today.
Without a map who would attempt to study geography? –John B. Sparks
This post was first published in 2017. We have since updated it, adding in new content for 2021.
Charting Grand Theft Auto: GTA's Budget and Revenues
Dive into the GTA budget through the years, with GTA VI set to be the most expensive video game of all time.
Charting Grand Theft Auto: GTA's Budget and Revenues
Over 10 years since the launch of Grand Theft Auto V (GTA V), the second most-sold video game in history, Rockstar Games has announced its sequel GTA VI will be "coming 2025."
As the anticipation only grows for this next big entry in the franchise, we take a look at the GTA budget through the years. How much have the last two games cost to make, how much have they earned, and how do they compare with the latest entry?
Data for this visualization comes from Statista, TweakTown, and Twitch Metrics.
How Much Has GTA VI Cost to Make?
The GTA franchise has grown enormously in scale from humble beginnings as a top-down, 2D video game in 1997. Fifteen installments later, the upcoming release, GTA VI, is estimated to be the most expensive video game to be made yet.
Here's a look at how much GTA VI and the last two major releases cost, and how much revenue they've earned as of August 2023.
| Year | Title | Production Costs ($) | Revenue ($) | Copies Sold |
| --- | --- | --- | --- | --- |
| 2025 (est.) | GTA VI | $2B (rumored) | N/A | N/A |
| 2013 | GTA V | $265M | $7.7B | 185M |
| 2008 | GTA IV | $100M | $2B | 25M |
In 2008, GTA IV cost around $100 million—already a budget that rivalled big Hollywood releases. However with 25 million copies sold, the game earned nearly $2 billion—a five-fold return on its production cost.
Five years later, GTA V (2013) cost more than $200 million to make—twice GTA IV's budget. A decade after its release, GTA V has generated close to $8 billion, with hundreds of millions in annual revenue from subscriptions and in-game purchases—a model that its successor is sure to follow.
In fact, subscription fees and in-game purchases represented 78% of Take-Two Interactive's (parent of GTA developer Rockstar Games) revenues in 2023.
Analysts estimate the to-be-released GTA VI's costs at $2 billion, including marketing and other expenses. A massive open-world (set in the Miami-inspired "Vice City"), cutting edge graphics, and a reportedly brand-new game engine are all reasons for the game's outsized budget.
For comparison, the current most expensive games to have been made include Red Dead Redemption 2 (also by Rockstar) and Star Citizen, both reportedly with a $500 million budget.
Meanwhile, Take-Two Interactive shares are up more than 50% for the year.