Histomap: Visualizing the 4,000 Year History of Global Power
Imagine creating a timeline of your country's whole history stretching back to its inception.
It would be no small task, and simply weighing the relative importance of so many great people, technological achievements, and pivotal events would be a tiny miracle in itself.
While that seems like a challenge, imagine going a few steps further. Instead of a timeline for just one country, what about creating a graphical timeline showing the history of the entire world over a 4,000 year time period, all while having no access to computers or the internet?
An All-Encompassing Timeline?
Today's infographic, created all the way back in 1931 by a man named John B. Sparks, maps the ebb and flow of global power going all the way back to 2,000 B.C. on one coherent timeline.
View a high resolution version of this graphic

Histomap, published by Rand McNally in 1931, is an ambitious attempt at fitting a mountain of historical information onto a five-foot-long poster. The poster cost $1 at the time, which would equal approximately $18 when accounting for inflation.
Although the distribution of power is not quantitatively defined on the x-axis, it does provide a rare example of looking at historic civilizations in relative terms. While the Roman Empire takes up a lot of real estate during its Golden Age, for example, we still get a decent look at what was happening in other parts of the world during that period.
The visualization is also effective at showing the ascent and decline of various competing states, nations, and empires. Did Sparks see world history as a zero-sum exercise; a collection of nations battling one another for control over scarce territory and resources?
Timeline Caveats
Crowning a world leader at certain points in history is relatively easy, but divvying up influence or power to everyone across 4,000 years requires some creativity, and likely some guesswork, as well. Some would argue that the lack of hard data makes it impossible to draw these types of conclusions (though there have been other more quantitative approaches.)
Another obvious criticism is that the measures of influence are skewed in favor of Western powers. China's "seam", for example, is suspiciously thin throughout the length of the timeline. Certainly, the creator's biases and blind spots become more apparent in the information-abundant 21st century.
Lastly, Histomap refers to various cultural and racial groups using terms that may seem rather dated to today's viewers.
The Legacy of Histomap
John Spark's creation is an admirable attempt at making history more approachable and entertaining. Today, we have seemingly limitless access to information, but in the 1930s an all encompassing timeline of history would have been incredibly useful and groundbreaking. Indeed, the map's publisher characterized the piece as a useful tool for examining the correlation between different empires during points in history.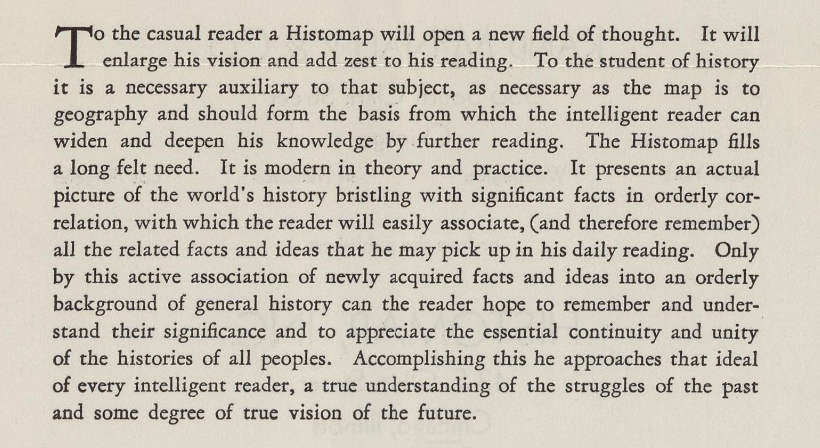 Critiques aside, work like this paved the way for the production of modern data visualizations and charts that help people better understand the world around them today.
Without a map who would attempt to study geography? –John B. Sparks
This post was first published in 2017. We have since updated it, adding in new content for 2021.
Mapped: Human Impact on the Earth's Surface
This detailed map looks at where humans have (and haven't) modified Earth's terrestrial environment. See human impact in incredible detail.
Mapped: Human Impact on the Earth's Surface
With human population on Earth approaching 8 billion (we'll likely hit that milestone in 2023), our impact on the planet is becoming harder to ignore with each passing year.
Our cities, infrastructure, agriculture, and pollution are all forms of stress we place on the natural world. This map, by David M. Theobald et al., shows just how much of the planet we've now modified. The researchers estimate that 14.6% or 18.5 million km² of land area has been modified – an area greater than Russia.
Defining Human Impact
Human impact on the Earth's surface can take a number of different forms, and researchers took a nuanced approach to classifying the "modifications" we've made. In the end, 10 main stressors were used to create this map:
Built-Up Areas: All of our cities and towns
Agriculture: Areas devoted to crops and pastures
Energy and extractive resources: Primarily locations where oil and gas are extracted
Mines and quarries: Other ground-based natural resource extraction, excluding oil and gas
Power plants: Areas where energy is produced – both renewable and non-renewable
Transportation and service corridors: Primarily roads and railways
Logging: This measures commodity-based forest loss (excludes factors like wildfire and urbanization)
Human intrusion: Typically areas adjacent to population centers and roads that humans access
Natural systems modification: Primarily modifications to water flow, including reservoir creation
Pollution: Phenomenon such as acid rain and fog caused by air pollution
The classification descriptions above are simplified. See the methodology for full descriptions and calculations.
A Closer Look at Human Impact on the Earth's Surface
To help better understand the level of impact humans can have on the planet, we'll take a closer look three regions, and see how the situation on the ground relates to these maps.
Land Use Contrasts: Egypt
Almost all of Egypt's population lives along the Nile and its delta, making it an interesting place to examine land use and human impact.
The towns and high intensity agricultural land following the river stand out clearly on the human modification map, while the nearby desert shows much less impact.
Intensive Modification: Netherlands
The Netherlands has some of the heavily modified landscapes on Earth, so the way it looks on this map will come as no surprise.
The area shown above, Rotterdam's distinctive port and surround area, renders almost entirely in colors at the top of the human modification scale.
Resource Extraction: West Virginia
It isn't just cities and towns that show up clearly on this map, it's also the areas we extract our raw materials from as well. This mountainous region of West Virginia, in the United States, offers a very clear visual example.
The mountaintop removal method of mining—which involves blasting mountains in order to retrieve seams of bituminous coal—is common in this region, and mine sites show up clearly in the map.
You can explore the interactive version of this map yourself to view any area on the globe. What surprises you about these patterns of human impact?
Interactive Map: Tracking Global Hunger and Food Insecurity
Every day, hunger affects more than 700 million people. This live map from the UN highlights where hunger is hitting hardest around the world.
Interactive Map: Tracking Global Hunger and Food Insecurity
Hunger is still one the biggest—and most solvable—problems in the world.
Every day, more than 700 million people (8.8% of the world's population) go to bed on an empty stomach, according to the UN World Food Programme (WFP).
The WFP's HungerMap LIVE displayed here tracks core indicators of acute hunger like household food consumption, livelihoods, child nutritional status, mortality, and access to clean water in order to rank countries.
After sitting closer to 600 million from 2014 to 2019, the number of people in the world affected by hunger increased during the COVID-19 pandemic.
In 2020, 155 million people (2% of the world's population) experienced acute hunger, requiring urgent assistance.
The Fight to Feed the World
The problem of global hunger isn't new, and attempts to solve it have making headlines for decades.
On July 13, 1985, at Wembley Stadium in London, Prince Charles and Princess Diana officially opened Live Aid, a worldwide rock concert organized to raise money for the relief of famine-stricken Africans.
The event was followed by similar concerts at other arenas around the world, globally linked by satellite to more than a billion viewers in 110 nations, raising more than $125 million ($309 million in today's dollars) in famine relief for Africa.
But 35+ years later, the continent still struggles. According to the UN, from 12 countries with the highest prevalence of insufficient food consumption in the world, nine are in Africa.
| Country | % Population Affected by Hunger | Population (millions) | Region |
| --- | --- | --- | --- |
| Afghanistan 🇦🇫 | 93% | 40.4 | Asia |
| Somalia 🇸🇴 | 68% | 12.3 | Africa |
| Burkina Faso 🇧🇫 | 61% | 19.8 | Africa |
| South Sudan 🇸🇸 | 60% | 11.0 | Africa |
| Mali 🇲🇱 | 60% | 19.1 | Africa |
| Sierra Leone 🇸🇱 | 55% | 8.2 | Africa |
| Syria 🇸🇾 | 55% | 18.0 | Middle East |
| Niger 🇳🇪 | 55% | 22.4 | Africa |
| Lesotho 🇱🇸 | 50% | 2.1 | Africa |
| Guinea 🇬🇳 | 48% | 12.2 | Africa |
| Benin 🇧🇯 | 47% | 11.5 | Africa |
| Yemen 🇾🇪 | 44% | 30.0 | Middle East |
Approximately 30 million people in Africa face the effects of severe food insecurity, including malnutrition, starvation, and poverty.
Wasted Leftovers
Although many of the reasons for the food crisis around the globe involve conflicts or environmental challenges, one of the big contributors is food waste.
According to the United Nations, one-third of food produced for human consumption is lost or wasted globally. This amounts to about 1.3 billion tons of wasted food per year, worth approximately $1 trillion.
All the food produced but never eaten would be sufficient to feed two billion people. That's more than twice the number of undernourished people across the globe. Consumers in rich countries waste almost as much food as the entire net food production of sub-Saharan Africa each year.
Solving Global Hunger
While many people may not be "hungry" in the sense that they are suffering physical discomfort, they may still be food insecure, lacking regular access to enough safe and nutritious food for normal growth and development.
Estimates of how much money it would take to end world hunger range from $7 billion to $265 billion per year.
But to tackle the problem, investments must be utilized in the right places. Specialists say that governments and organizations need to provide food and humanitarian relief to the most at-risk regions, increase agricultural productivity, and invest in more efficient supply chains.