2,000 Years of Economic History in One Chart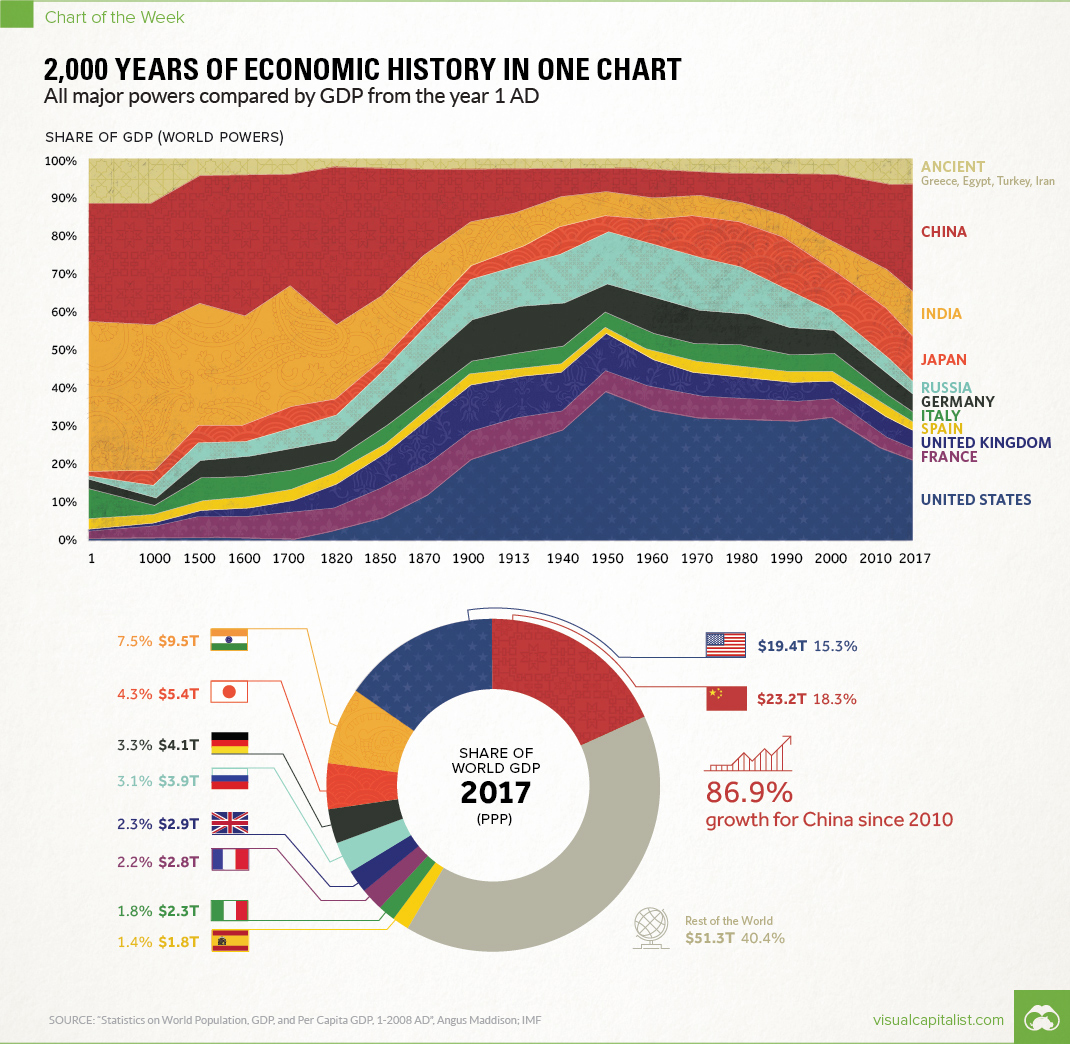 Over 2,000 Years of Economic History in One Chart
All major powers compared by GDP from the year 1 AD
The Chart of the Week is a weekly Visual Capitalist feature on Fridays.
Long before the invention of modern day maps or gunpowder, the planet's major powers were already duking it out for economic and geopolitical supremacy.
Today's chart tells that story in the simplest terms possible. By showing the changing share of the global economy for each country from 1 AD until now, it compares economic productivity over a mind-boggling time period.
Originally published in a research letter by Michael Cembalest of JP Morgan, we've updated it based on the most recent data and projections from the IMF. If you like, you can still find the original chart (which goes to 2008) at The Atlantic. It's also worth noting that the original source for all the data up until 2008 is from the late Angus Maddison, a famous economic historian that published estimates on population, GDP, and other figures going back to Roman times.
A Major Caveat
If you looked at the chart in any depth, you probably noticed a big problem with it. The time periods between data points aren't equal – in fact, they are not close at all.
The first gap on the x-axis is 1,000 years and the second is 500 years. Then, as we get closer to modernity, the chart uses mostly 10 year intervals. Changing the scale like this is a big data visualization "no no", as rightly pointed out in a blog post by The Economist.
While we completely agree, we have a made an exception in this case. Why? Because getting good economic data from the early 20th century is already difficult enough – and so trying to find data in regular intervals before then seems like a fool's errand. Likewise, a stacked bar chart with different years also doesn't really do this story justice.
We encountered similar historical data issues in our Richest People of Human History graphic, and at the end of the day decided it was primarily for fun. Like today's chart, it has its share of imperfections – but ultimately, it provides a great amount of context and serves as a conversation starter.
Our Interpretation
Caveats aside, there are many stories that materialize from this simple chart. They include the colossal impact of the Industrial Revolution on the West, as well as the momentum behind the re-emergence of Asia.
But there's one other story that ties it all together: the exponential rate of human economic growth that occurred over the last century.
For thousands of years, economic progress was largely linear and linked to population growth. Without machines or technological innovations, one person could only produce so much with their time and resources.
More recently, innovations in technology and energy allowed the "hockey stick" effect to come into play.
It happened in Western Europe and North America first, and now it's happening in other parts of the world. As this technological playing field evens, economies like China and India – traditionally some of the largest economies throughout history – are now making their big comeback.
Editor's note: We have adjusted the main graphic as of Sep 10, 2017 to change the description of the chart. It now says "Share of GDP (World Powers)" instead of the previous "Share of world GDP", which was technically an inaccurate description.
Support the Future of Data Storytelling
Sorry to interrupt your reading, but we have a favor to ask. At Visual Capitalist we believe in a world where data can be understood by everyone. That's why we want to build the VC App - the first app of its kind combining verifiable and transparent data with beautiful, memorable visuals. All available for free.
As a small, independent media company we don't have the expertise in-house or the funds to build an app like this. So we're asking our community to help us raise funds on Kickstarter.
If you believe in data-driven storytelling, join the movement and back us on Kickstarter!
Thank you.
Interest Rate Hikes vs. Inflation Rate, by Country
Inflation rates are reaching multi-decade highs in some countries. How aggressive have central banks been with interest rate hikes?
Interest Rate Hikes vs. Inflation Rate, by Country
Imagine today's high inflation like a car speeding down a hill. In order to slow it down, you need to hit the brakes. In this case, the "brakes" are interest rate hikes intended to slow spending. However, some central banks are hitting the brakes faster than others.
This graphic uses data from central banks and government websites to show how policy interest rates and inflation rates have changed since the start of the year. It was inspired by a chart created by Macrobond.
How Do Interest Rate Hikes Combat Inflation?
To understand how interest rates influence inflation, we need to understand how inflation works. Inflation is the result of too much money chasing too few goods. Over the last several months, this has occurred amid a surge in demand and supply chain disruptions worsened by Russia's invasion of Ukraine.
In an effort to combat inflation, central banks will raise their policy rate. This is the rate they charge commercial banks for loans or pay commercial banks for deposits. Commercial banks pass on a portion of these higher rates to their customers, which reduces the purchasing power of businesses and consumers. For example, it becomes more expensive to borrow money for a house or car.
Ultimately, interest rate hikes act to slow spending and encourage saving. This motivates companies to increase prices at a slower rate, or lower prices, to stimulate demand.
Rising Interest Rates and Inflation
With inflation rates hitting multi-decade highs in some countries, many central banks have announced interest rate hikes. Below, we show how the inflation rate and policy interest rate have changed for select countries and regions since January 2022. The jurisdictions are ordered from highest to lowest current inflation rate.
| Jurisdiction | Jan 2022 Inflation | May 2022 Inflation | Jan 2022 Policy Rate | Jun 2022 Policy Rate |
| --- | --- | --- | --- | --- |
| UK | 5.50% | 9.10% | 0.25% | 1.25% |
| U.S. | 7.50% | 8.60% | 0.00%-0.25% | 1.50%-1.75% |
| Euro Area | 5.10% | 8.10% | 0.00% | 0.00% |
| Canada | 5.10% | 7.70% | 0.25% | 1.50% |
| Sweden | 3.90% | 7.20% | 0.00% | 0.25% |
| New Zealand | 5.90% | 6.90% | 0.75% | 2.00% |
| Norway | 3.20% | 5.70% | 0.50% | 1.25% |
| Australia | 3.50% | 5.10% | 0.10% | 0.85% |
| Switzerland | 1.60% | 2.90% | -0.75% | -0.25% |
| Japan | 0.50% | 2.50% | -0.10% | -0.10% |
The Euro area has 3 policy rates; the data above represents the main refinancing operations rate. Inflation data is as of May 2022 except for New Zealand and Australia, where the latest quarterly data is as of March 2022.
The U.S. Federal Reserve has been the most aggressive with its interest rate hikes. It has raised its policy rate by 1.5% since January, with half of that increase occurring at the June 2022 meeting. Jerome Powell, the Federal Reserve chair, said the committee would like to "do a little more front-end loading" to bring policy rates to normal levels. The action comes as the U.S. faces its highest inflation rate in 40 years.
On the other hand, the European Union is experiencing inflation of 8.1% but has not yet raised its policy rate. The European Central Bank has, however, provided clear forward guidance. It intends to raise rates by 0.25% in July, by a possibly larger increment in September, and with gradual but sustained increases thereafter. Clear forward guidance is intended to help people make spending and investment decisions, and avoid surprises that could disrupt markets.
Pacing Interest Rate Hikes
Raising interest rates is a fine balancing act. If central banks raise rates too quickly, it's like slamming the brakes on that car speeding downhill: the economy could come to a standstill. This occurred in the U.S. in the 1980's when the Federal Reserve, led by Chair Paul Volcker, raised the policy rate to 20%. The economy went into a recession, though the aggressive monetary policy did eventually tame double digit inflation.
However, if rates are raised too slowly, inflation could gather enough momentum that it becomes difficult to stop. The longer high price increases linger, the more future inflation expectations build. This can result in people buying more in anticipation of prices rising further, perpetuating high demand.
"There's always a risk of going too far or not going far enough, and it's going to be a very difficult judgment to make." — Jerome Powell, U.S. Federal Reserve Chair
It's worth noting that while central banks can influence demand through policy rates, this is only one side of the equation. Inflation is also being caused by supply chain issues, a problem that is more or less outside of the control of central banks.
3 Insights From the FED's Latest Economic Snapshot
Stay up to date on the U.S. economy with this infographic summarizing the most recent Federal Reserve data released.
3 Insights From the Latest U.S. Economic Data
Each month, the Federal Reserve Bank of New York publishes monthly economic snapshots.
To make this report accessible to a wider audience, we've identified the three most important takeaways from the report and compiled them into one infographic.
1. Growth figures in Q2 will make or break a recession
Generally speaking, a recession begins when an economy exhibits two consecutive quarters of negative GDP growth. Because U.S. GDP shrank by -1.5% in Q1 2022 (January to March), a lot rests on the Q2 figure (April to June) which should be released on July 28th.
Referencing strong business activity and continued growth in consumer spending, economists predict that U.S. GDP will grow by +2.1% in Q2. This would mark a decisive reversal from Q1, and put an end to recessionary fears for the time being.
Unfortunately, inflation is the top financial concern for Americans, and this is dampening consumer confidence. Shown below, the consumer confidence index reflects the public's short-term outlook for income, business, and labor conditions.
Falling consumer confidence suggests that more people will delay big purchases such as cars, major appliances, and vacations.
2. The COVID-era housing boom could be over
Housing markets have been riding high since the beginning of the COVID-19 pandemic, but this run is likely coming to an end. Here's a summary of what's happened since 2020:
Lockdowns in early 2020 created lots of pent-up demand for homes
Greater household savings and record-low mortgage rates pushed demand even further
Supply chain disruptions greatly increased the cost of materials like lumber
Construction of new homes couldn't keep up, and housing supply fell to historic lows
Today, home prices are at record highs and the cost of borrowing is rapidly rising. For evidence, look no further than the 30-year fixed mortgage rate, which has doubled to more than 6% since the beginning of 2022.
Given these developments, the drop in the number of home sales could be a sign that many Americans are being priced out of the market.
3. Don't expect groceries to become any cheaper
Inflation has been a hot topic this year, especially with gas prices reaching $5 a gallon. But there's one category of goods that's perhaps even more alarming: food.
The following table includes food inflation over the past three years, as the percent change over the past 12 months.
| Date | CPI Food Component (%) |
| --- | --- |
| 2018-02-01 | 1.4% |
| 2019-05-01 | 2.0% |
| 2019-06-01 | 1.9% |
| 2019-07-01 | 1.8% |
| 2019-08-01 | 1.7% |
| 2019-09-01 | 1.8% |
| 2019-10-01 | 2.1% |
| 2019-11-01 | 2.0% |
| 2019-12-01 | 1.8% |
| 2020-01-01 | 1.8% |
| 2020-02-01 | 1.8% |
| 2020-03-01 | 1.9% |
| 2020-04-01 | 3.5% |
| 2020-05-01 | 4.0% |
| 2020-06-01 | 4.5% |
| 2020-07-01 | 4.1% |
| 2020-08-01 | 4.1% |
| 2020-09-01 | 4.0% |
| 2020-10-01 | 3.9% |
| 2020-11-01 | 3.7% |
| 2020-12-01 | 3.9% |
| 2021-01-01 | 3.8% |
| 2021-02-01 | 3.6% |
| 2021-03-01 | 3.5% |
| 2021-04-01 | 2.4% |
| 2021-05-01 | 2.1% |
| 2021-06-01 | 2.4% |
| 2021-07-01 | 3.4% |
| 2021-08-01 | 3.7% |
| 2021-09-01 | 4.6% |
| 2021-10-01 | 5.3% |
| 2021-11-01 | 6.1% |
| 2021-12-01 | 6.3% |
| 2022-01-01 | 7.0% |
| 2022-02-01 | 7.9% |
| 2022-03-01 | 8.8% |
| 2022-04-01 | 9.4% |
| 2022-05-01 | 10.1% |
From this data, we can see that food inflation really picked up speed in April 2020, jumping to +3.5% from +1.9% in the previous month. This was due to supply chain disruptions and a sudden rebound in global demand.
Fast forward to today, and food inflation is running rampant at 10.1%. A contributing factor is the impending fertilizer shortage, which stems from the Ukraine war. As it turns out, Russia is not only a massive exporter of oil, but wheat and fertilizer as well.