Visualizing the Gravitational Pull of the Planets
Visualizing the Gravitational Pull of the Planets

Gravity is one of the basic forces in the universe. Every object out there exerts a gravitational influence on every other object, but to what degree?

The gravity of the sun keeps all the planets in orbit in our solar system. However, each planet, moon and asteroid have their own gravitational pull defined by their density, size, mass, and proximity to other celestial bodies.

Dr. James O'Donoghue, a Planetary Astronomer at JAXA (Japan Aerospace Exploration Agency) created an animation that simplifies this concept by animating the time it takes a ball to drop from 1,000 meters to the surface of each planet and the Earth's moon, assuming no air resistance, to better visualize the gravitational pull of the planets.

Sink like a Stone or Float like a Feather

Now, if you were hypothetically landing your spacecraft on a strange planet, you would want to know your rate of descent. Would you float like a feather or sink like a stone?

It is a planet's size, mass, and density that determines how strong its gravitational pull is, or, how quick or slow you will approach the surface.

| | Mass (1024kg) | Diameter (km) | Density (kg/m3) | Gravity (m/s2) | Escape Velocity (km/s) |
| --- | --- | --- | --- | --- | --- |
| Mercury | 0.33 | 4,879 | 5,427 | 3.7 | 4.3 |
| Venus | 4.87 | 12,104 | 5,243 | 8.9 | 10.4 |
| Earth | 5.97 | 12,756 | 5,514 | 9.8 | 11.2 |
| Moon | 0.073 | 3,475 | 3,340 | 1.6 | 2.4 |
| Mars | 0.642 | 6,792 | 3,933 | 3.7 | 5.0 |
| Jupiter | 1,898 | 142,984 | 1,326 | 23.1 | 59.5 |
| Saturn | 568 | 120,536 | 687 | 9.0 | 35.5 |
| Uranus | 86.8 | 51,118 | 1,271 | 8.7 | 21.3 |
| Neptune | 102 | 49,528 | 1,638 | 11.0 | 23.5 |
| Pluto | 0.0146 | 2,370 | 2,095 | 0.7 | 1.3 |

According to Dr. O'Donoghue, large planets have gravity comparable to smaller ones at the surface—for example, Uranus attracts the ball down slower than on Earth. This is because the relatively low average density of Uranus puts the actual surface of the planet far away from the majority of the planet's mass in the core.

Similarly, Mars is almost double the mass of Mercury, but you can see the surface gravity is actually the same which demonstrates that Mercury is much denser than Mars.

Exploring the Outer Reaches: Gravity Assistance

Knowing the pull of each of the planets can help propel space flight to the furthest extents of the solar system. The "gravity assist" flyby technique can add or subtract momentum to increase or decrease the energy of a spacecraft's orbit.

Generally it has been used in solar orbit, to increase a spacecraft's velocity and propel it outward in the solar system, much farther away from the sun than its launch vehicle would have been capable of doing, as in the journey of NASA's Voyager 2.





Launched in 1977, Voyager 2 flew by Jupiter for reconnaissance, and for a trajectory boost to Saturn. It then relied on a gravity assist from Saturn and then another from Uranus, propelling it to Neptune and beyond.

Despite the assistance, Voyager 2's journey still took over 20 years to reach the edge of the solar system. The potential for using the power of gravity is so much more…

Tractor Beams, Shields, and Warp Drives…Oh My!

Imagine disabling an enemy starship with a gravity beam and deflecting an incoming photon torpedo with gravity shields. It would be incredible and a sci-fi dream come true.

However, technology is still 42 years from the fictional date in Star Trek when mankind built the first warp engine, harnessing the power of gravity and unlocking the universe for discovery. There is still time!

Currently, the ALPHA Experiment at CERN is investigating whether it is possible to create some form of anti-gravitational field. This research could create a gravitational conductor shield to counteract the forces of gravity and allow the creation of a warp drive.

By better understanding the forces that keep us grounded on our planets, the sooner we will be able to escape these forces and feel the gravitational pull of the planets for ourselves.

…to boldly go where no one has gone before!
Visualizing Population Density Patterns in Six Countries
These maps show the population density of several countries, using 3D spikes to denote where more people live.

Creator Program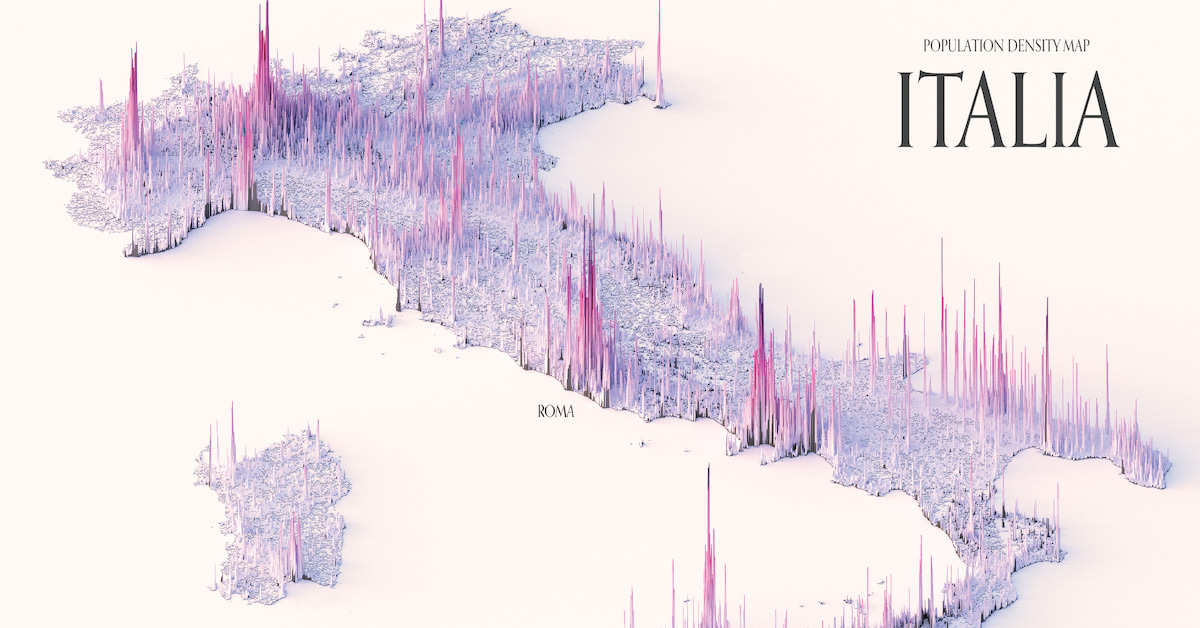 As of 2022, Earth has 8 billion humans. By 2050, the population is projected to grow to 10 billion.
In the last 100 years, the global population more than quadrupled. But none of this growth has been evenly spread out, including within countries.
This series of 3D maps from Terence Teo, an associate professor at Seton Hall University, renders the population density of six countries using open-source data from Kontur Population. He used popular programming language R and a path-tracing package, Rayshader, to create the maps.
France and Germany: Population Density Spikes and Troughs
Let's take a look at how the population spreads out in different countries around the world. Click the images to explore higher-resolution versions.
France is the world's 7th largest economy and second-most-populous country in the EU with 65 million people. But a staggering one-fifth of the French population lives in Paris and its surrounding metro—the most populous urban area in Europe.
Many residents in the Paris metropolitan area are employed in the service sector, which makes up one-third of France's $2.78 trillion gross domestic product.
Unlike France, Germany has many dense cities and regions, with Berlin, Munich, Stuttgart, and Cologne all having over a million residents. Berlin is the most populated at 3.5 million residents in the city proper, and 6 million in the wider urban area.
That said, the relatively recent reunification of West and East Germany in 1991 meant that post-WWII growth was mostly concentrated in West Germany (and West Berlin).
Italy and Chile: Coast to Coast
In Italy, another phenomenon affects population density and urban development—a sprawling coastline.
Despite having a large population of 59 million and large metropolitan areas throughout, Italy's population spikes are closer to the water.
The port cities of Genoa, Napoli, and Palermo all have large spikes relative to the rest of the country, as does the capital, Rome. Despite its city center located 15 miles inland from the sea, it extends to the shore through the district of Ostia, where the ancient port of Rome existed.
Meanwhile in Chile, stuck between the Andes to the east and the Pacific Ocean to the west, population spikes corroborate with its many port towns and cities.
However, the country is more concentrated than Italy, with 40% of its residents congregating around the capital of Santiago.
Turkey and Canada: Marred by Mountains and Climes
Though Chile has difficulties with terrain, it is relatively consistent. Other countries have to attempt to settle many different climes—regions defined by their climates.
Mountains to the south and east, a large, semi-arid plateau, and even a small desert leave few centers of urban growth in Türkiye.
Predictably, further west, as the elevation comes down to the Aegean and Mediterranean Seas, population spikes begin to heighten. The largest of course is the economic and cultural hub of Istanbul, though the capital Ankara is also prominent with more than 5 million residents.
In Canada, the Rocky Mountains to the west and freezing cold temperatures in the center and north account for the large country's relative emptiness.
Though population spikes in Western Canada are growing rapidly, highly populous urban centers are noticeably concentrated along the St. Lawrence River, with the Greater Toronto Area accounting for more than one-sixth of the country's 39 million people.
Increasing Urbanization
According to the World Bank, more than half of the world's population currently lives in cities, and that trend is only growing.
By 2050, 7 out of 10 people are projected to live in cities. This congregation makes cities a beehive of productivity and innovation—with more than 80% of the world's GDP being generated at these population centers.
It's in this context that mapping and studying urban development becomes all the more important, particularly as policymakers try their hand at sustainable urban planning.
As Teo puts it:
"By showing where people are (and are not), they show us where political and economic power is concentrated, and perhaps where and who our governments represent."