The Race to Save Lives: Comparing Vaccine Development Timelines
View the full-resolution version of this infographic
The Race to Save Lives: Vaccine Development Timelines
View the high-resolution of the infographic by clicking here.
Major advancements in medicine have led to a significant increase in average life expectancy, with vaccines being hailed as one of the most successful interventions to date.
In fact, the World Health Organization estimates that vaccines have prevented 10 million deaths between 2010 and 2015 alone. But while some were created and distributed in just over four months, others have taken over 40 years to develop. Then again, previous pandemics have petered out without any vaccine at all.
With approved COVID-19 vaccines soon to be distributed across the globe, the vaccine development process is being scrutinized by experts (and non-experts) the world over.
In the graphic above, we explore how long it has historically taken to bring a vaccine to market during pandemics dating back to the 1900s, and what the process entails.
Pandemic Vaccines of the Past
Although the assumption can be made that developing a vaccine for infectious diseases has become more efficient since the 1900s, that statement is not entirely correct.
It took approximately 25 years to develop a vaccine for the Spanish Flu which killed between 40-50 million people. Similarly, it was only last year that the FDA approved the first Ebola vaccine—an effort that took 43 years since the discovery of the virus.
But while scientists and medical experts have made headway in stopping major pandemics in their tracks, some of the worst outbreaks in history have yet to be cured.
Here is a closer look at the timeframes for vaccine development for every pandemic since the turn of the 20th century:
| Name of Pandemic | Death Toll | Timeframe for Vaccine Development | Duration |
| --- | --- | --- | --- |
| Spanish flu | 40-50 million | 1917-1942 | 25 years |
| H2N2 Asian flu | 1.1 million | Feb 1957-Jun 1957 | <5 months |
| H3N2 Hong Kong Flu | 1 million | Jul 1968-Nov 1968 | <5 months |
| SARS | 774 (ongoing) | 2003-present | 17 years (ongoing) |
| Ebola | 11,300 | 1976-2019 | 43 years |
| AIDS | 25-35 million (ongoing) | 1981-present | 39 years (ongoing) |
| H1N1 Swine Flu | 151,700 - 575,400 | Apr 2009-Sept 2009 | 6 months |
| MERS | 858 (ongoing) | 2012-present | 8 years (ongoing) |
| Coronavirus | 1.64 million (ongoing) | Dec 2019-Nov 2020 | 11 months |
When it comes to the speedy development of a COVID-19 vaccine, funding has played a vital role. With case numbers growing at an alarming rate, demand and urgency for a vaccine are high. In the U.S., the government paid Pfizer and BioNTech almost $2 billion for 100 million doses of a safe vaccine for COVID-19. This level of support from governments the world over means that pharmaceutical giants have less financial uncertainties to deal with compared to other vaccines.
Even though the global endeavor to distribute COVID-19 vaccines is now underway, many experts are concerned that the pace of approval could compromise long-term safety—but there are rigorous steps a vaccine must first go through before it is approved.
The Journey of a Vaccine Candidate
On average, it takes 10 years to develop a vaccine. According to the CDC, there are six stages involved in the process from start to finish:
Exploratory stage: This stage typically consists of basic lab research that can last anywhere from 2 to 4 years.
Pre-clinical stage: This stage uses tissue-culture or cell-culture systems and animal testing to give researchers an idea of how humans might respond to a candidate vaccine.
Clinical development: Within the clinical development stage, there are three phases. Phase 1 examines the response of a small group of people to a candidate vaccine. Phase 2 involves giving the candidate vaccine to a larger group of people to study its safety, immunogenicity, proposed doses, schedule of immunizations, and method of delivery. In Phase 3, the vaccine is given to thousands of people to further test for efficacy and safety.
Regulatory review and approval: National Regulatory Authorities are responsible for the approval of vaccines in different countries. For example, the U.S. Food and Drug Administration's Center for Biologics Evaluation and Research (CBER) regulates all U.S. vaccines.
Manufacturing: Typically, it can take anywhere from 6 to 36 months to produce, package, and deliver a high quality vaccine.
Quality control: Different batches of a vaccine are continuously tested by different authorities around the world to ensure its ongoing safety.
Despite these lengthy timeframes, the COVID-19 vaccines and subsequent candidates have overturned the conventional process due to their unconventional technology.
Innovative Technologies Driving COVID's Cure
Even though there are no approved vaccines for other coronaviruses such as MERS and SARS, previous research into these diseases has helped identify potential solutions for COVID-19 using messenger RNA (mRNA) technology.
"The mRNA vaccine platform technology [which the Pfizer/BioNTech vaccine uses] has been in development for over two decades."
—Dr Zoltán Kis, Imperial College London.
The technology instructs our bodies to produce a small part of the COVID-19 virus called a spike protein. This triggers the immune system to make antibodies to fight against it and prepares the body for an actual COVID-19 infection.
Containing COVID-19 Batch-by-Batch
Deployment of a safe and effective vaccine could have the potential to save millions of lives and prevent infection for many more.
Although some experts have criticized the speed of vaccine candidate approvals, the quality will be closely monitored on a batch-by-batch basis.
With the COVID-19 crisis showing no signs of slowing down, most of us continue to live in hope that the light is at the end of the tunnel.
Charted: The Gen Z Unemployment Rate, Compared to Older Generations
COVID-19 has impacted everyone, but one generation is taking it harder than the others. This graphic reveals the Gen Z unemployment rate.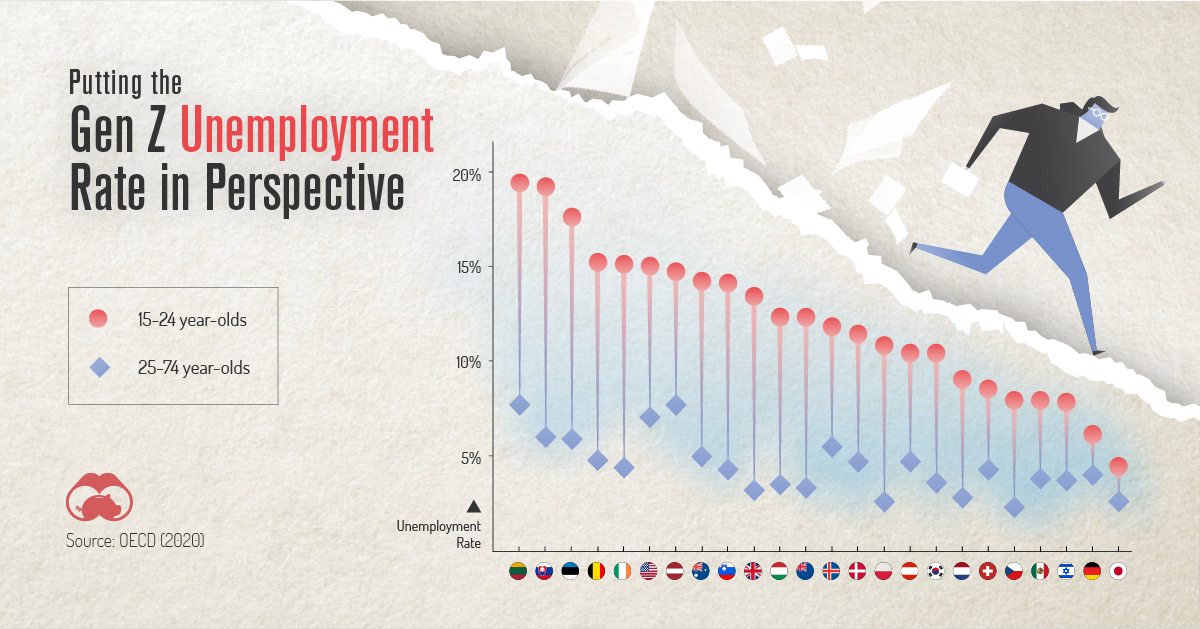 Putting the Gen Z Unemployment Rate in Perspective
There are more than 2 billion people in the Generation Z age range globally. These individuals, born between 1997 and 2009, represent about 30% of the total global population—and it's predicted that by 2025, Gen Z will make up about 27% of the workforce.
Due to the global pandemic, unemployment has been on the rise across the board—but Gen Z has been hit the hardest. This chart, using data from the OECD, displays the difference between the unemployment rate for Gen Zers and the rate for older generations.
Note: The OECD defines the 'unemployed' as people of legal working age who don't have work, are available to work, and have taken steps to find a job. The final figure is the number of unemployed people as a share of the total labor force.
The Generation Gap: Gen Z Unemployment
Compared to their older working-age counterparts, Baby Boomers, Gen X, and Millennials (Gen Y)—the most recent 2020 data shows that Gen Z has an unemployment rate of nearly 2x more in almost every OECD country.
| Country | Unemployment Rate (Gen Z) | Unemployment Rate (Millennial, Gen X, Boomer) |
| --- | --- | --- |
| 🇦🇺 Australia | 14.3% | 5.0% |
| 🇦🇹 Austria | 10.5% | 4.7% |
| 🇧🇪 Belgium | 15.3% | 4.8% |
| 🇨🇦 Canada | 20.0% | 7.9% |
| 🇨🇱 Chile | 24.8% | 9.6% |
| 🇨🇴 Colombia | 27.5% | 13.9% |
| 🇨🇿 Czech Republic | 8.0% | 2.3% |
| 🇩🇰 Denmark | 11.5% | 4.7% |
| 🇪🇪 Estonia | 17.7% | 5.9% |
| 🇫🇮 Finland | 21.0% | 6.0% |
| 🇫🇷 France | 20.1% | 6.8% |
| 🇩🇪 Germany | 6.2% | 4.0% |
| 🇭🇺 Hungary | 12.4% | 3.5% |
| 🇮🇸 Iceland | 11.9% | 5.5% |
| 🇮🇪 Ireland | 15.2% | 4.4% |
| 🇮🇱 Israel | 7.9% | 3.7% |
| 🇮🇹 Italy | 29.1% | - |
| 🇯🇵 Japan | 4.5% | 2.6% |
| 🇰🇷 South Korea | 10.5% | 3.6% |
| 🇱🇻 Latvia | 14.8% | 7.7% |
| 🇱🇹 Lithuania | 19.5% | 7.7% |
| 🇱🇺 Luxembourg | 22.4% | 5.6% |
| 🇲🇽 Mexico | 8.0% | 3.8% |
| 🇳🇱 Netherlands | 9.1% | 2.8% |
| 🇳🇿 New Zealand | 12.4% | 3.3% |
| 🇵🇱 Poland | 10.9% | 2.6% |
| 🇵🇹 Portugal | 22.9% | 5.9% |
| 🇸🇰 Slovakia | 19.3% | 6.0% |
| 🇸🇮 Slovenia | 14.2% | 4.3% |
| 🇪🇸 Spain | 38.3% | 14.0% |
| 🇸🇪 Sweden | 23.8% | 6.4% |
| 🇨🇭 Switzerland | 8.6% | 4.3% |
| 🇬🇧 United Kingdom | 13.5% | 3.2% |
| 🇺🇸 United States | 15.1% | 7.1% |
Note: For the purposes of this article, we are only considering the Gen Zers of legal working age—those born 1997-2006. The rest—Baby Boomers, Gen X, and Millennials—are those born between 1946–1996.
The timing for the youngest working generation could not be worse. Gen Z is just beginning to graduate college and high school, and are beginning to search for work and careers.
Gen Z is also an age group that is overrepresented in service industries like restaurants and travel–industries that were equally hard hit by the pandemic. In the U.S., for example, around 25% of young people work in the hospitality and leisure sectors. Between February and May 2020 alone, employment in these sectors decreased by 41%.
Countries like Spain are facing some of the biggest headwinds among OECD countries. The country already has a high unemployment rate for those aged 25-74, at 14%. But the unemployment rate for Gen Z is more than double that, at over 38%.
Implications For the Future
While it may be true throughout history that this age group is often less employed than older cohorts, the share of labor held by those aged 15-24 dropped significantly in 2020.
Note: This chart represents the data from G7 countries.
In terms of their future employment prospects, some economists are anticipating what they call 'scarring'. Due to longer periods of unemployment, Gen Z will miss out on formative years gaining experience and training. This may impact them later in life, as their ability to climb the career ladder will be affected.
Starting out slower can also hit earnings. One study found that long periods of youth unemployment can reduce lifetime income by 2%. Finally, it is also postulated that with the current economic situation, Gen Zers may accept lower paying jobs setting them on a track of comparatively lower earnings over their lifetime.
Overall, there are many future implications associated with the current unemployment rate for Gen Zers. Often getting your foot in the door after college or high school is one of the hardest steps in starting a career. Once you're in, you gain knowledge, skills, and the oh-so-coveted experience needed to get ahead.
The Kids are Alright?
One positive for Gen Z is that they have been found to be more risk averse and financially conscious than other generations, and were so even prior to COVID-19. Many of them were children during the 2008 Recession and became very cautious as a result.
They are also the first digital generation— the first to grow up without any memory of a time before the internet. Additionally, they have been called the first global generation. This could mean that they pioneer location-independent careers, create innovative revenue streams, and find new ways to define work.
Explained: The 3 Major COVID-19 Variants
New variants of COVID-19 are spreading fast around the world. Here's a look at the 3 major ones and how they differ from one another.
Explained: The 3 Major COVID-19 Variants
As billions of people gear up for widespread vaccination against COVID-19, another issue has reared its head. Three major COVID-19 variants have emerged across the globe—and preliminary research suggests these variants may be cause for concern.
But what makes them different from the original strain?
The following visualizations answer some key questions, including when these variants were first discovered, how far they've spread worldwide, and most importantly, their potential impact on the population.
Some Context: What is a Variant?
Before diving in, it's important to understand why viruses mutate in the first place.
To infect someone, a virus takes over a host cell and uses it to replicate itself. But nature isn't perfect, and sometimes, mistakes are made during the replication process—those mistakes are called mutations.
A virus with one or more mutations is referred to as a variant. Most of the time, variants do not affect a virus's physical structure, and in those instances, they eventually disappear. However, there are certain cases when a mutation impacts part of a virus's genetic makeup that does change its behavior.
According to the U.S. Centers for Disease Control (CDC) a change in behavior can alter:
Rate of transmission
Deadliness
Ability to potentially infect someone with natural or vaccine-induced immunity
Preliminary research has detected some of these changes in the three major COVID-19 variants—B.1.1.7, B.1.351, and P.1.
The 3 Major COVID-19 Variants
The three major variants emerged at different times, and in different parts of the world. Here's an overview of each variant, when they were discovered, and how far they've spread so far.
B.1.1.7
The B.1.1.7 variant was detected in the UK in the fall of 2020. By December 2020, it had spread across the globe, with cases emerging across Europe, North America, and Asia.
Currently, the variant has been reported in roughly 94 countries.
Early research suggests it's 50% more transmissible than other variants, and potentially 35% more deadly than the standard virus. Luckily, studies suggest that some of the existing vaccines work well against it.
B.1.351
In October 2020, the second major variant was discovered—B.1.351. It was first identified in South Africa, but by end of the year, it had spread to the UK, Switzerland, Australia, and Japan.
There are approximately 48 countries with reported cases, and research suggests several of the existing COVID-19 vaccines may not be as effective against this variant.
P.1
The P.1 variant was the last to arrive on the scene.
It was first discovered in January 2021, when Japan reported four cases of the variant, which was found in travelers who had arrived from Brazil.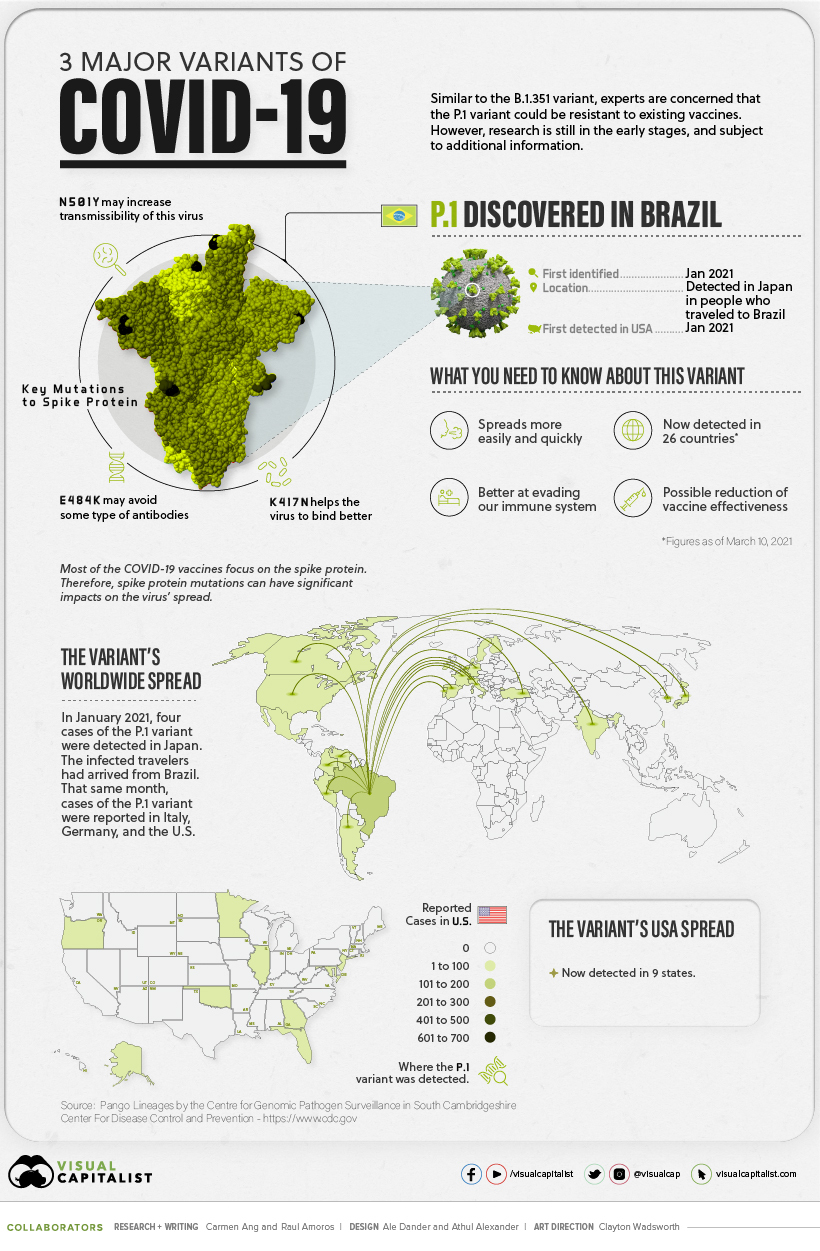 Approximately 25 countries have reported cases of the P.1 variant, and early research suggests this variant is not only more contagious, but could also have the ability to infect people with natural immunity who had already recovered from the original strain.
Still Early Days
While there have been preliminary studies showing a dip in vaccine effectiveness, some experts emphasize that it's too early to tell for certain. More data is needed to gain a deeper and more accurate understanding.
In the meantime, experts are emphasizing the importance of following our current public health strategies, which include physical distancing, vaccination, washing your hands, and using masks.