Global COVID-19 Containment: Confirmed Cases, Updated Daily
Global COVID Containment: Confirmed Cases, Updated Daily
Sometimes, it helps to gain a fresh perspective.
Since the pandemic began, there have been innumerable tracking resources made available online, but rarely do they paint a complete picture of a country's containment progress.
How Much Progress Is Really Being Made
Featured above, this continuously updated chart from Our World in Data provides a more complete look at the efficacy of COVID-19 containment strategies, sorted by country.
It is a variation of the Epidemic Curve (or "epi curve"), showing confirmed COVID-19 cases per country in relation to their testing rates—what's revealed is the strength of each country's containment strategy.
Only a fraction of total cases–those confirmed by a test–is known. This is why we spent recent months building the database and the visualization tool to make this variation of the epidemic curve possible.
— Our World in Data
Why Look at it This Way? Adequate Benchmarking
Countries vary widely in how they monitor and report on COVID-19. Cases in this particular chart were confirmed via laboratory testing, and the data covers 66% of the globe's population.
Depending on a country's containment efforts, confirmed cases can differ dramatically from total cases. To get a better idea of that difference, Our World in Data looked closer at the extent of testing. As they report, the World Health Organization considers an adequate benchmark to be 10-30 tests per confirmed case. And for those countries that experience larger outbreaks, there must be more tests conducted per confirmed case.
What the COVID Test-to-Case Ratio Tells Us
Line Trajectory: In this chart, rising lines show that the average number of laboratory-confirmed cases has increased over time, and vice versa for falling lines. Beyond flattening the curve, the end game is to have all of those lines reach zero.
Blue Lines: The darker the blue line, the more likely that the line is an accurate indicator, as thousands of tests have been administered per confirmed case. The more blue lines this chart shows over time, the better for us all.
Red Lines: By contrast, the warmer the color of the line, the fewer tests are being administered per confirmed case, and it is less likely to be an accurate measure of COVID-19 cases. Red lines, for example, indicate that only five tests are conducted for every confirmed case, suggesting that the count is not accurate and that many cases are going unreported.
Consider these three scenarios in the diagram above, and hover over countries in the main visualization to compare:
Country A: Winning the fight against COVID-19.
These countries, like New Zealand, have steadily increased the number of tests per confirmed case. Country A administers hundreds or thousands of tests per confirmed case. The likelihood of missed cases is far lower, most cases are accounted for, and they can confidently state they are winning the fight against COVID-19.
Country B: A severe, prolonged outbreak.
In comparison, countries like the U.S. have experienced a steady rise in confirmed cases. They also have lower rates of testing—only five tests per confirmed case. Country B cases are likely to be higher than the number reported, a fact that is especially concerning given that the U.S. has already surpassed the rest of the world's countries in confirmed cases.
Country C: A volatile scenario.
While confirmed cases decrease, there is much room for doubt. In Country C (South Africa for instance), confirmed cases are decreasing, but very few tests are administered. Unfortunately, this indicates there are many unrepresented cases. Country C probably has a larger problem than its downward trajectory would indicate.
Cases Per Million People
From a different angle, we can see daily new COVID-19 cases per capita. This gives us a better sense of how countries compare in terms of confirmed cases.
Countries like Thailand, New Zealand, and South Korea all show relatively low rates of COVID-19 per capita, as well as high levels of testing. Conversely, countries like Spain and Kuwait reveal high levels of confirmed cases per capita and extremely low testing rates.
Another Perspective for Good Measure
For a holistic view of testing, the map below shows us the daily number of tests for each newly confirmed COVID-19 case, based on a rolling 7-day average.
Countries like Norway, Australia, and Canada reveal strong testing-to-confirmed-case ratios. In contrast, countries like Bolivia and the Philippines reveal the probability of out-of-control outbreaks.
Due to lower levels of testing in relation to confirmed cases, countries in red are more likely to leave cases unreported.
Making Sense of the Unknown
Although charts like these allow us to look at relationships between critical variables, there are no guarantees of what will come of this outbreak or any second waves.
The only certainty right now, is uncertainty. But with visualizations like this one—updated daily—we can at least stay up-to-speed with the knowledge curve.

50 Years of Gaming History, by Revenue Stream (1970-2020)
Visualizing 50 years of gaming history, from the first wave of arcades and home consoles to a tsunami of mobile gaming.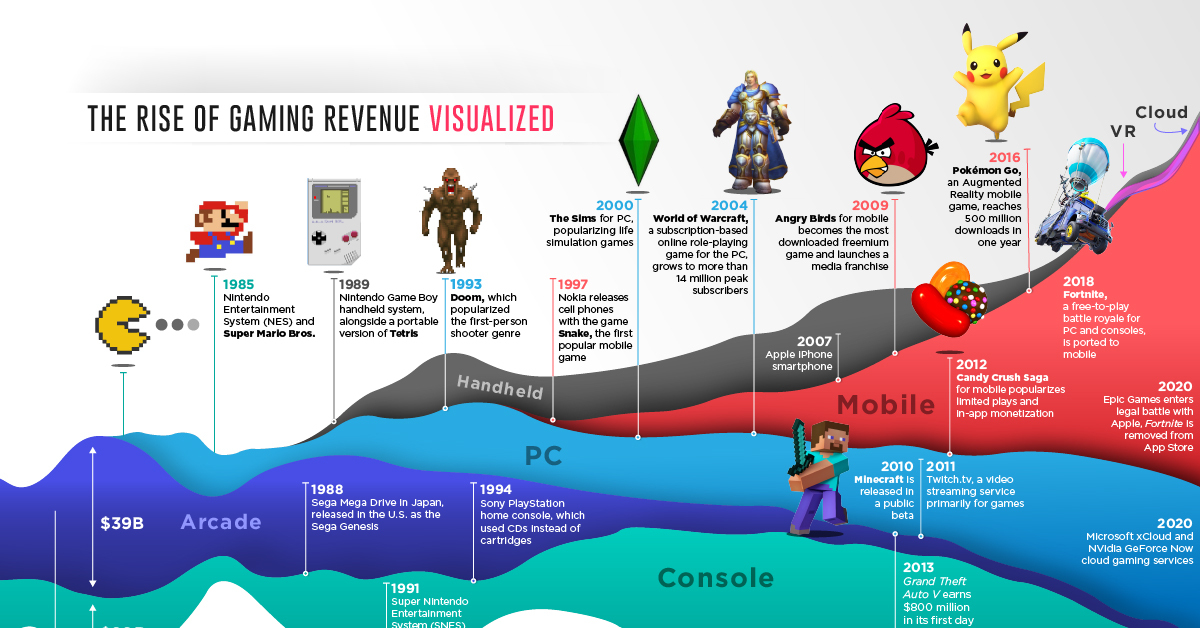 50 Years of Gaming History, by Revenue Stream (1970-2020)
View a more detailed version of the above by clicking here
Every year it feels like the gaming industry sees the same stories—record sales, unfathomable market reach, and questions of how much higher the market can go.
We're already far past the point of gaming being the biggest earning media sector, with an estimated $165 billion revenue generated in 2020.
But as our graphic above helps illustrate, it's important to break down shifting growth within the market. Research from Pelham Smithers shows that while the tidal wave of gaming has only continued to swell, the driving factors have shifted over the course of gaming history.
1970–1983: The Pre-Crash Era
At first, there was Atari.
Early prototypes of video games were developed in labs in the 1960s, but it was Atari's release of Pong in 1972 that helped to kickstart the industry.
The arcade table-tennis game was a sensation, drawing in consumers eager to play and companies that started to produce their own knock-off versions. Likewise, it was Atari that sold a home console version of Pong in 1975, and eventually its own Atari 2600 home console in 1977, which would become the first console to sell more than a million units.
In short order, the arcade market began to plateau. After dwindling due to a glut of Pong clones, the release of Space Invaders in 1978 reinvigorated the market.
Arcade machines started to be installed everywhere, and new franchises like Pac-Man and Donkey Kong drove further growth. By 1982, arcades were already generating more money than both the pop music industry and the box office.
1985–2000: The Tech Advancement Race
Unfortunately, the gaming industry grew too quickly to maintain.
Eager to capitalize on a growing home console market, Atari licensed extremely high budget ports of Pac-Man and a game adaptation of E.T. the Extra Terrestrial. They were rushed to market, released in poor quality, and cost the company millions in returns and more in brand damage.
As other companies also looked to capitalize on the market, many other poor attempts at games and consoles caused a downturn across the industry. At the same time, personal computers were becoming the new flavor of gaming, especially with the release of the Commodore 64 in 1982.
It was a sign of what was to define this era of gaming history: a technological race. In the coming years, Nintendo would release the Nintendo Entertainment System (NES) home console in 1985 (released in Japan as the Famicom), prioritizing high quality games and consistent marketing to recapture the wary market.
On the backs of games like Duck Hunt, Excitebike, and the introduction of Mario in Super Mario Bros, the massive success of the NES revived the console market.
Estimated Total Console Sales by Manufacturer (1970-2020)
| Manufacturer | Home Console sales | Handheld Console Sales | Total Sales |
| --- | --- | --- | --- |
| Nintendo | 318 M | 430 M | 754 M |
| Sony | 445 M | 90 M | 535 M |
| Microsoft | 149 M | - | 149 M |
| Sega | 64-67 M | 14 M | 81 M |
| Atari | 31 M | 1 M | 32 M |
| Hudson Soft/NEC | 10 M | - | 10 M |
| Bandai | - | 3.5 M | 3.5 M |
Source: Wikipedia
Nintendo looked to continue its dominance in the field, with the release of the Game Boy handheld and the Super Nintendo Entertainment System. At the same time, other competitors stepped in to beat them at their own game.
In 1988, arcade company Sega entered the fray with the Sega Mega Drive console (released as the Genesis in North America) and then later the Game Gear handheld, putting its marketing emphasis on processing power.
Electronics maker Sony released the PlayStation in 1994, which used CD-ROMs instead of cartridges to enhance storage capacity for individual games. It became the first console in history to sell more than 100 million units, and the focus on software formats would carry on with the PlayStation 2 (DVDs) and PlayStation 3 (Blu-rays).
Even Microsoft recognized the importance of gaming on PCs and developed the DirectX API to assist in game programming. That "X" branding would make its way to the company's entry into the console market, the Xbox.
2001–Present: The Online Boom
It was the rise of the internet and mobile, however, that grew the gaming industry from tens of billions to hundreds of billions in revenue.
A primer was the viability of subscription and freemium services. In 2001, Microsoft launched the Xbox Live online gaming platform for a monthly subscription fee, giving players access to multiplayer matchmaking and voice chat services, quickly becoming a must-have for consumers.
Meanwhile on PCs, Blizzard was tapping into the Massive Multiplayer Online (MMO) subscription market with the 2004 release of World of Warcraft, which saw a peak of more than 14 million monthly paying subscribers.
All the while, companies saw a future in mobile gaming that they were struggling to tap into. Nintendo continued to hold onto the handheld market with updated Game Boy consoles, and Nokia and BlackBerry tried their hands at integrating game apps into their phones.
But it was Apple's iPhone that solidified the transition of gaming to a mobile platform. The company's release of the App Store for its smartphones (followed closely by Google's own store for Android devices) paved the way for app developers to create free, paid, and pay-per-feature games catered to a mass market.
Now, everyone has their eyes on that growing $85 billion mobile slice of the gaming market, and game companies are starting to heavily consolidate.
Major Gaming Acquisitions Since 2014
| Date | Acquirer | Target and Sector | Deal Value (US$) |
| --- | --- | --- | --- |
| Apr. 2014 | Facebook | Oculus - VR | $3 Billion |
| Aug. 2014 | Amazon | Twitch - Streaming | $970 Million |
| Nov. 2014 | Microsoft | Mojang - Games | $2.5 Billion |
| Feb. 2016 | Activision Blizzard | King - Games | $5.9 Billion |
| Jun. 2016 | Tencent | Supercell - Games | $8.6 Billion |
| Feb. 2020 | Embracer Group | Saber Interactive - Games | $525 Million |
| Sep. 2020 | Microsoft | ZeniMax Media - Games | $7.5 Billion |
| Nov. 2020 | Take-Two Interactive | Codemasters - Games | $994 Million |
Console makers like Microsoft and Sony are launching cloud-based subscription services even while they continue to develop new consoles. Meanwhile, Amazon and Google are launching their own services that work on multiple devices, mobile included.
After seeing the success that games like Pokémon Go had on smartphones—reaching more than $1 billion in yearly revenue—and Grand Theft Auto V's record breaking haul of $1 billion in just three days, companies are targeting as much of the market as they can.
And with the proliferation of smartphones, social media games, and streaming services, they're on the right track. There are more than 2.7 billion gamers worldwide in 2020, and how they choose to spend their money will continue to shape gaming history as we know it.

Which Countries are Mapping the Ocean Floor?
We know more about the surface of Mars than we do on the ocean floor. Which countries are mapping the ocean floor, and what's still unknown?
Which Countries are Mapping the Ocean Floor?
Our vast and complex planet is becoming less mysterious with each passing day.
Consider the following:
Thousands of satellites are now observing every facet of our planet
Around three-quarters of Earth's land surface is now influenced by human activity
Aircraft-based LIDAR mapping is creating new models of the physical world in staggering detail
But, despite all of these impressive advances, our collective knowledge of the ocean floor still has some surprising blind spots.
Today's unique map from cartographer Andrew Douglas-Clifford (aka The Map Kiwi) focuses on ocean territory instead of land, highlighting the vast areas of the ocean floor that remain unmapped. Which countries are exploring their offshore territory, and how much of the ocean floor still remains a mystery to us? Let's dive in.
What Do We Know Right Now?
Today, we have a surprisingly incomplete picture of what lies beneath the waves. In fact, if you were to fly from Los Angeles to Sydney, the bulk of your journey would take place over territory that is mapped in only the broadest sense.
Most of what we know about the ocean floor's topography was pieced together from gravity data gathered by satellites. While useful as a starting point, the resulting spatial resolution is about two square miles (5km). By comparison, topographic maps of Mars and Venus have a resolution that's 50x more detailed.
As the map above clearly illustrates, only a few large pieces of the ocean have been mapped—and not surprisingly, many of these higher resolution portions lie along the world's shipping lanes.
Another way to see this clear difference in resolution is through Google Maps:
As you can see above, these shipping lanes running through the Pacific Ocean have been mapped at a higher resolution that the surrounding ocean floor.
The Countries Mapping the Ocean Floor
The closer an area is to a population center, the higher the likelihood it has been mapped. That said, many countries still have a long way to go before they have a clear picture of their land beneath the waves.
Here is a snapshot of how far along countries are in their subsea mapping efforts:
| Countries/territories | Size of Exclusive Economic Zone* (EEZ) | Percentage of EEZ mapped |
| --- | --- | --- |
| Japan | 1,729,501 mi² (4,479,388 km²) | 97.7% |
| United Kingdom | 2,627,651 mi² (6,805,586 km²) | 90.6% |
| Norway | 920,922 mi² (2,385,178 km²) | 81.9% |
| New Zealand | 1,576,742 mi² (4,083,744 km²) | 74.0% |
| United States | 4,382,645 mi² (11,351,000 km²) | 69.9% |
| Australia | 3,283,933 mi² (8,505,348 km²) | 64.9% |
| Iceland | 291,121 mi² (754,000 km²) | 49.9% |
| South Africa | 592,874 mi² (1,535,538 km²) | 39.5% |
| Canada | 2,161,815 mi² (5,599,077 km²) | 38.8% |
| Samoa | 49,401 mi² (127,950 km²) | 34.6% |
| South Korea | 183,579 mi² (475,469 km²) | 28.3% |
| Taiwan | 32,135 mi² (83,231 km²) | 26.3% |
| Argentina | 447,516 mi² (1,159,063 km²) | 22.6% |
| Cook Islands | 756,770 mi² (1,960,027 km²) | 29.0% |
| Phillippines | 614,203 mi² (1,590,780 km²) | 16.7% |
| China | 338,618 mi² (877,019 km²) | 11.4% |
| Madagascar | 473,075 mi² (1,225,259 km²) | 5.5% |
| Bangladesh | 45,873 mi² (118,813 km²) | 3.3% |
| Thailand | 115,597 mi² (299,397 km²) | 1.5% |
*An exclusive economic zone (EEZ) is the sea zone stretching 200 nautical miles (nmi) from the coast of a state.
Japan and the UK, which have the 5th and 8th largest EEZs respectively, are the clear leaders in mapping their ocean territory.
Piecing Together the Puzzle
Sometimes tragedy can have a silver lining. By the time the search for Malaysia Airlines Flight 370 concluded in 2014, scientists had gained access to more than 100,000 square miles of newly mapped sections of the Indian Ocean.
Of course, it will take a more systematic approach and sustained effort to truly map the world's ocean floors. Thankfully, a project called Seabed 2030 has the ambitious goal of mapping the entire ocean floor by 2030. The organization is collaborating with existing mapping initiatives in various regions to compile bathymetric information (undersea map data).
It's been said without hyperbole that we know more about the surface of Mars than we do about our own planet's seabed, but thanks to the efforts of Seabed 2030 and other initiatives around the world, puzzle pieces are finally falling into place.