What Does The Coffee Supply Chain Look Like?
View a more detailed version of the above graphic by clicking here
There's a good chance your day started with a cappuccino, or a cold brew, and you aren't alone. In fact, coffee is one of the most consumed drinks on the planet, and it's also one of the most traded commodities.
According to the National Coffee Association, more than 150 million people drink coffee on a daily basis in the U.S. alone. Globally, consumption is estimated at over 2.25 billion cups per day.
But before it gets to your morning cup, coffee beans travel through a complex global supply chain. Today's illustration from Dan Zettwoch breaks down this journey into 10 distinct steps.
Coffee From Plant to Factory
There are two types of tropical plants that produce coffee, both preferring high altitudes and with production primarily based in South America, Asia, and Africa.
Coffea arabica is the more plentiful bean, with a more complex flavor and less caffeine. It's used in most specialty and "high quality" drinks as Arabica coffee.
Coffea canephora, meanwhile, has stronger and more bitter flavors. It's also easier to grow, and is most frequently used in espressos and instant blends as Robusta coffee.
However, both types of beans undergo the same journey:
Growing
Plants take anywhere from 4-7 years to produce their first harvest, and grow fruit for around 25 years.
Picking
The fruit of the coffea plant is the coffee berry, containing two beans within. Ripened berries are harvested either by hand or machine.
Processing
Coffee berries are then processed either in a traditional "dry" method using the sun or "wet" method using water and machinery. This removes the outer fruit encasing the sought-after green beans.
Milling
The green coffee beans are hulled, cleaned, sorted, and (optionally) graded.
From Factory to Transport
Once the coffee berry is stripped down to green beans, it's shipped from producing countries through a global supply network.
Green coffee beans are exported and shipped around the world. In 2018 alone, 7.2 million tonnes of green coffee beans were exported, valued at $19.2 billion.
Arriving primarily in the U.S. and Europe, the beans are now prepared for consumption:
Roasting
Green beans are industrially roasted, becoming darker, oilier, and tasty. Different temperatures and heat duration impact the final color and flavor, with some preferring light roasts to dark roasts.
Packaging
Any imperfect or somehow ruined beans are discarded, and the remaining roasted beans are packaged together by type.
Shipping
Roasted beans are shipped both domestically and internationally. Bulk shipments go to retailers, coffee shops, and in some cases, direct to consumer.
Straight to Your Cup
Roasted coffee beans are almost ready for consumption, and by this stage the remaining steps can happen anywhere.
For example, many factories don't ship roasted beans until they grind it themselves. Meanwhile, cafes will grind their own beans on-site before preparing drinks. The rapid growth of coffee chains made Starbucks the second-highest-earning U.S. fast food venue.
Regardless of where it happens, the final steps bring coffee straight to your cup:
Grinding
Roasted beans are ground up in order to better extract their flavors, either by machine or by hand. The preferred fineness depends on the darkness of the roast and the brewing method.
Brewing
Water is added to the coffee grounds in a variety of methods. Some involve water being passed or pressured through the grounds (espresso, drip) while others mix the water and grounds (French press, Turkish coffee).
Drinking
Liquid coffee is ready to be enjoyed! One average cup takes 70 roasted beans to make.
The world's choice of caffeine pick-me-up is made possible by this structured and complex supply chain. Coffee isn't just a drink, after all, it's a business.

The New Rules of Leadership: 5 Forces Shaping Expectations of CEOs
This infographic delves into five major forces reshaping our world and the new rules of leadership that CEOs should follow as a result.
It's common knowledge that CEOs assume a long list of roles and responsibilities.
But in today's world, more and more people rely on them to go beyond their day-to-day responsibilities and advocate for broader social change. In fact, a number of external forces are changing how leaders are now expected to behave.
How can leaders juggle these evolving expectations while successfully leading their companies into the future?
The New Rules of Leadership
This infographic from bestselling author Vince Molinaro explores five drivers reshaping our world that leaders must pay attention to in order to bring about real change.
How is the World Being Reshaped?
Leaders need to constantly stay one step ahead of the transformative forces that impact businesses on a broader scale.
Below we outline five key drivers that are changing what it means to be a leader in today's world:
1. Transformative Technologies
Over the last number of decades, several technologies have emerged that could either accelerate the disruption of companies, or provide them with new opportunities for growth. According to KPMG, 72% of CEOs believe the next three years will be more critical for their industry than the previous 50 years.
For example, artificial intelligence (AI), can now provide companies with insights into what motivates their employees and how they can help them succeed. IBM's AI predictive attrition program can even predict when employees are about to quit—saving them roughly $300 million in retention costs.
Leaders must accept that the future will be mediated by technology, and how they respond could determine whether or not their organization survives entirely.
2. Geopolitical Instability
Geopolitical risks—such as trade disputes or civil unrest—can have a catastrophic impact on a business's bottom line, no matter its industry. Although 52% of CEOs believe the geopolitical landscape is having a significant impact on their companies, only a small portion say they have taken active steps to address these risks.
By being more sensitive to the world around them, leaders can anticipate and potentially mitigate these risks. Extensive research into geopolitical trends and leveraging the appropriate experts could support a geopolitical risk strategy, and alleviate some of the potential repercussions.
3. Revolutionizing the Working Environment
As the future of work looms, leaders are being presented with the opportunity to reimagine the inner workings of their company. But right now, they are fighting against a wide spectrum of predictions around what they should expect, with estimations surrounding the automation risk of jobs ranging from 5% to 61% as a prime example.
While physical, repetitive, or basic cognitive tasks carry a higher risk of automation, the critical work that remains will require human interaction, creativity, and judgment.
Leaders should avoid getting caught up in the hype regarding the future of work, and simply focus on helping their employees navigate the next decade.
By creating an inspiring work environment and investing in retraining and reskilling, leaders can nurture employee well-being and create a sense of connectedness and resilience in the workplace.
4. Delivering Diversity
Diversity and inclusion can serve as a path to engaging employees, and leaders are being asked to step up and deliver like never before. A staggering 77% of people feel that CEOs are responsible for leading change on important social issues like racial inequality.
But while delivering diversity, equity, and inclusion seems to be growing in importance, many companies are struggling to understand the weight of this issue.
An example of this is Noah's Ark Paradox, which describes the belief that hiring "two of every kind" creates a diverse work environment. In reality, this creates a false sense of inclusion because the voices of these people may never actually be heard.
Modern day leaders must create a place of belonging where everyone—regardless of gender, race, sexual orientation, ability, or age—is listened to.
5. Repurposing Corporations
The drivers listed above ladder up to the fact that society is looking to businesses to help solve important issues, and leaders are the ones being held accountable.
With 84% of people expecting CEOs to inform conversations and policy debates on one or more pressing issues, from job automation to the impact of globalization, CEOs have the potential to transform their organization by galvanizing employees on the topics that matter to them.
For a long time, the purpose of corporations was purely to create value for shareholders. Now, leaders are obligated to follow a set of five commitments:
Deliver value to customers
Invest in employees
Deal fairly and ethically with suppliers
Support communities
Generate long-term value for shareholders
Ultimately, these five commitments build currency for trust, which is critical for sustained growth and building a productive and satisfied workforce.
Lead the Future
If leaders understand the context they operate in, they can identify opportunities that could fuel their organization's growth, or alternatively, help them pivot in the face of impending threats.
But organizations must invest in the development of their leaders so that they can see the bigger picture—and many are failing to do so.
By recognizing the new rules of leadership, CEOs and managers can successfully lead their organizations, and the world, into a new and uncertain future.

29 Psychological Tricks To Make You Buy More
This graphic looks at 29 different psychological tricks that marketers use to try and influence consumer behavior.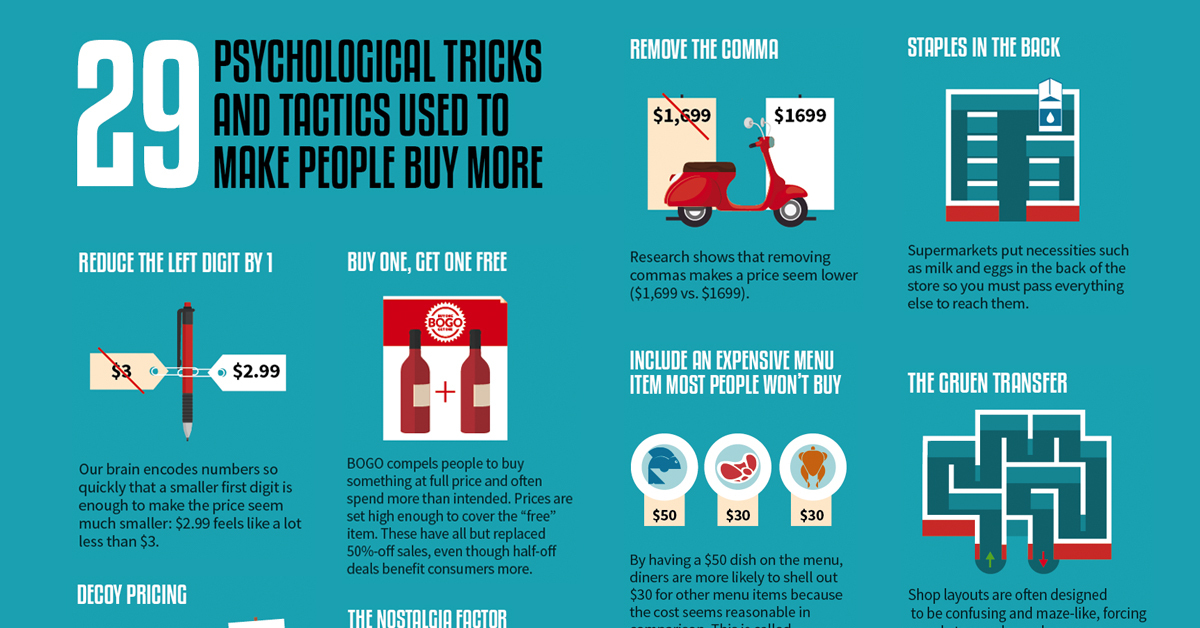 29 Psychological Tricks To Make You Buy More
Ever suffered from buyer's remorse? You're not alone.
According to a recent survey, only 5% of people have never felt guilty about buying something. That means the majority of us, at some point in our lives, have regretted a purchase.
But consumers aren't necessarily only to blame for impulse buys. After all, we're constantly bombarded with advertisements and marketing tactics specifically tailored to try and get us to spend more money.
Today's graphic by TitleMax explains 29 different psychological tactics that marketers try to get consumers to buy more.
Tricks are for Marketers
While this list isn't exhaustive, it provides some key examples of the ways that marketers are attempting to influence your subconscious mind.
We noticed some high-level trends among the 29 tactics, which we compiled into four overarching sections:
Visual Pricing Tricks
These tricks aim to intentionally minimize the appearance of the price, so it's more palatable to consumers. For instance, a store will price something at $9.99 instead of $10.00, or label a product as "buy-one-get-one" rather than 50% off.
Intentional Language Tricks
It's not what you say, but how you say it. Making products seem costly to manufacture, offering exclusivity, and using words associated with small amounts fall under this category. These tricks use semantics to position a product in an appealing way.
Brick-and-Mortar Tricks
A store's layout is less arbitrary than you may realize. Having a bright and colorful entrance, playing calm and slow music, and putting the essential items at the back of the store are a few tactics that fall into this section. These tricks use displays and product placement to influence consumer behavior.
Urgency Tricks
A false sense of urgency and phase-out discounts are included in this category. If a consumer believes they might miss out on a deal, they're more likely to buy.
The Theories in Practice
While most retailers are guilty of using at least a few of these tactics, several big companies are notorious for their use of psychological tricks to boost sales.
For instance, Ikea is well known for its confusing, maze-like layout. This is no accident, as an Ikea store's architecture is designed specifically to maximize product exposure—it's mastered what's called the Gruen effect, a term named after architect Victor Gruen, whose elaborate displays were proven to convert browsers into buyers.
Another example is Walmart's rollback pricing, which uses visual contrast to make the sale price more appealing. It's clearly served the company well—in 2019, Walmart made $524 billion in revenue, making it the world's largest retailer.
Costco uses a few tactics on the list, but one it's notorious for is putting fresh produce in the back of the store. That means customers need to pass through the electronics, clothing, and household goods sections before they can get to the necessities.
While the above tactics are in a gray area, other tricks are flat out dishonest. Makeup brand Sunday Riley was caught writing fake Sephora reviews to boost sales. Employees were encouraged to write outstanding reviews for the company, and the CEO even provided instructions on how to avoid getting caught.
The Influencer Era
As consumers become aware of certain marketing tactics, retailers are forced to switch up their game in order to remain effective.
A relatively recent phenomenon is influencer marketing, which is when brands partner with vloggers or influencers to endorse a product. And these partnerships tend to work—a recent survey revealed that 40% of people have purchased something based on an influencer's recommendation.
But how long will influencer marketing—or any of these tactics—stay effective? Some of the more subtle pricing tactics might stay relevant for longer, but it's unlikely that all of these tricks will stand the test of time.