3D Mapping The Largest Population Density Centers

Click here to view the full version of this graphic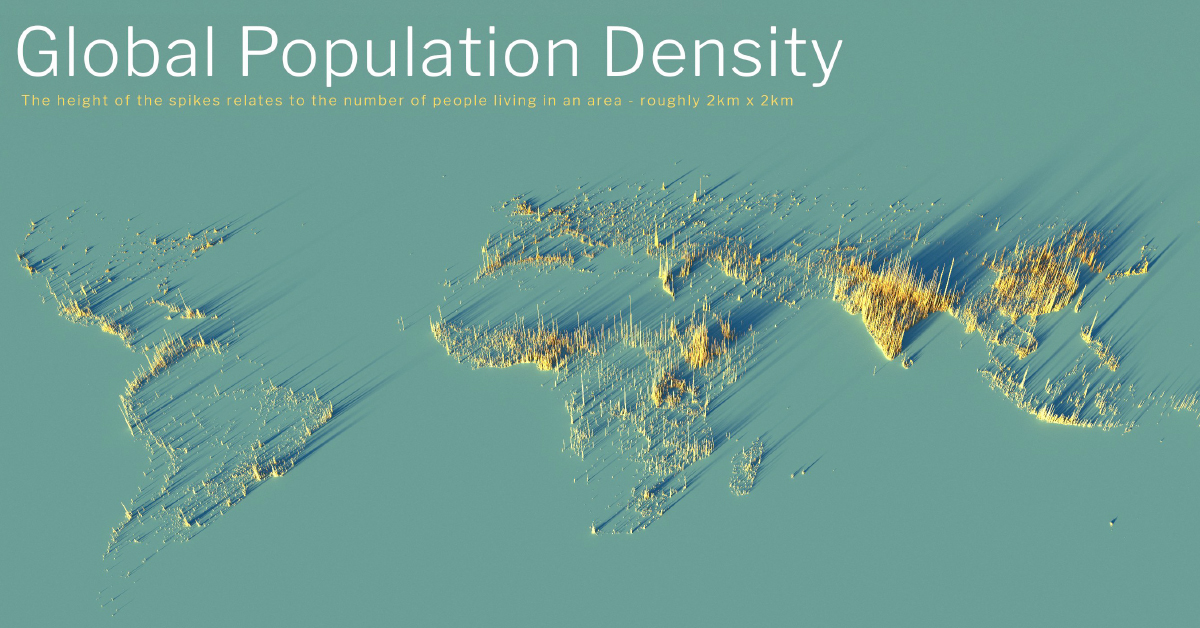 A 3D Look at the Largest Population Density Centers
It can be difficult to comprehend the true sizes of megacities, or the global spread of nearly 7.8 billion people, but this series of population density maps makes the picture abundantly clear.
Created using the EU's population density data and mapping tool Aerialod by Alasdair Rae, the 3D-rendered maps highlight demographic trends and geographic constraints.
Though they appear topographical and even resemble urban areas, the maps visualize population density in squares. The height of each bar represents the number of people living in that specific square, with the global map displaying 2km x 2km squares and subsequent maps displaying 1km x 1km squares.
Each region and country tells its own demographic story, but the largest population clusters are especially illuminating.
China vs U.S. — Clusters vs Sprawl
Click here to view the high resolution version.
Zooming into the most populated country in the world, China and its surrounding neighbors demonstrate massive clusters of urbanization.
Most people are familiar with the large density centers around Hong Kong, Guangzhou, and Shanghai, but the concentration in central China is surprising. The cities of Chengdu and Chonqing, in the Sichuan Basin, are part of a massive population center.
Interestingly, more than 93% of China's population lives in the Eastern half of the country. It's a similar story in neighboring South Korea and Taiwan, where the population is clustered along the west coasts.
Click here to view the high resolution version.
The U.S. also has large population clusters along the coasts, but far more sprawl compared to its Asian counterparts. Though the Boston-Washington corridor is home to over 50 million residents, major centers spread out the population across the South and the Midwest.
Clearly visible are clusters in Florida (and not exclusively focused around Miami like some might believe), Illinois, Georgia, and Texas. The population is sparse in the West as expected, but California's Los Angeles and Bay Area metros make up for the discrepancy and are just behind New York City's density spikes in height.
India & Southeast Asia — Massive Density in Tight Areas
Click here to view the high resolution version.
At 1.38 billion people, India's population is just behind China's in terms of size. However, this sizable population fits into an area just one-third of China's total land area, with the above map demonstrating what the same amount of people looks like in a smaller region.
On one hand, you still have clear clusters, such as in Mumbai, New Delhi, Kolkata, and Bangladesh's Dhaka. On the other, there is a finite amount of room for a massive amount of people, so those density "spikes" are more like density "peaks" with the entire country covered in high density bars.
However, we can still see geographic trends. India's population is more densely focused in the North before fading into the Himalayas. Bangladesh is equally if not more densely populated, with the exception of the protected Sundarbans mangrove forest along the coast. And Pakistan's population seen in the distance is clustered along the Indus River.
Click here to view the high resolution version.
Geographic constraints have always been the biggest deciding factor when it comes to population density, and nowhere is this more apparent than Southeast Asia.
Take Indonesia, the fourth largest country by population. Despite spanning across many islands, more than half of the country's 269 million inhabitants are clustered on the single island of Java. The metros of Jakarta and Surabaya have experienced massive growth, but spreading that growth across oceans to entirely new islands (covered by rainforests) is a tall order.
When the distance is smaller, that cross-water growth is more likely to occur. Nearby in the Philippines, more than 100 million people have densely populated a series of islands no bigger than the state of Arizona.
Indeed, despite being one of the most populated areas in the world, each country in Southeast Asia has had its own growing problems. Some are limited by space (Singapore, Philippines), while others are limited by forests (Thailand, Vietnam).
A World of Different Density Pictures
Though the above maps cover the five most populated countries on Earth, accounting for nearly half of the world's population, they only show a small part of the global picture.
As the full global density map at the top of the page highlights, the population patterns can accurately illustrate some geographic patterns and constraints, while others need further exploration. For example, the map clearly gives an outline of Africa and the sparse area that makes up the Sahara Desert. At the same time, landmasses like Australia and New Zealand are almost invisible save for a few clusters along the coast.
To get a closer and more intricate picture of each country's density map, head to Alasdair Rae's long thread of rendered maps and start scrolling up to find yours!
The World's Top 50 Influencers Across Social Media Platforms
Which influencers have the most total social media followers? We tally up follower counts across all major platforms, from Twitter to TikTok.
Visualizing the World's Top 50 Influencers
In the modern digital world, social media reach is power.
The people with the most followers on Twitter, for example, have a massive platform to spread their messages, while those with large, engaged followings on Instagram are an advertiser's dream sponsor partner.
Social media can also be an equalizer of power. It's true that many celebrities boast large followings across platforms, but social media has also enabled previously unknown personalities to turn YouTube or TikTok fame into veritable star power and influence.
Who has the biggest reach across the entire social media universe? Instead of looking at who has the most followers on Instagram, Twitter, or other networks, we ranked the most-followed personalities across all major platforms combined.
Who Has the Most Overall Followers on Social Media?
We parsed through hundreds of the most-followed accounts on multiple platforms to narrow down the top influencers across social media as of April 2021.
Sources include trackers of the most followers on Twitter, Instagram, Facebook, YouTube, Twitch, and TikTok, verified directly on site and with social media tracker Socialblade.
The results? A top 50 list of social media influencers consisting of athletes, musicians, politicians, and other personalities.
| Rank | Name | Category | Total Followers | Biggest Platform |
| --- | --- | --- | --- | --- |
| #1 | Cristiano Ronaldo | Sports | 493M | Instagram |
| #2 | Justin Bieber | Music | 443M | Instagram |
| #3 | Ariana Grande | Music | 429M | Instagram |
| #4 | Selena Gomez | Music | 403M | Instagram |
| #5 | Taylor Swift | Music | 361M | Instagram |
| #6 | Dwayne Johnson | Film & TV | 342M | Instagram |
| #7 | Katy Perry | Music | 338M | Instagram |
| #8 | Kylie Jenner | Other | 333M | Instagram |
| #9 | Rihanna | Music | 330M | Twitter |
| #10 | Kim Kardashian | Other | 319M | Instagram |
| #11 | Lionel Messi | Sports | 298M | Instagram |
| #12 | Shakira | Music | 281M | Facebook |
| #13 | Neymar | Sports | 279M | Instagram |
| #14 | Beyoncé | Music | 267M | Instagram |
| #15 | Jennifer Lopez | Music | 267M | Instagram |
| #16 | Ellen DeGeneres | Film & TV | 254M | Instagram |
| #17 | Miley Cyrus | Music | 235M | Instagram |
| #18 | Nicki Minaj | Music | 232M | Instagram |
| #19 | Barack Obama | Politics | 222M | Twitter |
| #20 | Will Smith | Film & TV | 217M | Facebook |
| #21 | Demi Lovato | Music | 212M | Instagram |
| #22 | Kendall Jenner | Other | 212M | Instagram |
| #23 | Lady Gaga | Music | 210M | Twitter |
| #24 | Virat Kohli | Sports | 194M | Instagram |
| #25 | Eminem | Music | 193M | Facebook |
| #26 | Kevin Hart | Film & TV | 191M | Instagram |
| #27 | Drake | Music | 191M | Instagram |
| #28 | Bruno Mars | Music | 188M | Facebook |
| #29 | Chris Brown | Music | 186M | Instagram |
| #30 | Khloé Kardashian | Other | 184M | Instagram |
| #31 | Vin Diesel | Film & TV | 176M | Facebook |
| #32 | Narendra Modi | Politics | 175M | Twitter |
| #33 | Justin Timberlake | Music | 170M | Twitter |
| #34 | Charli D'Amelio | Other | 168M | TikTok |
| #35 | Kourtney Kardashian | Other | 160M | Instagram |
| #36 | Adele | Music | 155M | Facebook |
| #37 | LeBron James | Sports | 155M | Instagram |
| #38 | Billie Eilish | Music | 153M | Instagram |
| #39 | Whindersson Nunes Batista | Other | 144M | Instagram |
| #40 | Wiz Khalifa | Music | 143M | Facebook |
| #41 | Akshay Kumar | Film & TV | 140M | Instagram |
| #42 | Germán Garmendia | Gaming | 140M | Youtube |
| #43 | Felix "PewDiePie" Kjellberg | Gaming | 139M | Youtube |
| #44 | Cardi B | Music | 139M | Instagram |
| #45 | Snoop Dogg | Music | 138M | Instagram |
| #46 | Deepika Padukone | Film & TV | 137M | Instagram |
| #47 | Britney Spears | Music | 134M | Twitter |
| #48 | Salman Khan | Film & TV | 134M | Facebook |
| #49 | Priyanka Chopra | Film & TV | 129M | Instagram |
| #50 | Shawn Mendes | Music | 128M | Instagram |
Unsurprisingly, celebrities reign supreme on social media. As of April 2021, soccer superstar Cristiano Ronaldo was the most-followed person on social media with almost 500 million total followers.
But there are other illuminating highlights, such as the global reach of music. With large and diverse fanbases, artists account for half of the top 50 largest social media followings.
Also notable is the power of Instagram, which was the biggest platform for 67% of the top 50 social media influencers. This includes hard-to-categorize celebrities like the Kardashians and Jenners, which turned reality TV and social media fame into business and media empires.
Download the Generational Power Report (.pdf)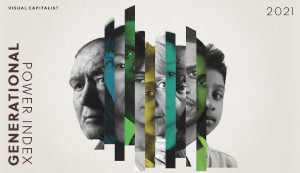 The Most Followers on Twitter, TikTok, and YouTube
However, it's not only celebrities that dominate social media.
Personalities that started on one social media platform and developed massive followings include TikTok's most-followed star Charli D'Amelio and YouTubers Whindersson Nunes Batista, Germán Garmendia, and Felix "PewDiePie" Kjellberg.
Politicians were also prominent influencers. Former U.S. President Barack Obama has the most followers on Twitter, and India's Prime Minister Narendra Modi has more than 175 million followers across social media.
Former U.S. President Donald Trump would have also made the list with more than 140 million followers across social media before being banned from multiple platforms on January 8, 2021.
A Generational Look at Social Media Influence
While older generations have had to adapt to social media platforms, younger generations have grown up alongside them. As a measure of cultural importance, this gives Gen X, Millennials, and Gen Z a rare leg-up on older generations.
Millennials, in particular, hold the lion's share of spots in this top 50 list:
| Generation | # of Influencers in Generation | Top Influencer in Generation |
| --- | --- | --- |
| Gen Z | 4 | Kylie Jenner |
| Millennial | 33 | Cristiano Ronaldo |
| Gen X | 10 | Dwayne (The Rock) Johnson |
| Baby Boomer | 3 | Ellen DeGeneres |
The average age of the top 50 influencers was just over 37.
In our Generational Power Index (GPI), which measures the share of power generations hold in various categories, digital platforms were a key area where Millennials derived their power and influence. Overall, Baby Boomers—and to a lesser extent, Gen X—still run the show in most areas of society today.
Social Media Influence, Going Forward
As most fans and advertisers know, not all social media accounts and followings are homogenous.
Many influencers with relatively small followings have more consistent engagement, and are often able to demand high advertising fees as a result.
Conversely, most social media platforms are reckoning with a severe glut of fake accounts or bots that inflate follower counts, impacting everything from celebrities and politicians to personalities and businesses.
Regardless, social media has become a mainstay platform (or soapbox) for today's cultural influencers. Billions of people turn to social media for news, engagement, recommendations, and entertainment, and new platforms are always on the rise.
Flowchart: Are You Working for a Toxic Boss?
Most people have had bad bosses, but is your boss toxic? This flowchart helps you discover if you have a toxic boss and what to do about it.
Flowchart: Are You Working for a Toxic Boss?
The experience of less-than-ideal work situations are common, and the global pandemic has likely heightened challenges for bosses and employees alike. How can mediocre or outright hostile leadership impact your ability to work well?
This flowchart from Resume.io helps you figure out if you've got a toxic boss weighing you down. It covers seven archetypes of toxic bosses, and how to respond to each one.
The 7 Types of Toxic Bosses
Barbara Kellerman, a professor of public leadership at the Harvard Kennedy School identifies seven types of toxic bosses that can exist.
| Number | Toxic Boss Type | Description |
| --- | --- | --- |
| #1 | Incompetent Boss | Unable or unwilling to do their job well |
| #2 | Rigid Boss | Confuses inflexibility with strength |
| #3 | Intemperate Boss | Lacks self-knowledge and self-control |
| #4 | Callous Boss | Lacks empathy and kindness |
| #5 | Corrupt Boss | Steals or cheats to promote their own interests |
| #6 | Insular Boss | Is cliquish or unreachable |
| #7 | Evil Boss | Causes pain to further their sense of power and dominance |
Some bosses simply don't have the capacity to do their jobs, which makes it more difficult for their employees. Others can be corrupt or callous, creating a highly unmotivating work environment.
But how many people are in this situation?
To give a few quick examples, around 13% of all employees in Europe work under a toxic boss. In the U.S., a whopping 75% say they have left a job primarily because of a bad boss.
What's so Bad about a Bad Boss?
Bosses can make or break your job experience. Having a toxic boss can cause your quality of work to suffer, which can then trickle down to impact your overall career.
In fact, Harvard Business Review found that a toxic work environment can lead to decreased motivation and employee disengagement. This has significant knock-on effects such as:
37% higher absenteeism
60% more errors in their work
18% lower productivity
According to the same study, this can cause companies to have 16% lower profitability and a 65% lower share price over time.
The physical side effects are not to be underestimated, either. One Swedish study found that a bad boss who increases your job strain can, in tandem, increase your chance of cardiac arrest by 50%. Additionally, a study out of Stanford found that mismanagement in the American workplace and subsequent stress could potentially be responsible for 120,000 deaths per year.
Tips to Deal with a Toxic Boss
Bad bosses can hurt the company, the overall work environment, and can impact your professional growth and personal health.
So, what can you do about it?
| Number | Toxic Boss Type | Solution |
| --- | --- | --- |
| #1 | Incompetent Boss | Use initiative |
| #2 | Rigid Boss | Use the power of persuasion |
| #3 | Intemperate Boss | Look for opportunities |
| #4 | Callous Boss | Ask for a 1-on-1 meeting |
| #5 | Corrupt Boss | Find co-workers who share your concerns |
| #6 | Insular Boss | Offer them opportunities to open up |
| #7 | Evil Boss | Take a stand |
Different kinds of bosses require different approaches, and some simply aren't worth putting up with. For instance, taking initiative with an incompetent boss is one relatively easy solution, but having a 1-on-1 with a callous boss takes more effort. An evil boss requires intervention from HR.
If you don't have a toxic boss, consider yourself lucky. Here are two ways to keep your working relationship strong:
Take initiative
Keep up open communication
Ask for constant feedback so you know where you stand
Under-promise and over-deliver
What Can Bosses Do?
Toxic bosses can have disastrous consequences on employees and companies. According to one Gallup survey, at minimum, 75% of the reasons for voluntary turnover can be influenced by managers.
After looking at some of the ways employees can address toxic bosses, how can bosses ensure their work environment is healthy? Harvard Business Review recommends four main things:
Encourage social connections
Show empathy
Go out of your way to help
Encourage employees to talk to you—especially about their problems
The future of work may be changing, with remote work becoming more popular and feasible. This can pose problems in creating a strong work culture.
However, if bosses and employees can work together to foster a positive and healthy work environment, everyone, including the bottom line, will benefit.