3D Mapping The Largest Population Density Centers

Click here to view the full version of this graphic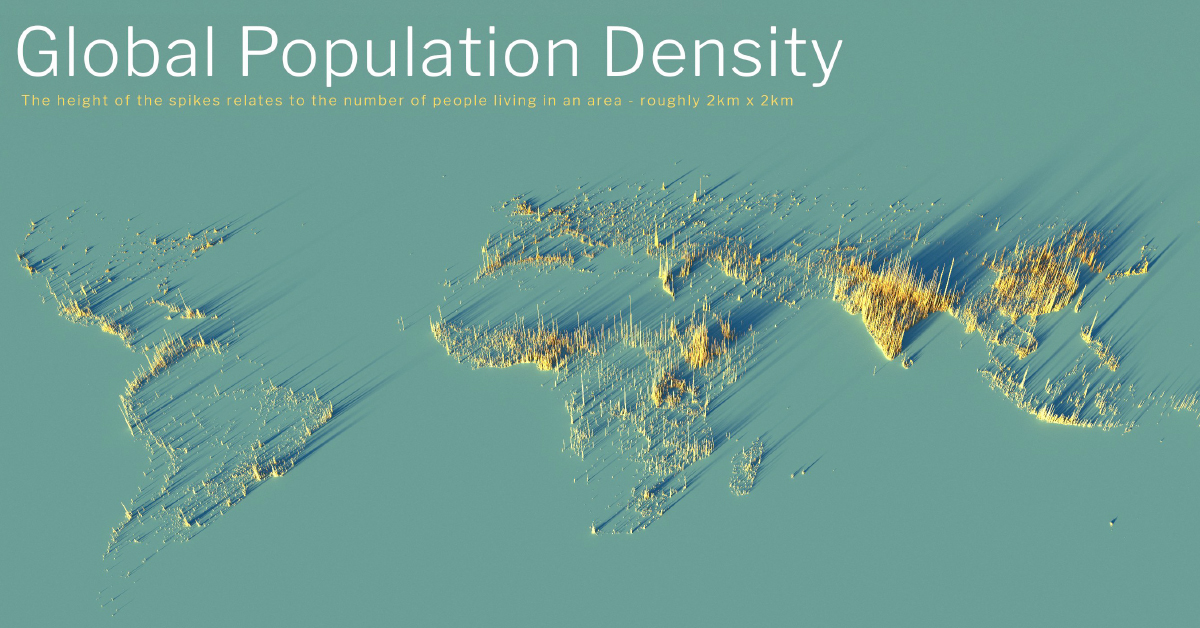 A 3D Look at the Largest Population Density Centers
It can be difficult to comprehend the true sizes of megacities, or the global spread of nearly 7.8 billion people, but this series of population density maps makes the picture abundantly clear.
Created using the EU's population density data and mapping tool Aerialod by Alasdair Rae, the 3D-rendered maps highlight demographic trends and geographic constraints.
Though they appear topographical and even resemble urban areas, the maps visualize population density in squares. The height of each bar represents the number of people living in that specific square, with the global map displaying 2km x 2km squares and subsequent maps displaying 1km x 1km squares.
Each region and country tells its own demographic story, but the largest population clusters are especially illuminating.
China vs U.S. — Clusters vs Sprawl
Click here to view the high resolution version.
Zooming into the most populated country in the world, China and its surrounding neighbors demonstrate massive clusters of urbanization.
Most people are familiar with the large density centers around Hong Kong, Guangzhou, and Shanghai, but the concentration in central China is surprising. The cities of Chengdu and Chonqing, in the Sichuan Basin, are part of a massive population center.
Interestingly, more than 93% of China's population lives in the Eastern half of the country. It's a similar story in neighboring South Korea and Taiwan, where the population is clustered along the west coasts.
Click here to view the high resolution version.
The U.S. also has large population clusters along the coasts, but far more sprawl compared to its Asian counterparts. Though the Boston-Washington corridor is home to over 50 million residents, major centers spread out the population across the South and the Midwest.
Clearly visible are clusters in Florida (and not exclusively focused around Miami like some might believe), Illinois, Georgia, and Texas. The population is sparse in the West as expected, but California's Los Angeles and Bay Area metros make up for the discrepancy and are just behind New York City's density spikes in height.
India & Southeast Asia — Massive Density in Tight Areas
Click here to view the high resolution version.
At 1.38 billion people, India's population is just behind China's in terms of size. However, this sizable population fits into an area just one-third of China's total land area, with the above map demonstrating what the same amount of people looks like in a smaller region.
On one hand, you still have clear clusters, such as in Mumbai, New Delhi, Kolkata, and Bangladesh's Dhaka. On the other, there is a finite amount of room for a massive amount of people, so those density "spikes" are more like density "peaks" with the entire country covered in high density bars.
However, we can still see geographic trends. India's population is more densely focused in the North before fading into the Himalayas. Bangladesh is equally if not more densely populated, with the exception of the protected Sundarbans mangrove forest along the coast. And Pakistan's population seen in the distance is clustered along the Indus River.
Click here to view the high resolution version.
Geographic constraints have always been the biggest deciding factor when it comes to population density, and nowhere is this more apparent than Southeast Asia.
Take Indonesia, the fourth largest country by population. Despite spanning across many islands, more than half of the country's 269 million inhabitants are clustered on the single island of Java. The metros of Jakarta and Surabaya have experienced massive growth, but spreading that growth across oceans to entirely new islands (covered by rainforests) is a tall order.
When the distance is smaller, that cross-water growth is more likely to occur. Nearby in the Philippines, more than 100 million people have densely populated a series of islands no bigger than the state of Arizona.
Indeed, despite being one of the most populated areas in the world, each country in Southeast Asia has had its own growing problems. Some are limited by space (Singapore, Philippines), while others are limited by forests (Thailand, Vietnam).
A World of Different Density Pictures
Though the above maps cover the five most populated countries on Earth, accounting for nearly half of the world's population, they only show a small part of the global picture.
As the full global density map at the top of the page highlights, the population patterns can accurately illustrate some geographic patterns and constraints, while others need further exploration. For example, the map clearly gives an outline of Africa and the sparse area that makes up the Sahara Desert. At the same time, landmasses like Australia and New Zealand are almost invisible save for a few clusters along the coast.
To get a closer and more intricate picture of each country's density map, head to Alasdair Rae's long thread of rendered maps and start scrolling up to find yours!

Visualizing the Range of EVs on Major Highway Routes
We visualize how far popular EV models will take you on real-world routes between major cities, and which are the most cost effective.
The Range of EVs on Major Highway Routes
Between growing concerns around climate change, new commuting behaviors due to COVID-19, and imminent policy changes, the global transition to electric vehicles (EVs) is well under way.
By the year 2040, sales of electric vehicles are projected to account for 58% of new car sales, up from just 2.7% currently.
But switching from a gasoline car to an electric one is not seamless. With charging and range capacities to consider, and the supporting infrastructure still being slowly rolled out in many parts of the world, understanding the realities of EV transportation is vital.
Above, we highlight 2020 all-electric vehicle range on well-recognized routes, from California's I-5 in the U.S. to the A2 autobahn in Germany. The data on estimated ranges and costs are drawn from the U.S. EPA as well as directly from manufacturer websites.
The EV Breakdown: Tesla is King of Range
For many consumers, the most important aspect of an electric vehicle is how far they can travel on a single charge.
Whether it's for long commutes or out-of-city trips, vehicles must meet a minimum threshold to be considered practical for many households. As the table below shows, Tesla's well-known EVs are far-and-away the best option for long range drivers.
| Vehicle | Range (miles) | Range (km) | MSRP | Cost per mile |
| --- | --- | --- | --- | --- |
| Tesla Model S Long Range Plus | 402 | 647 | $74,990 | $186.54 |
| Tesla Model X Long Range Plus | 351 | 565 | $79,990 | $227.89 |
| Tesla Model S Performance | 348 | 560 | $94,990 | $272.96 |
| Tesla Model 3 Long Range | 322 | 518 | $46,990 | $145.93 |
| Tesla Model Y Long Range | 316 | 509 | $49,990 | $158.20 |
| Tesla Model X Performance | 305 | 491 | $99,990 | $327.84 |
| Tesla Model 3 LR Performance | 299 | 481 | $54,990 | $183.91 |
| Tesla Model Y Performance | 291 | 468 | $59,990 | $206.15 |
| Polestar 2 | 275 | 443 | $59,900 | $217.82 |
| Chevrolet Bolt EV | 259 | 417 | $36,620 | $141.39 |
| Hyundai Kona Electric | 258 | 415 | $37,190 | $144.15 |
| Tesla Model 3 Standard Range Plus | 250 | 402 | $37,990 | $151.96 |
| Kia Niro EV | 239 | 385 | $39,090 | $163.56 |
| Jaguar I-PACE | 234 | 377 | $69,850 | $298.50 |
| Nissan LEAF e+ S | 226 | 364 | $38,200 | $169.03 |
| Audi e-tron Sportback | 218 | 351 | $69,100 | $316.97 |
| Nissan LEAF e+ SV/SL | 215 | 346 | $39,750 | $184.88 |
| Audi e-tron | 204 | 328 | $65,900 | $323.04 |
| Porsche Taycan 4S Perf Battery Plus | 203 | 327 | $112,990 | $556.60 |
| Porsche Taycan Turbo | 201 | 323 | $153,510 | $763.73 |
| Porsche Taycan Turbo S | 192 | 309 | $187,610 | $977.14 |
| Hyundai IONIQ Electric | 170 | 274 | $33,045 | $194.38 |
| BMW i3 | 153 | 246 | $44,450 | $290.52 |
| Nissan LEAF | 149 | 240 | $31,600 | $212.08 |
| MINI Cooper SE | 110 | 177 | $29,900 | $271.82 |
| Fiat 500e | 84 | 135 | $33,460 | $398.33 |
In an industry where innovation and efficiency are vital, Tesla's first-mover advantage is evident. From the more affordable Model 3 to the more luxurious Model S, the top eight EVs with the longest ranges are all Tesla vehicles.
At 402 miles (647 km), the range of the number one vehicle (the Tesla Model S Long Range Plus) got 127 miles more per charge than the top non-Tesla vehicle, the Polestar 2—an EV made by Volvo's standalone performance brand.
Closer Competition in Cost
Though Tesla leads on overall range and battery capacity, accounting for the price of each vehicle shows that cost-efficiency is far more competitive among brands.
By dividing the retail price by the maximum range of each vehicle, we can paint a clearer picture of efficiency. Leading the pack is the Chevrolet Bolt, which had a cost of $141.39/mile of range in 2020 while still placing in the top 10 for range with 259 miles (417 km).
Just behind in second place was the Hyundai Kona electric at $144.15/mile of range, followed by the Tesla Model 3—the most efficient of the automaker's current lineup. Rounding out the top 10 are the Nissan LEAF and Tesla Model S, but the difference from number one to number ten was minimal, at just over $45/mile.
Top 10 All-Electric Vehicles by Cost Efficiency
Vehicle
Cost per mile
Chevrolet Bolt EV
$141.39
Hyundai Kona Electric
$144.15
Tesla Model 3 Long Range
$145.93
Tesla Model 3 Standard Range Plus
$151.96
Tesla Model Y Long Range
$158.20
Kia Niro EV
$163.56
Nissan LEAF e+ S
$169.03
Tesla Model 3 LR Performance
$183.91
Nissan LEAF e+ SV/SL
$184.88
Tesla Model S Long Range Plus
$186.54
Higher Ranges and Lower Costs on the Horizon
The most important thing to consider, however, is that the EV industry is entering a critical stage.
On one hand, the push for electrification and innovation in EVs has driven battery capacity higher and costs significantly lower. As batteries account for the bulk of weight, cost, and performance in EVs, those dividends will pay out in longer ranges and greater efficiencies with newer models.
Equally important is the strengthening global push for electric vehicle adoption. In countries like Norway, EVs are already among the best selling cars on the market, while adoption rates in China and the U.S. are steadily climbing. This is also being impacted by policy decisions, such as California's recent announcement that it would be banning the sale of gasoline cars by 2035.
Meanwhile, the only thing outpacing the growing network of Tesla superchargers is the company's rising stock price. Not content to sit on the sidelines, competing automakers are rapidly trying to catch up. Nissan's LEAF is just behind the Tesla Model 3 as the world's second-best-selling EV, and Audi recently rolled out a supercharger network that can charge its cars from 0% to 80% at a faster rate than Tesla.
As the tidal wave of electric vehicle demand and adoption continues to pick up steam, consumers can expect increasing innovation to drive up ranges, decrease costs, and open up options.
Correction: A previous version of this graphic showed a European route that was the incorrect distance.

3D Map: The U.S. Cities With the Highest Economic Output
The total U.S. GDP stands at a whopping $21 trillion, but which metro areas contribute to the most in terms of economic output?
3D Map: The U.S. Cities With the Highest Economic Output
At over $21 trillion, the U.S. holds the title of the world's largest economy—accounting for almost a quarter of the global GDP total. However, the fact is that a few select cities are responsible for a large share of the country's total economic output.
This unique 3D map from HowMuch puts into perspective the city corridors which contribute the most to the American economy at large.
Top 10 Metros by Economic Output
The visualization pulls the latest data from the U.S. Bureau of Economic Analysis (BEA, 2018), and ranks the top 10 metro area economies in the country.
One thing is immediately clear—the New York metro area dwarfs all other metro area by a large margin. This cluster, which includes Newark and Jersey City, is bigger than the metro areas surrounding Los Angeles and Chicago combined.
| Rank | Metro Area | State codes | GDP (2018) |
| --- | --- | --- | --- |
| #1 | New York-Newark-Jersey City | NY-NJ-PA  | $1.77T |
| #2 | Los Angeles-Long Beach-Anaheim | CA | $1.05T |
| #3 | Chicago-Naperville-Elgin | IL-IN-WI | $0.69T |
| #4 | San Francisco-Oakland-Berkeley | CA | $0.55T |
| #5 | Washington-Arlington-Alexandria | DC-VA-MD-WV | $0.54T |
| #6 | Dallas-Fort Worth-Arlington | TX | $0.51T |
| #7 | Houston-The Woodlands-Sugar Land | TX | $0.48T |
| #8 | Boston-Cambridge-Newton | MA-NH | $0.46T |
| #9 | Philadelphia-Camden-Wilmington  | PA-NJ-DE-MD | $0.44T |
| #10 | Atlanta-Sandy Springs-Alpharetta | GA | $0.40T |
| Total GDP | | | $6.90T |
Coming in fourth place is San Francisco on the West Coast, with $549 billion in total economic output each year. Meanwhile in the South, the Dallas metroplex brings in $478 billion, placing it sixth in the ranks.
It's worth noting that using individual metro areas is one way to view things, but geographers also think of urban life in broader terms as well. Given the proximity of cities in the Northeast, places like Boston, NYC, and Washington, D.C. are sometimes grouped into a single megaregion. When viewed this way, the corridor is actually the world's largest in economic terms.
U.S. States: Sum of Its Parts
Zooming out beyond just these massive cities demonstrates the combined might of the U.S. in another unique way. Tallying all the urban and rural areas, every state economy can be compared to the size of entire countries.
According to the American Enterprise Institute, the state of California brings in a GDP that rivals the United Kingdom in its entirety.
By this same measure, Texas competes with Canada in terms of pure economic output, despite a total land area that's 15 times less that of the Great White North.
With COVID-19 continuing to impact parts of the global economy disproportionately, how will these kinds of economic comparisons hold up in the future?