Every Vaccine and Treatment in Development for COVID-19, So Far
Every Vaccine and Treatment in Development for COVID-19
As the number of confirmed COVID-19 cases continues to skyrocket, healthcare researchers around the world are working tirelessly to discover new life-saving medical innovations.
The projects these companies are working on can be organized into three distinct groups:
Diagnostics: Quickly and effectively detecting the disease in the first place
Treatments: Alleviating symptoms so people who have disease experience milder symptoms, and lowering the overall mortality rate
Vaccines: Preventing transmission by making the population immune to COVID-19
Today's graphics provide an in-depth look at who's in the innovation race to defeat the virus, and they come to us courtesy of Artis Ventures, a venture capital firm focused on life sciences and tech investments.
Editor's note: R&D is moving fast on COVID-19, and the situation is quite fluid. While today's post is believed to be an accurate snapshot of all innovations and developments listed by WHO and FDA as of March 30, 2020, it is possible that more data will become available.
Knowledge is Power
Testing rates during this pandemic have been a point of contention. Without widespread testing, it has been tough to accurately track the spread of the virus, as well as pin down important metrics such as infectiousness and mortality rates. Inexpensive test kits that offer quick results will be key to curbing the outbreak.
Here are the companies and institutions developing new tests for COVID-19:
The ultimate aim of companies like Abbott and BioFire Defense is to create a test that can produce accurate results in as little as a few minutes.
In the Trenches With Coronavirus
While the majority of people infected with COVID-19 only experience minor symptoms, the disease can cause severe issues in some cases – even resulting in death. Most of the forms of treatment being pursued fall into one of two categories:
Treating respiratory symptoms – especially the inflammation that occurs in severe cases
Antiviral growth – essentially stopping viruses from multiplying inside the human body
Here are the companies and institutions developing new treatment options for COVID-19:
A wide range of players are in the race to develop treatments related to COVID-19. Pharma and healthcare companies are in the mix, as well as universities and institutes.
One surprising name on the list is Fujifilm. The Japanese company's stock recently shot up on the news that Avigan, a decades-old flu drug developed through Fujifilm's healthcare subsidiary, might be effective at helping coronavirus patients recover. The Japanese government's stockpile of the drug is reportedly enough to treat two million people.
Vaccine
The progress that is perhaps being watched the closest by the general public is the development of a COVID-19 vaccine.
Creating a safe vaccine for a new illness is no easy feat. Thankfully, rapid progress is being made for a variety of reasons, including China's efforts to sequence the genetic material of Sars-CoV-2 and to share that information with research groups around the world.
Another factor contributing to the unprecedented speed of development is the fact that coronaviruses were already on the radar of health science researchers. Both SARS and MERS were caused by coronaviruses, and even though vaccines were shelved once those outbreaks were contained, learnings can still be applied to defeating COVID-19.
One of the most promising leads on a COVID-19 vaccine is mRNA-1273. This vaccine, developed by Moderna Therapeutics, is being developed with extreme urgency, skipping straight into human trials before it was even tested in animals. If all goes well with the trials currently underway in Washington State, the company hopes to have an early version of the vaccine ready by fall 2020. The earliest versions of the vaccine would be made available to at-risk groups such as healthcare workers.
Further down the pipeline are 15 types of subunit vaccines. This method of vaccination uses a fragment of a pathogen, typically a surface protein, to trigger an immune response, teaching the body's immune system how to fight off the disease without actually introducing live pathogens.
No Clear Finish Line
Unfortunately, there is no silver bullet for solving this pandemic.
A likely scenario is that teams of researchers around the world will come up with solutions that will incrementally help stop the spread of the virus, mitigate symptoms for those infected, and help lower the overall death toll. As well, early solutions rushed to market will need to be refined over the coming months.
We can only hope that the hard lessons learned from fighting COVID-19 will help stop a future outbreak in its tracks before it becomes a pandemic. For now, those of us on the sideline can only do our best to flatten the curve.
Synthetic Biology: The $3.6 Trillion Science Changing Life as We Know It
The field of synthetic biology could solve problems in a wide range of industries, from medicine to agriculture—here's how.
How Synthetic Biology Could Change Life as we Know it
Synthetic biology (synbio) is a field of science that redesigns organisms in an effort to enhance and support human life. According to one projection, this rapidly growing field of science is expected to reach $28.8 billion in global revenue by 2026.
Although it has the potential to transform many aspects of society, things could go horribly wrong if synbio is used for malicious or unethical reasons. This infographic explores the opportunities and potential risks that this budding field of science has to offer.
What is Synthetic Biology?
We've covered the basics of synbio in previous work, but as a refresher, here's a quick explanation of what synbio is and how it works.
Synbio is an area of scientific research that involves editing and redesigning different biological components and systems in various organisms.
It's like genetic engineering but done at a more granular level—while genetic engineering transfers ready-made genetic material between organisms, synbio can build new genetic material from scratch.
The Opportunities of Synbio
This field of science has a plethora of real-world applications that could transform our everyday lives. A study by McKinsey found over 400 potential uses for synbio, which were broken down into four main categories:
Human health and performance
Agriculture and food
Consumer products and services
Materials and energy production
If those potential uses become reality in the coming years, they could have a direct economic impact of up to $3.6 trillion per year by 2030-2040.
1. Human Health and Performance
The medical and health sector is predicted to be significantly influenced by synbio, with an economic impact of up to $1.3 trillion each year by 2030-2040.
Synbio has a wide range of medical applications. For instance, it can be used to manipulate biological pathways in yeast to produce an anti-malaria treatment.
It could also enhance gene therapy. Using synbio techniques, the British biotech company Touchlight Genetics is working on a way to build synthetic DNA without the use of bacteria, which would be a game-changer for the field of gene therapy.
2. Agriculture and Food
Synbio has the potential to make a big splash in the agricultural sector as well—up to $1.2 trillion per year by as early as 2030.
One example of this is synbio's role in cellular agriculture, which is when meat is created from cells directly. The cost of creating lab-grown meat has decreased significantly in recent years, and because of this, various startups around the world are beginning to develop a variety of cell-based meat products.
3. Consumer Products and Services
Using synthetic biology, products could be tailored to suit an individual's unique needs. This would be useful in fields such as genetic ancestry testing, gene therapy, and age-related skin procedures.
By 2030-2040, synthetic biology could have an economic impact on consumer products and services to the tune of up to $800 billion per year.
4. Materials and Energy Production
Synbio could also be used to boost efficiency in clean energy and biofuel production. For instance, microalgae are currently being "reprogrammed" to produce clean energy in an economically feasible way.
This, along with other material and energy improvements through synbio methods, could have a direct economic impact of up to $300 billion each year.
The Potential Risks of Synbio
While the potential economic and societal benefits of synthetic biology are vast, there are a number of risks to be aware of as well:
Unintended biological consequences: Making tweaks to any biological system can have ripple effects across entire ecosystems or species. When any sort of lifeform is manipulated, things don't always go according to plan.
Moral issues: How far we're comfortable going with synbio depends on our values. Certain synbio applications, such as embryo editing, are controversial. If these types of applications become mainstream, they could have massive societal implications, with the potential to increase polarization within communities.
Unequal access: Innovation and progress in synbio is happening faster in wealthier countries than it is in developing ones. If this trend continues, access to these types of technology may not be equal worldwide. We've already witnessed this type of access gap during the rollout of COVID-19 vaccines, where a majority of vaccines have been administered in rich countries.
Bioweaponry: Synbio could be used to recreate viruses, or manipulate bacteria to make it more dangerous, if used with ill intent.
According to a group of scientists at the University of Edinburgh, communication between the public, synthetic biologists, and political decision-makers is crucial so that these societal and environmental risks can be mitigated.
Balancing Risk and Reward
Despite the risks involved, innovation in synbio is happening at a rapid pace.
By 2030, most people will have likely eaten, worn, or been treated by a product created by synthetic biology, according to synthetic biologist Christopher A. Voigt.
Our choices today will dictate the future of synbio, and how we navigate through this space will have a massive impact on our future—for better, or for worse.
Nature Timespiral: The Evolution of Earth from the Big Bang
This spiral timeline shows the events that led us to our modern world, from the Big Bang to the present.

Creator Program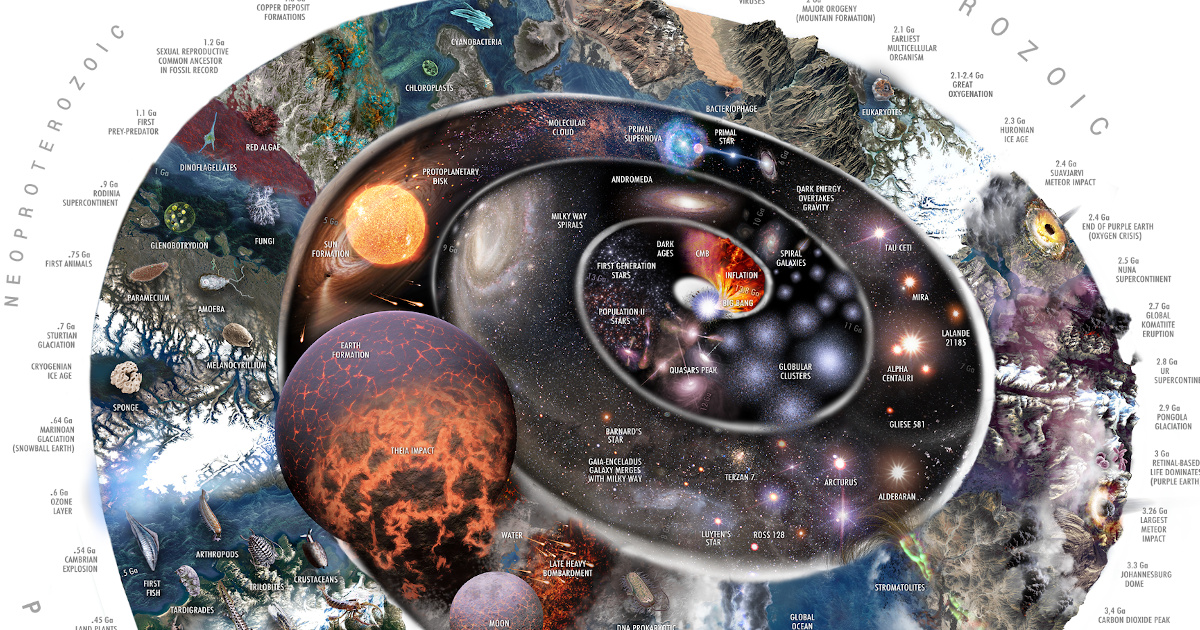 Nature Timespiral: The Evolution of Earth from the Big Bang
Since the dawn of humanity, we have looked questioningly to the heavens with great interest and awe. We've called on the stars to guide us, and have made some of humanity's most interesting discoveries based on those observations. This also led us to question our existence and how we came to be in this moment in time.
That journey began some 14 billion years ago, when the Big Bang led to the universe emerging from a hot, dense sea of matter and energy. As the cosmos expanded and cooled, they spawned galaxies, stars, planets, and eventually, life.
In the above visualization, Pablo Carlos Buddassi illustrates this journey of epic proportions in the intricately designed Nature Timespiral, depicting the various eras that the Earth has gone through since the inception of the universe itself.
Evolutionary Timeline of the World
Not much is known about what came before the Big Bang, but we do know that it launched a sequence of events that gave rise to the universal laws of physics and the chemical elements that make up matter. How the Earth came about, and life subsequently followed, is a wondrous story of time and change.
Let's look at what transpired after the Big Bang to trace our journey through the cosmos.
The Big Bang and Hadean Eon
The Big Bang formed the entire universe that we know, including the elements, forces, stars, and planets. Hydrogen and massive dissipation of heat dominated the initial stages of the universe.
During a time span known as the Hadean eon, our Solar System formed within a large cloud of gas and dust. The Sun's gravitational pull brought together spatial particles to create the Earth and other planets, but they would take a long time to reach their modern forms.
Archean Eon (4 – 2.5 billion years ago)
After its initial formation, the surface of the Earth was extremely hot and entirely liquid. This subsequent eon saw the planet cool down massively, solidifying some of the liquid surface and giving rise to oceans and continents, as well as the first recorded history of rocks.
Early in this time frame, known as the Archean eon, life appeared on Earth. The oldest discovered fossils, consisting of tiny, preserved microorganisms, date to this eon roughly 3.5 billion years ago.
Paleoproterozoic Era (2.5 – 1.6 billion years ago)
The first era of the Proterozoic Eon, the Paleoproterozoic, was the longest in Earth's geological history. Tectonic plates arose and landmasses shifted across the globe—it was the beginning of the formation of the Earth we know today.
Cyanobacteria, the first organisms using photosynthesis, also appeared during this period. Their photosynthetic activity brought about a rapid upsurge in atmospheric oxygen, resulting in the Great Oxidation Event. This killed off many primordial anaerobic bacterial groups but paved the way for multicellular life to grow and flourish.
Mesoproterozoic Era (1.6 – 1 billion years ago)
The Mesoproterozoic occurred during what is known as the "boring billion" stage of Earth's history. That is due to a lack of widespread geochemical activity and the relative stability of the ocean carbon reservoirs.
But this era did see the break-up of the supercontinents and the formation of new continents. This period also saw the first noted case of sexual reproduction among organisms and the probable appearance of multicellular organisms and green plants.
Neoproterozoic Era (1 billion – 542.0 million years ago)
In some respects, the Neoproterozoic era is one of the most profound time periods in Earth's history. It bookends two major moments in the planet's evolutionary timeline, with predominantly microbial life on one side, and the introduction of diverse, multicellular organisms on the other.
At the same time, Earth also experienced severe glaciations known as the Cryogenian Period and its first ice age, also known as Snowball Earth.
The era saw the formation of the ozone layer and the earliest evidence of multicellular life, including the emergence of the first hard-shelled animals, such as trilobites and archaeocyathids.
Paleozoic Era (541 million – 252 million years ago)
The Paleozoic is best known for ushering in an explosion of life on Earth, with two of the most critical events in the history of animal life. At its beginning, multicellular animals underwent a dramatic Cambrian explosion in aquatic diversity, and almost all living animals appeared within a few millions of years.
At the other end of the Paleozoic, the largest mass extinction in history resulted in 96% of marine life and 70% of terrestrial life dying out. Halfway between these events, animals, fungi, and plants colonized the land, and the insects took to the air.
Mesozoic Era (252 million – 66 million years ago)
The Mesozoic was the Age of Reptiles. Dinosaurs, crocodiles, and pterosaurs ruled the land and air. This era can be subdivided into three periods of time:
Triassic (252 to 201.3 million years ago)
Jurassic (201.3 to 145 million years ago)
Cretaceous (145 to 66 million years ago)
The rise of the dinosaurs began at the end of the Triassic Period. A fossil of one of the earliest-known dinosaurs, a two-legged omnivore roughly three feet long-named Eoraptor, is dated all the way back to this time.
Scientists believe the Eoraptor (and a few other early dinosaurs still being discovered today) evolved into the many species of well-known dinosaurs that would dominate the planet during the Jurassic period. They would continue to flourish well into the Cretaceous period, when it is widely accepted that the Chicxulub impactor, the plummeting asteroid that crashed into Earth off the coast of Mexico, brought about the end of the Age of Reptiles.
Cenozoic Era (66 million – Present Day)
After the end of the Age of Dinosaurs, this era saw massive adaptations by natural flora and fauna to survive. The plants and animals that formed during this era look most like those on Earth today.
The earliest forms of modern mammals, amphibians, birds, and reptiles can be traced back to the Cenozoic. Human history is entirely contained within this period, as apes developed through evolutionary pressure and gave rise to the present-day human being or Homo sapiens.
Compared to the evolutionary timeline of the world, human history has risen quite rapidly and dramatically. Going from our first stone tools and the Age of the Kings to concrete jungles with modern technology may seem like a long journey, but compared to everything that came before it, is but a brief blink of an eye.
*Editor's note: An earlier version of this article contained errors in the header graphic and an incorrect citation, and has since been updated.