10 Ways You Can Build Leadership Communities in a Hybrid World of Work
The world has never been more connected. Yet many of us feel more disconnected than ever before.
In particular, CEOs and managers can often feel isolated from their peers, and therefore crave a greater sense of community and belonging. This lack of social connection can have a detrimental impact on both them and their team—putting the future of their company at risk.
Leading in a Hybrid World of Work
This infographic from bestselling author Vince Molinaro dives into the ways you can build a strong community of leaders in your organization, enabling you to more successfully execute on strategy, drive growth, and deliver results.
>>Download Dr.Vince Molinaro's Community Builder Ebook Today
The Critical Need for Leadership Communities
In today's world, many leaders have been conditioned to work and lead in a way that is individualistic and hyper-competitive, which leads to problematic outcomes including:
Limiting innovative ideas
Causing overwhelm and stress
Limiting diversity and a sense of inclusion
Promoting a macho culture
Creating heroes and zeros in organizations
This outdated model breeds a weak leadership culture. Even though leadership expectations are higher than ever, very few companies boast a strong leadership culture. In fact, just 15% of companies have the culture they need to succeed.
What does a weak leadership look like?
Weak Leadership Cultures
When leaders demonstrate the following behaviors, organizations are at risk of developing a weak leadership culture:
They lack clarity around strategic priorities.
They fail to inspire the people they lead.
They tolerate ineffective and mediocre leadership.
They demonstrate animosity for the success of other leads, teams, and departments.
They work at cross-purposes with each other.
They prop themselves up while downplaying the contribution of others.
They don't engage stakeholders.
They regularly badmouth others and throw colleagues under the bus.
They withhold information as a way to retain power over their peers.
They act as bystanders when colleagues need help.
When these negative dynamics become apparent, organizations pay a significant price. According to a report from Qualtrics, 40% of managers see a decline in their mental health, while another study shows that 66% of leaders have checked out entirely.
It is clear that building a strong community of leaders has become critical as the world continues to become even more complex and uncertain. Let's dive into some of the ways you can build a greater sense of belonging in your organization today.
The Characteristics of Leadership Communities
Here are the 10 characteristics and behaviors that promote a strong community of leaders. Does this describe your organization's leadership culture?
| Characteristic | Aligned Behavior |
| --- | --- |
| 1. Have clarity on the strategic direction of the organization | Be determined to deliver on the most important strategic outcomes for the company |
| 2. Create excitement about the future | Spread optimism about the company, even through adversity |
| 3. Share a common aspiration to be great as leaders | Commit to their roles as leaders and help other leaders thrive |
| 4. Lead with a united front and a one-company mindset | Lead in the best interest of the whole organization |
| 5. Hold each other accountable by calling out unproductive leadership behavior | Demonstrate the courage to call out misaligned and unacceptable behaviors |
| 6. Celebrate success and key milestones | Ignite passion by recognizing others and showing progress towards goals |
| 7. Break down silos and collaborate effectively | Identify accountability gaps that weaken the leadership culture |
| 8. Keep internal politics and personal agendas to a minimum | Behave in a direct and transparent manner with peers |
| 9. Demonstrate resilience and resolve in the face of adversity | Turn to each other while navigating tough challenges |
| 10. Support one another and have each other's backs | Build high-trust relationships with one another |
Most leaders want to be in an environment where there is real clarity, alignment, commitment, and mutual support—it just takes one accountable leader to make it happen.
The Benefits to Creating a Strong Community of Leaders
If done right, the effects of building a strong community of leaders can be extraordinary:
Promotes a stronger sense of belonging.
Allows for greater knowledge sharing.
Encourages higher levels of performance.
Creates a culture of accountability.
Improves employee engagement.
Moreover, research shows that employee engagement is directly linked to a company's culture and value system. In fact, employee engagement levels can reach up to 72% when managers work well with each other.
With the working world transforming before our very eyes, it's time to establish a new leadership contract so that CEOs and managers can lead their organizations successfully into the future.
Do you have what it takes to be a community builder? Download your Ebook to discover practical strategies you can apply today.
Mapped: What Did the World Look Like in the Last Ice Age?
A map of the Earth 20,000 years ago, at the peak of the last ice age, when colder temperatures transformed the planet we know so well.

Creator Program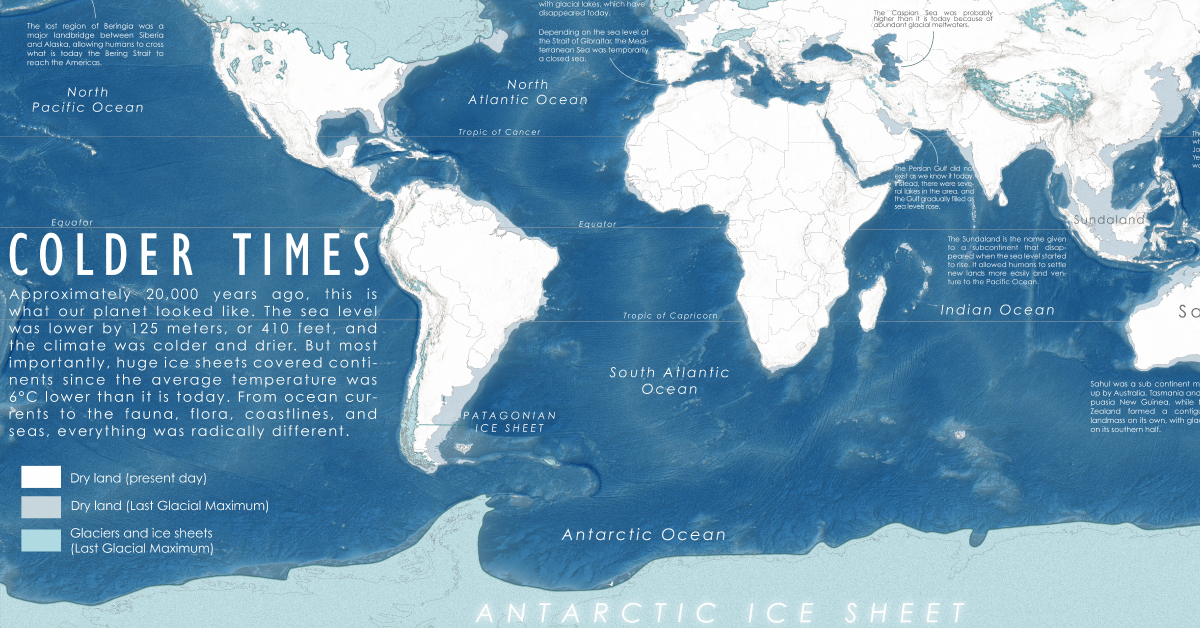 What Did the World Look Like in the Last Ice Age?
What did the world look like during the last ice age? Was it all endless glaciers and frozen ice? The answer is a partial yes—with some interesting caveats.
The Last Glacial Maximum (LGM), colloquially called the last ice age, was a period in Earth's history that occurred roughly 26,000 to 19,000 years ago.
This map by cartographer Perrin Remonté offers a snapshot of the Earth from that time, using data of past sea levels and glaciers from research published in 2009, 2014, and 2021, alongside modern-day topographical data.
Let's dive into the differences between the two Earths below.
The Last Ice Age: Low Seas, Exposed Landmasses
During an ice age, sea levels fall as ocean water that evaporates is stored on land on a large scale (ice sheets, ice caps, glaciers) instead of returning to the ocean.
| Earth's Ice Cover | 20,000 Years Ago | Today |
| --- | --- | --- |
| Surface | 8% | 3% |
| Land | 25% | 11% |
At the time of the LGM, the climate was cold and dry with temperatures that were 6 °C (11 °F) lower on average. Water levels in the ocean were more than 400 feet below what they are now, exposing large areas of the continental shelf.
In the map above, these areas are represented as the gray, dry land most noticeable in a few big patches in Southeast Asia and between Russia and Alaska. Here are a few examples of regions of dry land from 20,000 years ago that are now under water:
A "lost continent" called Sundaland, a southeastern extension of Asia which forms the island regions of Indonesia today. Some scholars see a connection with this location and the mythical site of Atlantis, though there are many other theories.
The Bering land bridge, now a strait, connecting Asia and North America. It is central to the theory explaining how ancient humans crossed between the two continents.
Another land bridge connected the island of Great Britain with the rest of continental Europe. The island of Ireland is in turn connected to Great Britain by a giant ice sheet.
In Japan, the low water level made the Sea of Japan a lake, and a land bridge connected the region to the Asian mainland. The Yellow Sea—famous as a modern-day fishing location—was completely dry.
The cold temperatures also caused the polar parts of continents to be covered by massive ice sheets, with glaciers forming in mountainous areas.
Flora and Fauna in the Last Ice Age
The dry climate during the last ice age brought about the expansion of deserts and the disappearance of rivers, but some areas saw increased precipitation from falling temperatures.
Most of Canada and Northern Europe was covered with large ice sheets. The U.S. was a mix of ice sheets, alpine deserts, snow forests, semi-arid scrubland and temperate grasslands. Areas that are deserts today—like the Mojave—were filled with lakes. The Great Salt Lake in Utah is a remnant from this time.
Africa had a mix of grasslands in its southern half and deserts in the north—the Sahara Desert existed then as well—and Asia was a mix of tropical deserts in the west, alpine deserts in China, and grasslands in the Indian subcontinent.
Several large animals like the woolly mammoth, the mastodon, the giant beaver, and the saber-toothed tiger roamed the world in extremely harsh conditions, but sadly all are extinct today.
However, not all megafauna from the LGM disappeared forever; many species are still alive, including the Bactrian camel, the tapir, the musk ox, and the white rhinoceros—though the latter is now an endangered species.
Will There Be Another Ice Age?
In a technical sense, we're still in an "ice age" called the Quaternary Glaciation, which began about 2.6 million years ago. That's because a permanent ice sheet has existed for the entire time, the Antarctic, which makes geologists call this entire period an ice age.
We are currently in a relatively warmer part of that ice age, described as an interglacial period, which began 11,700 years ago. This geological epoch is known as the Holocene.
Over billions of years, the Earth has experienced numerous glacial and interglacial periods and has had five major ice ages:
| Major Ice Ages | Name | Time Period (Years Ago) |
| --- | --- | --- |
| 1 | Huronian Glaciation | 2.4 billion - 2.1 billion |
| 2 | Cryogenian Glaciation | 720 million - 635 million |
| 3 | Andean-Saharan Glaciation | 450 million - 420 million |
| 4 | Late Paleozoic ice age | 335 million - 260 million |
| 5 | Quaternary Glaciation | 2.6 million - present |
It is predicted that temperatures will fall again in a few thousand years, leading to expansion of ice sheets. However there are a dizzying array of factors that are still not understood well enough to say comprehensively what causes (or ends) ice ages.
A popular explanation says the degree of the Earth's axial tilt, its wobble, and its orbital shape, are the main factors heralding the start and end of this phenomenon.
The variations in all three lead to a change in how much prolonged sunlight parts of the world receive, which in turn can cause the creation or melting of ice sheets. But these take thousands of years to coincide and cause a significant change in climate.
Furthermore, current industrial activities have warmed the climate considerably and may in fact delay the next ice age by 50,000-100,000 years.