Ranked: The U.S. Cities with the Most Vacant Offices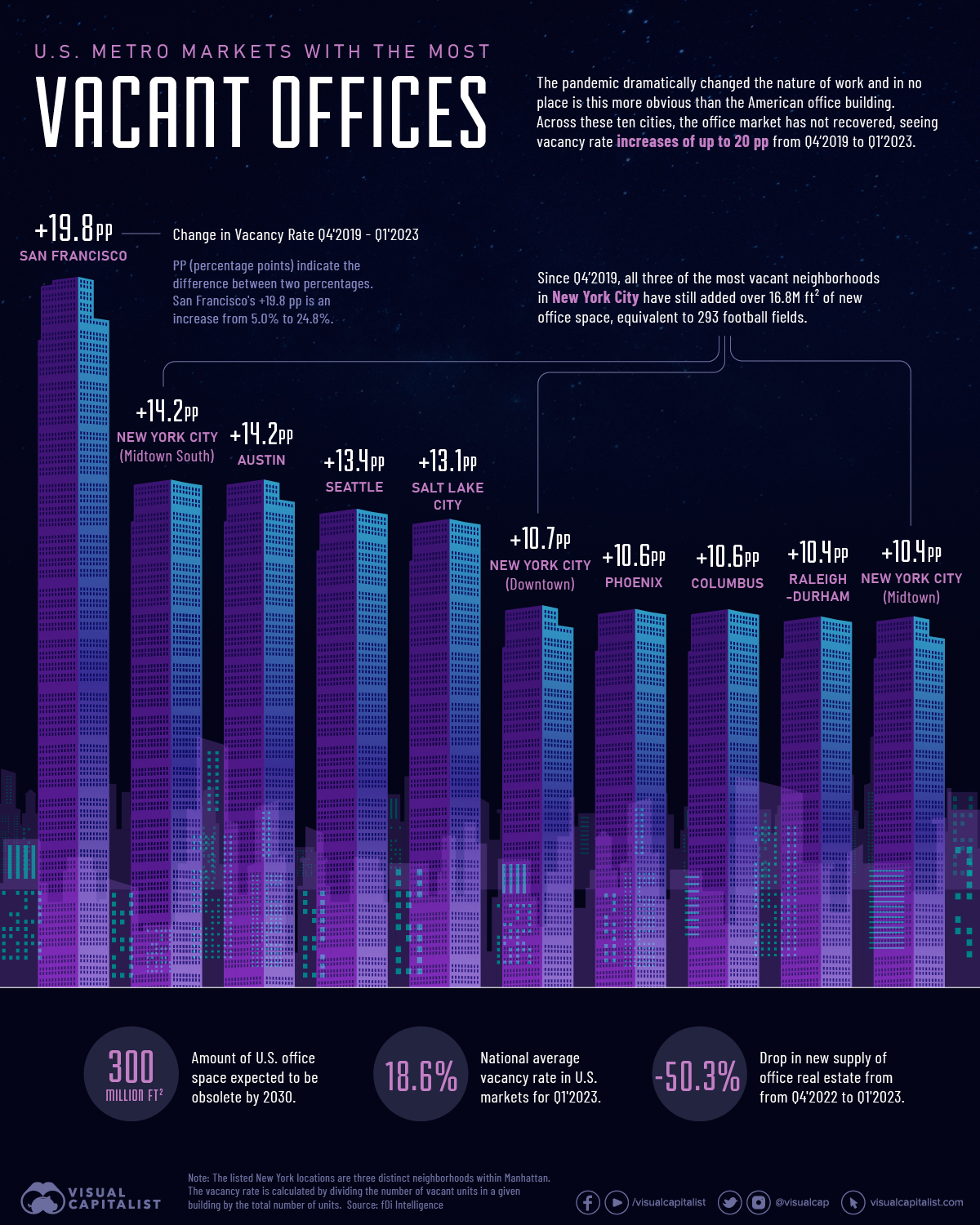 Ranked: The U.S. Cities with the Most Vacant Offices
For many across the U.S., hour-long transit rides and traffic jams to work have been replaced by roll-out-of-bed commutes and stand-up desks at home, leaving vacant offices behind.
Long story short, more and more offices in major U.S. cities are empty. At the end of March 2023, the national average vacancy rate of U.S. offices had climbed as high as 18.6%.
So how have different cities in the U.S. been impacted? This ranking uses data out of fDi Intelligence to rank the top 10 cities that have seen the biggest increases in office vacancy rates from Q4'2019 to Q1'2023.
 No  Vacancy
It is anticipated that by 2030, over 300 million square feet of U.S. office spaces will be obsolete.
According to Pew Research Center, around 35% of U.S. workers who can work from home in 2023 are already doing so all the time. In short, unless trends begin to reverse, offices in many cities will stay empty or continue getting emptier.
Here's a closer look at the cities with the fastest growing vacancy rates in percentage points (p.p.) terms since just before the COVID-19 pandemic:
Rank
City
State
Change in Vacancy Rates
Q4'2019 vs. Q1'2023
#1
San Francisco
California
+19.8 p.p.
#2
New York City (Midtown South)
New York
+14.2 p.p.
#3
Austin
Texas
+14.2 p.p.
#4
Seattle
Washington
+13.4 p.p.
#5
Salt Lake City
Utah
+13.1 p.p.
#6
New York City (Downtown)
New York
+10.7 p.p.
#7
Phoenix
Arizona
+10.6 p.p.
#8
Columbus
Ohio
+10.6 p.p.
#9
Raleigh-Durham
North Carolina
+10.4 p.p.
#10
New York City (Midtown)
New York
+10.4 p.p.
San Francisco has been hardest hit, with vacancy rates climbing by 19.8 p.p. in just over three years. Meanwhile, New York City has added over 16.8 million square feet, equivalent to 293 football fields, of new office space since Q4'2019 between its three most vacant neighborhoods.
However, not all of the cities with the most vacant offices are huge metropolises. Urban areas like Austin, Columbus, and Raleigh-Durham have also seen massive increases in their office vacancies, but their increasing rates may be blamed more on new construction and oversupply than to falling demand.
The Office Real Estate Market
At the national level, the supply of new office real estate has been dropping steadily since Q1'2022, down by a whopping 67% year-over-year.
Overall, it looks like U.S. office buildings are not as bustling as they once were, but there still may be opportunities for the office real estate market in growing cities.
Visualizing the Most Sought-After Entry Level Jobs in 2023
Some jobs need a degree, while others don't. Here are the top 20 most sought-after entry level jobs with and without a degree.
The Most Sought-After Entry Level Jobs of 2023
In the fast-paced realm of job hunting, staying ahead of the curve is crucial. And if you are an entry-level job applicant, the pressure is a notch higher.
New entrants in any job market today compete with groundbreaking technology like ChatGPT in addition to their peers. In the United States, these applicants have to also wade through an uncertain labor market, inflation, and long lists of job requirements.
Indeed.com has identified the most sought-after entry level positions for applicants both with and without a degree in the U.S., and the year-on-year growth of these job postings.
Most Sought-After Entry-Level Jobs With a Degree
As the U.S. job market recovers from its pandemic slump, some careers are now booming. This in turn has opened up numerous opportunities for entry-level job applicants.
Rank
Job Title
Average Annual Salary
Change in Postings
(2022‒2023)
1
Outside Sales Representative
$60,000
+258%
2
Transportation Coordinator
$47,500
+227%
3
Quality Auditor
$84,500
+131%
4
Accounting
$52,000
+125%
5
Tax Preparer
$67,500
+123%
6
Loan Processor
$55,000
+100%
7
Retention Specialist
$50,000
+100%
8
Network Operations Technician
$85,500
+94%
9
Mental Health Manager
$42,000
+93%
10
Speech-Language Pathologist
$60,000
+84%
11
Geotechnical Engineer
$65,000
+80%
12
Patient Access Manager
$90,000
+77%
13
HR Coordinator
$67,500
+75%
14
Lead Generation Specialist
$62,500
+73%
15
Design Coordinator
$55,000
+73%
16
Pharmaceutical Sales Representative
$74,378
+71%
17
Behavioral Therapist
$50,000
+68%
18
Special Events Coordinator
$54,000
+67%
19
IT Engineer
$92,500
+67%
20
Structural Engineer
$90,000
+63%
The demand for sales jobs multiplied this year as customer-facing businesses slowly returned to their pre-pandemic levels.
At the top of this list is the job for an Outside Sales Representative. Paying upwards of $60,000, postings for this job have grown by over 250% in a year, making it the most sought-after position for applicants with a degree.
The healthcare industry has secured its place in the top ranks too. Careers including mental health case managers, speech pathologists, behavioral therapists, and patient access managers dominate the Top 20 list.
Let's not forget about the tech sector. While entry-level network technicians can earn upwards of $85,000 on average, while IT engineers are paid an entry package of over $90,000.
Most Sought-After Entry-Level Jobs Without a Degree
Nearly 65% of the U.S. working population does not have a four-year degree. However, millions of these workers continue to be highly skilled across professions and have a shot at some of the most sought-after entry level jobs in the country.
Rank
Job Title
Average Annual Salary
Change in Postings
(2022‒2023)
1
Inventory Manager
$59,000
+189%
2
Auto Body Technician
$82,500
+100%
3
Environmental Health and Safety Specialist
$65,000
+100%
4
Salon Manager
$41,000
+95%
5
Drafting Technician
$50,000
+94%
6
Business Analyst
$72,500
+82%
7
Sheet Metal Mechanic
$62,140
+67%
8
Aircraft Maintenance Technician
$57,500
+64%
9
Catering Manager
$47,500
+56%
10
Transportation/Logistics Coordinator
$62,500
+53%
11
Route Sales Representative
$50,000
+51%
12
Rental Agent
$45,520
+50%
13
Distribution Center Coordinator
$52,500
+47%
14
General Maintenance Technician
$40,650
+46%
15
Patient Care Coordinator
$43,152
+44%
16
Forestry Technician
$45,760
+43%
17
Relationship Banker
$43,576
+43%
18
Field Sales Representative
$57,018
+42%
19
Park Ranger
$45,912
+42%
20
Warehouse Receiver
$45,000
+39%
One example of this job is that of an Inventory Manager. The demand for skilled inventory managers in warehouses and companies post-pandemic has doubled the position's job share in a year.
One of the highest paying non-degree jobs in this list—Auto Body Technician—can fetch highly-skilled entry-level workers a salary of $82,000 per year.
These jobs don't seem to require a degree according to Indeed. However, the rising competition for these positions might give the upper edge to applicants with one, especially for jobs on the list such as Business Analyst and Relationship Banker.