Tesla's Origin Story in One Giant Infographic
Priced at $17 per share just seven years ago, the Tesla IPO ended up being a total bargain for anyone lucky enough to get in.
However, this view comes with the benefit of plenty of hindsight – and even Elon Musk would tell you that it wasn't always obvious that the company would be around in 2017. There were periods of time when layoffs were rampant, the company's payroll was covered by credit cards, and Tesla was on the brink of bankruptcy.
Rise of Tesla: The History (Part 1 of 3)
Today's massive infographic comes to us from Global Energy Metals, and it is the first part of our three-part Rise of Tesla Series, which will soon be a definitive source for everything you ever wanted to know about the company.
Part 1 deals with the origin story of the company, challenges faced by the first EVs, the company's strategy and initial execution, and the Tesla Roadster's development.
Tesla was initially conceived in 2003 out of the vision of two Silicon Valley engineers, Martin Eberhard and Marc Tarpenning. The partners had just sold their eReader company for $187 million, and were looking for their next big idea.
The infamous "death" of GM's EV1 electric car that year ended up being a source of inspiration, and the two engineers started looking into ways to reduce the world's reliance on Middle Eastern oil and to combat climate change.
The electric car pathway was not just better than the other choices that were out there – it was dramatically better.
– Martin Eberhard, Tesla co-founder
The company was bootstrapped until Elon Musk led the $7.5 million Series A round in February 2004 and became the controlling investor. He joined the board of directors as its chairman, and took on operational roles as well.
At this time, JB Straubel – who famously rebuilt an electric golf cart when he was only 14 years old – also joined the company as CTO.
Initial Strategy
Tesla's initial strategy was to build a high performance sports car first, for a few reasons:
It would shed the existing stigma around EVs
Sports cars have higher margins
Fewer cars would need to be produced
High-end buyers are less price-sensitive
Instead of building the Tesla Roadster from scratch, the company aimed to combine an existing chassis with an AC induction motor and battery. And so, the company signed a contract with British sports car maker Lotus to use its Elise chassis as a base.
Roadster Debut
The Roadster made its debut at a star-studded launch party in Santa Monica. The 350-strong guestlist of Hollywood celebrities and the press were wowed by the 2-seater sports car with a $100,000 price tag.
This is not your father's electric car.
– The Washington Post
What the audience didn't notice?
The Roadsters had many issues that needed to be fixed – these and others would delay Tesla well beyond the planned Summer 2007 delivery date.
The Dark Years
Tesla's original business plan was built on the idea that the auto industry had changed drastically.
Automakers now focused on core competencies like financing, engine design, sales and marketing, and final assembly – getting the hundreds of individual car parts, like windshield wiper blades or door handles, was actually outsourced.
This was supposed to make it easy for Tesla to get its foot in the door – to focus on the EV aspect and let Lotus do the rest. Instead, the company experienced an "elegance creep" phenomenon. They were able to keep making the car nicer, but it meant customizing individual parts.
Costs spiraled out of control, things got delayed, and the car began to take a very different shape than the Elise. By the time it was said and done, the Tesla Roadster was nothing like its Lotus cousin, sharing only 7% parts by count.
The Revolving Door
During this process, there was a revolving door of CEOs.
2007: Eberhart was forced to resign as CEO in August
2007: Early Tesla investor Michael Marks took the reins temporarily
2007: In November, Ze'ev Drori took over as CEO and President
2008: After less than a year of Drori's run, Musk stepped in to take over the role in October
At this point, Musk had already invested $55 million in the company, and it was teetering towards bankruptcy.
I've got so many chips on the table with Tesla. It just made sense for me to have both hands on the wheel.
– Elon Musk
Some of Musk's first moves:
He ended up cutting 25% of the workforce
He leaned on friends to help cover payroll, week-to-week
He raised a $40 debt financing round to escape bankruptcy
He formed a strategic partnership with Daimler AG, which acquired a 10% stake of Tesla for $50 million
He took a $465 million loan from the U.S. Dept. of Energy (He repaid it back ahead of the deadline)
He recalled 75% of the Roadsters produced between March 2008 and April 2009
Despite revamping the entire production process – and the company itself – Tesla made it through its most trying time.
The Roadster's Run
The Roadster wasn't perfect, but it helped Tesla learn what it meant to be a car company.
It is not just a car, but one of the strongest automotive statements on the road.
– Car and Driver
A total of 2,450 units were produced, and the specs were impressive for an EV. With a top speed of 125 mph and a 0-60 mph time of 3.7 seconds, the Roadster helped dispel many of the myths surrounding electric cars.
Meanwhile, the Roadster's lithium-ion battery also was the first step forward in an entire battery revolution. The 992 lb (450 kg) battery for the Roadster contained 6,831 lithium ion cells arranged into 11 "sheets" connected in series, and gave the car a range of 244 miles.
With the Roadster, Tesla would not only set itself up for future success, but also the transformation of an entire industry.
This was Part 1 of the Tesla Series. Parts 2 and 3, on Tesla as well as the future vision, will be released in the near future!
Ranked: The World's Top Cobalt Producing Countries
Cobalt, an essential component for certain types of EV batteries, has seen a significant shift in its global production landscape.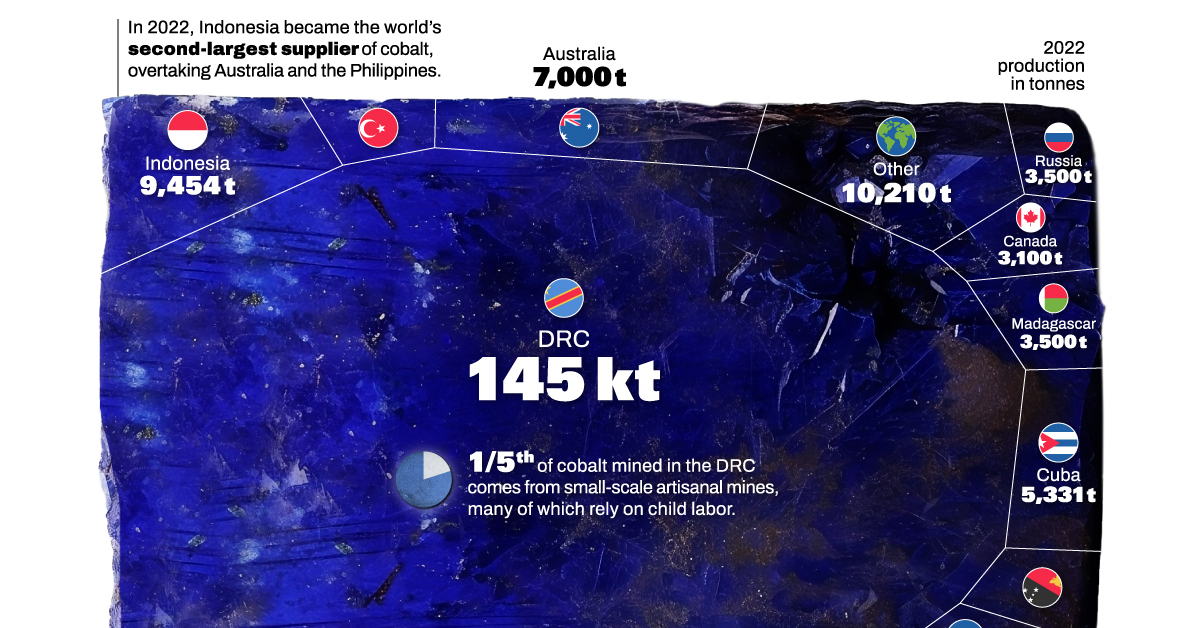 Ranked: The World's Top Cobalt Producing Countries
This was originally posted on Elements. Sign up to the free mailing list to get beautiful visualizations on real assets and resource megatrends each week.
Cobalt, an essential component of key chemistries of the rechargeable lithium-ion batteries used in EVs, has seen a significant shift in its global production landscape.
The Democratic Republic of Congo (DRC) has long been the world's largest cobalt producer, accounting for 73% of global output in 2022.
However, according to the Cobalt Institute, the DRC's dominance is projected to decrease to 57% by 2030 as Indonesia ramps up its cobalt production as a byproduct from its rapidly expanding nickel industry.
Indonesia Became Second Largest Cobalt Producer in 2022
Indonesia accounts for nearly 5% of global cobalt production today, surpassing established producers like Australia and the Philippines.
In 2022, Indonesia's cobalt production surged to almost 9,500 tonnes from 2,700 tonnes in 2021, with the potential to increase production by tenfold by 2030.

| Country | 2022 Production (tonnes) | % of Total Production |
| --- | --- | --- |
| 🇨🇩 DRC | 144,936 | 73.3% |
| 🇮🇩 Indonesia | 9,454 | 4.8% |
| 🇦🇺 Australia | 7,000 | 3.5% |
| 🇵🇭 Philippines | 5,400 | 2.7% |
| 🇨🇺 Cuba | 5,331 | 2.7% |
| 🇷🇺 Russia | 3,500 | 1.8% |
| 🇲🇬 Madagascar | 3,500 | 1.8% |
| 🇨🇦 Canada | 3,100 | 1.6% |
| 🇵🇬 Papua New Guinea | 3,060 | 1.5% |
| 🇹🇷 Türkiye | 2,300 | 1.2% |
| 🌐 Other | 10,210 | 5.2% |
| Total | 197,791 | 100.0% |
Percentages may not add to 100 due to rounding.
In total, global cobalt production reached 197,791 tonnes, with the DRC contributing just under 145,000 tonnes of that mix.
The EV industry is the largest consumer of cobalt, accounting for approximately 40% of total demand. The exponential growth of the EV sector is expected to drive a doubling of global cobalt demand by 2030.
While the shift in cobalt production is notable, it is not without challenges. Plummeting cobalt prices, which fell almost 30% this year to $13.90 a pound, have severely impacted the DRC.
Furthermore, the longer-term prospects of cobalt could face hurdles due to efforts to reduce its use in batteries, partly driven by human rights concerns associated with artisanal cobalt mining in the DRC and related child labor and human rights abuses.
In a 2021 ruling by a federal court in Washington, Google parent Alphabet, Apple, Dell, Microsoft, and Tesla were relieved from a class action suit claiming their responsibility for alleged child labor in Congolese cobalt mines.
The Future of Cobalt
Despite ongoing efforts to substitute cobalt in battery applications, cobalt is expected to remain a vital raw material for the entire battery supply chain in the near future.
The demand for cobalt is forecasted to more than double by 2030 to 388,000 tonnes.