Tesla's Journey: From IPO to Passing Ford in Value, in Just 7 Years
In Tesla's final years as a private company, things got pretty hectic.
As we showed in Part 1: Tesla's Origin Story, the launch of the Roadster was a public relations success, but it created all kinds of problems internally. There were massive cost overruns, a revolving door of CEOs, layoffs, and even a narrow escape from bankruptcy.
Fortunately, by 2010 the company was able to forget these troubles after a successful IPO. The company secured $226 million in capital, and hitting the public markets started a roller coaster ride of growth.
Rise of Tesla: The Company (Part 2 of 3)
Today's giant infographic comes to us from Global Energy Metals, and it is the second part of our three-part Rise of Tesla Series, which is a definitive source for everything you ever wanted to know about the company.
Part 2 shows major events from 2010 until today, and it tracks the company's rapid growth along the way.
Tesla was the first American car company to IPO since The Ford Motor Company went public in 1956.
Interestingly, it only took seven years for Tesla to match Ford's value – here are the major events during this stretch of time that made this incredible feat possible.
2010
After securing funding from the public markets, Tesla was positioned for its next big leap:
The company had just narrowly escaped bankruptcy
The Tesla Roadster helped to dispel the stigma around EVs, but it was unclear if it could be parlayed into mainstream success
The company was free from its feud and lawsuit with co-founder Martin Eberhard
Tesla had just taken over its now famous factory in Fremont, CA
It was time to focus on the next phase of Tesla's strategy: to build the company's first real car from scratch – and to help the company achieve the economies of scale, impact, and reputation it desired.
2011
In 2011, Tesla announces that the Roadster will be officially discontinued.
Instead, the company starts focusing all efforts on two new EVs: the Model S (A full-size luxury car) and the Model X (A full-size luxury crossover SUV).
2012
The Model S was Tesla's chance to build a car around the electric powertrain, rather than the other way around.
When we started Model S, it was a clean sheet of paper.
– Franz Von Holzhausen, Chief Car Designer
In June 2012, the first Model S hits the road – and the rest is history. The model won multiple awards, including being recognized as the "safest car ever tested" by the NHTSA and the "Best car ever tested" by Consumer Reports. Over 200,000 cars were eventually sold.
But despite the success of the new model, Tesla still faced a giant problem. Lithium-ion batteries were still too expensive for a mass market car to be feasible, and the company needed to "bet the farm" on an idea to bring EVs to the mainstream.
2013
Tesla reveals initial plans for its Gigafactory concept, an ambitious attempt to bring economies of scale to the battery industry.
In time, the details of those plans solidified:
Cost: $5 billion
Partner: Panasonic
Objective: To reduce the cost of lithium-ion battery packs by 30%
Location: Sparks, Nevada
Size: Up to 5.8 million sq. ft (100 football fields)
The company believed that through economies of scale, reduction of waste, a closer supply chain, vertical integration, and process optimization, that the cost of batteries could be sufficiently reduced to make a mass market EV possible.
Under Tesla's first plan, the Gigafactory would be ramped up to produce batteries for 500,000 EVs per year by 2020. Later on, the company eventually moved that target forward by two years.
2014
Tesla makes significant advances in software, hardware, and its mission.
Autopilot is released for the first time, which gives the Model S semi-autonomous driving and parking capabilities
By this time, Tesla's Supercharger network is up to 221 stations around the world
Tesla goes open source, releasing all of the company's patents for anyone to use
2015
After massive and repeated delays because of issues with the "falcon wing" doors, the Model X finally is released.
In the same year, the Tesla Powerwall is also announced. Using a high-capacity lithium-ion battery and proprietary technology – the Powerwall is a major step towards Tesla achieving its major end goal of integrating energy generation and storage in the home.
2016
Tesla unveils its Model 3 – the car for the masses that is supposed to change it all.
Here are the specs for the most basic model, which is available at $35,000:
Price: $35,000
Torque: 415 lb-ft
Power: 235 hp (Motor Trend's est.)
0-60 mph: 5.6 seconds
Top speed: 130 mph
Range: 220 miles
After being announced, the Model 3 quickly garnered 500,000 pre-orders. To put the magnitude of this number in perspective – in six years of production of the Model S, the company has only delivered about 200,000 cars in total so far.
In 2016, Tesla also announces that it is taking over of Elon Musk's other companies, SolarCity, for $2.6 billion of stock. Elon Musk owns 22% of SolarCity shares at the time of the takeover.
The goal: to build a seamlessly integrated battery and solar product that looks beautiful.
2017
2017 was a whirlwind year for Tesla:
Consumer Reports names Tesla the top American car brand in 2017
The Tesla Gigafactory I begins battery cell production
Tesla wins bids to provide grid-scale battery power in South Australia and Puerto Rico
Tesla starts accepting orders for its new solar roof product
The Tesla Semi is unveiled – a semi-truck that can go 0-60 mph in just 5 seconds, which is 3x faster than a diesel truck
Model 3 deliveries begin, though production issues keep them from ramping at the speed anticipated
Tesla also unveils the new Roadster – the second-gen version of the car that started it all.
This time, it has unbelievable specs:
0-60 mph: 1.9 seconds
200 kWh battery pack
Top speed: above 250 mph
620 mile range (It could drive from San Francisco to LA and back, without needing a recharge)
The point of doing this is to give a hardcore smackdown to gasoline cars
– Elon Musk, Tesla Co-Founder and CEO
The new Roadster will go into production in 2020.
A Look to the Future
In 1956, the IPO of the Ford Motor Company was the single largest IPO in Wall Street's history.
Tesla IPO'd a whopping 54 years later, and the company has already passed Ford in value:
Ford: $49.9B
Tesla: $52.3B
(numbers from Dec 31, 2017)
An incredible feat, it took only seven years for Tesla to pass Ford in value on the public markets. However, this is still the beginning of Tesla's story.
See Musk's vision for the future in Part 3 of this series.
Visualizing the Range of Electric Cars vs. Gas-Powered Cars
With range anxiety being a barrier to EV adoption, how far can an electric car go on one charge, and how do EV ranges compare with gas cars?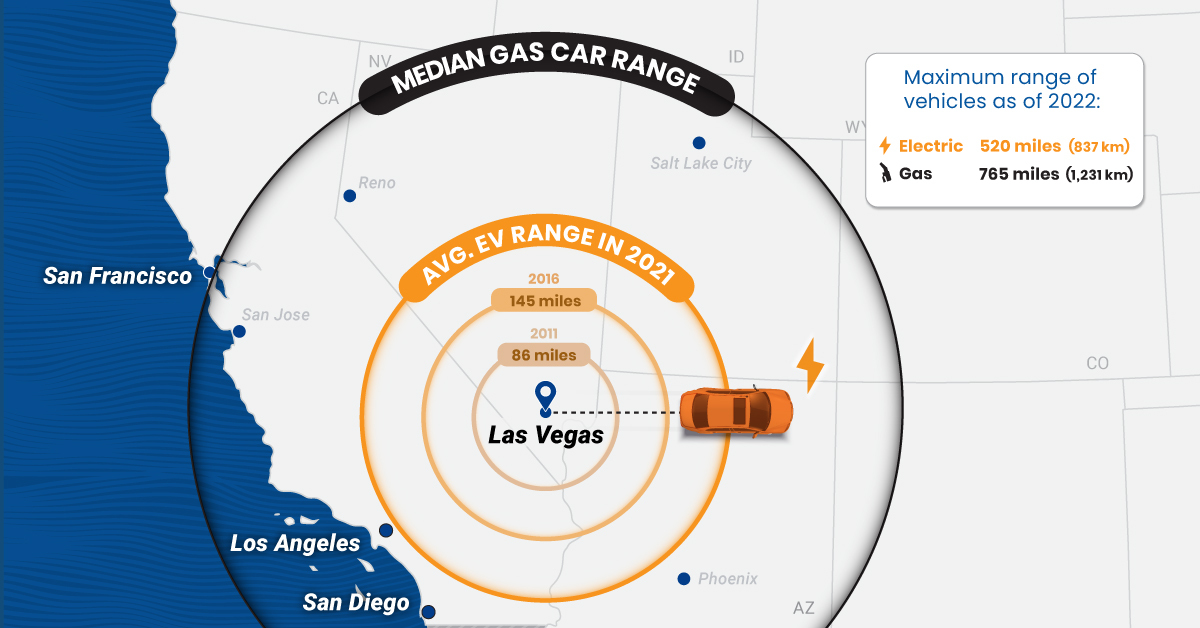 The Range of Electric Cars vs. Gas-Powered Cars
This was originally posted on Elements. Sign up to the free mailing list to get beautiful visualizations on natural resource megatrends in your email every week.
EV adoption has grown rapidly in recent years, but many prospective buyers still have doubts about electric car ranges.
In fact, 33% of new car buyers chose range anxiety—the concern about how far an EV can drive on a full charge—as their top inhibitor to purchasing electric cars in a survey conducted by EY.
So, how far can the average electric car go on one charge, and how does that compare with the typical range of gas-powered cars?
The Rise in EV Ranges
Thanks to improvements in battery technology, the average range of electric cars has more than doubled over the last decade, according to data from the International Energy Agency (IEA).
| Year | Avg. EV Range | Maximum EV Range |
| --- | --- | --- |
| 2010 | 79 miles (127 km) | N/A |
| 2011 | 86 miles (138 km) | 94 miles (151 km) |
| 2012 | 99 miles (159 km) | 265 miles (426 km) |
| 2013 | 117 miles (188 km) | 265 miles (426 km) |
| 2014 | 130 miles (209 km) | 265 miles (426 km) |
| 2015 | 131 miles (211 km) | 270 miles (435 km) |
| 2016 | 145 miles (233 km) | 315 miles (507 km) |
| 2017 | 151 miles (243 km) | 335 miles (539 km) |
| 2018 | 189 miles (304 km) | 335 miles (539 km) |
| 2019 | 209 miles (336 km) | 370 miles (595 km) |
| 2020 | 210 miles (338 km) | 402 miles (647 km) |
| 2021 | 217 miles (349 km) | 520 miles* (837 km) |
*Max range for EVs offered in the United States.
Source: IEA, U.S. DOE
As of 2021, the average battery-powered EV could travel 217 miles (349 km) on a single charge. It represents a 44% increase from 151 miles (243 km) in 2017 and a 152% increase relative to a decade ago.
Despite the steady growth, EVs still fall short when compared to gas-powered cars. For example, in 2021, the median gas car range (on one full tank) in the U.S. was around 413 miles (664 km)—nearly double what the average EV would cover.
As automakers roll out new models, electric car ranges are likely to continue increasing and could soon match those of their gas-powered counterparts. It's important to note that EV ranges can change depending on external conditions.
What Affects EV Ranges?
In theory, EV ranges depend on battery capacity and motor efficiency, but real-world results can vary based on several factors:
Weather: At temperatures below 20℉ (-6.7℃), EVs can lose around 12% of their range, rising to 41% if heating is turned on inside the vehicle.
Operating Conditions: Thanks to regenerative braking, EVs may extend their maximum range during city driving.
Speed: When driving at high speeds, EV motors spin faster at a less efficient rate. This may result in range loss.
On the contrary, when driven at optimal temperatures of about 70℉ (21.5℃), EVs can exceed their rated range, according to an analysis by Geotab.
The 10 Longest-Range Electric Cars in America
Here are the 10 longest-range electric cars available in the U.S. as of 2022, based on Environmental Protection Agency (EPA) range estimates:
| Car | Range On One Full Charge | Estimated Base Price |
| --- | --- | --- |
| Lucid Air | 520 miles (837 km) | $170,500 |
| Tesla Model S | 405 miles (652 km) | $106,190 |
| Tesla Model 3 | 358 miles (576 km) | $59,440 |
| Mercedes EQS | 350 miles (563 km) | $103,360 |
| Tesla Model X | 348 miles (560 km) | $122,440 |
| Tesla Model Y | 330 miles (531 km) | $67,440 |
| Hummer EV | 329 miles (529 km) | $110,295 |
| BMW iX | 324 miles (521 km) | $84,195 |
| Ford F-150 Lightning | 320 miles (515 km) | $74,169 |
| Rivian R1S | 316 miles (509 km) | $70,000 |
Source: Car and Driver
The top-spec Lucid Air offers the highest range of any EV with a price tag of $170,500, followed by the Tesla Model S. But the Tesla Model 3 offers the most bang for your buck if range and price are the only two factors in consideration.
Green Steel: Decarbonising with Hydrogen-Fueled Production
How will high emission industries respond to climate change? We highlight industrial emissions and hydrogen's role in green steel production.
The following content is sponsored by AFRY
Green Steel: Decarbonising with Hydrogen-Fueled Production
As the fight against climate change ramps up worldwide, the need for industries and economies to respond is immediate.
Of course, different sectors contribute different amounts of greenhouse gas (GHG) emissions, and face different paths to decarbonisation as a result. One massive player? Steel and iron manufacturing, where energy-related emissions account for roughly 6.1% of global emissions.
The following infographic by AFRY highlights the need for steel manufacturing to evolve and decarbonise, and how hydrogen can play a vital role in the "green" steel revolution.
The Modern Steel Production Landscape
Globally, crude steel production totalled 1,951 million tonnes (Mt) in 2021.
This production is spread all over the world, including India, Japan, and the U.S., with the vast majority (1,033 million tonnes) concentrated in China.
But despite being produced in many different places globally, only two main methods of steel production have been honed and utilised over time—electric arc furnace (EAF) and blast furnace basic oxygen furnace (BF-BOF) production.
Both methods traditionally use fossil fuels, and in 2019 contributed 3.6 Gt of carbon dioxide (CO2) emissions:
| Steel Production Method | Materials Utilised | CO2 Emissions (2019) |
| --- | --- | --- |
| EAF | Scrap | 0.5 Gt |
| BF-BOF | Scrap, iron ore, coke | 3.1 Gt |
That's why one of the main ways the steel industry can decarbonise is through the replacement of fossil fuels.
Hydrogen's Role in Green Steel Production
Of course, one of the biggest challenges facing the industry is how to decarbonise and produce "green" steel in an extremely competitive market.
As a globally-traded good with fine cost margins, steel production has been associated with major geopolitical issues, including trade disputes and tariffs. But because of climate change, there is also a sudden and massive demand for carbon-friendly production.
And that's where hydrogen plays a key role. Steel traditionally made in a blast furnace uses coke—a high-carbon fuel made by heating coal without air—as a fuel source to heat iron ore pellets and liquify the pure iron component. This expels a lot of emissions in order to get the iron hot enough to melt (1,200 °C) and be mixed with scrap and made into steel.
The green steel method instead uses hydrogen to reduce the iron pellets into sponge iron, metallic iron that can then be processed to form steel. This process is also done at high temperature but below the melting point of iron (800 – 1,200 °C), saving energy costs.
And by introducing non-fossil fuels to create iron pellets and renewable electricity to turn the sponge iron and scrap into steel, fossil fuels can be removed from the process, significantly reducing emissions as a result.
The Future of Green Steel Production
Given the massive global demand for steel, the need for hydrogen and renewable energy required for green steel production is just as significant.
According to AFRY and the International Renewable Energy Agency, meeting global steel production in 2021 using the green steel method would require 97.6 million tonnes of hydrogen.
And for a truly carbon-free transition to green steel, the energy industry will also need to focus on green hydrogen production using electrolysis. Unlike methods which burn natural gas to release hydrogen, electrolysis entails the splitting of water (H2O) into oxygen and hydrogen using renewable energy sources.
Full green steel production would therefore use green hydrogen, electrolysers running on renewables, and additional renewables for all parts of the supply chain:
| Steel Production Source | Annual Steel Production | Green Hydrogen Required | Electrolyser Capacity Required | Total Renewables Capacity Required |
| --- | --- | --- | --- | --- |
| Base Reference | 1 Mt | 50 kT | 0.56 GW | 0.7 GW |
| U.S. | 85.8 Mt | 4.3 Mt | 48 GW | 60 GW |
| Europe | 103 Mt | 5.2 Mt | 58 GW | 72 GW |
| China | 1032.8 Mt | 51.6 Mt | 581 GW | 726 GW |
| Global | 1951 Mt | 97.6 Mt | 1,097 GW | 1,371 GW |
Currently, green hydrogen production costs are higher than traditional fossil fuel methods, and are dependent on the levelised costs of renewable energy sources. This means they vary by region, but also that they will reduce as production capacity and subsidies for renewables and green hydrogen increase.
And many major European steel manufacturers are already leading the way with pilot and large scale facilities for green steel production. Germany alone has at least seven projects in the works, including by ArcelorMittal and ThyssenKrupp, two of the world's 10 largest steelmakers by revenue.
AFRY is a thought leadership firm that provides companies with advisory services and sustainable solutions, in their efforts to fight climate change and lead them towards a greater future.