24 Iconic World Flags, and What They Mean
From the skull and bones at the top of a pirate ship to a white flag on a battlefield, a single piece of fabric can be interpreted in a multitude of ways. Depending on where they fly, flags can represent freedom or control, danger or safety.
In the context of modern times, flags are best known as national symbols — and they're used to air a country's past, present, and future vision all rolled into one.
The Meaning of Flags
Today's infographic from Just the Flight looks at some the world's most iconic flags, and the intricate stories and ideals that can be found in their designs.

The Americas
Since 1777, the star-spangled banner of the United States has gone through several facelifts. The current version has been in use since Hawaii gained statehood in 1960. Puerto Rico has been voting to become the 51st state in recent years — and if the U.S. government proved to accept such a resolution, the flag would be amended once more.
The largest country in South America, Brazil adopted its flag design in 1889. The primarily green background represents its lush Amazonian forest while the yellow diamond signifies its wealth in gold. Meanwhile, the Portuguese slogan on the flag, Ordem e Progresso, is a nod to democracy.
Europe
Denmark holds the Guinness world record for the oldest continuous use of their national flag, since 1625. The Danish flag is known as the Dannebrog, or Danish Cloth — as legend has it, the Dannebrog 'miraculously' fell from the sky in a battle during the Northern Crusades.
The Union Jack of the United Kingdom combines aspects of three older national flags and was adopted in 1801. Displaying the flag upside down is considered lèse-majesté — "to do wrong to majesty", or an insult to the Crown — and is offensive to some.
Asia and Oceania
India's tricolor flag was first flown in 1923. However, the colors do not represent religions or hours in the day — saffron symbolizes indifference to material gains, the white band represents light while the navy blue Dharma Chakra (wheel of truth) depicts dynamic change, and green demonstrates the country's relationship to nature.
New Zealand's flag features elements from the British Commonwealth. Since 2015, there have been ongoing debates among Kiwis about whether to amend the flag's design. Frequent confusion with Australia is a significant pro for change, but national identity and financial costs are strong arguments against it.
Nepal is the only country without a rectangular (or square) national flag. The two triangles pay tribute to its geographic location in the Himalayas as well as the Shah and Rana dynasties. The sun and moon symbols on the flag used to have human faces on them, but were removed in 1962.
Africa
South Africa boasts one of the world's most colorful flags. When it was first adopted after Nelson Mandela's release from prison, it was the first world flag to have six colors but no seal or brocade. Interestingly, while there is no inherent meaning in its colors, the Y shape symbolizes the convergence of diverse elements and societal unity.
Mozambique is the only national flag in the world to feature a modern weapon – specifically, an AK-47 with an attached bayonet. Adopted in 1983, the rifle represents vigilance and defense, while the hoe crossing it represents the country's agriculture.
Ranked: Share of Global Arms Exports in 2022
The U.S. is the biggest weapons exporter in the world, but which other countries take up a significant share of global arms exports in 2022? And how has that share changed over time?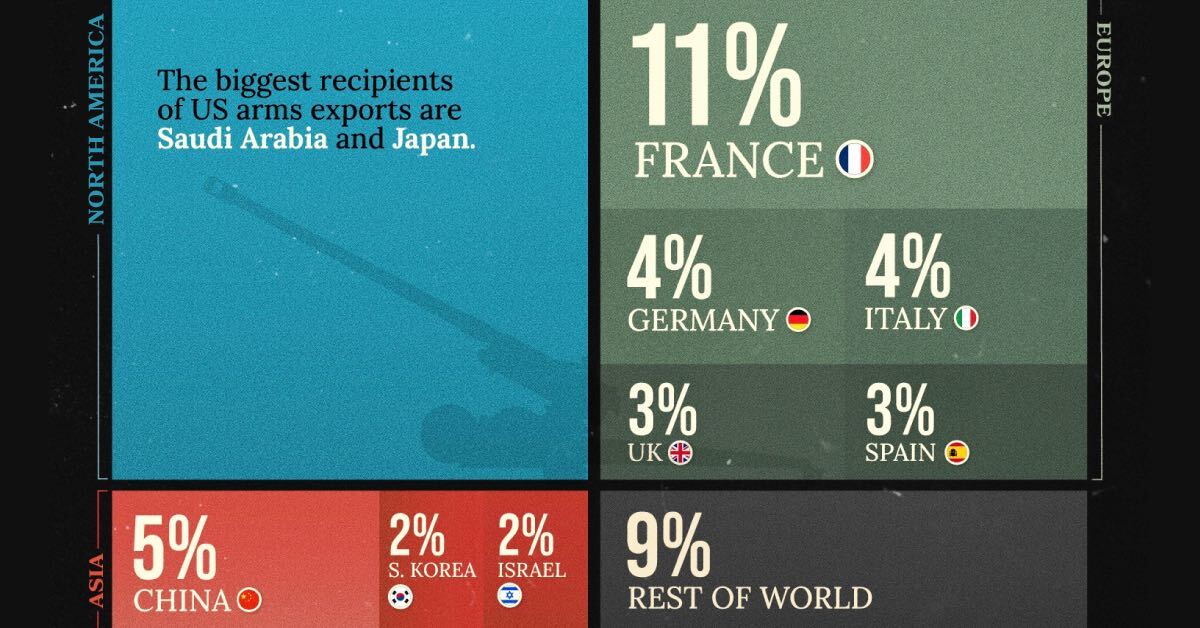 Ranked: Share of Global Arms Exports 2018–2022
In 2022, global military budgets hit $2.2 trillion, an eighth consecutive year of increase.
Part of those budgets were used for the procurement of arms, but which countries are major weapons suppliers, and how do they influence the global arms trade?
We chart out the top 10 countries with the biggest share of global arms exports using data from the Stockholm International Peace Research Institute (SIPRI).
Which Country Exports the Most Weapons?
The U.S. is the biggest weapons exporter, accounting for 40% of the total volume of international arms transfers between 2018–2022. Nearly one-fifth of these exports headed to Saudi Arabia, and other significant amounts went to Japan (8.6%) and Australia (8.4%).
Below we rank the biggest weapons exporters by share of total volume traded in 2018–2022, as well as their growth or decline from trends recorded in 2013–2017.
Rank
Country
% share of global arms exports
(2018-2022)
% change between
2013-17 & 2018-22
1
🇺🇸 U.S.
40%
+14%
2
🇷🇺 Russia
16%
-31%
3
🇫🇷 France
11%
+44%
4
🇨🇳 China
5%
-23%
5
🇩🇪 Germany
4%
-35%
6
🇮🇹 Italy
4%
+45%
7
🇬🇧 UK
3%
-35%
8
🇪🇸 Spain
3%
-4%
9
🇰🇷 South Korea
2%
+74%
10
🇮🇱 Israel
2%
-15%
N/A
🌐 Rest of World
9%
N/A
Russia (16%) and France (11%) rank close together, followed by China (5%) and Germany (4%) to round out the top five major arms exporters.
However France's export volumes grown considerably (+44%) from the previous five-year period, thanks to big sales to India, which included 62 combat aircraft and four submarines, one-third of all French weapons trade. This has resulted in France leapfrogging the U.S. as India's second-largest weapons supplier after Russia.
On the other hand, Russia's exports by volume has decreased (-31%) even before sanctions kicked in after the invasion of Ukraine. Its biggest trade partners, India and China, have prioritized developing their own weapons industries.
South Korea's Surging Weapons Exports
Another country whose arms sales are skyrocketing is South Korea, which ranks 9th in the overall share of global arms exports, but has seen a 74% increase in its export volumes. Key recipients include the Philippines, India, and Thailand.
South Korean president Yoon Suk Yeol has pledged to grow his country into the world's fourth largest arms exporter by 2027.
Interestingly, South Korea is one of three countries which is both a top-10 arms exporter and importer (along with China and the U.S.) as it has many takers for domestically produced military equipment, while simultaneously being reliant on American-produced long-range missiles and advanced combat aircraft.