Visualizing the True Size of Land Masses from Largest to Smallest
View the full resolution version of this infographic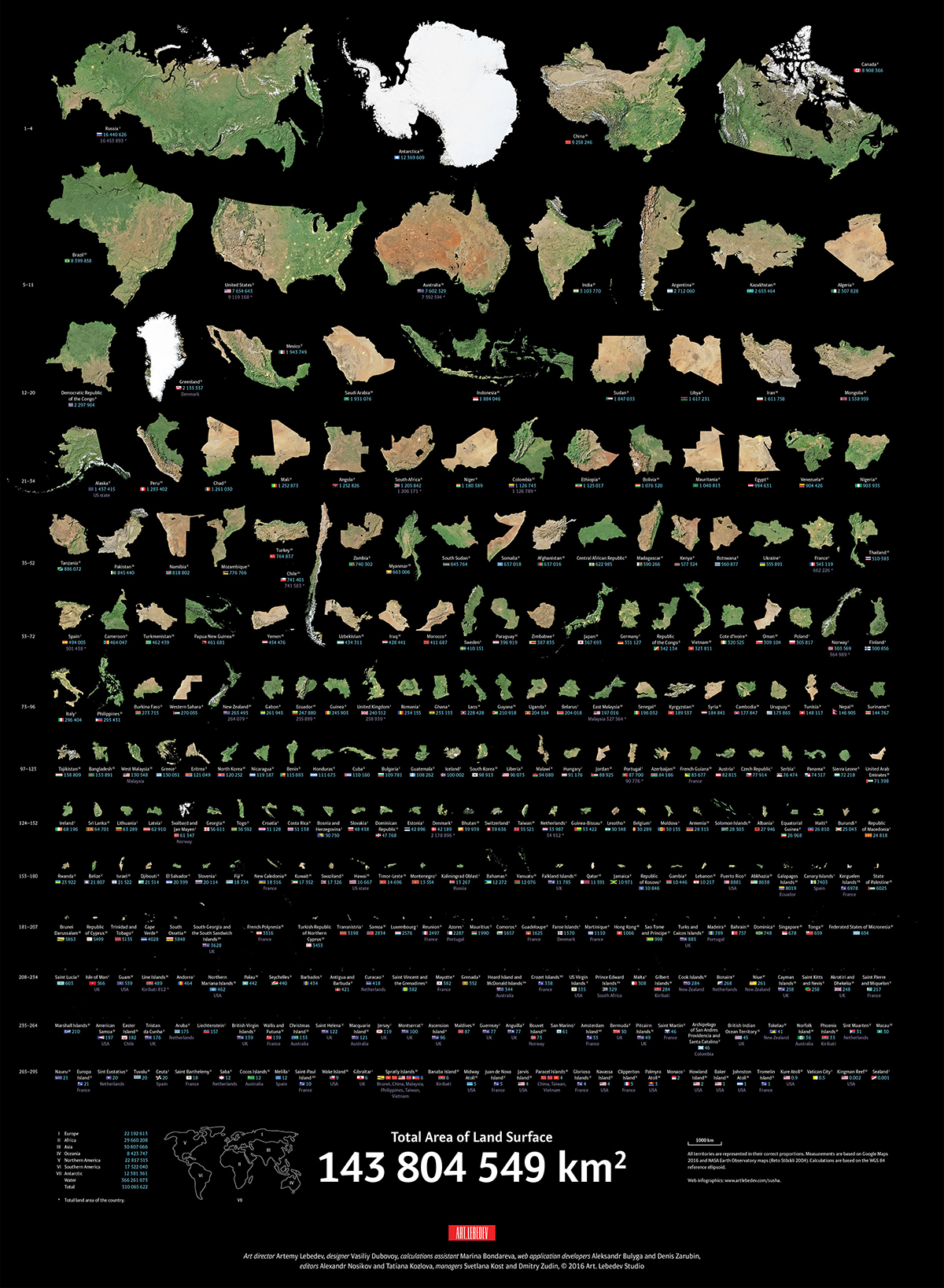 Note: Some of the land areas depicted in this graphic by Art.Lebedev are shown in separate components (e.g. U.S. and Malaysia) or are disputed and/or occupied territories (e.g. Abkhazia, Crimea, and Taiwan).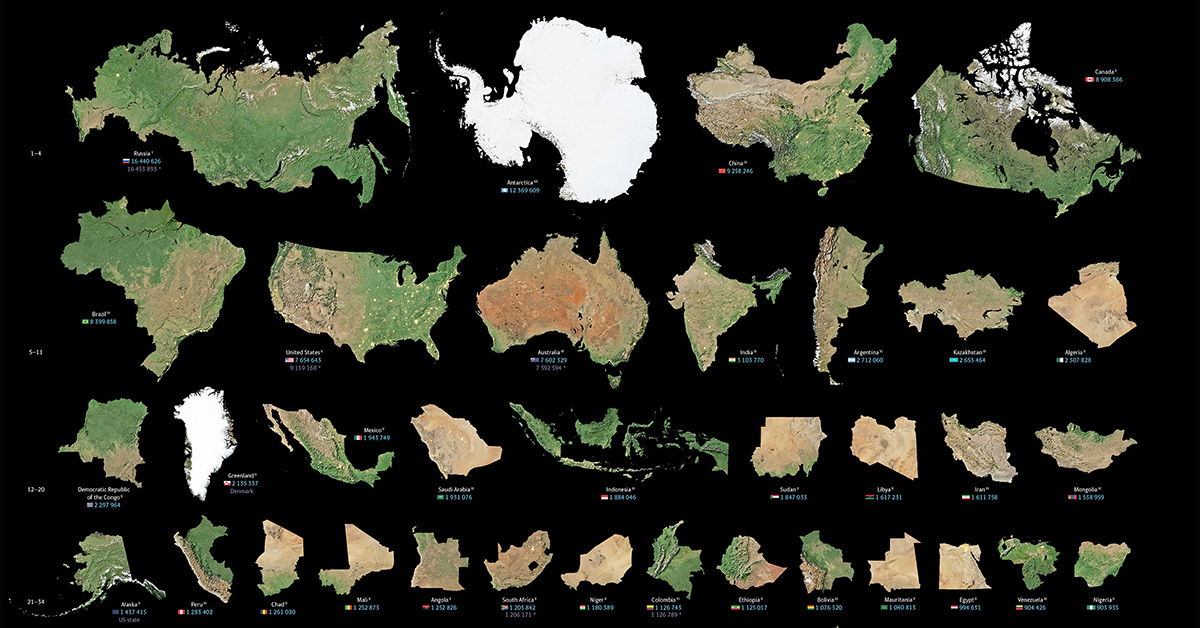 The True Size of Land Masses from Largest to Smallest
Is Greenland the size of the entire African continent?
No…
But looking at a map based on the Mercator projection, you would think so.
Today's infographic comes from the design studio Art.Lebedev and shows the true size of the world's land masses in order from largest to smallest using data from NASA and Google.
Check out the actual shape and size of each land mass without any distortions.
Distorting Reality: Mercator Misconceptions
Maps can deceive your eyes but they are still powerful tools for specific purposes. In 1569, the legendary cartographer, Gerardus Mercator, created a new map based on a cylindrical projection of sections of the Earth. These types of maps were suited for nautical navigation since every line on the sphere is a constant course, or loxodrome.
Despite the map's nautical utility, the Mercator projection has an unwanted downside. The map type increases the sizes of land masses close to the poles (such as in North America, Europe, or North Asia) as a side effect. As a result, Canada and Russia appear to take up approximately 25% of the Earth's surface, when in reality these nations only occupy 5%.
"Things are not always what they seem; the first appearance deceives many." – Phaedrus
This collection of images above represents the world's land masses in their correct proportions. Measurements are based on Google Maps 2016 and NASA Earth Observatory maps, with calculations based on the WGS84 reference ellipsoid, or more simply, a specific model of the Earth's shape in two dimensions.
We take for granted Google Maps and satellite imaging. Making these accurate representations is no small task – the designers went through six steps and many different iterations of the graphic.
Countries are arranged by descending size and shown without external or dependent territories. For example, the total area for the contiguous United States shown does not include Hawaii, Alaska, or overseas territories.
Top 10 Largest Land Masses
Although Mercator maps distort the size of land masses in the Northern Hemisphere, many of these countries still cover massive territories.
| Jurisdiction | Area (km²) |
| --- | --- |
| Russia | 16,440,626 |
| Antarctica | 12,269,609 |
| China | 9,258,246 |
| Canada | 8,908,366 |
| Brazil | 8,399,858 |
| United States (contiguous) | 7,654,643 |
| Australia | 7,602,329 |
| India | 3,103,770 |
| Argentina | 2,712,060 |
| Kazakhstan | 2,653,464 |
The top 10 land masses by size account for 55% of the Earth's total land. The remainder is split by the world's 195 or so other countries.
Top 10 Smallest Land Masses
Here are the 10 tiniest jurisdictions highlighted on the map:
| Jurisdiction | Area (km²) |
| --- | --- |
| Sealand | 0.001 |
| Kingman Reef | 0.002 |
| Vatican City | 0.5 |
| Kure Atoll | 0.9 |
| Tromelin Island | 1 |
| Johnston Atoll | 1 |
| Baker Island | 1 |
| Howland Island | 2 |
| Monaco | 2 |
| Palmyra Atoll | 3 |
While the Earth's land surface has been claimed by many authorities, the actual impact of human activity is less than one would think.
Human Impact: Humbled by Nature
Political borders have claimed virtually every piece of land available. Despite this, only 20% of land on the planet has been visibly impacted by human activity, and only 15% of Earth's land surface is formally under protection.
The remaining 80% of the land hosts natural ecosystems that help to purify air and water, recycle nutrients, enhance soil fertility, pollinate plants, and break down waste products. The value of maintaining these services to the human economy is worth trillions of U.S. dollars each year.
While some nations are not as big as they look on the map, every piece of land counts.

Decoding U.S. Election Day in 9 Key Charts
Buckle up your seatbelts—we look at 9 key data-driven charts to get you prepped for this consequential day in U.S. election history.
After a tumultuous election cycle, the time has come at last for Americans to cast their ballots.
Media coverage has reached a fever pitch, and keeping up with the news cycle can be daunting for anyone. To keep the voting public and interested onlookers informed, we've compiled nine key charts that can help in answering key questions that people will have today:
Who'll win the U.S. presidential election?
How could swing states flip?
When will we know the election results?
What are the stakes?
What does the rest of the world think?
Let's start with the biggest—and most challenging—of these topics first.
Who'll Win the Election?
As the world learned in 2016, answering this question is not as simple as it looks—even when the poll results point to a clear victory.
Chart #1: Biden remains the odds-on favorite
In 2020's race, the poll results are once again stacked against President Trump. Here's a look at who's ahead in aggregated national polls:
Source: FiveThirtyEight
Although this election cycle has been a wild ride, that volatility isn't necessarily reflected in the polls. Over the past three months, Joe Biden's lead in the national polls has not dipped below three percentage points.
Chart #2: Viewing odds through a 2016 lens
That said, after the colossal miscalculation by the media and pollsters in 2016, many people are skeptical of the accuracy of polls. Luckily, there's a way to look at predictions through a more skeptical lens. As this table from FiveThirtyEight demonstrates, even if the results are as wrong as in 2016, Joe Biden is still predicted to win.
Chart #3: Betting markets also agree
Prediction markets are another way to try to gauge how the election could turn out. Traders on PredictIt are also leaning towards a Biden win on election day. President Trump's COVID-19 diagnosis in early October served as a pivot point in that market.
Chart #4: The Sultans of Swing
There are a few swing states which will be hotly contested, with the candidates focusing their final days of campaigning on these.
Pennsylvania has received the most visits from both Trump and Biden since their last debate on October 22nd, with Trump visiting the state seven times and Biden stopping by four times.
Swing states have had strong early voting turnouts. In fact, the number of early voters in many swing states is already set to surpass the total number of voters they saw in the 2016 election.
While Arizona and Georgia have voted red for the past five elections, early predictions point to these states possibly turning blue in 2020.
When Will We Know the Election Results?
While the result of the presidential election is typically known on the night of the election itself, this year could see delays due to the tight race and the amount of mail-in ballots.
No matter what, state election disputes need to be settled before December 8th, the "safe-harbor deadline". After this date, states run the risk of having Congress refuse to accept their electoral votes, with Congress also resolving any left over disputes.
Each state's electors then meet on December 14th in order to elect the president and vice-president. Depending on how that goes, this interactive election timeline by The Guardian looks at a few nightmare scenarios that the U.S. could get caught in.
Chart #5: Visualizing mail-in ballots so far
Mail-in ballots can slow down the election result due to late ballot deadlines and the pre-processing required for them to be counted. Expect to see a correlation between states with high mail-in ballot numbers and how long it takes them to call their result.
Ballot deadlines depend on the state, with some states accepting ballots up until November 23rd as long as they were postmarked by election day.
While some states can start pre-processing ballots before election day, others can't start until election day itself. Some counties (including some in swing state Pennsylvania) won't be starting mail-in ballot counting until November 4th due to limited resources.
Why Are the Stakes So High?
Voters from both parties are heavily invested in who wins this election—a trend that's been on the rise for years, coinciding with increasing amounts of political polarization.
Chart #6: Voter apathy, no more
According to a recent survey by Pew Research Center, 83% of voters say it "really matters" who becomes the next president. In 2000, only 50% felt so strongly about the outcome of the election.
To be fair, this year is also unique given a global pandemic—and this has certainly weighed heavily on many voters, creating more urgency than normal.
In fact, according to a survey conducted by Gallup in April 2020, 45% of Americans think Coronavirus/disease is the most important issue the country is currently facing.
Chart #7: Voters See COVID as a Top Concern
Research has shown a correlation so far between COVID-related deaths and reduced support for the incumbent. According to this graph from the New York Times, Trump's approval rating tends to be lower in counties with higher death rates.
Chart #8: The price of democracy
The exceptionally high stakes could be a reason why this election is expected to be the most expensive to date. Spending is projected to reach over $13 billion, almost double the amount spent in 2016.
Source: Center for Responsive Politics
Chart #9: What the rest of the world thinks
Americans aren't the only ones invested in the U.S. presidential election this year. The whole world is watching, and according to Ipsos, the majority is rooting for Biden.
But of course, the world doesn't get to cast a vote today, making this final chart a moot point.
The real decision makers will be in the American electorate—and the forthcoming result will be on people's minds for days, months, or maybe even years to come.

Animated Map: U.S. Presidential Voting History by State (1976-2016)
With this map of U.S. presidential voting history by state, discover patterns that have emerged over the last eleven elections.
U.S. Presidential Voting History by State
As Americans go to cast their votes, considerable uncertainty remains about which candidate will be elected president. However, history can provide some clues as to how voters may act.
While some states have consistently seen Democrat or Republican victories, other "swing states" have flipped between the two parties depending on the year.
In this graphic, we use data from the MIT Election Data and Science Lab to show U.S. presidential voting history by state since 1976.
Each State's Winning Party
To calculate the winning ratio, we divided the votes for the state's winning party by the total number of state votes. Here's another look at the same data, visualized in a different way.
This graphic was inspired by this Reddit post.
As the voting history shows, some states—such as Alaska, Oklahoma, and Wyoming—have consistently supported the Republican Party. On the other hand, Hawaii, Minnesota, and the District of Columbia have been Democrat strongholds for many decades.
The District of Columbia (D.C.) is a federal district, and is not part of any U.S. State. Its population is urban and has a large percentage of Black and college-educated citizens, all of which are groups that tend to identify as Democrat.
Swing states typically see a close contest between Democrats and Republicans. For example, Florida's average margin of victory for presidential candidates has been just 2.6% since 1996, by far the lowest of any state. It's often seen as a key battleground, and for good reason: the candidate who wins Florida has won every election since 1964.
Memorable Election Years
Within U.S. Presidential voting history, some election results stand out more than others. In 1984, President Reagan was re-elected in a landslide victory, winning 49 out of 50 states. The remarkable win has been credited to the economic recovery during Reagan's first term, Reagan's charisma, and voters' opposition to the Democrat's planned tax increases.
In 1992, self-made Texas billionaire Ross Perot ran as a third-party candidate. He captured almost 19% of the popular vote, the highest percentage of any third-party presidential candidate in over 80 years. While he gained support from those looking for a change from traditional party politics, Bill Clinton ultimately went on to win the election.
Most recently, the 2016 election took many people by surprise. Despite having a strong lead in the polls, Hillary Clinton was defeated by Donald Trump. A total of 30 states saw Republican victories, eager for change after eight years of Democrat leadership.
A Look Ahead
Is it possible to predict the 2020 presidential election? As the last election showed, polls are not a perfect measure. They represent a snapshot in time, may overrepresent certain population groups, and measure voter attitudes rather than behaviors, among other factors.
While there's no crystal ball, swing states may offer the most insight as to where things are heading. Here are nine states that have been identified as battlegrounds, and how they voted in the 2016 election.
| | 2016 Winning Ratio | 2016 Margin of Victory |
| --- | --- | --- |
| Arizona | 48.7% Republican | 3.6% |
| Florida | 49.0% Republican | 1.2% |
| Georgia | 50.8% Republican | 5.2% |
| Iowa | 51.2% Republican | 9.4% |
| Michigan | 47.5% Republican | 0.2% |
| North Carolina | 49.8% Republican | 3.6% |
| Ohio | 51.7% Republican | 8.1% |
| Pennsylvania | 48.9% Republican | 0.7% |
| Wisconsin | 47.2% Republican | 0.7% |
All saw Republican victories, but six out of nine states won by a margin of less than 5%. Trump and Biden's success in these states may well determine the outcome of the 2020 election.