Visualizing the True Size of Land Masses from Largest to Smallest
View the full resolution version of this infographic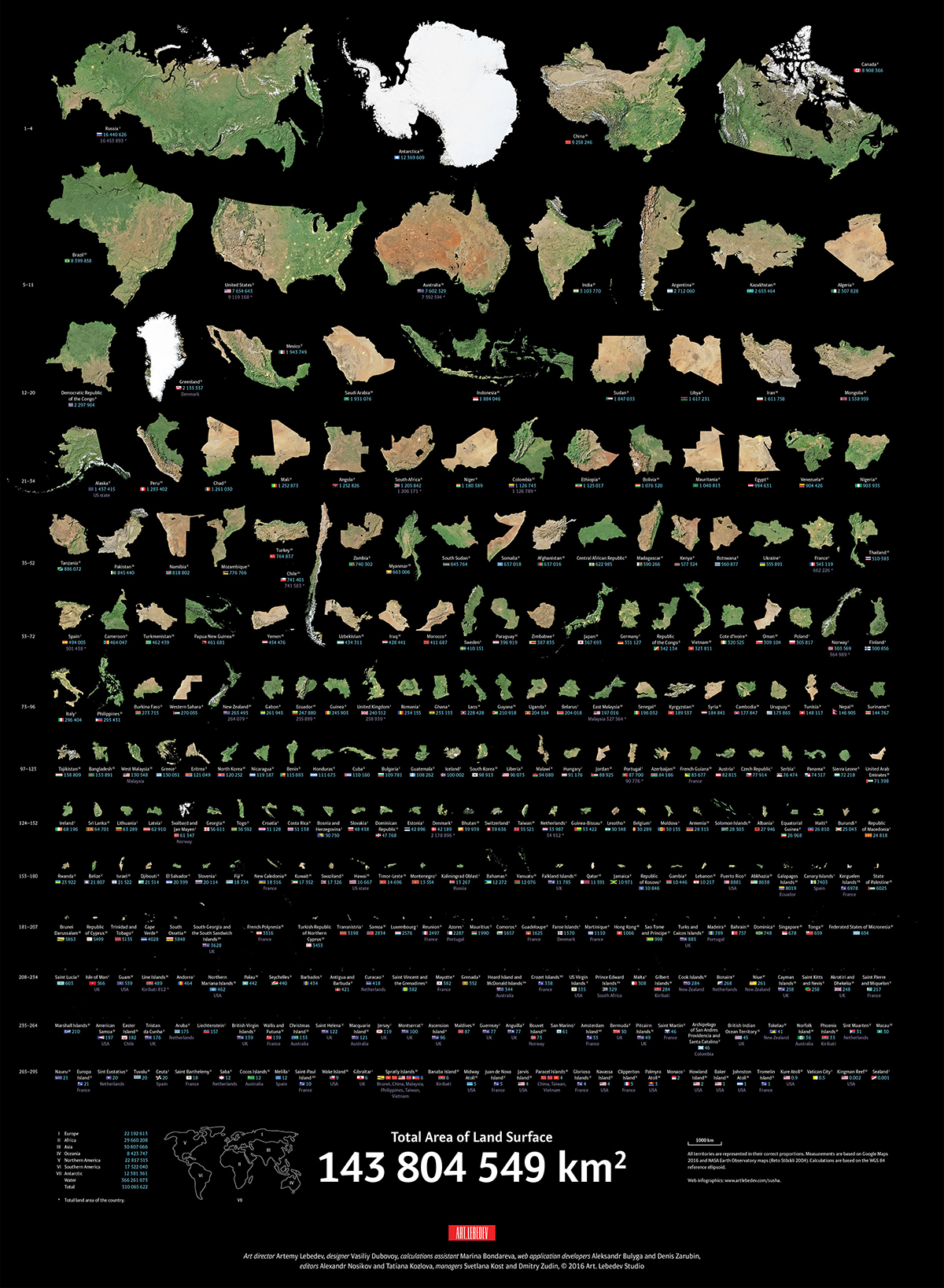 Note: Some of the land areas depicted in this graphic by Art.Lebedev are shown in separate components (e.g. U.S. and Malaysia) or are disputed and/or occupied territories (e.g. Abkhazia, Crimea, and Taiwan).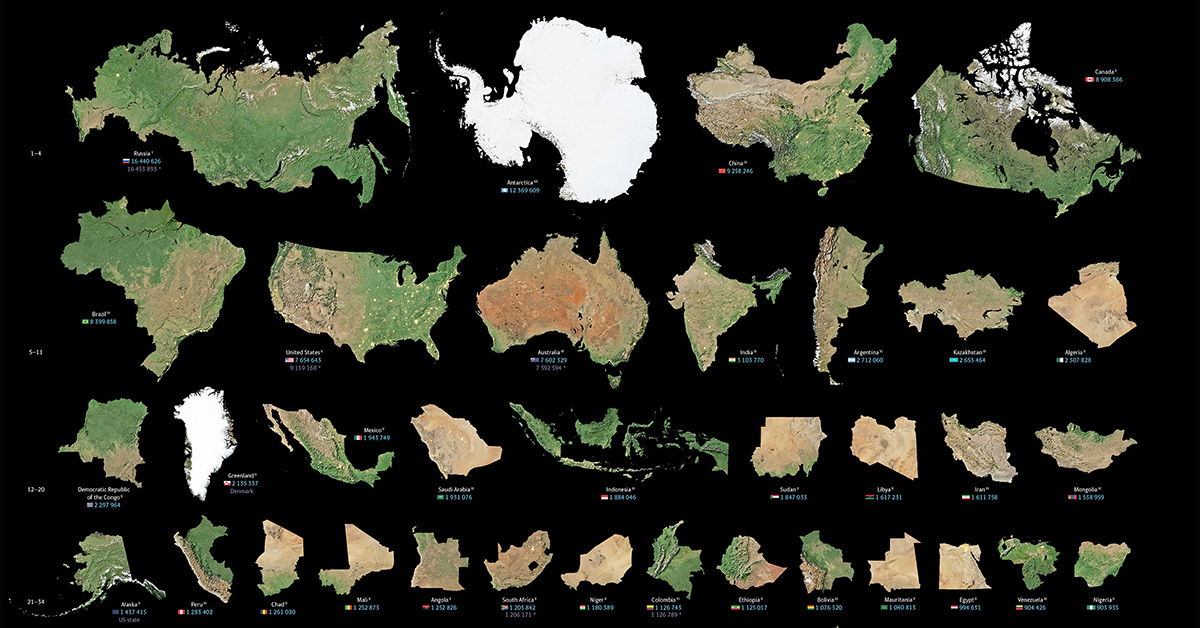 The True Size of Land Masses from Largest to Smallest
Is Greenland the size of the entire African continent?
No…
But looking at a map based on the Mercator projection, you would think so.
Today's infographic comes from the design studio Art.Lebedev and shows the true size of the world's land masses in order from largest to smallest using data from NASA and Google.
Check out the actual shape and size of each land mass without any distortions.
Distorting Reality: Mercator Misconceptions
Maps can deceive your eyes but they are still powerful tools for specific purposes. In 1569, the legendary cartographer, Gerardus Mercator, created a new map based on a cylindrical projection of sections of the Earth. These types of maps were suited for nautical navigation since every line on the sphere is a constant course, or loxodrome.
Despite the map's nautical utility, the Mercator projection has an unwanted downside. The map type increases the sizes of land masses close to the poles (such as in North America, Europe, or North Asia) as a side effect. As a result, Canada and Russia appear to take up approximately 25% of the Earth's surface, when in reality these nations only occupy 5%.
"Things are not always what they seem; the first appearance deceives many." – Phaedrus
This collection of images above represents the world's land masses in their correct proportions. Measurements are based on Google Maps 2016 and NASA Earth Observatory maps, with calculations based on the WGS84 reference ellipsoid, or more simply, a specific model of the Earth's shape in two dimensions.
We take for granted Google Maps and satellite imaging. Making these accurate representations is no small task – the designers went through six steps and many different iterations of the graphic.
Countries are arranged by descending size and shown without external or dependent territories. For example, the total area for the contiguous United States shown does not include Hawaii, Alaska, or overseas territories.
Top 10 Largest Land Masses
Although Mercator maps distort the size of land masses in the Northern Hemisphere, many of these countries still cover massive territories.
| Jurisdiction | Area (km²) |
| --- | --- |
| Russia | 16,440,626 |
| Antarctica | 12,269,609 |
| China | 9,258,246 |
| Canada | 8,908,366 |
| Brazil | 8,399,858 |
| United States (contiguous) | 7,654,643 |
| Australia | 7,602,329 |
| India | 3,103,770 |
| Argentina | 2,712,060 |
| Kazakhstan | 2,653,464 |
The top 10 land masses by size account for 55% of the Earth's total land. The remainder is split by the world's 195 or so other countries.
Top 10 Smallest Land Masses
Here are the 10 tiniest jurisdictions highlighted on the map:
| Jurisdiction | Area (km²) |
| --- | --- |
| Sealand | 0.001 |
| Kingman Reef | 0.002 |
| Vatican City | 0.5 |
| Kure Atoll | 0.9 |
| Tromelin Island | 1 |
| Johnston Atoll | 1 |
| Baker Island | 1 |
| Howland Island | 2 |
| Monaco | 2 |
| Palmyra Atoll | 3 |
While the Earth's land surface has been claimed by many authorities, the actual impact of human activity is less than one would think.
Human Impact: Humbled by Nature
Political borders have claimed virtually every piece of land available. Despite this, only 20% of land on the planet has been visibly impacted by human activity, and only 15% of Earth's land surface is formally under protection.
The remaining 80% of the land hosts natural ecosystems that help to purify air and water, recycle nutrients, enhance soil fertility, pollinate plants, and break down waste products. The value of maintaining these services to the human economy is worth trillions of U.S. dollars each year.
While some nations are not as big as they look on the map, every piece of land counts.
Which Generation Has the Most Influence Over U.S. Politics?
Visual Capitalist's inaugural Generational Power Index (GPI) examines the political power held by each generation and their influence on society.
Measuring Influence in U.S. Politics, by Generation
Generations are a widely recognized and discussed concept, and it's assumed people all understand what they refer to. But the true extent of each generation's clout has remained undetermined—until now.
In our inaugural Generational Power Index (GPI) 2021, we examine the power and influence each generation currently holds on American society, and its potential to evolve in the future.
Political power by generation was one of three key categories we used to quantify the current landscape. Before we dive into the results, here's how the Political Power category was calculated.
Measuring Generational Power
To begin with, here's how we categorized each generation:
| Generation | Age range (years) | Birth year range |
| --- | --- | --- |
| The Silent Generation | 76 and over | 1928-1945 |
| Baby Boomers | 57-75 | 1946-1964 |
| Gen X | 41-56 | 1965-1980 |
| Millennials | 25-40 | 1981-1996 |
| Gen Z | 9-24 | 1997-2012 |
| Gen Alpha | 8 and below | 2013-present |
Using these age groups as a framework, we then calculated the Political Power category using these distinct equally-weighted variables:
With this methodology in mind, here's how the Political Power category shakes out, using insights from the GPI.
Share of Political Power by Generation
Baby Boomers dominated with over 47% of the total political power by generation. This cohort has particular strength in the judicial system and in Congress.
| Generation | Political Power Share |
| --- | --- |
| Baby Boomers | 47.4% |
| Gen X | 29.0% |
| Millennials | 10.0% |
| Silent | 12.1% |
| Gen Z | 1.6% |
Baby Boomers, along with the Silent Generation also control 80% of political spending. Meanwhile, Gen X accounts for nearly half (46%) of local government positions.
Both voters and politicians play key roles in shaping American society. Thus, two variables worth looking closer at are the evolving electoral base and the composition of Congress.
The Changing Face of the U.S. Voter
Younger generations have very different perceptions on everything from cannabis to climate change. This is starting to be reflected in legislation.
2016 was a watershed moment for politicians vying for the vote—it was the last election in which Baby Boomers made up over a third of U.S. voters. Collectively, Boomers' voting power will decline from here on out.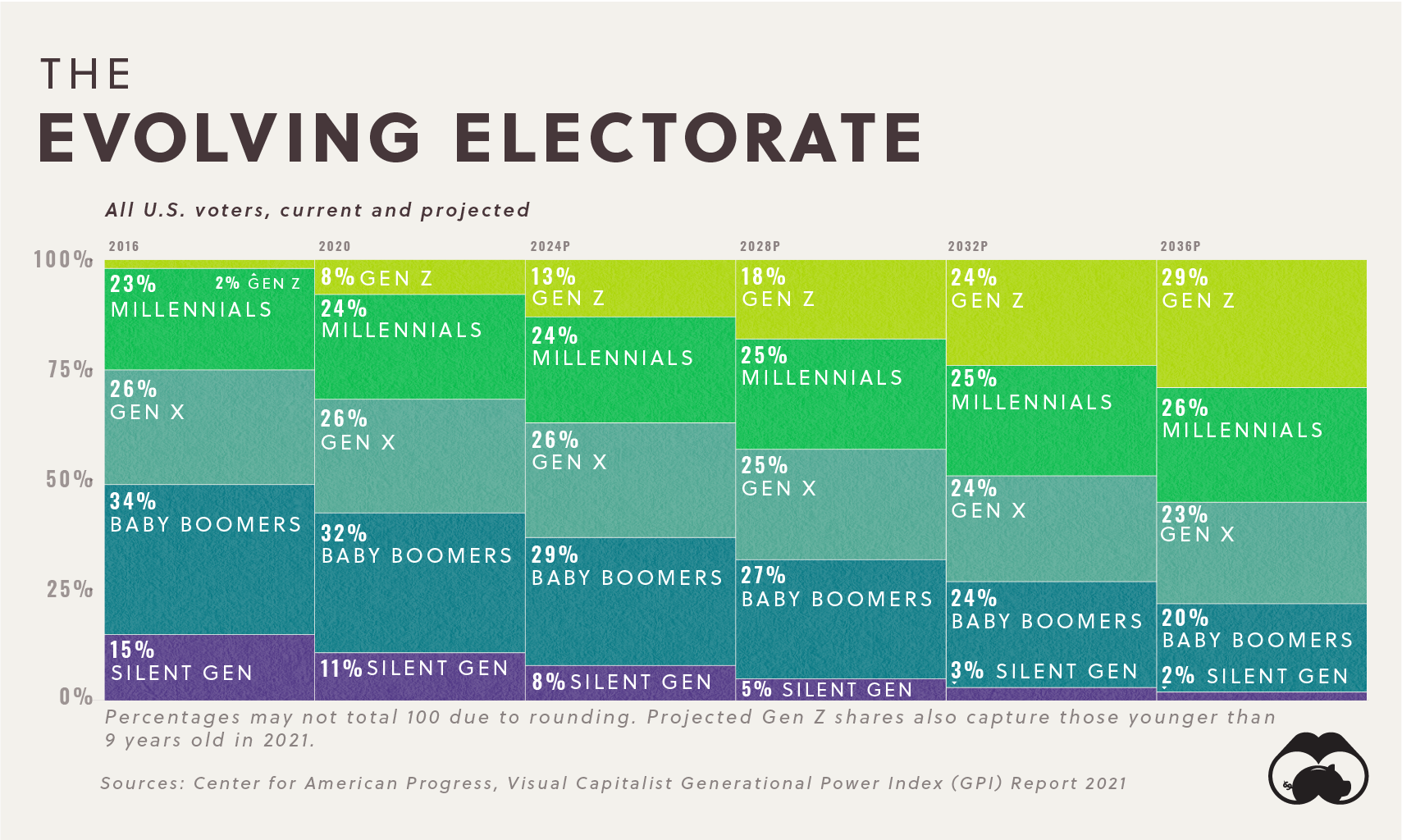 Within the next two decades, the combined voting power of Millennials and Gen Z will skyrocket from 32% in 2020 up to 55% by 2036.
Meanwhile, a decade from now, the oldest members of Gen Alpha (those born in 2013 and later) will enter the playing field and become eligible to vote in 2031.
The View from the Top
Having examined generational power in the electorate, we now turn our attention to the people on the other side of the democratic equation—the politicians.
In most cases, it takes many decades of experience and reputation building to reach the highest offices in the land. That's why the median age of Congress (61.2) is much higher than the median age of the U.S. population at large (38.1).
At this point in time, Baby Boomers are in the sweet spot, and it shows in the numbers. Boomers represent 298 of 532 Congressional seats (56% of all seats), and Gen X's growing contingent of members represents 31%.
On one end of the spectrum, the Silent Generation still occupies 7% of seats, which roughly reflects the group's share of the U.S. population. California's Democratic Senator Dianne Feinstein and Republican Don Young are both 87 years old, the latter having represented Alaska for 25 terms.
On the other end of the spectrum, Millennials currently claim 32 seats, just 6% of the total. As of 2021, this entire cohort now meets the minimum age requirement (25) to serve in the House of Representatives. The youngest member of Congress is Republican Madison Cawthorn, a representative for North Carolina at just 25 years old. Meanwhile, Senator Jon Ossoff is the youngest Senator in the country, serving Georgia at 36 years old.
This difference in political power by generation is stark considering that both Boomers and Millennials both make up similar proportions of the U.S. population at large. In that sense, Millennials are greatly underrepresented in Congress compared to Boomers.
Gen Z Waiting Patiently in the Wings
Gen Z's current age range is a natural reason why they don't yet have a foothold in government. But by 2022, the oldest members of Gen Z will turn 25, meeting the minimum age requirement to get elected into the House of Representatives.
With the oldest members of this generation soon turning 25, how long will it be before a representative from Gen Z occupies a seat in the Capitol Building?
Download the Generational Power Report (.pdf)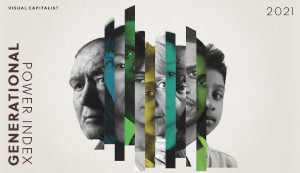 Visualizing Biden's $1.52 Trillion Budget Proposal for 2022
A breakdown of President Biden's budget proposal for 2022. Climate change initiatives, cybersecurity, and additional social programs are key areas of focus.
Visualizing Biden's Budget Proposal for 2022
On April 9th, President Joe Biden released his first budget proposal plan for the 2022 fiscal year.
The $1.52 trillion discretionary budget proposes boosts in funding that would help combat climate change, support disease control, and subsidize social programs.
This graphic outlines some key takeaways from Biden's budget proposal plan and highlights how funds could be allocated in the next fiscal year.
U.S. Federal Budget 101
Before diving into the proposal's key takeaways, it's worth taking a step back to cover the basics around the U.S. federal budget process, for those who aren't familiar.
Each year, the president of the U.S. is required to present a federal budget proposal to Congress. It's usually submitted each February, but this year's proposal has been delayed due to alleged issues with the previous administration during the handover of office.
Biden's publicized budget only includes discretionary spending for now—a full budget that includes mandatory spending is expected to be released in the next few months.
Key Takeaways From Biden's Budget Proposal
Overall, Biden's proposed budget would increase funds for a majority of cabinet departments. This is a drastic pivot from last year's proposal, which was focused on budget cuts.
Here's a look at some of the biggest departmental changes, and their proposed spending for 2022:
| Department | 2022 Proposed Spending (Billions) | % Change from 2021 |
| --- | --- | --- |
| Education | $29.8 | 41% |
| Commerce | $11.4 | 28% |
| Health and Human Services | $131.7 | 24% |
| Environmental Protection Agency | $11.2 | 21% |
| Interior | $17.4 | 16% |
| Agriculture | $27.8 | 16% |
| Housing and Urban Development | $68.7 | 15% |
| Transportation | $25.6 | 14% |
| Labor | $14.2 | 14% |
| State and International Aid | $63.5 | 12% |
| Treasury | $14.9 | 11% |
| Energy | $46.1 | 10% |
| Small Business Administration | $0.9 | 9% |
| Veteran Affairs | $113.1 | 8% |
| Justice | $17.4 | 5% |
| Defense | $715.0 | 2% |
One of the biggest boosts in spending is for education. The proposed $29.8 billion would be a 41% increase from 2021. The extra funds would support students in high-poverty schools, as well as children with disabilities.
Health and human services is also a top priority in Biden's budget, perhaps unsurprisingly given the global pandemic. But the boost in funds extends beyond disease control. Biden's budget allocates $1.6 billion towards mental health grants and $10.7 billion to help stop the opioid crisis.
There are increases across all major budget categories, but defense will see the smallest increase from 2021 spending, at 2%. It's worth noting that defense is also the biggest budget category by far, and with a total of $715 billion allocated, the budget lists deterring threats from China and Russia as a major goal.
Which Bills Will Make it Through?
It's important to reiterate that this plan is just a proposal. Each bill needs to get passed through Congress before it becomes official.
Considering the slim majority held by Democrats, it's unlikely that Biden's budget will make it through Congress without any changes. Over the next few months, it'll be interesting to see what makes it through the wringer.