Visualizing the True Size of Land Masses from Largest to Smallest
View the full resolution version of this infographic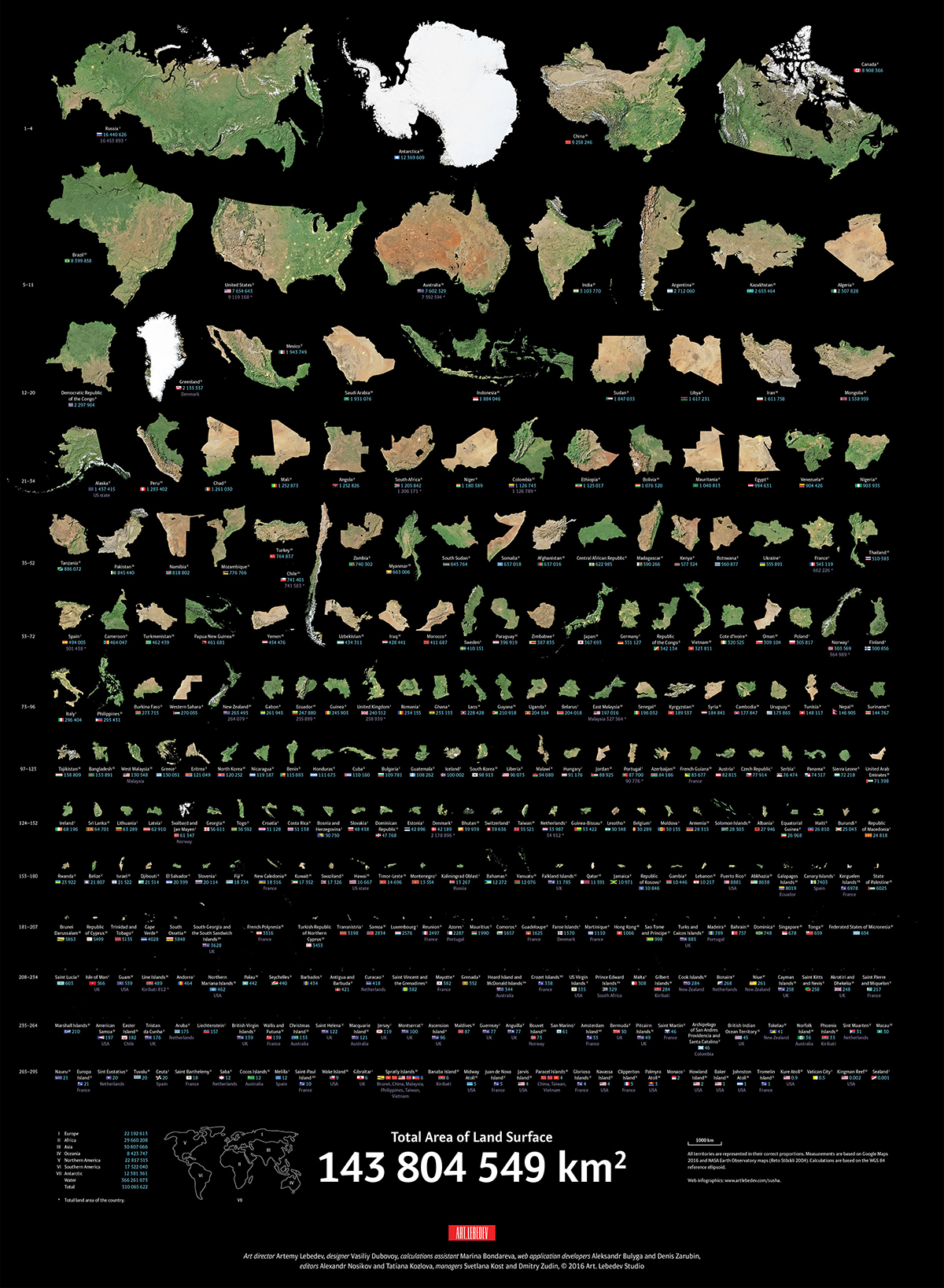 Note: Some of the land areas depicted in this graphic by Art.Lebedev are shown in separate components (e.g. U.S. and Malaysia) or are disputed and/or occupied territories (e.g. Abkhazia, Crimea, and Taiwan).
The True Size of Land Masses from Largest to Smallest
Is Greenland the size of the entire African continent?
No…
But looking at a map based on the Mercator projection, you would think so.
Today's infographic comes from the design studio Art.Lebedev and shows the true size of the world's land masses in order from largest to smallest using data from NASA and Google.
Check out the actual shape and size of each land mass without any distortions.
Distorting Reality: Mercator Misconceptions
Maps can deceive your eyes but they are still powerful tools for specific purposes. In 1569, the legendary cartographer, Gerardus Mercator, created a new map based on a cylindrical projection of sections of the Earth. These types of maps were suited for nautical navigation since every line on the sphere is a constant course, or loxodrome.
Despite the map's nautical utility, the Mercator projection has an unwanted downside. The map type increases the sizes of land masses close to the poles (such as in North America, Europe, or North Asia) as a side effect. As a result, Canada and Russia appear to take up approximately 25% of the Earth's surface, when in reality these nations only occupy 5%.
"Things are not always what they seem; the first appearance deceives many." – Phaedrus
This collection of images above represents the world's land masses in their correct proportions. Measurements are based on Google Maps 2016 and NASA Earth Observatory maps, with calculations based on the WGS84 reference ellipsoid, or more simply, a specific model of the Earth's shape in two dimensions.
We take for granted Google Maps and satellite imaging. Making these accurate representations is no small task – the designers went through six steps and many different iterations of the graphic.
Countries are arranged by descending size and shown without external or dependent territories. For example, the total area for the contiguous United States shown does not include Hawaii, Alaska, or overseas territories.
Top 10 Largest Land Masses
Although Mercator maps distort the size of land masses in the Northern Hemisphere, many of these countries still cover massive territories.
| Jurisdiction | Area (km²) |
| --- | --- |
| Russia | 16,440,626 |
| Antarctica | 12,269,609 |
| China | 9,258,246 |
| Canada | 8,908,366 |
| Brazil | 8,399,858 |
| United States (contiguous) | 7,654,643 |
| Australia | 7,602,329 |
| India | 3,103,770 |
| Argentina | 2,712,060 |
| Kazakhstan | 2,653,464 |
The top 10 land masses by size account for 55% of the Earth's total land. The remainder is split by the world's 195 or so other countries.
Top 10 Smallest Land Masses
Here are the 10 tiniest jurisdictions highlighted on the map:
| Jurisdiction | Area (km²) |
| --- | --- |
| Sealand | 0.001 |
| Kingman Reef | 0.002 |
| Vatican City | 0.5 |
| Kure Atoll | 0.9 |
| Tromelin Island | 1 |
| Johnston Atoll | 1 |
| Baker Island | 1 |
| Howland Island | 2 |
| Monaco | 2 |
| Palmyra Atoll | 3 |
While the Earth's land surface has been claimed by many authorities, the actual impact of human activity is less than one would think.
Human Impact: Humbled by Nature
Political borders have claimed virtually every piece of land available. Despite this, only 20% of land on the planet has been visibly impacted by human activity, and only 15% of Earth's land surface is formally under protection.
The remaining 80% of the land hosts natural ecosystems that help to purify air and water, recycle nutrients, enhance soil fertility, pollinate plants, and break down waste products. The value of maintaining these services to the human economy is worth trillions of U.S. dollars each year.
While some nations are not as big as they look on the map, every piece of land counts.
Support the Future of Data Storytelling
Sorry to interrupt your reading, but we have a favor to ask. At Visual Capitalist we believe in a world where data can be understood by everyone. That's why we want to build the VC App - the first app of its kind combining verifiable and transparent data with beautiful, memorable visuals. All available for free.
As a small, independent media company we don't have the expertise in-house or the funds to build an app like this. So we're asking our community to help us raise funds on Kickstarter.
If you believe in data-driven storytelling, join the movement and back us on Kickstarter!
Thank you.
Mapped: Which Ports are Receiving the Most Russian Fossil Fuel Shipments?
Russia's energy exports have become a hot topic. See which ports received fossil shipments during the first 100 days of the Ukraine invasion
As the invasion of Ukraine wears on, European countries are scrambling to find alternatives to Russian fossil fuels.
In fact, an estimated 93% of Russian oil sales to the EU are due to be eliminated by the end of the year, and many countries have seen their imports of Russian gas plummet. Despite this, Russia earned €93 billion in revenue from fossil fuel exports in the first 100 days of the invasion.
While the bulk of fossil fuels travel through Europe via pipelines, there are still a number marine shipments moving between ports. The maps below, using data from MarineTraffic.com and Datalastic, compiled by the Centre for Research on Energy and Clean Air (CREA), are a look at Russia's fossil fuel shipments during the first 100 days of the invasion.
Russia's Crude Oil Shipments
Much of Russia's marine shipments of crude oil went to the Netherlands and Italy, but crude was also shipped as far away as India and South Korea.
India became a significant importer of Russian crude oil, buying 18% of the country's exports (up from just 1%). From a big picture perspective, India and China now account for about half of Russia's marine-based oil exports.
It's important to note that a broad mix of companies were involved in shipping this oil, with some of the companies tapering their trade activity with Russia over time. Even as shipments begin to shift away from Europe though, European tankers are still doing the majority of the shipping.
Russia's Liquefied Natural Gas Shipments
Unlike the gas that flows along the many pipeline routes traversing Europe, liquefied natural gas (LNG) is cooled down to a liquid form for ease and safety of transport by sea. Below, we can see that shipments went to a variety of destinations in Europe and Asia.
Fluxys terminals in France and Belgium stand out as the main destinations for Russian LNG deliveries.
Russia's Oil Product Shipments
For crude oil tankers and LNG tankers, the type of cargo is known. For this dataset, CREA assumed that oil products tankers and oil/chemical tankers were carrying oil products.
Huge ports in Rotterdam and Antwerp, which house major refineries, were the destination for many of these oil products. Some shipments also went to destinations around the Mediterranean as well.
All of the top ports in this category were located within the vicinity of Europe.
Russia's Coal Shipments
Finally, we look at marine-based coal shipments from Russia. For this category, CREA identified 25 "coal export terminals" within Russian ports. These are specific port locations that are associated with loading coal, so when a vessel takes on cargo at one of these locations, it is assumed that the shipment is a coal shipment.
The European Union has proposed a Russian coal ban that is expected to take effect in August. While this may seem like a slow reaction, it's one example of how the invasion of Ukraine is throwing large-scale, complex supply chains into disarray.
With such a heavy reliance on Russian fossil fuels, the EU will be have a busy year trying to secure substitute fuels – particularly if the conflict in Ukraine continues to drag on.
Explainer: What Drives Gasoline Prices?
Gasoline prices across the U.S. have reached record-highs. Why? This graphic helps explain what factors influence the cost of gasoline.
What Drives Gasoline Prices?
This was originally posted on Elements. Sign up to the free mailing list to get beautiful visualizations on natural resource megatrends in your email every week.
Across the United States, the cost of gas has been a hot topic of conversation lately, as prices reach record-breaking highs.
The national average now sits at $5.00 per gallon, and by the end of summer, this figure could grow to $6 per gallon, according to estimates by JPMorgan.
But before we can have an understanding of what's happening at the pump, it's important to first know what key factors influence gasoline prices.
This graphic, using data from the U.S. Energy Information Administration (EIA), outlines the main components that influence gasoline prices, providing each factor's proportional impact on price.
The Four Main Factors
According to the EIA, there are four main factors that influence the price of gas:
Crude oil prices (54%)
Refining costs (14%)
Taxes (16%)
Distribution, and marketing costs (16%)
More than half the cost of filling your tank is influenced by the price of crude oil. Meanwhile, the rest of the price at the pump is split fairly equally between refining costs, marketing and distribution, and taxes.
Let's look at each factor in more depth.
Crude Oil Prices
The most influential factor is the cost of crude oil, which is largely dictated by international supply and demand.
Despite being the world's largest oil producer, the U.S. remains a net importer of crude oil, with the majority coming from Canada, Mexico, and Saudi Arabia. Because of America's reliance on imports, U.S. gas prices are largely influenced by the global crude oil market.
A number of geopolitical factors can influence the crude oil market, but one of the biggest influences is the Organization of the Petroleum Exporting Countries (OPEC), led by Saudi Arabia.
Established in 1960, OPEC was created to combat U.S. dominance of the global oil market. OPEC sets production targets for its 13 member countries, and historically, oil prices have been linked to changes in OPEC production. Today, OPEC countries are responsible for about 60% of internationally traded petroleum.
Refining Costs
Oil needs to be refined into gasoline before it can be used by consumers, which is why refining costs are factored into the price of gas.
The U.S. has hundreds of refineries across the country. The country's largest refinery, owned by the Saudi Arabian company ​​Saudi Aramco, processes around 607,000 barrels of oil per day.
The exact cost of refining varies, depending on a number of factors such as the type of crude oil used, the processing technology available at the refinery, and the gasoline requirements in specific parts of the country.
In general, refining capacity in the U.S. has not been keeping up with oil demand. Several refineries shut down throughout the pandemic, but even before COVID-19, refining capacity in the U.S. was lagging behind demand. Incredibly, there haven't been any brand-new refining facilities built in the country since 1977.
Taxes
In the U.S., taxes also play a critical role in determining the price of gas.
Across America, the average gasoline tax is $0.57 per gallon, however, the exact amount fluctuates from state to state. Here's a look at the top five states with the highest gas taxes:
| Rank | State | Gas tax (per gallon) |
| --- | --- | --- |
| 1 | California | $0.87 |
| 2 | Illinois | $0.78 |
| 3 | Pennsylvania | $0.77 |
| 4 | Hawaii | $0.77 |
| 5 | New Jersey | $0.69 |
*Note: figures include both state and federal tax
States with high gas taxes usually spend the extra money on improvements to their infrastructure or local transportation. For instance, Illinois doubled its gas taxes in 2019 as part of a $45 billion infrastructure plan.
California, the state with the highest tax on gas, is expecting to see a rate increase this July, which will drive gas prices up by around three cents per gallon.
Distribution and Marketing Costs
Lastly, the costs of distribution and marketing have an impact on the price of gas.
Gasoline is typically shipped from refineries to local terminals via pipelines. From there, the gasoline is processed further to ensure it meets market requirements or local government standards.
Gas stations then distribute the final product to the consumer. The cost of running a gas station varies—some gas stations are owned and operated by brand-name refineries like Chevron, while others are smaller-scale operations owned by independent merchants.
The big-name brands run a lot of advertisements. According to Morning Consult, Chevron, BP PLC, Exxon Mobil Corp., and Royal Dutch Shell PLC aired TV advertisements in the U.S. more than 44,495 times between June 1, 2020, and Aug. 31, 2021.
How Does the Russia-Ukraine Conflict Impact U.S. Gas Prices?
If only a fraction of America's oil comes from Russia, why is the Russia-Ukraine conflict impacting prices in the U.S.?
Because oil is bought and sold on a global commodities market. So, when countries imposed sanctions on Russian oil, that put a squeeze on global supply, which ultimately drove up prices.
This supply shock could keep prices high for a while unless the U.S. falls into a recession, which is a growing possibility based on how recent data is trending.