When Will Life Return to Normal?
When Will Life Return to Normal?
From battles on the front lines to social distancing from friends and family, COVID-19 has caused a massive shake-up of our daily lives.
After second-guessing everything from hugging our loved ones to delaying travel, there is one big question that everyone is likely thinking about: will we ever get back to the status quo? The answer may not be very clear-cut.
Today's graphic uses data from New York Times' interviews of 511 epidemiologists and infectious disease specialists from the U.S. and Canada, and visualizes their opinions on when they might expect to resume a range of typical activities.
Life in the Near Future, According to Experts
Specifically, this group of epidemiologists were asked when they might personally begin engaging in 20 common daily activities again.
The responses, based on the latest publicly available and scientifically-backed data, varied based on assumptions around local pandemic response plans. The experts also noted that their answers would change depending on potential treatments and testing rates in their local areas.
Here are the activities that a majority of professionals see starting up as soon as this summer, or within a year's time:
| | This summer | 3-12 months | +1 year | Never again |
| --- | --- | --- | --- | --- |
| 📬 Bring in mail without precautions | 64% | 16% | 17% | 3% |
| 👩‍⚕️ See a doctor for a non-urgent appointment | 60% | 29% | 11% | <1% |
| 🚗 Vacation overnight within driving distance | 56% | 26% | 18% | <1% |
| 💇‍♂️ Get a haircut at a salon or barber shop | 41% | 39% | 19% | 1% |
| 🥳 Attend a small dinner party | 32% | 46% | 21% | <1% |
| 🥾 Hike or picnic outdoors with friends | 31% | 41% | 27% | <1% |
| 🎒 Send kids to school, camp, or day care | 30% | 55% | 15% | <1% |
| 🏢 Work in a shared office | 27% | 54% | 18% | 1% |
| 👶 Send children on play dates | 23% | 47% | 29% | 1% |
| 🚌 Ride a subway or a bus | 20% | 40% | 39% | 1% |
| 👴 Visit elderly relative or friend in their home | 20% | 41% | 39% | <1% |
| ✈️ Travel by airplane | 20% | 44% | 37% | <1% |
| 🍽️ Eat at a dine-in restaurant | 16% | 56% | 28% | <1% |
| 🏋️ Exercise at a gym or fitness studio | 14% | 42% | 40% | 4% |
The urge to be outdoors is pretty clear, with 56% of those surveyed hoping to take a road trip before the summer is over. Meanwhile, 31% felt that they would be able to go hiking or have a picnic with friends this summer, citing the need for "fresh air, sun, socialization and a healthy activity" to help keep on top of their physical and mental health during this time.
Public transport and travel of any form is one aspect that has been put on hold, whether it's by plane, train, or automobile. Many of the surveyed epidemiologists also lamented the strain the pandemic has had on relationships, as evidenced by the social situations they hope to restart sooner rather than later.
The worst casualty of the epidemic is the loss of human contact.
—Eduardo Franco, McGill University
On the other hand, there are certain activities that they considered too risky to engage in for the time-being. A large share are putting off attending celebrations such as weddings or concerts for at least a year or more, out of perceived social responsibility.
| | This summer | 3-12 months | +1 year | Never again |
| --- | --- | --- | --- | --- |
| 👰⚰️ Attend a wedding or a funeral | 17% | 41% | 42% | <1% |
| 🤗🤝 Hug or shake hands when greeting a friend | 14% | 39% | 42% | 6% |
| 💞 Go out with someone you don't know well | 14% | 42% | 42% | 2% |
| 🛐 Attend a church or other religious service | 13% | 43% | 43% | 2% |
| 😷 Stop routinely wearing a face covering | 7% | 40% | 52% | 1% |
| 🎫 Attend a sporting event, concert, or play | 3% | 32% | 64% | 1% |
Perhaps the most surprising finding is that 6% of epidemiologists do not expect to ever hug or shake hands as a post-pandemic greeting. On top of this, over half consider masks necessary for at least the next year.
The Virus Sets the Timeline
Of course, these estimates are not meant to represent every situation. The experts also practically considered whether certain activities were avoidable or not—such as one's occupation—which affects individual risk levels.
The answers [about resuming these activities] have nothing to do with calendar time.
—Kristi McClamroch, University at Albany
While many places are trickling out of lockdown and re-opening to support the economy, some officials are still warning against prematurely lifting restrictions before we fully have a handle on the virus and its spread.

Slices of the Pie: Mapping Territorial Claims in Antarctica
Antarctica is the most inhospitable region on Earth, but that hasn't stopped countries from making territorial claims. This maps shows them all.
Slices of the Pie: Mapping Territorial Claims in Antarctica
For the 55% of the world's population who reside in cities, land is viewed as a precious commodity—every square foot has a value attached to it. As the global population continues to rise toward the eight billion mark, it can seem like humans have laid claim to every available corner of the earth.
While this is mostly true, there is one place on the planet that is vast, empty, and even partially unclaimed: Antarctica.
Today's map, originally created by the CIA World Factbook, visualizes the active claims on Antarctic territory, as well as the location of many permanent research facilities.
The History of Antarctic Territorial Claims
In the first half of the 20th Century, a number of countries began to claim wedge-shaped portions of territory on the southernmost continent. Even Nazi Germany was in on the action, claiming a large swath of land which they dubbed New Swabia.
After WWII, the Antarctic Treaty system—which established the legal framework for the management of the continent—began to take shape. In the 1950s, seven countries including Argentina, Australia, Chile, France, New Zealand, Norway, and the United Kingdom claimed territorial sovereignty over portions of Antarctica. A number of other nations, including the U.S. and Japan, were engaged in exploration but hadn't put forward claims in an official capacity.
| Territorial claims in Antarctica | Territory name | Area of claim |
| --- | --- | --- |
| 🇦🇺 Australia | Australian Antarctic Territory | 3,663,915 mi² (5,896,500 km²) |
| 🇳🇴 Norway | Queen Maud Land | 1,677,702 mi² (2,700,000 km²) |
| 🇬🇧 United Kingdom | British Antarctic Territory | 1,062,171 mi² (1,709,400 km²) |
| 🇦🇷 Argentina | Argentine Antarctica | 908,194 mi² (1,461,597 km²) |
| 🇨🇱 Chile | Chilean Antarctic Territory | 776,874 mi² (1,250,258 km²) |
| 🇳🇿 New Zealand | Ross Dependency | 279,617 mi² (450,000 km²) |
| 🇫🇷 France | Adélie Land | 268,432 mi² (432,000 km²) |
Despite the remoteness and inhospitable climate of Antarctica, the idea of claiming such large areas of landmass has proven appealing to countries. Even the smallest claim on the continent is equivalent to the size of Iraq.
A few of the above claims overlap, as is the case on the Antarctic Peninsula, which juts out geographically from the rest of the continent. This area is less remote with a milder climate, and is subject to claims by Argentina, Chile, and the United Kingdom (which governs the nearby Falkland Islands).
Interestingly, there is still a large portion of Antarctica that remains unclaimed today. Just east of the Ross Ice Shelf lies Marie Byrd Land, a vast, remote territory that is by far the largest unclaimed land area on Earth.
While Antarctica has no official government, it is administered through yearly meetings known as the Antarctic Treaty Consultative Meetings. These meetings involve a number of stakeholders, from member nations to observer organizations.
Frontage Theory: Another Way to Slice it
Of course, critics could argue that current claims are arbitrary, and that there is a more equitable way to partition land in Antarctica. That's where Frontage Theory comes in.
Originally proposed by Brazilian geopolitical scholar Therezinha de Castro, the theory argues that sectors of the Antarctic continent should be distributed according to meridians (the imaginary lines running north–south around the earth). Wherever straight lines running north hit landfall, that country would have sovereignty over the corresponding "wedge" of Antarctic territory.
The map below shows roughly how territorial claims would look under that scenario.
While Brazil has obvious reasons for favoring this solution, it's also a thought experiment that produces an interesting mix of territorial claims. Not only do nearby countries in Africa and South America get a piece of the pie, but places like Canada and Greenland would end up with territory adjacent to both of the planet's poles.
Leaving the Pie Unsliced
Thanks to the Antarctic Treaty, there is no mining taking place in Antarctica, and thus far no country has set up a permanent settlement on the continent. Aside from scattered research stations and a few thousand researchers, claims in the region have a limited impact.
For the near future at least, the slicing of the Antarctic pie is only hypothetical.

The World's Most Searched Consumer Brands
From Apple to Zara, this unique map showcases which popular consumer brands were searched for the most around the world.
The World's Most Searched Consumer Brands
View the high resolution of this infographic by clicking here.
Strong brands create an emotional link with consumers, and tech brands are no exception.
In fact, Google, Amazon, Netflix, and even eBay rank as some of the most searched consumer brands worldwide. It's hard to imagine life without these household names, but how do brand preferences shift and change across internet searches worldwide?
This graphic from Business Financing compiles 12 months of data from the Google Keyword Planner and other sources, to uncover the world's most searched consumer brands.
Note: Due to data constraints, a number of countries on the map do not have sufficient information available.
In Tech We Trust
By far, the world's most searched consumer brand is Google, which seems very convenient.
It ranks at the top in 100 countries—that's nearly half of all countries on the planet. With over 90 billion visits monthly, Google has unparalleled dominance in brand loyalty and website traffic.
Top 3 Most Searched Consumer Brands
Google: 100 countries
Netflix: 45 countries
Amazon: 30 countries
Netflix, falling in second, ranks highest in 45 countries including Turkey, Brazil, and South Korea. In third, Amazon is the most popular in 30 countries. The only non-tech company in the top five is IKEA, in fifth place, after eBay.
Gaming the System
When it comes to sub-sectors of consumer brands, the gaming space tells an interesting story.
Namely, it is Epic Games—creator of Fortnite and Grand Theft Auto—that dominates global charts by a considerable margin. Founded in Potomac, Maryland, the company ranks at the top for 141 countries globally.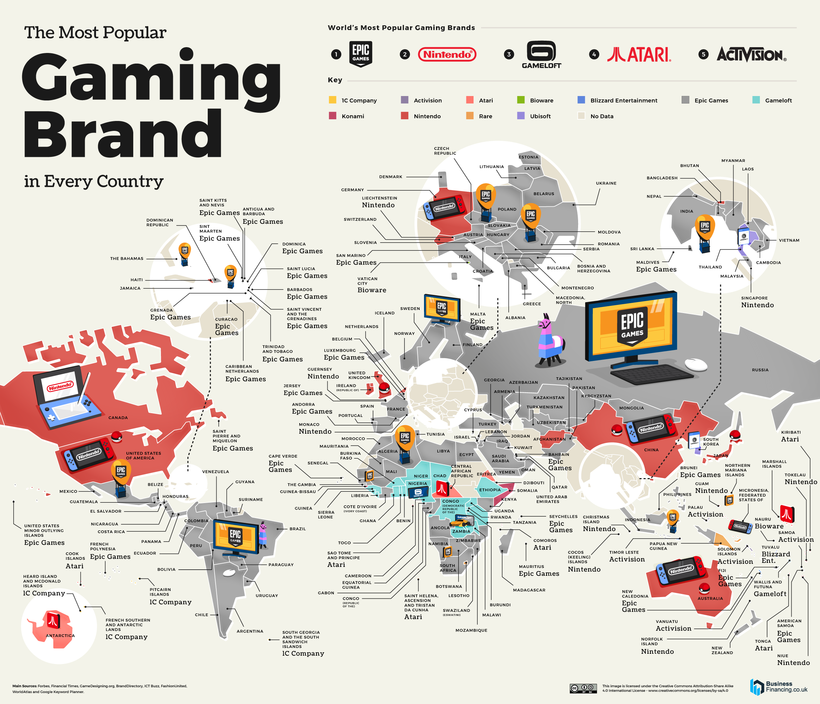 View the high resolution of this infographic by clicking here.
Additionally, Nintendo tops the list of 24 countries including Japan, Haiti, and Canada, while Paris-based Gameloft comes next in line.
Fast Fashion: Shoe Dog At the Top
Since its founding in 1964, Nike has become a remarkable brand builder. In fact, Nike is the most searched fashion brand among 49 countries.
Interestingly, founder Phil Knight only began to fully understand branding power after the company reached $1 billion in revenues. After a series of failures and missteps in the mid-1980s, Nike switched its focus from marketing and manufacturing, to instead, zeroing in on the consumer.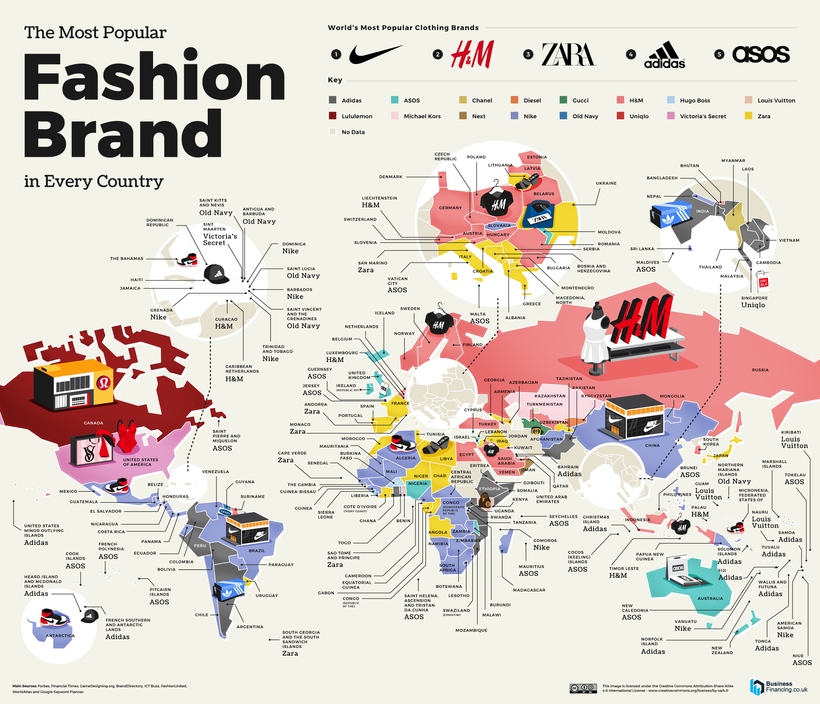 View the high resolution of this infographic by clicking here.
Like Nike, Swedish retailer H&M has a long history dating back to 1947. Prior to the pandemic, the fast-fashion retailer operated 5,000 stores globally. Since pandemic tailwinds, however, H&M plans to close 250 physical stores in 2021 and focus more on online sales.
Big Macs are Here to Stay
When you look closer at the most searched fast food chains, McDonald's ranks highest on a global level, but not by far.
KFC comes in second, topping the list of 65 countries including Russia, Peru, and Thailand. Meanwhile, Pizza Hut, which is owned by the same parent company as KFC, attracted the highest number of searches in America.

View the high resolution of this infographic by clicking here
On the other hand, Antarctica curiously ranks Baskin Robbins at the top, but this could be influenced from a low volume of searches in the region.
Consumer Brand Outliers
If there's one recurring trend across the top consumer brands, it's that they are unsurprisingly dominated by big players concentrated in America.
However, notable outliers are present. In China, search engine Baidu ranks as the top consumer brand on the internet. On the other hand, the Vatican's most-searched gaming company is Canada-based BioWare, which developed the Mass Effect series (no pun intended).
Meanwhile, in Saint Helena—the island where Napoleon was exiled and later died—has Burger King as its most searched fast food brand. As it happens, the remote island appears to have no Burger King, or any other fast food chains. Kenya's top fashion brand is Louis Vuitton, while Turkmenistan's is Gucci.
Despite these differences, many consumer preferences, at least according to search volume, appear strikingly similar on global levels. As many of these multinational brands continue to gain even greater market share, the implications for the global consumer will be interesting to watch in the next year, or even decade.