When Will Life Return to Normal?
When Will Life Return to Normal?
From battles on the front lines to social distancing from friends and family, COVID-19 has caused a massive shake-up of our daily lives.
After second-guessing everything from hugging our loved ones to delaying travel, there is one big question that everyone is likely thinking about: will we ever get back to the status quo? The answer may not be very clear-cut.
Today's graphic uses data from New York Times' interviews of 511 epidemiologists and infectious disease specialists from the U.S. and Canada, and visualizes their opinions on when they might expect to resume a range of typical activities.
Life in the Near Future, According to Experts
Specifically, this group of epidemiologists were asked when they might personally begin engaging in 20 common daily activities again.
The responses, based on the latest publicly available and scientifically-backed data, varied based on assumptions around local pandemic response plans. The experts also noted that their answers would change depending on potential treatments and testing rates in their local areas.
Here are the activities that a majority of professionals see starting up as soon as this summer, or within a year's time:
| | This summer | 3-12 months | +1 year | Never again |
| --- | --- | --- | --- | --- |
| 📬 Bring in mail without precautions | 64% | 16% | 17% | 3% |
| 👩‍⚕️ See a doctor for a non-urgent appointment | 60% | 29% | 11% | <1% |
| 🚗 Vacation overnight within driving distance | 56% | 26% | 18% | <1% |
| 💇‍♂️ Get a haircut at a salon or barber shop | 41% | 39% | 19% | 1% |
| 🥳 Attend a small dinner party | 32% | 46% | 21% | <1% |
| 🥾 Hike or picnic outdoors with friends | 31% | 41% | 27% | <1% |
| 🎒 Send kids to school, camp, or day care | 30% | 55% | 15% | <1% |
| 🏢 Work in a shared office | 27% | 54% | 18% | 1% |
| 👶 Send children on play dates | 23% | 47% | 29% | 1% |
| 🚌 Ride a subway or a bus | 20% | 40% | 39% | 1% |
| 👴 Visit elderly relative or friend in their home | 20% | 41% | 39% | <1% |
| ✈️ Travel by airplane | 20% | 44% | 37% | <1% |
| 🍽️ Eat at a dine-in restaurant | 16% | 56% | 28% | <1% |
| 🏋️ Exercise at a gym or fitness studio | 14% | 42% | 40% | 4% |
The urge to be outdoors is pretty clear, with 56% of those surveyed hoping to take a road trip before the summer is over. Meanwhile, 31% felt that they would be able to go hiking or have a picnic with friends this summer, citing the need for "fresh air, sun, socialization and a healthy activity" to help keep on top of their physical and mental health during this time.
Public transport and travel of any form is one aspect that has been put on hold, whether it's by plane, train, or automobile. Many of the surveyed epidemiologists also lamented the strain the pandemic has had on relationships, as evidenced by the social situations they hope to restart sooner rather than later.
The worst casualty of the epidemic is the loss of human contact.
—Eduardo Franco, McGill University
On the other hand, there are certain activities that they considered too risky to engage in for the time-being. A large share are putting off attending celebrations such as weddings or concerts for at least a year or more, out of perceived social responsibility.
| | This summer | 3-12 months | +1 year | Never again |
| --- | --- | --- | --- | --- |
| 👰⚰️ Attend a wedding or a funeral | 17% | 41% | 42% | <1% |
| 🤗🤝 Hug or shake hands when greeting a friend | 14% | 39% | 42% | 6% |
| 💞 Go out with someone you don't know well | 14% | 42% | 42% | 2% |
| 🛐 Attend a church or other religious service | 13% | 43% | 43% | 2% |
| 😷 Stop routinely wearing a face covering | 7% | 40% | 52% | 1% |
| 🎫 Attend a sporting event, concert, or play | 3% | 32% | 64% | 1% |
Perhaps the most surprising finding is that 6% of epidemiologists do not expect to ever hug or shake hands as a post-pandemic greeting. On top of this, over half consider masks necessary for at least the next year.
The Virus Sets the Timeline
Of course, these estimates are not meant to represent every situation. The experts also practically considered whether certain activities were avoidable or not—such as one's occupation—which affects individual risk levels.
The answers [about resuming these activities] have nothing to do with calendar time.
—Kristi McClamroch, University at Albany
While many places are trickling out of lockdown and re-opening to support the economy, some officials are still warning against prematurely lifting restrictions before we fully have a handle on the virus and its spread.
Visualizing How COVID-19 Antiviral Pills and Vaccines Work at the Cellular Level
Despite tackling the same disease, vaccines and antiviral pills work differently to combat COVID-19. We visualize how they work in the body.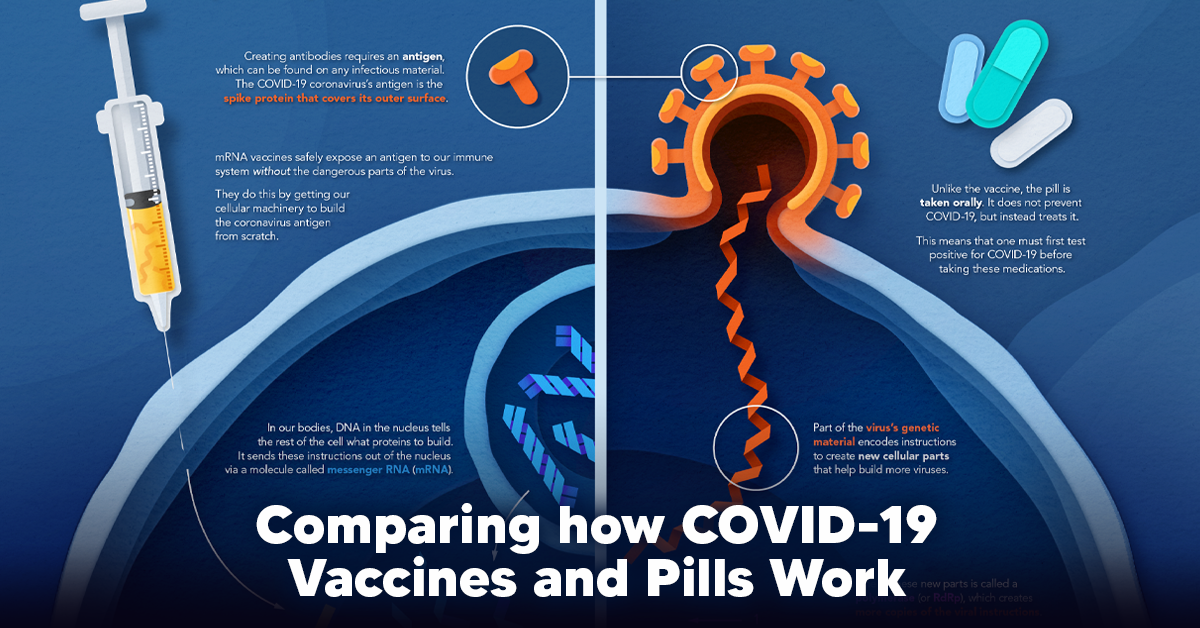 Current Strategies to Tackle COVID-19
Since the pandemic started in 2020, a number of therapies have been developed to combat COVID-19.
The leading options for preventing infection include social distancing, mask-wearing, and vaccination. They are still recommended during the upsurge of the coronavirus's latest mutation, the Omicron variant.
But in December 2021, The United States Food and Drug Administration (USDA) granted Emergency Use Authorization to two experimental pills for the treatment of new COVID-19 cases.
These medications, one made by Pfizer and the other by Merck & Co., hope to contribute to the fight against the coronavirus and its variants. Alongside vaccinations, they may help to curb extreme cases of COVID-19 by reducing the need for hospitalization.
Despite tackling the same disease, vaccines and pills work differently:

| Vaccines | Pills |
| --- | --- |
| Taken by injection | Taken by mouth |
| Used for prevention | Used for treatment only |
| Create an enhanced immune system by stimulating antibody production | Disrupt the assembly of new viral particles |
How a Vaccine Helps Prevent COVID-19
The main purpose of a vaccine is to prewarn the body of a potential COVID-19 infection by creating antibodies that target and destroy the coronavirus.
In order to do this, the immune system needs an antigen.
It's difficult to do this risk-free since all antigens exist directly on a virus. Luckily, vaccines safely expose antigens to our immune systems without the dangerous parts of the virus.
In the case of COVID-19, the coronavirus's antigen is the spike protein that covers its outer surface. Vaccines inject antigen-building instructions* and use our own cellular machinery to build the coronavirus antigen from scratch.
When exposed to the spike protein, the immune system begins to assemble antigen-specific antibodies. These antibodies wait for the opportunity to attack the real spike protein when a coronavirus enters the body. Since antibodies decrease over time, booster immunizations help to maintain a strong line of defense.
*While different vaccine technologies exist, they all do a similar thing: introduce an antigen and build a stronger immune system.
How COVID Antiviral Pills Work
Antiviral pills, unlike vaccines, are not a preventative strategy. Instead, they treat an infected individual experiencing symptoms from the virus.
Two drugs are now entering the market. Merck & Co.'s Lagevrio®, composed of one molecule, and Pfizer's Paxlovid®, composed of two.
These medications disrupt specific processes in the viral assembly line to choke the virus's ability to replicate.
The Mechanism of Molnupiravir
RNA-dependent RNA Polymerase (RdRp) is a cellular component that works similar to a photocopying machine for the virus's genetic instructions. An infected host cell is forced to produce RdRp, which starts generating more copies of the virus's RNA.
Molnupiravir, developed by Merck & Co., is a polymerase inhibitor. It inserts itself into the viral instructions that RdRp is copying, jumbling the contents. The RdRp then produces junk.
The Mechanism of Nirmatrelvir + Ritonavir
A replicating virus makes proteins necessary for its survival in a large, clumped mass called a polyprotein. A cellular component called a protease cuts a virus's polyprotein into smaller, workable pieces.
Pfizer's antiviral medication is a protease inhibitor made of two pills:
The first pill, nirmatrelvir, stops protease from cutting viral products into smaller pieces.
The second pill, ritonavir, protects nirmatrelvir from destruction by the body and allows it to keep working.
With a faulty polymerase or a large, unusable polyprotein, antiviral medications make it difficult for the coronavirus to replicate. If treated early enough, they can lessen the virus's impact on the body.
The Future of COVID Antiviral Pills and Medications
Antiviral medications seem to have a bright future ahead of them.
COVID-19 antivirals are based on early research done on coronaviruses from the 2002-04 SARS-CoV and the 2012 MERS-CoV outbreaks. Current breakthroughs in this technology may pave the way for better pharmaceuticals in the future.
One half of Pfizer's medication, ritonavir, currently treats many other viruses including HIV/AIDS.
Gilead Science is currently developing oral derivatives of remdesivir, another polymerase inhibitor currently only offered to inpatients in the United States.
More coronavirus antivirals are currently in the pipeline, offering a glimpse of control on the looming presence of COVID-19.
Author's Note: The medical information in this article is an information resource only, and is not to be used or relied on for any diagnostic or treatment purposes. Please talk to your doctor before undergoing any treatment for COVID-19. If you become sick and believe you may have symptoms of COVID-19, please follow the CDC guidelines.