Tech's Bizarre Beginnings & Lucrative Pivots
Tech's Bizarre Beginnings & Lucrative Pivots
When you're building something great, things are bound to get messy.
As many as 80-90% of startups fold and those left standing also fail, repeatedly. Rarely does a business take a straight run at success, and that includes the likes of Apple, Facebook, and their fellow tech giants.
Product lines can come to a screeching halt. Ideas can be stolen. And, yes, even geniuses like Steve Jobs get forced out. But by embracing uncertainty and making timely pivots, the tech companies in the infographic above have become some of the most influential—and valuable—organizations on the planet.
Let's take a closer look at some of tech's intriguing beginnings and lucrative pivots.
Samsung's Evolution from Fish to Phones
Samsung spent much of the 1950s and 1960s testing market waters. The South Korean company tried everything from insurance to textiles, and most oddly, trading dehydrated fish.
Following its experimental phase, Samsung released its first consumer electronic product in 1970—a black-and-white television.
After making a name for itself with TVs, Samsung entered the telecommunications hardware sector in 1980 by way of acquisition. Its product diversification strategy was a successful one. Samsung went on to gain international prominence throughout the 1990s and restructured in 1993 to focus on electronics, chemicals, and engineering.
Today, Samsung is worth more than $275 billion.
It has the second-largest market share of smartphone sales in North America, behind Apple.
Facebook Ratings to Friend Requests
Thanks to movies like "The Social Network", Facebook's origin story has been hotly discussed.
"Facemash" was developed in Mark Zuckerberg's Harvard dorm room, as a platform that compared and rated pictures of coeds. When it pivoted from rating coeds to connecting coeds, "TheFacebook" quickly took off across Harvard and spread across the university ecosystem.
In 2012, Facebook became the first social network to reach 1 billion users.
It now boasts more than 2.7 billion users across the planet.
In total, the company has more than 3.14 billion account holders across its platforms, which include acquired companies like WhatsApp, Instagram, and Messenger.
"If you always do what you've always done, you'll always get what you've always got."
— Henry Ford
About Them Apples: Mac Starts with Schools
From the jump, Apple was strategic.
To open up the market for personal computers, Steve Jobs (Apple's now legendary co-founder), personally lobbied multiple levels of government to increase tax incentives for companies that donate to schools—a remarkable undertaking for a scrappy startup.
After his federal lobbying fell through, Jobs was successful in the state of California. By initially focusing on education—and giving their computers away for free to the California school system—Apple amassed a potential user base and claimed mindshare.
"… for about $1 million, Apple put an apple in every elementary, middle, and high school in California."
— Hacker Education
Today, an Apple computer is the go-to tool of the creative class. In 2018 alone, the company sold 18.21 million Mac computers. By early 2020, there were 1.5 billion active iPhone devices, and by the end of August 2020, Apple was worth more than $2 trillion.
Apple proves that even with a solid strategy and excellent products, the corporate machine can still veer out of control. Jobs was famously forced out of the company in 1985.
In his absence, ventures backfired. After his return in 1997—and the subsequent introduction of the iPod—Apple went on to become one of the most lucrative tech companies in the world.
Sony Sticks to Electronics
Sony's brand name has long been synonymous with quality—but its first electronic product didn't make it to market.
After WWII, Sony wanted to make a rice cooker to serve post-war Japan, so the company developed a simple wooden rice cooker with electrodes attached. Due to inconsistent electrical power throughout the country, the project was shelved.
Sony, however, stuck to electronics. After establishing its brand name with TVs, Sony branched out into gaming and is now the largest video game console manufacturer and game publisher.
As of 2020, its global revenue neared $77 billion.
The company brings in 26.7% of sales from game and network services.
Meanwhile, nearly $4.5 billion in revenue stems from its mobile communications segment.
YouTube's Dating Game
Gen Z has become the first generation to watch more YouTube than TV. But when YouTube was founded in 2005, it was a bit more akin to Tinder.
Back when video dating was still a thing, YouTube aimed to take the experience online. The company even went so far as to offer women money to upload videos. However, the idea didn't click. YouTube's co-founders decided to release a platform that would allow for any video type—and from there, sparks flew.
YouTube was acquired by Google in 2006 for $1.7 billion.
By 2019, it had more than 1.68 billion users worldwide.
"If you're competition-focused, you have to wait until there is a competitor doing something. Being customer-focused allows you to be more pioneering."
— Jeff Bezos
Twitter Ditches Talk for Type
For the platform known for a deluge of words and character-count limits, it may be a surprise that Twitter was meant to be a podcasting platform called "Odeo".
When Apple announced its entry into the podcasting world, the team realized they couldn't compete. Instead, Odeo turned to its engineering manager Jack Dorsey to pivot the company into his side project, now known as Twitter. Although original Odeo investors weren't happy with the move, the strategy proved successful.
In 2019, Twitter raked in $3.46 billion in revenue.
It averages 150 million daily users.
Twitter collected advertising revenue of nearly $3 billion in 2019.
It was valued at nearly $35 billion in 2020.
Rubber Boots to Phones: Nokia's Puzzling Pivot
Back in the 1970s and 1980s, Nokia made a very different kind of product—rubber boots. The Kontio product line was successful, but in the early 1990s, the company pivoted to focus on mobile connectivity and hardware.
Released in 2003 and 2005, the Nokia 1100 and 1110 still hold the record for the world's most popular phones, with more than 250 million units sold of each.
Although Android and iPhone have sped past Nokia as smartphone manufacturers, Nokia is still worth about $24 billion. While its phones were incredibly popular, the pivot took a financial toll, and the company's mobile and services division was acquired by Microsoft in 2013.
Shopify Rides into Sales
Frustrated with the online sales experience, the founders of Snowdevil—a Canadian secondhand snowboard shop—decided to create their own online experience. Instead of their gear taking off, it was their platform that caught wind with consumers, and the team knew they were on to something.
In the span of two years, 2004-2006, Snowdevil became Shopify. Less than a decade later, it went public in 2015.
Today, Shopify claims 20% of global market share among ecommerce platforms.
It has more than 800,000 online sellers using the platform.
Nintendo Games Span Centuries
When it comes to gaming, Nintendo has more than 150 years of experience to draw from.
Beginning with hand-painted cards in the 1800s, Nintendo sold cards for multiple games, including gambling. Their nature-inspired and cartoon-like style was carried into the 20th century when Nintendo partnered with Disney to create playing cards.
Like other tech companies, Nintendo has ventured into some unusual markets over the years, including ramen noodles.
However, its primary focus has remained on games. In 1985, Nintendo released what would become the world's most popular video game, Super Mario Bros—which has sold more than 40 million copies worldwide.
The Winding Road to Success
Silicon Valley's "fail fast" philosophy—pressure testing and pivoting—can be a lucrative, albeit grueling, one.
It's an adaptive strategy that isn't relegated to tech companies alone. Pivots large and small are often a key part of any company's evolution, from products and services to marketing strategies.
Beyond bizarre beginnings and pivots, if there's one thing successful companies have in common, it's the audacity to evolve.

The 50 Most Visited Websites in the World
Just three websites get 152 billion visits monthly, outpacing the rest of the internet. Here, we rank the most visited websites worldwide.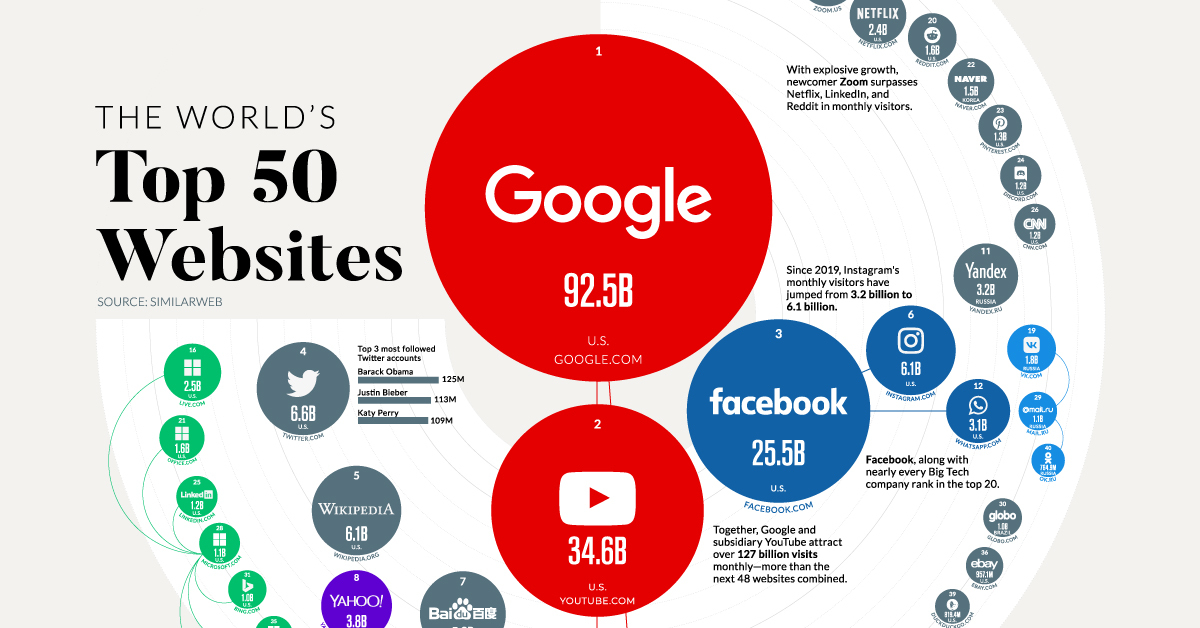 The 50 Most Visited Websites In the World
View the high-resolution of the infographic by clicking here.
If you spend any time online, it's likely you're familiar with some of the world's most visited websites. On today's internet, a handful of giants have unmatched dominance.
Top Three Websites (Monthly visits):
Google: 92.5 billion
YouTube: 34.6 billion
Facebook: 25.5 billion
Together, the top three websites rake in 152 billion visits monthly, outpacing the next 47 websites combined. What's more, as the pandemic transformed everything from the way we work, learn, communicate, and shop—a majority of these activities migrated online.
In this new visualization, we look at the most visited websites around the world, drawing data from SimilarWeb (as of November 2020).
The Top Global Websites
Servicing over two trillion search queries annually through its network, Alphabet-owned Google ranks highest with its flagship domain, Google.com. Google derives approximately 80% of its earnings from ad revenues.
| Rank | Website | Monthly Visitors | Country of Origin | Category |
| --- | --- | --- | --- | --- |
| 1 | Google.com | 92.5B | U.S. | Search Engines |
| 2 | Youtube.com | 34.6B | U.S. | TV Movies and Streaming |
| 3 | Facebook.com | 25.5B | U.S. | Social Networks and Online Communities |
| 4 | Twitter.com | 6.6B | U.S. | Social Networks and Online Communities |
| 5 | Wikipedia.org | 6.1B | U.S. | Dictionaries and Encyclopedias |
| 6 | Instagram.com | 6.1B | U.S. | Social Networks and Online Communities |
| 7 | Baidu.com | 5.6B | China | Search Engines |
| 8 | Yahoo.com | 3.8B | U.S. | News and Media |
| 9 | xvideos.com | 3.4B | Czech Republic | Adult |
| 10 | pornhub.com | 3.3B | Canada | Adult |
| 11 | Yandex.ru | 3.2B | Russia | Search Engines |
| 12 | Whatsapp.com | 3.1B | U.S. | Social Networks and Online Communities |
| 13 | Amazon.com | 2.9B | U.S. | Marketplace |
| 14 | xnxx.com | 2.9B | Czech Republic | Adult |
| 15 | Zoom.us | 2.7B | U.S. | Computers Electronics and Technology |
| 16 | Live.com | 2.5B | U.S. | Email |
| 17 | Netflix.com | 2.4B | U.S. | TV Movies and Streaming |
| 18 | Yahoo.co.jp | 2.4B | Japan | News and Media |
| 19 | Vk.com | 1.8B | Russia | Social Networks and Online Communities |
| 20 | Reddit.com | 1.6B | U.S. | Social Networks and Online Communities |
| 21 | Office.com | 1.6B | U.S. | Programming and Developer Software |
| 22 | Naver.com | 1.5B | South Korea | News and Media |
| 23 | Pinterest.com | 1.3B | U.S. | Social Networks and Online Communities |
| 24 | Discord.com | 1.2B | U.S. | Social Networks and Online Communities |
| 25 | Linkedin.com | 1.2B | U.S. | Social Networks and Online Communities |
| 26 | Cnn.com | 1.2B | U.S. | News and Media |
| 27 | xhamster.com | 1.2B | Cyprus | Adult |
| 28 | Microsoft.com | 1.1B | U.S. | Programming and Developer Software |
| 29 | Mail.ru | 1.1B | Russia | Email |
| 30 | Globo.com | 1.0B | Brazil | News and Media |
| 31 | Bing.com | 1.0B | U.S. | Search Engines |
| 32 | Twitch.tv | 1.0B | U.S. | Video Games Consoles and Accessories |
| 33 | Google.com.br | 1.0B | Brazil | Search Engines |
| 34 | QQ.com | 981.3M | China | News and Media |
| 35 | Microsoftonline.com | 968.9M | Unknown | Programming and Developer Software |
| 36 | ebay.com | 957.1M | U.S. | Marketplace |
| 37 | Msn.com | 885.4M | U.S. | News and Media |
| 38 | News.yahoo.co.jp | 839.8M | Japan | News and Media |
| 39 | Duckduckgo.com | 819.4M | U.S. | Search Engines |
| 40 | Ok.ru | 764.9M | Russia | Social Networks and Online Communities |
| 41 | Walmart.com | 718.6M | U.S. | Marketplace |
| 42 | Bilibili.com | 686.0M | China | Animation and Comics |
| 43 | Tiktok.com | 663.2M | China | Social Networks and Online Communities |
| 44 | Paypal.com | 657.2M | U.S. | Financial Planning and Management |
| 45 | Google.de | 624.5M | Germany | Search Engines |
| 46 | Amazon.co.jp | 619.2M | Japan | Marketplace |
| 47 | Aliexpress.com | 611.0M | China | Marketplace |
| 48 | Amazon.de | 608.8M | Germany | Marketplace |
| 49 | Rakuten.co.jp | 593.4M | Japan | Marketplace |
| 50 | Amazon.co.uk | 579.7M | United Kingdom | Marketplace |
Coming in second, social networking platform Facebook has a user base of 2.7 billion. On average, users spend 34 minutes on the site daily, while 36% of users say it's also where they get their news—higher than any other social network.
As the leading search engine in China, Baidu (#7) received 5.6 billion visitors in November. Baidu is also branching out its business— venturing into electric vehicles (EVs) in a partnership with China-based automaker Geely.
As video conferencing vaulted in demand during the pandemic, Zoom (#15), launched into the most visited websites with 2.7 billion visitors monthly. Similarly, TikTok (#43) became a freshly minted addition.
The Most Visited Websites, By Country of Origin
With 27 sites on the list, the U.S. remains a dominant player. While its reach is highly concentrated on a global level, just a handful of companies own a majority of these sites.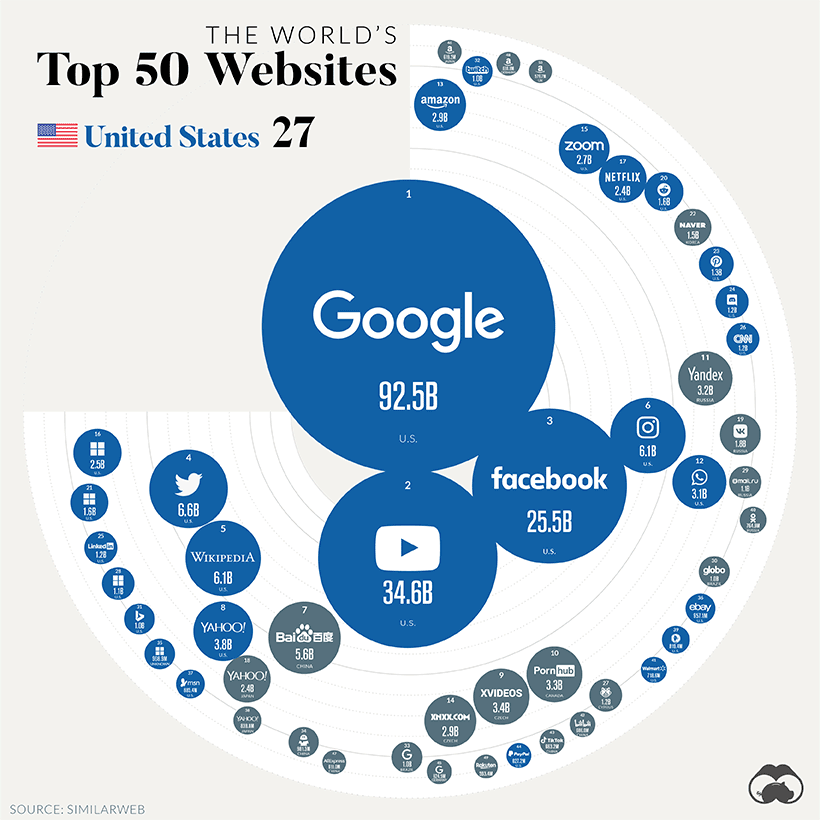 See the static version of each regional graphic here.
Microsoft (#28), for instance, owns seven of the top sites in the world including LinkedIn (#25) and Live.com (#16). Amazon (#13), on the other hand owns five including Twitch.tv (#32), along with popular Amazon-focused domains in Japan, U.K., and Germany.
China holds five top websites: Baidu (#7), QQ (#34), Bilibili (#42), TikTok (#43), and AliExpress (#47). The Tencent-owned QQ.com, ranks as the top news site in China, with over 981 million monthly visits. Like WeChat, QQ also provides a popular messaging platform.
Just four of the most visited websites globally are based in both Russia and Japan, while the rest of the world account for 10 top sites altogether.
ℹ️ Where's WeChat? China's most prolific platform is primarily app-based, so the company's website doesn't make this global top 50 list.
Reaching New Heights
While global internet patterns are clearly dominated by a few titans, what can we make of their recent traffic growth?
Between June 2019 and November 2020, Google's monthly visitors increased 52.9%. Among the most visited websites globally, this rate of growth falls only behind Instagram (#6) at 89.1% and Twitter (#4) at 67.1%.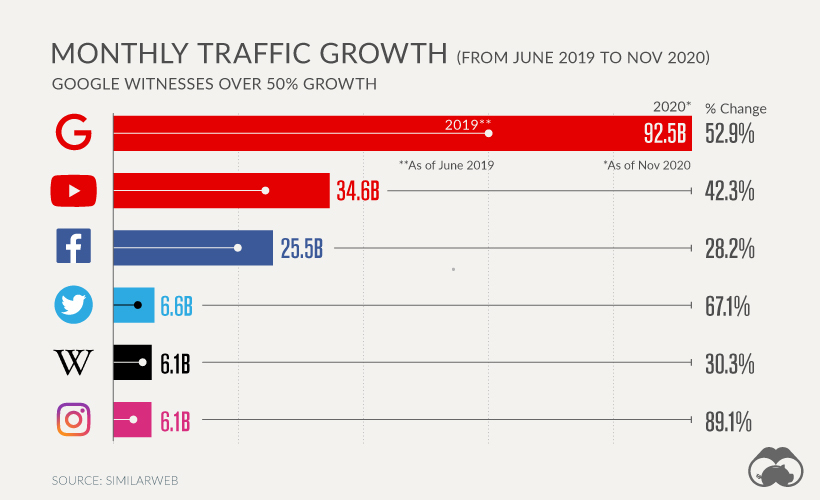 Wikipedia (#5), a non-profit website that originated in 2001 by Larry Sanger and Jimmy Wales realized over 30% growth.
While large tech companies have only accelerated their market share—Google makes up roughly 90% of the search ad market—several regulatory bodies are placing greater scrutiny on them. An October 2020 antitrust report suggested that Big Tech is in fact anti-competitive, drawing comparisons with oil tycoons of the 19th and 20th centuries.
With these key forces in mind, it raises a critical question: is there a limit to their growth?

The World's Top Car Manufacturers by Market Capitalization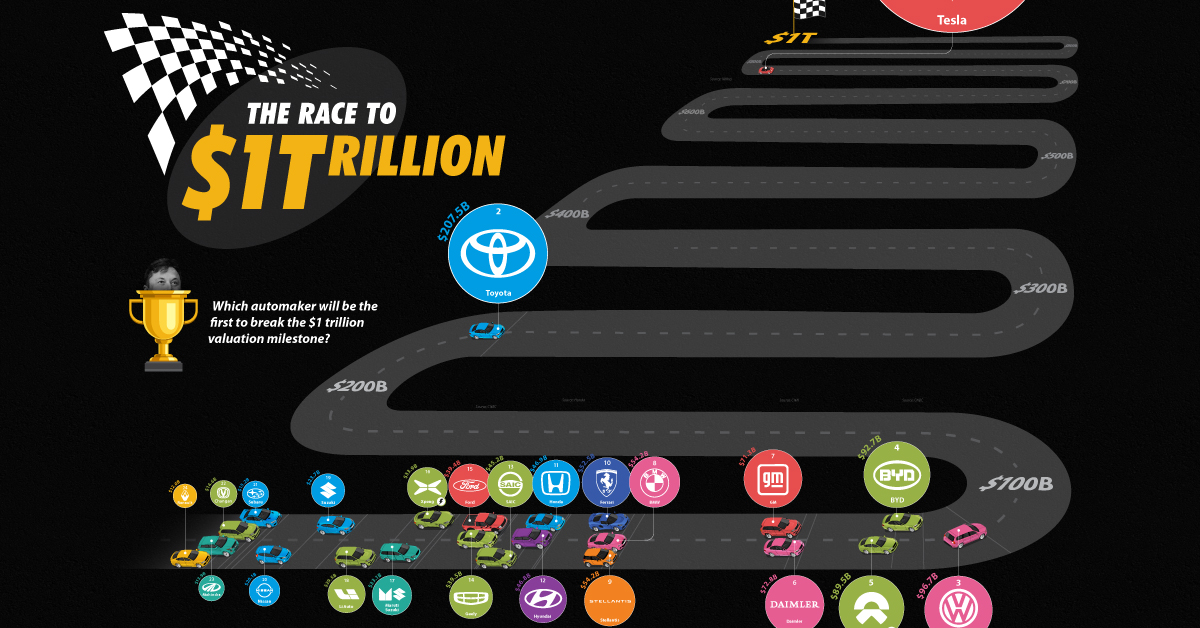 The World's Top Car Manufacturers by Market Cap
View the high-resolution of the infographic by clicking here.
Ever since Apple and other Big Tech companies hit a market capitalization of $1 trillion, many sectors are revving to follow suit—including the automotive industry.
But among those car brands racing to reach this total valuation, some are closer to the finish line than others. This visualization uses data from Yahoo Finance to rank the world's top car manufacturers by market capitalization.
What could this spell for the future of the automotive industry?
A special hat-tip to Brandon Knoblauch for compiling the original, regularly-updated spreadsheet.
The World's Top Car Manufacturers
It's clear one company is pulling far ahead of the pack. In the competition to clinch this coveted title, Tesla is the undoubted favorite so far.
The electric vehicle (EV) and clean energy company first became the world's most valuable car manufacturer in June 2020, and shows no signs of slowing its trajectory.
| Rank | Company | Market Cap (US$B) | Country |
| --- | --- | --- | --- |
| #1 | Tesla | $795.8 | 🇺🇸 U.S. |
| #2 | Toyota | $207.5 | 🇯🇵 Japan |
| #3 | Volkswagen | $96.7 | 🇩🇪 Germany |
| #4 | BYD | $92.7 | 🇨🇳 China |
| #5 | NIO | $89.5 | 🇨🇳 China |
| #6 | Daimler | $72.8 | 🇩🇪 Germany |
| #7 | General Motors | $71.3 | 🇺🇸 U.S. |
| #8 | BMW | $54.2 | 🇩🇪 Germany |
| #9 | Stellantis | $54.2 | 🇳🇱 Netherlands |
| #10 | Ferrari | $52.5 | 🇮🇹 Italy |
| #11 | Honda | $46.9 | 🇯🇵 Japan |
| #12 | Hyundai | $46.8 | 🇰🇷 South Korea |
| #13 | SAIC | $45.2 | 🇨🇳 China |
| #14 | Geely | $39.5 | 🇨🇳 China |
| #15 | Ford | $39.4 | 🇺🇸 U.S. |
| #16 | Xpeng | $33.9 | 🇨🇳 China |
| #17 | Maruti Suzuki | $33.1 | 🇮🇳 India |
| #18 | Li Auto | $29.5 | 🇨🇳 China |
| #19 | Suzuki | $23.7 | 🇯🇵 Japan |
| #20 | Nissan | $20.1 | 🇯🇵 Japan |
| #21 | Subaru | $15.2 | 🇯🇵 Japan |
| #22 | Changan | $14.6 | 🇨🇳 China |
| #23 | Mahindra | $13.9 | 🇮🇳 India |
| #24 | Renault | $12.0 | 🇫🇷 France |
All data as of January 15, 2021 (9:30AM PST)
Tesla's competitive advantage comes as a result of its dedicated emphasis on research and development (R&D). In fact, many of its rivals have admitted that Tesla's electronics far surpass their own—a teardown revealed that its batteries and AI chips are roughly six years ahead of other industry giants such as Toyota and Volkswagen.
The Green Revolution is Underway
The sheer growth of Tesla may spell the inevitability of a green revolution in the industry. Already, many major brands have followed in the company's tracks, announcing their own ambitious plans to add more EVs to their vehicle line-ups.
Here's how a selection of car manufacturers are embracing the electric future:
Toyota: Ranked #2
The second-most valuable car manufacturer in the world, Toyota is steadily ramping up its EV output. In 2020, it produced 10,000 EVs and plans to increase this to 30,000 in 2021.
Through this gradual increase, the company hopes to hit an expected target of 500,000 EVs by 2025. Toyota also aims to debut 10 new models internationally to achieve this goal.
Volkswagen: Ranked #3
By 2025, Volkswagen plans to invest $86 billion into digital and EV technologies. Considering the car manufacturer generates the most gross revenue per second of all automakers, it's no wonder Volkswagen is looking to the future in order to keep such numbers up.
The company is also well-positioned to ride the wave of a potential consumer shift towards EVs in Europe. In response to the region's strict emissions targets, Volkswagen upped its planned sales proportions for European hybrid and EV sales from 40% to 60% by 2030.
BYD and Nio: Ranked #4-5
China jumped on the electric bandwagon early. Eager to make its mark as a global leader in the emerging technology of lithium ion batteries (an essential component of any EV), the Chinese government handed out billions of dollars in subsidies—fueling the growths of domestic car manufacturers BYD and Nio alike.
BYD gained the interest and attention of its billionaire backer Warren Buffett, while Nio is China's response to Tesla and an attempt to capture the EV market locally.
General Motors: Ranked #7
Also with a 2025 target year in mind, General Motors is investing $27 billion into electric and fully autonomous vehicles. That's just the tip of the iceberg, too—the company also hopes to launch 30 new fully electric vehicles by the same year.
One particular factor is giving GM confidence: its new EV battery creations. They will be able to extend the range of its new EVs to 400 miles (644km) on a single charge, at a rate that rivals Tesla's Model S.
Stellantis: Ranked #9
In a long-anticipated move, Fiat Chrysler and Peugeot S.A. finalized their merger into Stellantis N.V. on January 16, 2021.
With the combined forces and funds of a $52 billion deal, the new Dutch-based car manufacturer hopes to rival bigger brands and race even more quickly towards the electric shift.
Honda: Ranked #11
Speaking of fast-paced races, Honda has decided to bow out of future Formula One (F1) World Championships. As these competitions were usually a way for the company to show off its engineering prowess, the move was a surprising one.
However, there's a noble reason behind this decision. Honda is choosing instead to focus on its commitment to become carbon neutral by 2050. To do so, it'll be shifting its financial resources away from F1 and towards R&D into fuel cell vehicle (FCV) and battery EV (BEV) technologies.
Ford: Ranked #15
Ford knows exactly what its fans want. In that regard, its electrification plans begin with its most popular commercial cars, such as the Mustang Mach-E SUV. This is Ford's major strategy for attracting new EV buyers, part of a larger $11.5 billion investment agenda into EVs through 2022.
While the car's specs compare to Tesla's Model Y, its engineers also drew from the iPhone and Netflix to incorporate an infotainment system and driver profiles to create a truly tech-first specimen.
Speeding into the Horizon
As more and more companies enter the racetrack, EV innovation across the entire industry may power the move to lower overall costs, extend the total range of vehicles, and put any other concerns by potential buyers to rest.
While Tesla is currently in the best position to become the first car manufacturer to reach the $1 trillion milestone, how long will it be for the others to catch up?