Tech's Bizarre Beginnings & Lucrative Pivots
Tech's Bizarre Beginnings & Lucrative Pivots
When you're building something great, things are bound to get messy.
As many as 80-90% of startups fold and those left standing also fail, repeatedly. Rarely does a business take a straight run at success, and that includes the likes of Apple, Facebook, and their fellow tech giants.
Product lines can come to a screeching halt. Ideas can be stolen. And, yes, even geniuses like Steve Jobs get forced out. But by embracing uncertainty and making timely pivots, the tech companies in the infographic above have become some of the most influential—and valuable—organizations on the planet.
Let's take a closer look at some of tech's intriguing beginnings and lucrative pivots.
Samsung's Evolution from Fish to Phones
Samsung spent much of the 1950s and 1960s testing market waters. The South Korean company tried everything from insurance to textiles, and most oddly, trading dehydrated fish.
Following its experimental phase, Samsung released its first consumer electronic product in 1970—a black-and-white television.
After making a name for itself with TVs, Samsung entered the telecommunications hardware sector in 1980 by way of acquisition. Its product diversification strategy was a successful one. Samsung went on to gain international prominence throughout the 1990s and restructured in 1993 to focus on electronics, chemicals, and engineering.
Today, Samsung is worth more than $275 billion.
It has the second-largest market share of smartphone sales in North America, behind Apple.
Facebook Ratings to Friend Requests
Thanks to movies like "The Social Network", Facebook's origin story has been hotly discussed.
"Facemash" was developed in Mark Zuckerberg's Harvard dorm room, as a platform that compared and rated pictures of coeds. When it pivoted from rating coeds to connecting coeds, "TheFacebook" quickly took off across Harvard and spread across the university ecosystem.
In 2012, Facebook became the first social network to reach 1 billion users.
It now boasts more than 2.7 billion users across the planet.
In total, the company has more than 3.14 billion account holders across its platforms, which include acquired companies like WhatsApp, Instagram, and Messenger.
"If you always do what you've always done, you'll always get what you've always got."
— Henry Ford
About Them Apples: Mac Starts with Schools
From the jump, Apple was strategic.
To open up the market for personal computers, Steve Jobs (Apple's now legendary co-founder), personally lobbied multiple levels of government to increase tax incentives for companies that donate to schools—a remarkable undertaking for a scrappy startup.
After his federal lobbying fell through, Jobs was successful in the state of California. By initially focusing on education—and giving their computers away for free to the California school system—Apple amassed a potential user base and claimed mindshare.
"… for about $1 million, Apple put an apple in every elementary, middle, and high school in California."
— Hacker Education
Today, an Apple computer is the go-to tool of the creative class. In 2018 alone, the company sold 18.21 million Mac computers. By early 2020, there were 1.5 billion active iPhone devices, and by the end of August 2020, Apple was worth more than $2 trillion.
Apple proves that even with a solid strategy and excellent products, the corporate machine can still veer out of control. Jobs was famously forced out of the company in 1985.
In his absence, ventures backfired. After his return in 1997—and the subsequent introduction of the iPod—Apple went on to become one of the most lucrative tech companies in the world.
Sony Sticks to Electronics
Sony's brand name has long been synonymous with quality—but its first electronic product didn't make it to market.
After WWII, Sony wanted to make a rice cooker to serve post-war Japan, so the company developed a simple wooden rice cooker with electrodes attached. Due to inconsistent electrical power throughout the country, the project was shelved.
Sony, however, stuck to electronics. After establishing its brand name with TVs, Sony branched out into gaming and is now the largest video game console manufacturer and game publisher.
As of 2020, its global revenue neared $77 billion.
The company brings in 26.7% of sales from game and network services.
Meanwhile, nearly $4.5 billion in revenue stems from its mobile communications segment.
YouTube's Dating Game
Gen Z has become the first generation to watch more YouTube than TV. But when YouTube was founded in 2005, it was a bit more akin to Tinder.
Back when video dating was still a thing, YouTube aimed to take the experience online. The company even went so far as to offer women money to upload videos. However, the idea didn't click. YouTube's co-founders decided to release a platform that would allow for any video type—and from there, sparks flew.
YouTube was acquired by Google in 2006 for $1.7 billion.
By 2019, it had more than 1.68 billion users worldwide.
"If you're competition-focused, you have to wait until there is a competitor doing something. Being customer-focused allows you to be more pioneering."
— Jeff Bezos
Twitter Ditches Talk for Type
For the platform known for a deluge of words and character-count limits, it may be a surprise that Twitter was meant to be a podcasting platform called "Odeo".
When Apple announced its entry into the podcasting world, the team realized they couldn't compete. Instead, Odeo turned to its engineering manager Jack Dorsey to pivot the company into his side project, now known as Twitter. Although original Odeo investors weren't happy with the move, the strategy proved successful.
In 2019, Twitter raked in $3.46 billion in revenue.
It averages 150 million daily users.
Twitter collected advertising revenue of nearly $3 billion in 2019.
It was valued at nearly $35 billion in 2020.
Rubber Boots to Phones: Nokia's Puzzling Pivot
Back in the 1970s and 1980s, Nokia made a very different kind of product—rubber boots. The Kontio product line was successful, but in the early 1990s, the company pivoted to focus on mobile connectivity and hardware.
Released in 2003 and 2005, the Nokia 1100 and 1110 still hold the record for the world's most popular phones, with more than 250 million units sold of each.
Although Android and iPhone have sped past Nokia as smartphone manufacturers, Nokia is still worth about $24 billion. While its phones were incredibly popular, the pivot took a financial toll, and the company's mobile and services division was acquired by Microsoft in 2013.
Shopify Rides into Sales
Frustrated with the online sales experience, the founders of Snowdevil—a Canadian secondhand snowboard shop—decided to create their own online experience. Instead of their gear taking off, it was their platform that caught wind with consumers, and the team knew they were on to something.
In the span of two years, 2004-2006, Snowdevil became Shopify. Less than a decade later, it went public in 2015.
Today, Shopify claims 20% of global market share among ecommerce platforms.
It has more than 800,000 online sellers using the platform.
Nintendo Games Span Centuries
When it comes to gaming, Nintendo has more than 150 years of experience to draw from.
Beginning with hand-painted cards in the 1800s, Nintendo sold cards for multiple games, including gambling. Their nature-inspired and cartoon-like style was carried into the 20th century when Nintendo partnered with Disney to create playing cards.
Like other tech companies, Nintendo has ventured into some unusual markets over the years, including ramen noodles.
However, its primary focus has remained on games. In 1985, Nintendo released what would become the world's most popular video game, Super Mario Bros—which has sold more than 40 million copies worldwide.
The Winding Road to Success
Silicon Valley's "fail fast" philosophy—pressure testing and pivoting—can be a lucrative, albeit grueling, one.
It's an adaptive strategy that isn't relegated to tech companies alone. Pivots large and small are often a key part of any company's evolution, from products and services to marketing strategies.
Beyond bizarre beginnings and pivots, if there's one thing successful companies have in common, it's the audacity to evolve.

Visualizing the Power Consumption of Bitcoin Mining
Bitcoin mining requires significant amounts of energy, but what does this consumption look like when compared to countries and companies?
Visualizing the Power Consumption of Bitcoin Mining
Cryptocurrencies have been some of the most talked-about assets in recent months, with bitcoin and ether prices reaching record highs. These gains were driven by a flurry of announcements, including increased adoption by businesses and institutions.
Lesser known, however, is just how much electricity is required to power the Bitcoin network. To put this into perspective, we've used data from the University of Cambridge's Bitcoin Electricity Consumption Index (CBECI) to compare Bitcoin's power consumption with a variety of countries and companies.
Why Does Bitcoin Mining Require So Much Power?
When people mine bitcoins, what they're really doing is updating the ledger of Bitcoin transactions, also known as the blockchain. This requires them to solve numerical puzzles which have a 64-digit hexadecimal solution known as a hash.
Miners may be rewarded with bitcoins, but only if they arrive at the solution before others. It is for this reason that Bitcoin mining facilities—warehouses filled with computers—have been popping up around the world.
These facilities enable miners to scale up their hashrate, also known as the number of hashes produced each second. A higher hashrate requires greater amounts of electricity, and in some cases can even overload local infrastructure.
Putting Bitcoin's Power Consumption Into Perspective
On March 18, 2021, the annual power consumption of the Bitcoin network was estimated to be 129 terawatt-hours (TWh). Here's how this number compares to a selection of countries, companies, and more.
| Name | Population  | Annual Electricity Consumption (TWh) |
| --- | --- | --- |
| China | 1,443M | 6,543 |
| United States | 330.2M | 3,989 |
| All of the world's data centers | - | 205 |
| State of New York | 19.3M | 161 |
| Bitcoin network  | - | 129  |
| Norway | 5.4M | 124 |
| Bangladesh | 165.7M | 70 |
| Google | - | 12 |
| Facebook | - | 5 |
| Walt Disney World Resort (Florida) | - | 1 |
Note: A terawatt hour (TWh) is a measure of electricity that represents 1 trillion watts sustained for one hour.
Source: Cambridge Centre for Alternative Finance, Science Mag, New York ISO, Forbes, Facebook, Reedy Creek Improvement District, Worldometer
If Bitcoin were a country, it would rank 29th out of a theoretical 196, narrowly exceeding Norway's consumption of 124 TWh. When compared to larger countries like the U.S. (3,989 TWh) and China (6,543 TWh), the cryptocurrency's energy consumption is relatively light.
For further comparison, the Bitcoin network consumes 1,708% more electricity than Google, but 39% less than all of the world's data centers—together, these represent over 2 trillion gigabytes of storage.
Where Does This Energy Come From?
In a 2020 report by the University of Cambridge, researchers found that 76% of cryptominers rely on some degree of renewable energy to power their operations. There's still room for improvement, though, as renewables account for just 39% of cryptomining's total energy consumption.
Here's how the share of cryptominers that use each energy type vary across four global regions.
Energy Source
Asia-Pacific
Europe
Latin America
and the Caribbean
North America
Hydroelectric
65%
60%
67%
61%
Natural gas
38%
33%
17%
44%
Coal
65%
2%
0%
28%
Wind
23%
7%
0%
22%
Oil
12%
7%
33%
22%
Nuclear
12%
7%
0%
22%
Solar
12%
13%
17%
17%
Geothermal
8%
0%
0%
6%
Source: University of Cambridge
Editor's note: Numbers in each column are not meant to add to 100%
Hydroelectric energy is the most common source globally, and it gets used by at least 60% of cryptominers across all four regions. Other types of clean energy such as wind and solar appear to be less popular.
Coal energy plays a significant role in the Asia-Pacific region, and was the only source to match hydroelectricity in terms of usage. This can be largely attributed to China, which is currently the world's largest consumer of coal.
Researchers from the University of Cambridge noted that they weren't surprised by these findings, as the Chinese government's strategy to ensure energy self-sufficiency has led to an oversupply of both hydroelectric and coal power plants.
Towards a Greener Crypto Future
As cryptocurrencies move further into the mainstream, it's likely that governments and other regulators will turn their attention to the industry's carbon footprint. This isn't necessarily a bad thing, however.
Mike Colyer, CEO of Foundry, a blockchain financing provider, believes that cryptomining can support the global transition to renewable energy. More specifically, he believes that clustering cryptomining facilities near renewable energy projects can mitigate a common issue: an oversupply of electricity.
"It allows for a faster payback on solar projects or wind projects… because they would [otherwise] produce too much energy for the grid in that area"
– Mike Colyer, CEO, Foundry
This type of thinking appears to be taking hold in China as well. In April 2020, Ya'an, a city located in China's Sichuan province, issued a public guidance encouraging blockchain firms to take advantage of its excess hydroelectricity.

Which Streaming Service Has the Most Subscriptions?
From Netflix and Disney+ to Spotify and Apple Music, we rank the streaming services with the most monthly paid subscriptions.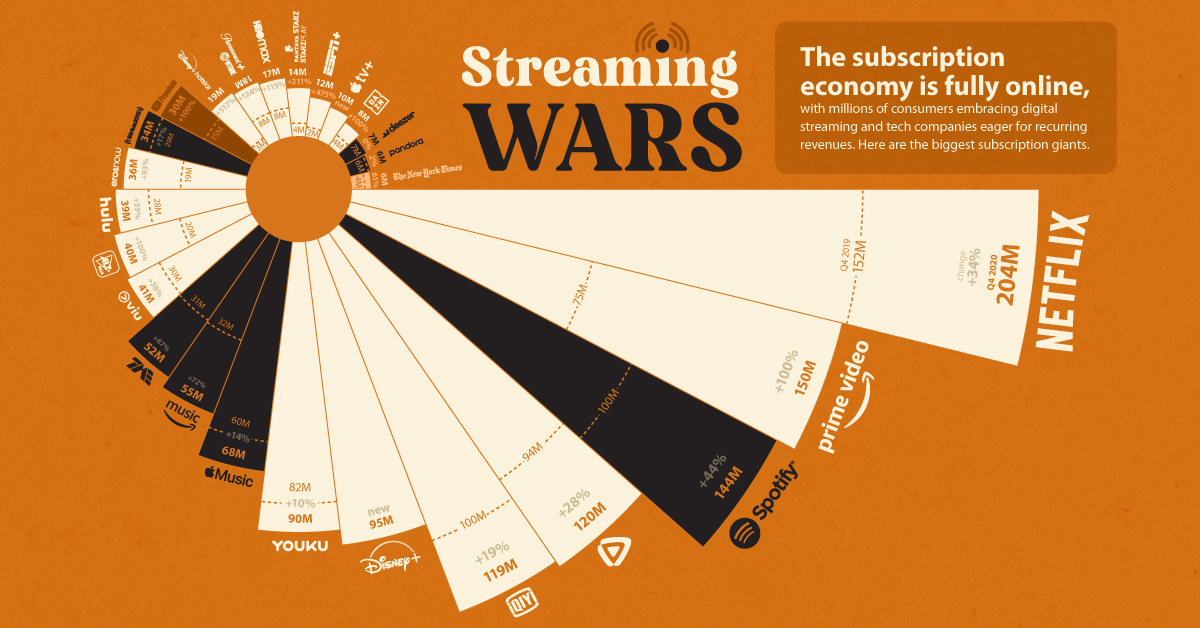 Which Streaming Service Has The Most Subscriptions?
Many companies have launched a streaming service over the past few years, trying to capitalize on the digital media shift and launching the so-called "streaming wars."
After Netflix grew from a small DVD-rental company to a household name, every media company from Disney to Apple saw recurring revenues ripe for the taking. Likewise, the audio industry has long-since accepted Spotify's rise to prominence, as streaming has become the de facto method of consumption for many.
But it was actually the unexpected COVID-19 pandemic that solidified the foothold of digital streaming, with subscription services seeing massive growth over the last year. Although it was expected that many new services would flounder along the way, media subscription services saw wide scale growth and adoption almost across the board.
We've taken the video, audio, and news subscription services with 5+ million subscribers to see who came out on top—and who has grown the most quickly—over the past year. Data comes from the FIPP media association as well as individual company reports.
Streaming Service Giants: Netflix and Amazon
The top of the streaming giant pantheon highlights two staples of business: the first-mover advantage and the power of conglomeration.
With 200+ million global subscribers, Netflix has capitalized on its position as the first and primary name in digital video streaming. Though its consumer base in the Americas has begun to plateau, the company's growth in reach (190+ countries) and content (70+ original movies slated for 2021) has put it more than 50 million subscribers ahead of its closest competition.
The story is the same in the audio market, where Spotify's 144 million subscriber base is more than double that of Apple Music, the next closest competitor with 68 million subscribers.
Meanwhile, Amazon's position as the second most popular video streaming service with 150 million subscribers might be surprising. However, Prime Video subscriptions are included with membership to Amazon Prime, which saw massive growth in usage during the pandemic.
| Service | Type | Subscribers (Q4 2020) |
| --- | --- | --- |
| Netflix | Video | 203.7M |
| Amazon Prime Video | Video | 150.0M |
| Spotify | Audio | 144.0M |
| Tencent Video | Video | 120.0M |
| iQIYI | Video | 119.0M |
| Disney+ | Video | 94.9M |
| Youku | Video | 90.0M |
| Apple Music | Audio | 68.0M |
| Amazon Prime Music | Audio | 55.0M |
| Tencent Music (Group) | Audio | 51.7M |
| Viu | Video | 41.4M |
| Alt Balaji | Video | 40M |
| Hulu | Video | 38.8M |
| Eros Now | Video | 36.2M |
| Sirius Xm | Audio | 34.4M |
| YouTube Premium | Video/Audio | 30M |
| Disney+ Hotstar | Video | 18.5M |
| Paramount+ | Video | 17.9M |
| HBO Max | Video | 17.2M |
| Starz/StarzPlay/Pantaya | Video | 13.7M |
| ESPN+ | Video | 11.5M |
| Apple TV+ | Video | 10M |
| DAZN | Video | 8M |
| Deezer | Audio | 7M |
| Pandora | Audio | 6.3M |
| New York Times | News | 6.1M |
Another standout is the number of large streaming services based in Asia. China-based Tencent Video (also known as WeTV) and Baidu's iQIYI streaming services both crossed 100 million paid subscribers, with Alibaba's Youku not far behind with 90 million.
Disney Leads in Streaming Growth
But perhaps most notable of all is Disney's rapid ascension to the upper echelons of streaming service giants.
Despite Disney+ launching in late 2019 with a somewhat lackluster content library (only one original series with one episode at launch), it has quickly rocketed both in terms of content and its subscriber base. With almost 95 million subscribers, it has amassed more subscribers in just over one year than Disney expected it could reach by 2024.
| Service | Type | Percentage Growth (2019) |
| --- | --- | --- |
| Disney+ | Video | New |
| Apple TV+ | Video | New |
| Disney+ Hotstar | Video | 516.7% |
| ESPN+ | Video | 475.0% |
| Starz/StarzPlay/Pantaya | Video | 211.4% |
| Paramount+ | Video | 123.8% |
| HBO Max | Video | 115.0% |
| Amazon Prime Video | Video | 100.0% |
| Alt Balaji | Video | 100.0% |
| YouTube Premium | Video/Audio | 100.0% |
| DAZN | Video | 100.0% |
| Eros Now | Video | 92.6% |
| Amazon Prime Music | Audio | 71.9% |
| Tencent Music (Group) | Audio | 66.8% |
| New York Times | News | 60.5% |
| Spotify | Audio | 44.0% |
| Hulu | Video | 38.6% |
| Viu | Video | 38.0% |
| Netflix | Video | 34.4% |
| Tencent Video | Video | 27.7% |
| iQiyi | Video | 19.0% |
| Sirius Xm | Audio | 17.4% |
| Apple Music | Audio | 13.3% |
| Youku | Video | 9.6% |
| Pandora | Audio | 1.6% |
| Deezer | Audio | 0% |
The Disney+ wave also spurred growth in partner streaming services like Hotstar and ESPN+, while other services with smaller subscriber bases saw large growth rates thanks to the COVID-19 pandemic.
The lingering question is how the landscape will look when the pandemic starts to wind down, and when all the new players are accounted for. NBCUniversal's Peacock, for example, has reached over 30 million subscribers as of January 2021, but the company hasn't yet disclosed how many are paid subscribers.
Likewise, competitors are investing in content libraries to try and make up ground on Netflix and Disney. HBO Max is slated to start launching internationally in June 2021, and ViacomCBS rebranded and expanded CBS All Access into Paramount+.
And international growth is vital. Three of the top six video streaming services by subscribers are based in China, while Indian services Hotstar, ALTBalaji, and Eros Now all saw surges in subscriber bases, with more room left to grow.