15 Warning Signs to Identify a Toxic Work Environment Before Taking a Job
According to Gallup, 85% of the world's one billion full-time employees are unhappy at work.
While there are a number of reasons that contribute towards job dissatisfaction, a toxic work environment can have a significant impact on an employee's performance, not to mention their physical and mental health.
But identifying red flags before accepting a job offer can be difficult; companies often sell themselves as a model workplace, when in reality, their inner workings are hugely problematic.
How to Identify a Toxic Work Environment
Today's graphic comes to us from resume.io and it illustrates the 15 warning signs to look out for before, during, and after a job interview.
Lifting the Corporate Veil
A toxic work environment diminishes productivity by breeding a culture of discrimination, disorganization, bullying, and may even be fueled by unethical or selfish motivations.
Luckily, prospective employees can avoid 40 hours of torment a week by probing the company's culture before signing on the dotted line. Here is a list of things to look out for:
Before the Interview
For better or worse, first impressions matter. Although excitement levels may be high, it's important to pay attention to potential missteps, even before the interview starts.
Vague job description: There should be clarity around the roles and responsibilities associated with the job, even if it is a new role in the company.
Negative reviews on Glassdoor: Company review platforms are quickly becoming an indispensable tool for jobseekers who are interested in learning more about previous and current employees' experiences.
It took a long time to arrange an interview: Companies should show respect for the interviewee by getting back to them in a timely manner.
Forgetting interviews: This could suggest that either the company has serious communication issues, or they do not prioritize interviewing potential employees.
The interview starts late: Punctuality is not only expected from the person being interviewed, the interviewer should also be on time.
During the Interview
Adrenaline may be pumping when the interviewee is in the hot seat, but it's crucial that they take stock of how the interviewers are conducting themselves.
Unprepared interviewers: If the interview lacks structure, this could signal a disorganized team and a lack of clear expectations for the role.
No interest in listening: Both parties need to put their best foot forward in an interview, to make sure that the interviewee's personality and skill set aligns with the company, and vice versa.
Authoritarian interviewer: This may indicate a lack of respect for employees.
Inability to communicate company values: If company values are embodied by employees, then they should be top of mind and easily communicated.
Questions are skimmed over: Companies should be transparent and be willing to provide comprehensive answers to any questions an interviewee may have.
After the Interview
In addition to assessing their own performance, interviewees should give careful consideration to how the entire interview experience went.
Short interview: Either the company has already chosen another candidate, or they are desperate to fill the role as quickly as possible.
Quiet workspace: A lack of teamwork or fearful employees could be the culprit for a silent office.
No office tour: Companies should always give prospective employees a glimpse into what their day-to-day could look like by showing them around and introducing them to the team.
Job offer was given on the day of the interview: The company could be trying to restrict the interviewee doing further research into the company, or simply filling the role as quickly as possible.
Delayed decision-making: Failing to get back to someone who has done an interview shows a lack of respect for their time or disorganization on the company's end.
It's also worth mentioning that mistakes can be made by anyone, so it is perhaps not helpful to scrutinize companies for small errors in judgement when most of the experience has been positive.
Regardless, if there are any looming uncertainties, it is up to the person being interviewed to ask.
Finding the Courage to Ask Questions
When it comes to interviews, questioning the culture of the company is just as important as questioning the interviewee on their knowledge and skills.
"He who asks a question may be a fool for five minutes. He who does not ask questions, remains a fool forever."
—Ancient Chinese proverb
Switching jobs is rarely an easy process, especially when jobseekers have come up against unforeseen challenges as a result of COVID-19.
But it is more important than ever for people to do their due diligence, and be brave enough to ask tough questions. Otherwise, they may have to repeat the cycle all over again—much sooner than they would have thought.

Visualizing the Rise of Women on Boards of Directors Worldwide
The representation of women on boards of directors a mixed bag. This graphic looks at the 10-year trend of women on corporate boards.
The Rise of Women on Boards of Directors Worldwide
Women's representation in the boardroom is a mixed bag. The number of women on boards is rising across the globe—but the rate of increase has slowed for three of the past four years.
Based on MSCI research of All Country World Index (ACWI) constituent companies, the graphic above reveals a 10-year trend of women's representation on corporate boards, and projects three future scenarios on the way to parity.
ESG Goals: The Path to Parity
The ESG ecosystem considers 30% representation to be a critical milestone on the road to reaching gender parity on corporate boards of directors.
Following a small uptick in 2019—and two years of slowed growth from 2017 to 2018—the rise of women on boards slowed again in 2020, gaining 0.6 percentage points (p.p.).
Based on different forward-looking scenarios, here's how long it could take to reach equal representation:

Progressive scenario
Business-as-usual scenario
Deceleration scenario
Years to reach 30%
Women on Boards (WoB)
6 years
9 years
16 years
Year we may reach >50% WoB
2039
2045
2070
Source: MSCI ESG Research LLC as of Oct. 30, 2020.
On the whole, parity on corporate boards could be reached as early as 2039 or as late as 2070.
Women's Representation: State of the Unions
MSCI research reveals trends that highlight significant traction. In 2020, fewer women became directors, but all-male boards continued to decline worldwide to 17% in 2020 (a 2 p.p. drop) among the ACWI contingent.
This trend is partially driven by emerging markets, where all-male boards dropped to 31%, from over 34% initially. Hong Kong is one of the few countries that actually experienced an increase of 5 p.p. in all-male boards. In contrast, Saudi Arabia's share reduced by 8 p.p. to 86% in 2020.
| Country | % Companies with 3+ WoB | Country | % Companies with no WoB |
| --- | --- | --- | --- |
| 🇳🇴 Norway | 100% | 🇶🇦 Qatar | 100% |
| 🇮🇹 Italy | 100% | 🇸🇦 Saudi Arabia | 86% |
| 🇧🇪 Belgium | 100% | 🇦🇷 Argentina | 67% |
| 🇵🇹 Portugal | 100% | 🇭🇺 Hungary | 67% |
| 🇫🇷 France | 100% | 🇰🇷 South Korea | 65% |
| 🇸🇪 Sweden | 91% | 🇦🇪 UAE | 63% |
| 🇫🇮 Finland | 91% | 🇨🇱 Chile | 44% |
| 🇪🇸 Spain | 90% | 🇲🇽 Mexico | 38% |
| 🇬🇧 UK | 85% | 🇭🇰 Hong Kong | 37% |
| 🇦🇹 Austria | 83% | 🇮🇩 Indonesia | 36% |
Source: MSCI ESG Research LLC as of Oct. 30, 2020.
Europe continues to lead the world in gender representation on boards. All top 10 countries with three or more women directors are found in the region, with countries like Norway, Italy, and Belgium being the closest to reaching parity.
Across sectors, utilities experienced the largest increase in companies with three or more women on boards, with a 9% jump between 2019-2020.
The Other Glass Ceiling: The C-Suite
The number of women CEOs remains low across all regions, but CFO roles show more promise.
| | MSCI World, 2017 | MSCI World, 2020 | MSCI EM, 2017 | MSCI EM, 2020 |
| --- | --- | --- | --- | --- |
| Women in CEO roles | 4.7% | 4.9% | 3.3% | 4.8% |
| Women in CFO roles | 9.4% | 12.1% | 9.8% | 18.7% |
Source: MSCI ESG Research LLC as of Oct. 30, 2020.
This global rise is also largely thanks to emerging markets. Since 2017, emerging market companies have exhibited higher percentages of CFOs than companies in developed markets, and the difference is widening.
The Glass Ceiling Isn't Unbreakable
As MSCI reports, the progress towards parity in boardrooms does not necessarily represent the workplace. Emerging research suggests that women have been more negatively impacted by the pandemic's economic fallout—potentially undoing several years' worth of improvements.
However, developing nations still show promising results in key indicators of gender diversity, with further opportunity to grow corporate bottom lines.
As more post-pandemic recovery data becomes available amidst vaccine rollouts, we'll gain a better sense of whether we're still on track to follow these long-term trends.

Which Streaming Service Has the Most Subscriptions?
From Netflix and Disney+ to Spotify and Apple Music, we rank the streaming services with the most monthly paid subscriptions.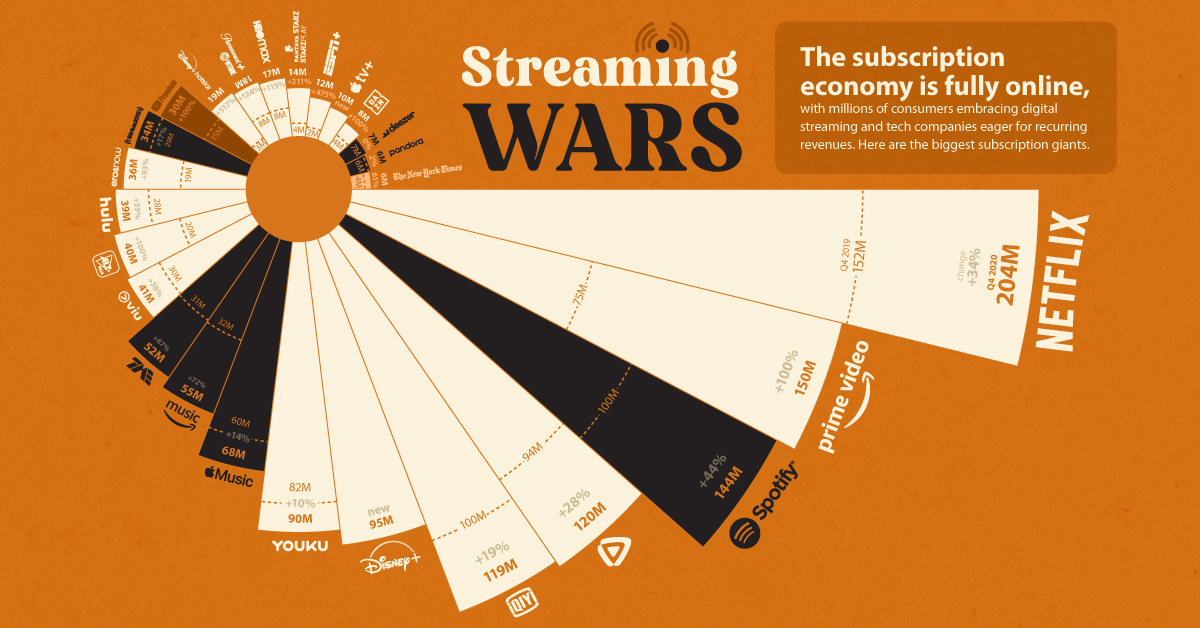 Which Streaming Service Has The Most Subscriptions?
Many companies have launched a streaming service over the past few years, trying to capitalize on the digital media shift and launching the so-called "streaming wars."
After Netflix grew from a small DVD-rental company to a household name, every media company from Disney to Apple saw recurring revenues ripe for the taking. Likewise, the audio industry has long-since accepted Spotify's rise to prominence, as streaming has become the de facto method of consumption for many.
But it was actually the unexpected COVID-19 pandemic that solidified the foothold of digital streaming, with subscription services seeing massive growth over the last year. Although it was expected that many new services would flounder along the way, media subscription services saw wide scale growth and adoption almost across the board.
We've taken the video, audio, and news subscription services with 5+ million subscribers to see who came out on top—and who has grown the most quickly—over the past year. Data comes from the FIPP media association as well as individual company reports.
Streaming Service Giants: Netflix and Amazon
The top of the streaming giant pantheon highlights two staples of business: the first-mover advantage and the power of conglomeration.
With 200+ million global subscribers, Netflix has capitalized on its position as the first and primary name in digital video streaming. Though its consumer base in the Americas has begun to plateau, the company's growth in reach (190+ countries) and content (70+ original movies slated for 2021) has put it more than 50 million subscribers ahead of its closest competition.
The story is the same in the audio market, where Spotify's 144 million subscriber base is more than double that of Apple Music, the next closest competitor with 68 million subscribers.
Meanwhile, Amazon's position as the second most popular video streaming service with 150 million subscribers might be surprising. However, Prime Video subscriptions are included with membership to Amazon Prime, which saw massive growth in usage during the pandemic.
| Service | Type | Subscribers (Q4 2020) |
| --- | --- | --- |
| Netflix | Video | 203.7M |
| Amazon Prime Video | Video | 150.0M |
| Spotify | Audio | 144.0M |
| Tencent Video | Video | 120.0M |
| iQIYI | Video | 119.0M |
| Disney+ | Video | 94.9M |
| Youku | Video | 90.0M |
| Apple Music | Audio | 68.0M |
| Amazon Prime Music | Audio | 55.0M |
| Tencent Music (Group) | Audio | 51.7M |
| Viu | Video | 41.4M |
| Alt Balaji | Video | 40M |
| Hulu | Video | 38.8M |
| Eros Now | Video | 36.2M |
| Sirius Xm | Audio | 34.4M |
| YouTube Premium | Video/Audio | 30M |
| Disney+ Hotstar | Video | 18.5M |
| Paramount+ | Video | 17.9M |
| HBO Max | Video | 17.2M |
| Starz/StarzPlay/Pantaya | Video | 13.7M |
| ESPN+ | Video | 11.5M |
| Apple TV+ | Video | 10M |
| DAZN | Video | 8M |
| Deezer | Audio | 7M |
| Pandora | Audio | 6.3M |
| New York Times | News | 6.1M |
Another standout is the number of large streaming services based in Asia. China-based Tencent Video (also known as WeTV) and Baidu's iQIYI streaming services both crossed 100 million paid subscribers, with Alibaba's Youku not far behind with 90 million.
Disney Leads in Streaming Growth
But perhaps most notable of all is Disney's rapid ascension to the upper echelons of streaming service giants.
Despite Disney+ launching in late 2019 with a somewhat lackluster content library (only one original series with one episode at launch), it has quickly rocketed both in terms of content and its subscriber base. With almost 95 million subscribers, it has amassed more subscribers in just over one year than Disney expected it could reach by 2024.
| Service | Type | Percentage Growth (2019) |
| --- | --- | --- |
| Disney+ | Video | New |
| Apple TV+ | Video | New |
| Disney+ Hotstar | Video | 516.7% |
| ESPN+ | Video | 475.0% |
| Starz/StarzPlay/Pantaya | Video | 211.4% |
| Paramount+ | Video | 123.8% |
| HBO Max | Video | 115.0% |
| Amazon Prime Video | Video | 100.0% |
| Alt Balaji | Video | 100.0% |
| YouTube Premium | Video/Audio | 100.0% |
| DAZN | Video | 100.0% |
| Eros Now | Video | 92.6% |
| Amazon Prime Music | Audio | 71.9% |
| Tencent Music (Group) | Audio | 66.8% |
| New York Times | News | 60.5% |
| Spotify | Audio | 44.0% |
| Hulu | Video | 38.6% |
| Viu | Video | 38.0% |
| Netflix | Video | 34.4% |
| Tencent Video | Video | 27.7% |
| iQiyi | Video | 19.0% |
| Sirius Xm | Audio | 17.4% |
| Apple Music | Audio | 13.3% |
| Youku | Video | 9.6% |
| Pandora | Audio | 1.6% |
| Deezer | Audio | 0% |
The Disney+ wave also spurred growth in partner streaming services like Hotstar and ESPN+, while other services with smaller subscriber bases saw large growth rates thanks to the COVID-19 pandemic.
The lingering question is how the landscape will look when the pandemic starts to wind down, and when all the new players are accounted for. NBCUniversal's Peacock, for example, has reached over 30 million subscribers as of January 2021, but the company hasn't yet disclosed how many are paid subscribers.
Likewise, competitors are investing in content libraries to try and make up ground on Netflix and Disney. HBO Max is slated to start launching internationally in June 2021, and ViacomCBS rebranded and expanded CBS All Access into Paramount+.
And international growth is vital. Three of the top six video streaming services by subscribers are based in China, while Indian services Hotstar, ALTBalaji, and Eros Now all saw surges in subscriber bases, with more room left to grow.