The State of the Multi-Billion Dollar Console Gaming Market
With over 2.7 billion gamers worldwide in 2020, the video game industry is undergoing a renaissance. Billions of dollars are pouring in as transformations occur on multiple fronts, including in mobile, PC, and console gaming markets.
For gamers in the latter category, there comes a monumental time when the cycle flips the page to the next generation of consoles. We are now at that pivotal moment, with the Xbox Series X and Sony PlayStation 5 set to launch on November 10 and 12, 2020, respectively.
How will this generation of console games fare relative to past iterations, and which target demographics will be driving future sales?
There Can Only Be One
Xbox and Nintendo have put up a respectable fight, but the history of gaming console sales point to an extended era of PlayStation dominance.
In fact, PlayStation sits quite comfortably on the top of the podium, with the PS2 alone experiencing greater sales than both the Xbox 360 and Xbox One combined.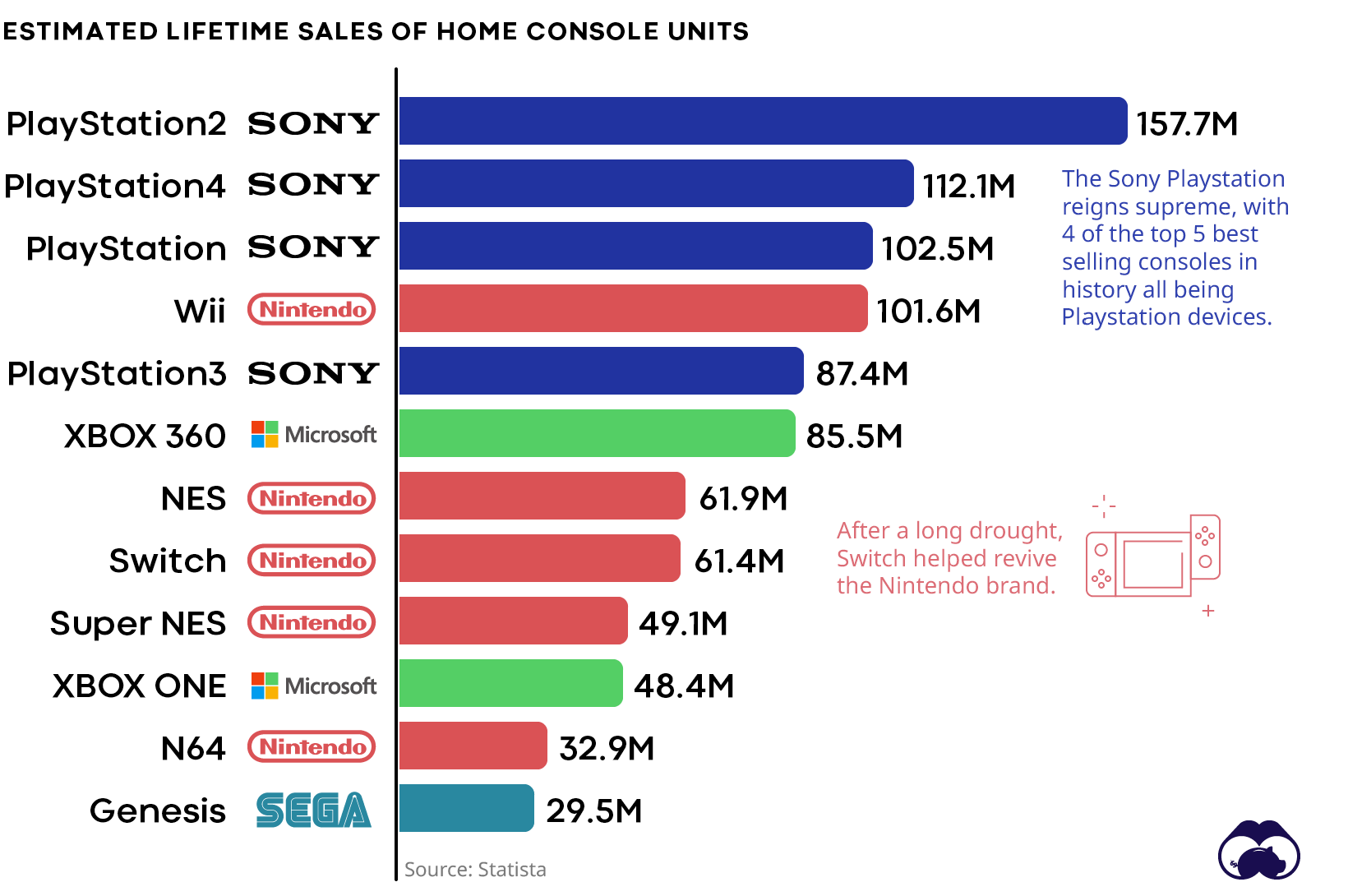 Over time, Sony has only widened the gap between themselves and the competition. The spread in unit sales between PS3 and Xbox 360 ended 1.6 million in favor of Sony. In the following product cycle, Sony achieved only further dominance, with the difference between PS4 and Xbox One sales now sitting at 63.7 million units.
Looking ahead, unit sale estimates for the PS5 range from 120-170 million and the new console is set to outperform Xbox again—in line with past trends.
Game Console Sales Galore
Gaming revenues have gone unscathed despite a pandemic, a retraction in economic activity, and the tightening of budgets for households in 2020. This trend could well be a result of video games growing as a form of stay-home entertainment.
On an annualized basis, global video game console revenues are to hit $51 billion in 2020 and reach past $60 billion in the next two years.
An Attractive Disconnect
It's clear there is significant buzz around the new consoles, but here's another perspective that highlights their allure to consumers.
Video games possess an attractive disconnect in that they are an entertainment cash cow for gaming companies, yet gaming products also happen to be a huge cost saver for the consumer relative to other platforms and devices.
The average cost per hour for gaming services is much cheaper than the cost of a book and even more competitive relative to the cost of entertainment giants Netflix and Spotify.
An Evolving Landscape
Consoles have transformed to being about much more than just gaming. They now take front and center in people's homes as a centralized hub for all things entertainment. For both the Xbox One and PS4, half of all gamers use their consoles for non-gaming activity.
Another more notable form of transformation is the identity of the gamer itself. The classic portrayal of teenage boys engaged in Super Mario after school in their parents' basement has all but dissipated.
In addition to older male users, there's now a significant emergence in female gamers. In the U.S., women surpass men in both the 36-50 and 51-65 age cohorts. Furthermore, age demographics show a higher usage amongst men in the 36-50 age group, relative to the 10-20 cohort.
A Bright Future
There are reasons to expect the next generation of console gaming to be the greatest yet.
PlayStation has momentum on their side, and a slew of new gamers exist today that will continue to help transform the market.
With a more digitally connected world, this new era will see gamers that play and compete with one another from all four corners of the globe. For gamers, this will be a thrilling experience—and for companies, a potentially very lucrative one.
The Top Downloaded Apps in 2022
Six of the top 10 most downloaded apps in Q1 2022 were social media apps, and four of them are owned by Meta.
The Top Downloaded Apps in 2022
Whether they're providing a service like ride-sharing or acting as a mere source of entertainment, mobile apps have become an integral part of many peoples' day-to-day lives.
But which apps are most popular among users?
This graphic uses data from a recent report by Sensor Tower to show the top 10 most downloaded apps around the world in Q1 2022 from the Google Play and Apple App Store.
Social Reigns Supreme
According to the report, total app downloads reached 36.9 billion in Q1 2022, a 1.4% increase compared to Q1 2021.
A majority of the top 10 most downloaded apps were social media platforms, with Meta and ByteDance owning six of the top 10.
| Rank | App | Category |
| --- | --- | --- |
| 1 | TikTok | Entertainment |
| 2 | Instagram | Photo and video |
| 3 | Facebook | Social networking |
| 4 | WhatsApp | Messaging |
| 5 | Shopee | Shopping |
| 6 | Telegram | Messaging |
| 7 | Snapchat | Photo and video |
| 8 | Messenger | Messaging |
| 9 | CapCut | Photo and video |
| 10 | Spotify | Music |
Meta's four platforms on the list are Instagram, Facebook, WhatsApp, and Messenger, while ByteDance owns TikTok and video-editing platform CapCut.
Just outside the top 10 are Zoom and WhatsApp Business (yet another Meta-owned app).
TikTok's Winding Road to the Top
In Q1 2021, TikTok exceeded 3.5 billion all-time downloads, becoming the fifth app (and the first non-Meta app) to reach this milestone. This is impressive considering the app has been banned in India as of June 2020. Prior to the ban, India accounted for 30% of TikTok's downloads.
India's not the only country that's banned the use of TikTok. Pakistan has blocked TikTok multiple times because of concerns over "inappropriate" content. However, it's worth noting that the bans in Pakistan only lasted a few days before being lifted, and currently, Pakistanis are able to access the platform.
Top 10 Highest Grossing Apps
TikTok isn't just the most downloaded app in the world—it's also the highest-grossing non-game app, based on Q1 2022 revenue from the App Store and Google Play:
| Rank | App | Category |
| --- | --- | --- |
| 1 | TikTok | Entertainment |
| 2 | YouTube | Photo and video |
| 3 | Disney+ | Entertainment |
| 4 | Google One | Productivity |
| 5 | Tinder | Lifestyle |
| 6 | Piccoma | Books |
| 7 | Tencent Video | Entertainment |
| 8 | iQIYI | Entertainment |
| 9 | HBO Max | Entertainment |
| 10 | LINE Manga | Entertainment |
TikTok generated an impressive $821 million in consumer spending in the last quarter. The video-sharing platform was the top-grossing app on the App Store, and the second-highest-grossing on Google Play, coming just after Google One.
While none of Meta's platforms made it onto the top 10 list for gross revenue, these platforms make a ton of money that doesn't necessarily flow through app stores. In 2021, Meta generated more than $117.9 billion in revenue, with over 97% of that coming from ads.
Growth's on the Horizon
The pandemic had a massive impact on the app market.
In 2020, app spending on things like premium access, in-app purchases, and subscriptions surged by 30% year-over-year to reach $111 billion.
And while COVID-19 restrictions are easing in most places around the world, app spending isn't likely to taper off anytime soon. By 2025, spending is expected to grow to $270 billion.
Synthetic Biology: The $3.6 Trillion Science Changing Life as We Know It
The field of synthetic biology could solve problems in a wide range of industries, from medicine to agriculture—here's how.
How Synthetic Biology Could Change Life as we Know it
Synthetic biology (synbio) is a field of science that redesigns organisms in an effort to enhance and support human life. According to one projection, this rapidly growing field of science is expected to reach $28.8 billion in global revenue by 2026.
Although it has the potential to transform many aspects of society, things could go horribly wrong if synbio is used for malicious or unethical reasons. This infographic explores the opportunities and potential risks that this budding field of science has to offer.
What is Synthetic Biology?
We've covered the basics of synbio in previous work, but as a refresher, here's a quick explanation of what synbio is and how it works.
Synbio is an area of scientific research that involves editing and redesigning different biological components and systems in various organisms.
It's like genetic engineering but done at a more granular level—while genetic engineering transfers ready-made genetic material between organisms, synbio can build new genetic material from scratch.
The Opportunities of Synbio
This field of science has a plethora of real-world applications that could transform our everyday lives. A study by McKinsey found over 400 potential uses for synbio, which were broken down into four main categories:
Human health and performance
Agriculture and food
Consumer products and services
Materials and energy production
If those potential uses become reality in the coming years, they could have a direct economic impact of up to $3.6 trillion per year by 2030-2040.
1. Human Health and Performance
The medical and health sector is predicted to be significantly influenced by synbio, with an economic impact of up to $1.3 trillion each year by 2030-2040.
Synbio has a wide range of medical applications. For instance, it can be used to manipulate biological pathways in yeast to produce an anti-malaria treatment.
It could also enhance gene therapy. Using synbio techniques, the British biotech company Touchlight Genetics is working on a way to build synthetic DNA without the use of bacteria, which would be a game-changer for the field of gene therapy.
2. Agriculture and Food
Synbio has the potential to make a big splash in the agricultural sector as well—up to $1.2 trillion per year by as early as 2030.
One example of this is synbio's role in cellular agriculture, which is when meat is created from cells directly. The cost of creating lab-grown meat has decreased significantly in recent years, and because of this, various startups around the world are beginning to develop a variety of cell-based meat products.
3. Consumer Products and Services
Using synthetic biology, products could be tailored to suit an individual's unique needs. This would be useful in fields such as genetic ancestry testing, gene therapy, and age-related skin procedures.
By 2030-2040, synthetic biology could have an economic impact on consumer products and services to the tune of up to $800 billion per year.
4. Materials and Energy Production
Synbio could also be used to boost efficiency in clean energy and biofuel production. For instance, microalgae are currently being "reprogrammed" to produce clean energy in an economically feasible way.
This, along with other material and energy improvements through synbio methods, could have a direct economic impact of up to $300 billion each year.
The Potential Risks of Synbio
While the potential economic and societal benefits of synthetic biology are vast, there are a number of risks to be aware of as well:
Unintended biological consequences: Making tweaks to any biological system can have ripple effects across entire ecosystems or species. When any sort of lifeform is manipulated, things don't always go according to plan.
Moral issues: How far we're comfortable going with synbio depends on our values. Certain synbio applications, such as embryo editing, are controversial. If these types of applications become mainstream, they could have massive societal implications, with the potential to increase polarization within communities.
Unequal access: Innovation and progress in synbio is happening faster in wealthier countries than it is in developing ones. If this trend continues, access to these types of technology may not be equal worldwide. We've already witnessed this type of access gap during the rollout of COVID-19 vaccines, where a majority of vaccines have been administered in rich countries.
Bioweaponry: Synbio could be used to recreate viruses, or manipulate bacteria to make it more dangerous, if used with ill intent.
According to a group of scientists at the University of Edinburgh, communication between the public, synthetic biologists, and political decision-makers is crucial so that these societal and environmental risks can be mitigated.
Balancing Risk and Reward
Despite the risks involved, innovation in synbio is happening at a rapid pace.
By 2030, most people will have likely eaten, worn, or been treated by a product created by synthetic biology, according to synthetic biologist Christopher A. Voigt.
Our choices today will dictate the future of synbio, and how we navigate through this space will have a massive impact on our future—for better, or for worse.