Political Longshots That Caught America by Surprise
Millions of Americans rely on polls and the media to gauge the direction of political elections. Politics are sometimes unpredictable though, and on occasion, election outcomes can defy conventional wisdom.
These surprises, known as political longshots, are scattered throughout American political history. As time winds down to the 59th U.S. presidential election in November, today's visual article from PredictIt goes back in time to showcase moments when polls, media outlets, and the American public were left stunned.
The Truman Show
What Happened?
As elections approached in 1948, incumbent Harry Truman led a struggling Democratic party.
Not only had they lost control of both chambers of Congress two years prior, they also faced internal divide over Truman's civil rights initiatives. To make matters worse, Truman's approval rating in June 1948 sat at just 39%.
Pollsters and the media were unanimous in declaring Republican Thomas Dewey the next president, but this didn't discourage Truman from running a tactical campaign which featured:
Clear demographic focus: Truman campaigned heavily in rural communities where working-class citizens felt neglected.
Populist messaging: Truman often attacked Republicans, pinning them with the blame for a range of issues.
Despite being overlooked by many, Truman went on to claim a decisive victory. This caused one of the most famous media blunders in U.S. history—with high confidence in the polls, editors at the Chicago Daily Tribune prematurely reported Dewey as the winner of the election.
We stopped polling a few weeks too soon. We had been lulled into thinking that nothing much changes in the last few weeks of the campaign.
—George Gallup Jr.
Pollsters took a hit to their credibility, but used the opportunity to refine their methods. They extended the deadlines of polls and, over time, began using a methodology known as random sampling. This replaced quota sampling, a methodology prone to bias because it questioned a predetermined number of people from certain ethnic and age groups.
Murkowski's Comeback
What Happened?
After losing the Republican primary to Joe Miller, incumbent senator Lisa Murkowski decided to run in 2010 as a write-in candidate. A somewhat unique aspect of American politics, a write-in candidate is one whose name does not appear on the ballot, and instead needs to be written in by the voter directly.
Miller, the Republican nominee, was supported by the Tea Party movement and former Alaskan governor Sarah Palin. All momentum seemed to be in his favor, according to polls conducted roughly a month ahead of election day:
| Poll | Date Administered | Joe Miller (R) | Lisa Murkowski (R) | Scott McAdams (D) |
| --- | --- | --- | --- | --- |
| Raasmussen Reports | Sept. 19, 2010 | 42% | 27% | 25% |
| Moore Research | Sept. 23-27, 2010 | 43% | 18% | 28% |
| CNN, Time, Opinion Research | Sept. 24-28, 2010 | 38% | 36% | 22% |
Source: Rasmussen Reports, Moore Research, CNN/Time/Opinion Research
Despite Miller's lead in the polls, Murkowski's write-in campaign was able to capitalize on the state's significant number of independent voters. On election day, Murkowski collected 101,091 write-in votes—a comfortable margin above Miller's 90,839 votes.
[I]n our state, we have got over 54 percent of the electorate that chooses not to align themselves with any party at all, not Republican, not Democratic, not green, not anything.
—Lisa Murkowski
Miller challenged 8,000 write-in votes on the basis of name misspellings, but his claims were rejected by the Alaska Superior Court—perfect spelling on write-in ballots is not required if the voter's intent is clear.
The Trump Train
What Happened?
Donald Trump's 2016 victory will likely top the list as one of the most shocking political events of our time. As election day approached, many of America's mainstream media outlets pointed to a decisive Clinton victory.
Outlet
Clinton
Trump
L.A. Times
by electoral count
352
186
Fox News
by electoral count
274
215
New York Times
by chance of winning
85%
15%
CNN
by chance of winning
91%
9%
Source: The Wrap, CNN
While Trump's rhetoric was largely opposed in urban regions (which often lean Democrat), the media failed to recognize that his message was resonating in America's industrial Midwest. One potential explanation for this is that the region's manufacturing jobs had been drying up, causing workers to feel abandoned by the existing political establishment.
This led to a number of Democrat-controlled states flipping Republican, and was a critical force for propelling Trump to the White House.
In PredictIt's market, Will Trump Win the 2016 Presidential Election, traders also underestimated Trump's chances of winning. Throughout the entire campaign phase, Trump's "yes" shares failed to break past the 50 cents marker.
Source: Predictit
Share prices climbed 64% after FBI Director James Comey released his letter regarding the Clinton email investigation, but these gains were erased in the days leading up to elections. It wasn't until November 8th, election day, that the prediction market swung by an incredible 345% in favor of Trump.
The Rise of AOC
What Happened?
The biggest surprise from the 2018 midterm primaries was Alexandria Ocasio-Cortez's (AOC) victory over incumbent Joseph Crowley in New York's 14th Congressional District. That's because the two candidates were nearly complete opposites of one another:
| Metric | Alexandria Ocasio-Cortez | Joseph Crowley |
| --- | --- | --- |
| Age | 28 | 56 |
| Past Political Experience | Organizer for Bernie Sanders' 2016 presidential campaign | U.S. Representative from New York's 14th congressional district (1999-2019) |
| Fundraising | $300,000 | $3,354,370 |
Source: abc news
AOC led a grassroots campaign appealing to the district's ethnically diverse population, which many believed Crowley could not relate with. Her platform included:
Also lending to the surprise factor was AOC's relatively sparse media coverage. Because her campaign was largely operated through social media platforms such as Twitter and Instagram, it flew under the radar of traditional political media coverage.
The traditional media pay attention to one metric—money—but there should be other considerations: number of volunteers, social-media engagement, small-dollar donations.
—Dave Weigel, Washington Post
AOC would go on to win New York's 14th Congressional District in the 2018 midterm election, defeating Republican Anthony Pappas with 110,318 votes to 19,202, to become the youngest woman to ever serve in the U.S. Congress. More recently, she secured her re-election in the 2020 Democratic primaries. This time, however, it comes as less of a surprise.
What's Next?
The very definition of a longshot means that they are difficult to quantify and predict.
However, one potential longshot in the making may be 21-time Grammy Award winner Kanye West, who announced his intention to run for president on July 4th. While he hasn't taken any official steps towards running as an independent candidate, he has garnered the support of notable figures like Tesla CEO Elon Musk. West first declared his interest in the presidency during an acceptance speech at the 2015 MTV Video Music Awards.
Looking further down the road, Democratic presidential nominee Joe Biden has still not declared his running mate. Much is at stake for Democrats hoping to deny Trump a second term, and the VP nominee will likely play a significant role in how the party performs. Biden has a long list of candidates that, for the first time in history, predominantly features women of color.
Speculation is ramping up as the 2020 presidential elections approach. While it's difficult to say when politics will surprise us again, more longshots are sure to be in store.
Animation: How the European Map Has Changed Over 2,400 Years
The history of Europe is breathtakingly complex, but this animation helps makes sense of 2,400 years of change on the European map.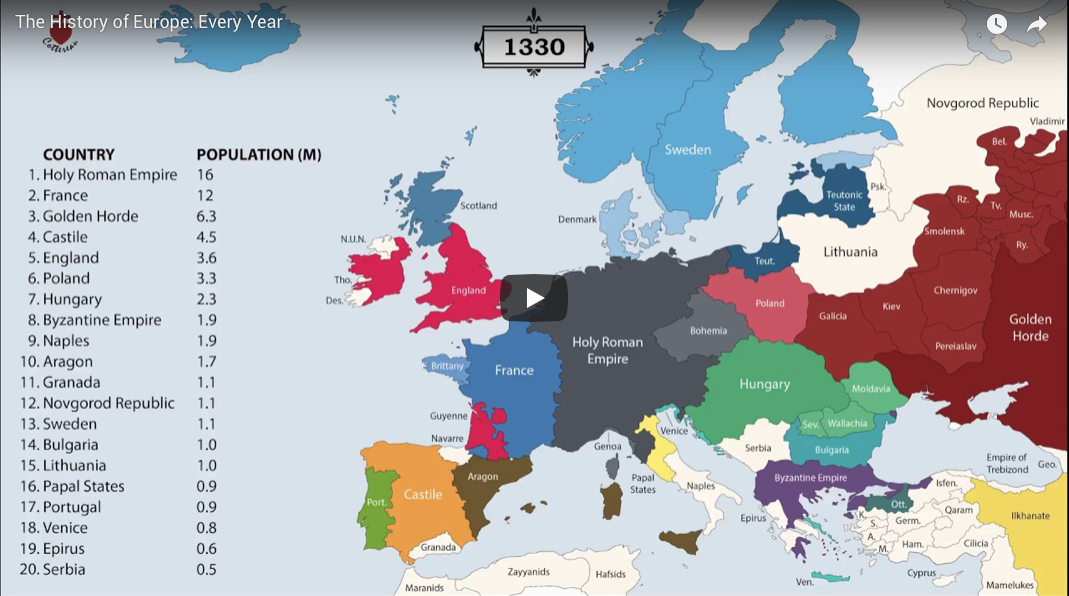 How the European Map Has Changed Over 2,400 Years
The history of Europe is breathtakingly complex. While there are rare exceptions like Andorra and Portugal, which have had remarkably static borders for hundreds of years, jurisdiction over portions of the continent's landmass have changed hands innumerable times.
Today's video comes to us from YouTube channel Cottereau, and it shows the evolution of European map borders starting from 400 BC. Empires rise and fall, invasions sweep across the continent, and modern countries slowly begin to take shape (with the added bonus of an extremely dramatic instrumental).
Below are nine highlights and catalysts that shifted the dividing lines of the European map:
146 BC – A Year of Conquest
146 BC was a year of conquest and expansion for the Roman Republic. The fall of Carthage left the Romans in control of territory in North Africa, and the ransack and destruction of the Greek city-state of Corinth also kickstarted an era of Roman influence in that region. These decisive victories paved the way for the Roman Empire's eventual domination of the Mediterranean.
117 AD – Peak Roman Empire
The peak of the Roman Empire is one of the more dramatic moments shown on this animated European map. At its height, under Trajan, the Roman Empire was a colossal 1.7 million square miles (quite a feat in an era without motorized vehicles and modern communication tools). This enormous empire remained mostly intact until 395, when it was irreparably split into Eastern and Western regions.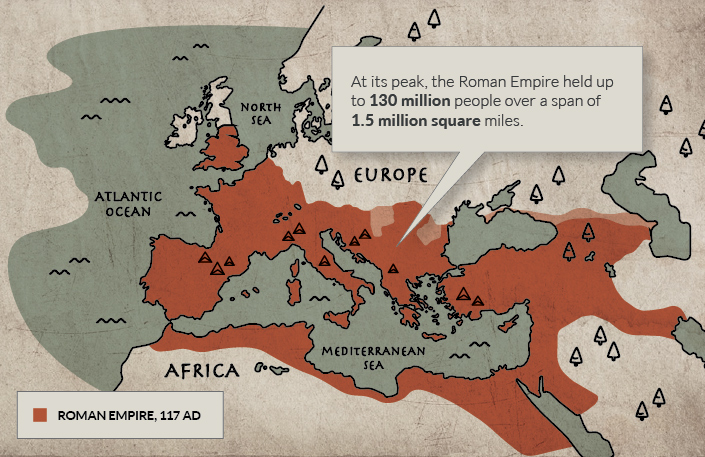 370 AD – The Arrival of the Huns
Spurred on by severe drought conditions in Central Asia, the Huns reached Europe and found a Roman Empire weakened by currency debasement, economic instability, overspending, and increasing incursions from rivals along its borders.
The Huns waged their first attack on the Eastern Roman Empire in 395, but it was not until half a century later—under the leadership of Attila the Hun—that hordes pushed deeper into Europe, sacking and razing cities along the way. The Romans would later get their revenge when they attacked the quarreling Goths and Huns, bouncing the latter out of Central Europe.
1241 – The Mongol Invasion of Europe
In the mid-13th century, the "Golden Horde" led by grandsons of Genghis Khan, roared into Russia and Eastern Europe sacking cities along the way. Facing invasion from formidable Mongol forces, central European princes temporarily placed their regional conflicts aside to defend their territory. Though the Mongols were slowly pushed eastward, they loomed large on the fringes of Europe until almost the 16th century.
1362 – Lithuania
Today, Lithuania is one of Europe's smallest countries, but at its peak in the middle ages, it was one of the largest states on the continent. A pivotal moment for Lithuania came after a decisive win at the Battle of Blue Waters. This victory stifled the expansion of the Golden Horde, and brought present-day Ukraine into its sphere of influence.
1648 – Kleinstaaterei
The end of the Holy Roman Empire highlights the extreme territorial fragmentation in Germany and neighboring regions, in an era referred to as Kleinstaaterei.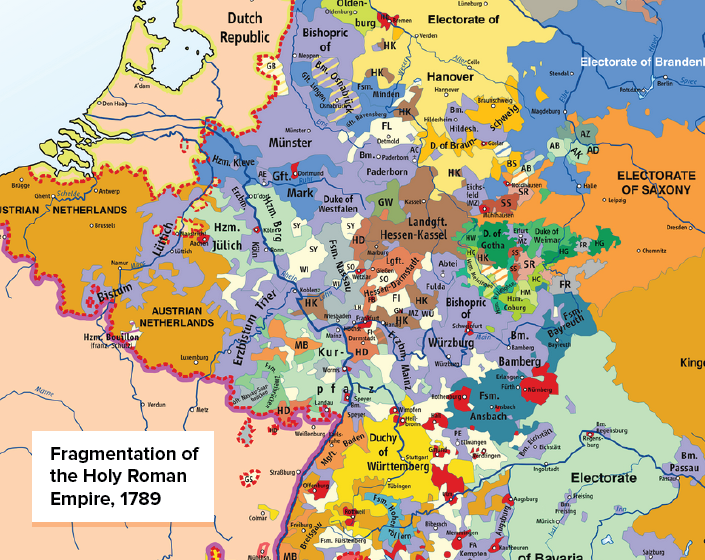 Even as coherent nation states formed around it, the Holy Roman Empire and its remnants wouldn't coalesce until Germany rose from the wreckage of the Franco-Prussian War in 1871. Unification helped position Germany as a major power, and by 1900 the country had the largest economy in Europe.
1919 – The Ottoman Empire
The Ottoman Empire—a fixture in Eastern Europe for hundreds of years—was in its waning years by the beginning of the 20th century. The empire had ceded territory in two costly wars with Italy and Balkan states, and by the time the dust cleared on WWI, the borders of the newly minted nation of Turkey began at the furthest edge of continental Europe.
1942 – Expanding and Contracting Germany
At the furthest extent of Axis territory in World War II, Germany and Italy controlled a vast portion of continental Europe. The map below shows occupied land and areas of influence at the height of Germany's territorial expansion.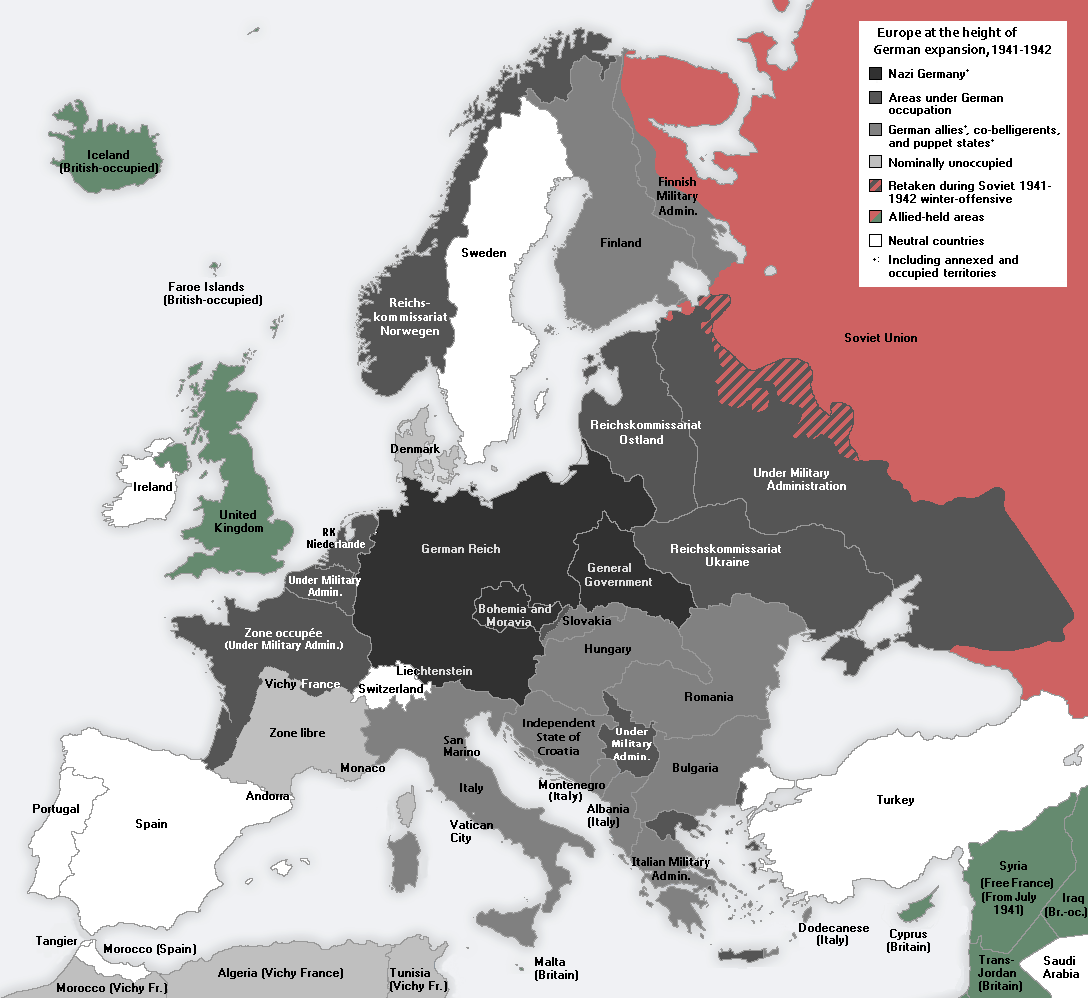 After the war, Germany again became fragmented into occupation zones—this time, overseen by the United States, France, Great Britain, and the Soviet Union. Germany would not be made whole again until 1990, when a weakening Soviet Union loosened its grip on East Germany.
1991 – Soviet Dissolution
In the decades following WWII, the political boundaries of the European map remained relatively stable—that is, until the dissolution of the Soviet Union in 1991. Almost overnight, the country's entire western border splintered into independent nations. When the dust settled, there were 15 breakaway republics, six of which were in Europe.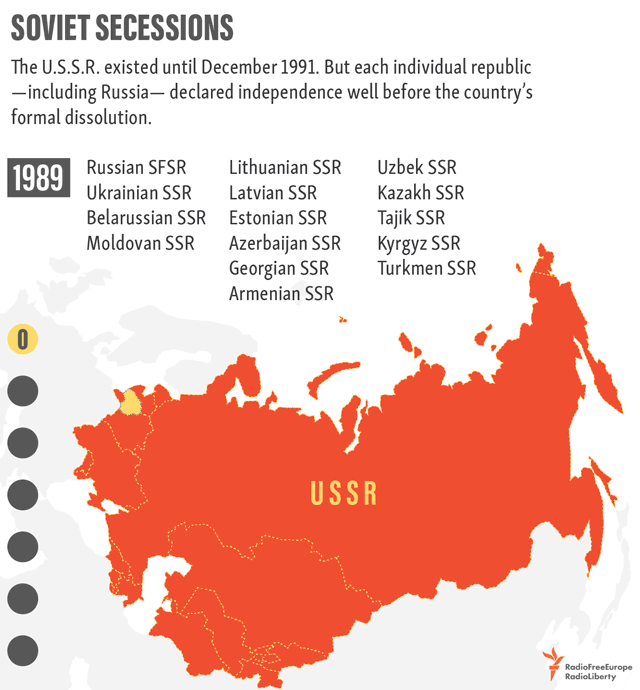 Bonus: If you liked the video above, be sure to watch this year-by-year account of who ruled territories across Europe.
Visualizing Social Risk in the World's Top Investment Hubs
In a third of the world's top investment hubs, citizens face significant threats to their civil, political, and labor rights.
Visualizing the Social Risk of the World's Top Investment Hubs
As social responsibility becomes an important aspect of doing business, it's more crucial than ever for decision-makers to understand the risks associated with various global markets.
This graphic, using data from a report by Verisk Maplecroft, looks at the world's top cities for foreign direct investment (FDI) and assesses their relative levels of social risk.
In the article below, we'll take a look at the research methodology to explain how risk was assessed in the report and touch on some key markets that placed high on the ranking.
The Relationship Between FDI and Social Risk
To look at the relationship between FDI and social risk, the report identified the top 100 cities for FDI in 2020, using data from fDi Markets (the Financial Times' foreign investment monitor).
From there, social risk in the top 100 FDI cities was measured using data from Verisk Maplecroft's [email protected] Social Index​​. The index measures the social risk landscape of 575 different cities across the globe, using three key pillars:
Civil and political rights: the right to protest, security force abuses
Labor rights: child labor, modern slavery
Poverty: portion of population in extreme poverty
After calculating scores based on these three metrics, cities were then grouped into four categories to measure their level of social risk:
Low risk
Medium risk
High risk
Extreme risk
Based on this analysis, citizens in 33 of the top 100 cities for FDI (representing $71 billion of inward investment) are at 'high' or 'extreme' levels of social risk, meaning they face significant threats to their civil, political, and labor rights.
Of the top 100 places, Istanbul and Izmir rank the highest when it comes to overall human rights risks, largely because of labor rights violations and the exploitation of migrant and refugee workers. This is something manufacturers should take note of, especially those who outsource production to these Turkish cities.
In contrast, Beijing, which places third on the list, scores high due to China's various civil rights issues. Other major manufacturing and commercial hubs in China, like Guangzhou and Shanghai, place high on the list as well.
Overall Social Risk Index
While a third of the top FDI cities are at high or extreme social risk, this figure is even higher when looking at all 575 cities included in the [email protected] Social Index.
Of the 575 cities, 75% are classified as 'high' or 'extreme' risk. Mogadishu, Somalia is the highest risk city, followed by Damascus, Aleppo, and Homs in Syria, Pyongyang in North Korea, and Sanaa in Yemen.
While the high-risk cities are spread across the globe, it's worth noting that 240 of the high and extreme risk cities are located in Asia.
Civil and Political Risk Index
In addition to the overall ranking, the report provides insight into specific human rights violations, highlighting which cities are most at risk.
Perhaps unsurprisingly, Pyongyang, North Korea places first on the list when it comes to civil and political rights violations. Under the current North Korean regime, some significant civil rights violations include arbitrary arrests and detentions, the holding of political prisoners and detainees, and a lack of judicial independence.
In addition to North Korea, Syria places high on the civil rights risk index as well, with three of the top five cities located in the war-torn country.
Labor Rights Index
When focusing specifically on labor rights, almost half of the 'high' or 'extreme' risk cities are in Europe and Central Asia.
The biggest problems across a majority of 'high' risk cities include child labor, the exploitation of migrant workers, and modern slavery. Pakistan in particular struggles with child labor issues, with an estimated 3.3 million children in situations of forced labor.
What This Means for Foreign Investors
Understanding a country's social landscape can help organizations make decisions on where to conduct business, especially those that prioritize ESG efforts.
And, while organizations who invest in 'high' risk locations aren't directly involved in any human rights violations, being associated with a 'high' risk city could impact a corporation's reputation, or cause financial damage down the line.