How COVID-19 Has Impacted Media Consumption, by Generation
Media Consumption in the Age of COVID-19
As the coronavirus outbreak continues to wreak havoc across the globe, people's time that would have otherwise been spent perusing malls or going to live events, is now being spent on the sofa.
During this period of pandemic-induced social isolation, it's no surprise that people are consuming vast amounts of media. Today's graphics use data from a Global Web Index report to explore how people have increased their media consumption as a result of the outbreak, and how it differs across each generation.
More Time to Kill
Global Web Index found that over 80% of consumers in the U.S. and UK say they consume more content since the outbreak, with broadcast TV and online videos (YouTube, TikTok) being the primary mediums across all generations and genders.
Unsurprisingly, 68% of consumers are seeking out pandemic updates online over any other activity. Gen Zers however, have other plans, as they are the only generation more likely to be listening to music than searching for news.
Overall, younger generations are more likely to entertain themselves by playing games on their mobile or computer. Millennials also stand out as the foodie generation, as they are the most likely to be searching for cooking recipes or reading up on healthy eating.
Leaning on a Pillar of Trust
Across the board, consumers view the World Health Organization (WHO) as the most trusted source of information for any COVID-19 related updates.
This isn't true everywhere on a regional basis, however. For example, while U.S. consumers trust WHO the most, UK consumers view their government as their most trusted news source overall.
Trust in information shared on social media is higher than word of mouth from friends and family, and even foreign government websites. That said, it is lower than information shared on the radio or news websites.
The Need for Pandemic Positivity
While staying abreast of pandemic updates is important, ultimately, a positive mindset and the ability to switch off will help people cope better day-to-day.
Therefore, it seems reasonable that people are more inclined to invest in new subscription services since they have been in isolation, with almost one-third of Gen Zers considering purchasing Netflix, followed by Disney+.
Understandably, people are becoming increasingly worried about how much time they are dedicating to their screens. However, research suggests that screen time itself is no cause for concern. Rather, it's the content we choose to consume that could have a significant impact our psychological well-being.
Perhaps most intriguingly, the TV shows and movies that are increasing in popularity on Netflix are about pandemics—which could signify the need for people to fictionalize the chaos we find ourselves in.
Regardless of what type of content we are consuming, the fact is that every generation is relying on their devices during this pandemic to inform and distract more than ever before, creating a huge opportunity for media companies to engage a captive audience.

29 Psychological Tricks To Make You Buy More
This graphic looks at 29 different psychological tricks that marketers use to try and influence consumer behavior.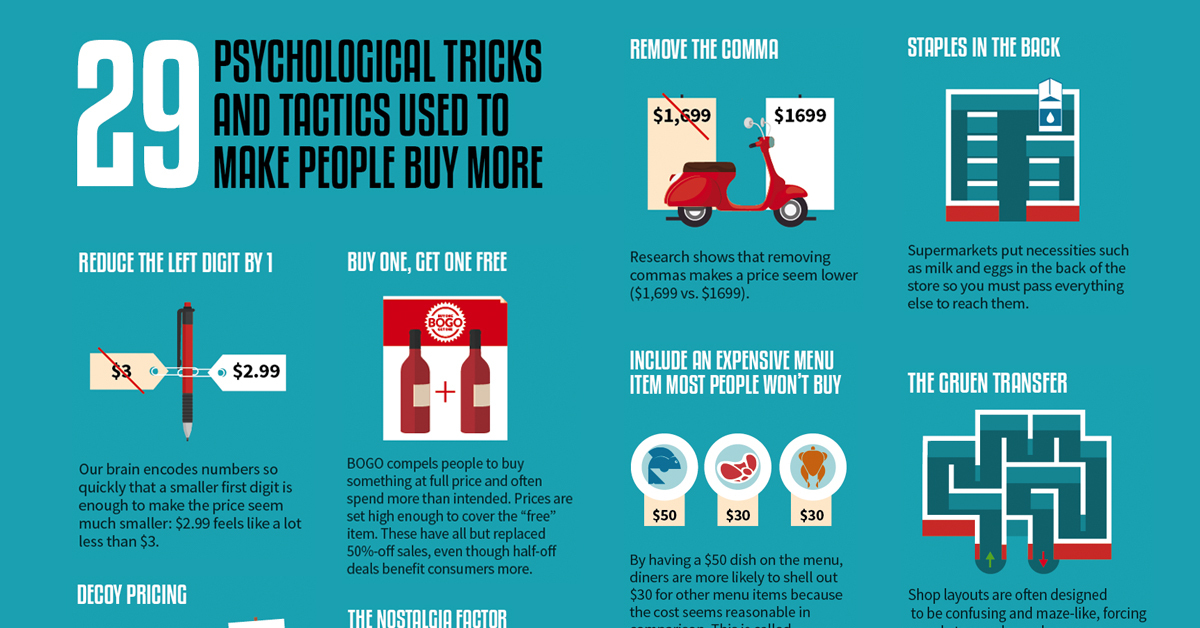 29 Psychological Tricks To Make You Buy More
Ever suffered from buyer's remorse? You're not alone.
According to a recent survey, only 5% of people have never felt guilty about buying something. That means the majority of us, at some point in our lives, have regretted a purchase.
But consumers aren't necessarily only to blame for impulse buys. After all, we're constantly bombarded with advertisements and marketing tactics specifically tailored to try and get us to spend more money.
Today's graphic by TitleMax explains 29 different psychological tactics that marketers try to get consumers to buy more.
Tricks are for Marketers
While this list isn't exhaustive, it provides some key examples of the ways that marketers are attempting to influence your subconscious mind.
We noticed some high-level trends among the 29 tactics, which we compiled into four overarching sections:
Visual Pricing Tricks
These tricks aim to intentionally minimize the appearance of the price, so it's more palatable to consumers. For instance, a store will price something at $9.99 instead of $10.00, or label a product as "buy-one-get-one" rather than 50% off.
Intentional Language Tricks
It's not what you say, but how you say it. Making products seem costly to manufacture, offering exclusivity, and using words associated with small amounts fall under this category. These tricks use semantics to position a product in an appealing way.
Brick-and-Mortar Tricks
A store's layout is less arbitrary than you may realize. Having a bright and colorful entrance, playing calm and slow music, and putting the essential items at the back of the store are a few tactics that fall into this section. These tricks use displays and product placement to influence consumer behavior.
Urgency Tricks
A false sense of urgency and phase-out discounts are included in this category. If a consumer believes they might miss out on a deal, they're more likely to buy.
The Theories in Practice
While most retailers are guilty of using at least a few of these tactics, several big companies are notorious for their use of psychological tricks to boost sales.
For instance, Ikea is well known for its confusing, maze-like layout. This is no accident, as an Ikea store's architecture is designed specifically to maximize product exposure—it's mastered what's called the Gruen effect, a term named after architect Victor Gruen, whose elaborate displays were proven to convert browsers into buyers.
Another example is Walmart's rollback pricing, which uses visual contrast to make the sale price more appealing. It's clearly served the company well—in 2019, Walmart made $524 billion in revenue, making it the world's largest retailer.
Costco uses a few tactics on the list, but one it's notorious for is putting fresh produce in the back of the store. That means customers need to pass through the electronics, clothing, and household goods sections before they can get to the necessities.
While the above tactics are in a gray area, other tricks are flat out dishonest. Makeup brand Sunday Riley was caught writing fake Sephora reviews to boost sales. Employees were encouraged to write outstanding reviews for the company, and the CEO even provided instructions on how to avoid getting caught.
The Influencer Era
As consumers become aware of certain marketing tactics, retailers are forced to switch up their game in order to remain effective.
A relatively recent phenomenon is influencer marketing, which is when brands partner with vloggers or influencers to endorse a product. And these partnerships tend to work—a recent survey revealed that 40% of people have purchased something based on an influencer's recommendation.
But how long will influencer marketing—or any of these tactics—stay effective? Some of the more subtle pricing tactics might stay relevant for longer, but it's unlikely that all of these tricks will stand the test of time.

The COVID-19 Impact on Advertising Spend
Global advertising spending is estimated to see $50 billion decline across various mediums and industries as a result of COVID-19.
The COVID-19 Impact on Advertising Spend
Before the COVID-19 outbreak, global advertising investment was estimated to grow at a 7.1% clip in 2020.
Now, it is estimated to see a brutal contraction of 8.1%—equating to almost $50 billion—as a result of changing consumer behavior. The total loss becomes a bleak $96.4 billion when taking pre-pandemic growth forecasts into account.
Today's graphic uses data from the World Advertising Research Center (WARC) to visualize the estimated decline in advertising spend by media format and industry.
As advertisers adapt to rising in-home media consumption, the tug-of-war for ad dollars between online and traditional media seems to have a decisive winner.
The Death of Traditional Media
After decades of experts predicting the death of traditional media formats, the COVID-19 pandemic could be the last nail in the coffin.
In fact, spend across every type of traditional media format will see a decline in 2020, while most online media formats are expected to see an increase in spending.
Mid-term, this era will be associated with an accelerant of latent and incremental trends towards more digital consumption, commerce, and thus advertising"
—Dr. Daniel Knapp, Interactive Advertising Bureau Europe
With consumers spending significantly more time at home, brands are allocating more dollars to certain media formats to reflect that. However, when it comes to traditional in-home formats such as TV, consumers are opting for streaming services instead. In fact, they are streaming twice as much online video on services such as Netflix compared to last year.
Spending Estimates, by Category
Almost every industry will see reduced spending. The one category that will buck the trend is "Telecoms & Utilities", which will experience a 4.3% increase in ad spend throughout the year.
Interestingly, stay-at-home restrictions have increased consumers' reliance on these services for staying connected with loved ones and working from home.
Moreover, the pandemic has proved to be a turning point for the telecommunications industry, as the importance of faster internet speeds are emphasized and the potential of 5G is realized.
The Road to Recovery?
When inflation and exchange rates are taken into account, the decline in advertising spend is expected to be worse than that experienced during the global financial crisis.
Although 2021 shows signs of recovery, WARC suggests this is reflective of how steep the decline in 2020 will be.
Data shows that global advertising spending growth did not fully recover for eight years following the previous recession, so a swift recovery may be highly unlikely, and returning to pre-pandemic growth rates may not be possible for a number of years.
The Changing Advertising Landscape
As advertisers come to terms with their new reality, they are faced with the uncertainty of changing consumer behavior and the potential for a second wave of the pandemic, tightening quarantine restrictions once more.
Could COVID-19 be accelerating the inevitable shift to digital, or is the pain for traditional media only temporary?